Premium School's 10 Best Places To Take Online Bartending Classes
We here at Premium Schools know a thing or two about people. And we believe that there's not much a good drink and a short rest can't fix. So to us, and the majority of the rest of the world, bartenders are more than just bottle pourers. They're friendly customer greeters serving up liquid empathy and fun. Plus bartenders are essential for mixing the drinks that keep bars profitable and customers happy.
Since bartending is a fast-paced, in-demand profession for social people looking to avoid the standard 9-to-5 desk job and is often the perfect part time job for students and other people as they pursue their college degrees. In fact, their are few other employment options which allow people to display their creativity and flair by mixing delicious cocktails that please customers' taste buds. Learning the bare bones skills to serve alcohol in licensed operations isn't time consuming or very expensive but employers will value hands-on practice with shaking and stirring drinks above all. On average, bartenders earn a yearly salary of $24,100, but tips provide a nice paycheck boost. Increasing demand in the beverage industry is expected to expand the availability of bartending jobs.  According to the Bureau of Labor Statistics, the employment of bartenders will grow faster-than-average by 10 percent through 2024.  Pursuing training can make your resume stand out when competing for these job openings.
Below we'll introduce the 10 Best Places To Take Online Bartending Classes for those of us who both love, and perhaps want to stir, shake, and serve our favorite drinks.  For our ranking, we focused on reputable online training platforms that have a history of success in producing certified bartenders.  Courses had to be 100% online and accessible from anywhere in the United States. We looked for schools with years of experience, good Better Business Bureau standing, and student satisfaction guarantees.  Affordability is key, so we eliminated any online bartending courses costing over $100. Other factors considered were licensing, curricula, interactive technology, job placement assistance, faculty credentials, and resource guides.
Here are Premium School's 10 Best Places To Take Online Bartending Classes:
1. Professional Bartending School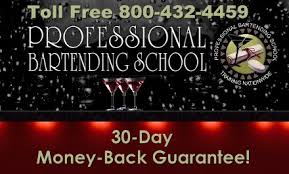 The Professional Bartending School has the world's longest-running, state-approved online training course for alcohol server licensing. For 18 years, the school has trained more than 30,000 bartenders using an interactive, virtual simulator called iBar. The online program includes a 193-page recipe guide, video demo CD, and standard mixing kit. Backed by an A+ BBB rating, the Professional Bartending School offers a 30-day refund policy. There's also no-interest financing for six months using PayPal.
Cost: $49.95
For more about Professional Bartending School's Premium Online Bartending Classes, go here.
2. ABC Bartending School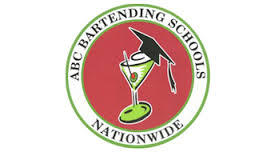 Based in Charlotte, North Carolina, ABC Bartending School offers a credible self-paced, online training course. First founded in 1977 by Tony Sylvester, ABC is experienced in granting bartender certification. Online students progress through modules on beers, wines, specialty cocktails, alcohol laws, and responsible liquor service. Then, there's a culminating exam in which bartenders must score 80%. ABC graduates benefit from job placement assistance with companies like Buffalo Wild Wings, Chili's, and Embassy Suites.
Cost: $39.99
For more about ABC Bartending School's Premium Online Bartending Classes, go here.
3. Professional Service Certification Corporation


Given an A+ BBB rating, the Professional Service Certification Corporation offers the 40-hour online Bartender Mixology Course. Since 1987, PSCC has delivered state-of-the-art training that's similar to one year's worth of bartending experience. Online learners take 12 interactive lessons packed with 125 video demos, 400 color photos, 92 printable flashcards, and 16 self-graded quizzes. After the final online exam, PSCC graduates earn a certificate of completion and letter of recommendation.
Cost: $49.95
For more about the Professional Service Certification Corporation's Premium Online Bartending Classes, go here.
4. Bartending College Online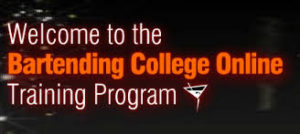 Bartending College Online is part of a brick-and-mortar school in Sacramento that's been BBB-accredited since 2002 for excellent education. For $99.99, online students receive lifetime access to extensive courses with professionally filmed video lectures. An interactive recipe book is provided for 100 of the most popular drinks. Online learners receive a pro-quality Mixing Kit, 16 timed exams, and pour tester game. BCO graduates can also utilize the exclusive bartender resume creation tool.
Cost: $99.99
For more about the Bartending College Online's Premium Online Bartending Classes, go here.
5. BarSmarts by Pernod Ricard USA


Owned by the premium, France-based spirits brand, BarSmarts by Pernod Ricard USA is another leading, affordable online bartender training platform. Online students can login 24/7 to complete the four required modules. Each module has reading material, video demos, and a 25-question quiz. At the end, bartenders must pass a final exam called DrinkBuilder by mixing four classic cocktails. BarSmarts graduates earn a 25% discount off their TIPS registration fee.
Cost: $29
For more about BarSmarts by Pernod Ricard USA's Premium Online Bartending Classes, go here.
6. Express Bartender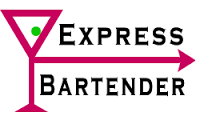 With a 30-day money back guarantee, Express Bartender delivers an online bartender training class featuring 12 quick lessons. Online students supercharge their liquor knowledge by perfecting 125 core cocktails. The 20-hour course includes access to job leads and resume review services. At a $24.95 discount, students can buy Express Bartender's kit with a mixing glass, spoon, cocktail strainer, pour spouts, and bottle opener. This online school has maintained a 4.5-star rating on Yelp.
Cost: $79.97
For more about Express Bartender's Premium Online Bartending Classes, go here.
7. A Bar Above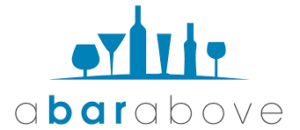 Started 13 years ago by Chris and Julia Tunstall, A Bar Above is a bartender training website granting the online Cocktail Design Program. Enrolled bartenders will participate in written and video lessons across several modules to learn how to design cocktails from scratch. Over four to eight weeks, online students share their creations on an exclusive Facebook community. It's expected that participants already have basic bar skills like shaking and muddling.
Cost: $60
For more about A Bar Above's Premium Online Bartending Classes, go here.
8. Portland Bartending School


At our lowest price of $12.99, the Portland Bartending School offers the Oregon OLCC Service Permit Program fully online. Designed by Learn2Serve, the program satisfies the qualifications bartenders have needed to serve alcohol in Oregon since 1985. Interactive online modules are self-paced and available 24/7 with tech support. PBSA's Cocktail Challenge game makes learning recipes fun. Students who don't pass the final OLCC exam can retake it two more times for free.
Cost: $12.99
For more about Portland Bartending School's Premium Online Bartending Classes, go here.
9. Harvard Bartending Course


Having instructed over 40,000 bartenders since 1963, Harvard Bartending Course is now delivered online for mastering the art of mixology. Online training is taught by Ben Stoller, who has 20 years of professional experience behind the bar. Based in Cambridge, Massachusetts, the program teaches the strategies for TIPS certification. Online students benefit from the "Bartender's Black Book" and its over 2,800 recipes. There's a referral program offered for a 10% discount.
Cost: $49
For more about Harvard Bartending Course's Premium Online Bartending Classes, go here.
10. Pro Bartender School


Carrying BBB accreditation, the Pro Bartender School is headquartered in San Diego, California, to provide online bartender certification courses. The curriculum covers bar setup, liquor types, money handling, alcohol awareness, garnishing, customer psychology, cocktail presentation, and more. Online students practice at home but receive the same, authentic certification as on-site peers. The school's Job Placement Department has built strong ties with national restaurant chains for over 15 years.
Cost: $99.50
For more about Pro Bartender School's Premium Online Bartending Classes, go here.