Find Your Perfect School
Premium Schools is an advertising-supported site. Featured or trusted partner programs and all school search, finder, or match results are for schools that compensate us. This compensation does not influence our school rankings, resource guides, or other editorially-independent information published on this site.
Pursuing bachelor's degrees that don't require math is common among many students. Mathematics is not for everybody, and it's 100% understandable! A Mathematics class consists of countless equations and formulas that some students find dizzying. They also get bored dealing with problem-solving methods and numbers.
Regardless of the study area, Mathematics is inevitable during the first and second years since it is part of the general education requirements. Students will still take basic or primary Math courses like Algebra, Business Math, or Calculus. However, bachelor's degrees that don't require Math will often require extensive writing or innate creativity.
If you love pursuing an academic program emphasizing non-math proficiency, here is a list of 10 bachelor's degrees that don't require math.
Bachelor's Degrees That Don't Require Math
Bachelor of Arts in English
The Bachelor of Arts in English degree is a 4-year baccalaureate program encompassing the different components of the English subject. A set of coursework can include grammar, history, and linguistics. Some schools offer a more specific English degree, including a Bachelor of Arts in English Language & Linguistics or a Bachelor of Arts in English Literature.
The study of literature highlights various writing styles throughout history, while linguistics courses discuss phonetics and etymology. A degree in English Literature may emphasize particular areas of literature, including Shakespearean plays, 20th-century novels, and Asian poetries. While schools vary by program, some common English courses include Rhetoric Studies, British Literature, Grammar and Usage, Applied Linguistics, and Expository Writing.
Students enrolling in an English degree must have a high school diploma. Apart from standard requirements, they must also possess strong reading and writing skills.
Graduates with a bachelor's degree in English can pursue various career opportunities. However, they often pursue creative opportunities in advertising, communication, journalism, law, and public relations. Graduates who want to become English teachers must complete additional education courses to become eligible for teaching licensure.
Potential Careers:
Columnist
High School Teacher
Public Relations Officer
Publishing Assistant
University/College Instructor
Why does a Bachelor of Arts in English have no math?
Any Bachelor of English degree doesn't require math proficiencies since students have more writing and philosophical thinking. The English degree will help them develop their written and non-written communication skills, argumentation capabilities, and verbal analysis. Instead of equations and numbers, a Bachelor of Arts in English is an excellent option for students with a penchant for reading and writing. If you would love to publish your book or speak different languages, this degree will help you become an interpreter, translator, or author.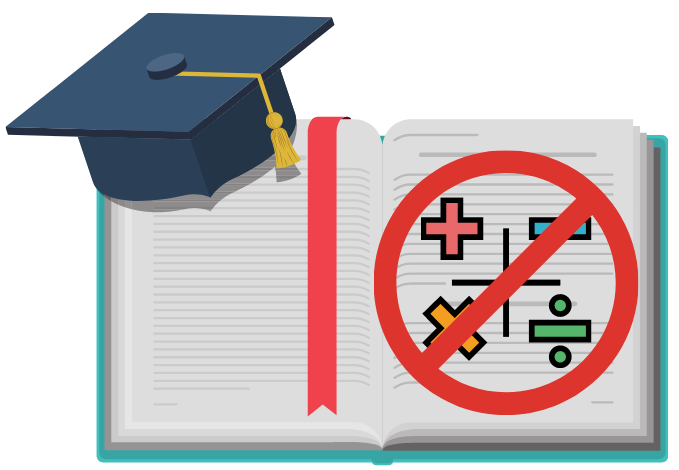 Bachelor of Arts in Psychology
The human mind is fascinating! A Bachelor of Arts in Psychology is ideal for you if you think so! Be aware, however, that, unlike its BA counterpart, the Bachelor of Science in Psychology focuses on scientific disciplines, with more math, chemistry, and biology courses.
A Bachelor of Arts in Psychology degree will take four months to complete. However, some colleges and universities allow less time to complete the program. Psychology majors are naturally fascinated by a greater understanding of human behaviors, emotions, and minds. To thrive in the program, students must hone their critical thinking abilities and communication and interpersonal skills.
Students pursuing a BA in Psychology will develop their proficiencies in social sciences. They may pursue a career as a psychologist or human resource specialist. Advanced study and passing licensure may open more career opportunities in psychiatry, ministry, occupational or behavioral health, and counseling. Some graduates can also pursue constant research to strengthen their studies on how human brains work.
Potential Careers:
Career Counselor
Human Resource Specialist
Mental Health Counselor
School Counselor
Social Worker
Why does a Bachelor of Arts in Psychology have no math?
Like other baccalaureate programs, a Bachelor of Arts in Psychology has minimal math as part of its general education requirements. However, the difficulty level doesn't involve advanced Mathematics, which is a no-brainer for many students.
Although various Math electives are being offered in the curriculum, they're only optional for students wanting to specialize in data analysis and research. The subject deals with the thorough study of the mind's inner workings and human behavior.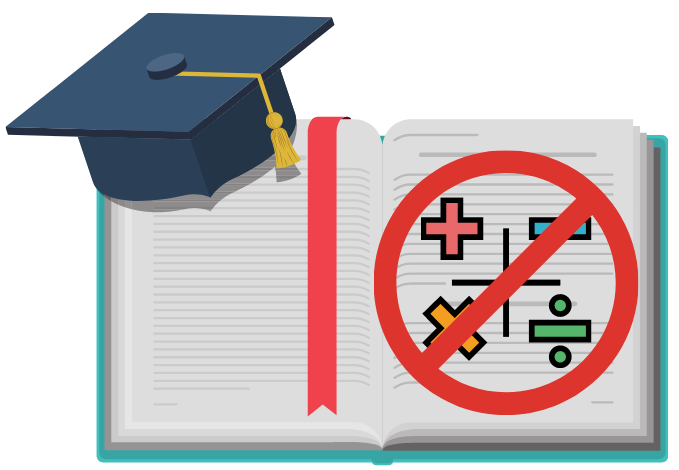 Bachelor of Arts in History
A Bachelor of Arts in History will help students discover the tales of past civilizations and how they greatly affect modern society. If you have a penchant for learning about cultures and wars that changed the world, a BA in History is the perfect degree for you. It is a 4-year academic program that involves a lot of analyzing, researching, critical thinking, writing, and reading.
Like the Psychology degree, a BS in History program is also offered in some schools. Although the BA and BS in History programs don't differ much, it is crucial for choosing a bachelor's degree that doesn't require math courses. With a Bachelor of Science in History, students may complete a set of coursework in economics, finance, and business, involving computations, numbers, and math.
According to the American Historical Association, pursuing a Bachelor of Arts in History is never useless. Graduates with this academic program may often lead to lucrative business management, law, education, and politics.
Although various employment opportunities await History graduates, many companies and employers prefer applicants with additional or more specialized credentials. They may pursue licensure or a master's/doctorate degree.
Potential Careers:
Historian
History Teacher/Instructor
Library Director
Museum Curator
Museum Registrar
Why does a Bachelor of Arts in History have no math?
Some of the career pathways for graduates with a Bachelor of Arts in History involve extensive writing, museum curating, archiving, and teaching. Instead of solving mathematical equations and problems, the academic program develops students' research, analytical, and communication skills. Extensive reading and writing are also crucial when pursuing a baccalaureate degree in History.
Since critical thinking and extensive research are highly required in the subject, a baccalaureate program in History is one of the bachelor's degrees with no math. As History majors, students will examine the past and discover how to examine past events. Their skills are crucial for humanity to grow as a society.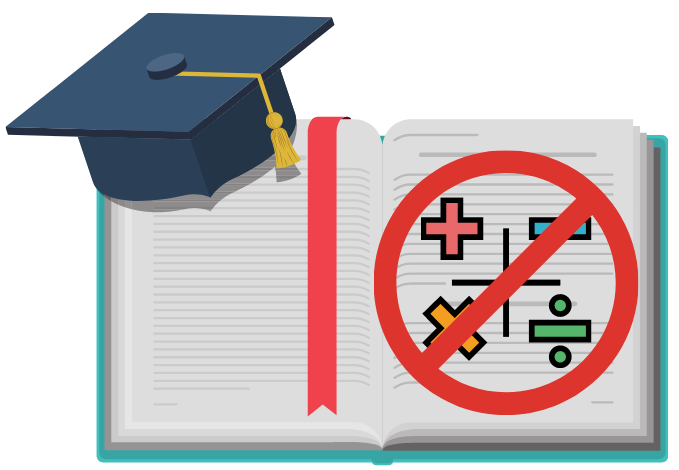 Bachelor of Arts in Communications
A Bachelor of Arts in Communications degree provides graduates with a solid foundational knowledge in various careers. However, graduates of this program are often found in advertising, journalism, public relations, and education. The program aims to develop students' communication skills in personal and professional settings. Apart from writing and speaking skills, Communications majors must also have interpersonal, analytical, organizational, and creativity skills.
Although a Communications degree revolves around languages and communicating with diverse audiences effectively, it also highlights how advertisements, mass media, and publications work. Graduates can pursue careers as editors, reporters, journalists, public relations specialists, advertising managers, correspondents, or editors.
All professions will require an in-depth understanding of how public perception is influenced. It is one of the reasons why a baccalaureate program in Communications involves psychological, cultural, and social aspects of human communication. Apart from theoretical aspects, students also learn the importance of persuasive communication and practical communication techniques.
Potential Careers:
Corporate Communications Manager
Event Planner
Public Relations Specialist
Sales Professional
Social Media Specialist
Why does a Bachelor of Arts in Communications have no math?
Apart from the standard general education requirements, a Bachelor of Arts in Communications program has no advanced mathematics courses. Given that it is a stepping stone for many lucrative positions, the BA in Communications degree is becoming more popular, especially in the digital age.
It is an academic program that strengthens students' proficiencies and knowledge in business communication, intercultural communication, media writing, research, and public speaking. Students must also hone their creativity, persuasive writing, and editing skills, especially if they work in high-profile careers that hire BA in Communication graduates.
Whether graduates want to pursue a career in business, public relations, advertising, media, and government sectors, a Bachelor of Arts in Communications will help them thrive.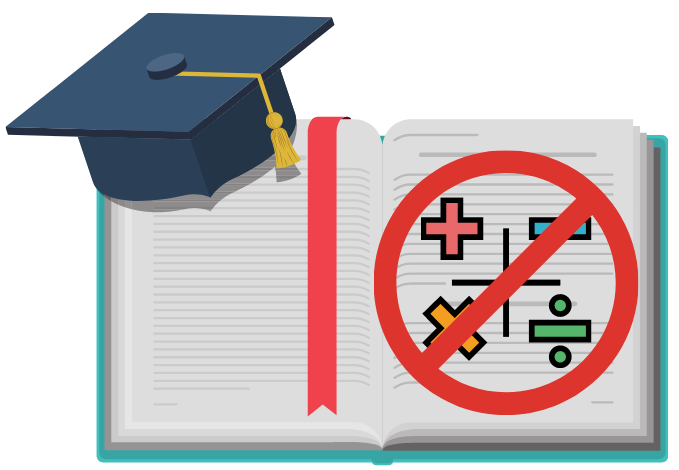 Bachelor of Arts in Linguistics
While some schools offer a linguistics program as part of the English degree, a Bachelor of Arts in Linguistics degree is standalone. The program will discuss the origins of human languages, their significance in social contexts, and how language systems are developed in the brain. Linguistics also features a variety of subfields, including phonetics and speech sounds and the study of single words and long sentences.
Although each school has its unique curriculum, students can expect to take some of the most common Linguistics-related courses. A set of coursework includes Introduction To Linguistics, Semantics, Languages of the World, Language Sound Structures, and Morphology.
A Bachelor of Arts in Linguistics is beneficial to various businesses and fields of study. Graduates find employment in a profession where they can understand how linguistics and communications work and different ways to improve them. They can pursue most careers with a bachelor's degree, while higher-level roles in research and teaching require a master's or doctoral degree.
Potential Careers:
ESL Teacher
Speech Therapist
Speech-Language Pathologist
Translator
University Professor
Why does a Bachelor of Arts in Linguistics have no math?
Like a Communications degree, a Bachelor of Arts in Linguistics can yield a diverse range of career pathways. Since a linguistics baccalaureate program involves the study of human language, it is one of the most popular bachelor's degrees that doesn't require math.
A Bachelor of Arts in Linguistics involves an in-depth analysis of several aspects of languages, including forms, contexts, and structures. It doesn't require mathematical aptitude and instead focuses on critical thinking, analytical, and communication skills. Regardless of subfields, the Linguistics program doesn't involve equations, numbers, and mathematical formulas.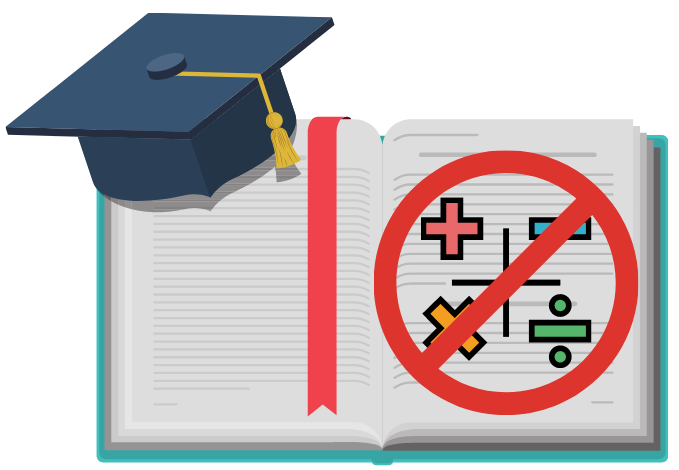 Bachelor of Arts in Political Science
Bachelor of Arts in Political Science students enjoy various career paths or advanced studies in politics and government-related majors. It is suitable for students interested in having in-depth learning and engagement of political theories, international politics, and domestic politics.
A Political Science degree has two types: a Bachelor of Science in Political Science and a Bachelor of Arts in Political Science. Although core requirements are similar with both degrees, a BS in Political Science emphasizes methodologies that may include figures and computations.
This degree develops students' critical thinking, analytical reasoning skills, and flexibility in choosing courses aligned with their career aspirations. Upper-level courses focus on research-based writing programs, developing sought-after skills for their career in the non-profit, journalism, business, law, or government sector.
Potential Careers:
Diplomat
Intelligence Officer
Paralegal
Political Campaign Manager
Political Consultant
Why does a Bachelor of Arts in Political Science have no math?
Although some colleges and universities highlight statistical data in their Political Science curriculum, many schools offer a BA in Political Science that doesn't require math. To thrive in the academic program, students must develop their debating and argument skills and mediation and negotiation abilities.
The curriculum will hone students' abilities to speak their minds, develop convincing debates, and learn the structure of formal debates. Political Science majors must know how to argue persuasively. The program also features different types of reasoning, allowing students to identify and use deductive and inductive reasoning. Apart from the debate and persuasive arguments, Political Science majors must also have critical thinking and critical analysis capabilities.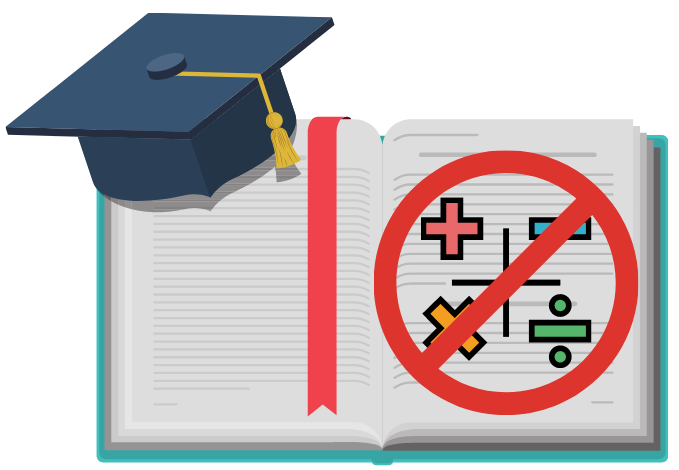 Bachelor of Anthropology/Bachelor of Arts in Anthropology
Many schools offer a Bachelor of Science and Bachelor of Arts in Anthropology. However, students who don't like any Math subjects must enroll in a Bachelor of Arts in Anthropology program.
Both B.A. and BS academic programs offer four subfields in Anthropology, including Linguistic Anthropology, Cultural Anthropology, Biological Anthropology, and Archaeology. Anthropology majors discover several evolutionary, cultural, and historical aspects while applying their knowledge of global development, diversity, and government.
Although each college or university differs per academic program, a BA in Anthropology may include human civilization, genetics, evolution, world history, linguistics, and religion courses. It is a 4-year baccalaureate program that requires at least 120 credit hours of electives, core requirements, and general education courses.
Graduates with a BA in Anthropology degree have numerous career opportunities in museums, healthcare facilities, corporate offices, non-profit organizations, government sectors, and legal systems. Many baccalaureate degree holders also pursue further studies for high-level academic, law, and research positions. To gain up-to-date proficiencies and information regarding Anthropology, graduates can refer and find valuable insights through the American Anthropological Association.
Potential Careers:
Anthropologist
Archivist
Historian
Museum Worker
Survey Researcher
Why does a Bachelor of Anthropology have no math?
Individuals with a penchant for the different civilizations and cultures of the world can enroll in a Bachelor of Anthropology program. Given that it is a common bachelor's degree that doesn't require math, Anthropology majors obtain transferable skills in communication, time management, data analysis, writing, and analysis. Students also gain awareness of essential societal and humanistic topics, highlighting interactions between societies and individuals.
Anthropologists uncover social issues like overpopulation, poverty, and warfare. They must be familiar with a country's customs, learn a new language, or travel to different areas and get to know people so they can fulfill their duties well.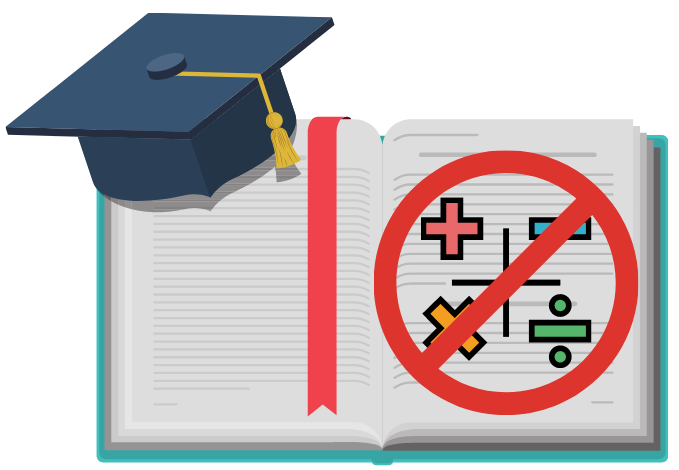 Bachelor of Fine Arts in Creative Writing
Turn your writing proficiency into a creative career with a Bachelor of Fine Arts in Creative Writing. While a variety of academic programs are offered in Creative Writing, their curriculum has similar learning outcomes. The program includes communications, technical programs, and English subjects.
Some of the popular courses in the Creative Writing program include Introduction To Literary Studies, British Writers, American Writers, Advanced Writing and Stylistics, and Writing Fiction. As part of the culminating requirement, students must have a published portfolio or writing samples to highlight their skills and talents as creative writers.
A Creative Writing baccalaureate program involves a multidisciplinary and versatile curriculum. Graduates with a BFA in Creative Writing can pursue creative professions and traditional writing careers. However, some graduates become authors, court reporters, PR specialists, and university instructors.
Potential Careers:
Correspondent
Technical Writer
Editorial Assistant
Copy Writer
Journalist
Why does a Bachelor of Fine Arts in Creative Writing have no math?
While some students are proficient in Mathematics, others have a natural interest and innate talent in writing. It is one of the most self-explanatory reasons why a Bachelor of Fine Arts in Creative Writing is a popular choice for students pursuing a bachelor's degree with no math.
Creative Writing majors will hone various writing skills applicable to different roles, including journalism, copywriting, proposal writing, and technical writing. Other skills include strategic planning, critical thinking, and research.
Since writing involves a broad spectrum, students will learn different writing styles according to purpose. A BFA in Creative Writing will also help students identify whether freelance writing or salaried writing opportunities is the ideal career for them.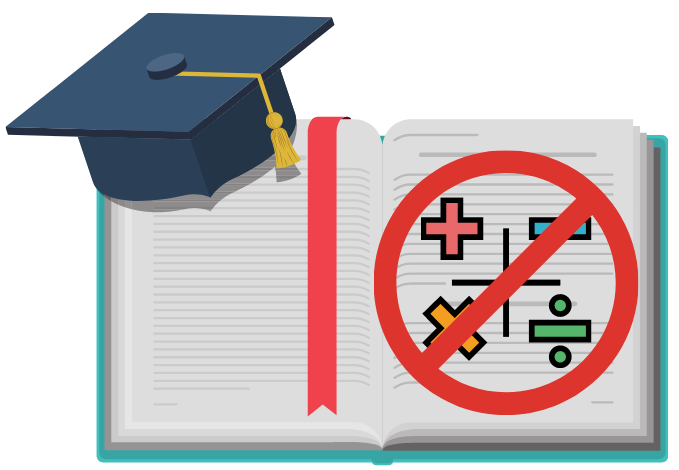 Bachelor of Fine Arts
The Bachelor of Fine Arts is a standard baccalaureate degree for individuals seeking formal education in one of the Fine Arts specializations. Since many arts disciplines are being offered, the BFA programs are categorized into five major classifications: Writing, Music, Film & Photography, Performing Arts, and Visual Arts.
Some students often associate the BFA program with the Bachelor of Arts program. However, the two baccalaureate programs are completely different. The BFA program comprises more studio coursework, while the BA program emphasizes liberal arts with minimal arts classes. The majority of BFA programs in the US consist of 1/3 liberal arts and 2/3 arts courses.
Here are some of the major Fine Arts specializations and their corresponding subfields:
Writing:
Creative Writing
Grant Writing
Poetry
Music:
Jazz
Music Performance
Music Theatre
Film & Photography:
Cinematography
Digital Film
Filmmaking
Performing Arts:
Visual Arts:
Animation
Graphic Design
Sculptor
Potential Careers:
Fashion Designer
Graphic Designer
Interior Designer
Painter
Sculptor
Why does a Bachelor of Fine Arts have no math?
A Bachelor of Fine Arts degree is automatically one of the best bachelor's degrees that doesn't require math. Many students with high creativity and passion for art and beauty pursue a baccalaureate program in Fine Arts to learn more about art and develop their artistic skills. It helps Fine Arts majors strengthen their visual and sensory skills and learn artistic philosophies.
Instead of discussions and problem-solving, this academic program includes practical studio work as part of its main learning experience. Some BFA programs have more studio coursework rather than traditional classroom learning. Pursuing one of the BFA specialties involves more hands-on learning and thinking outside the box.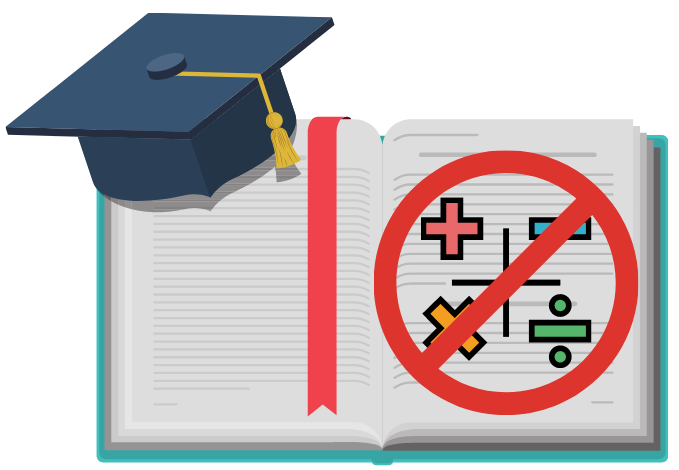 Bachelor of Philosophy, Bachelor of Arts in Philosophy
The Bachelor of Philosophy/Bachelor of Arts in Philosophy is one of the unique academic degrees students pursue. Philosophy deals with studying some of the most thought-provoking questions revolving around the universe.
The program requires thinking outside the box, problem-solving, logic, and critical thinking skills. According to Daily Nous, aspiring Philosophy students outpace other students on the LSAT, GMAT, and GRE as provided by the Educational Testing Services.
Depending on the academic program, a baccalaureate degree in Philosophy focuses on studying truth, existence, ethics, and wisdom. It is an ideal 4-year program for students to strengthen their logical reasoning and analytical skills.
Some of the common topics discussed in the program include Introduction To Philosophy, Metaethics, Metaphysics, Contemporary Analytic Philosophy, and History of Modern Philosophy. Most programs often include famous philosophers, including Socrates, Plato, Aristotle, Kant, and Pascal.
A BA in Philosophy program requires a capstone project for graduation. Students, along with their mentors, explore a certain topic of interest.
Potential Careers:
College Instructor
Journalist
Lawyer
Paralegal
Psychologist
Why does a Bachelor of Philosophy have no math?
Pursuing a Bachelor of Philosophy is common among students who prefer a bachelor's degree that doesn't require math. It is ideal for students who consider themselves deep-thinkers, questioning many things in different aspects of life. Philosophy majors immerse themselves in a great deal of reading and writing in each Philosophy class.
Although the program doesn't have any Math subjects, it requires extensive writing. Students pursuing this academic program must be passionate about searching for wisdom and a strong sense of moral awareness. Equipped with highly developed problem-solving and analytical skills, Philosophy graduates consider career prospects that don't take them to a numbers game.
---
Key Takeaways
Any Math-related subject requires persistence and a lot of patience. Even the smartest student in class invests a lot of time to solve challenging Math problems. It is a major subject that requires mental effort and practice to pass subject. With students juggling between personal and academic matters, they don't have the luxury of time to develop their mathematical interests and aptitudes.
Pursuing a bachelor's degree that doesn't require math doesn't entirely reflect the mental ability of students! Their ability to thrive and commit longer to the subject plays a more crucial role. When students realize they don't have control over deadlines and deliverables, they won't have ample time and preparation to understand the subject fully. They won't risk disregarding other subjects for the sake of investing too much time in Math alone.
A reason students prefer a bachelor's degree that doesn't require math is practicality. Many students love to know the significance and relevance of the subject taught in school. Otherwise, they won't want to learn any mathematics-related subjects if they don't recognize its practical application in their future profession.
Just because a bachelor's degree has no extensive math subjects doesn't mean they won't have rewarding careers after graduation. Many high-paying careers nowadays require a bachelor's degree that doesn't require math. Bachelor's degrees in digital marketing, journalism, human resources, fine arts, and political science are bachelor's programs that yield lucrative professions.
Pursuing a profession aligned with your skill set and interests can lead to fulfilling positions with well-defined paths for career advancement. Although some professions require extensive math skills, others highlight interpersonal, organizational, communication, or artistic skills. Graduates can also strengthen their credentials by accomplishing career-centered certifications and building their portfolios.