Let us help you discover your passion.
If you're still in high school or just completed your GED this site is for you. Our resources and team are dedicated to providing you with the most up to date information needed to choose classes, courses, programs and schools which best suit your aspirations, interests, and situation.
Getting informed by informed is a great step when you're on your way to educational and career success.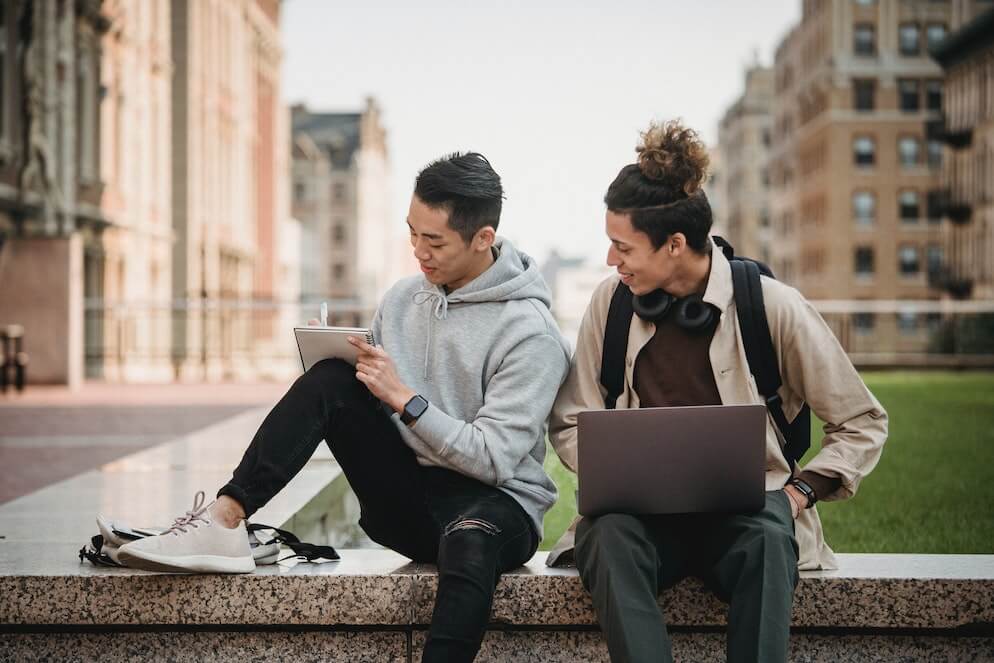 While pondering the big question of "Why am I here?," we at Premium Schools decided to find answers to questions students of all ages, stages, backgrounds, and majors may have.
So, if you're looking for information on schools we recognize as Premium Schools' Rankings, or looking for valuable Student Resources, or perhaps just have a Question, please take a look and perhaps learn something you didn't know, take a step toward getting a degree, advance your career prospects, and align your educational goals with your career aspirations.
In today's fast-paced world, you're most likely living a busy life and wondering what possibilities are out there to improve yourself, expand your knowledge or trade, or reach your dreams. So we're here to help. We do the research to save your most precious resource – time – and help you get on or stay on the path of success.
Whether you choose to pursue a traditional learning approach or enter into the realm of online learning, we have the information you need.
Our Career Guides provide you with salary information, as well as, the best online schools to help achieve your career goals!
Not QUITE ready for that Bachelor's degree? Check out our comprehensive list of Associates degrees offered by the finest schools in the nation! We've covered the gamut of Associates degrees offered online! Just click the link and find your new career!
Types of Online Schools
Since the Internet's inception, online learning has had a growing presence in the post-secondary sector. Inside Higher Education reported that over 7.1 million students engage in online courses and 2.6 million enroll fully online. Studying online is an excellent alternative for non-traditional students needing the flexibility to adjust their course time.
Online colleges offer plentiful benefits, including lower tuition, course variety, comfortable convenience, and better concentration without a lengthy commute. Evidence has shown that online courses are just as effective as their face-to-face counterparts. Not all online schools are the same though. Below we'll introduce the popular online college types found in the United States.
Traditional, Nonprofit Colleges
The largest number of online colleges fall into the traditional, nonprofit category. These online schools typically have a physical campus in one or multiple cities and an online division.
Public online colleges are funded by local or state governments and charge significantly lower costs for in-state students.
Private online universities rely on tuition and endowments to teach, but they focus on education rather than profit.
Traditional online colleges are mostly senior institutions, which means they'll grant bachelor's, master's, and doctoral degrees.
Some may be liberal arts focused for studies like literature and philosophy. Four-year public and private colleges distinguish themselves with extensive services, library resources, and activities for online students.
For example, some nonprofit online schools are:
For-Profit Online Universities
For-profit online schools have become a mainstay in today's education world. These institutions are basically corporations who sell college degrees as their product. The main goal of for-profit online universities is to provide positive monetary returns for their shareholders. Many online colleges following the for-profit model offer quality education.
However, it's important to avoid "diploma mills" that scam students with unaccredited courses that won't transfer. Most for-profit universities have several physical locations yet primarily teach online. Advantages of attending online for-profit schools include less selective admission, scheduling flexibility, and real-world learning focus. Some employers may attach a negative stigma to their online degrees though.
For instance, America's for-profit online schools include:
Two-Year Community Colleges
Also called junior colleges, two-year community colleges are primarily publicly funded schools that provide lower-level undergraduate study. Online community colleges utilize Web technology to provide associate degrees, diplomas, and certificates. According to the AACC, there are over 1,160 community colleges educating 12.4 million nationwide.
Junior colleges are deemed the open-access, affordable alternative in higher education. Students take general education and major courses to prepare for entry-level employment or transfer to a senior college. Online community colleges may also offer noncredit workshops like English as a second language. However, these nonprofit schools often have large academic communities where interaction and engagement could be compromised.
For example, some online community colleges are:
Online Trade/Vocational Schools
Last but not least, online trade schools provide distance learning that's career-oriented for entry into a specific technical discipline. Unlike community colleges, vocational schools don't offer general education avenues. Students solely take courses directly related to their occupational choice.
Online career colleges are typically accredited by national agencies like the ACICS and DETC.
Associate degrees and certificates are awarded over two years or less in various skill-based majors, such as construction, automotive technology, agriculture, culinary arts, and childcare. Online instruction can be integrated with hands-on apprenticeships in students' local communities for experience. But credits learned at nationally accredited colleges often won't transfer.
For instance, available online trade schools include:
Featured Schools
Picking your online college is a tough decision that comes with lofty consequences. To make the right choice, you'll need to carefully evaluate your goals after graduation. Determine which of the above online school types would most benefit your career. Perhaps a technical degree from a vocational college would trump a liberal arts degree from a nonprofit university or vice versa. The best kind of online school depends on your unique learning needs. However, don't forget to check for accreditation to ensure the higher education institution is reliable.
We wish you the best of luck on your path to success!