Find Your Perfect School
Premium Schools is an advertising-supported site. Featured or trusted partner programs and all school search, finder, or match results are for schools that compensate us. This compensation does not influence our school rankings, resource guides, or other editorially-independent information published on this site.
Organizations are often on the guard against white-collar crime. However, fraud can be hard to detect without the help of experts. This is where forensic accountants come in. It is the job of a forensic accountant to investigate fraud and establish whether a financial manipulation took place by conducting detailed research and analysis of financial information.
More Info: Best Schools with Online Bachelor's in Finance Degrees
---
Forensic accounting is essential when it comes to preparing for litigation in relation to insolvency, insurance claims, embezzlement, skimming, tax evasion, money laundering, and other types of financial theft. Based on the data from the Bureau of Labor Statistics, accountants and auditors are expected to grow by 6% in the period between 2021 to 2031. Forensic accountants will always be relevant and in demand in various financial institutions.
Quick Summarization
Interested students who wish to pursue a career in this exciting and high-earning field may want to consider earning a bachelor's degree in business administration with a forensic accounting concentration as a start. They will then need to gain substantial audit experience at a public accounting firm. Certifications can also help them further their career in the industry.
Methodology
The constant need for Forensic Accountants is highlighted by today's complex business and financial landscape. There is an ever-growing need for highly skilled professionals who look into the various spaces where individuals and organizations commit fraudulent acts, as well as uncover the means of how they do these in the interest of accountability and, ultimately, regulation.
The biggest financial scandals and frauds that have taken place over the past few years also drive the point home. We have gathered the best online degrees in Forensic Accounting in this article. The online education format is designed largely for non-traditional/working adult learners, which gives another means and possibility of entry into this in-demand field, working as a consultant in-house or part of an accounting firm.
The schools and programs featured in this list were selected based on the following criteria:
Offers degrees designed specifically as Forensic Accounting degrees or offers concentration areas in Forensic Accounting, which goes beyond the standard single Forensic Accounting course that is typically included in most bachelor's in accounting degree programs,
Offers the program online, which serves as a highly flexible and appealing option both for working adult learners and those fresh out of high school who have yet to earn their bachelor's degree,
Features a curriculum that provides students with a solid foundational background in key business areas, including management, accounting, and finance,
Features a curriculum that also delves deep into the required skillsets and foundational knowledge in accounting, fraud investigation, and other related major key content areas,
Taught by expert faculty who have relevant industry experience and insights that they can impart to students,
Offered by universities/institutions who hold the relevant accreditation to ensure students of the quality of the education they offer,
Has affordable tuition rates for its degree programs and offers a range of financial aid options to help students manage the cost of their education.
Visit our Methodology page for a closer look at our ranking process.
5 Best Online Forensic Accounting Degree Programs
Davenport University
Location: Grand Rapids, Michigan
Davenport University runs a Bachelor of Business Administration in Accounting Fraud Investigation degree. It is a specialized program that equips students with skills crucial to the practice of fraud prevention, incorporating the principles of accounting with auditing practices, and the use of information systems. This program can be completed on-campus, 100% online, or in a hybrid combination.
The Davenport University BBA in Accounting Fraud investigation degree features a broad-based curriculum, integrating courses from security, investigation, auditing, and accounting. Some of the major courses in the program include the following:
Security Foundations
Criminal Law
Cost Accounting
Federal Taxation
Auditing and Assurance Services
EDP Computer Auditing
Accounting Fraud Examination
Investigative Tech & Procedure
Students in the program have a choice of either a Capstone Experience, an Accounting-based BBA Internship, or a Field Experience stint to round out their bachelor's degree and gain important hands-on experience. Depending on their chosen final requirement, activities may involve research, service-learning activities, internships, or job shadowing.
---
Purdue Global
Location: West Lafayette, Indiana
Through its Purdue Global campus, Purdue University offers a Bachelor of Science in Accounting degree that has Auditing and Forensic Accountancy as one of its possible concentration areas. This 180-credit hour program has a completion time of around four years of full-time study and features multiple start dates throughout the year. It is designed to give students a solid background in a number of key areas, including taxation, economics, finance, and information systems, and emphasizes the Generally Accepted Accounting Principles (GAAP) in their practice.
The Auditing and Forensic Accountancy concentration area is designed to teach students investigative skills and fundamental knowledge in accounting that are crucial in preventing and detecting fraudulent activities against individuals and organizations. In this concentration area, students learn how to perform risk evaluation, internal control, and implement audit tests. The courses in the program's curriculum include the following:
Managerial Accounting
Federal Tax
Auditing
Finance
Advanced Accounting
Advanced Forensic Accounting
Purdue Global also offers this degree with the option to take an Accelerated CPA track, linked up with Purdue Global's Master of Science in Accounting degree program. Students who enroll within seven weeks of earning their bachelor's degree will have one master's level course waived from the program, and completing both the bachelor's and master's degrees will meet the 225 quarter credit hours required to sit for the CPA exam.
---
Pennsylvania Western University Clarion
Location: Clarion, Pennsylvania
Pennsylvania Western (PennWest) University Clarion offers a Bachelor of Science in Business Administration in Accounting degree program that has Internal Audit and Forensic Accounting as one of its possible concentration areas. This 120-credit hour degree program is offered on-campus and online, and as a plus, graduates also earn a minor in Data Analytics.
The concentration in Internal Audit and Forensic Accounting is for students seeking to become Certified Internal Auditors with in-demand skills that they can offer to organizations of various sizes.
Courses in the program and concentration area include the following:
Financial Accounting
Managerial Accounting
Cost Accounting
Intermediate Accounting
Forensic Accounting and Fraud
Internal Auditing
Certified Internal Audit Overview
The BSBA degree program offered by PennWest Clarion also offers an Industry concentration, and Internal Audit and Forensic Accounting is also offered as a Minor for students interested in earning relevant skillsets but do not wish to earn the full four-year bachelor's degree. This minor is also offered on-campus and online.
---
Franklin University
Location: Columbus, Ohio
Catering to the demand of the fast-growing accounting profession, Franklin University offers a Bachelor of Science in Forensic Accounting to prepare students for an exciting career prospect. The forensic accounting degree program focuses on preventing and investigating corporate fraud. It combines solid accounting principles with fraud detection and fraud prevention techniques.
On top of accounting courses, students will also take concentrated coursework in occupational fraud forensics. This covers topics such as fraud examination, interviewing techniques, internal control assessment, and corporate governance.
Featuring a hands-on curriculum, this online degree requires a real-world project assignment that involves a simulated financial investigation of a growing company. Students are expected to help with accounting issues during the financial statement preparation by correcting the financial statements and reporting their group findings.
Some of the forensic accounting courses in this online program include:
Fraud Examination
Forensic Account Capstone
Interview Techniques and Legal Elements in Fraud Investigations
Accounting Data Analytics
Accounting Information Systems
Students in this program are provided with an educational framework in preparation for professional certification. This includes careers as a Certified Public Accountant, Certified Internal Auditor, and Certified Fraud Examiner.
---
Southern New Hampshire University
Location: Manchester/Hooksett, New Hampshire
Southern New Hampshire University offers a BS in Accounting – Forensic Accounting. This forensic accounting degree provides students with a solid foundation in the investigation of financial records to detect fraud. Students will be able to build upon their existing traditional accounting knowledge by exploring the auditing process in-depth and gaining key investigative skills to identify, document, and prevent fraud and cybercrime.
In this program, students are taught all about accounting rules and regulations. They will learn how to prepare financial records and tax returns while ensuring the accuracy of the financial information and applying ethics during the decision-making process. Forensic accounting courses focus on fraud detection and investigation to supplement students' accounting classes. They will also tackle investigating and recognizing fraud within an organization and implementing the latest techniques for controlling it. Other courses included in the curriculum are:
Auditing and Forensic Accounting
Detection/Prevention of Fraudulent Financial Statements
Interview Techniques/Legal Aspects Fraud
Investigating with Computers
Students can make use of the core courses of the Bachelor of Science in Accounting as they are aligned to the major content areas of the revised Certified Public Accountant or CPA exam. This online degree is also a good stepping stone for those who want to become Certified Fraud Examiners, helping them stand out to employers.
---
Check this out: Best Schools with Online Bachelor's in Risk Management Degrees
---
Essential Skills for Students in an Online Bachelor's in Forensic Accounting Program
Communication Skills
Forensic accounting often involves sharing financial information with internal and external audiences. It is important that professionals in this field have strong communication skills so they will able to get their message across to different parties and protect the accuracy of information.
They must communicate their conclusions with clarity, whether in written or oral form. Often, forensic accounting professionals will be working with law enforcement and court officials, so summarizing complex and technical ideas for the jury is of utmost importance.
Interview Skills
A huge part of a forensic accountant's role is in gathering evidence. This can be done by interviewing key witnesses and seeking a better understanding of the situation. Forensic accountants must know how to put them at ease and bring out the necessary information during the interview.
Another important interview skill that is needed is the ability to detect when the person is not speaking the truth. If needed, the forensic accountant must be able to push for more information.
Keen Eye for Details
A detail-oriented approach is a good skill to have, especially in forensic accounting. It is part of their job to detect financial irregularities, after all. Forensic accountants must be able to note small discrepancies that can help them build a case, often shedding light on a larger pattern of fraud.
This can only be done with trained focus and attention to the task at hand. They will also be expected to look at and interpret numbers, which a keen eye for details will make easier.
Analytical Skills
Another important ability for forensic accountants is having analytical skills. This skill is useful when looking at numbers and poring over documents. Forensic accountants will draw from their analytical thinking skills to construct a picture of the kind of crime being committed and present the evidence to the key parties. They will be analyzing a lot of evidence and documents to determine the attempt to hide assets, for example.
Problem-Solving Skills
Forensic accountants must be able to adapt to the situation and make use of their quick thinking to lay out solutions to problems at hand. It is not uncommon to find the course of investigation changing quickly based on new factors cropping up. It is important that forensic accountants are able to draw up various scenarios and think of every possibility.
Patience and Persistence
This is often overlooked, but forensic accounting needs a dogged approach when it comes to a thorough investigation. It is important that forensic accountants are persistent enough to see through the process until the end. They must be patient enough to move at a glacial pace and resist speeding up the inquiry, as it can jeopardize the fraud investigation process. They must have patience in looking at the information at hand and picking out every detail to establish the truth.
Technical Skills
Forensic accountants must also be tech-savvy. Most of the investigations nowadays involve the use of computers and the Internet. Cyber forensic investigations are quite common. Accountants must utilize data analysis tools to detect and evaluate false financial data. They may need to explore and pick apart computers and gadgets. Forensic accountants must monitor the advancements in technology.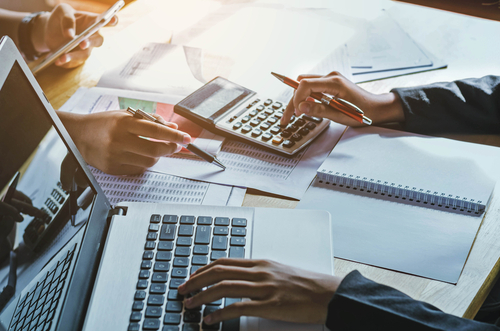 Frequently Asked Questions
What is the difference between Accounting and Forensic Accounting?
Accounting, in general, refers to the preparation of financial statements in compliance with the Generally Accepted Accounting Principles. This field involves the review and tracking of all historical data with regard to money circulation. It is the job of certified fraud examiners to propose and implement measures to ensure that financial statements are accurate and are within the laws governing financial institutions.
Forensic accounting, on the other hand, is a type of accounting that is often used in a court of law. This means there should be a suspicion of a financial crime that requires the expertise of a forensic accountant. Their responsibilities include collecting evidence of financial fraud, for example, and interviewing third-party witnesses. It is the goal of forensic accountants to establish who committed the financial crime, how they did it, and how much they stole. It is also part of their work to think of ways to prevent such crimes from occurring in the future.
What do students gain from a Forensic Accounting degree?
The content of the online bachelor's in forensic accounting programs varies from university to university. As a rule of thumb, however, most of these forensic accounting degrees provide a strong foundation in general business courses like business law and strategic management. It also covers significant portions of accounting and criminal justice. Some of the primary accounting courses include auditing, taxation, financial statement analysis, general accounting principles, and business law.
With a forensic accounting major, students will be able to dive deeper into the financial crime investigation, detection, and prevention of fraud. The focus may vary, but it often involves preventing accounting fraud, employee theft, and embezzlement.
Students of forensic accounting programs will need to learn how to review, detect, and investigate possible financial statement fraud and assess the risks of such cases. Many business schools that offer bachelor's in forensic accounting programs include the study of technology in relation to the detection and prevention of modern financial crime.
What's the typical timeline for completing an online bachelor's in Forensic Accounting program?
This will largely depend on a variety of factors. Students enrolled full-time will be able to complete the degree within four years or less. However, there are some universities that allow part-time enrollment. Online programs in forensic accounting also offer flexibility in terms of schedules. Often designed for working professionals, online degrees in forensic accounting let students complete the coursework at their own pace. There may be no set class meetings, and the availability of course materials is 24/7.
The school's transfer policy can also be a huge factor. Students with prior relevant college credits will be able to transfer a certain number of credit hours into the program, significantly cutting down the time it takes to finish the degree.
Where do forensic accountants typically work?
Forensic Accountants are found in a variety of settings and workplaces that provide financial investigative services. Large accounting firms will have their own specialized divisions dedicated to forensic accounting, and some corporations also have in-house auditing divisions.
We often hear of insurance fraud, and insurance companies have forensic accountants of their own. Other financial institutions also employ forensic accountants. Just as importantly, forensic accountants go on to work at some law firms and regularly work with law enforcement and government agencies, who are tasked with prosecuting fraudulent activities on behalf of the state and performing regulatory functions of private institutions.
What types of certification do Forensic Accountants have?
Forensic accountants are, at the heart of it, professional accountants, and they need to have a Certified Professional Accountant (CPA) license. This involves having to sit for the Uniform CPA Examination and pass.
Some accounting sub-disciplines have their own added certification/credential (which some employers also look for), and this is true for forensic accountants. One of the most highly recognized is the CFE, or Certified Fraud Examiner credential, although the Association of International Certified Professional Accountants (AICPA) also grants the Certified in Financial Forensics (CFF®) credential to licensed CPAs who qualify.
Is a Master's in Forensic Accounting required/a good option?
A bachelor's degree in Forensic accounting grants students entry-level positions in accounting careers, although gaining a Master's Degree in Forensic accounting is another entry point into the profession that others take, especially those who already have a bachelor's degree in accounting.
The typical Master's in Forensic Accounting curriculum is designed to teach students a comprehensive set of advanced and specialized skills that a forensic accounting bachelor's degree may not necessarily include due to any number of constraints. Master's degrees, after all, are designed as specialized deep dives, although they may have an interdisciplinary design. Master's degree programs also have their own unique learning environments and opportunities for professionals to interconnect and build their networks.
In more realistic terms, many employers tend to prefer those who already have a Master's degree when it comes to career advancement. These degrees can be significant investments on their own, though, and students must also carefully consider their options before enrolling. In any case, graduate education is made easier by having actual industry experience, so it helps to give the thought a few years.
Key Points to Ponder
A forensic accounting degree is a specialized accounting degree program focused on the detection, investigation, and prevention of fraud committed either by individuals or corporations.
Forensic accounting degree programs feature courses on core business principles and standard accounting sub-disciplines but take a deep dive into the specialized skills and tools used in detecting and investigating fraud. Forensic accounting programs often also have courses on criminal law and security.
Forensic Accounting has a criminal law component, and forensic accountants serve a law enforcement and regulatory function as well, aside from the standard accounting and auditing roles they perform. Indeed, many law enforcement investigations on fraud make use of forensic accountants.
Among the skills that are highly valued by forensic accountants are good interview and investigative skills, as well as a keen eye for detail, and a knack for problem-solving. Forensic accounting is a rigorous profession, and forensic accountants must also be patient and steadfast.
Given the law enforcement-based nature of their work, forensic accountants should not only have a knack for rigorously looking through mountains of data. They should also have a strong ethical sense and professional integrity.
---
Before you leave, see this: The Best Online Associates in Accounting Degrees