Sometimes knowing what you want to be when you grow up is not quite enough. It's important to find a career that meets the demands of your lifestyle and the inevitable bills you'll have to pay throughout your life. Finding what you want to do is important and then finding the best paying career in the field you're interested in is also very important. If you want to land a lucrative job than you will likely need to find a lucrative certification.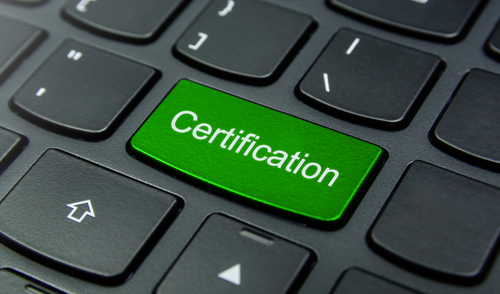 Certifications serve as a standard metric by which employers and colleague may measure your areas of expertise. These certifications often lead to high paying careers and in many cases build upon themselves leading to career advancement and ultimately better pay. Not sure what you want to do exactly? Aren't sure which certification you need for which career?
Take a look at our list of the 30 Most Lucrative Short Certificate Programs.
1. Google Certified Professional
The professional cloud architect exam has a two hour exam with a multiple-choice and multiple select format taken remotely or in person of a test center. The cost of the exam is $200. As a professional cloud architect you will be able to analyze technical business processes, design a cloud solution, manage club architecture, create security and compliance, design solutions for operation reliability. The Purpose of the certification is to help organizations leverage Google cloud technologies. As a cloud architect you should be proficient in aspects of solution design cloud strategy and the best practices of cloud architectural strategies. During your exam you'll be given a series of case studies to help you choose your answers. For a full list of questions and topics that will be covered on the exam see their exam guide.
2. CRISC – Certified in Risk and Information Systems Control
The Certified and Risk and Information Systems Control is an ISACA certification. This certification is a good option for a senior manager for information security. Risk management is a lucrative career with salaries often close to $150,000 a year. To prepare for the exam you may want to examine some of their self paced review materials. You can then register and pass the examination and apply to get certified. To be certified you must have the the relevant full-time experience in the CRISC job practice areas. Those practice areas focus on IT risk management.
3. Air Traffic Controller
To become an air traffic control or you must be certified by the FAA. In order to become certified you must pass a knowledge and practical exam that meets the experience requirements. These experience requirements are met through on-the-job training after graduation from an academy that's been approved by the FAA. There are many routes to becoming an air traffic controller. You may complete an ATNCTI program at the associates bachelors or masters level or you may decide to become certified as an air traffic controller through the United States military. There are a number of steps along the way and the amount of time it takes to complete each step will vary from person to person. A bachelors degree is the typical entry level degree as well as academy training which typically takes between 2 to 5 months followed by 2 to 4 years of on-the-job training to become fully certified.
4. VMware Certified Professional 6 – Data Center Virtualization
The VMware certified professional 6 Data Center virtualization certification is for individuals who need to improve credibility and deliver value to businesses and organizations. This is an industry recognized certification for individuals who are looking to be, network installers. There are a couple of paths you may take toward certification. For those who are new to VMware data center virtualization technology you must first gain experience with Vsphere 6. The recommendation is a minimum of six months. Next you should attend one of the required training courses then complete the VSphere 6. foundations exam or the 6.5 foundations exam and then finally complete the VMware certified professional 6 Data Center virtualization exam. If you have some experience with V sphere 5X training but are not VCP certified then you may follow the following path: attend the VMware 6 Spheretraining course, complete the VSP or six foundatio , and then finally complete the VMware certified professional6 Data center virtualization exam. Are you ready to get started? Head to their website.
5. ITIL Foundations
The ITIL Information technology infrastructure library foundation certification is the certification you need to become an information architect. ITIL provides a series of guidelines to help you improve your services. The ITIL certification shows businesses that you have the problem-solving skills necessary to supply the needs of a business. The skills may be applied to any organization. ITIL is a set of guidelines that may be customized and tailored to fit the news of a specific organization. And ITIL certification shows businesses that you have met industry standards and gives you a set of tools to use when servicing the IT needs of any business. The certification itself may be obtained through an exam format which contains multiple choice questions that is 60 minutes in duration. To learn more about ITIL and how to prepare for the exam you can head to their website.
6. Microsoft Certified: Azure Fundamentals
Are you looking to become a Microsoft cloud-based service sales provider? Then you will need a Microsoft certified Azure Fundamentals Certification. To gain certification you should have some foundational knowledge of cloud services as well as how those services are provided through Microsoft Azure. This in the certification is intended for beginning candidates who are just starting to work with cloud-based solutions. The certification is an opportunity to provide to prove your understanding of cloud concepts. A candidate is typically familiar with general technology concepts that include concepts of storage, networking, computing, application support and application development. Those Azure fundamentals are then use to prepare for the specialty certifications. Are you ready to apply? Head to their website
7. Certified information systems security professional (CISSP)
The International Information System Security Certification consortium grants the CISSP certified information systems security professional. This is one of the most recognized certifications for information security. Candidates looking to land a job in one of the following areas may be interested: security and risk management, asset security, software development security, security operations, security assessment and testing, identity and access management. To be eligible for the certification you must have a minimum of five years of experience in one or more of the aforementioned domains. If you do not have the qualifications you may become an associate of ISC by passing the CISSP examination. For more information on how to become certified check out their website.
8. CCNP Routing and Switching
If you're looking to become a Network Architect you may want to get the CCNP routing and switching certification from Cisco. The certification is appropriate for individuals with at least one year of networking experience who are ready to work independently on network solutions. In order to obtain the certification you must demonstrate the role of network engineer, systems engineer or network technician. One pre-requisite certification to this is the CCNA Routing and Switching certification or the CCIE Certification. To be certified you must pass the three required exams in ROUTE SWITCH and TSHOOT. For the route exam you will implement Cisco IP routing, for the switch exam you will implement Cisco IP switch networks, and for the troubleshooting and maintenance exam you will troubleshoot and maintain IP Networks. Are you ready to take the exams? Head to their website.
9. AWS Certified Developer
Amazon Web Services AWS is a comprehensive cloud platform that offers nearly 200 services from global data centers. AWS certification is granted once an individual demonstrates the core AWS services used in basic AWS architecture best practices. The format of the exam is multiple-choice and multiple answer as delivered on a testing center or a proctored exam. The cost of this exam is $150and is available to English Japanese Korean and Chinese speakers. To be successful you must be able to demonstrate high-level programming language abilities, proficiency and developing deploying and debugging cloud-based applications using AWS, and ability to use the DWS services to write various applications, and ability to identify the key features of an AWS service, and more. To prepare for this examination you may complete the foundational associate professional or specialty certification courses.
10. Salesforce certified development lifecycle and deployment
Salesforce Certified Development life cycle and deployment designer certification is designed with individuals and who have requisite skills and experience managing lightning platform development and deployment activities and the ability to communicate those solutions to business stakeholders. To qualify for this exam you must have those pre-requisite skills. There are a number of certifications you may pursue including a certification as a technical architect, a certification as an application architect, a certification as a system architect, certification as a data architecture and management designer, a certification and identity and access management design, a certification and integration architecture design. Some of the jobs you may pursue include technical lead, developer lead, project manager, released manager, technical architect, developer, tester, and more.
11. PMP
The project management institute offer certifications for every stage of your project management career. The PMP project management professional is what is considered to be the gold standard certification. This certification is recognized in demand by organizations across the world. The PMP delivers because it provides you with the skills and experience that you need to get hired. In order to qualify for certification, you must have a four year degree as well as 36 months of project management experience and 35 hours of project management education or the CAPM certification. Alternatively, you may have a high school diploma or an associates degree, 16 months of project leadership and 35 hours of project management education/training. Once you meet the qualifications you can apply for your PMP. Once you can verify that you have you're training and hours then you may complete their application. The cost of the application varies depending on whether or not you are a member or non-member. Non-members will pay $555 whereas members pay $405.
12. Security+
The CompTia Security+ Global Certification ensures that you are able to pursue perform the basic skills required in IT security. This is the first security certification an IT professional should earn. Successful candidates will have the following skills: the ability to detect various types of compromises and have an understanding of penetration testing as well as vulnerability scanning. Successful candidates will be able to install and deploy network components while troubleshooting common issues while supporting security in an organization. You should be able to architect and network securely, install access services and management controls, implement risk management and summarize that to others in the organization. The CompTia Security + exam includes no more than 90 questions that include a combination of multiple choice drag and drop activities and performance-based actions. You will be asked to cover the following areas: threats and vulnerabilities, identity and access management, technologies and tools, risk management, architecture design, cryptography and public key infrastructure.
13. Oracle certified professional
If you want to become a Java Developer than you may wish to become Oracle certified. In fact, you can get certified from the comfort of your own home. There are a number of oracle certifications including the Oracle Certified Junior associate which is for novice level certification for students and secondary schools two year colleges and four year colleges call the Oracle certified associate which is another step toward Oracle certification Oracle certified professional certification, the Oracle certified professional which is a credential that builds upon the OCI, the Oracle certified master certification that demonstrates a candidate's abilities through a series of rigorous exams, the Oracle certified expert the Oracle certified specialist. This certification is based on focus products or skillsets. To become a Java SE eight programmer you will need the Oracle certified associate. To be a Java SC11 developer you may want to focus on the Oracle certified professional certification. For more information about the various paths certification check out their website.
14. Certified data professional (CDP)
A certified data professional CDP is the updated certification from the certified data management professional. The CDP uses a broader and more current industry standard. The following jobs may be certified with this credential: business analytics, data analytics and design, data integration in, data and information quality, data warehousing, enterprise data architecture, information systems or IT management, and more. There are various levels of this credential as well including the executive management level. The executive management level requires a four day in person workshop as well as a written assessment. The principal level requires three exams to be taken in the following areas: business corps, data management. The mastery exam requires three exams were the third exam as a specialization. For more information about how to get certified check out their site.
15. Certified ethical hacker
The Certified Ethical Hacker Qualification is a qualification bringing the latest commercial grade hacking tools and techniques. The certified ethical hacker V11 will show you how to hack web applications, cloud computers, engage with operation technology, WPA3 encryption cracking, enumeration such as NFS, telnet, FTP, and SMB, malware reverse engineering using static and dynamic malware analysis. The exam itself is 125 questions long and four hours to complete. It is multiple choice and delivered using the ECC exam, VUE. Ethical hacker positions are more and more in need as the world engages with a wide variety of cyber security threats. Companies across the globe will need ethical hackers to ensure that their systems are secure.
16. Microsoft technology associate
If you were pursuing a career in technology you may wish to pursue the Microsoft Technology Associate Certification. This is an entry-level potential for individuals who are seeking fundamental technology skills. This certification includes information for developers, database, and IT professionals. To complete this certification you might want to complete a number of IT professional forces developer and database courses and others. Some of the material that will be covered in the exam includes Windows server administration fundamentals, networking fundamentals, security fundamentals, Windows operating system fundamentals, mobility and devices fundamentals, software development fundamentals, database administration fundamentals, and HTML5 application development fundamentals. Check out their website for more information.
17. Global information assurance certification (GIAC)
GIA certifications Global Information Assurance is a cyber security certification that covers real world terms. Today many companies will only hire certified professionals. The certification signal to the human resources teams that you have the skills that they need. Certification through GIAC will give you the skills needed to combat security breaches as well as mitigate threats. The GIAC exam tests real world skills. The GIAC certification exam is about 2 to 5 hours and links and that depends on the specific certification attempts. There are a wider range of certification categories including in the following areas: offensive operations, cyber defense, cloud security, industrial control systems, digital forensics an incident report response, management legal and audit. For more information about these various certifications check out their website.
18. HubSpot Content Marketing Certification
The HubSpot Content Marketing Certification well teach you a content creation framework that produces effective content. The course includes 12 lessons, 56 videos, 11 quizzes and over six hoursnof material. You will learn the power of storytelling, building a content creation framework, planning a long-term content strategy, how to generate content ideas, how to create quality blog content, how hotspot uses blogging to rank number one on Google how you can extend the value of your content through repurposing, creating topic clusters and pillar pages how to create a successful video marketing strategy, t blogging strategy powered by SEL, how to effectively promote content, and measuring and analyzing your content. If you were looking to become a content creator than the certification can help you get the job.
19. NASM Certification
Do you love being physically fit and active? Would nothing be more exciting to you than showing others how to do it too? You will need the NASM personal trainer certification. You may follow their self study program premium study program guided study program all inclusive program. The all inclusive program includes their 100% online courses, the exam, additional textbook learning videos practice exams and more. The NASM offers a number of certification bundles and add-ons including those for nutritional coaching, strength and conditioning, weight loss, youth sports, corrective exercise, and others. If you are ready to set your own hours as a personal trainer then you need to start here.
20. Apprenticeship or Certification in Code Enforcement
Are you looking to become a building inspector? This lucrative career may be pursued by way of an apprenticeship or certification in code enforcement. The international code counsel offers education as well as certification. In many parts of the United States jurisdictions require a bachelors or masters degree in addition to on-site experience. Before pursuing certification you may wish to pursue a bachelors degree in a related areas such as construction, engineering, fire protection management, architecture, and others. The international code council offers certification. Certification requirements differ depending on your city, county, state or federal government agencies.In general, you may pursue national certification or state certification as well as UST/AST underground storage tank or above ground storage tank licensure. If you wish to be nationally certified you may seek to pursue one of the following national certification: residential inspector, commercial inspector, general plans examiner, fire, fire extinguisher technician, energy conservation, green building, certified building official, certified fire marshal, code specialist, code enforcement. Additionally there are a number of special instructor certifications including in welding, steel and bolting, and more.
21. Network+
These days becoming a network administrator is highly lucrative and in high demand. The compTia network plus 10-007 has been updated in order to address the current networking technologies. The exam includes critical security concepts, cloud computing, coverage of newer hardware, concepts for individuals- giving them the right combo of skills that are required for network resilience. The exam is 90 questions and 90 minutes in length. The compTia Network + certification recommends at least 9 to 12 months of working experience. The cost of this examination is $329.
22. Court Reporter Certification
The association for court reporters and captioner offers a court reporting program. To become a certified course reporter you may follow in a variety of tracks including: a day program that leads to graduation, and night program that leads to graduation, associates degree, bachelors degree, certificate program, online program, and more. To gain certification you must attend an NCRA approved program. The NCRA offers a number of standardized certifications. You can become a registered scale preferred reporter, a registered professional reporter, certified legal video specialist, registered merit reporters, registered diplomat reporter, certified real time reporter, certified real time captioner, a certified reporting instructor, and others. Certificate requirements vary from state to state. The majority of states do require certification though some states do not. To find out more check out their website.
23. HVACR Certification
HVAC certification is the certification for HVAC technicians. The purpose of the certification is to show that the technician is trained and qualified to perform installations and repairs within their state. To become a certified HVAC professional you must earn a high school diploma or GED equivalent, receive an HVAC certificate from an accredited trade school or program which depends on your state, obtain your HVAC license from your state, and pass the certification exam for different types of HVAC careers. The different types of HVAC certificates include those for installing small appliances, for high-pressure systems, and for servicing low pressure systems. You may also choose to apply to the universal EPA certificate or the North American technician of excellence certificate. For more information about these various certifications check out their website.
24. American Design Drafting Association Cert
The ADDA American Design Drafting Association offers professional certification. The purpose of the certification is to provide a standard certification metric based on the individuals' level of competency. This certification is available to professionals as well as students. Examinations may be taken at any approved testing site or through a proctor that has been approved by the ADDA. Professional certification it's available for three years from the date of the certification and does require renewal. Professional certification credentials are available for the following levels: apprentice: high school vocational training or entry-level on the job employment in architectural and mechanical, certified drafter: advanced high school vocational training up to two years of experience in architectural and mechanical fields, certified design drafter: post secondary training and experience of about 3 to 5 years in civil engineering, certified digital designer: post secondary training experience of 3 to 5 years In visual communication and digital photography. Members of the ADA receive a discount for the examination cost. Cost for this examination ranges from $85-$265 for non-members.
25. NITC Journey Level Steamfitter/Pipefitter certification
The National Inspection Testing Certification NITC for steamfitter/pipefitters is a $116 certification. The certification is intended for candidates who are qualified and can demonstrate skills in fabricating, preparing, rigging and installing pipes, tubing and equipment following standard industry practices. To qualify for the certification you are expected to be experienced trade professionals who have completed a UA training program or the equivalency of and have four years of experience in the installation of piping systems. Candidates for this certification must be able to submit proof of their four years of experience in piping insulation and submit testimonial letters from employers if you do not happen to possess a valid journeyman certificate. This certification is valid for five years from issuance.
26. Masonry Certification
Are you looking to become a brick mason? You will need certification through the Mason Contractors Association of America MCAA. This is the national trade association that represents various Mason contractors. The certification program helps customers select which Mason contractors to use on the job. If you have the certification you'll instantly be able to display your masonry field seal which gives you an advantage when marketing your skills to clients and potential customers. With this certification, the masonry certification program actually certifies the company. The primary individual who's in charge of the masonry operations such as the owner will be the individual responsible for earning the credits and taking the final certification exam. Certification feeds are $600 per members and $850 for nonmembers. The renewal fee is is $500 every three years. For more information about the approved course sequence for this certification check out their website.
27. A+
CompTia offers the A+ certification. The certification emphasizes individuals looking to work as service technicians as well as individuals who troubleshoot and repair PCs. To complete the certification you must take two exams required to become completely certified. The total cost for the examinations are $452. The two exams are the Core One exam and the Core Two exam that cover some of the following content: basic security skills for IT support, configuring a device operating system that includes windows, Mac, Linux, chrome OS, android and iOS as well as cloud-based software. Additionally these exams include material regarding troubleshooting and problem-solving service challenges and support issues. You must know how to apply best practices to documenting and scripting. Those seeking certification must be able to back up data and recover as well as apply data storage in management practices.
28. Firefighting Certification
Fire fighter licensure is important for this risky career. There is no specific license that's actually required by the fire department. However, you should be able to write an exam and attend a physical ability test to prove you can handle the stress of the job. To become a licensed firefighter first apply to fire departments. Hiring usually takes place every 1 to 2 years and may vary from city or state. Before you can pass the exam you must pass the physical fitness criteria. The candidate physical ability test is to recognize standard measures of an individual's fitness to meet the physical demands of becoming a fire fighter. This exam includes the stair climb, hose drag, equipment carry, forcible entry, search, rescue, and ceiling breach and pull. During the test all candidates wear a helmet and gloves and a 50 pound weighted vest that is designed to simulate protective equipment. Additionally you may wish to get certified as an emergency medical technician EMT or a paramedic.
29. NFDA Certification
NFDA certification is for the national funeral directors association. The NFDA offers a range of training, cremation certification program, a certified pre-planning consultant program, and a certified celebrant training program. We arrange is a training program that is appropriate for a funeral directors. If you're looking for better ways to communicate the value of the funeral to your customers than this is the training that you need. The cremation certification is the standard that's required for funeral service professionals. The program covers the best practices for safe and proper as well as ethical crematory operations. If you're looking to include cremation services then you will need this certification.
30. Range of Certification For Medical Coding
The medical coding certification is a great option for anybody who's looking for jobs stability and high pay in a lucrative field. Medical coders are required and nearly every medical practice hospital and clinic. Some medical coder's may even work from home. In order to become a licensed medical coder you must complete the medical coding certification. To be certified you must be able to demonstrate knowledge of one or more of the three codes that are currently being used including: ICD-10-CM, current procedural terminology, and healthcare common procedural coding systems level two. Medical coding certification is available through a few different organizations. Certification will depend on your intended career but generally speaking the CPC exam consists of questions in the following areas: surgical procedures, evaluation and management, anesthesia, radiology, pathology and laboratory, medicine, medical terminology, anatomy, ICD 10 volumes one and two, HCPCS level two codes, coding guidelines, compliance and regulations. To remain certified you must complete 36 hours of continuing education credits. To become a certified coding specialist you must have a diploma or a degree in medical training from a medical coding training program, two years of medical coding experience, and an existing medical coding certification plus one year of medical coding experience.