Find Your Perfect School
www.premiumschools.org is an advertising-supported site. Featured or trusted partner programs and all school search, finder, or match results are for schools that compensate us. This compensation does not influence our school rankings, resource guides, or other editorially-independent information published on this site.
Are you looking for online associate's degrees?… Programs that will get you the best return on your money? Take a look below!
Never underestimate the value of education… at any level. This is a time of unparalleled scrutiny on the value of higher education. Is it worth the money some schools charge? Well, according to the U.S. Bureau of Labor Statistics (BLS) report, 99 occupations that typically required less than a bachelor's degree saw median annual wages of over $52,830 in May 2019.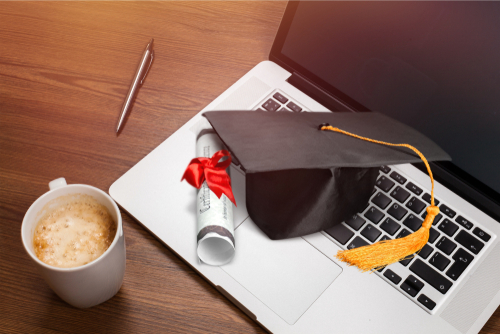 The BLS reports that with many of the high-wage associate's degree level jobs, previous work experience or on-the-job training in a related occupation is not required.
Related articles:
---
---
FREQUENTLY ASKED QUESTIONS
What is an Associate degree?
Earning an online associate degree is a great way to get some college education under your belt, which is often needed or preferred by employers. A program at this undergraduate level will allow you to obtain skills needed to get you out into the workforce fast. In addition, if you are so inclined, you can transfer your credits to a bachelor's degree program to further your credentials and increase your chances of earning more money and obtaining a leadership position or a job promotion, at the very least.
What are the best fields for earning an Associate degree that will yield the best end results for me?
Some popular associate's programs are found in the fields of:
Liberal arts and science, general studies, and humanities
Health-related professions
Business, management, marketing
Culinary Arts
Engineering technologies
Law enforcement, firefighting, homeland security
Computer-related services
Do most employers require an Associate degree to fill their positions?
That solely depends on your career choice. Obviously, some career selections require a more in-depth education than others. There are many jobs that barely require a high school diploma; however, with additional education, you can increase your salary potential… which is often the name of the game, right? The BLS reported, as of 2018, the difference in salaries between those with a high school diploma and those who had earned an associate degree… was $124.00 per week or approximately $6,448 annually. So, will earning an associate degree help you? Check out the information below!
---
Methodology
What follows are some of the best (in terms of a return on your investment) online associate degrees. In addition, you may also want to consider that many organizations perform their own training, such as a police academy or the Federal Aviation Administration. In such cases, a formal degree program may not be required; however, earning an associate degree in the field is a great stepping stone to bigger and better things. With an associate degree program completed, you can transfer your credits to a bachelor's degree program for job promotions or management positions… Something to keep in mind!
---

Top 10 Careers That Require Online Associate's Degrees AND Provide Lucrative Salaries
Police and Detectives
Are you interested in serving the public? If so, becoming a policeman or policewoman may be the career for you. In addition, detectives are also committed to protecting the public. As they gather facts and put the bad guys in jail, today's law enforcement personnel must be knowledgeable in all aspects of the proper ways to arrest perpetrators in a safe and legal way. Generally, a high school diploma will suffice for this position; however, an associate degree in criminal justice will help you get the job promotion or leadership position you desire.
---
Electrical Engineering Technician (EET)
Although it is an occupation in a slow-growing field, BLS predicts few changes in employer needs over the next 10 years. That's a good thing. Electrical and electronics engineering technicians help engineers design and develop computers, communications equipment, medical monitoring devices, navigational equipment, and other electrical and electronic equipment. Oftentimes, you'll work in product evaluation and testing, using measuring and diagnostic devices to adjust, test, and repair equipment. It's interesting work. And generally, an associate degree will suffice.
---
Diagnostic Medical Sonography
Since the work is very precise…and in some cases (many, actually) can save lives, these techs are well compensated. To wit: diagnostic medical sonographers and cardiovascular technologists and technicians, including vascular technologists, operate special imaging equipment to create images or conduct tests. These images and test results help physicians diagnose medical conditions. Some technologists even assist physicians during surgical procedures.
---
Computer Science/Web Developers
The upside of this profession is enormous. Pure and simple: Web developers design and create websites. They are responsible for the look of the site. They are also responsible for the site's technical aspects, such as performance and capacity, which are measures of a website's speed and how much traffic the site can handle. They also may create content for the site. When you're hot, you're hot and a good web developer can make a fortune…all on an associate's degree.
---
Occupational Health and Safety
You might need a bachelor's degree to get a job in this field. But sometimes, associate's degree holders can start as occupational health and safety specialists. Their job is to analyze many types of work environments and work procedures. Specialists inspect workplaces for adherence to regulations on safety, health, and the environment. They also design programs to prevent disease or injury to workers and damage to the environment. Interesting work. Well paid.
---
Dental Hygienist
That dental hygienist who cleans your teeth twice a year probably has an associate's degree. He or she also is qualified to clean teeth, examine patients for signs of oral diseases such as gingivitis, and provide other preventative dental care. One other thing they can do: educate patients on ways to improve and maintain good oral health. Work schedules are usually daytime hours, often four days a week.
---
Funeral Service Worker
Becoming a funeral service worker requires compassion and dedication to helping others work through their grief as they prepare to honor their loved ones. In this position, you would be responsible for the arrangements as you prepare for the service. Funeral service workers are often on call at all times, including weekends and nights. An associate degree in funeral service or mortuary science is preferred. Passing a licensing exam may be required in your state as well. Although the BLS reports a decline in job growth, the funeral business often depends on the client's personal preference, such as burial or cremation. The recent pandemic has yielded an uptick in the funeral business.
---
Air Traffic Controller
Air traffic controllers maintain safety in the skies as travelers jet-set around the world. They direct the traffic in the air, as well as direct ground traffic, keep an eye on the weather, and alerts staff to emergencies, and much more. An associate degree is often required, in addition to proper training from the Federal Aviation Administration (FAA). Work hours can vary greatly, including weekends and holidays, and are regulated by the FAA. Although the BLS predicts a slower than average job growth rate, rest assured that as the recent pandemic continually decreases, travel by air will increase exponentially.
---
Radiation Therapist
If you know someone who has had cancer, you are familiar with the importance that the radiation therapist plays in a patient's recovery. They are tasked with administering radiation treatments and overseeing the care of cancer patients. They work closely with oncologists, physicians, and other radiation therapists. Safety regulations are required when working in this field, they usually work in a clinical setting, and can enjoy regular work hours since most treatments are scheduled.
---
Food Service Managers
Foodservice managers are tasked with the day-to-day operations of running a restaurant, managing personnel, and providing excellent customer service. In addition to restaurants, food management is also required in school cafeterias, motel/hotel resorts, and spas. They often work nights, weekends, and holidays. Is an associate degree really necessary? Most managers in this field have obtained a high school diploma; however, to earn the most dollars, earning a degree in the culinary arts or in business management is certainly helpful.
For more information, see: