Find Your Perfect School
Premium Schools is an advertising-supported site. Featured or trusted partner programs and all school search, finder, or match results are for schools that compensate us. This compensation does not influence our school rankings, resource guides, or other editorially-independent information published on this site.
Did you know that girls weren't taught how to write during the early years of education in the US? Instead, their education focused on reading! The three Rs –reading, writing, and 'rithmetic–weren't the focus, as the early public schools emphasized the virtues of religion, family, and community.
Indeed, we've come so far from the time when Boston Latin School, the country's first public school, was established in 1635! Nowadays, women comprise 76% of all teachers in private and public schools, and formal education consists of many subjects, from values formation to English and STEM.
Due to the high standards of professionalism in the teaching profession, aspiring teachers must earn at least a bachelor's degree in education. Teachers can choose between a generalist path or an academic concentration, such as science or special education, like counterparts in other professional industries.
Continuing education from additional certifications to graduate and post-graduate degrees is also recommended for career advancement.
During their baccalaureate studies, aspiring teachers also choose the grade levels they will want to specialize in. In the US with its K-12 system, these grade levels are categorized into: (Figures in parentheses are the mean annual wage for teachers in each grade level as of May 2022 according to the Bureau of Labor Statistics.)
Teachers teach children several subjects and basic life skills in the approved curriculum at the kindergarten and elementary levels. The subjects cover Math, Science, and English, while the basic life skills include social skills like sharing, playing with others, and communication. Teachers must also make lesson plans, create classroom rules, and discuss student progress with parents.
Teachers in middle schools have the same responsibilities as their counterparts in elementary school. These include creating lesson plans, teaching lessons based on the curriculum, and preparing students for state-approved standardized tests. However, their course load may differ depending on the school's specific policy – a middle school teacher may teach several subjects to a single class while another may only teach math to different classes.
Teachers in high school must be versatile, resilient, and resourceful because of their teaching load and environment. There's more diversity in the demands, such as a science educator handling biology, chemistry, and natural sciences classes for an entire year. Teachers may also be requested to handle mixed-grade classes from the freshman to the senior classes.
Teachers in special education classes work with special needs students with physical, mental, and learning disabilities. Their training enables them to adapt general education classes to the students" disabilities, such as autism or Down syndrome. Their responsibilities may also include teaching basic life skills, such as washing the dishes and bathing, to students with severe handicaps.
While it appears all fun and games in preschool, it isn't because preschool teachers play instrumental roles in the healthy development of children. Teachers at the preschool level must have the patience and passion for taking care of children in their pre-kindergarten age.
Among their duties are teaching children basic skills including number, letter, and color identification; organizing exploratory activities for children; and developing suitable schedules for sleep and study.
Admittance into a Bachelor's Program in Education
Of course, getting admitted into an online baccalaureate degree program in education is the first important step in your teacher's journey. Many colleges and universities have selective admission requirements, including:
Satisfactory GPA on a high school diploma or its GED equivalent
Completion of prerequisites in core courses or an associate degree with a satisfactory GPA (Check the program's specific policy.)
Satisfactory scores on SAT, ACT, or other standardized exams and state skills tests
Official or unofficial transcripts
Letters of recommendation
Personal statement
Many programs may also conduct a personal interview to determine suitability for admission into a competitive program. Since teaching is about effective communication skills, applicants must demonstrate their capacity in this area.
Every program has its specific curriculum, but these must follow the standards set by the US Department of Education and other regulatory bodies. Accreditation is also a must, and it can be a schoolwide accreditation, such as from the Higher Learning Commission (HLC), or a programmatic accreditation from the National Council for Accreditation of Teacher Education (NCATE).
Most, if not all, programs require at least 120 credits for completion to earn the degree. The 120 credits are distributed among these three major categories:
General education is liberal education courses taught during the first two years in college, including English, history, and math
Major courses are essential to your profession and specialization, such as learning theory
Electives tailor your degree according to your interests and professional goals
Regardless of the type and title of courses, every degree program emphasizes:
The content of the subjects that the aspiring teachers will teach to their students. The subjects will vary depending on the specialization chosen, particularly in the case of middle and high school teachers. Preschool, kindergarten, and elementary school teachers tend to be generalists in their subject coverage.
The pedagogy includes the theories and practices behind teaching, such as learning probes, morphological synthesis, and semantic maps.
Programs also provide aspiring teachers with real-world student teaching opportunities, both for learning purposes and compliance with state requirements. These student teaching opportunities are different from teacher practicums – the former involves professional supervision with a specific number of hours. The experience can be a quarter or a semester based on school policies, and it's a requirement for earning either a state license or a certification.
Going back to the courses, the common major courses include:
Introduction to education
Classroom management
Child development
Student teaching, assessment, and evaluation
Instructional strategies
With concentrations that will also determine the specific series of courses:
Preschool and kindergarten education
Elementary education
Secondary education
Math education
Science education
Special education
Early childhood education
Most programs are designed for completion in four years. However, accelerated programs and degree completion programs can be completed in less than four years, usually between two and three years. Many accelerated programs even have a 4+1 format where students can earn both a bachelor's and a master's degree in five years. (The combo can take more than six years to earn.)
Degrees can also be offered in one of two forms:
A bachelor of arts (BA) degree; and
A bachelor of science (BS) degree
Both are acceptable to employers, but there are a few key differences in their overall training. In a BA degree program, students are provided with a broader education in liberal arts covering humanities, social sciences, and the arts. Students typically have more opportunities to tailor their education based on their interests and professional goals.
In a BS degree program, students gain a more specialized education based on their concentration. There's more focus on science subjects, too, along with more in-depth studies of their major subjects. Many BS programs also require more credit hours for completion than BA programs for this reason.
But a bachelor's degree in education may be insufficient to become employed as a teacher! Public schools require applicants to possess state certification or licensure to be considered for employment. Several private schools have the same requirement since the combo of a bachelor's degree, and a license is proof of competency.
Every state has its requirements for licensure or certification for teachers. In Alabama, the Alabama Educator Certification Assessment Program (AECAP) handles teacher testing, including the Praxis II exams and three basic skills assessments. Alabama has three teacher certification levels – Class B bachelor's degree), Class A master's degree) and Class AA (sixth-year programs).
In Texas, the Texas Education Agency is the teacher certification agency that offers three types of certifications. These are the Initial Certification (first-time teachers), Standard Certification for teachers with education experience in Texas, and Out-of-state Certifications for teachers with out-of-state credentials. The certification, including the renewal and continuing education requirements, differs between certifications.
Continuing education is a must for licensed or certified teachers, and it isn't just for career advancement but for personal growth. Their license renewal also depends on their continuing education units (CEUs), usually earned by completing approved courses.
Not all bachelor's degrees in education will lead to a license or certification as a teacher, and it's an important distinction that individuals considering the degree must consider. Bachelor's degrees in educational studies, for example, are typically non-licensure programs since graduates aren't employed as teachers.
Be sure to check whether a program is on a licensure or certification track if that's part of your professional goals. While a bachelor's degree in education is a typical requirement for state licensure, it may not suffice in some states. Student teaching experience and other requirements that a bachelor's degree alone may not meet will likely be required.
Best Bachelor's in Education and Teaching Online Schools and Career Guide
CHILD DEVELOPMENT
Students enrolled in online child development programs study the relevant aspects of growth among children from their prenatal stage to adolescence. These include physical, cognitive, emotional, and social growth and the factors that affect, hinder, and shape their development, and the relationships between these factors. The studies are then used to promote education among children in all stages of their young lives.
The study of child development is essential because of the long-lasting effects of meeting the developmental needs of children. Developmental delays in children can influence their academic performance, personal relationships, and quality of life. This is where professionals in child development come in through proper identification and intervention, among other measures.
These professionals can work in diverse settings, too, particularly in child-centric facilities like schools, daycare, and pediatric hospitals. Many also work in non-profit organizations and government agencies involved in child development and related work. The occupations are just as diverse, including preschool and kindergarten teachers, child advocates, and social workers.
Students must first establish a strong foundation of knowledge in education, child psychology, and policy formulation, among other subjects. Child development is an interdisciplinary field, so the coursework covers diverse fields, from medicine to sociology. To thrive in academic and professional settings, students must develop personal traits like patience, time management, and communication skills.
Concordia University St. Paul
: 855-641-2525
The CAEP-accredited program consists of 120 credits that can be completed in four years. There are no fees for the application and transfer credit evaluation, and the program offers scholarships for students in need. Applicants may transfer 90 credit hours from an associate degree and other college credits from regionally accredited colleges.
This is a hybrid program with online classes and hands-on fieldwork for experiential learning purposes. Students learn workplace skills in licensed early childhood learning centers and childcare facilities. Since children are involved, supervised fieldwork is a must, and students may be required to make regular reports.
Students gain a robust foundation in liberal arts before undertaking major and elective courses related to their degree. Courses include:
Introduction to Early Childhood Education,
Growth and Development of Children,
and Child Social and Emotional Growth.
Child development concepts including language development, ethics, and literary acquisition are discussed in depth.
The program's learning outcomes reflect its commitment to producing competent graduates with the potential to become leaders in the field. These include articulating the principles and practices of early education, creating conducive learning environments for children, and developing an ethics framework. Graduates have the qualifications for entry-level jobs in public and private organizations with child-related work.
Note that graduates cannot take the teacher licensure exam and, thus, the degree cannot be used for teacher qualifications in any of the K-12 tracks.
Appalachian State University
: 828-262-2120
BS in Child Development – Birth through Kindergarten
Non-traditional students, primarily working professionals and adult learners will find the part-time format of ASU's 120-credit program convenient. In-state tuition is also the most affordable, and students can apply for financial aid packages, including the FAFSA and institutional scholarships. Applicants may be freshmen with 23 or fewer credit hours or transfer students with 24 credit hours or more.
Students learn not just about child development but also about becoming effective leaders in the classroom and community. Indeed, graduates have the skill sets to become educators and administrators in and outside of the classroom! Their training will enable them to provide conducive learning environments for children and their families.
The program emphasizes both academic coursework and research on one hand and real-world practice on the other hand. The student teaching experience is the last semester requirement and must be conducted in a classroom setting. This is a full-time endeavor, so students must make the necessary arrangements.
The combination enables students to be an instrumental presence when children learn, discover, and grow. Students learn when to do it and how to deal with children's issues from birth to kindergarten. The program combines asynchronous online classes and asynchronous coursework completion.
Graduates can pursue an "A" licensure, a dual certification for regular and special education certification. This is a licensure program since students prepare for the North Carolina licensure exam. The "A" licensure also makes them eligible for graduate degrees in education.
Point Loma Nazarene University
: 619-849-2200
Students must complete at least 36 units at PLNU to earn the BA in Child Development degree. The 120-credit program can be completed in 15 months on full-time enrollment. This is a hybrid program, too, with a combination of online classes and face-to-face instruction. The cohorts mix young students, working professionals, and adult learners resulting in a dynamic learning environment.
Both typical and atypical child development are emphasized in the program and, thus, students can handle both regular and special education needs. Students are encouraged to become child advocates in the community and family while respecting each child's unique circumstances.
The core courses are as diverse as the field of child development itself. Examples include Early Childhood Curriculum and Learning Theory, Development of Children with Exceptionalities, Child Development, Family Systems, and Social Change. Students encounter challenges due to the academic rigor but come out well-prepared for the demands of the job.
A capstone project and an internship in child development put the academic lessons into real-world applications. Students must complete these requirements before being considered for graduation.
PLNU is invested in its students" success, as evidenced by the myriad of student support services available. Students can rely on academic planning advisors, online tutors, and transcript evaluators for assistance and access to the writing center and disability services. There's even a graduation assistance service!
---
EARLY CHILDHOOD EDUCATION
"Early childhood education" refers to the period of learning among children from birth up to eight years old, the equivalent of third grade in the US education system. This is a crucial time in the lives of children because they learn basic skills and healthy social interactions and develop their interests. When these are successfully done in the home and classroom settings, these become the foundation of their education and influence their lives.
Individuals interested in online early childhood degree programs can choose from a wide variety, from state universities to private colleges. The philosophy of learning and curriculum differs between programs, but there are generally accepted standards that accredited programs must follow.
The degree will also be offered either as a BA or a BS in early childhood education. BA programs appeal to aspiring specialists and administrators due to their liberal arts coursework. BS programs are more suitable for aspiring teachers because their curricula prepare them for state-sponsored licensure exams. (Exceptions apply.) Both programs usually have practicum or internship components designed for real-world exposure and applications of academic lessons.
The coursework includes classroom management, curriculum and lesson plan development, and behavior management techniques. Students are also encouraged to develop general communication, critical analysis, and creative thinking, transferable skills.
Graduates can apply their skill sets in several career paths. These include preschool, kindergarten, and elementary teachers (with license); childcare workers and nannies; and school counselors. Many also pursue master's degrees and professional certifications to become childcare center directors, school principals, and other management jobs.
Regent University
: 800-373-5504
BS in Early Childhood Education (Non-licensure)
Regent's undergraduate programs are designed with a Christian worldview that appeals to many individuals interested in positively impacting children's lives. Students in its non-licensure BS in Early Childhood Education program learn about the effective management of childcare facilities instead of becoming licensed teachers themselves.
Students earn at least 120 credits to earn the degree. The coursework emphasizes both early childhood education and business management. Examples of courses include Child and Adolescent Growth and Development, Administration of Childcare Programs, and Teaching Content to Children.
Students also undergo practicum where working with students in a classroom and childcare setting is a learning experience. Intensive background checks are the norm when students work with children.
(For individuals interested in a Virginia teaching license, the B.Ed. Early & Primary Education (Licensure Track) is the best choice. Take note that this is an on-campus, 120-credit program.)
Graduates are competent in many areas, including lesson plan development, teaching techniques, and assessment methods. Their skill sets also include the establishment and management of childcare centers and services. Career opportunities include childcare center owners and managers, education consultants, and parent educators.
Regent has several scholarship opportunities that decrease the cost of education, although its tuition structure is reasonable for a private school. These include honors college and academic merit scholarships, with the Freedom and Homeschool Scholarships being the most notable for their amounts.
Liberty University
: 800-424-9595
BS in Early Childhood Education
Students can earn the degree in four years or less with the program's 8-week courses delivered completely online. Up to 90 credits, or 75% of the 120 credits for graduation, can be transferred from an associate degree, military training and experience, and others.
Liberty's program has CAEP accreditation and is led by experienced faculty invested in student success. Liberty's educational approach emphasizes transformational leadership, and it's evident in the program's curriculum design.
Students adopt the attitude that today's children are tomorrow's leaders and, thus, create conducive learning environments for them. The courses include Psychology of Childhood, Developmental Psychology, and Early Childhood Education Fundamentals.
Students also discuss the current trends, issues, and direction in early childhood education, the dynamics of family and children, and learning theories and practices. Since teaching children their 3Rs is crucial, students also learn practical math, letters, and shapes.
Liberty makes it easier for students to earn their degrees faster through an additional summer semester. Students have 24/7 access to the learning materials and coursework, and there are no scheduled login times.
The academic coursework is among the most challenging, so students must make the appropriate scheduling, however. Students may also supplement their academics with hands-on field experience through a capstone course. The student teaching experience will open up your eyes to the rewards of classroom work.
This is a non-licensure program, so graduates aren't eligible to take licensure examinations. However, the degree is an excellent foundation for pursuing a Master of Arts in Teaching, a pathway toward a teaching license and career advancement.
Chaminade University of Honolulu
: 800-735-3733
BS in Early Childhood Education
Chaminade's program follows NAEYC standards and state requirements, thus, its popularity among online learners. The courses are delivered 100% online so students can maintain a healthy studies-life balance. But hands-on learning is a must so that students learn these skills:
Optimize learning opportunities for young children in the preschool to elementary levels
Articulate concepts about early education, including its tools, techniques, and technologies used
Use assessments in the effective creation, implementation, and evaluation of instructional strategies
Students can also discuss the Marianist tradition in education, including its applications in diverse communities of learners. These skill sets are learned through 120-credit coursework, including general education, pre-major and major, and elective courses. The course titles include Language Arts: Curriculum & Methods, Health & Family Issues in ECE, and Curriculum Foundations.
There are also seminar courses and fieldwork experiences that students must undergo. Students then become competent in workplace settings through these real-world experiences.
---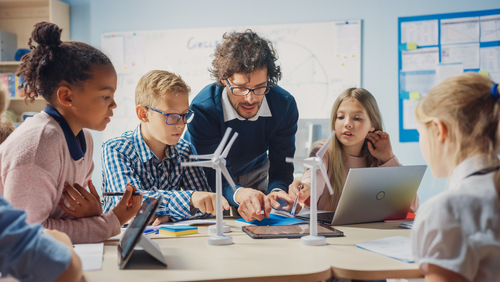 EDUCATION
The bachelor's degree in education is offered in either a BA or BS format, too. Students choose from several concentrations, too, including:
Early childhood education
Elementary education
Secondary education
STEM
Special education
English as a Second Language (ESL)
Educational studies
Suffice it to say that it's an umbrella term for bachelor's degrees in education from childhood to adulthood (i.e., ESL). Many programs are licensure programs since graduates are eligible to take the licensure exam for teachers. Many, however, are also non-licensure programs, meaning their students aren't aiming for teaching positions.
Online programs are designed to complete courses via an online learning platform, such as Canvas or Blackboard. But face-to-face, hands-on experiences through student-teaching experience or practicum are common. Students usually undertake these hands-on experiences in local schools affiliated with the college.
Background checks, including checks on criminal records, are typical during practicums since children are involved. This is also true for individuals seeking licensure from their respective states. The background checks are in addition to passing the Praxis Core Academic Skills for Educators exams in some states.
The typical coursework includes educational data and assessment, instructional technology integration, and differentiation for learning. Teaching methods are also discussed in depth since these are the core of every degree in education.
University of Arizona Global Campus
: 866-711-1700
UArizona's online program prepares its students for diverse careers in education while also developing their leadership skills. Graduates work in childcare facilities, recreation centers, non-profit organizations, and health and human services. Many have also pursued graduate studies, including master's degrees, to assume leadership positions.
Students complete 120 credits consisting of 42 general education credits, 36 major credits, and 41 elective credits. As many as 90 credits can be transferred from sources like community college credits, Advanced Placement credits, and life experiences-related credits. Military training and relevant work experience can be credited.
Each course lasts for five weeks, and only one course will be taken at a time. Adult learners and working professionals find the set-up convenient for their busy schedules.
Every course builds on the knowledge and skills acquired in previous courses. Students acquire the skill sets to become instrumental forces in the education of children and adults in classroom and non-classroom settings. Aside from their communication skills, students become competent in adapting to various situations through their problem-solving skills.
The coursework is as diverse as the workplace settings and career paths that graduates can take. The topics include child development, curriculum creation, English language learning, and teaching pedagogies.
This is a non-licensure program, but the degree is an excellent credential for teaching assistants and aides.
Webster University
: 800-981-9801
Webster's BA in Educational Studies degree isn't a pathway for K-12 teacher certification but it establishes a strong foundation for instruction in diverse settings. The interdisciplinary program exposes students to sociology, psychology, and philosophy concerning child and adult education. Students commit their time to an academic examination of formal and informal education in diverse contexts, from the classroom to the community.
For these reasons, individuals interested in organizational leadership and entrepreneurship in educational settings will find its curriculum suitable for their needs. The skill sets acquired can even be applied in human rights and sustainability studies due to its liberal arts emphasis.
The course titles include Foundations of Education, Instructional Design, and Child Psychology. The educational research and internship components comprise three credit hours and are intended for real-world experiences.
Students can also choose from three options in professional development – EDUC courses, community engagement, and sustainability studies/international human rights/entrepreneurship. Each option is 15 hours.
Student retention is a challenge because of the high academic standards. An overall 2.5 GPA is required, and major courses must have at least a 3.0 GPA.
The result of said tough retention requirements is graduates whose employment prospects are better than average. Graduates are more competitive because of their broader understanding of educational studies.
University of Missouri
: 573-882-2491
Bachelor of Educational Studies
Mizzou's reputation as among the country's best research universities is evident in its Bachelor of Educational Studies program, where students are kept on their toes. Academic rigor is instilled in every course as well as the values of learning innovations and community leadership. Students learn from the faculty members' interdisciplinary approach to educational studies which, in turn, makes their leadership potential come to the fore.
The program's structure enables students to personalize their degree based on their interests and aspirations, primarily through elective courses. Students acquire the skill sets to engage in student development, library support, and higher education leadership upon graduation. The coursework reflects said career options with courses on human learning, project management, and information literacy.
Students choose from two concentrations – educational leadership and educational games and simulation design. Both are 120-credit programs that accept more than 50 credit hours for transfer.
---
ELEMENTARY EDUCATION
The 2022-2032 job outlook for kindergarten and elementary school teachers is 7% and more than 111,000 in employment change. This means that enrolling in a bachelor's degree in elementary education program now will pay off well! Of course, passion for the profession is vital to your success as an elementary school teacher.
The degree is necessary to comply with state licensure requirements and graduate studies and professional certifications. It leads to a rewarding teaching career that may lead to leadership positions, such as becoming a school principal or district supervisor. Other licensure requirements include a criminal background check and sufficient teaching experience.
States typically have their specific degree standards, including the sequence of courses and student teaching hours. However, there are common courses like educational psychology, classroom management, and theories and practices of instruction. Aspiring elementary school teachers must also be well-versed in numerous subjects, from English and social studies to STEM.
Students must also learn to become future independent teachers in their classrooms, from lesson plan development to effective behavior management. Many programs also include general and special education coursework as part of the thrust toward more inclusive classrooms.
Concentrations are also available, such as special education, gifted and talented, and English language learners. Students may also take additional courses to specialize in a specific grade level or two. The grade level specialization is essential as each grade level has its unique learning challenges and demands.
Saint Leo University
: 800-334-5532
Saint Leo's education programs have produced over 60 local Teachers of the Year! Its Education Department has been recognized for its excellence by the Association of Teacher Educators and the American Association of Colleges of Teacher Education. These are enough reasons to consider its BA in Elementary Education program, a Florida resident-exclusive program.
Graduates receive two endorsements – the ESOL and Reading endorsements – and become eligible for a teaching certificate. The courses follow the Florida Educator Accomplished Practices to ensure that their training will comply with state standards. Students thrive in a collaborative environment where an interdisciplinary approach and experiential learning are encouraged, too.
The learning outcomes reflect Saint Leo's thrust for excellence in all fields. Graduates can create a conducive learning environment where every student's potential for academic achievement can be realized. Graduates can articulate their comprehensive knowledge of their teaching theory and practice and embody the profession's highest standards.
Students enjoy professional development opportunities, too. The student teaching experience consists of four placements, including a one-semester full-time internship where coaches mentor students. The professional seminar is a venue for students to develop their job-hunting skills, including resume preparation and interviews.
The mixed-reality simulation environment allows students to practice their teaching skills through avatars. There are also opportunities for conference attendance and co-curricular activities conducted by third-party associations.
Walden University
: 866-492-5336
Walden also uses interactive avatar simulations as an effective way for students to practice their teaching skills. Students, in turn, learn best practices in supporting their young learners' academic skills and social development. Such is the success of Walden's program that its graduates find success as elementary school teachers across Minnesota and beyond.
This is a licensure program, so students are provided with the necessary tools and training to pass the licensure exam. These include a free self-paced preparatory course and student support services. Walden also pays for every student's edTPA, a performance assessment used to measure subject-specific skills among new teachers.
Students complete 35 courses equivalent to 181 quarter credits for graduation purposes. Walden uses a quarter credit system where one semester is equivalent to 1.5 quarter credits. The coursework is divided into general education, lower level, professional core, elective courses, and demonstration teaching.
At least 66 quarter credits must be completed at the university. Walden accepts up to 115 quarter credits for transfer. The transferred credits mean reduced tuition costs and students can apply for tuition reduction plans. The tuition per credit differs between non-field and field experiences, with the latter being lower.
The coursework has a sequential pattern that students are advised to follow. The course titles include Child Development, The Professional Educator, and American Government and Politics.
Drexel University
: 877-215-0009
Graduates of Drexel's BS in Elementary Education program can sit for the PK-4 and Special Education or the PK-4 elementary teacher certification. The academic challenges of a Drexel education are worth it, as evidenced by high graduate success in certification exams. Students also create a customized plan of study based on their professional goals, but every plan of study is designed for student success.
This part-time degree completion program can be completed between 2.5 and 5 years, depending on your course load and the number of transferred credits. Drexel accepts up to 90 quarter credits, or the equivalent of 60 semester credits, for transfer. Only courses with a minimum of "C" grade will be considered for transfer purposes.
Students complete 180 quarter credits with courses designed for completion over ten terms. The coursework consists of general education, elective, and core courses, including pedagogy requirements. Students learn diverse competencies, including child development, language development, family and community partnerships, and early foundations in reading and writing. The competencies for the Special Education concentration include curriculum modification, remedial instruction, and inclusive classroom techniques.
Thanks to Interstate Reciprocity Agreements, graduates may also pursue teacher certification in nearly every state outside of Pennsylvania. Most, if not all, achieve the Pennsylvania Instructional I Certificate first. Graduates are also provided with post-program support for two years, including job notifications, professional development, and networking programs.
---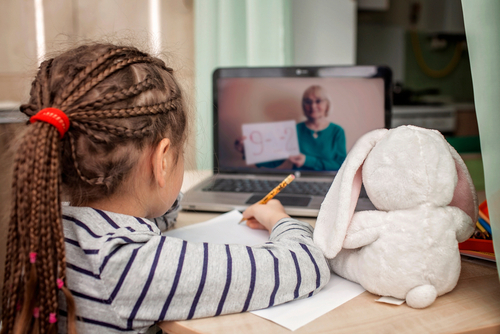 MATH EDUCATION
Teaching math has its rewards, including the opportunity to shape future scientists and mathematicians, perhaps even Nobel laureates. However, it takes formal education and training to become a licensed math teacher, and the best way is by earning an online bachelor's in math education degree.
Math teaching programs cover diverse topics, including learning theory and pedagogy, lesson design and classroom management, and teaching fundamentals. Since math will be your teaching specialization, the coursework also includes fundamental topics in math, including geometry, algebra, and trigonometry.
The complexity of the math topics will also depend on the grade levels you're planning to teach, such as in elementary, middle school, and high school. Specializations are also available, particularly for aspiring college instructors, such as in applied mathematics and statistics.
Aside from academic work, students must also complete a student teaching experience in local schools. The experience, which may last for 1-2 semesters, will develop your teaching skills in a classroom setting.
Graduates become eligible to sit for the state licensure exam and secure their license if they pass it. The career opportunities include becoming a teacher at the elementary, middle school, or high school levels. Many also pursue teaching careers in technical and vocational schools.
Western Governors University
: 801-274-3280
BS in Mathematics Education (Secondary)
WGU's BS in Math Education (Secondary) isn't just about the teaching credentials but also about the above-par training for aspiring teachers who want to inspire unique students. The program emphasizes math concerning STEM concepts and, thus, ensures that its students have a holistic view of their specialization.
The CAEP and AAQEP accredited program also encourages critical thinking and problem-solving skills among its students. They can then teach these skills to their future students, too, so the cycle continues. Graduates are qualified to teach either middle school or high school, depending on their state's policy.
Eight professional core courses emphasize classroom diversity and inclusion, learning at the social and mental levels, and technology in teaching. Students can also practice their teaching skills without being in a classroom through WGU's augmented reality experiences. The university even provides useful assistance in a Demo Teaching setup and in complying with state licensure requirements.
The degree is accepted for licensure purposes in all 50 states! The rigorous coursework also prepares students for success in passing the licensure exam.
The majority of students earn the degree in 42 months since WGU allows self-paced learning. Faster completion is also possible through transferred credits, with students transferring an average of 32 credits upon admission.
WGU also has an online BS in Mathematics Education (Middle Grades) for middle school individuals who want to teach math.
Mayville State University
: 800-437-4104
Mayville's BSEd in Math Education is a nationally accredited program that meets the licensure requirements in the Peace Garden State. Students prepare for the challenging teacher licensure exam through rigorous coursework known for its emphasis on math. The program itself is recognized for its credentialed faculty, excellent reputation, and scientific philosophy about teaching.
Start dates are in fall, spring, and summer. However, the math courses have a specific sequence or rotation, so not every course will be offered every semester.
Applicants must consult with the advising staff regarding their study plan, as their previous math credits will determine their semester coursework. Mayville accepts transfer credits from community colleges and other accredited institutions, aside from maintaining articulation agreements.
Due to the asynchronous format of most online classes, students don't have set log-in times. However, these are not self-paced online courses either, meaning weekly assignments must be submitted on time. Students are advised to set aside time every week to comply with the academic requirements.
Internship opportunities are available in addition to the academic coursework. These are intended for real-world experience of teaching math aside from being part of licensure requirements.
Minors are also offered in the program, including business administration, special needs, library media, information science, general science, and accounting. The minors expand your employment opportunities beyond the sphere of teaching.
University of the Cumberlands
: 877-713-8767
BSEd with a Major in Mathematics Education (Secondary Certification)
Small class sizes ensure that students benefit from the more personalized attention from their professors and get more out of their learning experience. Students receive excellent training to become teachers of math subjects in secondary school and, in turn, inspire the next generation of mathematicians.
The university's Mathematics and Physics Resource Center invites students to enjoy its state-of-the-art technology and use it to develop their teaching skills. The high quality of instruction means that students get the extensive training they need to become exceptional teachers.
Students complete 33 semester hours in several math courses, including calculus, college geometry, abstract and linear algebra, and probability and statistics. The physics courses comprise eight semester hours, while the professional courses consist of 42 semester hours. Multiple courses are similarly taken every semester as on-campus programs.
While many graduates pursue a teaching career in grades 9-12, many pursue other careers outside the classroom. These include mathematicians, statisticians, and business analysts.
---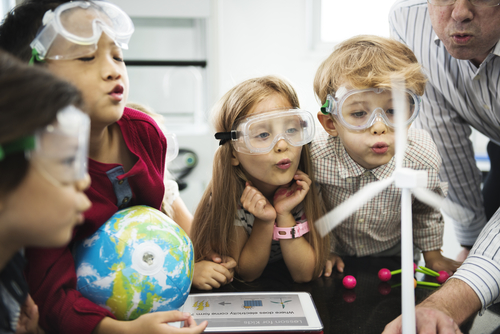 SCIENCE EDUCATION
Professionals in science education teach science subjects to non-scientists both in the classroom and non-classroom settings (e.g., museums and zoos). The target audience includes elementary, middle school, high school, and college students, as well as the general public. The science topics covered range in complexity from basic to advanced subjects like physical, natural, and human sciences.
Suffice it to say that students in a science education degree program have their work cut out for them! The new scientific discoveries and innovations combined with the fast obsolescence of technology make it more challenging. While the curriculum may remain unchanged at its core, changes in the courses and their content may also be necessary for these reasons.
Due to the sheer number of science topics, students can choose from a range of specializations:
Earth and space science specialization covers geology, geography, and astronomy.
Biology covers cell biology and biochemistry topics, and the specialization can lead to a career as an elementary or secondary science teacher.
Chemistry deals with the elements and their chemical interactions with its graduates pursuing teaching positions.
Physics specialization studies the behavior of matter and energy.
Each specialization has its specific set and sequence of courses, but there are common courses across all concentrations. Educational psychology, child development, and laboratory methods for teaching science are a few examples.
University of Missouri
: 573-882-2491
This is an excellent licensure/certification program intended for aspiring science teachers in middle school (grades 5-9). Students undergo three phases during their stay:
Phase I covers the freshman and sophomore years. Students are considered accepted into the program when admitted into Mizzou. General education courses focus on field experiences, including a 16-hour tutoring experience and 20 hours of community service.
Phase II requires admittance into the program during the sophomore year. The coursework shifts its focus to teaching methodologies in middle school, too. Students must spend about 24 hours every semester in a classroom setting.
Phase III covers the second semester of senior year, where students undergo a 16-week, full-time internship in middle school science classrooms. Students learn about science education, from lesson planning to classroom management in real-world situations.
Collaboration among students, licensed teachers, and science educators is encouraged as it's seen as the best way to promote science education. Students become more prepared for their future roles as science educators and possible roles in leadership, training, and research.
University of Iowa
: 319-335-3500
Earning two bachelor's degrees in a single program is possible through Iowa's BA in Science Education program. You can earn these degrees from the College of Liberal Arts and Sciences and the College of Education. By earning two degrees, you become more competitive in the job market, not to mention having a more expansive knowledge base.
Students in the Teacher Education Program also undergo field experiences in two types:
Pre-student teaching and practicum experiences include at least 80 hours of curated experiences in different settings.
Student teaching is a full semester of immersive, full-time placement in classrooms for at least 16 weeks. Students work with licensed teachers to develop their practical teaching skills. Lesson planning, classroom management, and science teaching are on the agenda.
Iowa's Teacher Leader Certificate is a prerequisite for students before their student teaching stint. The professional development program consists of six workshops in global education, special education instruction, and research development. Students must also engage in volunteer community service.
The expected outcome of the Teacher Leader Certificate is for aspiring teachers to become tech-savvy collaborators with a commitment to their future students' success.
This degree completion program requires applicants to complete at least 30 semester hours at Iowa or another college before application.
Western Governors University
: 801-274-3280
BS in Science Education (Middle Grades)
This is an accredited program by the CAEP and AAQEP, and, thus, students have the assurance that their bachelor's degree will meet the requirements for state licensure. The National Science Teachers Association (NSTA) also recognizes its curriculum, boosting its credibility among the best online programs.
The eight professional core courses enable aspiring science teachers to use technology in teaching, encourage diversity and inclusivity in the classroom, and promote different learning styles. Preclinical experiences complement these courses so that students become more prepared for their future teaching roles.
The average completion time among the majority of students is 36 months. But you can earn the degree faster since you can move through the learning materials faster.
WGU has a per-semester tuition structure instead of a per-credit structure. This means a more affordable, yet quality science education that can take you places in your career!
---
SPECIAL EDUCATION
Professionals in special education are concerned with children whose physical, mental, and social differences require standard education practice modifications. The target beneficiaries include children with:
Emotional, cognitive, or behavioral impairments
Hearing, speech, vision, learning, or intellectual disabilities
Neurological or orthopedic impairments
Gifted and talented children with advanced abilities in academics and the arts
Individuals interested in earning a bachelor's in special education must positively impact these children and their families. The challenges are more difficult, but the rewards are more fulfilling because of the uniqueness of both the students and their circumstances.
Special education programs have general education courses in English, math, and science like all education and teaching degree programs. Due to the unique nature of special education, the major courses have significant differences from other education degree programs.
Assistive technology covers the technologies that increase the capacity of learners with disabilities to learn their academics and interact with others.
Introduction to special needs and exceptional children allows students to learn about appropriate classroom modifications for their unique audience.
Methods in supporting special needs children cover intervention strategies suitable for children with multiple disabilities or severe impairments.
Even the assessment methods and curriculum development techniques are different for special needs professionals. Students must also possess compassion, patience, and passion for thriving in the program and making a difference in children's lives.
While becoming a special education teacher is a popular career path, a degree in special education opens other career opportunities, too. These include instructional coordinators, recreational therapists, and speech and language pathologists with additional professional credentials.
University of Oklahoma
: 405-325-0311
BS in Special Education
This four-year program consists of 124 semester hours of coursework in general education, special education, and professional education. Students follow the recommended sequence of coursework to earn the degree in four years.
The coursework also includes a 16-week student teaching internship and 400 hours of prerequisite mentored experiences. Note that students may be required to undergo remedial coursework and two semesters of Foreign Language courses.
The academic coursework and internship training prepares students for teacher certification and, thus, for students with mild to moderate impairments. Dyslexia, dyscalculia, dysgraphia, and autism are a few examples.
Graduates can apply for certification in any of these areas:
Early Childhood Education
Elementary Education
Secondary Education with a concentration in science, math, social studies, or language arts
Faculty members ensure that students are well-prepared for the licensure exam and the demands of their future jobs through academic rigor and mentorship. Students develop their competence alongside their compassion for special needs children and their families.
University of Georgia
: 844-842-3294
UGA's Mary Frances Early College of Education offers the respected BS in Special Education program, a two-year degree completion program exclusively for Georgia residents. Students plan on pursuing a Special Education General Curriculum (P-12) teaching certification and teaching in special education settings. This is UGA, and, thus, the pursuit of academic excellence is part of the university culture.
A new cohort is admitted per academic year with accepted students starting their studies during the fall semester. The cohort model means that students learn alongside their peers from day one and, thus, have opportunities for collaboration. Students may also choose the Double Dawgs Pathway to earn their master's degree in an accelerated format.
Field experiences are also an integral component of student life at UGA. Students must complete a semester-long supervised practicum at P-12 schools every semester. The culminating experience is a full-time student teaching experience during the final semester.
This full-time program requires students to enroll for a full course load every semester with the expectation of graduating in four semesters. However, students who cannot commit to full-time study can choose the alternative three-year program.
Admission requirements include 60 transfer credits and at least a 2.80 GPA. Applicants undergo two different application processes – first, as a UGA transfer student and second, as a student to the online special education program.
University of Wisconsin – Whitewater
: 262-472-1234
Bachelor's in Special Education
Wisconsin's program is among the best because of its 98% employment rate among its graduates. Students get into the program, after all, with an eye on viable employment after earning the degree and getting their teacher certification. The online format and faculty members recognized for their expertise are also part of its appeal.
The 100% online courses are delivered in an 8-week format and with 3-week sequences. The convenience means that students can work and study to earn their degree and comply with the student teaching and field experience requirements. Many students work in local districts and their schools, too, in jobs like teaching assistants.
At the start of a fall semester, a new cohort of 30 students, maximum, are registered for courses. The cohort model means students learn with the same group of peers until graduation. This is also a degree completion program, so applicants must possess either an associates or bachelor's degree in an area that doesn't require certification or licensure.
Satisfactory CORE/ACT/SAT scores, at least a 2.75 GPA, and a "C" grade or better in English 102 and Comm 110 or their equivalent are also required. Documented proof of working with children for at least 350 hours and school affiliation documents for the fieldwork and directed teaching placements are also a must for admission.
Frequently Asked Questions