Find Your Perfect School
Premium Schools is an advertising-supported site. Featured or trusted partner programs and all school search, finder, or match results are for schools that compensate us. This compensation does not influence our school rankings, resource guides, or other editorially-independent information published on this site.
A bachelor's degree in Mathematics Education is of the same standard as a Bachelor of Arts or Science with a concentration in Mathematics. Mathematics is a very popular career target, with so many options for online math education degrees. This is a very crucial career focus considering most of the jobs today are STEM-focused and that these will continue to meld with the latest technology.
Mathematics is very important not only in education but also across various industries like banks, businesses, and stores. In this digital day and age, knowledge and core skills will remain very crucial for so many career opportunities today and in the future.
A Mathematics degree is designed to increase each student's ability in quantitative reasoning, analytical thinking, and problem-solving, which are all essential for work in mathematically oriented careers. They will have a full understanding of mathematical concepts, as well as theoretical and applied mathematics. Successful completion of a math degree will lead to careers in industrial mathematics, accounting, consulting, statistics, insurance, finance, or teaching.
---
Another resource you should check out: Best Jobs for Math Majors
---
Quick Summarization
A bachelor's degree in Mathematics Education is an undergraduate degree awarded to students who can complete a program of study in math or any related discipline like actuarial science, applied mathematics, data analytics, pure mathematics, computational science, mathematical physics, financial mathematics, operations research, or statistics.
It's important to note that there are a lot of programs today from notable colleges and universities that are offered online. These online programs are a perfect option for busy people or working learners who are time constrained and need better flexible options than the usual on-campus format. An online math degree supports the constantly evolving prerequisites for becoming a mathematician, while seamlessly managing continuing education courses.
An online math education program is easy, flexible, and cost-effective in tapping into more specialized coursework opportunities, which explains why more and more prospective students in math degree programs go for an online program.
Methodology
This is a list of the 10 best online bachelor's in Math Education programs that were selected based on several factors. While there are so many schools offering online math education, this list narrows down your options to ensure you only get the best mathematics education degree.
Each college and online program was picked based on these benchmarks:
Delivered as hybrid or fully online programs format with synchronous and asynchronous styles to match the needs of adult learners,
Emphasizes the Mathematics Education courses at the foundational, theoretical, and practical levels to equip students for an entry-level occupation or a master's degree pursuit in the same field,
Offers various levels of student support, including career guidance and academic and internship program services,
Features different financial aid programs like scholarships and transfer credit programs,
Duly accredited and recognized by a regional or programmatic accrediting agency, demonstrating excellent academic standards.
Visit our Methodology page for our the details behind our ranking process.
---
Best Schools with Online Bachelor's in Math Education
Maryville University
Maryville University is a private university in Missouri and offers more than 90 programs at the undergraduate, graduate, and doctoral levels. Serving students from more than 47 countries and across 50 states, Maryville offers several online programs, including its online Bachelor in Mathematics education program. This online bachelor's degree provides students with more flexible schedules that allow them to work at their own time and pace.
Math education majors at Maryville University can work toward a degree that will provide them with the theoretical, foundational, and practical Mathematic skills to start a career lie teaching mathematics or pursue a graduate degree program in the field.
This bachelor's degree allows students to select from a variety of electives in topics like advanced calculus, discrete mathematics, optimization, statistical modeling, and financial mathematics education.
Through this math education degree, students can earn a minor in data science so they can use their analytical knowledge when breaking into newer fields of mathematics.
This online degree can give students a general path to pursue various diverse opportunities, including roles in technology firms, education, government agencies, and private enterprise.
This online bachelor's in math education program is designed to help students graduate with extensive expertise in mathematics education.
Courses are 100% online through the school's easy-to-use online learning platform.
Maryville University has a Higher Learning Commission approval.
---
Southern New Hampshire University
A private, nonprofit institution, Southern New Hampshire University is offering more than 300 programs delivered on campus and online, SNHU offers some of the lowest tuition rates across the nation for its online programs.
One of its best distance-learning degree programs is the online BA in mathematics degree. This online program is specifically suited for students pursuing their interests and skills in Mathematics Education.
This college degree focuses on enhancing the student's mathematical abilities, including problem-solving, reasoning, and critical thinking skills in three areas: analysis, and algebra.
It recognizes that before one can teach math, one must have the right analytical skills to keep up with the modern working environment today.
On top of the general education courses, other courses include Mathematical Proof and Problem Solving, Applied Linear Algebra and Real Analysis, and Abstract Algebra Differential Equations.
This online education allows students to transfer up to 90 credits from their previous college or university so they will be eligible to accelerate the process of completing their degree.
Southern New Hampshire University has the approval of NECHE, Inc. or New England Commission of Higher Education.
---
Indiana University Bloomington
Indiana University in Bloomington is a public research institution and is the flagship campus of the Indiana University System. The whole university system offers more than 200 majors, both online and in-person programs scattered across 12 schools.
For students who are scouting for the best online mathematics degree programs, the online undergraduate mathematics degree from Indiana University is a perfect choice. This online program is suitable for those who want to earn skills in order and structure as it relates to the real-world environment.
This bachelor's in math program exposes students to general core courses in modern and college algebra, linear algebra, calculus, mathematical modeling, and real analysis.
This math education program requires students to earn electives. They can choose their area of specialization, including pure mathematics or financial mathematics.
As students in this program, they will learn to write and read analytically and articulately, think logically, solve quantitative programs, frame inquiry, explains scientific research, and recognize, assess, and interpret data.
Those who plan to secure a career in actuarial sciences may specialize in finance, probability, and economics. Through this online BS in Mathematics, students are prepared for careers such as:
Actuary
Math Teacher (K-12)
High School Math Teacher
Mathematics Instructor (Community College)
Data Analyst/Data Scientist
Mathematical Technician
Mathematic Modeler
Software Engineer
Statistician
Math Educators
This is a 120-credit-hour program that allows students to transfer their associate degree of 64 credit hours at most from a regionally accredited two-year school, and 90 credit hours from any regionally accredited four-year institution.
Indiana University Bloomington is HLC-accredited.
---
Bellevue University
Bellevue University is an accredited nonprofit university that offers more than 80 career-focused online degrees and flexible learning options that fit the needs of its students. With 25 years of experience in distance learning education, Bellevue University recognizes the many challenges that impact working students, thus the online program offerings
Bellevue's Bachelor of Science in Mathematics Degree is delivered 100% online and follows a track that utilizes the student's math education to the career paths they're interested in. In this online bachelor's degree, student engagement is very critical. They need to choose between specializations in computer programming, business analytics, secondary education, or predictive modeling.
In this online program, students will learn to:
create meaningful and relevant statistical and mathematical models
conduct extensive data analysis, assess and interpret findings, and report conclusions clearly
influence data analysis so they can come up with impactful business decisions
For students who have a passion for classroom teaching and a love for math, they can go for Bellevue's BS in Education program option and advance towards secondary mathematics education that will qualify them for a secondary education teaching license.
Specializations Offered in the Program:
Business Analytics
Computer Programming
Data Analysis (Data Science)
Predictive Modeling
Secondary Education
This program is 127 credits: 37 credits for Integrative General Education Credits, 32 major requirements credits, and 58 elective credits.
Bellevue University is an HLC-recognized institution.
---
University of Illinois at Springfield
The University of Illinois at Springfield is one of three universities in the University of Illinois System. Students can choose from almost 25 undergraduate and 20 master's degree programs that are in an online and on-campus format.
For students who wish to work in statistics, operations research, or statistics in the fields of research, teaching, insurance, and management, or for graduate degree studies in mathematical sciences, the school's online Bachelor of Arts in Mathematical Science is a great choice.
This online degree teaches students the needed research skills so they can efficiently work in a challenging and fast-paced environment.
Academic quality at UIS is very rigorous, which is why all its programs, especially the mathematics degrees, have requirements to guarantee appropriate placement. For courses at or below 100-level, students must meet the program prerequisites by submitting their standardized test scores (SAT or ACT Math scores).
Aside from honing students to be great at teaching math, they will also be able to apply and use algorithms, check the reasonableness of solutions, and communicate the results and reasoning in coherent English.
This online education will teach students to use mathematical reasoning in solving problems, test conjectures, and study the validity of the arguments involved.
The University of Illinois in Springfield is accredited by the Higher Learning Commission.
---
Midway University
Midway University is an institution dedicated to giving student quality education. This private Christian university has very generous financial aid and scholarships, both need-based and merit-based, and offers two-year and four-year programs, as well as graduate degrees in more than 20 career-focused programs.
Midway University has an online Bachelor's in Mathematics program designed to work with each student's goals. This is an accelerated format that allows students to finish their math degree at a faster pace.
Students can take part-time courses if they opt to keep up with personal or career obligations that limit their study time. Through this flexible approach, students can work at their pace while simultaneously completing their Math studies.
Financial aid is decided upon an applicant's financial needs and situation.
This online bachelor's in mathematics will provide students with skills in problem-solving, logic, and data analysis.
After successful completion of the program, students can seek employment in different industries. They can teach mathematics or work in law, banking, and information technology.
Those who want to further their math education degree can go for advanced studies in different professional graduate school programs, such as medicine, law, business, or other areas.
A Southern Association of Colleges & Schools Commission on Colleges-approved school, Midway University is known for its affordability. Every year, 99% of their undergraduate students receive institutional or financial aid.
---
Grand Canyon University
Grand Canyon University is an accredited Christian university in Arizona dedicated to helping students change their lives through better education. It offers numerous programs at both the undergraduate and postgraduate levels delivered online and on-campus. Students can choose from any of the school's more than 200 programs, all handled by dedicated and industry-expert professionals.
Grand Canyon University offers an online Bachelor's in Mathematics for Secondary Education degree. This Math Education degree is designed for future high school math teachers or middle school teachers.
This bachelor's degree is designed for aspiring math high school teachers to pursue a career that inspires and educates adolescent learners.
All online classes are handled by fully qualified adjunct instructors and faculty members.
GCU students will take advantage of a carefully designed curriculum development plan that cultivates critical thinking and analysis skills– both crucial teaching skills every teacher must master.
This math education degree has a balanced program of theoretical and applied mathematics and education courses.
The foundational framework of this online degree is based on the National Council of Teachers of Mathematics Secondary Initial Prep and the Interstate Teacher Assessment, the National Council of Teachers of Mathematics Content Standards, and Support Consortium Model Core Teaching Standards.
Before one can obtain a secondary education teaching license, BS Math students must complete 120 credits and demonstrate mastery of the following major areas:
Classroom Management
Geometry, Algebra, Trigonometry, Calculus
Pedagogical Theories and Practical Student Teaching Applications
Mathematical Modeling
Data-Driven Instructional Methods
Discrete Mathematics
Grand Canyon University is HLC-recognized.
---
Mercy College
Mercy College is a non-sectarian, non-profit private school that has three campuses: in Dobbs Ferry, New York, in Manhattan, Bronx, and Yorktown Heights. This coeducational research university has five schools:
Business
Education
Liberal Arts
Health and Natural Sciences
Behavioral Sciences
It is home to over 90 undergraduate and graduate degree programs and certificate programs.
Mercy College offers a Bachelor's degree in Mathematics and Adolescence Education, Grades 7-12 program, which is a combination of Bachelor of Science and Master of Science program. this nationally-recognized 12-course (36 credits) program in mathematics education provides future secondary and middle school teachers with an extensive course of study to achieve teacher licensure and become outstanding teachers of grades 7-12 students.
This online bachelor's degree is nationally-accredited and combines practical and theoretical courses with fieldwork experiences.
The program is offered with differentiated courses for full-time and pre-service teachers who are seeking master's degree certifications.
All initial teacher licensure programs are nationally recognized by:

Council for Accreditation of Educator Preparation
National Council for Accreditation of Teacher Education

This secondary education program is based on the notion that math teachers in grades 7-12 should have a thorough understanding of various content fields, coupled with the right teaching method that will engage adolescent learners.
Future high school teachers will have a better understanding of diverse linguistic, cultural, and social strengths, and learning when providing education to others.
Mercy College offers certifications, too, in the following math courses: Early Childhood Education, Grades 1-6; Special Education; Early Childhood Education, Birth-Grade 2; and Secondary Education, 7-12.
Mercy College earned a Middle States Commission on Higher Education accreditation.
---
American Public University System
The American Public University System is an online education institution for service-minded working adults who are looking to make a difference in education, business, healthcare, government, and many more. Offering 264 degrees and certificates, APUS is the number one provider of education to the US military and veterans.
APUS offers an online bachelor's in mathematics degree that enhances students' knowledge and understanding of advanced mathematical theories, communication, analysis, and real-world data modeling.
This program helps students to hone their critical thinking skills for solving challenging problems in science and technology and analyzing how one can effectively communicate mathematical theories.
The math courses in the program can easily be used by graduates in different real-world industries, including finance, computer programming, management, logistics, data science, engineering, and space studies.
BS in Mathematics degree holders can further their student learning by stepping toward graduate education.
This online bachelor's degree is 120 credits, with transfer credits of up to 90. The cost of attendance is $325 per credit hour for regular students. Those with military grants only pay $250 per credit hour.
The American Public University System is an HLC-approved school.
---
Thomas Edison State University
One of New Jersey state's 11 senior public institutions of higher education is Thomas Edison State University. The school puts every student's goals within reach, thanks to its more than 100 areas of study offered in five flexible methods, including an online format.
TESU offers an online Bachelor of Arts in Mathematics designed to prepare adults for graduate education, career change, or career advancement. This program allows students with a basic background in mathematics to further use their skills in the advanced study of the field and develop a broader knowledge of the conventional liberal arts discipline.
The school integrates written and communication skills in its mathematics degree program to guarantee that students can effectively communicate when working in a career.
This online bachelor program will teach students to develop and create mathematical proofs. They should also be able to explain and exude problem-solving methods using mathematical concepts.
For this bachelor's degree program, submission of a high school diploma, GED, or a secondary home school diploma is required.
Thomas Edison State University has gained the Commission on Higher Education's approval.
---
More to consider: Best Schools with Online Bachelor's in Science Education
---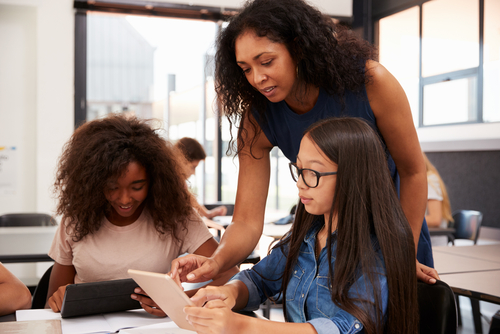 Jobs You Can Get With a Degree in Mathematics Education
If you are someone who loves to work with numbers or you hold a mathematics degree, it's best to consider careers in mathematics, finance, education, engineering, or accounting. Here are some of the best jobs you can get with your mathematics education degree.
Kindergarten and Elementary School Teachers
These teachers set the foundations for learners by teaching them the fundamentals of math- including addition, subtraction, division, and multiplication. They make lesson plans based on the mental and emotional developmental stages of students and teach them how to properly interact with their teachers and fellow students.
Middle School Teachers
Middle school teachers focus on teaching grades six to eight. They help students gradually transition from elementary school and prepare for high school. Some of the usual tasks of middle school teachers include leading classrooms in discussions and reading, making grade-appropriate assignments to help pupils learn their materials, or preparing students for state-level subject exams.
High School Teachers
High school teachers educate students in Grades 9-12. They prepare these students for both higher education and the workforce. In terms of secondary mathematics education, these teachers teach classes in geometry, algebra, and trigonometry. On top of making lessons, assignments, and exams, high school teachers also write recommendation letters.
Special Education Teachers
These types of teachers work with students with mental, emotional, learning, and physical disabilities in making academic lessons that correspond to the student's ability and development levels. They usually work with smaller classes and sometimes provide one-to-one sessions.
Career and Technical Education Teachers
Career and technical education teachers work with adult or older students. While most classes emphasize specific technical and vocational contents, it's usual for mathematical topics to overlap with these subjects. These teachers also help students in developing the required skills and knowledge needed for jobs that no longer require a college degree.
Admission Requirements for an Online Math Education Degree
The admission requirements for online math education programs are usually the same as those for in-person degrees. However, on top of the typical prerequisites, some programs may require applicants to provide a math portfolio or undergo an interview.
The common requirements to qualify for an online math education degree include:
Application
Applications can be submitted fully online, although there are still math education programs that allow applicants to send their paper applications through the mail. Common information includes the student's name, date of birth, mailing address, and citizenship status.
Test Scores
Some institutions require candidates to submit their college entrance examination test scores, most commonly the SAT or ACT. But in recent years, many schools have started to move away from requiring test scores and instead prefer to use a fairer metric.
Letters of Recommendation
These letters play a crucial role in the admission process and these will help admission officers to get to know the candidates more: how the students perform academically and professionally, whether they have previous voluntary experiences, or how well they're prepared for the tough challenges of higher education.
Essays
College application essays give room for students to share why they wish to earn a math education degree or how they will plan to use their degree after graduating. These also provide a channel for them to share why they choose a specific school and program. College application essays must differentiate the applicant from other candidates and must stick out in the reader's memory.
Official Transcripts
Whether students are fresh graduates from high school or transferees from a community college to a university, official transcripts will help admission officers to verify and evaluate student information. These documents list prerequisites courses, GPAs, and the classes the student enrolled in at a community college that will qualify for a four-year program.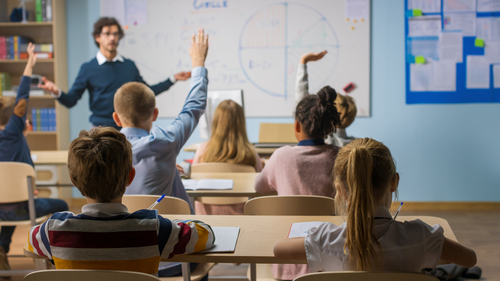 Frequently Asked Questions
Are Math Education majors in demand?
Like K-12 education roles, the jobs for Math Education majors are aid to increase in the coming years. The US Bureau of Labor Statistics said that jobs for kindergarten and elementary teachers will increase by 4% between 2021 and 2031.
How long do Math Education degrees take?
A bachelor's degree in Math Education takes four years to complete, on average, based on a full-time course load.
Key Points to Ponder
Earning an online Bachelor's in Math Education degree will help graduates propel into meaningful and lucrative careers both outside and inside the classroom.
Most bachelor's degrees in Math Education programs consist of 120 credits and need four years of full-time study or six years of part-time schooling.
On top of the general coursework, Bachelor's in Math Education requires students to have a semester-long learning practicum so they can build teaching skills and have real-life classroom experience before graduating.
---
Don't go!… Check this out first: Best Schools for Online Bachelor's in Education Programs