Find Your Perfect School
Premium Schools is an advertising-supported site. Featured or trusted partner programs and all school search, finder, or match results are for schools that compensate us. This compensation does not influence our school rankings, resource guides, or other editorially-independent information published on this site.
Science allows us to learn about the things around us. It has always been seen as a way to understand the world better using systematic methodologies. Therefore, teaching science in schools and other settings is a valuable pursuit.
Science education is vital in teaching students from grade school to college about the world around them. It gives them access to a wealth of information to help children and young adults systematically make sense of the world. Teaching science to school-age children helps them understand complex systems function, discover new concepts, and use evidence-based knowledge to make well-informed decisions.
Most Science Education programs instill a sense of intrigue to encourage students to question the whys and hows of the things around them. It helps them develop scientific inquiry skills, curiosity, objectivity, and critical thinking.
Online Bachelor in Science Education online courses equip future high school teachers and educators with the knowledge and skills needed to help students develop the capacity to grasp diverse problems, apply relevant information, and recognize meaningful patterns. This program will also train teachers to enhance their students' wonder, questioning, and curiosity, as well as seek meaning in our world.
---
Be sure to read this exciting article about lucrative career options in Education: The Most Lucrative Education Jobs
---
Quick Summarization
An online bachelor's degree program in Science Education is for hopeful middle school teachers and instructors across all other levels that are passionate about science and teaching. This program will prepare future educators for successful careers in schools or other settings. The courses in this program provide teachers with the knowledge and skills necessary for qualifying for state teaching licensure exams.
Methodology
Several colleges and universities offer online bachelor's degrees in Science Education nowadays, making choosing the right school to enroll in quite daunting! We're here to help you find the best Science Education undergraduate program that fits your needs and preferences in a teaching degree!
Each of the online programs on our list was picked with these criteria in mind:
Offered as an online or hybrid learning format on synchronous or asynchronous style, enabling students to complete their Science Education coursework conveniently and progress at their own pace,
Coursework and student teaching opportunities in schools must be provided to help undergraduates complete the required field hours and have practical experience in real classrooms,
Qualifies students to sit for teaching certification and teacher licensure examinations,
Classes are facilitated by professors with terminal degrees, valid teaching license, and years of experience in both science and education fields,
Offers students get 24/7 access to student support services, including tutoring, career consultation, internship placement, and one-on-one mentorship to support learning,
Delivers financial assistance programs, such as Federal Student Aid, grants, and scholarships,
Adheres to academic standards and fulfills state licensure requirements, as evidenced by regional and programmatic accreditation,
Recognized by industry groups, including the National Science Teachers Association.
Read our Methodology to learn more.
---
7 Best Online Bachelor's in Science Education
Drury University
Drury University's Bachelor of Science in Middle School Science Education is designed to prepare future educators who want to go beyond the technical understanding of how things work. Because this teaching degree program is all about grounded partnerships with public schools, undergraduates will have plenty of opportunities to participate in various clinical experiences, including student teaching and reading practicum right from their first year of study.
This BS in Middle School Science Education degree program is aimed at students who are looking into qualifying for initial certification in fifth through ninth grade in the state of Missouri. And with courses that cover topics required for certification, including clinical and field experiences, undergraduates will complete the program and become reflective educators with a strong vision of educational institutions as creative and energetic places that foster knowledge and shape young minds to succeed in the future.
At the end of this online degree program in Middle School Science Education, students will be proficient in the InTASC (Interstate Teacher Assessment and Support Consortium) Model Core Teaching Standards and Learning Progression for Teachers 1.0, a set of resources that support and define current teacher effectiveness to ensure students pursue a college education and meet career-ready standards. What's more, students will also learn how to use content-specific research to design, assess, implement, and reflect on their students' learning.
BS in Middle School Science Education courses include:
Earth Science Laboratory
Physical Science Laboratory
Principles of Physics
Collaborative Classrooms Environments
Education of the Exceptional Child
---
Western Governors University
Western Governors University offers a Bachelor of Science in Science Education that prepares students for teaching licensure exams. This program is accredited by the Council for the Accreditation of Educator Preparation (CAEP) and the Association for Advancing Quality in Educator Preparation (AAQEP), ensuring that this program complies with set standards.
Those who are passionate about science and teaching can train to become future science educators and make a difference in their students' lives. STEM teachers have become increasingly in demand nowadays and WGU's BS in Science Education program can help prepare future educators for rewarding careers in the field. This program will also provide undergraduates with the knowledge and skills needed to become licensed and credentialed experts who will shape young minds and fuel their passion for science.
WGU's Science Education program has a curriculum that is recognized by the National Science Teachers Association (NSTA), ensuring that its faculty members use the association's professional learning and teaching resources. Aside from that, its curriculum has been developed with valuable input from educational leaders and experts who serve in the university's Educational Program Council.
Although classes are facilitated online, all online students will order a self-contained science laboratory kit, which includes science equipment, chemicals, and specimen, that they can use to complete lab experiments at home. They will also get access to an augmented reality experience for them to practice their work before entering a real classroom.
Some of the courses and competencies include:
Middle School Science: Content Knowledge
Introduction to Curriculum, Instruction, and Assessment
Teaching in Middle School
Concepts in Science
Chemistry with Lab
---
Miami Dade College
Miami Dade College's Bachelor of Science in Secondary Science Education is a baccalaureate degree with a specialization in Biology. This online degree program is designed to equip future educators with the needed foundational knowledge and skills to pass state professional certification exams.
This program requires students to complete an internship in a school setting for practical experience. FIU's BS in Secondary Science Education has a virtually 100% pass rate for the Florida Teacher Certification Exam and almost 100% of its graduates find employment right after completing the program.
MDC's BS in Secondary Science Education is a comprehensive teacher program that is based on the latest research in educational neuroscience. It will help students prepare to land their very first professional teaching job. Thanks to its dedicated faculty and administrators, students can take advantage of mentoring, coaching, and other student support services as they become in-service educators.
The major areas of study for Secondary Science Education majors include General Teaching Skills, Methods of Teaching Science, Instructional Technology in Math and Science, and Teaching and Learning the Nature of Science.
Some of the required courses for this online bachelor's program in Secondary Science Education include:
Introduction to Cultural Anthropology
The Individual in Society
General Chemistry and Qualitative Analysis
Introduction to the Teaching Profession
Introduction to Technology for Educators
---
Florida Southwestern State College
Florida Southwestern State College offers a Bachelor of Science in Middle Grades Science Education to help future teachers have foundational knowledge in teaching grades five through nine students about life and physics. This program is also aimed at providing undergraduates who have earned an Associate in Arts degree with an educational pathway to include certain science and education prerequisites.
FSW's BS in Middle Grades Science Education is approved by the Florida Department of Education (FLDOE). It includes courses that tackle topics that prepare teacher candidates to have a better grasp of middle grades philosophy and the nature of adolescent learners. Aside from that, future teachers will be taught how to teach English as a second language, reading competency, and exceptional students.
Throughout the program, undergraduates will learn all about classroom management and assessment techniques to allow them to work with diverse kinds of students. They will also be required to have field experience, complete a full-time internship, and teach lessons through practicum courses. At the end of the program, students will be able to satisfy state-mandated teaching requirements for certification in Middle Grades Science Education.
The following are some of the course requirements for FSW's BS in Middle Grades Science Education program:
Introduction to Psychology
Principles of Sociology
General Biology
Fundamentals of the Physical World
College Physics
---
University of West Alabama
The University of West Alabama offers a Bachelor of Science in General Science to meet the growing demand for certified educators in the state of Alabama. This program is geared toward preparing undergraduates to meet the requirements for science teaching licensure and gain expert-level knowledge that they can share with their students in the future.
This program is the first general science degree that's fully online in Alabama. It is aimed at aspiring educators who want to have diverse teaching opportunities and for current teachers who want to advance in their careers. BS in General Science majors at UWA will learn how to develop innovative teaching skills that will help them manage classrooms, establish effective learning environments, and teach different types of learners.
Students can graduate with a BS in General Science after four years and after completion of 133 credit hours.
Basic course requirements for this online degree program in General Science include:
Introduction to Teaching and Learning
Introduction to Special Education
Secondary and Physical Education Classroom Management
Introduction to Environmental Sciences
Human Anatomy and Physiology
---
Midway University
Midway University offers a Bachelor of Arts in Education Studies with a Science emphasis designed for those who are not looking to qualify for teacher certification because they do not plan on teaching in America. This online program is also for those who intend to pursue a Master of Arts in Teaching (MAT) program or whose goal is to hold a paraprofessional position in any school.
The Education Studies major does not require undergraduates to complete Praxis I, Praxis II, student teaching, or even the methods courses. However, teacher candidates will learn how to collect and analyze data from various assessment methods to effectively interpret continuous improvements.
They will also have a better grasp of human diversity and gain knowledge and effective practices to ensure student growth. Furthermore, they will be ready for leadership roles and opportunities while collaborating with other stakeholders, including colleagues, families, students, and the community, ensuring learner growth.
Future educators will have a deeper understanding and be able to demonstrate central concepts with tools of inquiry and foundations of the various disciplines they teach to create experiences that foster growth and mastery. On top of that, teacher candidates will be able to plan instruction with pedagogical concepts that promote learning for all students in cross-curriculum and content areas.
Major course requirements for the BA in Education Studies – Science emphasis program include:
Introduction to Education
Technology in the Educational Setting
Classroom Management and Theory
Foundations of Literacy
Principles of Environmental Science
Physics
---
University of Colorado Denver
The University of Colorado Denver offers a Bachelor of Arts in General Science, Secondary Science Education, a program that equips future teachers with the knowledge and skills to motivate young students to solve complex problems and use decision-making and critical analysis skills.
This program helps foster experiential learning and exploration among young students who want to have a basic grounding in science. They will develop the capability to inspire students to question, analyze, observe, explain, draw conclusions, and learn about the world around them. They will also learn about planning assessment-informed instruction to achieve academic excellence and equity for all children, regardless of race, language, class, or ability background.
This science teacher preparation program is a collaboration of the science education department in the College of Liberal Arts & Sciences and the School of Education & Human Development at the university, as well as its K-12 partner educators in the area. What's more, they will get the chance to learn from faculty members known for innovation and research in social and emotional growth, STEM education, and developing a diverse teacher workforce.
BA in General Science, Secondary Science Education majors will learn essential content and education theory to be effective science educators in the future. They will have chances to live the life of a teacher through partnerships and becoming members of staff as teacher candidates. Additionally, they will have teacher residency through the area schools that UCD has partnered with.
Sample courses for BA in General Science, Secondary Science Education program include:
Social Foundations and Cultural Diversity in Urban Education
Theory and Pedagogy of Science Learning
Inquiry Science Pedagogy and Practices
---
Check this out: Best Online Bachelor's in Math Education Programs
---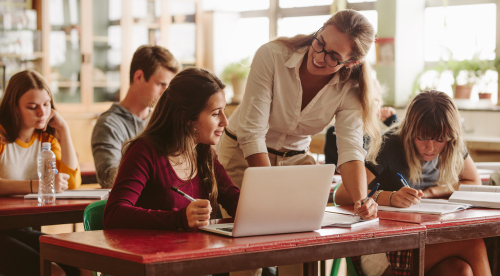 Careers and Salaries for Bachelor's in Science Education Graduates
Because Science Education has become more and more popular nowadays, it's important to train future educators to be fully equipped in teaching private or public schools or other settings.
Here are some of the most common career paths that graduates with a Bachelor's in Science Education can consider:
Frequently Asked Questions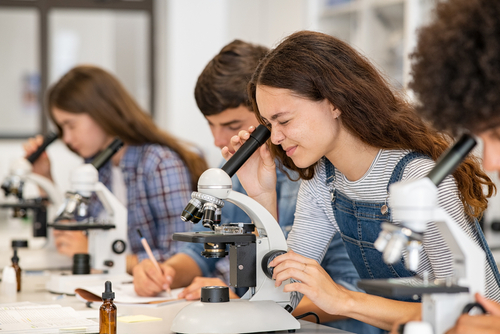 What certification and licensure exams do graduates of a Bachelor's in Science Education need?
To be eligible to teach young children, it's crucial for teacher candidates to pursue additional certifications. For science educators, they can start preparing for these three state-required licensures.
What scholarships are available for undergraduates with a Bachelor's in Science Education degree?
Should graduates with a Bachelor's in Science Education pursue a master's degree?
Yes, they should. This is because a Master's degree can hone students' teaching skills and maximize their earnings. Additionally, all teachers are encouraged to invest in the advancement of their professions through a Master of Arts in Teaching.
Key Points to Ponder
An online bachelor's in Science Education is a preparatory program for undergraduates to qualify for state teacher certification and licensing.
An online bachelor's in Science Education program will have both science and education courses and require students to take at least one class from the major branches of science.
An online bachelor's in Science Education can provide future educators access to teaching careers in elementary, middle, and secondary schools.
---
Before you leave, see this: Best Schools with Online Bachelor's in Elementary Education