Find Your Perfect School
Premium Schools is an advertising-supported site. Featured or trusted partner programs and all school search, finder, or match results are for schools that compensate us. This compensation does not influence our school rankings, resource guides, or other editorially-independent information published on this site.
Are you a small-town student looking to attend school in an overwhelmingly large college town? No worries! We name 20 Northern Colleges with a Small-Town Feel that won't have you missing home… too much.
Quick Summarization:
The Northern United States, the American North, or simply the North, is renowned for its natural beauty. Aside from the seeming modern architecture, you can find laid-back communities that give you the small-town feel. Did you know that, even being the big modern world that it is, the North is also home to some of the most well-known and best college towns in America? Our featured colleges let you experience what the most tranquil and smartest towns are like in a Northern college.
New York: Poster Child for the Beautiful American North
Towering skyscrapers, jaw-dropping glass historic buildings made of steel, and quintessential cityscapes characterize the Northern American States.
New York is at the heart of it all, with its unrivaled scenic spots, history, culture, food, and people. New York City brings people from all walks of life together, and for more than 200 years, it has been the largest city in the country.
It continues to outperform every city despite going through periods of crisis. New York has come out of many seeming rebirths and reinventions to move and dominate America's urban landscape.
The city personifies the grit of the modern world. There is no wonder why students are drawn to the Big Apple–it's a college town on its own! 
Moving to New York and studying at New York University (NYU) is the classic American dream. Walk around Central Park on your way to the university or pass through architectural wonders while skimming through your notes to get to your next class.
Finding An Escape from the Urban North
Economic research shows how big city living has become overwhelming, crowded, and expensive over the years, especially now that the world has moved towards putting a premium on mental health.
While living modern life remains a dream for some, big cities and urban colleges and universities might have lost their appeal.
Living in the city does more than just impact your cost of living with national companies and every major employer in the area; it can also mess with your mental health. As a student getting your way into college, you should prioritize your mental health.
The United States is more than just the Big Apple or the Chicago skyline. Just take a trip north, settle in a college town, and you will find a near-unrivaled array of natural scenery and a tight-knit community that will recenter and prepare you for life in college.
How A Northern College With A Small-Town Feel Could Benefit You
Your college campus surroundings affect your learning and recreational experiences. Typically, colleges in Northern American college towns are located in major cities characterized by the presence of massive transportation systems and notable employers or big businesses within skyscrapers.
All these present incredible opportunities for college students who are bound for the professional work scenario.
For students who thrive in urban life, colleges located in the North and the best college towns are the way to go. However, highly urbanized areas with technological advancements can become too crowded and heavily distracting–even for students who are used to modern living.
And if distractions get in the way of your studies, you seek that beautiful escape–-and you can do so without leaving campus or traveling miles away for a vacation!
Best college towns and Colleges in the North emphasize a well-balanced student life with well-maintained vast campuses of lush greens or serene lakes and waters where students find their spots for studying, reflecting, and relaxing.
Outside the campus could feel a lot like a small college town, too! With local business establishments, theatre venues and theatre companies, and local parks that paint a picture of the country's most livable cities, students and future professionals in the best college towns and colleges in the North enjoy the influx of job opportunities.
A small college in the North may also emphasize small classes that make for an intimate learning experience! A small student body promotes better interaction and provides more avenues for extracurricular participation and engagement of college students, such as in sports clubs.
Overall, each small college in the North that feels like a small town offers the idea of membership in a small community.
All that being said, Northern colleges in the best college towns offering a small-town feel don't skimp on the quality of education they offer. They are neither short on the essentials for equipping future-ready college students!
You can choose from numerous majors and minors or specializations, consult with highly capable and esteemed faculty and advisors, and use facilities that are at par with the most innovative colleges out there!
Also integrated into the vibrant cultural pride are big employers also found in small-town colleges. Tech firms and tech startups also find themselves nestling in places with a small-town feel!
In all these laid-back vibes, these top employers ensure a decent median income for employees and most residents.
Explore the 20 Northern Colleges Giving You That Small-Town Feel
After all, living in a rural community while working to get a degree in a college town is a healthier choice for college students than living in a sea of strangers in a big city.
Feel the sweet and warm hospitality of the locals and students of a small college town in these 20 Northern Colleges with a Small-Town Feel.
Old Chapel Rd, Middlebury, Vermont
Middlebury College is "A Safe and Supportive Place to Be Yourself."
Located in the small college town of Middlebury, it has continued to pursue its mission and commitment to immersive learning since its founding in 1800.
The college is one of the most highly regarded liberal arts colleges. It aims to produce graduates who are socially and intellectually prepared for the world.
The humble Middlebury College campus sits atop the Champlain Valley of central Vermont, overlooking the Green Mountains of Vermont to the east and New York state's Adirondacks to the west.
Despite its rural setting, it has positioned itself with a high level of global thinking and engages students in creativity and entrepreneurship.
Middlebury College is a leading undergraduate institution, specifically in Architecture and Humanities. This can be shown in the college's beloved Axinn Center, where the humanities are centered on liberal arts education.
Middlebury College is also the home to the Bread Loaf Writer's Conference, the finest of its kind in the whole country. Being invited to the conference means being a part of a diverse and inclusive community of writers.
The Bread Loaf Writer's Conference is not a retreat but a collaborative opportunity to work with writers of all backgrounds. It is a time-tested model of engagement where everyone can thrive and enjoy their time on the mountain.
When you become a student at Middlebury, you will be welcomed to a distinctive and energetic community. You can build strong friendships and inspiring connections with your adviser and peers.
Living on campus will also allow you to have a unique college experience. With 60 buildings for student housing, you will not miss out on the chance to live independently.
The living-learning environment is Middlebury's pride, and the Commons System is what will make your college experience there exciting and unique.
During your first two years at Middlebury, the people you meet will become your Community Friends. You will never feel homesick. If you ever do, you can always go to the greenhouse on the 6th floor of McCardell Bicentennial Hall to study or catch up with your friends.
If that does not convince you to go to Middlebury, maybe the Middlebury Snow Bowl will. Middlebury College is one of only two colleges in the country with its ski mountain. Only at Middlebury that you get to explore the beauty of Vermont's best woods for skiing without missing your coursework.
---
Annandale-on-Hudson, New York
Impressive with its centuries-old history, Bard College is a perfect mix of small-town feel inside the bustling image of the state of New York.
Continuing from a 160-year history as a competitive and innovative undergraduate instructor, Bard College earns its spot as one of the US's leading private, non-profit colleges.
To further cement its place in education, it has expanded its reach across the country and even offered its classes worldwide. Bard College has removed the borders that separate high-quality education from eager and motivated students.
A private college committed to doing public good is what Bard stands for. It seeks to inspire curiosity, idealism, an undying love of learning, and a commitment to use education for civic participation. If you go to Bard College, these missions will not be hard to pursue its scenic 1,000-acre campus. 
Bard College campus is an acre after acre of fields and forest land overlooking the Catskill Mountains.
You can find its historic main campus along the Hudson River in Annandale-on-Hudson, New York. The campus is a perfect rural setting in Rural New York.
The Richard B. Fisher Center for the Performing Arts is among its most notable campus buildings. It is embellished with a metal-plate roof designed by Frank Gehry. The center is witness to Bard's thriving art scene.
Find a home in Annandale. Choose from Bard's more than 50 student residences. Eat healthily and with a purpose in the college's dining hall and participate in the BardEATS (Eating Awareness Transforms Society). You do not need to leave New York to live a college experience with a small-town feel.
---
Wellesley, Massachusetts
Massachusetts is more than the prestige that Harvard University brings, and Wellesley College proves that!
Wellesley College is a notable undergraduate institution outside of Boston and is one of the most beautiful college campuses in the Northern United States.
Wellesley College campus is a 500-acre land home to winding pathways that create a magnificent scene of open meadows groves of conifers and hardwoods.
Not only that, but the campus ground also includes golf courses for anyone who can swing a golf club. Expect to see brick and stone buildings that sit atop wooded hills.
When you live on campus, you will wake up to a view of inviting vistas. Through magnificent pine trees and sweeping lawns of century-old oak trees, you will find your way to the shores of Lake Waban.
The well-kept landscape makes Wellesley College unique. It is central to its identity, mainly to every student's college experience. You can find comfort from every corner of the campus with "its peculiar kind of intricate beauty."
---
Waterville, Maine
Experience the natural beauty of Maine when you decide to pursue a college degree at Colby College
Founded in 1813, it is the 12th oldest liberal arts college in the United States. Colby College seeks to offer distinctive class offerings and maintains an intimate, undergraduate-focused learning environment.
You can expect a rich and fully integrated academic, residential, and co-curricular experience for every student part of the Colby community.
Colby's rural setting in Waterville, Maine, has not hindered it from becoming a global institution. It brings together students from nearly every US state and at least 70 countries.
Colby's 714-acre campus stands on Mayflower Hill and overlooks the Kennebunk River valley in Maine and the downtown Waterville. Students can stroll down the Johnson Pond when things get hectic with classwork.
You can marvel at over 18,000 trees, shrubs, and other perennials surrounding the pond. Aside from the Johnson Pond's serene atmosphere, you can also find the Perkins Arboretum and Bird Sanctuary inside Colby College.
It is a 128-acre Wildlife Management Area that brings nature close to every student at Colby. 
Find a tight-knit network of friends in one of the college's most notable structures, the iconic Miller Library. Built in 1939, it stood as the tallest building in Maine.
It houses Colby's vast collection of humanities and social sciences books, periodicals, newspapers, and videotapes. While it stands as an impressive venue for intellectual discussion, The Street on the ground level has become a popular study area for Colby students.
Plus, the campus is home to the Colby College Museum of Arts. As an art enthusiast, you will find yourself engrossed in one of the major cultural destinations in Maine.
There are various ways to connect, thrive, and succeed at Colby. All you have to do is enroll.
---
Champaign, Illinois
The University of Illinois is a renowned sports institution in the country.
A Big Ten Conference founding member, the U of I has a history of being one of the original 37 public land-grant institutions proclaimed by the Morrill Act in 1862 under President Abraham Lincoln and located in the twin cities of Champaign and Urbana in east-central Illinois.
Surprisingly, the population is low despite the location, with only about 207,000 people. It is easy to find your footing in the University as it breathes a small-town feel despite its rural setting.
Various community centers at the university will welcome every kind of student.
These centers offer opportunities to learn and experience the rich culture and history surrounding the campus and the modern traditions and living cultures that shape our world today.
You will never feel alienated. Find your people at the Asian-American Cultural Center, Bruce D. Nesbitt African-American Cultural Center, La Casa Cultural Latina, Native American House, Women's Resources Center, or at the LGBT Resource Center.
If you still feel somehow lost, maybe you can find solace in the campus's library. The U of I at Urbana-Champaign's Library is the United States' second-largest, next only to Harvard. The Carnegie Institute of Higher Education classified it as a notable institution for research.
---
Amherst, Massachusetts
Amherst College carries a name that precedes itself.
It is home to intellectual diversity and curiosity – two of the college's cornerstones. Since 1821, the college town of Amherst has been helping its students find their voices, find their truths, and forge their paths to carry in the future.
As Amherst puts it, "Our students and alumni are the true authors of the Amherst story." You can help write the next chapter when you choose to go to Amherst.
Students at Amherst are self-motivated. It is not hard to be so when you live a unique college experience. Amherst College has long recognized that diversity is a natural condition, especially in the modern world.
So, it has made diversity a foundational part of Amherst education by creating a safe space for the intellectual community. That community comes to life with every student that comes to Amherst.
Amherst has an impressive 98% freshman retention rate. It must be hard to leave the campus of 1,000 acres of greenery and over 100 architectural wonders. Of the 1,000 acres of campus ground, 500 acres host a Wildlife Sanctuary of a diverse collection of open areas. The sanctuary along the Fort River is an essential part of Amherst for recreation and research.
As the interest in STEM classes improved by 85% over the past 15 years, the college has invested in new, state-of-the-art facilities and flexible spaces, The Science Center. It was built to cater to and support sciences at Amherst.
Being in small towns means suburban-style dormitories. The Charles Pratt Dorm is an excellent choice if you think of living on campus.
You can also take a breather at the campus center and play some sports. Do not worry about feeling bored, though, as there are nearby restaurants and a mall, or go on a quick trip to North Hampton.
---
Clinton, New York
Charmed by the eccentric flair of New York, you may consider going to Hamilton College.
It is the third oldest college founded and established in New York State, founded in 1793 as the Hamilton-Oneida Academy.
Hamilton College stays true to its namesake, Alexander Hamilton, a US statesman and the first secretary of the US treasury, a recognizable name in American history. It is not surprising that Hamilton College carries "Know Thyself" as the college motto.
For more than 200 years, the college campus has stood on a hilltop overlooking the quaint village of Clinton. Hamilton's 1,350-acre campus is home to both the traditional and progressive approaches to education. With a massive land area, you can expect Hamilton College to operate like a small city.
However, students experience a feeling of a close community like a rural college. With a national reputation for teaching students to express themselves through communication, you will find your place without worrying about feeling alienated.
Hamilton's Elihu Root House is named after a Nobel Peace Prize winner, Elihu Root, class of 1864. This is a testament to the college's mission of producing some of the country's best writers. Along with three generations of the Root family, Elihu Root brought the Root Glen Arboretum to Hamilton.
The arboretum blooms with beautiful flowers and shrubs and is covered with 65 species of trees that have become a refuge for Hamilton College's students. 
If you ever feel lost, you can always find your way to The Chapel that Philip Hooker and John Lothrop designed in 1827. This architectural genius made it to the prestigious National Register of Historic Places list.
---
Ewing, New Jersey
The College of New Jersey is a highly selective public residential college that emphasizes the undergraduate experience of every student.
If you are looking for the #1 Public College from Maine to Maryland, The College of New Jersey (TCNJ) is the one for you. The College of New Jersey is a highly selective public residential college that emphasizes the undergraduate experience of every student who enters its doors.
It is home to the most competitive programs in Arts and Communication; Business; Humanities and Social Sciences; Education; Engineering; Nursing, Health, and Exercise Science; and Science.
The TCNJ is home to a growing community of diverse learners who excel in an environment known for its rigorous academic programs and endless extracurriculars. This is balanced out by the supportive culture that makes the college town campus feel like home to everyone and anyone.
The College of New Jersey boasts its unique Georgian Colonial campus of 289 landscaped acres of land in suburban Ewing, New Jersey. The campus is known for its natural beauty, with the entire campus grounds lined with towering trees and greenery.
It is at a prime location and approximately five miles from the state's capital, only ten miles from Princeton, and near New York City and Philadelphia.
At The College of New Jersey, you will find out that you are not one thing, and neither are the people around you. There are endless ways to explore the campus and the nearby communities that will fill your student life.
The suburban neighborhood where you will stay has the perfect mix of something new, tried, and true. You will easily feel at ease and comfortable at TCNJ. Plus, the TCNJ's Spring Funival is something to look forward to!
---
Northfield, Minnesota
St. Olaf College, a private liberal arts college, was founded in 1874 by Norwegian Lutheran immigrants.
The college thrives in providing Northfield, Minnesota, and beyond nationally acclaimed liberal arts education.
St. Olaf College brings students together as a community to its campus on a hill and offers them a base of knowledge, skills, experiences, and habits before they leave the campus. In doing so, students are prepared to take on any future career.
At St. Olaf College, students are encouraged to learn in the classroom and in common areas where diversity is free to flourish. The 920-acre campus is a considerable area for you to learn and experience college life with your peers.
Learn independence in the residence halls at the Buntrock Commons, connect with friends in the rehearsal rooms, at practice fields, or even during worship services.
Engage in community organizations, so you will experience first-hand what it feels like to be in a college with a small-town feel. 
When you go to St. Olaf College, you will feel the pride of stepping into two buildings that have made it to the National Register of Historic Places.
See the architectural magnificence of Gothic-style The Old Main and Steensland Hall with Greek revival design. The Old Main has seen so many students thrive and succeed as it is the first building to stand on campus.
You will be happy to know that of the 920 acres, 325 acres of St. Olaf College has restored wetlands, woodlands, and native tallgrass. And nothing beats homemade maple syrup extracted from the gorgeous maple trees surrounding the beautiful campus.
---
Providence, Rhode Island
Academic freedom, critical thinking, and diversity are at the core of Providence College's mission.
Providence College is a prolific private Catholic College in the heart of Rhode Island. Located in the state's capital, Providence is known for having a rich history in sports and its world-renowned programs in the School of Business and the School of Arts & Sciences.
Founded by Dominican Friars in 1917, the college has continued its tradition of creating a safe and welcoming community for students. Its faculty and staff are "committed to academic excellence in pursuit of the truth, growth in virtue, and service of God and neighbor."
They uphold the highest standards in teaching, learning, and scholarship in every aspect of the curriculum. With God at the center of Providence College's college education, students and graduates thrive and succeed in their chosen paths.
While it is a Catholic institution, students of all faiths are welcome at Providence, ensuring the human family's rich diversity is reflected in the 105-acre campus grounds. Academic freedom, critical thinking, and diversity sit at the core of Providence College.
You will immediately feel at home in the park-like oasis that awaits your college experience. The campus is only minutes away from some of the most exciting cities in the Northeast United States.
Providence College is home to the Friar family, so there is no dull moment here. There is always something going on, and there are always people, and friends, to go with to study or even to relax.
You will have your choice of open spaces to study or hang out with friends. New experiences always await, from residence halls, and dining spaces, to the academic halls that stand on the shoulders of a storied history.
The Harkins Hall is Providence College's priced real estate. It opened in 1919 with an iconic facade that became the face of the college. Today, it is where students cross paths on their way to their classes and the administrative offices, especially the Office of Admission.
Not a single student at Providence College graduates without ever stepping foot in Harkins Hall. It is the heart of the Providence College campus.
---
Hanover, New Hampshire
Some of America's brightest minds have set foot on Dartmouth, finding their passion in this small rural college in Hanover, New Hampshire.
Since 1769, the college has provided a vibrant and inclusive learning environment where college students and faculty can interact and connect in research and innovation.
As an Ivy League undergraduate institution, you can expect to be in the company of the most promising students in their quest for a lifetime of learning.
Aside from its quaint, rural setting, Dartmouth College also follows a unique academic calendar of four 10-week terms. It is a flexible set-up where students can take classes while pursuing research or even internships abroad.
Sophomore Summer is something to look forward to at Dartmouth. Sophomores stay at Hanover during the summer to take courses and overrun the campus. 
Sophomore Summer is a perfect opportunity for students to enjoy the outdoors in New England and explore the 269-acre main campus grounds and beyond. The summer is made more special with the view of the Appalachian Trail. You can also go skiing at the college's ski hill, which is only 14 miles from the campus.
At the center of the campus is the Rollins Chapel, designed by a Boson native architect John L. Faxon, and was completed in 1885. The Baker Bell Tower adds to its allure and charm. Every day at 6:00 PM, you will feel the Dartmouth College spirit as it plays the Alma Mater.
Whether you go to the chapel, skiing, or biking around the great grass area, Dartmouth College is what college should look and feel like. You are free to be extraordinary at Dartmouth College.
---
Pittsburgh, PA

Chatham University holds its charm in its Shadyside Campus, a green and leafy campus that makes prospective students decide to stay.
It is an exciting and refreshing sight considering that four blocks down the road are the trendy Walnut Street stores and restaurants. The main campus is two miles from the Carnegie Museums of Art and Natural History.
And five miles from the Shadyside Campus, you can find yourself in the river kayaking and along riverside trails. Add another mile into your trip, and you can find yourself cheering for the Pirates at the home of the Pittsburgh Pirates: PNC Park.
Aside from its natural beauty and abundance of outdoor activities at arm's length is the 150-year-old history of academic excellence. It is a leading educational institution in Pittsburgh, Pennsylvania.
Shadyside Campus is your quintessential college campus, complete with a campus bookstore with the college mascot seated outside to greet you. It is a small campus encompassing a 32-acre arboretum surrounded by 115 different species of flowers, shrubs, and trees.
Spring is magnificent when the Japanese Flowering Crabapple is in full bloom. Indulge in the aroma of River Birch and Kentucky Coffee tree on your way to class.
The Chatham Arboretum is the most idyllic location that doubles as an outdoor classroom, making the Chatham University college experience unique. Take a stroll, meditate, or simply be one with nature. You are welcome to explore and grow at Chatham University.
---
Gambier, Ohio
At Gambier, Ohio, you will find the humble yet impressive Kenyon College just slightly off the beaten path.
Although the place would look rustic, the beaten path walk is a vital part of what makes the college the institution it is today!
Kenyon College's Middle Path is Kenyon's "main drag and beating heart. A-foot-wide footpath makes a village of greenery and a perfect gathering space for students, faculty, and visitors. It is what draws prospective students to Kenyon College. A charm that is unique to the experience of nearly 1750 students and 200 faculty and staff.
The hilltop location of the college brings more life to the already scenic campus grounds. Its 480-acre land is surrounded by the 14-moile Kokosing Gap Trail and the Kokosing River. Both offer a beautiful spot for relaxation. Kenyon College is a nature preserve with woodland, prairie, and wetlands that provide shelter to wildlife.
An architectural highlight on the campus is the castle-like Victorian Gothic Ascension Hall and Greek Revival Rosse Hall. However, the Old Kenyon attracts more eyes with its multicolored steeple and storied past.
The Old Kenyon provides shelter to students at the south end, especially the Alpha Delta Phi fraternity. What stands on campus today is the second Old Kenyon, as the original building perished in a fire.
Its reconstruction brought the rebirth of the earliest collegiate Gothic-style building in the United States. Timeless beauty endures at Kenyon College, a must if you are looking for a college with a small-town feel.
---
Milwaukee, Wisconsin
Milwaukee School of Engineering (MSOE) is a niche college institution that caters to some of the brightest engineering minds in Wisconsin and beyond.
Students who go to MSOE are "dreamers, thinkers, makers, and doers" who break the barriers to achieving big things despite being a small university.
Since 1903, MSOE has been producing skilled and highly competent professionals in a field that was once unknown to most people, engineering. This program at MSOE dominates school rankings for producing the most skilled engineers.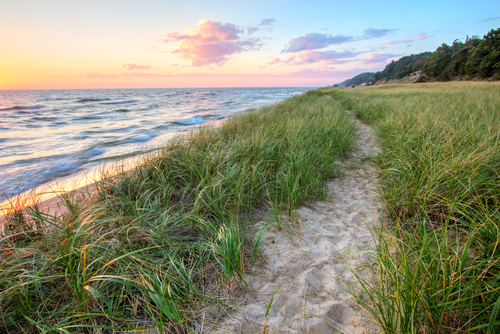 MSOE is small. The campus ground is a 22-acre land in the East Town neighborhood of downtown Milwaukee. Just minutes from Lake Michigan, the school makes for a perfect destination.
It is also a short walk from the pedestrian RiverWalk that brings together three lively riverfront neighborhoods.
As expected, students gather to create a tight-knit group of like-minded individuals driven by the same desire to make big things. It breathes a small school atmosphere in a rural setting.
Milwaukee School of Engineering is never short of entertainment for every minute of downtime. Since MSOE gathers some of the most serious students, they must engage in exciting outdoor activities from open skating at the Kern Center to throwing mashed potatoes during the mashed potato war on St. Patrick's Week. Milwaukee School of Engineering's campus life is always full of surprises.
---
Pittsburgh, Pennsylvania
Its namesake, the University of Pittsburgh, is not any different. The University of Pittsburgh is a world-renowned research institution that has produced top-notch scientists, researchers, and medical professionals.
Since 1787, the university has not stopped pushing the boundaries of science, research, and innovation. There is no question why students choose to forge their futures at the university.
Your life at Pitt is only as exciting as you wish it to be. You can always bring your sense of adventure and explore the university's many opportunities. Find resources at the Office of Student Life. Immerse yourself in the diverse campus organizations and activities.
When college life becomes unbearable, you can explore Pittsburgh's fun spots, including the green riverfront parks.
The wonderful industrial warehouse spaces have transformed into modern-day venues, or enjoy the city's nightlife on the South Side. You can always go back to your home at Pitt after you've recharged!
---
St. Paul, Minnesota
Macalester College is a place "Where ideas and intellectual curiosity matter."
Located in the middle of two bustling Twin Cities of St. Paul and Minneapolis, it is a perfect launching pad for new ideas. It is also the best way to experience Minnesota's unique culture, art, and music scene while staying in touch with the real world. Everything is only a short walk or a quick bus ride from campus.
Cultivate your curiosity while exploring Minnesota, especially during the summer. It is known for its beautiful summers when internship opportunities are in excess or for indulging in fall offerings during the colorful autumn months.
You might forget that you are at the center of the Twin Cities. The metropolitan area is home to more than 3 million people, but the green spaces are not lost amid the sea of progressive individuals.
Experience Macalester College within its 53-acre campus when you enter the Walker Art Center or The Somali Museum of Minnesota or join the fun in First Avenue and 7th Street ENTRY.
However, nothing beats living on campus. At Macalester Residence Halls, you will meet lifelong friends that will endure a lifetime.
---
Cleveland, OH
It encourages students to think big and do big. Located in Cleveland, Ohio, Case Western Reserve University is a humble mid-sized school but boasts fantastic research opportunities. The campus is 267 acres of welcoming space that makes living in a big city bearable.
As a leading national research university, campus life can be straining. CWRU students find comfort in its surrounding scene. You can find the number one arts district within walking distance.
If you ever feel under the weather, you can go to three major hospitals in the state. The university and the city offer ample opportunities for each CWRU student to excel.
Find your niche at Case Western Reserve University. Whether you love swing dance, community service, art, football, or research, or are keen on building your entrepreneurial side, or even Quidditch, you will find a community that will welcome you.
With over 200 student organizations, finding a core group in an otherwise big city will be easy.
---
Ochre Point Ave, Newport, Rode Island
At the Salve Regina University, you will "find your purpose and make unique contributions to the world."
Experience a transformative and values-based education rooted in the university's decades-long liberal arts tradition.
Tradition is at the core of Salve Regina's quest to educate its students. Its 88-acre campus stands witness to its storied past and rich history. The historic building is a testament to the culture of Newport, Rhode Island.
The university adheres to the classic ideals of the liberal arts approach to educating the new age of students that come to the doors of Salve Regina University. It seamlessly blends tradition with a progressive learning experience.
By offering diverse courses, students are exposed to real-world scenarios that will lead them to find sound solutions for a better future.
Student life at the Salve Regina University is full of diversity and vibrant communities, transforming ordinary lives. The campus is surrounded by 88-acre greenery featuring mature and exotic trees that stood the test of time.
There are 1,200 trees of at least 100 different species at Salve Regina's campus grounds. It has been recognized as a Level II arboretum by the Morton Arboretum's ArbNet Arboretum Accreditation Program.
The arboretum was originally designed by one of the most notable landscape architects, the Olmsted brothers. The university's dedication to preserving the magnificence of the campus grounds puts Salve Regina as a distinguished liberal arts institution of historic landscapes.
---
Biddeford, Maine
The University of New England, Maine's largest private university, is located right along the ocean in Biddeford.
UNE is a leading institution in providing high-quality education to health professionals. Every UNE student gets to experience life-changing, hands-on learning on the university's coastal campus in Maine. Students can enjoy the beach after a physically draining day.
The Biddeford Campus covers 540 acres of campus grounds with 0.75 miles of ocean view where the Saco River meets the Atlantic Ocean. Inside, you can find 26 buildings that keep the university's beautifully colored past.
UNE's Biddeford Campus is a perfect space for students to have the right kind of college experience. It will make you feel like you have never left your hometown. Whether your ideal college experience includes regularly meeting with friends, you can do that at The Hang.
Grab a bit with friends and catch a game at the Biddeford City Theater afterward. Or, if your simple pleasure includes going to the beach for a swim or a short walk, you can go to the beach whenever you want to feel the warm breeze on your skin.
The campus also has plenty of open green spaces for sports and outdoor activities. Enjoy the company of like-minded people on the Biddeford. UNE is ready to welcome you.
---
South Hadley, Massachusetts
You can find Mount Holyoke College, a quintessential liberal arts college, in South Hadley, Massachusetts.
Founded in 1837, the campus has preserved the beautiful stone architecture that gives the college its distinct identity.
With buildings designed between 1896 and 1960, it is impressive how a women's college has managed to stay true to its core mission and remain steadfast in its roots of welcoming and educating women.
It is a highly selective, nondenominational, research liberal arts college that welcomes women and those who identify as women, transgender, and non-binary students.
Mount Holyoke College is a renowned institution that produces women leaders, from sought-after medical professionals, and research pioneers to Pulitzer Prize-winning playwrights.
Grounded on the conviction that women are more than capable of making a difference in the world, Mount Holyoke College perseveres.
As a modern women, it will not be hard to feel at ease in the small-town feel that the community in the college brings. Find where you belong amid the 800-acre campus. Take a stroll to the Mount Holyoke College Art Museum and be inspired by the unbelievable art pieces that the women who came before you have created.
You can immerse in the beauty of the skies in the John Payson Williston Observatory or find meaning in the various life forms in the campus' botanic garden, lakes, and waterfalls. The Mount Holyoke Range State Park provides a perfect getaway whenever you feel tired and drained from college stress.
Mount Holyoke College is not removed from the progress of the modern world as it sits close to the cities of Amherst and Northampton.
Take a tour of this beautiful campus and be transported to the time when Mary Lyons, a woman so ahead of her time, founded the institution and the great college town that students now call their home.
---
Key Takeaways
The colleges in the North all boast top-quality educational standards.
Students in a college town see great college major and minor selections, experienced professors and advisors ready to provide guidance and assistance, and a complete set of tools and facilities for top-quality education.
(A space dynamics laboratory couldn't hurt!) Colleges in a Northern college town may also get more research funding, depending on their programs.
The quiet and relaxed mood of relatively small towns takes you to a place of relaxation, which ultimately benefits your mental health.
Why look for that small-town feel in a Northern college? Studies show college students these days are heavily distracted, and what better way to bury those distractions than be on a college campus in a charming town that brings you inner peace?
And while everyone seeks the best academic quality for bright career opportunities in the future, there is that inescapable longing in every student: peace, tranquility, and small-town charm. You can retire young in such a college town!
It is possible to find colleges offering a small-town feel in the highly urbanized Northern part of the United States?
The answer to this question lies in exploring some of the best-rated schools and colleges in the region! You can enjoy the benefits of vast acres of land for those long, relaxing walks around campus, and bask in the beauty of the scenery outside your school!
Amidst all that, academic standards do not get compromised in an accredited Northern college located in a college town!
When it comes to getting the real college experience, the largest university amid skyscrapers may be overrated!
Just ask small-town college students in the Northern part of the United States where college towns in America thrive!
Looking for Southern Schools Instead: Southern Colleges with a Small-Town Feel