There are more ways to learn a foreign language than ever before. Where you used to have to sign up for an actual college course or night class, today you can access quality language learning a HUGE variety of languages from your phone. This is great for beginners. But there comes a point in the process of learning a language where you're likeliest to learn the most from listening to actual conversations.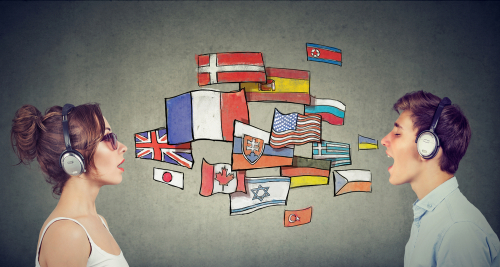 A growing group of podcasts have tapped into this need and provides language-building materials for those who are slightly more advanced than total beginners in a language. Many of these foreign language study podcasts also help to educate you on culture, current events, or just help you through learning about new topics in a foreign language that you're currently educating yourself in.
Do you need a Bachelor's degree in Spanish? We've got you covered. Check this out: The Top 20 Bachelor's Degrees in Spanish Programs
Table of Contents
20 BEST FOREIGN LANGUAGE STUDY PODCASTS
1.) The Fluent Show
The Fluent Show is a podcast about learning languages. The purpose of the podcast is to get you excited about learning different languages. The hosts have learned over 15 different languages between them. This is a great podcast if you are currently learning a language or need a little more incentive to do so. These inspirational hosts provide you with a wide variety of tips and ideas for learning languages. So, whether you're a novice to learning a new language or have been learning languages your whole life this is a great podcast for you.
2.) The Allusionist
The Allusionist is a podcast about language and linguistics. The hostess Helen Zaltzman and her guests discuss the etymology of a wide variety of words. Episodes are released bi-monthly. If you are interested in history and have a genuine fascination with words and how they come about then this is the podcast for you.
3.) Jappon
Are you learning Japanese? Then you have to listen to Jappon. Jappon is a fun podcast that offers easy and accessible lessons as well as fun facts about the Japanese language. You'll learn about all of the tenses, you'll learn about family vocabulary, grammar, home words, and so much more. Whether you are just starting to embark upon the language or simply want to go deeper than this is the podcast for you.
4.) The Actual Fluency Podcast
The Actual Fluency Podcast is a creative language learning podcast hosted by Chris Broholm. The podcast features a number of guests who offer insights into the world of language learning. If you are interested in learning how to learn a language Chris will cover that too. The topics include a wide range of things such as minority languages and constructed languages as well as give you tips on how to set goals so that you too can be a master at a new language. Sticking to something is hard these days. This podcast will give you the motivation to keep going.
5.) News in Slow
Listening to the language you want to learn is useful no matter what your level. News in Slow is a podcast that's offered in French, Italian and Spanish. The podcast is the weekly news.. slowly. Listening to the news in a foreign language helps you to stay on topic as well as increase your vocabulary and is useful if you were going to be speaking with natives. These days it's hard to practice a new language with natives. However, with News in Slow, you'll at least have the opportunity to listen in on what they're experiencing.
6.) Talk in French Podcast with Frederic Bibard
Talk in French offers a lot of information about France as well as the French language and includes topics such as French slang as well as a variety of ways that the French engage with celebrations. If you're looking for an insider's review of France and the French language then this is the podcast for you. Of course, you'll get all of the usual things as well such as information on vocabulary and ways to express yourselves but the podcast is so much more than that. If you're studying French, then you really need to know about the idiosyncrasies of the language and the culture. This is the podcast for you.
7.) Slow Chinese
Are you brand new to Chinese or at least pretty new to it? You're probably trying hard to get all of the tones just right especially if speaking a tonal language is new to you. One of the best ways to nail those tones is through slow repetition. Slow Chinese offers learners to Chinese the opportunity to pronounce things correctly through slow repetition.
Additionally, the website offers free transcripts in English and Chinese characters. The podcast episodes themselves are relatively short typically about 10 minutes long meaning most people can carve out time for that. You no longer need to feel daunted about learning Chinese.
8.) 101 series – Innovative Language
Are you ready to start a new language? Sure you can dive right into German 101 or you could explore the language itself and how it is broken down as well with a specific element of that language. The 101 series podcast is perfect for individuals who are about to jump into a new language or those who already have but really want a more in-depth understanding of the way the language is structured and works. You'll gain an understanding of how the words are used in context and gain a better understanding of the function of each phrase.
9.) Culips ESL Podcast
Learning English is hard. There really is no way around it. Have you ever noticed that native speakers can't really explain English? If you really want to learn English you need to learn the way native speakers use English in everyday conversations. This is the purpose of Culips ESL podcast. You'll no longer find yourself fumbling around for the right grammar in the right situation.
You'll learn all of the colloquial sayings that most English native speakers use and stay abreast of all the things that change. If there's one thing that's very true about English is that it's always changing. If you're an English language learner then you need to get this podcast right away.
10.) Learn Japanese Pod
Japanese is a language that is filled with tradition. Even still, the Japanese language has evolved and adapted to the 21st-century. Learn Japanese Pod is a great podcast if you're trying to understand all of the nuances of Japanese as well as the latest applications of the language in a wide variety of settings. Are you looking for Japanese verbs for everyday life what about how to order things at a convenience store? Perhaps you're afraid you're going to have a conversation and say something rude unintentionally. If this is you, you might want to check out this podcast.
11.) Lexicon Valley
Lexicon Valley is a fantastic linguistics podcast that goes in-depth about all of the weird idiosyncrasies of language expounding on a wide variety of topics. In fact, you can learn about the language of animals, Yiddish, Mandarin grammar, and other indigenous languages. The host is linguist John McWhorter who teaches linguistics and philosophy as well as music at Columbia University. You can check out his latest book The Language Hoax.
12.) Conlangery
Conlangery is a podcast about constructed languages and the people who construct them. George Corley is the host of this fascinating podcast. If you are interested in diving into constructed languages for personal interest or to create one yourself then you need to subscribe to this podcast. Constructed languages exist in a number of different categories including international auxiliary languages, artistic languages, experimental Languages, and more. Whether you're interested in learning Dothraki or simply love nerding out about language this is the podcast for you.
13.) I Will Teach You a Language
I Will Teach You a Language Podcast is Olly Richard's podcast. Olly Richards teaches his own methodology with regard to language learning. The podcast comes out biweekly and is short snippets and insights into learning languages. The podcast gives you a number of tips on ways to learn the language and ways to engage with the culture and so much more. If you are interested in learning a language no matter what your age then find this podcast now.
14.) Spanish Answers
Spanish Answers is a podcast for any individual who is looking to learn Spanish. Are you having some questions about Spanish? Then you need to check out this podcast. Sarah Holmes is a translator, consultant, teacher, and podcaster who understands all of the intricacies of Spanish. The podcast includes cultural tips as well as information about Spanish grammar. If you're a Spanish language learner then this podcast is a must.
15.) Easy English Expression
Have you ever noticed that fat chance and slim chance mean the exact same thing? Perhaps you've gotten really far in your English language learning but have gotten to the English expressions and are feeling very puzzled. You're not alone. English expressions are some of the most difficult things to learn and yet are the most often used in conversation. It is essential to master English expressions if you want to master the English language.
Easy English Expression is a fantastic way to do it. You'll get a quick dose of English expressions with a simple explanation. You'll no longer be in a conversation with a Native English speaker unable to keep up. If you're looking to master English then you need to listen to this podcast.
16.) The Magnetic Memory Method MMM
Are you a curious soul? Are you looking to learn new things? The Magnetic Memory Method or MMM is for anyone who is looking to improve their memory and learn new things. Language learners can benefit from MMM. If you were trying to learn a new language to fluency then you will need to memorize it. There is no way around it. This podcast is a language learning tool.
17.) Survival Phrases
We've all been there. Booked a flight to somewhere exotic and then realize we don't know the language at all. Survival Phrases is a podcast for this situation. If you're a traveler and you need to quickly build your conversation skills then check out this podcast. You'll be able to download the podcast for your flight over and you can pick up the essentials very quickly.
Seeing as this is a podcast about survival phrases most of the things that you will learn will be conversational. The podcast features personal guidance as well. For more information about this podcast check out their website.
18.) Simple Swedish Podcast
Are you learning Swedish? Perhaps you are at that stage where you know a little bit of Swedish but are finding it difficult to bridge into a more complex dialogue. This is the podcast for you. The Simple Swedish Podcast is your daily dose of Swedish. Every day you'll learn by listening to spoken Swedish and pretty soon you'll be able to make that leap into more advanced Swedish. This podcast is not appropriate for absolute beginners.
19.) Daily French Pod
Are you trying to learn French? Then you will definitely want to check out the Daily French pod. This is a new way to learn French with daily podcasts. The episodes include a wide variety of situations and vocabulary words and will help you expand your knowledge of French. Some of the episodes include topics like working from home, Masculine and feminine, politicians, women's rights, discussing art, and so much more. There are literally thousands of episodes. So if you are ready to expand your French language learning then check out this podcast.
20.) Coffee Break Italian
Coffee Break has a number of language learning podcasts including English, Swedish, Chinese, Italian, German, Spanish, and French. The Coffee Break Italian podcasts are perfect for absolute beginners as well as intermediate Italian speakers. Additionally, you can sign up for their online courses. However, their podcasts are free. You can access these podcasts on Apple podcast, Google podcast, and Spotify. The lessons are about 15 to 20 minutes long about the length of a coffee break. For more information about this podcast check out their website.
Additional Info: 9 Certificate Programs That Pay Well