Find Your Perfect School
Premium Schools is an advertising-supported site. Featured or trusted partner programs and all school search, finder, or match results are for schools that compensate us. This compensation does not influence our school rankings, resource guides, or other editorially-independent information published on this site.
With the widespread impact of the business field on society, individuals with online associates in business management degrees have ample opportunities to make their unique impact, too! From being successful entrepreneurs to productive employees, their business skills and know-how contribute to their life success.
With an associate degree in business, you can also pursue higher education via a bachelor's degree in either business management or business administration.
An advanced degree will open up even more opportunities than an associate degree, but the latter is an excellent start for your career in business.
Quick audio summary:
---
Quick Summarization
The best thing about an online associate degree in business management is its comprehensive coverage of the fundamentals of management principles and practices. Students gain a solid foundation in business management that can be used as a stepping stone for a wide range of careers.
---
Fast-track to Business Success
Your business education via an associate degree will sharpen your skills in the various aspects of business management. As a business professional; your generalist skills will be instrumental in the overall success of business organizations. You can oversee operations, assist employees in reaching their best performance, and train and supervise new employees.
Because every organization will need leaders, your associate degree in business will always have takers, so to speak. This is true even with extensive business experience – a business administration degree will boost your credentials. You will also find that an associate degree will boost your confidence in applying for entry-level jobs in managerial positions.
Methodology
An online Associate's degree in Business Management is your first step toward a well-paying management career! Should you pursue a bachelor's program online or find work after earning your associate's degree, bear in mind that the college from which you earned your degree matters!
The Best Online Associates in Business Management degrees on our list are offered by some of the country's most well-known colleges that are lauded for these superior academic features:
Full or partial web-based learning format, so that students acquire the fundamental skills and competence in the field thru flexible and convenient means,
Coursework that emphasizes the basic Business Management principles that students at the associate level must have a mastery of, while also introducing them to the many concentrations and specializations in the field,
Transfer path program agreements with partner academic institutions for easy transition to four–year colleges,
Financial aid resources for qualified online Associate of Business Management students,
Well-trained and experienced online academic personnel with certified expertise in Business Management,
Proper accreditation from academic agencies,
Active membership in organizations that advance Business Management as a field of study.
Read our Methodology for more information.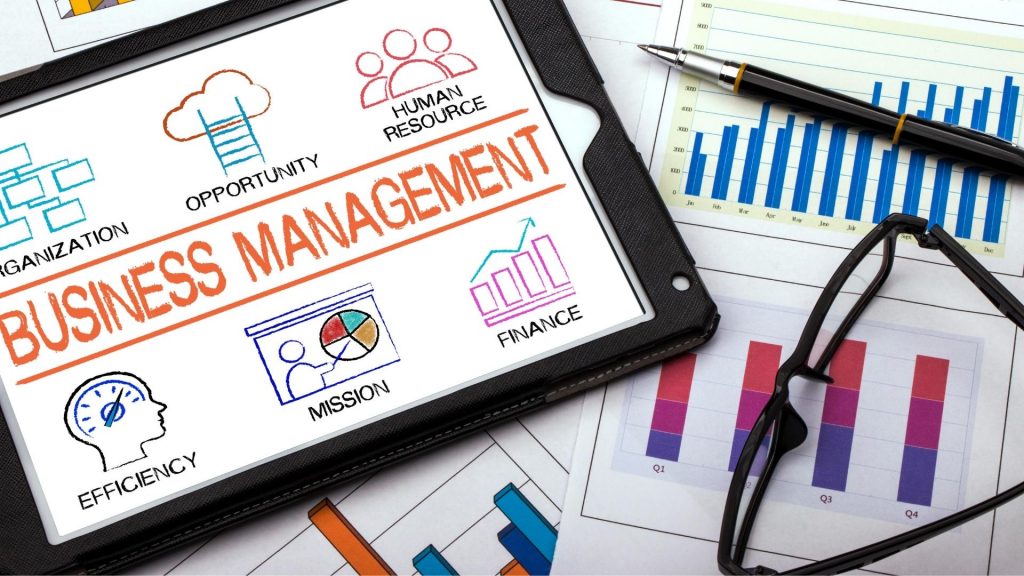 15 Best Online Associate's in Business Management Degree Programs
University of Cincinnati
UC is a well-respected institution of higher education with an Associate of Applied Business in Business Management Technology program. The fully online, two-year degree program prepares students for the challenges of entry-level supervisory positions.
The associate degree covers the fundamentals of business operations including accounting, marketing, and sales. Students in the associate degree in business programs also develop key skills for management positions.
The 60-credit associate degree program has courses in human resources, human relations, and financial and managerial accounting. Credits earned in the associate degree in business administration can be transferred to UC's fully online Bachelor of Technical and Applied Studies.
In accordance with higher education standards, the degree in business administration program has rigorous standards. Online students are expected to comply with all academic requirements, whether enrolled part-time or full-time.
Students with an associate business administration degree are eligible for financial aid. Earning the associate's degree starts with admission, which only requires a high school diploma or GED equivalent.
---
University of Arkansas Grantham
Students in the online Associate of Arts in Business Administration and Management program at UA Grantham gain a basic yet broad know-how of market commercialization. Admission only requires a high school diploma and a willingness to succeed in the challenging business administration and management field.
The 60-credit business administration and management associate degree program enables students to learn relevant soft skills, too, including critical thinking and communication skills. Courses in the associate degree in business program include courses in financial and managerial accounting, business law, and computer applications.
The business degree can be earned in 24 months but actual time-to-completion depends on transferred credits and course load. Students in the online associate program are eligible for financial aid as UA Grantham is a public online university.
---
Penn Foster Career School
The online Business Management Associate Degree program at Penn Foster, an online college, is designed for aspiring and practicing business professionals. The flexible, self-paced classes allow students to earn an associate degree in business while pursuing their current goals. Current business practitioners with career advancement plans will benefit from earning the associate degree since it will boost their credentials.
Regardless of their work experience, students learn foundational business theories including marketing strategies, business law, and financial accounting via online courses. The business administration program also covers management principles and practices with useful applications in any business environment.
This 65-credit associate degree in business management can be completed in five months.
Other features of the online associate program are digital study quizzes, 24/7 access, and student support services. Expert faculty members lead the courses in the associate degree program, too, and even students with only a high school diploma can thrive.
---
Northcentral Technical College
One of the numerous associate degree programs offered at the community college, the Business Management Associate Degree program equips students with general business skills. The online associate program has a 60-credit graduation requirement.
Graduates who have earned the associate degree possess the ability for leadership in the business process including meeting organizational goals. Their business education is capped either by a capstone or a skills accelerator course, a unique feature in associate degree programs.
Students are assured that their program is recognized by employers, thanks to its programmatic accreditation by the ACBSP (the Accreditation Council for Business Schools & Programs). The associate degree can also be transferred to bachelor's degree programs in business administration offered by the likes of Purdue University Global.
Champlain College
Yet another respected institution of higher education with an online college is Champlain College which offers a 100% online Associate of Science in Business Management program. The associate degree in business program has a 60-credit curriculum designed for working adults and non-traditional learners.
Both technical and transferable business skills are emphasized in the associate degree in business program. The foundational know-how learned is also transferable to a bachelor's degree in business management. Students in the degree in business administration program are given free access to Jen Morris' Fast Start Formula Career Course.
The online associate courses include business analysis, human resources, and financial and managerial accounting, as well as general education courses. Graduates of the business administration online program can use their know-how in various industries and earn more than the high school diploma holders.
The online college offers financial aid to its business degree students but under certain conditions.
---
Pennsylvania College of Technology
PCT has an online college that offers an Associate of Applied Science in Business Management program. In the applied science degree, students gain the must-have skills to succeed in the business world.
The business skills learned in the associate degree program are gained from courses in financial accounting, managerial accounting, human relations, human resource management, and international business. Students also learn soft skills through general education classes, thus, enabling them to earn a well-rounded associate degree in business.
The fully online associate​​ degree in business administration program has its asynchronous classes delivered via P.L.A.T.O. and Zoom. Other features of the online associate program include 24/7 online tutoring, in-state tuition rates for all students, and the same academic rigor as on-campus programs.
The business administration online program has ACBSP accreditation. The online associate degree in business program doesn't accept international students. The online college, however, has an open admission policy with only a high school diploma as a major requirement.
---
Sullivan University
With official accreditation from the Southern Association of Colleges & Schools Commission on Colleges (SACSCOC), Sullivan offers an Associate of Science in Business Management program. As an institution of higher education, Sullivan assures its students in the business degree program a quality education rivaling on-campus programs.
The College of Business Administration also provides valuable connections with potential employers for holders of associate degrees in business. Students prepare for their chosen business careers through a thoughtful mix of general education courses and business courses. These include accounting, human resources, and marketing, thus, making it a well-rounded associate degree program, too.
The 92-credit online associate degree in Business Management can be earned in 18 months, especially with transfer credits. Applicants to this program must be high school diploma holders at the minimum or have a GED equivalent to be considered for admission.
---
Herzing University
The Associate of Applied Science – Business Management degree can be earned in 20 months. In the applied science program, students learn the fundamentals of successful business operations. The 62-credit associate degree program requires students to complete a research project or undergo an internship. Up to 42 transfer credits can be made into the online associate program, too, subject to approval.
The general education courses comprise 24 credits while the rest consist of business core and elective courses. Accounting, organizational management, and economics are covered in the associate's degree program. Aside from a high school diploma, applicants must pass an admissions interview.
---
Borough of Manhattan Community College (CUNY)
The online Associate in Applied Science – Business Management offered by CUNY's community college allows a seamless transfer of credits to other colleges and universities. Students in the associate's degree program can widen their horizons by choosing a specialization, via electives, in finance and banking, marketing, or risk management and insurance.
The community college is committed to its students' long-term success with several student support services like the Career Coaches and Career Express. Students in the online college may also ask for assistance in internship opportunities!
Graduates of the business administration program possess effective communication skills underlined by their knowledge of the language of business including international business. Many also choose to transfer credits earned from the 60-credit associate degree program into a bachelor's degree program.
The community college offers financial aid to every eligible student. Admission starts with a high school diploma only.
---
Fremont University
Get in-demand skills by earning the online Associate in Business Management degree! The associate's degree program provides hands-on training in general management, marketing, and business systems, among others. The online associate program has a 15-month time-to-completion and prepares students for viable employment in business organizations and others.
Students learn through audio-video lessons, interactive multimedia, and lively virtual classroom discussions. Student collaborations and peer tutoring are strongly encouraged in the associate degree program, too.
The online associate program has a capstone requirement, too. Financial aid lessens the tuition fee.
---
The University of Toledo
The University of Toledo offers an online associate in Business Management. This program explores various business management topics to prepare students for future studies or professional careers. You can expect to take courses that can be applied in real life, such as organizational behavior, workplace communication, business law, and global management. Faculty members have real-world experience and teach in a way that relates to today's dynamic business environment.
Business management skills are in high demand in today's competitive workplace. To meet this need, The University of Toledo offers an online Associate of Science in Business Management Technology degree that includes a variety of subjects related to business management, such as human resources, computer technology, marketing, accounting, and workplace diversity.
Merit scholarships are awarded to UToledo applicants who apply by the priority application deadline. You can check their site for more details about financial aid and scholarships, and ensure to apply before the deadline.
---
Cleary University
This associate in business management online at Cleary University embraces change as a dynamic force. By completing this outstanding business education, you will be uniquely prepared to enter the business world with agility and flexibility so you can cope with change and thrive.
A business degree can give you an advantage over a specialized degree in several different industries if you are looking to work upon graduating. You can expect to learn the nuts and bolts of business through their courses in finance, accounting, management, and economics. At universities worldwide, these fields are among the most strategically important.
In modern society, business touches every aspect of life. Business graduates are in high demand globally because of their diverse backgrounds and high salaries. This degree covers a broad range of subjects, allowing you to decide where your path will lead, then adjust it – and adjust it again – as markets, economies, and industries change.
---
Green River College
Green River College offers an online associate's degree in Business Management. This is the best tool to stay competitive during a job application. In any industry, you will learn and apply practical workplace tools. Take advantage of new career opportunities and climb your career ladder.
Students who complete this program are prepared to succeed in various business careers. Business skills are taught in a broad range of courses to help students perform better at work and advance in their careers. A variety of career paths in business management await graduates, including marketing, sales, general management, project management, and small business management.
Fall, winter, spring, and summer are good times to start the program. Take the program at your own pace or complete it in six quarters. Online and hybrid classes are available.
Receiving institutions determine transferability. Therefore, speaking with a business faculty or advisor who can guide you through your education planning is advisable.
---
Colorado Technical University
An associate degree in Business Management online is offered by Colorado Technical University. This may be a good starting point if you want to enter the workforce or begin your bachelor's degree. This Associate of Science in Management degree from CTU provides you with a solid foundation in the fundamentals of management and business practices. There are a total of 93 credits required for completion.
This program will teach you how to manage teams and projects effectively. Additionally, the curriculum is aligned with industry standards and helps you develop skills that can be applied in a competitive global marketplace. Since this program is an associate degree program, it is designed to take 24 months to complete. Course loads, proficiency, transfer credits, and breaks will all influence your time to completion.
---
Dakota State University
When planning to manage a business or climb up to a higher position in a business company, earning an associate degree in Business Management at Dakota State University gives you the advantage.
Studying business, finance, marketing, and accounting will be a core part of this program. Every business venture involves legal and ethical considerations. Writing and communication skills, which are important skills for business owners and managers, are also developed.
In these business classes, you'll learn how to use the tools you need to succeed in the workplace. You can access spreadsheets, databases, and QuickBooks accounting software as a manager. The close-knit classes of about 20–30 students will allow you to develop a network of close friends and dedicated teachers. Entrepreneurship and teambuilding experiences are integrated into DSU business classes by professors with real-world experience.
Important Aspects of Online Associate in Business Management Programs You Must Know
Be savvy about taking a plunge into an associate in business management degree program! You must first learn about the risks and rewards so you can set realistic expectations.
Traits of Ideal Candidates
Business schools can be competitive and, thus, have rigorous screening processes. If you want to get into the best business administration program in an online college of your choice, you must demonstrate dedication, discipline, and focus.
While you will develop many skills in the course of pursuing a business administration degree, you should possess certain abilities early on. These include leadership and entrepreneurship skills, communication and critical thinking skills, and collaboration skills, which are crucial in both academic and career success.
Common Courses and Curriculum
Most associate's in business administration or management programs have a 60-credit curriculum, but there are a few programs with more credits. The average time-to-completion is two years with a full-time course load while part-time students can take as long as three years.
While associate degree programs in business management have different course sequences and descriptions, there are commonalities, too. The credits transferred from prior coursework will also affect the course sequence and other aspects.
Principles of Business Management
The courses that cover the principles of business management discuss the division of work, unity of command and direction, and the balance between responsibility and authority, among others. Theories of organizational planning, leadership, and decision-making are also discussed.
Financial Accounting
Students learn the fundamentals of financial accounting's generally accepted principles and practices. The entire process from recording financial data to interpreting financial statements is covered.
Managerial Accounting
Students gain the skills in the effective analysis and communication of financial information with an impact on business decisions. Unlike financial accounting, its main focus is on accounting information for use by internal users.
Other areas that students learn in greater detail are human resources management, financial markets, and risk management. Every business administration program aims to produce graduates with suitable know-how for the contemporary environment.
Essential Aspects of Business Management Online Learning
Every business administration program has unique learning experiences, from the learning management system used to the academic rules. But like its on-campus counterpart, online education also consists of written learning materials although many are in digital forms (e.g., e-books).
Learning Formats
Interactive sessions are an integral part of online education, too, usually through live streaming, question-and-answer sessions, and discussion boards. Most online degree programs also have an asynchronous aspect where students can access certain learning materials 24/7.
Learning Assessments
Online associate degree programs have various learning assessment methods that ensure quality education. Students must submit individual assignments on time, participate in discussion and journal activities, and pass quizzes and exams.
Contrary to popular opinion, online students cannot easily cheat their way through these assessment methods! Plagiarism apps, proctoring software, and other methods of preventing cheating are used.
Student Support
But students also have convenient access to a wide range of student support services. These include technical support, academic advising, guidance counseling, and online tutoring, even career and employment support.
Tuition and Fees
The cost of attendance for an online associate degree in Business Management varies from one student to the next. Online students may or may not be charged with in-state tuition depending on the school's specific rules. Online students may also be charged a technology fee.
Per-credit costs can range between $90 and $450 aside from other fees and charges unique to online students. The per-credit cost is also affected by the school's public or private status. A public community college or a private nonprofit institution will likely have lower tuition fees than private for-profit colleges.
Financial aid programs should reduce the cost of attendance. Indeed, students should look into their financial aid options when considering schools. Keep in mind, however, that financial aid will only get you so far – you must have effective personal finance habits if you want to avoid the student debt trap!
Learning Difficulty
Business schools are well-known for the academic rigor of their business management degree programs. Thus, incoming students must be prepared for the challenges that come with higher education, from voluminous reading materials to tight deadlines. For this reason, the online degree is as accepted as its on-campus counterpart.
AA vs. AS vs. AAS in Business Management
Community colleges and four-year universities typically offer associate of arts (AA) and associate of science (AS) degree programs. Both are designed as transfer degrees, meaning students can transfer credits to a bachelor's degree.
In contrast, associates of applied science degree programs prepare students for employment immediately after graduation. Known as terminal degrees, there may be difficulties in the transfer credits process. But many associates in applied science programs now allow students to transfer some earned credits to a bachelor's degree, so be sure to check if it's a concern.
Career Prospects
According to the Occupational Outlook Handbook, the projected job growth in management positions is at a robust 8% (2021-2031), or equivalent to 883,900 new jobs. The median annual wage was $102,450 (May 2021), and it's considered the highest for all major occupational groups.
Of course, entry-level jobs have lower salaries. But an associate degree will open more doors than a high school diploma where these management jobs are concerned!
The Bureau of Labor Statistics reports a projected -8% job growth for executive assistants, a trend that aligns with economic fluctuations as demand for these professionals often correlates with economic growth. Technological advancements and changes in corporate structures are also factors contributing to this projection.
Executive assistants provide administrative support to executives by managing schedules, handling communications, organizing meetings, and performing various clerical tasks to ensure the smooth operation of an office.
These professionals are in charge of the various aspects of payroll management, from collecting timekeeping data to preparing payroll reports.
Human Resources Assistants ($45,930/year)
As right-hand men of HR managers. HR assistants provide support in the conduct of human resources management activities. These include preparing reports for employment records, managing conflict, and working with new hires.
The acquisition of new clients and maintaining good relationships with them are the primary duties of account executives. Most started with an associate degree and then moved up the corporate ladder with work experience and an advanced degree.
An associate degree in business management is a great start in a sales career! Then, enjoy career advancement with a bachelor's degree and outstanding work performance.
Frequently Asked Questions
What is an associate in business management degree?
Individuals with an associate in business management degree possess general business skills and apply management theories in business operations. Their skill sets are valued by business organizations seeking to boost and sustain their profits, prestige, and position in their industries.
What's the difference between the skills in Business Management and Business Administration?
These types of business education have overlapping functions. But, in general, business management skills are suitable for long-term growth and strategic leadership. Business administration skills are applicable for day-to-day operations.
What are the areas of specialization in business management?
Most associate degree programs don't offer specializations or concentrations. But at the bachelor's degree level, the diverse specializations include entrepreneurship, project management, organizational leadership, and retail management.
Where do graduates of associate in business management work?
Business professionals work in a wide range of settings, from business organizations to government agencies and nonprofit organizations. Their jobs are of the white-collar type, thus, the office environment.
What are the key skills for business management professionals?
Know-how about financial and management accounting, computer information systems, and management practices are a few of the must-have technical skills. As for soft skills, critical thinking, problem-solving, and communication skills are essential.
In Conclusion
Use your associates degree in business management to get a lead-up on the corporate ladder!
Business professionals have a tremendous influence on society in the same way that society determines their success.