Find Your Perfect School
Premium Schools is an advertising-supported site. Featured or trusted partner programs and all school search, finder, or match results are for schools that compensate us. This compensation does not influence our school rankings, resource guides, or other editorially-independent information published on this site.
Are you ready to earn an online Associates in Graphic Design degree? Of course, you are; however, many graphic designers are self-taught because graphic design, like many other art forms, can be learned through self-taught training or inquiry. While earning an online graphic design may be seen as unnecessary for these working professionals, you should never underestimate the value of higher education in the arts.
Even as a professional graphic designer, an online associate degree will lead you to better entry-level work in various fields. This kind of degree will also help you negotiate for higher pay. An online associate degree follows the same rigorous graphic design curriculum as traditional schools, providing graduates with equal growth chances.
Quick audio summary:
---
Quick Summarization
Since you can now learn graphic design on your own because of how easily you can google things, this industry is becoming more and more competitive. Completing an online graphic design degree will help you stand out from the crowd by increasing your value and earning potential.

You will develop various basic and advanced skills, such as web development, photography, fundamental art and design idealism, and establish a graphic design portfolio. Illustrations, logos, ads, and other visual elements are created by graphic designers and used in various sectors. Some work in advertising, digital publishing, or public relations, while others are self-employed and work with various customers.
---
Methodology
Let those creative juices flow and exhibit them in illustrations that bring life to ideas! Graphic designers are some of today's most sought-after professionals who demonstrate not only creativity but also patience, attention to detail, and willingness to learn and explore new platforms to showcase their talent.
We indexed the Associates in Graphic Design degrees below to provide hopeful future professionals the best options to get started with the right education and training! Our top picks all share these features that demonstrate outstanding Graphic Design online associate program quality:
Full or partial online delivery format for flexible and convenient learning for Associate Degree in Graphic Design students,
Commitment to high-quality instruction with rigorous associate-level coursework that rivals brick-and-mortar programs, featuring the core courses and fundamental principles of the discipline,
Excellent Learning Management System or virtual education platform for a top-quality learning experience for students,
Transfer path programs for online Associate in Graphic Design students' ease of transition to a relevant bachelor's program,
Competent online professors who are graphic designers themselves, or have made important contributions to the field,
Financial aid programs for qualified students,
Official accreditation from educational entities that set the academic standards for online learning and/or Graphic Design program instruction,
High undergraduate student satisfaction, as evidenced by stellar feedback and reviews
Please read our Methodology for more information.
---
Best Online Associates in Graphic Design Degrees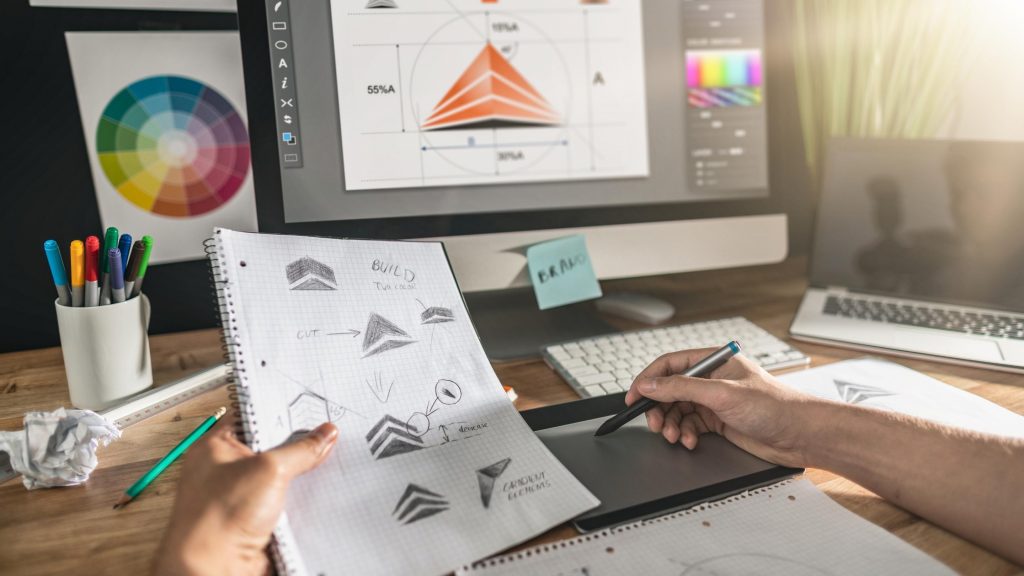 Foothill College
Foothill College offers an online Associate of Arts in Graphic and Interactive Design that includes electives and core courses, such as Advanced Web Design & Development, Rapid Web Development, User Experience (UI/UX) Design, Game Art & Design, Motion Graphics, and more. These graphic and interactive design courses are taught by an inclusive and equitable faculty and curriculum, which will better your chances of landing design jobs.
This associate degree online requires 58 credit hours of electives and core courses, plus supplementary general education courses in math and English communication. Graduates developed diverse skill sets and found work in fields such as digital art, game and web design, marketing, t-shirt and garment printing, and advertising.
---
Columbus State Community College
Columbus State Community College's online Associate of Applied Science in Digital Design and Graphics provides students with the problem-solving and visual communication abilities they'll need to succeed. Digital and graphic design courses include Color Management/Business of Design, Web Design, Branding, Interactive Media, Adobe Creative Cloud, Adobe Creative Suite, Digital Photography & Design, and Storyboarding.
Students will gain hands-on experience using Adobe programs like Muse, Adobe InDesign, and Adobe Illustrator. This online associate degree will sharpen a student's abilities in producing designs and employing the most up-to-date technologies in various fields. If you're looking for a degree to help you advance to a bachelor's level, this online associate degree in graphic design has credits transferable to four-year universities.
---
Gateway Technical College
Gateway Technical College Kenosha offers an online 60-credit Associate in Graphic Design degree that blends art with technology to educate learners on how to utilize their imagination to create various designs. Program coursework includes Web Design, Digital Photography, Advanced Design Concepts, and Technical Reporting. These courses will guide students in navigating their expertise in design, which will open doors to multiple job opportunities.
Online students can participate in the district-wide design show hosted by the American Institute of Graphic Arts and gain hands-on experience. The program also helps online students land an internship opportunity with local tech firms or, if they want, study abroad.
---
Rasmussen University
Rasmussen University offers an online associate degree in Graphic Design designed for newbie graphic design students and can be completed in 18 months. This online associate degree program requires students to complete 91-credit online courses, including Design Foundations, Typography, 3D Animation, Print Design, Digital Photography, Color Theory, Digital Illustration, Motion Graphics, and User Experience Design. Through these online graphic design courses, students will gain all the necessary skills in media design, web development, and media formatting.
If you're looking to advance to a bachelor's degree, you can use the credit hours of this online graphic design degree, which is almost half of the bachelor's program, to lessen your coursework. You can enroll in Rasmussen's online bachelor's degree in graphic design and finish a bachelor's degree in less than four years.
---
Sessions College
Sessions College offers an online Associate Degree in Graphic Design that focuses on print design and helps students develop skills and abilities necessary for traditional design. This is a 72-credit program that includes courses such as Layout Design, Typography, Color Theory, Branding and Identity, Logo Design, Digital Photography, and more.
Some of the credit hours in this online graphic design degree are transferable to four-year universities. The program also publishes student portfolios to showcase their talent and help them find clients after graduation.
---
Academy of Arts University
Academy of Art University is known worldwide to provide one of the best online programs, especially in the arts. ART U's online Associate of Arts in Graphic Design helps students develop the skills and knowledge they need to become known graphic artists or web designers. This online associate program is a 66-credit program class available in a 7.5 or 15-week format. Courses include Design Technology, Visual Communication, Typography, Web Design, Package Design, and Branding.
All of its online courses are designed by industry-leading professionals. You can use this degree to seamlessly transfer to a bachelor's level graphic arts degree in ART U or other four-year universities.
---
Wake Tech Community College
Wake Tech Community College offers an online Associate in Applied Science Degree in Advertising and Graphic Design with 8-week and 12-week courses. This is a 71-credit program with courses including Drawing Fundamentals, Graphic Design, 2 Computer Design Tech, Technical Illustration, and Client/Media Relations. Wake Tech also offers many financial aid options for online students.
You will learn how to create and design promotional items and how to prepare art for printing, photography, lettering and typography, and electronic media. Students will also learn how to use industry best practices to develop and maintain simple websites.
---
Hagerstown Community College
Hagerstown Community College offers an Associate of Arts and Science with a Graphic Design Track. This online associate degree program uses a hybrid system, meaning you'll have to complete online and on-campus courses. General education courses are available through online learning, while core courses and electives are only available on-campus.
Major courses include Digital Imaging, Technical Writing, and Computer Illustration using Adobe. You'll learn typography and digital layout while completing your online associate degree in graphic design. The school will also assign personal advisors to help students choose 2-3 electives, including alternatives such as figure drawing and 2D animation.
---
What To Expect in an Online Associate Degree in Graphic Design or Graphic Design
Students that succeed in associate's degree programs in graphic design tend to be creative, self-motivated, and problem-solvers. They also take input well and have patience when transforming general notions into high-quality drawings, logos, and images.
A high school diploma (or an equivalent) is required for admission to college associate degree programs in graphic design. You may also be required to have a minimum GPA, standardized test scores, and complete pre-college curriculum, which often includes English, math, and science courses.
An online associate's degree in graphic design typically involves 60 to 90 credits and takes 18-24 months to finish. You can complete internships to enhance your abilities and learn from seasoned graphic designers and marketing professionals in addition to academics. While internships are generally not required in graphic design degrees, these opportunities can open doors to entry-level positions following graduation.
You learn how to construct visual concepts utilizing computer tools in an online associate in graphic design program. You also investigate the impact of their work on advertising, marketing, online development, and print creation. You learn expert-level knowledge of design, color, and typography theory while developing a portfolio of work to present during employment interviews.
What Associate Degrees in Graphic Design Are All About
While specific courses vary by degree, most online associate graphic design programs study fundamental concepts in graphic design, digital art, and typography. The most popular courses in graphic design programs are listed below.
History of Graphic Design
Graphic design programs frequently begin with this required survey course, which covers the global history of visual communication. The course focuses on renowned designers throughout history, critical artistic movements, and the impact of changing technology, culture, and sociopolitical variables on graphic design evolution.
Digital Photography
This course teaches students about digital darkroom best practices and techniques and how they pertain to the art of photography. Learners shoot photographs with an SLR camera, then modify them in Adobe Photoshop in many ways. The course teaches students how to be proficient in photo image editing and leverage the creative process to generate original, aesthetically beautiful photographs for publishing, exhibition, or commercial usage.
Typography
The art of arranging type on a page or other visual medium is known as typography. Students learn about letterforms' history, development, and components in beginner typography classes. Learners usually perform a variety of hands-on projects to investigate letterform design and the application of typography elements to achieve desired results.
Drawing
Although most graphic designers work in a digital environment, analog art abilities are essential. Through various conventional and contemporary design practices, beginning drawing lessons introduce students to basic drawing principles. Students participate in a variety of sketching activities.
Color Theory
This course examines how color interacts and is used in graphic design work. Common topics include color theory principles, terminology, working with color, and generating color schemes. By studying the work of other designers and performing hands-on exercises, students gain knowledge and sharpen their talents.
Principles of Interactive Design
The course teaches students how to engage the end-user with solid digital design by introducing them to interactive design ideas such as information architecture, user experience design, content production, and market research. Students create usable websites, including image optimization, search engine optimization, font selection, and multimedia files.
Advanced Graphic Design
Students investigate InDesign's capabilities and features to generate visually appealing papers and marketing materials. Students consider color theory, typography, and composition, as well as the methods utilized in print production, as they construct these pieces. Learners progress through the process, beginning with prototypes and ending with a finished product.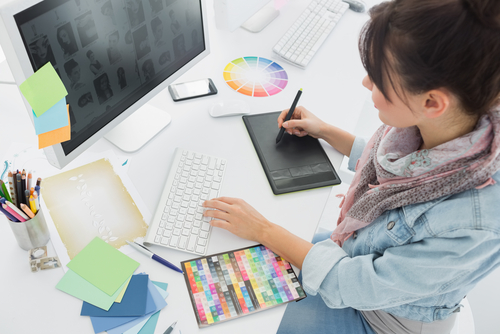 Skills You Need in Graphic Design
Excellent Communication
Graphic designers communicate through images and languages. Unsurprisingly, excellent communication skills in all areas of communication are one of the most important skills you need to possess. This competence is necessary to generate the product itself and to organize and work with firms, clients, and employers. You should be able to deliver a consultation, show confidence in your abilities and your client's message, and provide excellent customer service as part of your communication skills.
Business Skills
Professionalism is one of the most sought-after graphic design skills. Graphic designers must pay attention to their clients' needs and translate them into effective solutions. To design a project cost, convey project requirements and deadlines to colleagues, actively listen to a client's objectives and creative preferences, and grasp how to take a project from a concept to a catalyst for sales, requires a lot of business abilities.
Information Technology
You can't discuss graphic design abilities without mentioning that much of what a graphic designer does is done on a computer using various design and photo-editing applications. Depending on the type of graphic design you undertake, you may also need web design skills and knowledge of content management platforms like WordPress.
Typography
One of the abilities required for graphic design is creating well-designed fonts. This skill can be developed through a graphic design degree. The graphic designer should be familiar with font selection, logo design, storyboard creation, spacing, and the construction of a final layout with accurate typeface, letter size, and color standards.
Accuracy
Graphic designer abilities and skills depend on accurately presenting information free of flaws that would divert the viewer's attention away from the design's intended message. This includes the capacity to check the material for faults and the ability to change the design to improve its messaging effectiveness.
Creative Problem Solving
Graphic design is a creative industry that necessitates problem-solving creativity as well. Attention to detail should be included among graphic design skills and abilities, as should the ability to blend artistry with audience appeal and use drawing and brainstorming to bring a vision to life.
Time management
Graphic designers and web designers are bound to work on multiple projects simultaneously to earn more and establish their name. Decisive action, strategy, critical thinking, prioritization, and adaptability are required.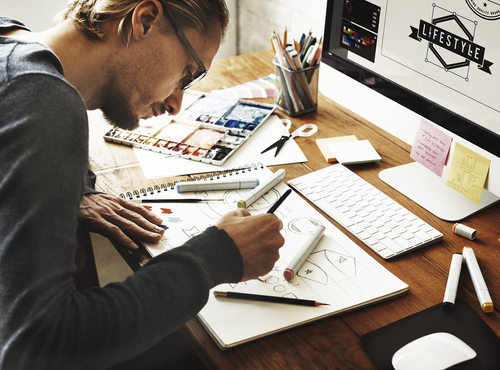 Common Career Paths of Media Design and Graphic Design Associate Programs
Graphic design jobs are expected to expand by 3% between 2021 and 2031, according to the Bureau of Labor Statistics. In the United States, graphic designers earn a median salary of $50,710.
Pro Tip: Because of the competitive nature of this industry, it's critical to develop your résumé while still in school. Focus on building a great work portfolio while getting your graphic design associate degree to help you stand out to prospective jobs.
Graphic Designer
Graphic designers use color, typography, layout, and images to produce visual messages. While most employers prefer applicants to have a bachelor's degree, associate grads with strong portfolios may be accepted.
Median Annual Salary: $50,710
---
Production Artist
Production artists usually work in design businesses, reviewing files for accuracy and quality before they are published or delivered, using specialist tools. An associate's or bachelor's degree is usually necessary for entry-level jobs.
Median Annual Salary: $48,220
---
Special Effects Artists and Animators
Special effects artists and animators design 2D and 3D graphics for all media types. Many graphic designers uptake additional certification to be qualified to apply for this position.
Median Annual Salary: $78,790
Professional Associations for Graphic Designers
Professional associations provide a wealth of resources for students and recent graduates pursuing an associate degree in graphic design online. Access to online journals, trade periodicals, professional development programs, job listings, and in-person networking events are typical membership benefits. The following are three graphic design professional organizations.
The Graphic Artists Guild represents animators, cartoonists, illustrators, digital artists, and others in the graphic design industry. Educational webinars, an industry guidebook, and a library of articles and guides on topics that graphic designers face are all available to members. The organization's website also features member portfolios.
AIGA provides design conferences, in-person seminars, online courses, webcasts, a career guide, and a job board.
ico-D publishes a quarterly publication on visual communication design, collects and discusses industry best practices, and arranges policy material of interest to its membership. This includes an overview of intellectual property legislation, in addition to conducting meetings.
---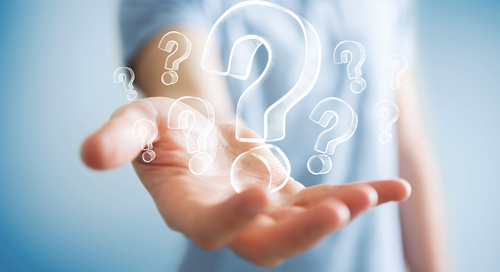 Frequently Asked Questions
How much does an online Associate in Graphic Design cost?
The price of an online associate degree in graphic design varies on many factors, including state residency and technological fees. Some schools, especially community colleges, charge lower tuition fees and fixed set fees for online students regardless of residency status.
An online graphic design associate degree typically costs between $80 and $240 per credit. Total tuition should cost between $5,000 to $16,000 for students.
Are online Graphic Design programs difficult?
Graphic design is not difficult to learn, but it involves creative thinking, a flair for art and design, time, and commitment. Learning the appropriate tools and comprehending and implementing design ideas and theories are required for graphic design.
Can I be a successful Graphic Designer if I can't draw?
Most graphic design jobs do not require you to be an artist. Graphic designers often use design software; thus, understanding the tools is more crucial than increasing your drawing skills.
While it is possible to lay out thoughts using drawings, it is not required. Some designers start their design process with simple sketches but like to use design tools to generate mockups. In most circumstances, there will be no drawings in the final design product.
Do I need to learn coding to become a Graphic Designer?
Most projects don't require coding expertise but a solid understanding of graphic design applications and scripting languages like Python and JavaScript. To construct websites and apps, you will need some fundamental coding expertise.
What kind of math is needed for Graphic Design?
Geometry, algebra, and calculus are all general subjects you will encounter in a graphic design degree.
Key Takeaways
Graphic design is the art and science of creating and mixing images and text to convey messages for advertising, marketing, and other forms of communication. Students with an online associate degree in graphic design will be prepared to work in various fields. Students learn to use industry-standard tools to learn about photography, web design, social networking, design, print production, multimedia, advertising, and video editing.
Online graphic design students will construct various goods using their hands to create artwork, graphic designs, or computer-generated creations. Graduates of an online graphic design degree can work for a company that provides media and graphic design or become freelancers by giving their services through contracts with companies and businesses.