Find Your Perfect School
Premium Schools is an advertising-supported site. Featured or trusted partner programs and all school search, finder, or match results are for schools that compensate us. This compensation does not influence our school rankings, resource guides, or other editorially-independent information published on this site.
Ignoring the global perspective is a fool's errand as everything now requires a global mindset. The best way to thrive in this environment, especially in business, is to think globally and study international business to understand more about how foreign countries work. Online associates in International Business degrees provide the initial but critical step toward becoming proficient in the discipline.
Quick audio summary:
---
Quick Summarization:
Because of trade and investment liberalization and technological advancements, the prevalence of international commerce has expanded dramatically. Students who want to be part of this field can begin by earning an online associate in the international business degree to better understand today's increasingly global business processes.
---
Methodology
Online students pursuing an Associate in International Business degree investigate how cultures influence global business practices and the factors that make businesses thrive in the international setting. By gaining these insights, they are expected to perform various roles and contribute as professionals.
If you're interested in earning your Online International Business degree at the associate level, you've come to the right place! As the schools on our list were picked with academic quality and learning experience in mind, they all share these salient features:
Offers fully or partially online coursework to underscore convenient and flexible learning,
Emphasizes the fundamentals of international trade and global marketing, international marketing strategies, multicultural workforce, and similar core business courses about the global business environment,
Features seamless transfer path programs for an easy transition to the bachelor's level upon earning the associate degree,
Utilizes an effective Learning Management System that allows instructors and learners to meet the course objectives,
Financial assistance options are offered to qualified students,
Faculty members consist of International Business experts and professionals,
Appropriately accredited by academic organizations.
Please check our Methodology page for more information.
---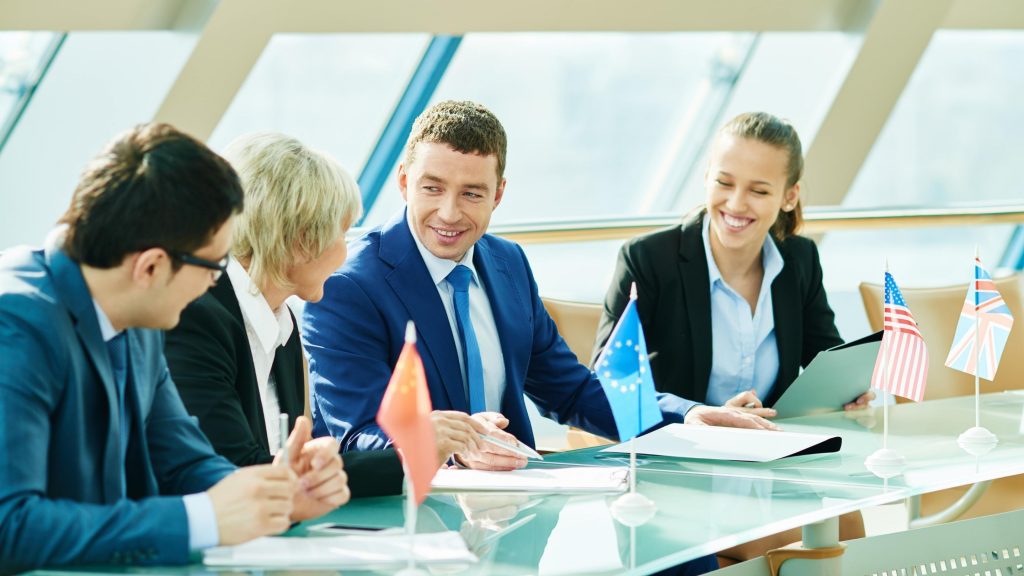 11 Best Online Associates in International Business Degrees
University of the Potomac

The University of Potomac offers a 100% online Associate Degree in International Business designed to prepare prospective students for entry-level global careers. Students are required to take International Business Law, Strategies for International Business Ventures, Introduction to International Business, International Business Policy Cross-Cultural Management, International Trade and Practices, Business Administration, and Introduction to International Marketing. Because of its required core courses, students will become more aware of how international business works.
Students will have the chance to learn more about business-related law issues, how to assess these problems, and how to solve them. Aside from core courses, students will also study general education courses that will help them become more competitive in the job market.
General courses include Computer and Office Applications, English Composition, Student Success Strategies, College Mathematics, and College Algebra. Additionally, after completing the two associate degrees in international business, students will be able to transfer credits and earn a bachelor's degree.
---
Carroll Community College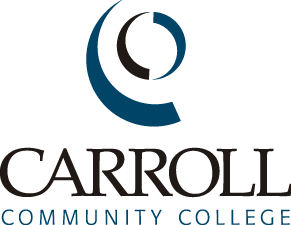 Carroll Community College's online Associate of Arts in International Business Degree is a 60-credit program that can be completed in two years. This international business study is an accelerated program with a 7-week format designed for online students who wish to enter international business careers quickly. In addition to its online classes, the program also has evening classes, which is perfect for working online students.
Carroll's online international business associate degree requires students to take general core courses in Business Administration, Accounting, Cultural Anthropology, Computer Information Systems, Speech Communication, Micro and Macro Economics, Marketing, and Diversity in the US. Furthermore, students who get a 3.0 GPA mark at the end of each semester are eligible for membership in Alpha Beta Gamma, a business honor society.
Carroll Community College has transfer agreements with virtually every public college and university in Maryland. Because of this, associate degree graduates can quickly pursue an online bachelor's degree in International Affairs or business-related degrees.
---
Berkeley College

Berkeley College offers a hybrid Associate in Applied Science in International Business that provides students a global business-focused comprehensive foundation in international trade, marketing, international finance, and management. This program allows students to recognize and solve growing global concerns and opportunities and have a unique blend of analytical and problem-solving skills. Additionally, students also can participate in Model UN conferences alongside students from worldwide.
The AAS in International Business major core business course requirements include International Trade and Economic Analysis, Business Administration, International Management, and International Marketing.
Students will learn about the diversified environment, management challenges, financial issues, and marketing issues that multinational business enterprises face. Additionally, students will take general education courses, such as Writing Through Literature, Ethics, Statistics, and Human Relations.
---
Monroe Community College
Monroe College's online International Business Associate degree is meant to prepare students for transfer to a four-year institution and earn a bachelor's degree with majors in international business or a related field. The program provides a solid foundation in culture, international politics, language, and business for students interested in a career in international trade, commerce, or diplomacy. By combining liberal arts and business course components, the program will give students a greater knowledge of global political, social, economic, and trade ties.
On the other hand, MCC's online international business AA degree is the most comprehensive of the international business programs on the list. Three years of high school mathematics are necessary, including intermediate algebra. Applicants should have sufficient foreign language knowledge to enroll in MCC intermediate courses.
The World Language and Cultures Department and the Business Department have information about foreign language placement. If these requirements are not met, this degree may take longer than two years to accomplish.
---
Forsyth Technical Community College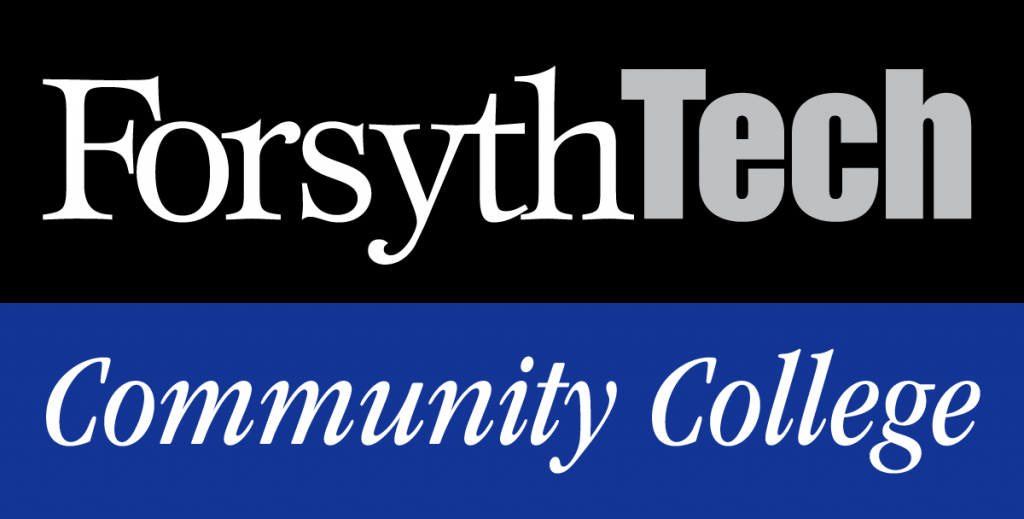 Forsyth Technical Community College offers an online Associate Degree in Business Administration with an International Business Global Track. The Business Administration program teaches students many facets of the free market economy.
Students will get a basic understanding of business activities and processes and corporate organizations in today's global economy. International Accounting, Business Law, Economics, Management, and Marketing are among the topics covered in class.
Computer applications, communication, team building, and decision-making are all used to develop skills relevant to applying these principles.
The Business Administration – International Business Global Track emphasizes Business, Social science, Foreign Language, and specialized courses in Business Law, Marketing, Economics, and trade procedures. Graduates should be able to apply theories and concepts to international trade and transactions after completing the course.
---
Cuyahoga Community College
Cuyahoga Community College offers an online Associate of Applied Business in Business Management specializing in International Business. This two-year international business degree online can be used as a stepping stone to a four-year business bachelor's degree. Alternatively, established professionals who need to broaden their present level of business expertise to include the worldwide sector can benefit from this program.
Furthermore, the International Business majors equip students for the challenges of doing business in a global environment. The topics covered are worldwide business, international communications etiquette, export operations, marketing strategies, and overseas manufacturing logistics. The program, however, may require some in-person activities to increase student employment opportunities in any part of business in the United States or internationally.
---
San Ignacio University

San Ignacio University offers an online/hybrid Associate in International Business degree, which helps students gain knowledge of international business. Students will also learn about the ideas of commercial transactions between two or more nations and the differences between a local and an international business operation.
The online international business degree provides students with the tools to build the necessary skills to comprehend the numerous issues that must be considered while beginning an international operation. Furthermore, this program should improve students' understanding of global commerce's micro and macro characteristics. This degree includes specialist courses in International Business, Arts, Sciences, Economics, Accounting, and Mathematics.
---
Austin Community College
Austin Community College offers a hybrid workforce associate's degree in International Business. Graduates of the curriculum can pursue jobs in international business management, global marketing, supply chain management, and global finance.
Students take Exporting Principles, Importing Principles, Intercultural Leadership, International Trade and Business, and International Business Simulation core courses. But because the degree is a workforce degree, not all courses will transfer to a bachelor's degree.
However, there will still be 4-year colleges that will accept core courses and undergraduate elective credit from the International Business program. Students in AAS programs who desire to transfer and finish a 4-year degree can pursue a Bachelor of Applied Arts and Sciences (BAAS).
---
SUNY Broome Community College

The online Associate of Science in International Business at SUNY Broome Community College is tailored to students pursuing a four-year degree at a university. However, after earning their associate's degree, a tiny percentage of students choose to pursue professions in international business. You can take the evening classes if you are a working adult learner.
The AS in International Business curriculum includes courses in Business Law, Marketing, Special Topics in International Business, Principles of Management, International Business Environments, and Introduction to Macroeconomics. Additionally, the program blends liberal arts courses in international geography, cultural anthropology, Latin American history, and Japanese civilization. As part of their academic program, students might also study abroad.
---
MassBay Community College

MassBay Community College offers a flexible Associate of Science in General Business with an International Business concentration intended to aid students in preparing for certification as global business professionals. The curriculum includes a wide range of communications and social science courses. Several foreign language studies are included.
The program consists of International Trade, Banking Policies and Procedures, the Impact of Culture, Demographics, and Infrastructure on Global Trade, and how law, marketing, politics, management, and human resource management are carried out in the global marketplace.
Students will learn about the interactions between US and international businesses. The program can sometimes require students to attend an in-person meeting for case analysis and team activities, hear guest speakers, perform experiential learning exercises, and write and present student research/reaction papers to conduct an in-depth examination of American and foreign strategies and business practices.
---
Santa Barbara City College

Santa Barbara City College offers an online associate in International Business. Rather than focusing on a specific geographical area, this program introduces students to the central aspects of international business. The courses tackle the economic and cultural environment in which people work. You will also gain insight into how international activities affect management tasks. You can also learn about the principles of international trade and investment.
A hands-on approach to market research is provided in this program. Students can also transfer to four-year institutions after completing this program. Transfer information should be discussed with a faculty advisor or counselor by students interested in transferring to four-year institutions.
To successfully manage today's contemporary organizations, you must understand general management functions, roles, and responsibilities.
---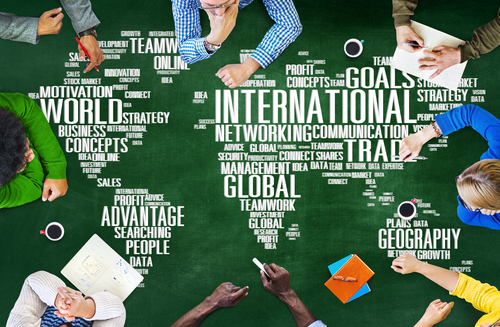 What International Business Students Need To Know
International business students must adapt business concepts to other countries' financial, legal, sociopolitical, and economic systems. International business students may be able to choose a specialty from a wide range of courses. You can also build a varied skill set incorporating fundamental liberal arts knowledge, such as foreign language competence.
While an associate degree in an online international studies program will not require a study abroad, a bachelor's degree and a master's degree will. You may consider this an unnecessary investment, but it will help you better understand different cultures and broaden your network.
Employers frequently hire international business graduates in fields such as marketing, human resources, finance, and sales.
Typical employers are:
management advisory services
banks
recruiting agencies
technology businesses
Global and worldwide companies are frequently, but not always, situated in metropolitan cities, with London having the most international graduate job openings.
International companies usually have their own early career websites, and you should follow the ones that interest you on social media (specifically LinkedIn and Twitter).
What To Expect in an Online Associate Degree in International Business
Associate degrees are the initial step toward a career in international business. Community colleges, vocational schools, and online universities frequently offer associate programs in international business to impart basic business skills. These schools are typically easier to get into compared to four-year business schools.
International Business Courses
Financial accounting
Financial accounting teaches essential accounting ideas and principles that elucidate financial statements and provide critical insights into a company's performance and prospects. Examine how accounting is used by managers, Wall Street analysts, and entrepreneurs to make strategic decisions. This course may also teach students how international banking operates.
International Business Law or Business Law
The function of the law in all aspects of business ownership and management is examined in Business Law. Throughout the course, students will study legal ethics, torts, court procedures, contracts, property law, consumer law, employment law, environmental law, and international law. The international business law course, on the other hand, trains students to work with the UN, the International Criminal Court (ICC), the European Court of Human Rights, and other EU and UN-sponsored profit and nonprofit organizations.
Principles of Management
This Principles of Management is one of the core business courses meant to help students comprehend the major functions of management and the importance of each function to the company's survival.
Information Systems for Management
Information systems for management are one of the most common international business courses that teach students MIS tools to assist intelligence, procedures, operations, and information technology. This international business course constitutes the information management discipline's foundation and is frequently regarded as the first information-age system. This global business course helps students understand the function of information technology in today's national and international business industries.
Organizational Behavior
Organizational behavior examines human behavior in organizations and the practices and strategies that help or hinder effective conduct. Conceptual frameworks, case discussions, and skill-oriented tasks are all mixed with each topic. In today's world, where competitive pressures are greater than ever, this international business course will assist in the creation of a harmonious workplace. OB aids in the development of human strength, resilience, and vitality.
Principles of Marketing
The foundation course Principles of Marketing is meant to introduce students to the study of contemporary marketing. This international business course will focus on customer and product management, price distribution, and advertising tactics in a changing corporate environment.
International Trade Policies and Practices
The fundamental theories of international trade theory and policies, international finance, international trade customs and practices, international transportation, insurance, and other topics are covered in the international trade policies and practices course.
Global Supply Chain Management and Logistics
One of the most essential disciplines in 21st-century business is global supply chain management. This international business course covers the science of determining how commodities and services will be distributed from manufacturer to customer.
International Strategic Management
International Strategic Management is a planning process for generating international strategy to achieve strategic alignment between an organization's competency and resources and the global environment in which it operates. This course tackles building a specific international system that involves strategic planning.
Duration
International business associate degrees are typically 60 to 70 credit programs that require almost two-year to complete. This duration aims for students to familiarize courses in international business majors with basic ideas in global economics. Low-division subjects such as business computers, public speaking, world history, management concepts, and introductory accounting will be taken full-time for four semesters by high school graduates or GED recipients.
Admission Requirements
The admissions requirements for an online associate in international business degree vary by program. However, a high school diploma is frequently required. Candidates who did not finish high school can usually use a GED certificate instead of a diploma.
For example, international business applicants at Monroe Community College need to have sufficient foreign language knowledge and three years of high school mathematics in some schools.
Some colleges, however, may give credit for life and work experience. A student's credentials, professional training, test results, and other life experiences are used to determine college credit.
Program Outcome
The compulsory international business degree online in the lower division prepares students for the NASBITE examination, leading to accreditation as a Certified Global Business Professional.
The Associate in International Business Degree prepares students to:
Define management difficulties from a global industry standpoint.
Examine a multinational corporation's global operations, taking regulatory, ethical, and legal issues into account.
Prepare a business strategy that incorporates cross-cultural variations and implementation difficulties, such as the operational, financial, legal, and administrative procedures involved in new business endeavors.
Explain how global financial markets improve business processes.
Career Outlook
More American companies are expanding their operations internationally as international markets evolve. According to the Bureau of Labor Statistics, the business and financial operation sector is expected to grow 7% between 2021 and 2031. This is due to globalization forces that continue to produce jobs across numerous multinational corporations.
However, it is important to note that most international business careers require an undergraduate degree. International finance managers and international financial analysts, for example, need to complete a bachelor's degree in international business.

---
Careers Available With an Associate's Degree in International Business
Sales Representative
International sales reps are responsible for marketing and selling company items to new clients. They may also be in charge of global corporate sales. After getting professional field experience and demonstrating high-performance metrics, salespeople might pursue career progression options. The Bureau of Labor Statistics has said that the International Business field is projected to grow 4 percent from 2021 to 2031.
Median Annual Salary: $67,750
---
International Marketing Assistant
International marketing assistants help establish plans for global advertising campaigns and assist marketing managers. These specialists also keep an eye on global trends and competition. These assistants can grow in their roles by continuing their education and/or gaining several years of relevant work experience.
Median Annual Salary: $59,853
---
International Business Capture Liaison Manager
The International Business Capture Liaison Manager ensures that international business development operations are carried out effectively and administers and develops strategies to boost sales and market development in each country. These experts also assess business strategies and make improvement plans to help businesses grow.
Annual Median Salary: $166,099
---
Inbound CSR Consultants
Inbound customer care personnel respond to incoming consumer questions and complaints. They are also in charge of the following responsibilities. Outbound CSRs, on the other hand, make contact with customers via cold calling or sending emails.
Annual Median Salary: $37,780
---
International Business Development Representative
An international business development manager is in charge of a company's international expansion. They examine market trends and form collaborations with major international partners to uncover opportunities for the company to grow.
Annual Median Salary: $159,257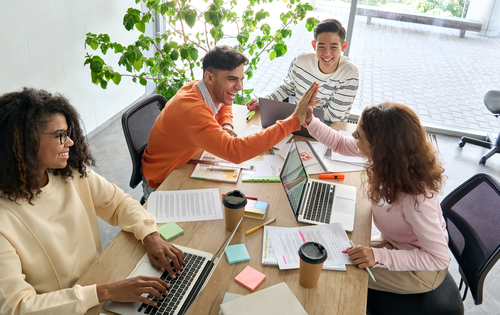 Skills of an International Business Professional
Cross-cultural communication skills
Working in an international company requires working in a varied environment with people from different backgrounds. Cross-cultural communication is an essential ability, whether with a coworker, a client, or a customer.
Knowing how people from different cultures interpret workplace confrontations, or even something as simple as maintaining eye contact, can minimize misunderstandings and improve workplace communication. And effective communication is beneficial to business.
Excellent networking abilities
While internet networks such as LinkedIn simplify creating and keeping professional relationships in other countries, good in-person networking abilities remain among the most critical skills for international commercial success. One beneficial strategy to meet like-minded individuals and expand your relationships is to master your "elevator pitch" and attend industry networking events. Of course, networking skills, like cross-cultural communication, involve diplomacy, tact, and a listening ear—remember, you're creating a connection, not just selling your services.
Interpersonal influence
Whether you're trying to persuade an investor to fund your new venture, encourage an employee to embrace a unique style of working, or convince a client to buy your product, the ability to influence others is critical for success. The best corporate leaders generate influence by cultivating positive professional relationships and earning respect from their peers, which means that networking, communication, and collaboration may all lead to influence.
Emotional Intelligence
Emotional intelligence is the ability to notice, control, and assess emotions. Because their ability to manage their emotions helps them respond calmly in high-pressure situations, someone with a high EQ is well suited to a career in international business.
Resilience and Stamina
International business requires both resilience and endurance. Of course, challenges and setbacks may occur in any workplace, but the world of international business is considerably more demanding since it frequently necessitates working longer and more irregular hours to suit different time zones and cultures. You can overcome this with resilience. Also, stamina comes in when you have to work late or irregular shifts. All the better if you can be flexible with your hours!
---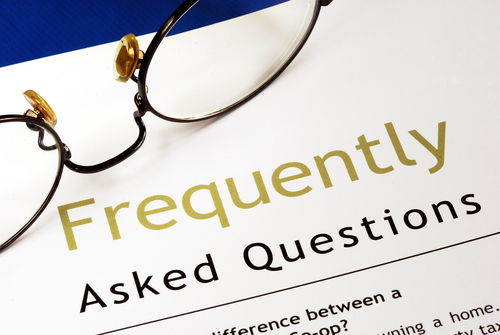 Frequently Asked Questions
Is an online international business degree worth it?

An online degree in international business should benefit those who want to get a worldwide perspective on business. While earnings vary widely depending on the industry, there are numerous attractive work prospects in international business. Additionally, to make your online international business degree more worth it, be sure that the school has received accreditation from the International Accreditation Council.
Is international business a promising career?

International business careers can pay well and provide prospects for promotion, but they generally demand extensive travel to various nations. As a result, persons engaged in international business should have an understanding of cultural differences as well as a desire to travel.
Are there maths in international business?

Theoretical and Practical Mathematics in International Business is a critical scholarly publication that examines the importance and implications of applied and theoretical mathematics in international business, sales and marketing, general management, covering finance, and supply chain management.
Can you work abroad with an international business degree?

Because of our interconnected environment, you can find international business jobs on any continent. You can work for companies of all sizes and statuses.
Why study for an online associate degree in International Business?

International business associate degrees are beneficial for many reasons. Ultimately, an international business degree lays the foundation for a successful career. An associate degree includes the core college curriculum that is the cornerstone of every bachelor's degree, contributing greatly to this benefit. Many community colleges collaborate with state universities to ensure their associate degrees include courses that prepare students for four-year degrees.

The number of community colleges is also much higher than the number of four-year colleges. An out-of-state four-year degree might not be the best choice for a student. While earning college credits, they can stay close to home with an associate's degree.

Those credits are quite affordable compared to most four-year institutions, including public universities. Consequently, many students choose a two-year community college program to reduce their overall educational costs. The last two years of a four-year degree can be completed through associate degree programs coordinated with their four-year equivalents.
What are the courses to expect in an associate in International Business?

An associate's degree program in International Business covers domestic and international relations, particularly from an economic standpoint. Every international business degree program will cover different topics depending on the department. Some courses may emphasize language, while international business laws and finance may be emphasized in others.

Some of the common courses covered in an associate in International Business include Financial Accounting, Introduction to Business, International Business Law, International Supply Chains, Global Economics, Managerial Accounting, and more.

Most programs will prepare students for a business career or to study at a university. The majority of international business students will take accounting courses. Every business transaction relies on accounting anyway. Moreover, they will likely study marketing, supply chain management, and intercultural communication.
In Conclusion
An online degree in international business can lead to opportunities to travel the world. You may work with foreign markets and overseas customers even if your job does not require you to leave the country.
Nearly every industry employs international business people, including healthcare, finance, capital markets, and consumer goods. As a result, international business occupations are not limited to certain geographic areas but can be found in nearly any public or commercial sector.