Find Your Perfect School
Premium Schools is an advertising-supported site. Featured or trusted partner programs and all school search, finder, or match results are for schools that compensate us. This compensation does not influence our school rankings, resource guides, or other editorially-independent information published on this site.
Are you fascinated by how machines and engines work? Online associate degrees in mechanical engineering may be the best fit for you if creating new technologies to aid business and society in the twenty-first-century appeals to you.
A mechanical engineering degree online will teach you all the ins and outs of machines and engines. It will open up doors to lots of mechanical engineering careers.
An Associate in Mechanical Engineering Degree is a two-year, fully transferable degree that prepares students for a career in mechanical engineering. It is the foundational credential for building a career in mechanical engineering or related fields such as engineering technology or product engineering.
This degree is designed to give students the skills they need to find success in the mechanical engineering field, including strong technical writing, problem-solving and creative thinking.
Upon completion, graduates are prepared to become competent and knowledgeable mechanical engineers and should have knowledge and understanding of the industry and standards, as well as the ability to think critically and apply engineering principles.
Quick audio summary:
---
Quick Summarization:
Mechanical engineers are not only focused on specific engines and machines; they work in a wide range of fields and all sorts of different engineering projects. The mechanical engineering sector relies heavily on math and technology, making it perfect for numerate and tech-savvy persons. You can only become a competitive mechanical engineer if you study in the best associate degree programs.

Through the best associate degree in Mechanical Engineering, you will be able to understand and master basic engineering principles fully. You'll also gain the technical skills you need to succeed in this field.
---
Methodology
The Mechanical Engineering field is best suited for individuals with a deep interest in engineering, in general, and a knack for mathematics, analytics, logic, and the smallest details! You will be on your way to becoming a professional as soon as you get acquainted with the basics of the discipline. This is made possible with online associates in mechanical engineering degrees.
We indexed the top associates degree programs offered by these leading online colleges in the country. They made it to our list owing to these distinctive program features that exhibit overall academic excellence among all similar mechanical engineering programs:
100% or partial online Associate in Mechanical Engineering study format for a convenient and flexible distance learning experience,
An Associate in Mechanical Engineering curriculum that covers the core foundations of, while also emphasizing the general education courses that are relevant to, the discipline, in order to prepare students for their bachelor's degree or entry-level career exploration,
Faculty and teaching staff consisting of mechanical engineering technicians, specialists or experts who are able to impart their knowledge to students who are to become the next professionals,
Transfer path programs that make the transition to a bachelor's program easy for Associate in Mechanical Engineering graduates,
Accreditation from colleges and schools commission entities to prove high standards of undergraduate instruction,
Financial aid for distance learning students who qualify,
Good reputation within the Mechanical Engineering community and industry,
Stellar feedback from students and alumni
Read our Methodology page to learn about the processes involved in ranking the Associates in Mechanical Engineering online schools and programs.
---
Best Online Associates in Mechanical Engineering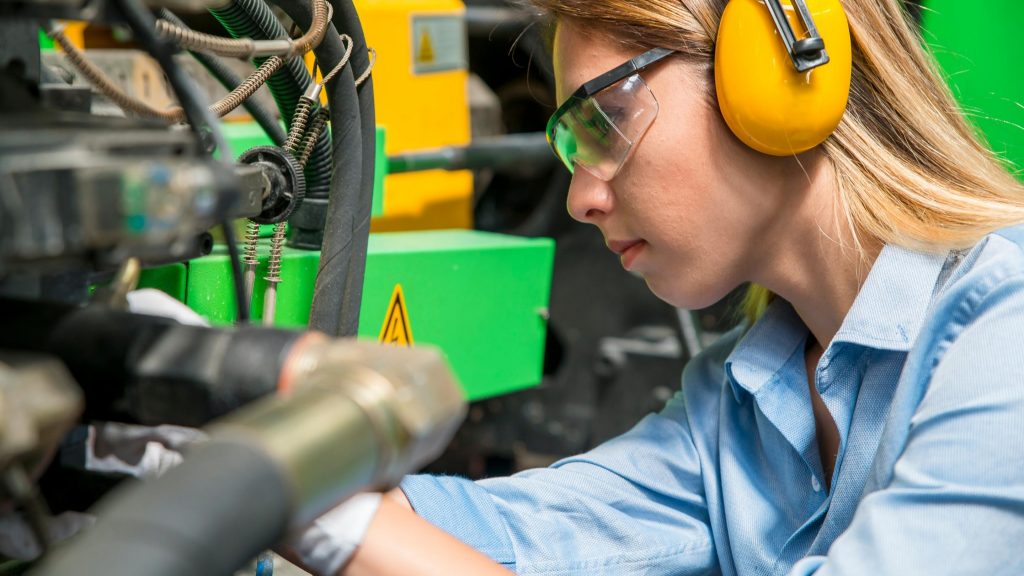 University of Massachusetts Lowell
The University of Massachusetts Lowell is a leader in online degree programs. UMass Lowell offers a fully online Associate of Science in Mechanical Engineering Technology that provides students with many financial aid options that will lower the mechanical engineering cost. This is a 68-credit mechanical engineering technology program that studies every inch of basic mechanical engineering to help students develop the necessary skills in the field.
In addition to the mechanical engineering technology core courses, this associate degree requires students to complete general education courses, such as math, science, English, and writing.
Core courses in this online associate program include Engineering Design and Graphics, Elements of Thermodynamics, Applied Fluid Mechanics, Computer-Aided Drafting, Arts & Humanities Course, Materials Science, and more. Additionally, online courses in this mechanical engineering degree are transferable to a bachelor's degree in the same field, making it more convenient for students looking to advance in their positions.
---
Northcentral Technical College
Northcentral Technical College offers a mechanical engineering technology degree that focuses on engine design. NCTC's online Associate in Mechanical Design Engineering Technology helps students develop the designing in machine preparation skills necessary through utilizing 2D and 3D computerized drawing software. You don't have to excel in engineering drawings to succeed in this degree; you'll learn drawing skills along the way.
NCTC's online mechanical engineering associate degree program includes courses in AutoCAD Applications, Designing for Manufacturability, Geometric Dimensioning & Tolerancing Fundamentals, Technical Detailing, and Autodesk Inventor 3D CAD Software.
Northcentral Technical College's online courses are transferable to a bachelor's degree in any field; this college is in agreement with four-year institutions allowing students to have a seamless higher-level education transition.
---
Virginia Peninsula Community College
Virginia Peninsula Community College (formerly Thomas Nelson Community College) offers an Associate of Applied Science degree in Mechanical Engineering Technology that focuses on the scientific application and engineering subjects grounded in math, science, and engineering principles. This online degree includes coursework involving composite materials, hydraulics, computer-aided drawing and design, and many more.
VPCC's online mechanical engineering degree allows students to choose between the Marine Engineering and Marine Engineering specializations. While the Marine Engineering specialization is designed for shipyard employees, prospective students without prior experience are also welcome to enroll in this pathway.
On the other hand, the Mechanical Design curriculum provides students with the engineering and technical skills necessary to find work in engineering consultation offices, such as computer programming, machine operations, statics, drafting skills, and more.
---
New England Institute of Technology
New England Institute of Technology offers an online Associate of Science in Mechanical Engineering Technology that provides students with extensive knowledge in product design and foundational knowledge about mechanical engineering aspects. This degree includes key courses in Metrology, Manufacturing Processes, Product Measurements, Electrical Engineering, CAD, and Engineering Documentation.
In addition to key courses, the online associate degree in mechanical engineering includes general science, math, and English courses. Credits of this associate degree program are transferable to a bachelor's degree, allowing you to advance your studies in lesser time.
Additionally, you'll be able to employ oral, written, and visual communication in well-defined technical and non-technical situations and locate and use relevant technical literature.
---
North Central State College
North Central State College provides an online Associate of Applied Science in Mechanical Engineering Technology that helps students build their careers in mechanical engineering or advance in their current positions. If you're planning to pursue a bachelor's degree, this online mechanical engineering program is the first two years of the college's online Bachelor in Mechanical Engineering Technology. This means that if you take this degree, in two-years time, you'll be a double-degree holder.
NCSC's online mechanical design engineering technology program includes Mechanical Design Technology, Engineering Drawing, Machine Design Technology, and Materials Science courses. Out-of-state students in this online learning program pay the same cost as in-state students. Additionally, the school offers various financial aid opportunities for its students.
---
ECPI University
ECPI University's online Associate of Science in Mechanical Engineering Technology employs the best mechanical engineers with academic credentials and years of work experience in the field. Through these instructors, students will learn the ins and outs of mechanical engineering technology with industry-standard equipment and real-world knowledge application. This online degree program focuses on real-world problem-solving mechanical engineering.
ECPI's online mechanical engineering technology degree program focuses on core courses, such as Computer-aided engineering graphics and analysis, Material science and manufacturing processing, and Electro-mechanical devices and controls.
These degrees will help students gain skills and expertise in the field. If you ever plan on transferring to a four-year university, you can use credits earned in the associate program to reduce your time in a bachelor's degree program.
---
Midlands Technical College
Midlands Technical College's 66-credit-hour online Associate in Mechanical Engineering Technology prepares students to jumpstart a career in mechanical engineering by providing the required skills and knowledge in the field. Students can choose fully online classes or the hybrid option; either way, you'll still get the same education quality as on-campus students. Furthermore, you can also choose to enroll in full-time class schedules or part-time class schedules.
Students in this degree are trained to assist engineers in all fields, run diagnostic tests, and manufacture mechanical devices or machinery. This online learning program includes courses in Technical Communications, Print Reading and Sketching, Engineering Computer Applications, Mechanics of Fluid Systems, Intermediate CAD Applications, Engineering Mechanics, and more.
---
Texas State Technical College
Texas State Technical College provides a unique blend of mechanical engineering and electrical engineering technology degree programs. The online Associate of Applied Science in Mechatronics Technology is a new program that institutes a new approach to the design or development of mechanical products that involve electronics. In addition to electronics and mechanics, this online degree includes studies in robotics, instrumentation, and computer control systems.
Mechatronics Technology courses include general education courses and key courses such as Circuits, AC Circuits, Hydraulic and Pneumatic Systems, Basic Programmable Logic Controllers, Robotics Communication, Essentials to Advance PLC, and an Internship-Mechatronics Technology.
You can use the credits in this degree to enroll in a bachelor's degree program at any four-year university. And since Texas is the highest employer for mechatronics, you will find a job immediately after graduation.
---
What Prospective Mechanical Engineering Degree Students Should Know
Enrolling in an online associate degree in mechanical engineering gives you the necessary knowledge to design and make machines or devices work and helps you prepare for future educational success. In this degree, you'll learn how to draft and create new inventions that will help society.
Depending on your determination, skills, and knowledge, you'll be able to draft and create energy-efficient machines, design robots, develop new ways for ventilation and cooling, devise systems for outer-space use, develop industrial machinery, and even change the ways movies are made. Having mechanical and electrical knowledge will give you an endless bound of ideas.
Online mechanical engineering degrees are so versatile that they require you to study foundational courses in various fundamental areas. General education courses in basic communication and the humanities, as well as physics, math, and English, are all required for most degrees.
Students enrolled in an online mechanical engineering degree may be required to take Computer Science classes to keep up with current software and hardware design and usage developments. But you'll almost certainly need to take chemistry and physics, advanced math classes like equations, calculus, and linear algebra, and business classes like accounting and marketing.
The mechanical engineering core, which will most likely comprise classes that provide a good basis for numerous career choices, is the last degree component.
After you've mastered the fundamentals, you might want to specialize. If that's the case, you'll have many options because mechanical engineering degree specialties are as diverse as mechanical engineering careers.
The mechanical engineering specialization you select impacts not just the classes you attend during your study but also the skills you develop and, as a result, the mechanical engineering jobs available to you after graduation.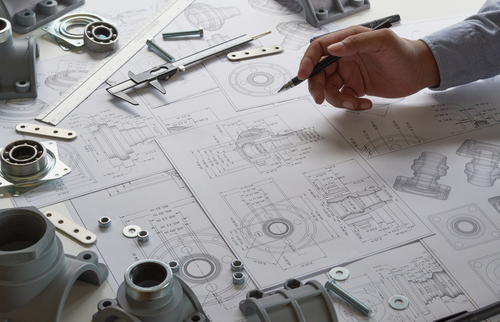 What Do Online Associate Degrees in Mechanical Engineering Consist of?
Engineering Design and Graphics
This course teaches students how to create machine components. There are lessons on reading prints, measuring, and representing various types of gears and screw threads. Through projects, students will learn about the design process.
Manufacturing Processes
Students will study the many manufacturing techniques accessible for metal, ceramic, and plastic materials in this course. They'll also learn about mechanical testing and stress reactions at various temperatures and how these materials behave in manufacturing processes.
3D Modeling
This course covers 3D modeling software. Advanced rounds and tweaks, intricate patterns and tables, layers, user-defined features, advanced drawing functions, and finite element analysis are among the topics covered. After finishing this course, students will be able to build, assemble, and sketch more complex parts.
Computer-Aided Design(often includes lab)
This course introduces the engineering graphics and modeling software engineers use to make parts and assembly drawings.
Engineering Statics
This course will teach students how to understand how forces are distributed within bodies and how to start learning about material strengths.
Electrical Engineering
This is a set of courses covering all aspects of electrical circuitry, including operations, theorems, answers, and how power, energy, and phasors are related to circuit design.
Thermodynamics
Thermodynamics studies heat and temperature in solids, liquids, gases, and mixes and their relationship to energy.
Materials Science
This course covers the characteristics, selection, and processing of metals and alloys, ceramics, polymers, and composites for specific applications. Case studies are designed to demonstrate what might go wrong when the wrong material is employed.
Applied Fluid Mechanics
Fluid characteristics, hydrostatics, and fluid flow kinematics are all covered in this course. Students will learn how to measure flow and analyze real-time fluid flow in pipes, ducts, and open channels.
Common Career Paths of Mechanical Engineering Technology Associate Programs
Mechanical engineering offers a wide range of job opportunities. After earning an associate's degree, you can opt to work in an entry-level positions from a mechanical engineering field or various engineering fields. Here are some of the most common jobs you can get upon earning your associate degree in mechanical engineering.
Engineering Technician
An engineering technician does various tasks that focus on supporting engineers or scientists with their projects. They ensure that all components of the project go smoothly from the beginning to the end. An engineering technician may be responsible for everything from putting up equipment and instruments to gathering data and interpreting outcomes.
According to BLS, the engineering technician field is expected to grow 2% from 2021 to 2031.
Annual Median Salary: $60,460
---
CAD Operator
Drafters who work in CAD (computer-aided design) use various software to create 2D and 3D designs for everything from jackhammers to jumbo airplanes. A CAD drafter's major job is to convert a professional designer's rough drawings and designs into highly technical drawings, such as those from an architect, engineer, or industrial designer.
While the Bureau of Labor Statistics predicts a decline in job growth, the field will have 18,900 openings each year.
Annual Median Salary: $60,290
---
Sales Engineer
Sales engineers focus on products that are technologically and scientifically advanced. They use their technical knowledge to explain the advantages of their products or services to potential clients and demonstrate how their products or services are superior to those of their competitors. Some sales engineers work for firms that design and manufacture technical goods. Others work for small sales companies.
The Bureau of Labor Statistics anticipates that from 2021 to 2031, the employment of sales engineers will grow by 6%.
Annual Median Salary: $103,710
Aside from the three most common entry-level positions you can get upon earning an associate degree in mechanical engineering, other job opportunities are waiting for you. These are just a sampling of alternatives most graduates apply for after graduation.
While an associate degree in mechanical engineering teaches you only the basics of the field, this is a great way to gain entry to an engineering firm. It is a well-known fact that you learn more about the field as you can shadow the work of engineers. However, earning a bachelor's degree will give you more edge and considerably more prospects for growth and a competitive wage.
Skills You Need in Mechanical Engineering
Communication
As with other engineering jobs, mechanical engineers are bound to relay ideas to their co-workers. To succeed, you need to have effective verbal and written communication skills. You must also effectively convey your concept and ideas to clients unfamiliar with engineering vocabulary or mechanical systems.
Mechanical engineers must be precise in their explanations so that clients and peers comprehend the design or concept and have faith in its execution. They are frequently expected to create technical reports and should be at ease expressing their ideas in specification formats, as some industries require.
Math Skills
Math is an engineer's best friend, so they say. This is the most important skill students will learn throughout their education, from high school to college and work. Their arithmetic abilities are used to difficulties that may arise due to errors. This is also crucial for predicting costs for design changes or new goods. Accurate mathematical calculations and input highly influence many mechanical engineering software systems.
Creativity
Designing basic mechanical systems is one of the mechanical engineers' primary responsibilities. These designs will need to evolve in numerous industries as technology and building systems change. Mechanical engineers will use their imagination to create new tools, products, and systems to address difficulties that arise due to these new technologies.
Problem-solving
Mechanical engineers will employ problem-solving skills in addition to creativity to solve problems that may arise, such as during the testing of new products or a system malfunction. A mechanical engineer will need to employ this capability in their design calculations to develop and test prototypes, validate product experiences, and test-building materials. They can also use this ability to assist in the identification of design improvements for existing items.
Collaboration
Mechanical engineers frequently collaborate with other professionals to solve problems and develop new technology. Other non-mechanical engineers and technical workers may collaborate with them. Mechanical engineers should be at ease working in groups and coordinating with others to meet project deadlines.

Best Certificate Programs for Mechanical Engineering Students
Some may wonder why it's necessary to take on additional studies that your employers may or may not use. The simple answer is: to broaden your mechanical engineering career opportunities.
By earning a certification, you demonstrate to future employers that you have spent the effort to learn more than the bare minimum for your position. This shows your interest in your industry and desire to improve yourself, which employers value in their employees.
This certification evaluates the user's advanced manufacturing and technical skills. To be eligible for this certification, you must have at least eight years of mechanical engineering experience, with at least four years spent in a professional role.
The ETAI Master Certified Electronics Technician Certification is for engineers with more than six years of experience in the field. This certification tests your electrical engineering knowledge and skills, covering telecommunications, fiber optics, information technologies, and radio frequency work.
Engineers who grasp the foundations of service and product quality should pursue the Quality Engineer Certification. This certification demonstrates your awareness of quality control, human factors, quality cost, and quality management approaches.
Mechanical engineering is part of systems engineering, an interdisciplinary field that incorporates many different types of engineering. The Certified Systems Engineering Professional credential is advantageous since it demonstrates your knowledge of bigger engineering principles and operations. This INCOSE certification assesses your knowledge of systems engineering and the technical difficulties systems engineers may address. The certification recognizes your expertise and experience in SE knowledge and technological leadership.
This certification is available through the Environmental Protection Agency. It tests your engineering knowledge about public safety. This certification is for engineers who work with drinking water and water distribution systems and protects public safety and access to clean, safe water.
Autodesk offers an online CAD and Digital Manufacturing certification that you may learn about and complete on your own time. Students gain technical skills while learning the fundamentals of digital manufacturing and product creation.
Students learn about electrical and mechanical engineering processes from The Associate of Energy Engineers in this course. It validates your process and infrastructure experience while examining and comprehending the best solutions for varied engineering tasks.
---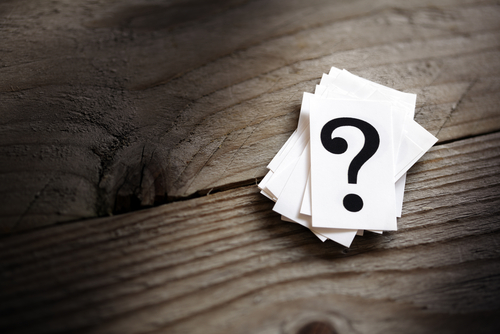 Frequently Asked Questions
Is it better to get a Bachelor's in Mechanical Engineering or an Associate degree?
If you want a job quickly, you should get an Associate in Mechanical Engineering. An associate degree is shorter, less expensive, and provides job-specific training, making it a good choice for students on a budget.
A Bachelor of Science in Mechanical Engineering, on the other hand, is more comprehensive and prepares you for various job choices with greater pay. Whether you pursue an associate's or bachelor's degree depends on your post-graduation ambitions.
Is an Associate degree in Mechanical Engineering worth it?
An associate degree in mechanical degree is worth every penny. This degree will equip you with fantastic benefits, high-paying incomes, various work prospects, and the opportunity to make a difference. Mechanical engineering will continue to reign supreme for a long time.
How much does an Associate degree program in Mechanical Engineering cost?
According to NCES, the cost of an online associate degree in mechanical engineering in 2019-2020 is $11,391. Tuition, fees, and room & board were all included in this figure.
If you want a more cheap degree, look into a public, state, or community institution with reduced tuition. You may be eligible for a more affordable resident rate if you live in the same state as the school.
Do online Mechanical Engineering degrees have value?
Yes, mechanical engineering degree programs offered online are respected. In the autumn of 2019, the NCES reported 3,450,125 students enrolled in fully online degrees. Future businesses and higher education institutions will accept your degree if you choose an accredited program.
Is it difficult to find work with a Mechanical Engineering Associate degree?
A mechanical engineering associate degree makes it relatively easy to find work. Engineers with an online Associate Degree in Mechanical Engineering have the technical competence to apply for entry-level careers. Higher-paying managerial positions, on the other hand, necessitate further academic qualifications and work experience.
What are the advantages of earning an online Associate in Mechanical Engineering Degree?
Flexibility: Earning your online Associate in Mechanical Engineering Degree gives you the flexibility to balance your studies and work around your existing commitments.
Cost: Online degrees can be cheaper than traditional degrees since you don't have to pay for transportation costs, meals, and housing.
Same level of education: You receive the same quality of education as with an on-campus degree, or even better.
Variety of courses: You'll gain an introduction to all areas of mechanical engineering, giving you a solid foundation of knowledge.
Job opportunities: Having an online Associate in Mechanical Engineering Degree will make you more attractive to employers in the field.
Networking: An online degree often provides opportunities to meet fellow professionals in the field and build your network.
Key Takeaways
Mechanical engineering associate degrees online can help you gain in-demand skills and prepare you for mechanical engineering careers. You can get a degree that will qualify you to work as an engineering technician for a firm, a research center, or the government in as little as two years.
A mechanical engineering associate degree earned online can also help you prepare for future academic achievement. It could be the initial step toward acquiring a bachelor's degree in engineering and obtaining an engineering certification.