Find Your Perfect School
Premium Schools is an advertising-supported site. Featured or trusted partner programs and all school search, finder, or match results are for schools that compensate us. This compensation does not influence our school rankings, resource guides, or other editorially-independent information published on this site.
Accounts' leadership and organization roles are essential for businesses to keep track of their financial and tax documents. An accountant is in charge of the company's security and fraud prevention in addition to the financial and accounting work. Without accountants, information leaks could result in significant financial losses, theft, robbery, and other financial crimes!
Based on its acquired data, the Bureau of Labor Statistics is foreseeing a rise in the demand for accountants and auditors by 6% between 2021 and 2031 due to growing globalization and complicated regulatory settings.
Quick audio summary:
---
Quick Summarization
A bachelor's degree in Accounting opens doors to career opportunities from entry to mid-level positions with high projected growth, earning potential, and flexibility. It also prepares students for a graduate program in the discipline.
---
Schools That Made the List! Use these Quick Jumps or start scrolling!
Methodology
If you seek an online bachelor's program in Accounting, you've come to the right place! We indexed the country's outstanding degree programs that you can attend at your convenience in top-rated business schools!
Each of the 15 online Bachelor's degree in Accounting online programs became our top pick based on these factors:
Delivered online or partly web-based to provide adult students the flexibility they need to pursue the undergraduate degree without disrupting their work and other schedules,
Emphasizes the fundamentals of accounting for professional practice, including managing federal income taxes, creating reports, and auditing financial records for accidental or intentional discrepancies,
Offers concentrations for specialized occupations like managerial accounting, forensic, or tax accounting, which are particularly useful for graduates pursuing their master's studies,
Shapes students to become detail-oriented and strategic critical thinkers who excel in accounting jobs, should they decide on workforce entry upon graduation,
Facilitated through virtual platforms or Learning Management Systems that provide online learners convenient access to their Accounting coursework,
Provides financial assistance and Credit Transfer opportunities to ultimately aid in the reduction of undergraduate tuition and fees,
Features exceptionally skilled professors who are terminal degree holders or professional accounting experts that have the experience it takes to teach Accounting,
Appropriate accreditation status, as granted by academic agencies that promote the highest standards of teaching,
Affiliated with Accounting organizations that promote the discipline, the career, and its students or professionals.
To find out more about our process of selecting the best schools and programs, please visit our Methodology page.
---
15 Best Online BS in Accounting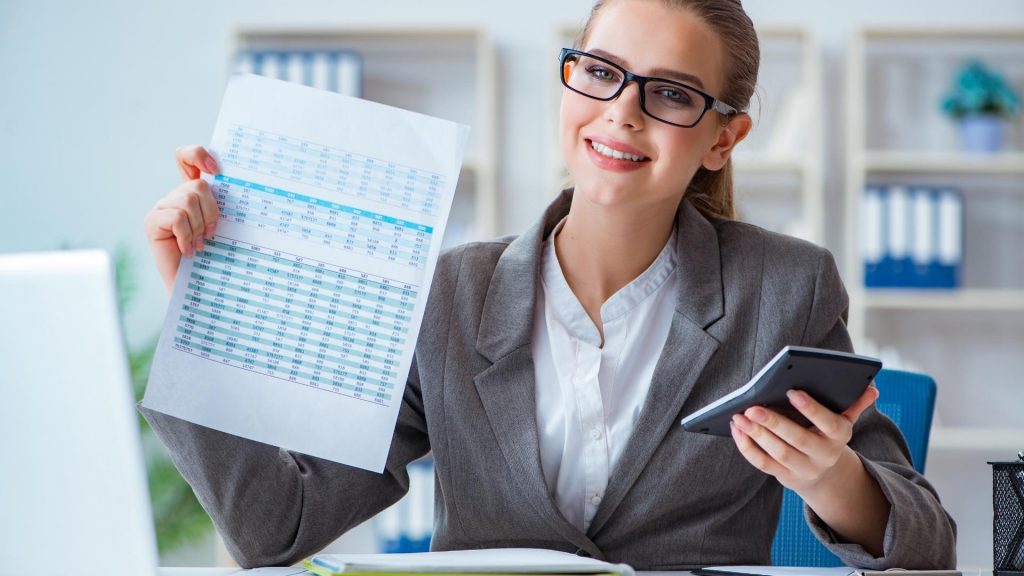 Maryville University
Maryville State University offers a fully online BS in Accounting degree, famous for providing a rigorous curriculum that helps students develop the necessary skills, expertise, and experience to succeed in the field. This online degree program is best for students looking to enter the industry with no previous accounting experience or education and even for those looking to advance their positions or careers.
This program's fundamental business courses cover the full spectrum of business skills, including micro- and macroeconomics, operations management, business statistics, law, marketing, business communication, and more.
This online accounting degree program allows students to choose one concentration, including:
Financial Reporting
Forensic Accounting
Ethics
Auditing
Income Taxes
Accounting Information Systems
Advanced Managerial Accounting
Additionally, students will have the opportunity to tailor their degree based on their future career and education goals. MSU also offers an Early Access program that allows students to study and prepare for a graduate degree in accounting and other related fields, which will help them earn an advanced degree at a lesser time and cost.
---
University of Minnesota
The University of Minnesota's fully online BS in Accounting degree helps students prepare for the challenges of the accounting and business field through a comprehensive but flexible online accounting curriculum.
Best for students with busy schedules looking to advance in their current career positions, this accounting program will prepare students to sit for accounting and accounting-related certification and licensure exams, including Certified Public Accountant, Certified Management Accountant, or Certified Internal Auditor.
This online bachelor's degree in accounting equips students with fundamental and advanced courses, including:
Accounting Systems
Auditing I
Income Tax I
Managerial Finance
Business Ethics
The school also provides optional internship coursework for students who want firsthand experience in the accounting and business world. Graduates who complete the online coursework and hands-on learning will have the theoretical and analytical tools necessary to succeed in public, private, or governmental accounting.
---
Western Governors University
The online BS in Accounting at Western Governors University is one of the most affordable degree programs that help students study for the CPA certification and other certifications one can earn after graduating with an accounting degree through intensive online coursework and hands-on experience.
This online bachelor of science in accounting program was established with extensive input from professionals and business leaders who serve on the Business Program Council to guarantee accounting graduates obtain the information and skills desired by today's companies.
Students will learn the correct ways to evaluate, manage financial performance, and plan and record for businesses to run smoothly. They will also come up with financial strategies that will help them gain more profit.
This online accounting program provides numerous courses that will help you strengthen your industry knowledge. Courses included are:
Financial Accounting
Taxation
Cost and Managerial Accounting
Business Law for Accountants
Intermediate Accounting
Accounting Information Systems
Intermediate Accounting
Auditing
In addition to business and accounting courses, WGU requires its students to complete a capstone project before graduation. This final coursework will allow you to demonstrate your hard work learning about the degree. This project enables you to practice what you've learned by offering a solution to a genuine problem you encounter in your place of business.
---
Northeastern University
Northeastern University offers a fully online BS in Finance and Accounting Management that allows students to gain new transferable skills and knowledge necessary for the modern workplace, such as accounting, financial, technology, and sustainability.
Students that acquire these skills and expertise can handle any obstacle in the workplace thrown at them, which will make them a precious asset to companies. Aside from training students to become efficient in accounting, this online degree program will also prepare them for the finance sector.
NU's online degree in finance and accounting program includes courses in:
Financial Statement Analysis
Principles of Auditing
Business Strategy
Cost Accounting
Introduction to Corporate Finance
Northeastern University heavily emphasizes experiential learning to provide students with the hands-on training they need to function in various settings.
The degree program's concentration on finance and accounting provides students with a well-rounded education useful for long-term goals. Students can focus on learning valuable skills that apply to different fields and industries.
---
Indiana State University
Indiana State University's BS in Accounting degree program is a fully online accounting degree that helps students prepare for the CPA licensure exam and other accounting-related certifications.
This online degree in accounting tackles all the necessary business and accounting courses to prepare students for employment in the field, including business administration tasks, such as marketing and financial management and money and banking.
Students with no prior learning experience can graduate within four years, following the suggested curriculum sequencing; however, students with associate degrees can complete the degree in a year or two, depending on the credits transferred.
Students can choose electives including:
Fraud Examination
Introduction to Federal Income Taxation
Advanced Federal Income Taxation
Not-for-Profit Accounting
Contemporary Issues in Cost and Managerial Accounting
Accounting Internship
Occupational Fraud
Accounting Research and Analysis
Business Administration and the Law
Emerging Technology in Accounting
Principles of Investments
Before graduation, students must complete the Senior Business Experience—an upper-level integrative study for the Scott College of Business and Foundational Studies. Students blend the foundational and functional aspects of the business while concentrating on the theory and practice of strategic management, synthesizing their business education with their foundational studies background.
ISU also offers various financial aid opportunities to students who qualify.
---
Purdue University Global
Purdue University offers an online BS in Accounting degree through their Global online campus that serves as the building block toward an accounting career and other accounting-related fields.
This online accounting degree develops students' skills and knowledge to become efficient with examining financial records, preparing taxes, and providing financial advice to businesses in all industries with the help of faculty members with years of auditing and accounting experience.
Students can choose one in four of these concentrations:
Auditing and forensic Accountancy
Managerial Accountancy
Public Accountancy
Tax Accountancy
Many graduates of this program have continued to become top-performing Certified Public Accountants. If your goal is to become a certified public accountant, you can enroll in Purdue's Accelerated CPA Track Option to better prepare you for the board exam and obtain licensure to practice and demand higher wages.
This accelerated track allows you to transfer to a master's degree after graduation seamlessly. One course from the master's program will be waived if you apply within seven weeks after receiving your bachelor's, allowing you to complete your degree more quickly.
---
Seton Hill University
Seton Hill University offers an online BS in Accounting for students who don't have plans to become a CPA; however, those who want to sit for the CPA licensure exam can enroll in the online Accounting-CPA option.
These online accounting degree programs are designed to equip students with the most in-demand skills in the field today, including critical thinking, money management, and economic skills.
And while this degree is a bachelor of science, online students must complete the liberal arts curriculum. Courses include:
Principles of Accounting
Intermediate Accounting
Principles of Finance
Federal Taxation of Individuals
Auditing
Financial Statement Analysis
Principles of Microeconomics
Principles of Macroeconomics
In addition to online coursework, online students must complete a capstone project and a hands-on internship program. These requirements will help students explore more about the subject, allowing them to enhance their skills and knowledge.
When it comes to internship programs and networking opportunities, Seton Hill University is considered to be one of the best. One of the internship programs the school offers is the Volunteer Income Tax Assistance (VITA) by the US Internal Revenue Service (IRS).
---
Arizona State University
The online BS in Accounting program at Arizona State University exposes students to the real world of accounting to ensure that they graduate well-prepared for employment. Students will learn and explore business processes that involve accounting, auditing, business strategies, and information technology that will allow them to store and keep track of documents efficiently.
Students will develop valuable skills in areas like federal income taxation, database analysis, critical thinking, teamwork, and more. Students can also expect networking opportunities through the school's strong ties with important local, national, and international accounting businesses.
ASU's online accounting degree requires students to complete comprehensive courses, including:
Computer Applications and Information Technology
Microeconomic Principles
Macroeconomic Principles
External Reporting
Internal Reporting
Taxes and Business Decisions
Principles of Auditing
Business Database Concepts
One of the best advantages of earning an accounting degree at ASU is that students learn with the Faculty at the W. P. Carey School of Business, composed of Nobel laureates, national academy of sciences members, renowned journal publications, and speakers at national conferences.
Because of these vast and honorable faculties, students have better chances of building a network for employment. The knowledge and experience learned from a bachelor's degree can be transferred to a master's degree.
---
Concordia University-St. Paul
Concordia University in St. Paul offers a BS in Accounting that uses a blended learning format, or hybrid learning, to allow busy adult students to earn a degree that fits their schedule. This degree program focuses on skills that guarantee employment upon graduation, including teaching students how to face the financial difficulties of a business.
Additionally, students can complete this online degree program via Accelerate Option, which means that students with prior credits can be transferred to finish the degree faster.
Online courses in this accounting degree program include:
Business Fundamentals and Entrepreneurship
Legal Environment of Business
Microeconomics
Organizational Behavior
Principles of Marketing
Business Analytics, Tools, and Techniques
Students are prepared for the challenges of taking the CPA and CMA exams by Concordia University in St. Paul. The competence to perform in a demanding workplace is ensured by educating students for professional qualifications.
While gaining a solid understanding of the conventional accounting techniques, students place a lot of emphasis on learning the skills and tools that will help them in their jobs.
---
Colorado State University Global
Colorado State University Global's online BS in Accounting helps students prepare for their future career goals while working on their current job position. This online degree program prepares students for the accounting skills and knowledge they need to sit for accounting licensure and other accounting-related exams.
Students will learn about putting together, examining, verifying the accuracy of financial documents, keeping track of and organizing financial records, ensuring timely and accurate payment of taxes, and figuring out how to boost value, cut costs, and boost profitability.
This online degree program in accounting provides students the knowledge and experience they need through courses and specializations, including:
Organizational Leadership
Project Management
Human Resources and Organizational Development
Marketing
Emergency Management
Healthcare Management
Colorado State University Global distinguishes itself by emphasizing educating students for demanding and quick-paced careers. It guarantees that students may work on financial reports, examine financial information about businesses, and finish tax paperwork. Due to the online structure, students may learn at their own pace and fit their studies around their schedules.
---
Auburn University
Auburn University offers a fully online BSBA major in Accountancy best suited for adult students who want to earn an undergraduate degree or supplement their degree that will qualify them for career advancements and licensure exams. This accountancy program is one of the most flexible due to its asynchronous learning and customizable curriculum.
This online degree program includes courses in:
Intermediate Accounting
Cost Accounting
Accounting Information Systems
Accounting Analytics
Auditing & Assurance Services
Income Tax I
Auburn University holds very high standards, proven by their accreditations from business accrediting organizations.
Because of the high standards the school sets, students can anticipate a demanding curriculum that emphasizes giving Accounting students a solid foundation in the discipline and developing their specialized abilities to concentrate on a particular career path. Additionally, students will receive the essential coursework required to take the CPA exam, such as how to prepare financial statements.
---
University Of Alabama At Birmingham
The University of Alabama at Birmingham funs a fully online BS in Accounting program for students who want to work in the business industry immediately after graduation. This online degree program will help students prepare for their future careers by focusing on conceptual accounting to help them enter mid-level careers.
Courses offered include:
Financial Accounting
Accounting Information Systems
Financial Accounting
Cost Accounting
Income Taxation
Internal Auditing
Students pursuing accounting at the University of Alabama in Birmingham have networking possibilities. Students who have the chance to network with accounting professionals can better define their long-term objectives and raise their chances of finding employment.
The University of Alabama at Birmingham permits students to transfer credits from other regionally accredited schools and universities to make getting a degree easier.
---
Pennsylvania State University World Campus
PSU World Campus offers an online Bachelor of Science in Accounting program that is considered one the most affordable online degrees for students who want to sit for the CPA, CMA, CFE, CIA, and CGMA examinations and have specialized career paths. This degree program uses a comprehensive and modern approach to preparing students for accounting employment and other related fields.
Graduates demonstrate expertise in a variety of accounting disciplines, such as the creation of financial accounting information, tax accounting, cost accounting, and auditing.
Courses include:
Financial and Managerial Accounting for Decision-Making
Federal Taxation
Cost Accounting
Auditing
Intermediate Financial Accounting
Advanced Financial Accounting
International Business and Society
Business Strategy
Introductory Microeconomic Analysis and Policy
Because it prioritizes student achievement at every level of their study, Penn State World Campus stands apart from other programs. The school offers online tutoring to support students who might require assistance in particular classes. It also provides career assistance via the online system to help students make wise choices regarding their careers and long-term ambitions.
---
Fayetteville State University
Fayetteville State University's web-based BS in Accounting degree completion program allows students with associate degrees or bachelor's degrees in business and other related fields to continue a more specialized curriculum and sit for accountancy exams, such as the CPA and CIA.
Aside from preparing you for future accounting careers, this degree will also prepare you for several administrative tasks that involve computers and tracking software. This online degree program facilitates and enhances accounting and financial reporting processes, allowing students to tailor their curriculum and schedules.
FSU's online accounting degree courses include:
Principles of Accounting
Accounting Information Systems
Intermediate Accounting
Federal and State Income Taxes
Cost Accounting
Auditing
Legal Environments of Business
Business Software Applications
Fayetteville State University sets itself apart from other programs by emphasizing technology as it relates to accounting work. The program aids students in learning the procedures used in contemporary accounting, which will interest those interested in the development and evolution of technology in their careers.
It also prepares students for any difficulties they might encounter as they gain expertise and technology advances. Students are guaranteed to be able to adapt to their jobs thanks to the emphasis on technology.
---
Bellevue University
Bellevue is another school that places pride on its online education. The school offers a fully online BS in Accounting best for students who wish to hone their skills and concentrate on particular abilities. The program's main goal is to shape students' aptitudes for arithmetic, numbers, and problem-solving for a specific field.
Courses include:
Financial Accounting
Managerial Accounting
Intermediate Computer Concepts and Applications
Principles of Management
Principles of Marketing
Principles of Finance
Managing Operations in a Changing Economy
Business Policy and Strategy
The emphasis on practical training and applied learning techniques sets Bellevue University in Nebraska apart from other programs. It ensures that students may use the knowledge they gain in the program to advance their professions. The emphasis on practical experience swiftly allows students to adjust to a real-world setting and prepares them for the CPA exam.
---
BS in Accounting Common Courses
Computer Applications
This course allows students to become familiar with microcomputer hardware and software principles. Additionally, they get hands-on training with various software programs, such as desktop publishing, word processing, spreadsheets, databases, and presentation graphics.
Business Policies
Business policies teach students how to address issues in a professional setting. This case-based course discusses essential aspects of creating and implementing corporate strategy.
Macroeconomics
The general expansion of the national economy is studied in macroeconomics courses. The study subjects are supply and demand, unemployment, inflation, business cycles, national income accounting, banking and money economics, and the impact of policies on the economy.
Principles of Finance
During this course, students learn to evaluate a company's primary financial management processes, including funds allocation, control, and procurement. The examination and interpretation of investment and financial results are also covered, along with corporate financial procedures, financial instruments, and markets.
Auditing
In this course, students learn about the theory and execution of the necessary standards and practices accountants use to evaluate an organization's financial data and operations. The main topics are external auditing, the auditor's duties, and the auditor's code of ethics.
Individual Income Tax
The accounting profession requires knowledge of individual federal income taxation, rules, and regulations. An individual income tax course's goal is to assist students in grasping the fundamental ideas of income taxes and using those ideas to prepare their taxes.
Managerial Accounting
This course teaches students ongoing financial data analysis, interpretation, and reporting. This course helps students develop skills they need for company decision-making by providing information on profit, debt, and inventories.
Cost Accounting
This course helps students obtain the skills and knowledge they need for product analysis and service costs. This will aid in budget management and planning, cost reduction, and student efficiency in product creation or service prices.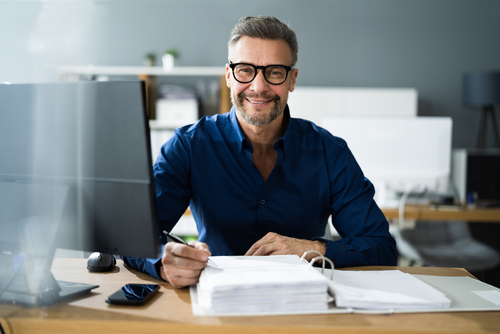 BS in Accounting Common Career Path
Financial Analyst
A financial analyst provides business advice to an organization based on the analysis they conduct of variables, including market trends, a company's financial situation, and the anticipated results of a certain type of deal. Analysts are often analytical thinkers who are at ease assessing data and offering recommendations based on that data.
Average annual salary: $95,570
---
Logistician
Although it is a perfect fit, this occupation is not frequently listed as one for accountants. You must determine the most effective means of shipping goods worldwide in this role. Accountants excel in this area, particularly adept in auditing systems and identifying improvements that can be made.
Average annual salary: $77,030
---
Forensic Accountant
This position might be right for you if you enjoy accounting and detective work. To uncover white-collar crime, you'll collaborate with detectives or attorneys. When couples are in the process of divorce, these professionals are often tasked to go through the complicated financial portfolio or figure out how some assets were kept a secret from the other party.
Average annual salary: $71,172
---
Tax Accountant
You will assist clients or your business with tax return filing in this role. You can create and approve tax documents if you have a CPA license.
Average annual salary: $59,266
---
Credit Analyst
Credit analysts work for banks or other lenders to assess a potential borrower's creditworthiness. Corporate credit is a little more complicated than consumer credit, which is often assessed by a credit score. In other words, many more physical assets are at stake and a complex equity picture to consider.
Average annual salary: $56,836
Top Skills for Accountants
Financial Skills
When preparing, evaluating, and interpreting financial information, a good accountant should be able to:
use professional judgment,
carry out responsibilities in the art and science of accounting,
demonstrate meticulous reporting and evaluation of the morality of financial actions,
efficiently research financial-related topics,
synthesize, evaluate and communicate financial information in a professional, cohesive, and logical way, clearly distinguishing fact from opinion,
assess financial data not simply inside a general bubble of accounting best practices but also within the context of their firm, its strategy, and its culture.
Analytical Skills
Accountants should have strong decision-making and problem-solving skills and be able to objectively examine data to pinpoint issues inside and threaten an organization's accounting structure before using an integrated strategy to provide workable solutions. A good accountant should be able to think critically and creatively and comprehend the importance of accounting data to the firm's overall health.
This also applies to risk analysis. Accountants are frequently entrusted with locating and evaluating elements that could endanger the success of a project or entity.
Organizational Skills
Since everything must add up precisely on the bottom line and every cent a corporation receives or expends must be accounted for, the most effective accountants are meticulous. Additionally, you must be quite at ease with and managing huge amounts of data.
Accountants must be connected with and frequently in charge of various systems that demand ongoing upkeep. As accountants often look ahead to their upcoming deadlines, they must be skilled planners and possess excellent time management abilities. Accountants must have the capacity to maintain this high level of order under stress, particularly during busy periods like tax season.
Information Technology Skills
Today, accounting places equal emphasis on numerical proficiency and technological prowess. Today's accountants frequently have to perform information technology tasks in addition to more conventional accounting duties.
An accountant may expect a good foundation in various software programs, such as Microsoft Excel, systems for modeling financial data, and others. Accountants should be able to manipulate, extract, and analyze data from each of them separately and frequently work with multiple systems in tandem to understand an organization's finances comprehensively.
General Business Skills
Accountants must exhibit fundamental talents that speak to their capacity as well-rounded professionals as they grow more integrated into other departments. In addition to essential accounting skills, employers are primarily searching for candidates who can exhibit broad business knowledge, communication skills, leadership qualities, and a customer service focus.
---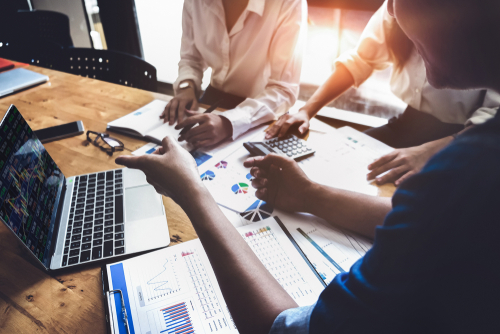 Frequently Asked Questions
How long does a Bachelor's degree in Accounting take?
The average completion time for a bachelor's degree in accounting is four years. However, some students take up to six years to complete this degree.
Online colleges occasionally offer accelerated programs that help students finish their degrees in less than four years of full-time study. Some colleges also charge in-state tuition for all distance learners, regardless of where they live, or provide specific tuition rates for online students. Due to this, earning a degree online may be less expensive than doing it on-campus.
How much is an online Bachelor's degree in Accounting?
Each college has a different tuition fee for its online bachelor in accounting program. Private colleges and out-of-state public schools often have higher tuition costs, while in-state public schools typically have the lowest. Some online programs charge in-state or online-only tuition rates regardless of the student's residence.
Is an online Accounting degree worth anything?
Yes. Employers frequently view online degrees as having an equal value to on-campus degrees due to the growth of online learning, especially if the degrees are obtained from accredited institutions.
Key Points to Ponder
An online bachelor's degree in accounting is the most flexible way to be eligible to sit for accounting licensure exams, such as CPA, CIA, and CMA.
Most online degrees allow students to choose a specialization.
Graduates looking to stand out from the competition can seek a bachelor's degree with a focus.
---
Additional Info: