Find Your Perfect School
www.premiumschools.org is an advertising-supported site. Featured or trusted partner programs and all school search, finder, or match results are for schools that compensate us. This compensation does not influence our school rankings, resource guides, or other editorially-independent information published on this site.


Share this graphic on your site!
It's a Trap! How to Avoid Online Education Scams
Looking to start a new degree online? You've taken the first step toward a brighter future. But make sure you do your research and find the right school. "Diploma mills" are all too common, and falling into their trap could leave you broke and unprepared for the working world.
The State of Fake Schools
Diploma mills are schools operating without the supervision of state or professional education agencies. They offer degrees for the right price, without standards or approved curricula. Students new to the online education world can easily fall prey to these fraudulent "institutions."
5,750,417
Number of distance-learning college students (1)
200,000
Number of illegitimate degrees awarded to students (or "customers") worldwide annually (2)
$500-$2,500
Average amount paid for these fake degrees (2)
370+
Number of educational websites offering fraudulent degrees (2)
For-profit schools vs. diploma mills
For-profit schools may not give out the same bogus, two-month-long degrees as most diploma mills, but they still swindle students out of a lot of cash.
225%
For-profit college growth between 1998 and 2008 (3)
Average total cost for 4-year degree (3)
For-profit: $63,000
State school: $52,500
Average debt incurred (4-year degree) (3)
For-profit: $32,700
Public school: $20,000
The Signs
Keep an eye out for these red flags. Even one of them could indicate that you're wasting your time with a diploma mill. (4)
1. Suspiciously short degree achievement times. Some schools claim you can have your degree in as little as two months. But how much can you actually learn in that amount of time?
2. Bogus accrediting agencies. Long lists of accreditations from agencies you've never heard of can be a big red flag.
3. Programs that focus too much on offering "real-world experience" or "college credits for a lifetime." These schools aren't emphasizing actual classroom work for a reason: there probably isn't much going on.
4. Tuition that is paid by degree. Respectable, accredited institutions ask for tuition by credit hour or by class. Never pay up-front for an entire degree.
5. Little to no real interaction with professors. Students should be able to request meetings with professors, either in person, over the phone or via video chat. If you're denied this type of interaction, think twice about entering the program.
6. Oddly familiar school names. Schools with names that are close to — but not quite — popular school names are to be avoided.
7. Campus addresses that are P.O. box numbers or suites. Who knows where the campus actually is or who's running it?
A Little Academic Advice
Here are some tips when looking for the perfect online school. (5)
Accreditation is everything.
Look for schools that are recognized by the Council on Higher Education Accreditation or the U.S. Department of Education. When looking at a school, search for it on the websites for these two agencies.
If it's easy, it's a scam.
Many diploma mill schools make it suspiciously simple: fill out a form, put in your credit card information and start "learning" (or in some cases, even receive your diploma immediately).
Look for student services.
Accredited colleges sport a long list of student resources, including a library, class lists, staff directories, advising help and more.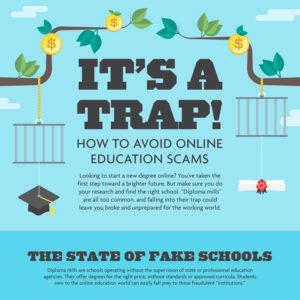 SOURCES
2. https://employerschoicescreening.com