Find Your Perfect School
www.premiumschools.org is an advertising-supported site. Featured or trusted partner programs and all school search, finder, or match results are for schools that compensate us. This compensation does not influence our school rankings, resource guides, or other editorially-independent information published on this site.

Share this infographic on your site!
Grocery Shopping on a Budget: A Guide for College Students
Most college students have a strict budget for buying food each month. And though some just throw their hands up and buy a bunch of ramen noodles and bottles of water, there are better and healthier ways to get nutritional food at a cheaper price. Let's take a look at grocery shopping for the college student on a budget. (8)
1. Coupons, coupons, coupons
You'd be surprised how much you can shave off your grocery bill using coupons! Be sure to check different places like print circulars, websites and mobile apps.
79.8%
Percentage of consumers who regularly use coupons(1)
$1.53
The average value of a coupon(1)
Internet coupon usage has grown by 263% since 2009.(1)
2. Plan ahead and make a list
Don't go in thinking you can just remember what you need. This always leads to picking up items you don't need. So make a list and stick to it.
6%
Percentage of shoppers who say they refer to grocery lists they've made on their mobile phones (2)
21%
Percentage of shoppers who say they make a list online and print it out (2)
3. Use discount cards/student discounts.
Always check to see if your local grocery store gives student discounts. If not, most of them have discount cards that can help lower the price.
Only 17% of students shopping online say they took advantage of a student discount. (3)
4. Check weekly ads.
It's always better to shop when a store is running a promotion.
50%
Percentage of grocery shoppers who read circulars and printed weekly ads(4)
20%
Percentage of younger grocery shoppers who use mobile coupons while grocery shopping (4)
5. Buy store brands.
Usually there is little to no difference between brand name goods and generics. Well, except the price.
Buying store or generic brands over name brand goods saves a consumer an average of 30%. This adds up to $1,500 per year if you spend $100/week on groceries. (5)
6. Don't buy more than you need.
It's trendy right now to buy in bulk. And there are advantages to it: it can save you money and it's better for the environment. But getting more than you need of anything takes up space in your dorm or apartment—not to mention you're more likely to throw out spoiled food you never got the chance to eat.
$162 billion
The total annual cost of food wasted by consumers in the U.S. This is about $1,300 to $2,300 per family each year. (6)
7. Eat before you shop.
This is a given. Shopping on an empty stomach means trouble.
In multiple studies, it's been shown that being hungry while shopping will increase the likelihood that consumers will buy high-calorie foods. (7)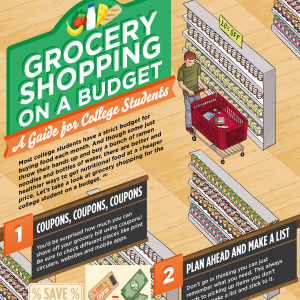 Sources:
1. http://www.ilovecouponmonth.com
2. http://www.mnn.com
3. http://www.sheerid.com
4. http://mediasalestoday.com
5. http://www.consumerreports.org
6. http://www.motherjones.com
7. http://www.livescience.com
8. http://iu.spoonuniversity.com