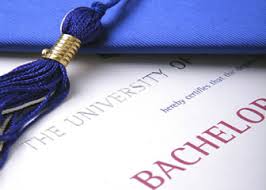 A bachelor's degree is the standard college degree earned at a college or university after four years of study. The requirement for earning the degree is usually 120 credits in a semester system or 180 credits in a quarter system. Another name for the degree is the baccalaureate, which is a Latin term meaning "student with the first degree."
A bachelor's degree program has a general education requirement in the first two years that include English composition, mathematics, foreign language, history, natural or physical science, social science and humanities. These liberal arts courses provide students with broad learning in multiple disciplines and a foundation for intellectual and personal development. The last two years are concentrated on the major and a minor or a second major, with room for electives chosen by the student.
The most common designations for the degree are the Bachelor of Arts (B.A.) and the Bachelor of Science (B.S.). The B.A. is conferred for majors in the arts, languages, social sciences and humanities. The B.S. is usually the degree for technical and science related disciplines. Many colleges will award either degree for a major depending on whether the student fulfills a foreign language requirement (B.A.) or a laboratory science/mathematical/computational skills requirement (B.S.). For example, a student may graduate with either a B.A. in Anthropology, or a B.S. in Anthropology.
Besides the B.A. and B.S., other designations used frequently are:
• B.Arch. – Bachelor of Architecture
• B.B.A. – Bachelor of Business Administration
• B.E. – Bachelor of Engineering
• B.Ed. – Bachelor of Education
• B.F.A. – Bachelor of Fine Arts
• B.I.T. – Bachelor of Information Technology
• B.S.N. – Bachelor of Science in Nursing
• B.S.W. – Bachelor of Social Work
The bachelor's degree is the qualification required for many careers and is also a stepping stone for graduate degrees and professional programs such as law and medicine. The four year program is designed to promote the intellectual and personal development of students and provide them with broad knowledge of the wider world and instill in them a sense of social responsibility. These qualities prepare them for success in the global economy and for informed citizenship, as well as for a fulfilling personal life.
The advantage of having a bachelor's degree is concretely represented in surveys examining the earning power of higher education. In 2015, the U.S. Bureau of Labor Statistics looked at earnings of persons age 25 and over by level of educational attainment. The median annual wage of those with a bachelor's degree was $70,400 and for workers with a high school diploma was $36.210. Those with graduate and professional degrees earned much higher salaries– master's degree: $66,420; doctoral or professional degree: $100,490.
A 2014 report
examining lifetime earnings by highest educational attainment showed that the typical college graduate will earn $1.19 million over the entire working life. This is twice the amount earned by the typical high school graduate over a lifetime, of $580,000. Other studies report that the college graduate is more likely to be employed full-time, and less likely to be unemployed compared with those with less education. High school graduates may be deterred from attempting the bachelor's degree when facing the considerable costs of a four year college education. A way to reduce costs would be to attend a community college for two years and then transfer to a four year college. Many community colleges have an articulation agreement with a college of university where the credits earned over two years are directly transferred to a bachelor's degree program. The student should also explore fully the financial aids offered by different colleges.
Economic advantage is not the only reason a young person should consider the bachelor's degree. It's the learning and human growth that occurs in a person who fully engages with the opportunity being offered. As Dr. Hunter Rawlings president of the American Association of American Universities put it, "Genuine education is not a commodity, it is the awakening of a human being."