High school graduates often mistakenly think a four-year college degree is the automatic next step. Trade schools provide a valuable alternative that should be considered. A trade school is a vocational training institution that teaches technical skills for a specific career. Trade schools shouldn't be confused with community colleges, which offer two-year, lecture-based instruction.
Trade schools allow students to bypass general education and immediately jump into hands-on application of course content. Most trade schools confer diplomas and certificates that last one year or shorter. Their programs are commonly focused in automotive technology, medical billing, cosmetology, food service, massage therapy, paralegal studies, HVAC, and similar trades.
Table of Contents
Benefits of Attending a Trade School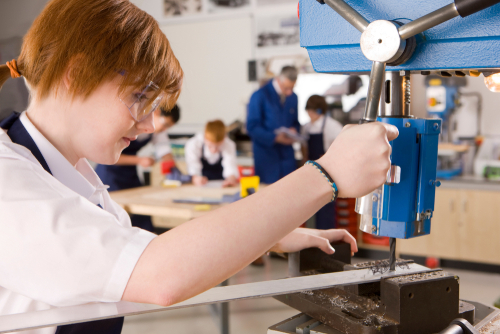 Traditional college education isn't requisite for many careers. Our society depends on skilled tradespeople with the practical training to unclog sinks, fix furnaces, and rewire homes. Trade schools produce technical graduates to enter these in-demand professions. The NCES reports that trades provide a median annual salary of $35,720; however, jobs like electrician, plumber, commercial driver, and web developer pay significantly more.
Trade schools are completed much more quickly to accelerate employment and maximize lifetime earnings. Trade schools cost a fraction of colleges, so students save an average of $94,000. Another big advantage is trade schools hone high-precision skills for greater job security.
Applying to Trade School Programs
If you decide trade school is your ideal fit, there are several factors to consider before the application process. The majority of trade schools have open admissions, so your list of options is voluminous. Narrow your choices by checking for national accreditation. While trade schools aren't regionally accredited, they can be reviewed by the Accrediting Commission of Career Schools and Colleges (ACCSC). The Accrediting Council for Independent Colleges and Schools (ACICS) is another prominent agency.
Accreditation ensures that your technical training is suitable, industry recognized, and financial aid eligible. Ask the trade school's admission office about retention, job placement, apprenticeships, and class size to aid your decision.
Examples of Accredited Trade Schools
Trade schools come in various shapes and sizes. For example, some focus on allied health professions like the ABHES-accredited Pima Medical Institute. This trade school has 16 U.S. locations from Arizona to Montana to offer programs in dental assisting, nursing, pharmacy, phlebotomy, and veterinary. Others are rooted in construction like the ACICS-accredited Apex Technical School.
Located in Long Island City, this trade school offers 900-hour certificates in pipefitting, welding, air conditioning, and more. A growing number of online trade schools are being established too. The DEAC-accredited Penn Foster Career School delivers diverse diplomas online from carpentry and jewelry design to desktop publishing and dog obedience.
Overall, trade schools are accredited vocational training centers that give students a head start for success in technical work. CNN Money reported that an influx of students has made trade school enrollment soar by nearly 15 percent. Trade schools are becoming a popular alternative for high-skilled talent to enter professions with a labor shortage. A trade school could deliver the hands-on training and job placement assistance to reach your goals.
Related Links: