Find Your Perfect School
Premium Schools is an advertising-supported site. Featured or trusted partner programs and all school search, finder, or match results are for schools that compensate us. This compensation does not influence our school rankings, resource guides, or other editorially-independent information published on this site.
You might've not known this, but teacher assistants exist. They are called paraprofessionals. Paraprofessionals help licensed teachers and students in several ways. While paraprofessionals are not necessarily required to obtain a license, there's a minimum requirement to work as one.
What Paraprofessionals Do
Paraprofessional education prepares students to meet the standards for paraprofessional educators established in response to the No Child Left Behind Act and to support teachers in various classroom settings. While paraprofessional roles have been around since the '60s, it's just recently that they've gained popularity.
---
Quick Summarization:
Many are unfamiliar with paraprofessionals since this program is not as famous as other degree programs. More clearly, paraprofessionals support students and teachers within and outside classrooms. These professionals have the responsibility to help teachers, tutor students, and create lesson plans and classroom management.

While some paraprofessionals serve small groups or entire classrooms, others work one-on-one with students. Despite not having the same teacher training, the law still requires paraprofessionals to complete specific requirements, such as associate degrees in paraprofessional studies.
---
Methodology
The Paraprofessional online associate programs and undergraduate schools on our list boast outstanding academic features. They are ideal for obtaining an associate degree in this field, leading to a bachelor's degree or qualifying graduates for entry-level jobs.
In particular, these Online Associate in Paraprofessional degrees:
Are 100% or partially web-based, so student life becomes more manageable for learners, especially those seeking to earn the degree without compromising their other obligations,
Feature outstanding curricula for hopeful assistant teachers, emphasizing the foundational principles, theories, and practices as they relate to modernized strategies and practice in professional settings,
Are facilitated by an excellent panel of Paraprofessional instructors that are known for their impressive credentials and experience in the field,
Offer federal aid programs and discount opportunities for students seeking financial assistance,
Highlight quality online or hybrid education through a Learning Management System that offers easy virtual access to the student's coursework, as well as other student tools or resources,
Earned proper regional or national accreditation from academic authorities,
Are well-regarded by organizations concerned with advancing Paraprofessional education and assistant teaching as an occupation,
Positive reviews from Online Associate in Paraprofessional students or alumni.
Find out more about the selection of outstanding degree programs on our Methodology page.
---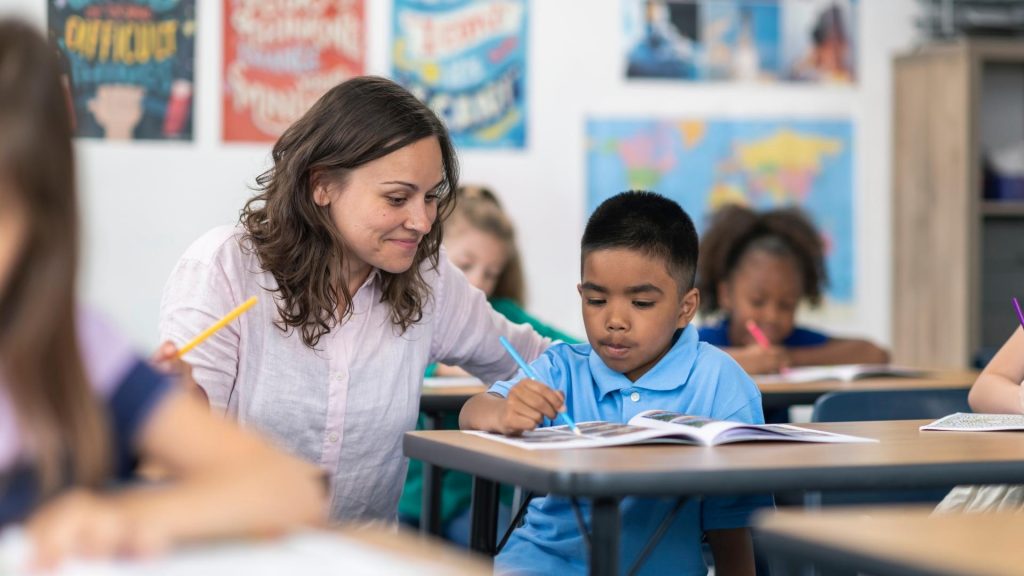 13 Best Online Associate in Paraprofessional Degrees
Charter Oak State College
Charter Oak State College's online Associate in Science Degree in Paraprofessional Studies prepares aspiring paraprofessional students to assist teachers and students at public schools. This online learning degree develops a student's teaching skills and techniques through various online courses.
This degree is also best suited for students who someday wish to become special education paraprofessionals.
Program courses include:
Paraprofessional Training
Early Childhood Education
Diversity & Ethics in Early Childhood Education
Health, Safety & Nutrition: Birth to Eight
Autistic Learner and Assistive Technology
If you're planning on continuing your education, you'll be happy to know that you can transfer your credits in the associate degree to COSC's Early Childhood Education or Child Studies bachelor's degree program. Students enrolled in the program can also qualify for financial aid.
---
Lewis Clark State College
Lewis Clark State College's Associate in Paraprofessional Studies is an online program primarily aimed at students who want to focus their work in K-12 schools within Special Education, English as a New Language, and Reading. The coursework has a mix of technical and general education classes focusing on special education. Lewis Clark State College also provides financial aid for its online students.
Coursework includes:
Written and Oral Communication
Mathematics for Elementary Teachers Ii
Diversity
Foreign/Heritage Language
Arts and Literature
Psycholinguistics, Literacy, and Language Acquisition
Teaching Culturally and Linguistically Diverse Learners
These courses will allow future special education paraprofessionals to understand and efficiently teach elementary education to students with disabilities and different learning needs. This degree emphasizes the instructional standards for academic, motor, cognitive, and life skills.
---
St. Charles Community College
The Associate of Applied Science in Paraprofessional Studies at St. Charles Community College is designed to prepare students in paraprofessional roles in a regular classroom setting. This online associate's degree program requires students to complete general education courses and paraprofessional electives.
Students in this degree program will also develop the skills they need to assist teachers in diverse school settings, such as those in special student populations.
Program courses include:
Child Psychology
Introduction to Teacher Education
Foundations of Education in a Diverse Society
Multicultural Education
Education of Exceptional Learners
Nutrition, Health, and Safety of Children
One thing unique about this online paraprofessional associate's degree in paraprofessional education is its STEM course. This specific course will allow students to help certified teachers create a lesson plan that can encourage young minds for professions in STEM.
---
Bucks County Community College
Bucks County Community College's Associate of Arts in Education – Paraprofessional Instructional Assistant will help students develop their teaching and assisting skills and quickly land a job in Pennsylvania and beyond. Students enrolled in this degree will have to complete five hours of actual classroom settings observation to understand the field thoroughly. This can be held through online conference calls.
Program courses include:
Effective Speaking
Foundations of Education
Introduction to Psychology
Human Growth and Development
Science and Math Experiences for Young Children
Introduction to Exceptionalities
Children's Literature
Individuals with the heart and passion for teaching special education can learn everything they need through courses that provides an overview of diverse exceptional learners.
Additionally, this degree focuses on the current issues in the education of students with learning disabilities, cognitive impairment, emotional disturbance, and other placement options.
---
Portland Community College
Portland Community College offers an online associate degree for aspiring paraeducators. The online Associate in Educator degree helps non-licensed educators establish foundational knowledge and skills they need to apply in various classroom settings to become paraprofessional educators.
This degree is also transferable to four-year institutions for continuing education.
Program courses include:
Introduction to Education for Paraeducators
Human Development
Portfolio Development II: AAS Paraeducator Addition
Introduction to Teaching Students with Learning Disabilities
Sheltered Instruction for English Language Learners
If in the future you decide to become a licensed teacher, you can use this degree as a starting point for a bachelor's degree in education.
---
Nebraska Indian Community College
Nebraska Indian Community College offers online paraprofessional studies that help students achieve their dreams of becoming substitute teachers. The online Associate of Arts in Paraeducator/Pre-Teacher Education helps students obtain the skills and knowledge needed to be qualified as K-12 teacher assistants. In this associate's degree, students will work closely with their faculty advisor in tailoring their program toward their future goals.
Program courses include:
Multicultural Education
Project Para
Health Education and Wellness
Additional Language Acquisition & Development
Developmental Psychology
Career Survival
In addition to college coursework, students can apply for internships and job shadowing opportunities in Santee Community Schools and UMÓⁿHOⁿ Nation Public Schools. These opportunities will allow you to create a more attractive resume and enhance your knowledge and skills, making graduates better teacher assistants.
---
Spokane Falls Community College
Spokane Falls Community College's online Associate in Applied Science – Education Paraeducator has several concentrations: Special Education, Early Childhood, and School Library Media Technician. While these are different concentrations, they all have the same goal: to provide students with the paraprofessional education they need to succeed in the field.
Program courses include:
Paraeducator Basics
Child Development
Behavior and Classroom Management
Human Relations Leadership Elective
Introduction to Developmental Disabilities
Before graduation, students must complete on-the-job training to ensure they are ready for the job market. Furthermore, students who wish to continue to a four-year university and broaden their teaching career must also complete a certification.
---
Northland Community and Technical College
Northland Community and Technical College's paraprofessional degree involves rigorous coursework in early childhood education. The online Early Childhood & Paraprofessional associate's degree program allows students to obtain the skills they need to create efficient classroom and relationship management to land a career in paraprofessional roles. The intense coursework will focus on how a child's brain develops from birth to adolescence.
Program courses include:
Intro Early Education
Child Growth/Develop
Behavior Guidance
Health Wellness Nutrition
Family/School Relations
Upon graduation, students can help licensed and certified teachers with student development in the classroom. And because of the health wellness nutrition course, graduates will have sufficient knowledge on how students in elementary education can have proper nutrition.
---
Genesee Community College
Genesee Community College offers an online Teacher Assistant degree program for aspiring paraprofessionals. The associate in applied science curriculum aims to impart basic knowledge and practices in assisting teachers. Aside from theoretical knowledge, the program will sharpen your communication and thinking skills to handle diverse classroom communities effectively.
Program courses include:
Child Development
Basic Communication
American Sign Language
Introduction to Human Services
World Regional Geography
Children's Literature
Aside from taking core courses, you'll also need to choose from any of the program's areas of concentration: Generalist, Developmental Disabilities, and Learning Strategies and Technologies. You'll also get to attend a seminar on Child Abuse as part of the program's requirements.
---
Southern State Community College
Southern State Community College's Associate Degree in Paraprofessional Education is perfect if you're looking for a fully online program. The curriculum consists of general and core courses designed for a virtual environment to provide relevant knowledge and skills effectively. With this program, you'll be able to learn how to prepare various classroom materials, help with administrative tasks, and handle students with special needs.
Program courses include:
Introduction to Education
Principles of Psychology
Guiding Children's Behavior and Learning
Fundamentals of Effective Speech
Families, Communities, and Schools
Aside from the online courses, SSCC's paraprofessional education program also includes a seminar and practicum to enhance your teaching skillset further. After completing the degree, you may work as an instructional assistant or teaching aide in private and public schools. This program is also a great start for students earning a bachelor's degree afterward.
---
Bay Mills Community College
Bay Mills Community College offers an Associate of Arts in Education program to build a good liberal arts foundation for future paraprofessionals. Get the training to effectively assist the teacher in managing a diverse classroom and students with their schoolwork through one-on-one or group discussions. With its online program, you may conveniently work on your coursework and attend asynchronous classes at home or in the office.
Program courses include:
Public Speaking
Introduction to Education and Student Diversity
Intermediate Algebra
Fitness and Wellness
Native American Awareness
After completing the curriculum, you may seek employment in various educational institutions or continue learning through a Bachelor's program. Transfer plans are available so you may continue your education with ease.
---
Chippewa Valley Technical College
The Chippewa Valley Technical College offers an online associate's degree in Foundations of Teacher Education for students seeking a paraprofessional career. Work alongside licensed teachers by learning how to compute grades, do paperwork, and facilitate classroom discussions. Be trained by credible professors and attend virtual classes from anywhere.
Program courses include:
Child and Adolescent Development
Guiding and Managing Behavior
Introduction to Educational Practices
In addition to the core and general education courses, you'll be asked to participate in a practicum to provide practical experience. If you plan to pursue a four-year program, you may transfer eligible credits to your new degree within CVTC or with partner universities.
---
Dakota College at Bottineau
Dakota College at Bottineau is another higher learning institution that offers an online Associate of Applied Science in Paraprofessionals Education specifically designed for individuals who wish to work with children in various settings. This includes daycare centers, home childcare, schools, and preschool programs. The program teaches them to plan activities that promote children's social, cognitive, and psychological development.
Students of this online degree program can choose among two majors, including the preschool program option with a focus on education and another with a focus on family childcare. The latter incorporates business management into its curriculum.
It is important for students who opt for the family childcare option to remember that a background check is part of the requirement of this program.
Some of the coursework included in the curriculum are:
Introduction to Early Childhood Education
Introduction to Paraeducation
Emotional Development and Guidance
Leadership Through Service
Home, School, & Community
The program offers electives. Students may consult with their program advisor for electives.
---
What You Need To Know About Paraprofessional Studies
Before the 20th century, paraprofessional was one of the most accessible careers. But when the "No Child Left Behind Act" was implemented, the requirements became much stricter. You will be unlikely to work in this industry if you don't have an associate's degree in paraprofessional studies.
You will assist a licensed teacher in managing the classroom as a paraprofessional while working under that teacher. Additionally, you can be asked to work one-on-one with a kid with special needs or whose learning is remarkable compared to the rest of the class.
---
Online Associates in Paraprofessional Common Courses
Child Psychology
This course studies the human development of a child from birth to adolescence. It highlights both contemporary and historical research and theoretical perspectives on development and genetic and environmental factors. Furthermore, it studies the sequence and timing of mental, physical, and personality development over childhood.
Intro Early Education
This course will look into various early childhood programs for kids from birth to eight years old and explore career prospects in early childhood education. It will look at the qualifications needed for the profession, the responsibilities, the rules, and the personal traits of successful early childhood educators.
Early Childhood & Paraprofessional
The impact of student exceptionalities on learning is examined in this course. Students apply their understanding of developmental requirements, developmentally appropriate settings, and successful teaching strategies for students with disabilities in an early childhood setting.
Intro to Special Education
This course studies multiple traits of exceptional learners, such as learning disabilities, mental retardation, emotional or behavioral disorders, hearing impairments, communication disorders, visual impairments, physical disabilities, and giftedness.
---
Online Associates in Paraprofessional Career Prospects
Teacher Assistant
A teacher assistant aids in lesson preparation and delivery and facilitates student learning. Teacher assistants might perform full- or part-time shifts. Before they may work with students, they typically need to pass tests, though it's not always necessary for them to hold a legitimate university degree.
Annual Median Salary: $29,360
---
Substitute Teacher
If a student's regular teacher cannot teach the class, a Substitute Teacher, or Sub, instructs and guides the students. They are responsible for controlling classroom conduct, swiftly analyzing instructional plans, and producing reports that show the students' progress to their regular teachers.
Annual Median Salary: $42,680
---
Tutor
If you don't want to teach in a classroom or don't have teaching experience, you can serve as a tutor by earning an online associate's degree in education. Tutors place more emphasis on their topic knowledge than their teaching experience while working with students. Tutors offer support to students at all grade levels.
Annual Median Salary: $52,409
---
Frequently Asked Questions
What is a Paraprofessional?
Paraprofessionals are educational workers who do not possess the license to teach but carry out teaching-related duties in support of certified educational professionals. They are often referred to as teacher assistants, teacher aides, or paraeducators. They frequently collaborate with fully qualified lead instructors, although they occasionally operate more independently.
What makes a good Assistant Teacher?
An online associate's in paraprofessional is a reliable entry point to a fulfilling job in childcare or education. Most two-year programs give students a fundamental and theoretical understanding of the subject. Under the guidance of a certified teacher, they also gain classroom and field experience. This might prepare them for an easy transfer into various employment environments.
Is an online Associate degree in Paraprofessional credible?
An online associate degree in paraprofessional serves as a credible first step to a meaningful career in education or childcare. Graduates from most two-year programs gain foundational and theoretical knowledge of the field. They also get classroom and field experience under a licensed teacher's supervision. This can prepare them for a smooth transition into many workplace settings.
How do you become a Paraprofessional?
Although there isn't a set educational requirement for becoming a paraprofessional, certain degrees, licenses, certificates, or training may be required by companies. Everything depends on your industry, your location, and your employer.
What are the admission requirements for an online Associate degree in the Paraprofessional program?
Admission requirements for an online associate degree in paraprofessional will vary at each institution. However, institutions typically require a GED certificate or a high school diploma. An application fee and entrance exam results could be additional admission requirements.
What are some of the qualities needed to become a successful Paraprofessional?
Forming young mind minds is no easy task. That's why most teachers need the help of teacher assistants to help manage certain aspects of the classroom. To become an effective paraprofessional, you need to demonstrate various skills. Excellent communication and interpersonal skills will help you discuss key points effectively while developing good student relationships.
You'll also need to demonstrate creativity and resourcefulness since some lessons may be understood better with varying teaching styles. Lastly, it takes a lot of patience to be a successful paraprofessional. It's best to be empathetic and extra understanding when handling young learners.
Is an Associate's degree in Paraprofessional studies better than a certificate?
Depending on your goals, getting an associate's degree may be more advantageous than a certificate. Typically completed in 2 years, an associate's program lays out the necessary pathway for a career in education, providing relevant courses that may be transferred when pursuing a bachelor's degree.
On the other hand, a certificate provides a limited number of courses and may be used as good merit when applying for entry-level positions. If you're thinking long-term, an associate's may take longer but will give you a better footing in your career.
---
Key Points to Ponder
Paraprofessionals perform vital roles in education and contribute to inclusive classrooms. They provide further assistance in the classroom, giving students greater chances to receive one-on-one assistance.
Everyone wins when paraprofessionals are recognized as essential parts of the educational team by students, teachers, and families.
---
What's your next move? Earn your Online Bachelor's in Education and Teaching degree.
Additional Resource: