Find Your Perfect School
Premium Schools is an advertising-supported site. Featured or trusted partner programs and all school search, finder, or match results are for schools that compensate us. This compensation does not influence our school rankings, resource guides, or other editorially-independent information published on this site.
Are you interested in being a generalist? Then these programs offering online Associates in Arts degrees will point the way!
Indeed, there's great value in being a generalist, particularly in a world where being a specialist has been emphasized since elementary days. With an online AA degree, you have a broad knowledge across multiple disciplines aside from becoming a lifelong learner.
Quick audio summary:
---
Quick Summarization:
Choosing an online associate in arts online degree program should be based on your personal circumstances including your interests, goals and preferences. You should check out the program's website for details on its curriculum, number of credits and their transferability, and quality of instruction.
---
Methodology
For students seeking the online Associate in Arts degree program that is best suited to their needs, it's no easy task! Generally, your college and associate program hunt should factor in top-quality academic standards, valid accreditation status, outstanding learning and graduate outcomes, and stellar student-centric services.
In particular, the Associate of Arts online degrees on this list share these program features:
100% online or hybrid learning format, allowing for ease and flexibility in class attendance,
An outstanding Associate of Arts online curriculum that zeroes in on the subjects around which the discipline revolves, including courses in humanities, the sciences, technology, and the many forms of arts,
A fail-proof online management system, as well as online learning resources and tools, that enable students to make the most of their web-based academic journey,
Readily available technical services for online learning, as well as support services and career services to ensure impressive students outcomes,
Financial aid for Associate of Arts students who meet the requirements,
Appropriate accreditation from academic agencies that ensure that the college's and the Arts associate degree programs' academic standards are maintained,
Positive reviews from publications and organizations focusing on the discipline.
For more information, please see our Methodology.
---
10 Best Online Associate Degree in Arts Programs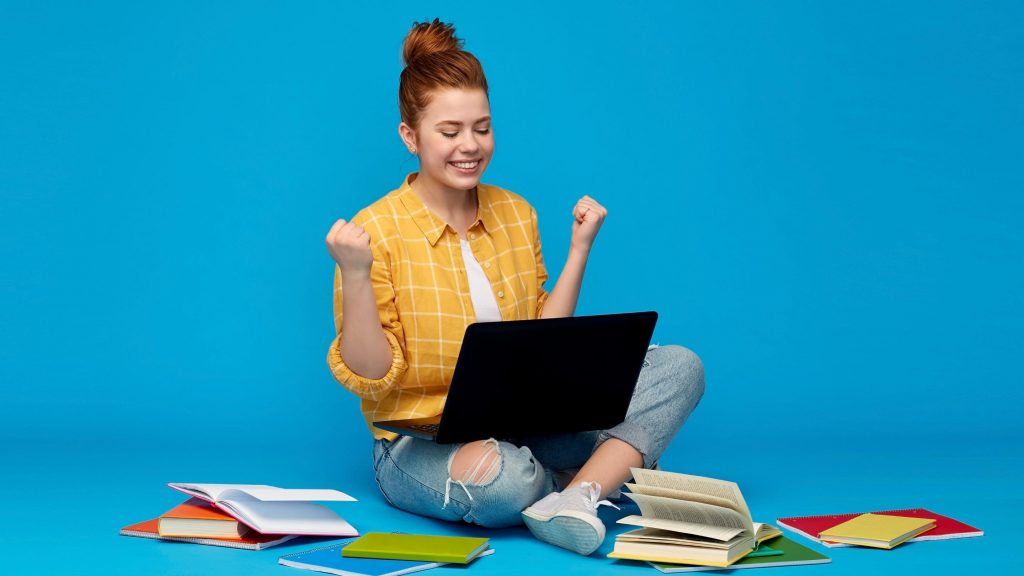 University of Delaware
UD's online Associate in Arts program provides students with the flexibility of earning a liberal arts degree anywhere, anytime! Students complete 60 credits. Previous college credits may be transferred to the associate of arts online program.
Incoming students to the online associate program are well-advised to avail of the academic advising services offered at the ACCESS Center. Students learn a wide range of subjects including mathematics, creative arts and humanities, and natural sciences and technology.
UD Online students use Canvas as their online learning management system (LMS).
---
University of Akron
The 100% online Associate of Arts program at Akron prepares students for advancement in their academic and employment careers. Students can transition to Akron's bachelor's degree programs in the arts, social sciences or education and use their associate degree to seek gainful employment. Coursework in the associate of arts degree includes English composition, public speaking, and natural sciences that equip students with an understanding of the natural world.
The online associate degree can be completed in two years on full-time study, and students cultivate a love for lifelong learning across diverse subject areas. The 60-credit associate in arts program encourage students to think in creative and critical ways, too.
---
Ball State University
BSU's online Associate in Arts in General Arts program is an excellent introduction to the general education requirements in college. Online students receive students and academic services similar to their on-campus counterparts.
The online associate degree program has asynchronous courses where students pass weekly assignments at their own pace but pass on or before the deadline. Online learning mimics classroom interactions through discussion boards, forums and emails. The 60-credit associate in arts program covers diverse subject areas including humanities, mathematics, and social sciences.
---
South Florida State College
The Associate in Arts online program complies with the first two years of university education at SFSC and at any of Florida's state universities (i.e., guaranteed admission). Applicants to the AA degree program benefit from the open admission policy with a high school diploma or GED equivalent and demonstration of ability to succeed in college coursework.
The online associate program's 60-credit curriculum includes gen ed courses. Small class sizes, student academic services, and flexible scheduling contributes to academic success. Students also receive quality education with many professors possessing doctoral degrees.
---
Northwest University
Northwest's Associate in Arts online program enables students to build a strong foundation for their life success! The two-year, 60-credit program meets the general education requirements for non-STEM bachelor's degrees, too. The college coursework includes natural sciences and social sciences, history, and English.
Note that the associate in arts program integrates Christian faith into the coursework while also preparing students for their selected major in the future. Students in this program may also become qualified for financial assistance from the Top Value university, according to U.S. News & World Report.
---
Spartanburg Methodist College
Without residency requirements, students in the online Associate in Arts program access their courses through the Brightspace LMS. Applicants aren't required to present standardized test scores and pay an application fee but can earn credits for previous academic courses. Coursework includes natural and social sciences, mathematics, and English, too.
The associate of arts online program can be completed on a part-time and full-time basis, and classes begin every eight weeks. Financial aid is available to defray the $300/credit hour cost.
---
Black Hawk College
BHC offers a fully online Associate in Arts program that provides its students with virtual special orientation services and support services. Students complete 60 total credits, or 20 eight-week courses, with enrollment available in five start dates. The associate in arts program coursework includes a gen ed core curriculum in the social sciences, humanities and fine arts, and mathematics.
BHC's associate in arts online degree program is unique in that it offers concentrations – accounting, business, and psychology. The general education courses and their credits can be transferred to a bachelor's degree. Students develop their critical thinking and communication skills, too, and develop an understanding of the historical context of diverse fields.
---
Rio Salado College
The online Associate in Arts program prepares its students for college life in four-year colleges and universities through a general education curriculum covering liberal arts. Flexible start dates and classroom schedules via its Block Calendar System appeals to diverse populations, too, and students can enroll full-time or part-time.
The 60-credit associate in arts degree online program covers college-level critical thinking and reading skills, interpersonal communication, and rock music. Financial aid is available with Success Coaches providing useful information about the options.
---
Harper College
The two-year online Associate in Arts program at Harper College offers its students with engaging academic experiences toward a four-year degree. The gen ed credits in the online program can be transferred to your chosen bachelor's degree program, and completion can be in as little as 18 months.
Students use the Blackboard LMS for their online learning activities. The associate in arts online program provides student support services, affordable tuition for in-district residents, and loans for laptops and wireless hotspots.
---
Kishwaukee College
At Kish, students in the online Associate in Arts program pursue the two-year general education coursework in preparation for a bachelor's degree. You can pursue either the general pathway or a specific program based on your chosen major. Full-time and part-time enrollment is also possible.
The -credit associate of arts degree online offers eight-week courses that make it easier to comply with the academic requirements. Students are well-advised to work with an academic advisor on their customized educational pathway.
---
Things to Know About Online Associate in Arts Degree Programs
Also known as an associate of arts degree but with a generalist focus, the associate in arts degree has several similarities to other associate degrees. The admission requirements, general education coursework, and academic rigor are similar, as are the options available after graduation.
Number of Credits and Time-to-completion
Most associate in arts degree online programs require completion of at least 60 credits of general education and elective courses. The liberal arts education has a typical two-year time-to-completion on full-time study but can stretch to three years on part-time matriculation. The associate of arts degree is widely considered as the first step toward a full-fledged four-year college degree.
But if you want to earn your associate degree faster, you will find accelerated programs. Central Piedmont has a compressed associate degree with a 12-month completion period.
Program of Study
The typical AA degree program consists of 20 courses that cover general education across multiple disciplines. Many online associates of arts programs categorize their courses into several requirements, such as mathematics, technology and natural science; creative arts and humanities; and social and behavioral sciences.
With an online associate of arts degree program, there's a dedicated LMS like Canvas or Blackboard for students to access their learning materials. Lectures, class discussions and weekly assignments are available on it.
Skills Learned
Don't dismiss online associates in arts programs for their emphasis on liberal arts education! Their focus on liberal arts prepare students for diverse workplaces with their wide range of transferable skills. Note that soft skills are highly desirable traits for employers because employees tend to be more productive, collaborative and creative.
The diverse soft skills you will learn in an online associate of arts program include effective oral and written communication; ability to lead and collaborate with others; and creative and critical thinking.
Other soft skills learned are problem-solving skills; open mind willing to understand different perspectives; and initiative to learn
Admission Requirements
The application process in online associate in arts programs are straightforward with applicants required to present proof of high school education. Minimum GPA may be required, as well as general education requirements in high school including English, algebra, and foreign language.
The Ideal Candidate for an Associate in Arts Degree
While online associates in arts degree programs have fairly open admission policies, the degree itself isn't for everybody! It takes unique qualities to thrive in these online programs.
If You're Undecided About Your Major
The beauty of an online associate of arts degree is its transferability and flexibility! If you're unsure about your field of study for a bachelor's degree, you can explore your options through an online AA degree first. You will also gain generalist knowledge and transferable skills while also saving money on tuition and incidental expenses.
If You Want to Transfer to a Bachelor's Degree Program
The best online associate of arts programs enable their graduates to transfer credits to non-STEM bachelor's degree programs. The fields of study include business management and administration, psychology, education, criminal justice, visual and performing arts, and political science.
While there's a strong focus on the liberal arts, many online associate of arts programs allow for customization in their coursework. Students can then pursue their higher education goals with a robust foundation in liberal arts and prepare for their desired major.
If You Have a Wide Range of Interests
Your academic goal may not yet have a specialist area and you have diverse interests that a specialized bachelor's program cannot satisfy. If you fit this mold, then an online associate of arts program is right up your alley! You will find plenty of interest areas offered by online AA programs, such as sign language, drama theater, and anthropology.
If You Want Numerous Options in Your Career
Individuals with a solid education in liberal arts are better prepared for the inevitable changes in the job market, particularly with automation and its related technologies. Graduates of online associate of arts are well-equipped to thrive in multifaceted, complex and challenging workplaces where dramatic shifts are expected.
With an online associate of arts degree, you become virtually indispensable, too, because your transferable skills can neither be copied nor replaced by robots!
If You Want to Make More Money
According to the Bureau of Labor Statistics, individuals with an associate degree earn $963 in median weekly wages. This is $154 more than those with only a high school diploma and $64 more than those with some college but no degree. The difference may seem small but it all adds up!
The Wide Range of Potential Careers for General Education Courses
Your solid education in liberal arts in an online associate in arts program prepared you for a wide variety of careers instead of a single, specific occupation.
There's a high demand for competent administrative assistants in the public and private sectors because these professionals are the backbone of the office! The liberal arts background opens doors to entry level positions, many of which have $39,680 as median annual salary.
With an average salary of $62,980/year, sales representatives make a good living! Again, the liberal arts education with an emphasis on transferable skills means the ability to sell products and services to the target market. Additional education and training may be necessary but the AA degree is an excellent start.
The $50,120 median annual salary among archivists means that their career is also among the better ones. The opportunity to preserve documents including manuscripts, films, sound recordings and photographs is a reward unto itself.
The main job of event planners includes ensuring that the hosts and their guests have a great time, whether it's a wedding or a birthday party. Transferable skills including problem-solving, communication, and collaboration are valuable in a job that pays $49,470 in median annual wage.
Thanks to English composition courses, graduates of associate in arts degree programs have expertise in the basic elements of writing! Many are hired for entry level positions as staff writers or technical writers for this reason, and the average pay of $78,060 per year with cash bonuses isn't bad either.
---
Frequently Asked Questions
Is it easy to transfer credits from an AA degree to a bachelor's degree program?
Yes, the best AA degree programs have policies that make it easy to transfer previous college credits to a bachelor's degree program. But check for the accreditation status, the similarity of academic requirements between the associate and bachelor degrees, and other program details.
Is it okay if you don't pursue a bachelor's degree soon after earning an AA degree?
Yes, it's okay if it isn't part of your educational goals yet. There's no shame in not immediately transferring to a bachelor's degree program.
Is it possible to take STEM courses in an AA degree program?
Yes, but these courses are offered as electives so check the program details first. You can also find online programs with a STEM emphasis, such as the one offered by the Moberly Area Community College.
Is it okay not to finish your online AA degree or to postpone its completion?
Yes, but you should remember that earning an associate degree is a crucial marketable credential!
By completing your AA degree, you're also locking in its validity and applicability for transfer to a bachelor's degree. But if you don't complete your AA degree, some of the general education courses may lose their relevance, meaning you have to retake them.
Is enrolling in a community college for an online AA degree worth it, cost- and quality-wise?
Yes, it is! You're getting quality education while also saving money on tuition.
Key Takeaways
Earning an online Associate in Arts degree results in quality education that opens doors of opportunities to higher education and gainful employment.
Establish a solid foundation in liberal arts and become a generalist with broad expertise in diverse areas.
---
Additional Related Articles: