Find Your Perfect School
Premium Schools is an advertising-supported site. Featured or trusted partner programs and all school search, finder, or match results are for schools that compensate us. This compensation does not influence our school rankings, resource guides, or other editorially-independent information published on this site.
Did you know that students in programs offering online associates in computer science degrees enjoy the least stressful college experience? We made the conclusion based on an Indiana University study that indicated students in computer science programs enjoyed more relaxation and socialization opportunities than students in non-STEM degrees!
This may run counter to the popular notion that pursuing a computer science associate degree is a time-consuming, mind-challenging endeavor. But there are good reasons why computer science students have more downtime while still getting quality education from accredited online programs.
Quick audio summary:

For one thing, students in online computer science programs have less voluminous paperwork to be accomplished than their non-STEM counterparts, such as those in social work and English literature programs. Of course, there are general education classes where intensive writing is required, but the typical associate in computer science programs have a greater focus on core and concentration courses.
In addition, students in online computer science programs have a more laid-back mindset due to the strong likelihood of rewarding jobs after graduation! According to the Bureau of Labor Statistics, computer and information systems managers have a median annual wage of $159,010!
---
Quick Summarization:
Your choice in an accredited associate in computer science degree program can make or break your chances of getting a quality education for entry-level positions in the field of computer science. With the right online associate degree, your opportunities for landing a well-paying job and establishing a career in computer science are at their highest!
The beauty of an associate degree in computer science also lies in the wide range of possible career paths that you can take, too. From being a computer programmer or software developer to becoming a database management professional, your knowledge and skills in computer science will take you places!
---
Methodology
Computer Science is arguably today's best field of study to explore, considering the technology-driven operations of organizations and businesses, as well as the lifestyles that people lead!
On our list are the country's most reputable Computer Science online degree programs at the associate level. Each of these colleges and the programs they offer stand out with these features:
Convenient class attendance options with 100% online or hybrid coursework,
Online or blended curricula featuring Associates in Computer Science's basic principles and theories enable students to obtain a strong, solid foundational knowledge of the discipline,
A robust Learning Management System featuring easily accessible virtual coursework, tools, and resources,
Transfer Path agreements with four-year colleges that facilitate each student's seamless transfer to a bachelor's program upon earning the associate degree,
Computer Science field experts, as online professors,
Financial aid for eligible associate degree students,
Accreditation from academic authorities that have established the protocols and standards for online associate programs, with an emphasis on Computer Science and computer-related degrees,
Affiliation with Computer Science industry organizations,
For more information, please visit our Methodology page.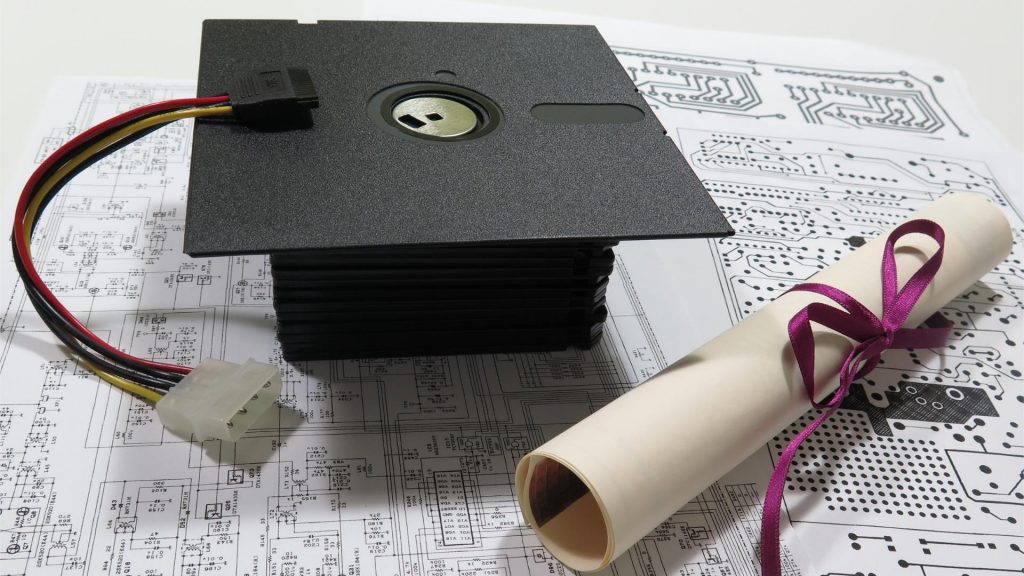 COMPUTER SCIENCE ONLINE ASSOCIATE DEGREE PROGRAMS
Franklin University
The transfer-friendly Associate of Science in Computer Science program at Franklin University also accepts up to 69% of transfer credits from college-level courses. This means cutting the average two-year time-to-completion and reducing the costs of an associate degree!
The 100% online program features courses with six-week and 12-week terms. Students will earn 64 credits if they enter the computer science associate degree program with zero college-level credits. The credits earned may be transferred to a bachelor's degree program at Franklin University and other accredited institutions of higher education.
Students develop technical skills in object-oriented design, development, and testing, as well as in quality assurance and database management. Software development is a major part of the hands-on training with extensive exercises in Java programming, and these skills are applicable to mobile applications and other frameworks.
Franklin University is known as a "university built for busy adults," and thus, its online computer science degree program attracts working professionals, too. The courses in the associate in computer science program can be accessed online anytime, anywhere. Examples include:
object-oriented programming,
data structure,
computer organization,
computer networks,
and database management systems.
Students must complete a practicum to earn the associate in computer science degree, and it's designed to improve their soft skills, including problem-solving. This is among the most affordable computer science associate degree programs, too, with 67% less tuition than the national average.
---
Southern New Hampshire University
SNHU's Associate of Science in Computer Science program has a 60-credit curriculum, but prospective students can transfer up to 45 college-level credits. Students with IT certifications, such as CompTIA, Thinkful, and Cisco, can also get credit toward their computer science associate degree.
While the 100% online associate degree program has an average two-year completion rate, the generous transfer credit policy can cut it short by 50% in many cases. Applicants will also find the no standardized test scores and application fee policies in their favor. Acceptance decisions to the online associate program are made on a rolling basis.
All 60 credits earned in the online computer science degree can also be transferred to SNHU's Bachelor of Science in Computer Science program. Students also build an impressive digital portfolio that can be used as leverage when applying for well-paying entry-level jobs in the field of computer science.
The program of study in an associate in computer science degree program creates a solid foundation in both technical and transferable skills, including problem-solving. The technical skills learned as part of the computer science degree program are programming skills in:
C++,
Java,
and Python,
as well as Eclipse and Netbeans.
Proficiency in the software development cycle and computer science theory is also expected of students in the associate in computer science program. Courses include programming languages, data structures, computer information systems, and operating platforms.
---
University of Arkansas Grantham
The main goal of the Associate of Science in Computer Science program at UArk-Grantham is to enable online students to acquire the skill sets necessary for entry-level positions in the computing industry. Students can also look forward to transferring the credits earned in the online associate degree program to Grantham's bachelor's degree in computer science program.
As an excellent online associate in computer science program, its main focus is on object-oriented programming through C++. Students also learn about interactive web pages, from their design and development to their maintenance, using:
CSS,
HTML,
XHTML,
and JavaScript.
Computer networks are also discussed in depth in the associate in computer science program.
This is a 60-credit computer science degree program designed for completion in 24 months, but time-to-completion varies depending on transferred credits and course load. Courses start monthly.
---
Faulkner University
The online Associate of Science in Computer Information Science program at Faulkner University is founded on Christian values and underlined by contemporary technology. Students in the associate in computer science program develop their problem-solving skills, too, particularly in addressing issues related to computer networks, databases, and programming.
Students must earn at least 63 credit hours to earn an associate in computer science degree. All the earned credits can then be transferred to Faulkner's bachelor's degree in a computer science program.
The curriculum consists of core courses, Christian literacy, and personal and social literacy courses, among others. The core courses in the computer science associate program are:
computer programming,
visual programming,
and database concepts.
Acceptance into the computer science associate program requires a high school diploma or a GED certificate. ACT/SAT scores may be required depending on the applicant's specific case.
---
The State University of New York – Ulster
SUNY-Ulster's completely online Associate in Science in Computer Science program has strong applications in both immediate employment and further education at four-year institutions. The SUNY prestige is a big part of the exceptional graduate outcomes of the associate degree program, thus, its inclusion in this list.
Students must earn 62-64 credits to earn the computer science associate degree. Discrete mathematics, information literacy, and computer architecture and organization are among its online courses.
Student learning outcomes in the associate in computer science degree program emphasize:
software engineering,
OOP/OOD technologies,
and the pursuit of computer science as a passion.
Many holders of the online computer science degree become successful Java programmers.
Acceptance into the computer science associate program requires a high school diploma or GED equivalent, satisfactory scores in the placement exam, and MAT 115 prerequisite.
Students in the online computer science program can apply for development assistance, including tutoring.
---
University of the People
The online Associate of Science in Computer Science degree program is unique in its approach in that it enables students to see computer science as an interdisciplinary discipline. Students gain technical skills informed by different disciplines, from mathematics to electrical engineering and physics, which means higher employability.
The 60-credit computer science associate program has several proctored general education courses, including college algebra and statistics. The bulk of the core courses is in:
programming fundamentals,
computer systems,
software engineering,
and web programming.
Students in the associate in computer science program also develop valuable soft skills for diverse workplaces. Applying scientific and mathematical principles in problem-solving, as well as developing critical thinking skills and solid computer science ethics, are a few examples.
The credits from the computer science associate program can be transferred to a bachelor's degree. Transfer of credits for the completion of the associate degree, however, is limited to 45 credits.
Students in the computer science associate program can turn to the program advisor for guidance on various matters.
---
South College
The online Associate of Science in Computer Science program is also a business-oriented program wherein students prepare for roles in business settings. The online courses include:
computer architecture,
database applications,
data structures,
computer programming and networking,
and operating systems.
The program of study in the associate in computer science program also emphasizes a range of soft skills, from problem-solving and critical thinking to communication skills.
Skills development in the associate in computer science program occurs as part of a holistic approach. Students participate in engaging virtual classroom discussions, intensive coursework, and stellar student support services. The latter includes tutoring services and access to math and writing labs.
Individuals who earn a computer science associate degree are well-prepared for jobs that involve aspects of business administration as these relate to computer science. Among their expertise is in the design and development of computer systems using computer science theory and other applicable disciplines.
South College is accredited by the Southern Association of Colleges and Schools Commission on Colleges (SACSCOC)
---
Brunswick Community College
The online Associate In Science in Computer Science program covers the first two years of a bachelor's degree program. Graduates can then transfer most, or all earned credits to higher education institutions.
Students who complete the academic standards for the 61-credit program will earn an associate in computer science degree. The online coursework covers diverse topics in programming fundamentals, including Java, C++, and Visual Basic Programming.
Admission into the associate degree in computer science program requires a high school diploma or equivalent. Standardized test scores and placement testing aren't required.
Brunswick Community College is accredited by the Southern Association of Colleges and Schools Commission on Colleges (SACSCOC).
---
Lincoln Land Community College
Students in the Associate of Arts in Computer Science program at Lincoln Land prepare for the rigors of occupations in computing in diverse organizations. Coding software for business purposes, building and maintaining computer networks, and creating large data systems, as well as ensuring cybersecurity. Graduates may transfer credits to a bachelor's degree in a related field, too, even a business administration degree. 
The online associate in computer science program features a well-rounded curriculum with general education, core, and elective courses. The core courses include:
computer applications and concepts,
computer programming concepts,
and discrete structures.
---
South Texas College
The Computer Science Department at STC offers an exceptional Associate in Computer Science program that empowers students to become lifelong learners as much as it enables them to pursue successful careers in computer science.
The 60-credit associate in computer degree consists of 60 credits with broad coverage of programming fundamentals, discrete mathematics, and computer organization.
Graduates are ready to take on careers not just in computer science but also in computer information systems. Professional proficiency in object-oriented programming is among their strongest suits.
Prospective students must first be admitted into the public community college and then meet the admission requirements into the associate in computer science degree program. Tutoring is available for computer science associate students.
South Texas College is accredited by the Southern Association of Colleges and Schools Commission on Colleges (SACSCOC).
---
Montgomery College
Another transfer-friendly degree program for the computer science major is offered at Montgomery College. The Associate of Arts in Computer Science and Technologies equips students with essential skills in computer software development for scientific and technical applications. In the curriculum, students can expect courses that tackle the theoretical concepts of computer science and the fundamentals of structured design and techniques relevant to computer programming.
Working professionals will find this degree ideal as it can be fully completed online. This learning method allows them to earn the program anywhere at their own pace, as long as they have an internet connection. Students who wish to earn this degree program must meet the degree requirements, including the completion of the following courses, among others:
Introduction to Programming
Computer Science
Natural Sciences Distribution with Lab
Calculus II
Foundations of Human Communication
By the end of the program, students are expected to apply logical skills and mathematical concepts integral to analyzing, designing, and implementing computer algorithms and programs. They must also be able to demonstrate proficiency in a high-level programming language.
---
Seminole State College of Florida
Seminole State College of Florida provides an affordable Associate of Science in Computer Programming & Analysis degree for those who make it big in computer science. This program teaches students the foundations of computer technology and the technical skills necessary to design, build, and implement IT solutions.
This associate's degree program offers students the option to specialize in three career pathways: simulation, programming, and web development. This makes it easy to pursue a four-year bachelor's degree in Information Technology. Even better, most courses can be completed either in-person or online, allowing students to study anytime and anywhere.
Some courses in the curriculum include:
Systems Analysis and Design
Principles of Computer Programming
Database Management
Network Concepts and Operating Systems
Advanced Java Programming
Computer Applications
Introduction to the IT Industry
Case Study in Business Programming
The computer science program allows students to obtain college credit certificates, including the Computer Programming Certificate, Computer Programming Specialist Certificate, Information Technology Analysis Certificate, and Web Development Certificate.
---
The University of Toledo
Students who want to pursue a lucrative career in computer science may want to consider earning an Associate's Degree in Programming and Software Development offered by the University of Toledo. This degree program equips future software developers with relevant knowledge and skills to help them master the newest programming languages and computer science techniques integral to business and web applications.
Through the guidance of experienced faculty, students will be able to take part in hands-on learning of computer software and programming tools that are in demand in today's modern employers. Some of the courses they will encounter include:
Introduction to Business
Computer Concepts
Microsoft Office Applications
Application Programming
Computer Hardware
Students who wish to enter the program must have a GPA of 2.0 or higher. They must also prepare an official high school transcript or GED equivalent, especially if they want to apply for financial aid.
---
American Public University
The Associate of Science in Computer Technology offered by the American Public University combines interpersonal communication skill building with basic computing, web development fundamentals, productivity applications, and programming essentials. Students can expect less math and more intensive theoretical courses approach. It is designed for people seeking to learn and understand more about computer and network support, as well as database and system administration.
Students will need to complete a total of 60 credit hours to earn the degree. They are allowed to transfer up to 45 credits. The online program includes the following courses:
Fundamentals of Programming
Advanced Productivity Applications
Introduction to Computer Science
IT Project Management
Web Development Fundamentals
At the end of the program, students must be able to identify the computing requirements needed to solve problems, build a basic computer system, and apply techniques, skills, and tools for software applications and web development.
---
Colorado Christian University
Colorado Christian University offers an online Associate of Science – Computer Science that focuses on creating new types of technology and cutting-edge development of innovative computer solutions. They are taught to understand the internal structures that involve data storage optimization, system memory, and various utilities that improve technology performance.
This program introduces students to application development, theory, and design for computer systems. Students are expected to develop algorithms using computational theory and operating systems. They are also allowed to explore and gain foundational knowledge of the relationship between computer science and Christianity.
Typically, students can complete the degree program in two years. The online program has a 60-credit-hour requirement. It includes courses such as:
Discrete Mathematics for Computer Science
Object-oriented Programming
Pre-Calculus
Intermediate Programming
Introduction to Data Structures
This 100% online associate's program offers generous transfer credit policies to help accelerate your degree. Classes are kept small in size to encourage individualized learning and networking. In addition, Colorado Christian University has accreditation from the Higher Learning Commission.
---
Computer Science: Development, Definition, and Direction
Contemporary computer science associate degree programs have evolved and continue to evolve based on the growth and development of computer science as an independent discipline.
Online associate degree programs that have fairly stagnant approaches to their curriculum, learning outcomes, and overall philosophy aren't keeping up with the times. In your school search, look for online programs that reflect the current principles and practices of computer science and even lead the way toward innovation.
Development of Computer Science
While the first electronic digital computer, the Z1, was invented between 1936 and 1938, it was only in the early 1960s that computer science became an independent area of study. Among its primary roots are the fields of mathematics, management information systems, and electrical engineering.
From the field of mathematics came the key concepts of computer science – first, the presentation of information as sequences of ones and zeros, and second, the abstract concept of stored programs. The emergence of the binary digit, or bit, as the basic unit of data transmission and storage in computer systems, resulting from these concepts.
The field of management information systems provided ideas for sorting and searching, information retrieval, database management, and graphical user interfaces. Business administration and management practices influenced the evolution of computer science as the latter's operations were designed to serve the former's needs.
The fundamentals of circuit design were borrowed from electrical engineering. The field was also instrumental in the development of miniature circuits for the transmission and storage of information, a key concept in computer science.
Definition of Computer Science
At its core, computer science is the study of computing and computer systems in finding technical solutions for complex problems at the organizational and societal levels.
Professionals who study computer science, usually called computer scientists, also tackle its theoretical and practical applications in diverse industries. These include artificial intelligence, software and hardware development, and computer architecture.
Family of Interrelated Areas of Study
While it's an independent discipline, computer science is part of a larger family known as the discipline of computing. Aside from computer science, there are four other independent yet interrelated disciplines – information systems, computer engineering, software engineering, and information technology.
Their separateness comes from their distinct curricular focus and research viewpoint. Their interrelationship is the result of their shared object of study – computing, But all five independent disciplines have several overlapping connections, thanks partly to the interdisciplinary connections that computer scientists act on.
Within the field of computer science itself, there are several major subfields, including programming languages, computer architecture, and software development. Other subfields are human-computer interactions, computational science, and databases and information systems.
Students with associate degrees in computer science programs must then be prepared for comprehensive coverage of computing. The intensive training across diverse subfields, however, prepares them for the wide range of career paths that their associate degree opens up.
Importance of Computer Science
The technology of computers underlines nearly every daily activity that we undertake today! Look around you, and you will find that computers in every shape, size, and capacity are in our daily lives – from the smartphone in your hand to the global economic systems that make contemporary life possible.
As a result, computer science and its innovations are all around us, and it's the main reason for its importance in our society, now and moving forward into the future. Professionals involved in computer science also perform crucial roles in our society, including:
Analyzing the impact of computing and computers on individuals, organizations, and society
Designing, building, and updating computer systems to address diverse needs
Leveraging computing solutions in addressing complex issues
Future Directions and Concerns
The computer science field is both an innovator in itself and a benefactor of innovations from other fields. Researchers in computer science are, for example, leading the charge in the creation of artificial intelligence as well as in client-server computing, mobile computing, and computer hacking.
---
What to Expect from Online Associate in Computer Science Programs
Types of Associate Degrees
An extensive school search reveals that there are four main types of associate in computer science degrees offered in online programs. There is no right or wrong choice since prospective computer science students have their individual career aspirations and personal circumstances.
Associate of Science (AS)
The AS degree enables students to establish a solid foundation in diverse computer science skills, including web programming and software development. This is the common educational pathway toward a bachelor's degree.
Associate of Arts (AA)
Like the associate of science in computer science degree, the associate of arts degree is a transfer-friendly option. But an AA degree has a more liberal arts-centric curriculum with courses in humanities, social sciences, and natural sciences.
Associate of Applied Science (AAS)
The AAS degree is suitable for prospective students looking for immediate employment immediately after earning an associate degree in computer science. The courses reflect the need for direct and full immersion in computer science at the undergraduate level.
Associate of Applied Business (AAB)
This is a less common associate in computer science degree, but it's the most suitable for students who want a business administration focus.
Some online programs may also prepare students for concentration in a bachelor's degree program. Web development, artificial intelligence, video game programming, and software development are a few choices.
Admission Requirements
Prospective students applying for admission to online associate in computer science programs must possess at least a high school or GED equivalent. Official high school transcripts are required for submission, too. Many programs require minimum grades for certain math and science subjects, as well as a minimum GPA.
Letters of recommendation, personal statements, and resumes are uncommon as admission requirements in associate degree programs. These are instead common among bachelor's degree programs.
Average Time-to-completion
Most online computer science programs have a two-year, or equivalent to four semesters, completion period, particularly for programs with at least 60 credits. But prospective computer science students can shorten the time to completion by transferring college-level credits or enrolling in accelerated programs. Part-time matriculation, however, will lengthen time-to-completion by up to 12 months.
When doing a school search, be sure to check out the maximum number of years allowed for completion of the academic requirements from the date of admission. It may range from five to seven years, and you must complete the requirements within the allotted time to earn the associate degree.
Curriculum and Courses
The best online programs in computer science are designed to provide computer science students with quality education and, thus, prepare them for immediate employment and/or further education. The curriculum and its series of courses are at the heart of quality education – think of the faculty and staff members as its soul – since these are designed to equip students with technical and transferable skills.
General education courses are intended to establish a solid foundation of transferable skills, while core or concentration courses are designed for the acquisition of technical skills. Elective courses are intended to allow students a certain leeway in tailoring their associate degree to their unique interests.
Introduction to Computer Science
The course is an introduction to the key concepts of computer science, including data structures, programming fundamentals, and software engineering.
Programming Languages
Computer programming is among the key skills of computer science degree holders, and it's among the reasons for their employability in diverse industries. Students learn the most common programming languages like Java, C++, and Visual Basic.
Data Structures and Algorithms
Students learn the methodologies used in problem-solving using computer science tools and technologies. The fundamentals of data structures and data science are also covered in this course.
Database Management
Database systems are complex and, thus, require professional management for effective and efficient operations. Students gain a solid foundation in these areas of study.
Software Development Lifecycle
Students take on the perspective of both the software developers and testers in the study of the lifecycle of software development.
Operating Platforms
The analysis and evaluation of operating platforms and architectures are at the heart of this course.
System Analysis and Design
Students explore the techniques, methodologies, and tools used in the design, development, and analysis of computer systems.
Computer Networks
Local area networks, wide area networks, and peer-to-peer networks, as well as the Internet, are the subjects of study in this course.
Security Operations
Cybersecurity is of paramount concern among computing professionals and thus, it's no wonder that cybersecurity is part and parcel of computer science curricula. Students learn about computer information systems and their potential for security breaches, too.
Web Development
Students design and develop functional websites using programming languages. Students learn both back-end and front-end web development and their applications.
Online Learning Technology
Every computer science program has its specific combination of online learning technologies, assessment tools, and other aspects of online education. All computer science students pursuing their associate degrees, however, must meet the academic standards set by their respective programs.
Online programs use digital technologies to deliver learning materials, conduct assessment activities, and facilitate communication between users. The specific technologies used are as follows.
Learning management systems
A learning management system (LMS) is an application designed to deliver learning materials, assign homework and quizzes, and track student progress, among others. Many LMS apps are cloud-based, thus, allowing students the benefit of web logins. Many are also integrated with productivity and collaboration tools, thus, making these applications the foundation of online education learning technology.
Productivity tools
These are applications or software designed to facilitate the daily tasks associated with online programs. Both students and faculty members can access the range of productivity tools available, such as calendars, cloud calling, and to-do lists.
Collaboration tools
Cisco Webex Rooms and Cisco Webex are a few examples of collaboration tools that enable students and faculty members to share information. Messaging, videoconferencing, and file sharing are among their common features. Face-to-face communication, albeit virtual in nature, mimics the traditional classroom experience.
Digital simulations
These are virtual scenarios that instructors create to mimic real-world situations and, thus, enable students to develop their practical skills. These are also designed to ensure the effective and efficient transformation of theoretical knowledge into practical skills.
Assistive technology
Closed captioning is an example of assistive technology designed to provide support services for students with disabilities.
Internship and Practicum Requirements
Many of the best online associates in computer science programs, whether offered by two-year community colleges or four-year universities, provide students with internship and practicum opportunities. This hands-on training not only develops technical and transferable skills in workplace settings but strengthens networking opportunities.
Desirable Workplace-Ready Skills and Traits
The most successful practitioners of computer science possess a good balance between technical and transferable skills. Their education and training in associate degree programs establish such a combination, and then they develop it further during professional practice.
Technical Skills
The technical skills developed in associate in computer science programs center on science and mathematics. Prospective students should consider skills and knowledge development in these areas during their high school years.
Proficient in mathematics
Aptitude for data, including data science and data visualization
Programming skills in the common programming languages
The ability for software development in its various phases
Proficiency in technical writing
Transferable Skills
The depth and breadth of general education in an associate degree in computer science largely influence the level of transferable skills that students develop during their studies. Employers seek the following soft skills among their applicants.
Communication skills
Problem-solving skills
Critical thinking skills
Collaboration skills
Of course, both transferable and technical skills should become part of a passion for lifelong learning! With the ever-evolving field of computer science, upskilling is a must!
Tuition and Financial Aid
In general, associate degrees are more affordable than bachelor's degrees because of the shorter time to completion and site of learning – many associate degrees are offered in community colleges with affordable tuition and financial aid options.
---
Careers and Salaries of Graduates of Associate in Computer Programming Programs
According to the Bureau of Labor Statistics, the employment of professionals in computer and information technology occupations has a projected growth rate of 15% (2021-2031). This translates to approximately 682,800 new jobs, and we can conclude that individuals with computer science associate degrees can have a share of the pie.
There's also the fact that an associate in computer science degree can be used to pursue diverse careers, including these five occupations.
The main duties of computer programmers are to write and test codes for computer programs and applications. Their expertise lies in the effective and efficient use of programming languages, such as Java and C++. Their work also involves collaborations with software developers, and their duties may even overlap.
Computer Support Specialists ($62,760/year)
These computing professionals provide a wide range of technical support services to individuals and organizations. Their duties include testing and maintaining existing computer networks, performing regular maintenance checks, and guiding users in solving computer-related issues.
Web Developers and Digital Designers ($79,890/year)
With their expertise in computer programming and graphic design, web developers and digital designers are sought-after professionals. Specializations are possible, too, such as front-end developers, back-end developers, and full-stack developers.
While most higher-ranking jobs in software development require a bachelor's degree, an associate degree combined with work experience is sufficient for career advancement. Software developers have extensive knowledge of both the software development life cycle and programming languages.
These are technical professionals with extensive skills in the design, development, implementation, and evaluation of computer systems and applications. An associate degree is a good start for junior-level positions as systems analysts, but a bachelor's degree is the best shot for higher-ranking positions.
---
Frequently Asked Questions
Is an Associate degree necessary to get jobs in Computer Science?
No, but it's an excellent start because an associate degree provides a solid foundation in fundamental knowledge and skills in computer science.
What are the educational paths in Computer Science?
Look into bachelor's degree programs in computer science and related fields after you have earned your associate degree and gained work experience. Master's degree programs are also an excellent option.
Should I get an Associate or Bachelor's degree in Computer Science?
Both are excellent choices, but an associate degree may be the best fit if you're already in a job that doesn't require a bachelor's degree for career advancement, you have limited time and funds, or you want to pursue a career after two years.
How can you choose the best online Associate in a Computer Science program?
Take a close look at the accreditation, graduate outcomes, curriculum and courses, overall reputation, learning technologies, and financial aid options of the online programs.
What are the related disciplines that can be considered aside from computer science?
Look into information technology, computer engineering, and information systems.
---
In Conclusion
Computer science is an ever-evolving independent discipline with pervasive influence in our daily lives and modern society.
Students in associate in computer science degree programs must be cognizant of fast obsolescence and adapt, even innovate, accordingly.
---
Before you go, check this out: