Find Your Perfect School
Premium Schools is an advertising-supported site. Featured or trusted partner programs and all school search, finder, or match results are for schools that compensate us. This compensation does not influence our school rankings, resource guides, or other editorially-independent information published on this site.
IT professionals and other people working in computer-related jobs were traditionally self-taught, but today, earning an online associate's in information technology is a must – even for those who can learn everything they need to know on the job.
An online associate's degree in information technology allows you to begin your IT career while also demonstrating to your employer that you are interested in expanding your knowledge to become more effective in your role.
Alternatively, if you want to change careers, enrolling in an online associate's degree in information technology provides you with educational flexibility to keep your current job while learning how to become an IT professional.
Quick audio summary:
---
Quick Summarization:
Many people begin their careers in information technology without a degree if they can demonstrate experience and intuition. However, if you want to work in the field of information technology, an online associate's degree in information technology will help you understand the ins and outs of the IT field. The associate's degree teaches you how computers work, how computer networks work, how to access the file and operational levels of a machine, and how to assist users in better understanding their computers.
---
METHODOLOGY
As Information Technology is now recognized as a critical component in government, private, and nonprofit operations, only the most well-trained professionals must be entrusted with the knowledge and training to handle IT matters.
It all starts with finding an associate's degree in Information Technology that can be earned online. These online programs, which are offered in numerous higher education institutions across the United States, must provide the learning and training ground for future experts in the field.
The top-rated online colleges on our list were indexed based on these impressive program features:
A 100% or blended coursework program that highlights flexibility and convenience in delivery
A curriculum that covers theoretical, research, and practical applications, albeit at the basic level, of Information Technology Education, for entry-level competence in career opportunities,
Academic personnel and faculty that exhibit leadership, expertise, and experience in IT,
Readily available support services, as well as academic and career resources,
Financial assistance for qualified online associate students,
Proper accreditation from Information Technology academic agencies to emphasize high education standards,
Positive reviews from accredited resources,
Favorable feedback from students enrolled and alumni.
Please read our Methodology to learn about our ranking process.
---
Best Online Associate's in Information Technology Degrees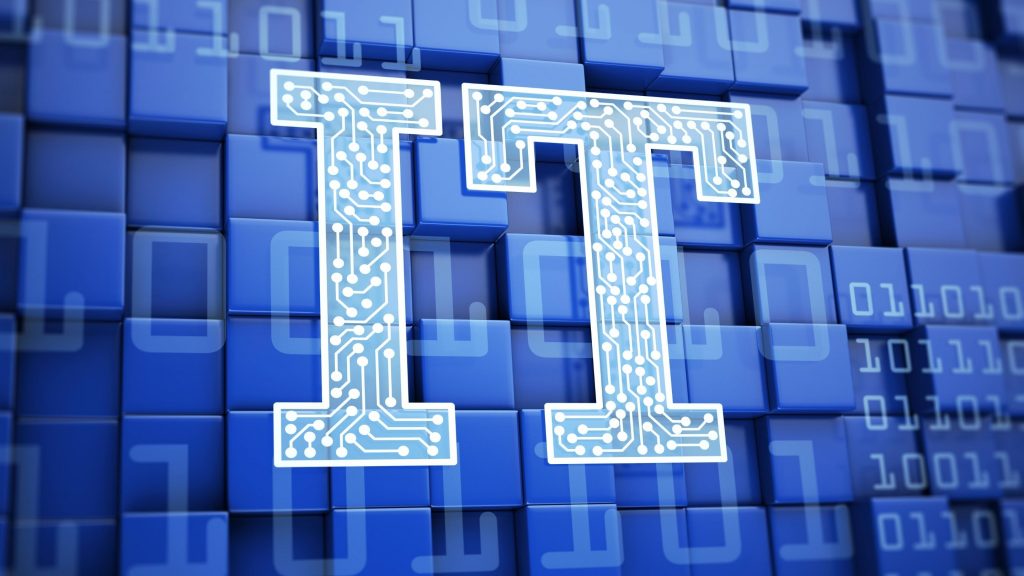 Southern New Hampshire University
Southern New Hampshire University is one of the most revered online schools receiving yearly recognition for its online education programs in America. One of the school's highly regarded online degrees is the 60 credits Associate of Science in Information Technology, wherein students can gain specialized technological and critical thinking skills.
SNHU's associate degree in information technology equips students with the fundamental skills and knowledge to advance their careers or pursue another. Furthermore, students enrolled will benefit from an information technology curriculum that provides an extensive general computing education in Scripting, Cross-platform technologies, Cybersecurity, Cloud Computing, Operating systems, Secure networking environments, and Project management.
In addition to its world-class online associate degrees, Southern New Hampshire University provides several financial aid options to its online students, such as loans and scholarships.
---
University of Cincinnati
The University of Cincinnati houses the Ohio Cyber Range Institute, a virtual environment where participants can learn about cybersecurity and practice defending networks against various threats. And because of this, it's a known fact that UC Online offers one of the best Associate of Applied Business in Information Technology.
The 63-credit associate degree program teaches students how to process, maintain, and analyze technology and the world around them and develop in-demand skills such as software proficiency, communication, critical thinking, analysis, and problem-solving.
In addition to learning the basic principles of information technology, the online IT associate degree program also introduces students to information security and assurance. This course will benefit the student more. It lays the groundwork for understanding the critical issues in protecting information assets and designing an information security system with suitable intrusion detection and reporting features, an in-demand skill.
When it comes to financial aid, the University of Cincinnati is known to give only the best to its students. The university met 42 percent of its students' financial aid needs.
---
Purdue University Global
Purdue Global is a branch of the prestigious Purdue University system, one of the world's most prestigious research universities where international students are welcome. Purdue University is not technically an Ivy League institution. It is, however, a very prestigious public university that offers education and financial aid on par with the Ivy League. The 60 credits Online AAS in Information Technology is a popular degree at the school.
This online IT associate degree provides a solid technical foundation for developing software applications, managing databases, cloud computing, designing websites, installing and maintaining networks, and troubleshooting hardware and software problems, to name a few.
Students are allowed to choose their focus field from five concentrations:
IT generalist
Cybersecurity
Data analytics
Programming and software development
Networking
---
Ivy Tech Community College
Ivy Tech Community College is best known for its lowest, if not free, tuition fees. Enrolling at Ivy Tech gives you access to a wide range of financial aid options, allowing you to avoid or significantly reduce student loan debt while earning a credential that employers value. The 60 credit hours Associate of Applied Science in Information Technology Support at Ivy Tech is one of the programs available at their online school.
This online information technology program guides students through the process of disassembling and rebuilding computers. It also requires students to work with customer support software and manage projects. This program is jam-packed with hands-on labs and the opportunity to obtain necessary certifications.
Students enrolled will also learn how to work with and support a diverse range of customers. They will learn how to diagnose computer problems and walk customers through the process of resolving those problems.
---
Minnesota State Community and Technical College
Minnesota State Community and Technical College offer a 100% online 60 credits Associate of Applied Science in Information Technology to prepare students to pursue a bachelor's degree or enter the workforce. The degree reduces the number of credits required to complete a bachelor's degree at other institutions.
Students learn to choose appropriate systems, develop necessary solutions, integrate various systems, apply existing systems, and administer systems to assist people. This career program prepares students for multiple roles in information technology.
The information technology program is an ideal combination of practical experience and general education for a constantly changing field. Coursework includes enterprise network technologies, technology in the humanities, IT security, cloud computing, microcomputer databases, and operating systems.
---
Indiana Wesleyan University
Indiana Wesleyan University is known for having one of the best quality education for distance learners. One of the online programs they offer is a 60 credit hours Associate of Science (AS) in Computer Information Technology that focuses on ethical decision-making from a Christian worldview. Students will also be expected to learn business practices and develop skills such as management and communication. This multifaceted educational program will prepare students for various entry-level positions in information technology.
This associate degree in information technology program covers the history of computer information systems, financial planning, financial management, current computer technology, and future trends. It also focuses on the fundamental structure of microcomputers and their hardware and software. Additionally, this information technology program offers object-oriented programming paradigms such as procedural and object-oriented approaches.
In the integrated development environment, students will use the programming development process to design and implement applications (IDE). Students will learn the fundamentals of programming language widely used in business as the program covers application development. Applying biblical and ethical principles to programming development and application will be emphasized.
---
Saint Leo University
SLU is one of the best regional universities in the South and one of the best values in higher education in online programs. The university provides a variety of online courses, including a 60 credit hours Associate of Arts in Information Technology.
Saint Leo's IT associate degree requires coursework in computer systems, Java programming language, database systems, and operating systems analysis and design. The university also provides a variety of general election electives on topics such as science fiction and global warming. All degree candidates at this Roman Catholic university must take a religion course.
Approximately 90% of SLU's information technology graduates enroll in a bachelor's program or begin a part-time or full-time job within a year of graduating. The university assists students in preparing for the job market by hosting virtual workshops that focus on professional letter writing and job search strategies.
---
Northern Virginia Community College
North Virginia Community College provides over 100 associate degree online programs, one of which is the 61 credit hours Associate of Science in Information Technology. This online information technology program prepares students to transfer to a bachelor's degree.
NOVA's online associate in information technology degree program provides a solid foundation for the degree and valuable insight to help students determine their area of focus and career steps. Students gain fundamental knowledge of Advanced Database Management, JAVA or C++ Programming Language, Operating Systems, and PC Hardware and OS Architecture. Each student will be given a personal academic advisor to guide them with coursework.
In addition to its associate degree courses, NOVA provides the candidates with an academic advisor that will help them with a four-step career success plan that includes taking an interest in inventories, developing job-hunting skills, researching relevant job opportunities, and applying for jobs. NOVA also offers students videos on resume writing and career fair preparation.
---
Penn State World Campus
Penn State World Campus is yet another most well-known online higher education school in the country. In collaboration with the College of Information Sciences and Technology, Penn State offers an AS in Information Sciences and Technology. This online associate in information technology program is best for working professionals with little or no formal background in the field.
In addition to its core information technology electives, the program also includes several general education courses, such as English and economics. Furthermore, the program offers a customized Baccalaureate Option. Most of the credits earned in the associate degree will count toward meeting the lower-division requirements for a bachelor's degree, making the transition easier.
---
North Dakota State College Of Science
North Dakota State College of Science is a public institution famous for its online degree programs. The school provides a one-of-a-kind information technology degree—an Associate of Applied Science in Information and Communications Technology is a 66 credits program that focuses on all skills required to excel in the workplace. Students can learn about technologies used in insurance companies, banks, insurance companies, manufacturers, and all sizes of businesses.
Among the program options are:
Analytics of Information and Data
Computer Programs
Coding of Basic Procedures
This associate degree program combines a business career with information technology. Workplaces include financial institutions, healthcare facilities, and various industries.
---
Lincoln Land Community College
Lincoln Land Community College offers high-quality online programs that won't hurt your pocket. Its Associate of Applied Science in Computer Systems is a great start for those seeking a career in the IT field. Get the needed knowledge and skillset to work in either government or private companies.
This program will introduce you to various computer programming concepts and operating systems like Linux. Take on courses like Relational Database Design, CISCO IT Essentials, and Systems Analysis. You'll also be taught about ethical practices in the IT world. You also have the option to take on courses in robotics, ASP development, and network automation.
Developing communication skills and basic math skills are also essential for computer science careers. That's why you'll also be exposed to general education courses such as public speaking and college algebra.
This associate's program will prepare you for entry-level computer programming, cybersecurity, and network administration careers. You may take on roles such as Application Developer, Security Analyst, or Computer Analyst.
---
University of Phoenix
The University of Phoenix offers one of the best student support systems in the country. That's why both continuing and part-time students have sought its online programs. Particularly, its Associate of Arts in Information Technology offers a balanced program that'll take you one step closer to becoming an IT or systems analyst.
With this program, you'll take on a total of 60 credits that introduces information systems fundamentals, IS security concepts, and computer programming. Build a solid foundation in data analytics, networking, and cybersecurity. You'll also be able to take up electives that explore network troubleshooting and mobile operating systems.
To become a well-rounded IT professional, you'll also be exposed to topics vital in the workplace. Take on subjects like Teamwork, Collaboration, and Conflict Resolution to learn various concepts applicable when working in an office.
The program is 100% online and flexible. Pick one course at a time and enroll at any time of the year. So whether you're working, busy with family, or shifting a career, the University of Phoenix will be able to accommodate you and your schedule. The university also offers services that aim to support your online journey. You may access online libraries, get professional counseling, and enjoy career coaching here.
---
Cochise College
Jumpstart your career in the field of Information Technology through Cochise College. Its online Associate of Applied Science in Computer Information Systems curriculum will equip you with broad knowledge and relevant skills to succeed in the industry.
The 60-credit program introduces relevant IT topics such as programming logic, operating systems, and computer information systems. You'll also be exposed to various computer applications and even web development. After completing this program, you'll be proficient in programming, database management, and networking.
Since the program is fully online, you may complete your coursework in the comfort of your home. For your academic resource needs, the college has an online library accessible 24/7. Furthermore, various scholarship programs, like Darryl Duncan Memorial Scholarship and the AHEAD Emergency Funds Scholarship, are available to help with your tuition needs.
---
Strayer University
Build your IT career through Strayer University's online programs. Its Associate of Arts in Information Technology will allow you to gain a solid foundation in program design, implementation, and troubleshooting in the field of business technology. The program will challenge you and sharpen your critical thinking and problem-solving skills.
The 90-credit program comprises general education and major courses to prepare you for the professional IT workplace. Take courses like Communication at Work and Preparing for the Future of Work to be ready to work in a team. Core courses include Computer Programming Design, Computer Architecture, and Information Systems Management.
You'll also cover important courses that introduce the basics of information technology, networking, and database management. Once you complete the program, you'll be eligible to take certification exams for Security+, Network+, and Certified Hacking Forensic Investigator (CHFI).
You also don't have to worry about tuition since Strayer offers affordable rates. It also offers a Graduate Fund wherein you can earn a free class for every three courses you complete. Strayer also has various partner organizations that provide tuition assistance for qualified students.
---
What Information Technology Students Need To Know
If you want to become an IT expert, start by finding a computer, breaking it, and fixing it. Others call this a "rinse and repeat" process. However, if you are not a hardware person, you do the same thing only with less messy software, including word processing.
Once you've mastered the fundamental concepts, push yourself to learn new things. This includes not only programming languages but also new industry concepts and trends. As you are probably aware, technology advances at the speed of light. So, don't try to do everything all at once.
Here are tips that you may find useful:
Tip #1: Learn Transmission Control Protocol/Internet Protocol
TCP/IP is used by networks and is an excellent place to start if you are interested in hardware and how IT systems interact. TCP/IP provides the foundation for how networks send and receive data.
Tip #2: Find out what IT aspect interest you the most
Determine which aspect of IT most interests you and then concentrate on that. For example, if you are passionate about all things IP, get both the Network+ and A+ certifications and then decide what you want to specialize in.
Software Engineer
Senior Database Administrator
Java Developer
Computer/Network Support Technician
Project Manager, Information Technology (IT)
Network Architect
Tip #3: Seek real-world experience
After earning your associate's degree, you can seek employment as a Technical Support analyst. Before you get your bachelor's degree, this can help you decide how you want to specialize. It also puts your troubleshooting abilities to the test.
If you cannot find a paying job, consider pursuing an internship or volunteering to intern for free in exchange for experience.
A college education is not always necessary for positions in information technology. It is, however, an excellent way to get your foot in the door. You also most likely earn more money.
Information technology is constantly evolving. Those who persevere have a strong desire to learn new skills and continuously improve their work product.
Many people in the technology industry claim that they are never bored. This is because there is usually more work than qualified resources. Much of this job entails figuring out how to innovate and automate to move on to bigger and better things.
What To Expect in an Online Associate Degree in Information Technology
Students pursuing an associate degree in information technology must complete general education as well as major courses. Courses cover fundamental topics such as system analysis and database concepts.
Online information technology associate degree programs have different program requirements and student experiences. For detailed curriculum information, students should contact their prospective school. The sections that follow highlight five typical courses.
Common Classes and Coursework
Introduction to Programming
Degree candidates learn to read and write simple code, use proper syntax, and adhere to programming rules. One or more basic programming languages, such as C++ and Python, may be emphasized in coursework. This introductory course prepares students for advanced IT classes.
Web Design and Development
This introductory course focuses on design fundamentals, terminology, and site planning. Learners design simple websites with a variety of layouts and functions. Students in intermediate and advanced classes build on their knowledge from this course to create complex websites.
Systems Analysis and Design
Students in this class learn how to build and maintain business systems. Students investigate the development process, from planning to completion. Students also get hands-on experience with planning tools like Scrum, Unified Process, and Extreme Programming. Degree candidates learn how to improve system performance.
Database Concepts
Students pursuing an information technology degree will use software suites such as Microsoft Access in this course. Students learn how to build and maintain databases, use shortcuts, and create reports for stakeholders. Students also learn the fundamentals of database administration. This class usually has one or more prerequisites.
Networking and Telecommunications
Students in this course examine various telecommunication technologies that enable machines to communicate. Students learn about the engineering principles that underpin each device. Graduate students study the relationship between spectrum and modulation in data transmission. Students are getting ready to install and maintain networking and telecommunications hardware.
Duration
Most associate programs in information technology require two years of full-time study, with students completing approximately 60 credits. Some programs, however, may provide an accelerated option for students who want to complete their degrees in less time and part-time opportunities for students who must balance school with other obligations.
The length of an associate degree is affected by program characteristics. Some programs, for example, allow students to complete coursework at their own pace. This structure enables students to meet the requirements more quickly. Students enter the program as a group and progress through the material together, finishing simultaneously in a cohort learning model.
Programs with shorter terms or summer sessions may allow you to finish your degree faster.
Admission Requirements
The requirements for admission to an online associate degree in information technology vary depending on the program. A high school diploma, however, is usually required. Candidates who did not complete high school can generally substitute a GED certificate for a high school diploma.
Most colleges require college entrance exams to assess analytical, math, writing, and verbal abilities. They may also need letters of recommendation demonstrating a student's readiness for the program. Applicants also write college application essays to help admissions officers understand their goals and expectations and demonstrate their writing ability.
Many schools now provide college credit for life and work experience, making higher education more accessible and affordable. College credit is awarded based on a student's credentials, professional training, test results, and other life experiences.
Types of Information Technology Degrees
Associate of Arts (AA)
An AA degree emphasizes liberal art and science curriculum that includes general education requirements in the social sciences, humanities, and advanced sciences. Students may take more humanities courses than required for an AA or AAS degree. Online information technology associate degrees do not typically count as AAs.
Associate of Science (AS)
An AS degree includes general education requirements in the humanities and social sciences but fewer humanities classes and more science and math courses. An AS degree may require fewer general education courses and prepares students for a bachelor's degree in science or mathematics.
Associate of Applied Science
AAS degrees provide advanced training in a professional or vocational field, such as information technology. The degree has fewer general education requirements than an AA or AS. Students who obtain an AAS degree and then transfer into a bachelor's program may be required to fulfill additional general education requirements.
Program Outcome
Graduates should have met the following Student Learning Outcomes after completing the Associate degree in Information Technology:
Analyze common business functions to identify, design, and develop appropriate information technology solutions (web, desktop, network, and/or database applications).
Design and develop software solutions for modern business environments using appropriate problem-solving strategies.
Configure and manage database servers to support modern business environments.
Recognize and resolve common desktop and network problems.
Use appropriate technology and understand the business environment to practice communication, problem-solving, and decision-making skills.
Learn future technologies by applying acquired foundational skills and knowledge in new business environments.
Career Outlook
Information technology occupations, according to the US Bureau of Labor Statistics, are highly demanded. Furthermore, because these types of jobs cross-industries, professionals frequently specialize in one or two IT fields. Candidates with an associate degree in information technology may be able to land entry-level positions, but those with experience and a bachelor's degree will be more competitive.
The problem is that, while the career opportunities in the industry as a whole are expanding, the US Bureau of Labor Statistics predicts how certain jobs will grow at a faster rate. Regardless of the career path graduates choose, an associate degree in information technology is a prerequisite. Furthermore, earning an associate degree allows students to explore potential career paths.
First, students should pursue a specialization as computer systems analysts. These entry-level positions are an excellent place to start a career.
Careers Available With an Associate's Degree in Information Technology
When you obtain your associate's degree in information technology degree, you will discover that you have many career options. Some information technology associate degree jobs include:
Computer Programmers
Computer programmers write, test, and fix code in computer applications and software programs. While most computer programmers earned a bachelor's degree, some employers will hire professionals with an associate degree and relevant experience. According to the BLS occupational outlook handbook, despite the declining job growth between 2022 and 2032, about -16,600 job openings are projected.
Median Annual Wage: $97,800
Computer Support Specialists
Computer support specialists assist computer users or help support computer networks. While some computer support specialist positions need a bachelor's degree, an associate degree may suffice in others. The BLS forecasts 5% growth between 2022 and 2032, with approximately 49,200 new job openings expected each year.
Median Annual Wage: $59,660
Industrial Engineering Technologists and Technicians
In most cases, industrial engineering technologists and technicians collaborate with engineers to solve manufacturing production problems, design workflows, and analyze production costs. These positions typically necessitate an associate's degree or a postsecondary certificate. The BLS forecasts 3% growth between 2022 and 2032, with approximately 2,200 new job openings per year.
Median Annual Wage: $61,210
Web Developers and Digital Designers
Web developers create and maintain websites, whereas digital designers concentrate on appearance and interface functionality. Depending on the position, entry-level jobs may require a high school diploma, an associate degree, or a bachelor's degree. A boot camp certificate may also assist a developer or designer in obtaining employment. The BLS forecasts 16% growth from 2022 to 2032, with around 34,700 new job openings expected.
Median Annual Wage: $80,730
Network and Computer Systems Administrators
Network and computer systems administrators manage computer networks in various industries, including healthcare and government. A bachelor's degree is frequently required, but an associate degree may suffice for some entry-level positions. According to the BLS, growth will be 2% between 2022 and 2032 resulting in approximately 8,300 job openings per year.
Median Annual Wage: $90,520
Technical Writer
A technical writer creates technical documents such as manuals and troubleshooting guides for computer and software users. Technical writers are employed by software, hardware, and internet companies. According to the BLS, growth will be 7% between 2022 and 2032, resulting in approximately 3,700 job openings per year.
Median Annual Wage: $79,960
Software Developer
Software developers are in charge of designing computer or mobile applications. Their work is primarily focused on creating for consumers. Understanding user needs, developing software solutions, monitoring performance, and modifying programs as needed are all part of this process. The BLS forecasts 25% growth from 2022 to 2032, with around 451,200 new job openings expected.
Median Annual Wage: $120,200
Skills of an Information Technology Professional
Because there are so many jobs available, employers look for various technical skills when hiring. Some companies may look for expertise in a specific program or language, while others may look for more general computer skills, depending on the role.
Coding Skills
Writing code is one of the fundamental skill sets that an employer will look for in an IT professional. If the job involves software/web development or programming, an employer may seek a candidate who can code in multiple languages.
An IT professional should proficiently understand code writing to see a software development project and manage things like quality assurance or QA.
Communication Skills
Because information technology professionals are frequently required to work across multiple teams and groups, communication skills are essential for anyone working in information technology. These professionals are frequently called upon to provide technological solutions to less tech-savvy people. They must demonstrate leadership at all project levels and with a diverse group range.
ITs are frequently required to present ideas and reports to larger audiences. Building teams and encouraging peer collaboration will be part of the job of an IT professional.
Computer Networking Skills
Aside from communication skills, IT professionals need to be proficient with computer networking. These professionals are often required to gather with other groups within the organization and share knowledge about their system that is more significant than the sum of its components.
Time and Project Management
In a world where technology is moving vastly, IT professionals need to be self-motivated and self-directed, especially since they are expected to handle simultaneous projects. They should be able to accurately estimate and manage how long a single project may take and stick to the timeline. They should also have the capacity to manage or assist an entire team in managing daily workload until a project is done and perfected.
Creativity
Creativity is not a stated requirement for all IT jobs, but it is a valuable skill in many of them. However, your tech job will almost certainly require you to develop ideas to improve processes or products or assist coworkers in finding innovative solutions to their technical problems. Indeed, one of the most critical requirements in today's IT jobs is using technology creatively to meet a specific business need or developing a solution that helps the company move forward.
Leadership
Some people are afraid to lead because it does not come naturally. However, don't let your fears get the best of you. Leadership can be learned by first assisting others struggling with a difficult concept or duty. Being friendly and willing to help others prepares you for more complicated tasks such as giving a presentation or leading a group discussion.
Troubleshooting
IT personnel are well-known for their troubleshooting and problem-solving abilities. When people run into technical problems that prevent them from working or doing the things they enjoy, they will call tech support if they can't figure it out on their own. You may be dealing with complicated algorithms that take some time to complete. This is where your technical knowledge and years of hands-on experience will really come in handy.
Industry Certifications for IT Professionals
Industry-recognized certifications in information technology are almost as valuable as degrees in some specialties in the field. Whether you're just getting started or you've been in the industry for years, industry certification will advance your salary and career. Here are some of the most valuable IT industry certifications that IT professionals can hold in the coming year.
The CDPSE certification is designed to illustrate your ability to navigate the growing complexity of data privacy and security. It is a technical certification based on experience that assesses your critical thinking and potential to "implement privacy by design, resulting in privacy digital solutions and products that build trust and advance data protection."
The CDP certification, offered by the Institute for Certification of Computing Professionals (ICCP), provides several learning paths. Business analytics, data governance, data analytics and design, data integration and interoperability, data warehousing, data management, information systems or IT management, enterprise data architecture, and other domains are available to CDP candidates.
The EC-Certified Council's Ethical Hacker (CEH) certification validates your ability to identify and prevent computer system vulnerabilities.
The ISC2 offers the Certified Cloud Security Professional (CCSP) certification. The certification validates your skills and knowledge in designing, applications, managing, and securing cloud data and technology infrastructure.
You can start by obtaining the AWS Certified Cloud Practitioner certification if you're a beginner. This is an entry-level exam for cloud professionals designed to demonstrate your knowledge of cloud computing. The certification validates your fundamental understanding of IT services and how they work in the AWS Cloud Platform and your knowledge of core AWS services.
• Project Management Professional (PMP)
The PMP certification is aimed at advanced project management professionals. The certification covers the five major stages of a project's life cycle: initiating, planning, executing, monitoring, controlling, and closing.
The CCIE certification is the most advanced level of certification available through Cisco's certification exams. Enterprise infrastructure, data center, enterprise wireless, security, service provider, and collaboration expert-level certifications are available. After passing your CCIE exam in your chosen topic, you will have attained the highest level of Cisco certification currently available.
After earning your CCNA, the Cisco Certified Network Professional (CCNP) certifications will be the next step in your Cisco certification journey. You can obtain CCNP certification in the enterprise, data center, security, service provider, collaboration, CyberOps, or DevNet.
The CompTIA A+ certification is an entry-level IT certification that covers hardware, technical support, and troubleshooting fundamentals. The certification is intended for individuals who want to work as a service desk analyst, desktop support administrator, help desk technician, technical support specialist, associate network engineer, data support technician, or end-user computing technician.
This certification exam is available as a specialization in the Certified Systems Architect certification path. It is intended for IT professionals in charge of assessing the company's architecture, environment, and requirements, and it validates your ability to implement management solutions on the Salesforce platform.
The Microsoft Certified Azure Solutions Architect certificate will validate your understanding of designing cloud and hybrid solutions on Microsoft Azure. You should also be familiar with IT operations, virtualization, networking, identity, disaster recovery, security, business continuity, data platforms, and governance.
The ITIL certification scheme consists of several certifications that validate your skills and knowledge of the IT management framework. The certification scheme provides two designation paths: Managing Professional (MP) or Strategic Leader (SL) (SL). To earn the ITIL Master designation, you can take one of two paths.
Online information technology certification programs are frequently available. This allows students to work in demanding IT jobs while earning their information technology certification. Furthermore, information technology certification programs pay for themselves when you land a high-paying, exciting career.
Paying for an Online Associate Degree in Information Technology
Many students obtain an associate's degree in information technology without incurring debt. Students facing financial issues may be eligible for federal grants. Students must complete the FAFSA form to be considered for federal financial aid. Most higher education institutions also use FAFSA results to award need-based institutional aid. Institutional merit scholarships are also available to students.
Many private organizations provide scholarships to students pursuing an information technology degree. Application deadlines vary, and candidates must have a minimum GPA and write an essay. Some scholarships are renewable annually as long as students maintain good academic standing.
The Florida Association of Educational Data Systems manages three funds totaling $3,000. One of them is the William J. English Memorial Scholarship. Every year, a high school or vocational school senior from the "Sunshine State" is chosen to receive tuition assistance for an information technology education at an accredited Florida public or private university. Those seeking state certification in computer instruction could instead apply for the FAEDS Teacher Scholarship.
The Pennsylvania Higher Education Assistance Agency provides state-based funds to graduates of Pennsylvania high schools, such as the $1,000 Technology Scholarship. Recipients agree to begin working for a Pennsylvania NETS employer within a year of graduation.
Hispanic college juniors and seniors in Northern California may be eligible for one of the most valuable information technology scholarships, the three-year Latinos in Technology Scholarship worth $30,000. Applicants must have a strong interest in computing, excel academically with a GPA of 2.5 or higher, and demonstrate significant financial need.
To honor CEO Chris Pace's late mother, Centre Technologies, a cutting-edge IT provider in Houston, established the Kathy Pace Technology Scholarship for $5,000. Students from Texas or Louisiana pursuing information technology degrees full-time at accredited US institutions may apply. Applicants must submit two professional recommendation letters, an unofficial transcript, and an 800-word essay titled "What Technology Means to Me."
IMA Memorial Education Scholarships
The IMA Memorial Education Fund awards student members several annual scholarships from $1,000 to $2,500. Information technology, management accounting, finance, and information systems are all acceptable majors. Applicants must have at least six credits, intend to take the CMA Exam, have an overall GPA of 3.0 or higher, and provide an active one-page resume.
---
Frequently Asked Questions
Key Takeaways
Information technology remains an important field of work as technology takes over. This means that people with IT degrees will always be in demand. It's no surprise that more than ten IT-related jobs are among America's top 100 best jobs. You'll need knowledge and technical skills from a degree program to land one of these hot jobs.
Associate in information technology programs gives students a solid foundation in web development and database management. Many prospective students enroll in community colleges because these two-year institutions typically provide students with an affordable postsecondary education. Graduates may continue their education at a four-year university, seek entry-level employment, or do both.
Online associate degrees are not always less expensive than on-campus programs. However, there are numerous advantages to enrolling in online associate in information technology programs. For example, the best online colleges provide flexible schedules and financial aid, and the program may be completed in less time. Students can also save money on on-campus housing and transportation.
---
Additional Information: