Find Your Perfect School
Premium Schools is an advertising-supported site. Featured or trusted partner programs and all school search, finder, or match results are for schools that compensate us. This compensation does not influence our school rankings, resource guides, or other editorially-independent information published on this site.
Innovations are the future of business! Without them, companies will not survive! Innovation in almost all industries is driven by information technology. Businesses have benefited from the digital revolution in countless ways and remained profitable as a result.
For this reason, IT is among the most valuable degrees available to undergraduates today. In top-notch IT programs, students learn the technical skills that companies need for planning, implementing, and managing their databases.
There is a growing demand for IT employees who have a college degree and some relevant industry experience in virtually every business. In fact, the number of workers employed in computer and information technologies is expected to grow 15 percent in the next decade! Students can start preparing for that dream IT job as early as possible by earning a Bachelor's in Information Technology degree!
---
Do you need some "on-campus" program options? Check this out: Best In-Person Schools for Information Technology
---
Quick Summarization
Information Technology has been around since the 1970s, but innovations like the internet and cloud computing continue to shape its boundaries in exciting new ways. A growing number of career opportunities in IT arise as the profession grows.
One solid step to starting your career in this in-demand industry is through an online Bachelor's in Information Technology. This online program can prepare students for careers in cloud computing, data science, and information security. As a graduate, you could work as a computer systems analyst, cybersecurity consultant, or software developer.
Quick audio summary:
Methodology
With an online Bachelor's in Information Technology degree, students can almost always secure a well-paying job in some of the most established IT companies. To help you pick the right online college to attend, we did the research for you!
We indexed some of the best undergraduate online programs in Information Technology. Each of our top picks meets these criteria:
Accommodates adult learners with a fully or partially online Bachelor's in Information Technology program,
Emphasizes foundational to advanced level information technology core courses, allowing students to pursue specific concentrations or specialized IT branches and niche areas,
Features the fundamentals of IT as a discipline, equipping undergraduates with the technical skills and soft skills relevant to real-life IT work settings,
Prepares students for a master's degree, should they decide to pursue it,
Provides convenient access to IT coursework through an advanced online learning system or platform,
Taught by only the most seasoned, experienced, and well-educated professors with terminal degrees or professional experts who are passionate about teaching,
Accredited by an academic agency that promotes high teaching standards.
Check out our Methodology and learn more about our college and program selection process.
---
10 Best Schools with Online Bachelor's in Information Technology
Bellevue University
Bellevue is proud to present an online Bachelor of Science in Information Technology. Get hands-on experience practicing your skills and learning the foundational knowledge you need to advance in IT. The information technology majors at Bellevue University study networking systems fundamentals and they also participate in IT projects. They conduct research and apply for internships in which they can gain real-world experiences in the information technology sector. After earning your IT degree here, you will be ready to put your skills to work.
It is possible to earn a bachelor's in information technology entirely online from Bellevue University. Skills are developed and essential knowledge is gained by students. Professionals in IT often need to demonstrate their technical expertise through industry certifications. This online information technology degree curriculum is also structured to align with exam preparation criteria. Furthermore, elective courses will allow you to coordinate a certification-focused study plan with a faculty sponsor and earn another relevant credential upon graduation.
---
Liberty University
Liberty University's online Bachelor's in Information Technology will prepare you for one of the fastest-growing jobs in the world. Liberty University offers an asynchronous information technology degree program with no in-person requirements for students looking for schools that offer it online. Typically, it takes 3.5 years to complete 120 credits in an online bachelor's in information technology program.
In this online program, students have the liberty to choose from the field of specializations like the following:
Data networking and security
Web and mobile programming
Gaming design,
Application and database development
Liberty provides students with free electronic textbooks throughout all undergraduate IT courses. Imagine how much savings this can accumulate. Further, transfer credit can be accepted for up to 75% of the required courses for the transfer-friendly IT degree.
The Bachelor of Science (BS) in Information Technology can help you prepare for a wide range of careers in information technology. An Information Technology online degree prepares students for a selection of Information Technology occupations, including software development, computer information systems, computer programming, network administration, computer forensics, and computer security. Businesses, hospitals, and IT consulting firms are all possible environments to work in.
The information technology degree not only prepares you for more job opportunities but also prepares you for a career with consistent growth. It is the perfect time to become a financially rewarding technology professional by taking advantage of the rapid growth of the IT field.
---
George Mason University
Through George Mason University's online Bachelor's in Information Technology program, online students can prepare for technical employment and advanced study. This online degree will train students how to use IT to support business processes, helping them develop some soft skills such as leadership, communication, problem-solving, writing, and critical thinking skills.
An information technology degree consists of 120 credits and emphasizes current issues, practices, and applications that are tackled in the information technology industry today. Those majoring in computer information technology at Mason may qualify for scholarships, loans, and other forms of financial aid.
Additionally, this online program teaches you how to apply information technology to business processes. This prepares students for careers in IT-related fields like web development, information security, network administration, and telecommunications.
---
California Baptist University
There is an online Bachelor of Information Technology program offered by California Baptist University. The online program prepares students to work and excel in computer information technology fields and contribute to the success of their organizations. The students learn to integrate their business and technical skills to build and maintain cutting-edge information systems.
Through the online Bachelor of Science in Computer Information Technology program, students learn the technical skills they need to build and maintain cutting-edge information systems in the rapidly growing field of computer information technology. This major teaches students how to create websites and manage databases and servers. Computer Information Technology professionals are the ultimate problem solvers in the world of all things computer-driven.
The BS in Computer Information Technology degree prepares students for significant roles in technology operations and organizational strategic success. Aside from Internet applications and databases, computer technology disciplines include programming, computer security, and project management. In today's global technology environment, computer information technology courses provide students with an understanding of strategy, innovative problem-solving, and critical thinking.
California Baptist University also offers pathways to several CompTIA certifications with access to online learning tools for exam preparation at a reduced rate. Students can get hands-on practice in virtual labs and can take exams remotely to prepare themselves for entering this hot job market.
---
Grand Canyon University
Graduates of Grand Canyon University's Bachelor of Science in Information Technology program have the skills needed to enter the growing and in-demand field of information technology. BSIT programs are becoming increasingly important for training future technologists as the IT industry continues to discover innovations.
When applying to the BS in Information Technology degree program, students should have a working knowledge of algebra and be familiar with common office software. Certain tech certifications may also be accepted as part of the degree program. IT specialists understand how to deploy, configure, and manage local and cloud-based technologies. Tools and platforms are analyzed and improved using technical knowledge.
The coursework for the BSIT bachelor's degree program includes programming. Programming languages in which they can create and execute functions are many. Students pursuing a BS in IT learn excellent communication skills to support an organization's decision-making process. Their skills include advising companies and businesses on the best technology to use.
---
Kennesaw State University
Kennesaw State University has an online Bachelor of Science in Information Technology. There are three options for this 120-credit program: hybrid, online, and in-person. Information Technology (IT) describes the convergence of computer science, management, and information systems.
There are four concentration options available to students such as:
Enterprise systems
Mobile and web
Information assurance and security
Health information technology
BSIT degrees require core requirements, major requirements, and electives. Students can choose from a range of technical elective courses to focus on a particular area of information technology in the major. BSIT curriculum requirements can change from year to year. It is determined by the academic year that the student began the BSIT program.
---
University of Wisconsin-Stout
A Bachelor's in Information and Communication Technologies is available online at the University of Wisconsin-Stout. College students who cannot commute to campus every day or attend college full-time can take advantage of the accessible curriculum. Internship opportunities are also available in the program to prepare students for a career path that fits their professional and personal goals.
Students can study independently in the online Bachelor of Science program in Information and Communication Technologies. A flexible curriculum and internship opportunities allow students to prepare for a path tailored to their personal and professional goals if they intend to live or work off campus. The online customized instruction offered by UW Stout is designed with adult learners in mind.
This program is unique because textbook rental fees are included in customized instruction tuition rates. Also, there are no technology fees charged by the university. Lastly, there is no difference in tuition between Wisconsin residents, out-of-state students, and international students participating in customized instruction programs.
---
Florida International University
The Bachelor of Arts in Information Technology available at Florida International University broadens the options available for degree seekers who prefer distance learning formats. A BA in Information Technology provides students with the competencies and business skills necessary for careers in information technology.
The curriculum of this BA in Information technology includes the following core courses and electives:
Computer networking
Web development
Operating systems
Network security
Unix
Linus
Mobile app development
You'll learn from the same top-ranked faculty and industry experts who teach on campus. If you already hold a bachelor's from an accredited institution and want to sharpen your IT skills, this program is for you. The FIU School of Computing & Information Sciences offers online information technology degrees. FIU's online IT degree program students work collaboratively in groups and receive real-time feedback from professors.
FIU Online offers online learning from anywhere, anytime. The interactive technology we use allows you to view lectures, receive real-time feedback from instructors, and collaborate with classmates. Technical programming skills are developed through the practical curriculum. This bachelor's in information technology program requires learners to complete prerequisites in computer-related courses.
The BA in Information Technology offered online by FIU includes hands-on skill development emphasizing using new, innovative technologies. Through this program, you will improve your technical skills, prepare for real-life situations, and hone your ability to apply your knowledge of computers and programming, as well as IT-related tasks to the professional world – from businesses to governments to educational institutions to non-profits.
---
Texas A&M University-Central Texas
TAMU-Central Texas offers a Bachelor of Applied Arts and Sciences in Information Technology online. This Information Technology online degree is a unique transfer pathway that gives you opportunities to advance academically and professionally in database management, cybersecurity, networking, programming, and other specializations.
The BAAS Information Technology program offers hands-on learning in small class sizes to ensure direct engagement with professors. Any online student can use this pathway program to gain knowledge in database management, systems analysis, algorithms, programming, networking, software engineering, data communication, and cybersecurity.
To complete the program, students may earn up to 36 credits by completing relevant coursework. The enrollment specialist at A&M-Central Texas can support you as you complete your bachelor's degree online, and they will help you earn transfer credits to save time and money.
---
Colorado State University Global Campus
Colorado State University Global Campus is a credible online university that caters to IT career seekers through an online BS degree in Information Technology. Online IT degrees from CSU-Global prepare students to take certification exams and find jobs in the field. Students will learn basic computer programming skills, and leadership principles, get involved in capstone projects, and learn advanced network systems in this online program. Through credit for prior learning and competency-based exams, students receive credit for life and work experience.
Through the Bachelor of Science in Information Technology program, you will gain real-world experience in computer programming, programming languages, and data management.
Regardless of residence status, students pay the same tuition per credit when pursuing an online Information Technology degree at CSU-Global. Students in the program are locked into a tuition rate for their enrollment.
The specialization option can be added to your online degree in information technology. It is unnecessary to have a specialization to complete your bachelor's degree. Still, it can be useful for tailoring your educational experience based on your career goals and interests. Through CSU Global's online Bachelor's degree in Information Technology program, you'll gain practical experience in the IT field. This 100% online system will allow you to simultaneously take care of personal and professional plans.
---
Take a look at this for more valuable information: Best Online BS in Information Technology Degrees
---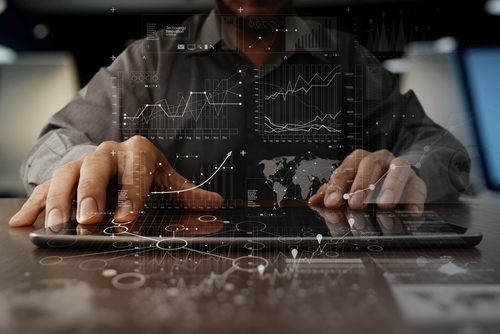 Online Bachelor's in Information Technology Popular Courses
Course requirements vary among IT degrees, but most include similar courses. Students earning bachelor's degrees in information technology learn about information systems, IT management, and technical communication. Check out the common courses in an online bachelor's in information technology:
Information Systems Management
Describes tools and techniques for planning, organizing, directing, and controlling computer-based information systems.
Introduction to Information Technology
This IT course covers both the theory and application of information systems. The student will learn about computer hardware, software, and networking technology, as well as about information security and privacy issues. This ensures that all basic and foundational knowledge about IT is familiarized by IT students.
Web Development Foundations
It will cover the basics of creating a website using HyperText Markup Language and Cascading Style Sheets. No prior knowledge is required in this course as this only covers the basics.
Technical Communication
The ability to communicate technically is essential in service, technical, and business environments. To prepare documents relevant to multiple workplaces, students learn to research, plan, design, and write. This is an IT course that is covered in many Bachelor's in Information Technology programs.
Skills Necessary for an Online Bachelor's in Information Technology Graduates
You can use and develop both hard and soft IT skills in the workplace, depending on the position you pursue. People with soft IT skills often have good interpersonal communication skills, are good managers and leaders, and can work well within a team. Meanwhile, the hard skills in IT comprise technical knowledge and abilities that allow professionals to perform specific tasks. Consider the following necessary skills for online Bachelor's in Information Technology graduates:
Communication
IT specialists should have effective communication skills. It is possible for IT professionals to communicate with others verbally, in writing, in presentations, and via e-mail. Technical information can be effectively conveyed to others by IT professionals thanks to their excellent communication skills.
Organization
Any field can benefit from being organized. It is common in IT to be involved in multiple projects or tasks at the same time. To complete projects on time and meet other milestones and deadlines, you must keep track of your daily schedule and tasks.
Coding
Coding is a fundamental hard skill used by IT professionals. It is especially important for those working in software or web development, and employers may require candidates to know a variety of coding languages.
Analytics
The ability to be analytical can help you find solutions to IT issues, such as software bugs and hardware malfunctions. Your team and customers will also predict and prevent issues before they arise. By understanding the larger implications of a project, you can analyze data sets, charts and graphs.
Teamwork
IT professionals typically work in teams or departments, which means they can collaborate effectively with others. They work alongside other professionals in the field to achieve a common goal in IT jobs.
Project Management
Later in your career, you may need project management skills if you want to move into a supervisory or management role. You probably work on many projects as an IT specialist, so you may be able to learn this skill by watching how your project managers do their jobs. Setting goals, meeting milestones, and communicating among a larger team can also benefit your work as an IT specialist.
Industry Know-How
The foundation for success in the role is understanding the terminology and equipment used in the industry. Your education, internship experience, and on-the-job training may provide you with these learning opportunities. In addition to this skill, you can use the others as secondary skills in order to stay competitive with other candidates.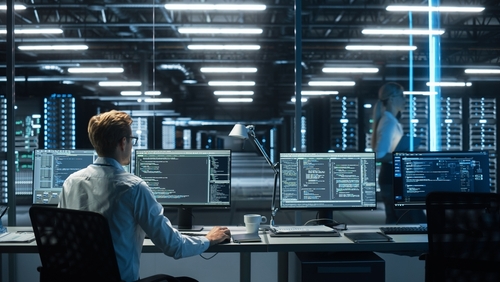 Career Pathways for Online Bachelor's in Information Technology Graduates
IT-related careers can be pursued through online degree programs. Here are some of the most in-demand tech jobs and IT jobs of 2023, along with their general duties, recommended skills, and placement data.
Systems Administrator
It is the responsibility of system administrators to manage, troubleshoot, and update hardware and software assets to prevent downtime and zero-day exploits.
Software Developers
In software development, IT professionals create software, applications, and operating systems. They design all the technical feature requirements. Professionals in the field of Software Development develop software for businesses and consumers alike.
Network Administrator
A network administrator is responsible for maintaining computer networks and solving problems. Computer network and systems installation and configuration are among the typical duties of the job. Computer systems and network problems should be identified and resolved as soon as possible.
Computer Systems Analyst
Often called systems architects, computer systems analysts analyze and design improvements to an organization's current computer systems.
Data Scientist
Using advanced analytics technologies like machine learning, artificial intelligence, and predictive modeling, data scientists collect, analyze and interpret large amounts of data. To make informed interpretations of data, data scientists use critical thinking in addition to technical skills, knowledge of technology, and math skills.
Information Security Analyst
Computer networks are protected by security software, such as firewalls. In order to protect the computer networks and systems of an organization, information security analysts plan and implement security measures.
Cloud Engineer
Engineers who work on cloud computing are responsible for designing, planning, managing, maintaining, and supporting it. It encompasses a number of different roles, including cloud architect.
Database Administrator
Managing and maintaining company databases is the responsibility of database administrators. Data management policies must be adhered to and these essential pieces of equipment must be kept functional.
AI Specialist
Computer programs and other machines are programmed with AI and machine learning for the purpose of simulating how the human brain functions. AI specialists are in charge of such tasks.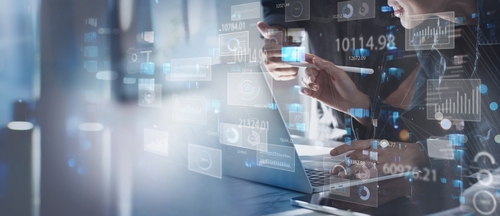 Frequently Asked Questions
How do hopefuls become IT specialists?
Network systems administrators and computer systems analysts are some of the careers that IT specialists can pursue with a bachelor's degree in information technology. Alternatively, students can pursue a master's degree or industry certification. Aside from an education, it would help to participate in internships and work experiences, as well as capstone projects to widen your learning opportunities.
Is it hard to get an online IT degree?
It can be. The coursework in IT is rigorous in part because it develops skills needed for careers in the field. Certain schools offer multiple concentrations, enabling students to tailor their education to their interests.
How do students select the best online Information Technology degree online?
Online IT degrees can be challenging to choose from, with so many options available. Therefore, students should research the best online information technology degrees, the schools that offer these degrees, the length of time it takes to graduate, and the costs associated with the programs.
Information Technology bachelor's degree programs should be considered carefully before students invest time and money. A variety of factors must be considered, such as the type of degree being offered, the format, flexibility, specialty options, student support, accreditation, and overall costs.
Is an IT degree worth it?
Since the IT industry is growing and can offer lucrative, long-term careers, the short but sweet answer to this question is Yes, it's definitely worth it. Many IT jobs require a bachelor's degree, and students can earn professional certifications with a bachelor's degree.
Key Points to Ponder
Classes in IT infrastructure, database management, cybersecurity, and design of information systems typically make up the core of online IT education.
An online BS in Information Technology program provides training in computer installation, operation, development, maintenance, and administration.
The average full-time student takes four years to complete an online bachelor's degree in information technology. Students can complete some online programs in less time by choosing accelerated tracks.
---
Additional Information Guide: Most Lucrative Information Technology (IT) Jobs and Careers