Find Your Perfect School
Premium Schools is an advertising-supported site. Featured or trusted partner programs and all school search, finder, or match results are for schools that compensate us. This compensation does not influence our school rankings, resource guides, or other editorially-independent information published on this site.
A BS in information technology (IT) is one of the most valued undergraduate degrees in the current job market.
Today, everyone seems to own gadgets, and businesses worldwide are pushing for greater technical integration through cloud computing, apps, and technological advancement.
To plan, execute, and manage their databases, they require qualified personnel—jobs that call for the kind of technical skills that students can learn in an excellent IT school.
Additional Resource: The 38 Best Bachelor's in Computers and Technology Online Schools and Career Guide
---
Quick Summarization
An online BS in Information Technology will prepare graduates for careers in computing technology where they handle computer networks and systems and create software and mobile applications.
Additionally, these online programs offer specializations in the discipline while also preparing graduates for industry certifications.
---
Methodology
If all things Information Technology is your cup of tea, enrolling in an online bachelor's program qualifies you for a career in this field and prepares you for a graduate program that bolsters your credentials.
That said, every prospective Information Technology undergraduate student must choose the right bachelor's program! The online information technology degree programs and schools on our list are known for these key features that demonstrate their commitment to academic excellence:
Delivered 100% online or partially online (blended or hybrid learning) that works around students' schedules and allows them to earn the bachelor's degree conveniently,
Provides all students with technical know-how, capabilities, and vital abilities, including management, communication, creativity, and critical thinking,
Delivers online coursework that develops students' digital skills in software development, networking, and cyber security, as well as in retrieving, storing, and transporting information using technologies like telecoms and microcomputers,
Offers a selection of Information Technology concentrations that match the student's expertise and assist them in obtaining industry certifications,
Highly qualified and experienced teaching staff from whom students learn a well-defined and practical set of skills in the IT arena,
Offers credit transfers and fast-track degree options, as applicable,
Offers federal financial aid and scholarship options to qualified undergraduate students,
Properly accredited by academic agencies that set high standards of instruction at the bachelor's degree level, with a specific focus on the Information Technology field,
Actively affiliated with organizations and companies within the Information Technology sector
For a general overview of our ranking process, please check our Methodology page.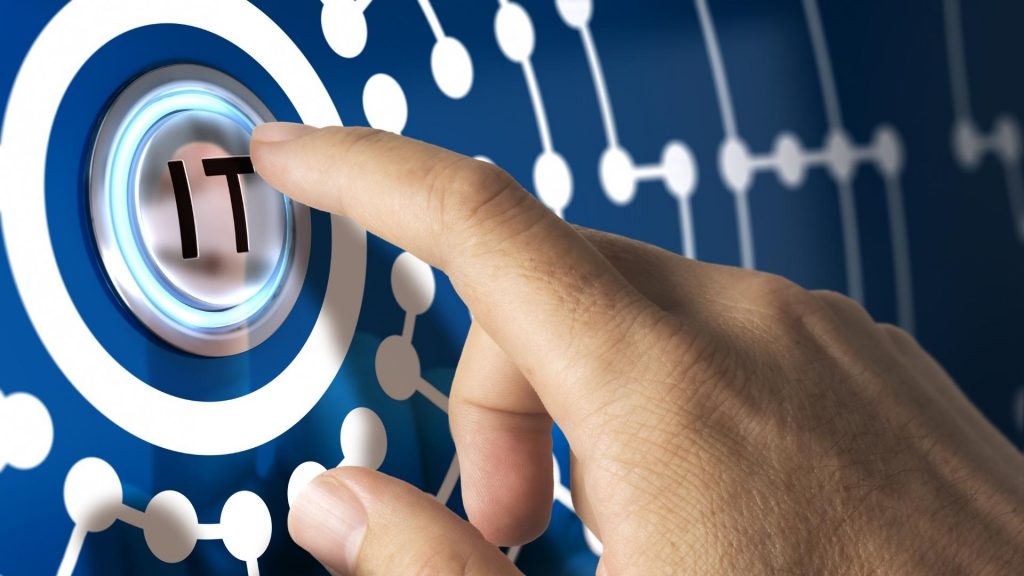 20 Best Online BS in Information Technology Degrees
Penn State World Campus
The College of Information Sciences and Technology – Penn State is a pioneer among the new type of universities known as "i-schools" or "information schools." The school's online Bachelor of Science in Information Sciences and Technology is best suited for associate degree holders and working professionals.
This online degree program will allow associate degree holders and working professionals to advance their current skills and knowledge through real-world IT applications. The program courses include:
Information, People, and Technology
Networking and Telecommunications
Language, Logic, and Discrete Mathematics
Information and Organizations
Foundations of Human-Centered Design
Information Sciences and Technology Integration and Problem Solving
Upon enrollment, Penn State will allow information technology students to choose between the Integration and Application option (ITINT) or The Information Systems: Design and Development option (ISDEV). The ITINT will help you become capable of using IT to support high-level strategic planning and issue solving.
On the other hand, the ISDEV expands your knowledge of the abilities required to create sophisticated information technology systems.
---
Western Kentucky University
Western Kentucky University offers an online BS in Computer Information Technology that prepares students for careers in the technology field through rigorous and self-paced online coursework.
This degree will help students advance their careers and learn the skills needed to become computer support specialists.
The coursework includes:
Computer Information Technology Foundations
Web Development
Systems Architecture
Introduction to Supply Chain Management
Project Management
Students learn how to use computer networks and systems, the Internet, and computer database development to ensure effective information transfer, data storage, and analysis. For graduation, all major-related courses must be passed with a grade of "C" or above. Graduates will develop top-notch project management skills.
---
Florida International University
Florida International University offers a fully online BS in Information Technology best suited for online students with wide schedules. FIU advises online students to commit 8–12 hours per week to each three-credit course, including meeting deadlines, assignments, and exams at a given time.
Students develop advanced technical skills to prepare them for real-world issues in the technology field using an in-depth understanding of computers, programming, and all IT-related duties, whether in business, government, education, or non-profit organizations.
Core courses include:
Human-Computer Interaction
Computer Operating Systems
Applied Computer Networking
Website Construction and Management
Computing and Network Security
Intermediate Java
Information Storage and Retrieval
Component-Based Software Development
Technology in the Global Arena
Students may choose electives in two concentrations such as system administration, application development, and database administration. Additionally, students can complete the FAFSA application and qualify for financial aid.
---
Arizona State University
Arizona State University, one of the pioneer schools to offer online degrees, offers a fully online Bachelor of Science in Information Technology that helps students become experts in the field through core IT concepts.
Students develop the skills for maintaining and configuring the sophisticated database and computer systems, constructing network designs for secure cyber infrastructures, and comprehensive application and database development.
Additionally, online students will be given personal academic advisors to help them tailor their degree programs based on their future education and career goals.
The program's courses include:
Operating System Architecture
Introduction to Internet Networking
Information Modeling, Storage, and Retrieval
Foundations of Information and Computer System Security
Managing Configurations and Active Directory
Introduction to UNIX Utilities
Network Information Communication Technology
Web Programming for Human-Computer Interface
In your junior or senior years, you can focus on one of two areas to further your IT education. Networking, security, or information systems are your options. You can prepare for your transfer into the working world by following specific tracks in your online IT degree.
---
Southern New Hampshire University
Southern New Hampshire University delivers a fully online BS in Information Technology that teaches students the underlying information systems, data management techniques, and computational thinking techniques.
This online bachelor's in information technology allows students to combine their technical expertise, business acumen, interpersonal skills, and problem-solving mindset to assist enterprises of all sizes in utilizing new technology for innovative practices, products, and processes.
BS Information Technology students at SNHU become prepared for current IT jobs and will have the knowledge and attitudes necessary to position themselves and their organizations for the quick development of emerging technologies.
Program courses include:
Introduction to Information Technology
Introduction to Data and Information Management
Introduction to Robotics
Database Design
Human Factors in Cybersecurity
Information Technology Teams and Group Dynamics
Computer Systems Security
Data Warehouse Concepts and Design
Aside from online courses, students can participate in an internship. Graduate students in the School of Business can take this course to get relevant work experience in the IT industry.
Additionally, internships allow you to hone critical job-searching skills, explore potential career paths, improve your résumé, network with professionals in your sector, and establish references for future employment.
---
Western Governors University
Western Governors University's online BS in Information Technology prepares students for better job opportunities in the field through online and hands-on coursework. This degree program will also allow you to obtain several industry-recognized certifications, like CompTIA and CIW.
Prospective students can earn while they learn because the top technology certifications are already included in the curriculum and do not require additional study time or money, but they should still add them to their resume as soon as they earn them, even before they finish their degree.
Information technology courses in this program include:
Introduction to Information Technology
Information Technology Applications
Information Technology Foundations
Information Systems Management
Business of Information Technology – Applications
Business of Information Technology – Project Management
Aside from completing online courses, students must complete a capstone project to graduate. The capstone project comprises a technical work proposal, its execution, and a post-implementation report detailing the graduate's experiences in creating and carrying out the capstone project. The instructor will review and approve the capstone project in light of the graduate's technical emphasis.
---
Purdue Global University
Purdue Global University's online BS in Information Technology will equip students with the communication, critical thinking, and creative abilities to fulfill the demand and succeed in this fast-paced industry.
Graduates can apply computer ideas from other relevant fields to a complex computing problem analysis to find solutions. They will also be able to create, put into practice, and assess a computing-based solution to satisfy a certain set of computer science specifications within the framework of the program's subject.
Program in this online bachelor of science in information technology courses include:
Systems Analysis and Design
Programming Concepts
Website Development
Project Management I
IT Consulting Skills
By concentrating your electives in a field of study that best matches your intended job path, information technology concentrations let you tailor your education to your individual needs.
Students can choose one concentration in Game development, Information security and assurance, IT management, Computer Programming, Software Development, Network Administration, or Supply Chain Management and Logistics.
---
Liberty University
Liberty University offers an online BS in Information Technology that equips students with the technical knowledge and skill set necessary in information technology occupations. You can contribute to filling the increasing demand for information technology specialists in the labor force.
Taking on real-world tasks in your sector can help you develop your ability to recognize, address, and decide on technology solutions.
Program courses include:
Website Development
Information Technology Foundations
Introduction to Information Technology
Information Technology Applications
Information Systems Management
Additionally, students can choose concentrations in Application and Database Development, Data Networking and Security, Gaming Design, or Web and Mobile Programming. Students can accelerate their IT degree completion by transferring up to 75% of their Bachelor of Science in Information Technology.
Additionally, there are no defined login times for this information technology degree online degree program, allowing you complete coursework at your own pace.
---
King University Online
King University Online offers a world-class BS in Information Technology that will help experienced IT students to advance their careers through a comprehensive online curriculum that provides a broad understanding of several IT cores.
King's online information technology degree is intended for people who already have some college credits and want to complete their bachelor's degree. It is also designed specifically for IT professionals who want management or administrative positions inside their company.
Program coursework includes:
Professional writing for IT
Database management
Programming
Systems analysis
Current issues in the field
Cloud computing
Game development
Additionally, you can customize your degree to meet your specific professional aspirations. You can select one of three tracks from the program: Cloud computing and systems administration, Cybersecurity management, or Digital business and game development.
---
University of Massachusetts – Lowell
UMass Lowell offers an online BS in Information Technology that allows students with no prior college credits or IT experience to enroll. This online degree program in information technology helps newbies build solid foundation knowledge about the field to prepare them for opportunities in computing and technology.
While earning your bachelor's degree, you can earn an IT certificate simultaneously to fulfill your elective credits and strengthen your qualifications.
Courses include:
Introduction to Information Security
Introduction to Programming W/C
Project-Based Information Systems
Introduction to the Internet of Things
Introduction to the Linux/Unix Operating System
Introduction to Graphic Design
Besides being one of the most affordable information technology programs, UMass Lowell provides students with the highest return on investment (ROI). Additionally, you can benefit from financial aid opportunities to further reduce the cost of your education, such as grants, scholarships, and loans.
---
Capella University
Capella University offers a fully online Bachelor of Science in Information Technology that helps students prepare for future IT careers by choosing a major/concentration in information assurance and cybersecurity, general information technology, software development, health information management, and IT project management.
Students can minor in data analytics, data management, network technology: Cisco, and network technology: Microsoft. Students with transfer credits can complete their degrees in 13 months.
The following asynchronous online IT courses are offered through the Blackboard learning management system:
Systems Administration
Intermediate Java Programming
Information Security Concepts for the IT Professional
Principles of Project Management
Network Architecture
The college offers military and veteran students, counselors, financial aid consultants, and tuition support. Through the Prior Learning Assessment program, students can receive credit for their time spent in the armed forces or the workforce.
Academic counseling, free tutoring, career guidance, library services, an online writing center, access to the school's New Learner Experience Team, and other services are accessible to online students.
---
American Public University
The American Public University System's online Bachelor of Science in Information Technology program equips students with the knowledge and abilities needed to create and maintain digital infrastructure. With the aid of the most recent tools and methods, you will learn fundamental programming abilities through this online computer technology degree.
You will practice the problem-solving and program management techniques needed to create modern, efficient computer- and web-based solutions throughout this online information technology program.
Program coursework includes:
Multimedia Format Interaction
Systems Development
Programming
Telecommunication
Internet Development
Data Protection
IT Administration
The American Public University System requires prospective students to apply online, but there is no application fee. To assist candidates with the admissions and onboarding processes, admissions professionals get in touch with students; thanks to monthly class enrollment, students can start taking classes soon after being accepted.
---
Limestone College
The online Bachelor of Science in Computer Science – Information Technology program at Limestone College equips students with the most suitable set of skills to become IT professionals. Online applications for Limestone are accepted anytime, and students may begin their programs at any point during the academic year.
Once a student has been admitted, the school gives them access to a success coach, whom they meet regularly to ensure their academic progress is on track.
Program courses include:
Microcomputer Applications
Internet Databases
Project Management
Legal Issues in Technology
Adult learners' needs are considered while designing accelerated eight-week periods for online courses. To graduate, students must also finish a capstone project. Students must organize, study for, and create a project related to their primary specialization in information technology, programming, or security.
Students will also need to complete extensive tests that draw from core computer science and concentration-specific courses and prepare a formal research paper focused on their concentration.
---
University of Phoenix
With the help of the online Bachelor of Science in Information Technology program offered by the University of Phoenix, students can gain marketable skills such as advanced cybersecurity, advanced networking, advanced software development, and more. While courses in this online BSIT program can be completed in four years, students with transfer credits can finish their degrees in much less time.
Programming languages, information assurance and security, cyber network defense, and a few other fields are available as specializations for students.
Program coursework includes:
IT Networking
Cloud infrastructure
Computer Programming
Cybersecurity
A self-developed learning management system supports online courses at the University of Phoenix. The institution guarantees tuition rates for prospective students and provides scholarships worth up to $1 million annually to assist students in paying for their studies.
Students who transfer credits from previous college-level general education and advanced courses or life experience can graduate one year sooner and save an average of $11,000.
---
Grand Canyon University
Grand Canyon University offers a fully online BS in Information Technology producing students that excel in various information technology professions. This online degree program will help you utilize technology to solve modern organizational problems by improving your current knowledge of tools and platforms.
Additionally, this online degree program emphasizes computer programming languages, which is a perfect fit for students with associate degrees in web development or other related fields.
Program coursework includes:
Introduction to Information Technology
Platforms and Network Technologies
System Administration and Maintenance
Cybersecurity Foundations
Linux System Administration and Maintenance
Security Driven Systems Administration
Professionalism in Science & Technology-Communications
On top of online courses, online students need to complete a capstone project. This comprises evaluating the present IT scope and developing a project proposal using a practical research methodology. The development of project elements such as the vision, budget, risk management plan, and deadline will be expected of the students.
---
Franklin University
Franklin University's online BS in Information Technology develops the students' mission-critical skills that modern employers are looking for. This online degree will strengthen your knowledge in various areas, such as information security, infrastructure management, database administration, and much more.
Sean Amon, Associate Vice President for Network Engineering at Nationwide Insurance, is one of the industry experts who regularly evaluate Franklin's program. Sean Amon's faculty uses industry standards like the Project Management Institute's PMBOK Guide and (ISC) 2's CISSP certification in their instruction.
Program courses include:
Introduction to Computer Science & Object-Oriented Programming
Principles of Programming
Principles of Computer Networks
Cyber Security Fundamentals
Linux Fundamentals
Cloud Fundamentals
While you finish your degree, the Franklin Apprenticeship Program offers the chance for paid employment in a related field. You will take the nine required classes for your degree program as an apprentice, and as you finish your coursework and exhibit the necessary skills, your income will grow regularly.
---
Northeastern University
Northeastern University offers a fully online BS in Information Technology with an immersive focus that'll solidify your strength in every area of IT while gaining vital knowledge and practical skills. You can build a foundation in in-demand professional skills to help launch or advance your career with optional concentrations in Applications Development and Cybersecurity.
Students who qualify for the school's Year Up program will receive up to 28 credit transfers, saving up to $15,000, a year of studying, and scholarship opportunities up to $10,000.
Program courses include:
Human-Computer Interaction
Operating Systems Concepts
Principles of Systems Analysis and Design
End-User Data Analysis Tools
Introduction to Programming (Java)
Networking Foundations
Database Management Systems
Web and Mobile Development
Upon completion of online coursework, the school will offer students the chance to participate in co-op opportunities. This opportunity will help you establish a connection with a target organization, earn money while you study, and demonstrate to the proper people that you have what it takes to work with them.
---
Baker College Online
Baker's College offers a fully online BS in Information Technology and Cybersecurity degree, allowing students to choose one concentration in web development, project management, and assurance specialist.
Platform, network, and operating system security are all covered in a bachelor of science in technology and security with a focus on information assurance and cybersecurity. This degree covers creating, debugging, and securing computer networks to help firms use software and apps without worrying about cyber threats.
Program coursework includes:
Computer Operating Systems and Maintenance
CISCO Networking
Programming in Python
Trends in Computer Science
Security Policies and Auditing
Legal and Ethical Issues in Information Technology
Ethical Hacking
Internet and Web Security3
Environment: Installation, Configuration, and Management
Baker College provides numerous scholarships for undergraduate students participating in information technology programs. Prospective online students can apply by completing the online form. Students can get help from an admissions advisor during the enrollment process.
---
University of Minnesota
Students train for administrative and supervisory roles in the information technology industry in the Bachelor of Science in Information Technology Management program at the University of Minnesota. Students in this degree have to finish an IT management capstone project near the end of their degree. Graduates are expected to be prepared to advance in their positions or enter higher roles.
Program courses include:
Introduction to Management Information Systems
Messaging Systems
Project Management
Networking Standards and Protocols
Database Management System
The school helps qualified students access financial aid to keep tuition costs low. Students can meet virtually with an academic advisor once they have been accepted and work with a career coach near the end of their program.
---
Bellevue University
Bellevue University offers a fully online BS in Information Technology that helps students gain the basic knowledge and honed practical skills they need to advance in the IT industry through comprehensive online coursework.
Students will study the fundamentals of networking systems before completing an IT project, certification, research study, or internship that uses what they've learned to solve real-world business problems. Upon completion, you'll be ready to stand out from other candidates.
Program courses include:
Network Management and Infrastructure
Cisco Routing Fundamentals
Cisco Network and Routing Infrastructures
System Hardening and Network Risk Assessment
Cloud Computing and Governance
Information Technology Project Management
Microsoft Security Management
Bellevue University is known for providing generous financial aid opportunities to its students. To qualify, you must complete the FAFSA application during enrollment.
Additionally, you can speak with the school's academic advisor to help you credit your associate degree hours to lessen the time and cost of your bachelor's degree.
---
Additional Info: The 15 Best Online Accredited Trade Schools
---
BS in Information Technology Common Courses
Introduction to Information Technology
This course helps students' academic and professional goals and requirements by fostering a practical knowledge and understanding of computer information technology principles, skills, and capacities. Students study the science and applications of information technology.
Introduction to JavaScript
This course teaches you how to create websites using JavaScript. Students gain knowledge of programming approaches to improve user experience, website flow, and on-screen animation. In some versions of this course, students are also introduced to different web technologies.
IT Policy and Law
This IT course teaches students about the laws and policies governing IT functions. Copyrights, patents, and trademarks are among the subjects covered. Students should understand computer ethics by the end of the course, especially in light of how choices regarding one's professional and personal conduct relate to data sharing.
Hardware and Operating Systems
The principles of hardware operation are taught to students, focusing on peripherals like external keyboards, monitors, printers, and similar devices. They also research how different types of hardware interact with operating systems, such as Linux and Windows.
Software Acquisition and Project Management
Students who enroll in this course receive knowledge in two crucial IT domains. They specifically study the abilities required to plan and carry out a software project, such as how to bargain with suppliers, oversee a team, and keep track of the project's development.
Programming Principles
IT specialists require a fundamental knowledge of programming. This course will teach essential ideas used in routine programming tasks. Most classes prepare students for more advanced training in this subdiscipline, including labs to demonstrate topics using a primary programming language.
Essential IT Skills
Programming
Those who want to create software, websites, and web apps must be competent in programming. IT professionals who seek to automate tasks will also find it helpful.
Systems and Networks
A key component of an IT team's job is making sure networks and computer systems run efficiently. System and network administrators are typical jobs specializing in this skill set. Working in cloud administration or security can also benefit from these skills.
Data Analysis
Data analysis skills will be helpful for a variety of IT duties. Teams can identify security vulnerabilities or operational inefficiencies by monitoring performance statistics.
Cloud Computing
Cloud computing expertise includes everything from creating cloud infrastructure to keeping it up-to-date. Cloud developer, administrator, and architect positions may become available due to working with cloud technology.
Time and Project Management
Managing projects effectively is a key component of self-directed work, a skill that many IT professionals will need. Timelines and milestones frequently alter during a lengthy project, evidence that technology work might often take longer than expected. An IT expert should be able to accurately determine how long a project ought to take and then adhere to those schedules.
BS in Information Technology Common Career Opportunities
Database Administrator
Database administrators are responsible for designing, installing, and maintaining databases and electronic storage systems for corporate data. Security and data protection are responsibilities shared by database administrators.
Average Annual Salary: $90,810
---
Information Security Analyst
The security of an organization's networks and systems is the duty of information security analysts. Among the responsibilities are modeling cyberattacks to identify and fix security flaws, creating organizational security standards, putting security measures into place, and identifying and reporting security breaches.
These IT professionals also make significant contributions to corporate disaster recovery planning.
Average Annual Salary: $86,069
---
Systems Analyst
A systems analyst relates business and IT by closely collaborating with corporate managers to create computer systems and procedures that better support operations. Systems analysts must continually assess new technologies to decide whether they fit the firm.
A systems analyst's job is to install new systems and find ways to enhance those already in place.
Average Annual Salary: $76,369
---
Web Developer
Websites are designed by web developers who plan, write code, and design interactive components like clickable buttons. They decide layouts in close collaboration with graphic designers and other team members and frequently take on the duty of quality control testing and troubleshooting.
Average Annual Salary: $73,765
---
Frequently Asked Questions
Is a BS in Information Technology worth earning?
The value of an online degree depends on the student. However, if you have an excellent aptitude for STEM, a BSIT degree will equip you with various computer jobs and is highly adaptable and in demand.
What can I do with a Bachelor's in Information Technology?
Students who earn a bachelor's degree in information technology have a wide range of professional options. Due to the great demand, individuals with a bachelor's degree in information technology frequently find employment in their preferred fields.
Are IT majors in high demand?
Yes. All areas of specialization continue to have a high demand for information technology majors. The BLS has predicted that between 2020 and 2030, employment in Computer and Information Technology will increase by 13%, a rate far higher than that of most other occupations.
Is earning an online BS in Information Technology hard?
The BS in Information Technology program (BSIT) is far from easy, even if the program is offered online. It calls for a great deal of abstract, logical, and critical thinking, which are not innate in most people.
Do you need Math for IT?
Since computer science is a diverse field, the type of math you need to be familiar with will vary depending on your education and intended career path. However, in general, most degree programs in information technology demand a foundational knowledge of calculus, algebra, discrete mathematics, and statistics.
---
In Conclusion
Students who enroll in a BS in Information Technology program will have a foundational understanding of network systems, computers, and internet-connected gadgets. The development of technical solutions for hardware and software-related problems is a skill that is frequently taught in courses.
Students may find themselves well-prepared for jobs as software developers, database administrators, information security analysts, and web developers after completing a remote learning undergraduate IT program.
---
Check this out: The 20 Most Lucrative Computer Science Careers