Find Your Perfect School
Premium Schools is an advertising-supported site. Featured or trusted partner programs and all school search, finder, or match results are for schools that compensate us. This compensation does not influence our school rankings, resource guides, or other editorially-independent information published on this site.
If you have the passion to minister to others through community service, teaching, and counseling, and you feel that you have a calling to serve the Christian community, a Ministry degree is the way to go.
A Bachelor's in Ministry develops students' servant-leadership skills and principles that are anchored in Christian beliefs. Through this undergraduate degree program, students work closely within their Christian ministries and with people of all ages.
A Christian Ministry program prepares students for career paths within the church, as well as in other Christian communities. These paths include social workers, pastors, chaplains, missionaries, church administrate, Christian non-profit organization staff, and a lot more.
If the goal is to become a priest or a pastor, an online Christian ministry undergraduate degree, along with valuable life and professional experience, can take hopefuls to that path through a master's degree.
---
Additional Information: Best Bachelor's in Liberal Arts and Humanities Careers
---
Quick Summarization
An online Bachelor's in Ministry is a perfect fit for those who know that they will dedicate their professional lives to the church. But aside from working at your local church, a ministry leadership program will also lead to other fulfilling service-oriented careers in nonprofits, as well as in other mission-driven organizations, education, and administration.
Nonetheless, all students in Christian ministries' degree programs have a strong calling to service. While completing a bachelor's degree in ministry allows graduates to earn stable salaries, they are not likely to become rich unless they decide to switch careers. Christian ministry students should also have strong communication skills and are comfortable with constant public speaking. They need to have solid leadership skills, which they can learn and develop via courses like Christian leadership.
A Christian Ministry degree usually requires 120 credits to complete. For full-time students, the program can run for four years. There are also online accelerated programs that can help shorten the time. Those who take summer courses can also complete the program more quickly.
Some Christian education programs focus on general ministry, while others offer concentrations in ministering to a particular population. Some of these concentrations include Youth Ministry, Urban Ministry, Pastoral Leadership, and Church Administration.
Methodology
We compiled 10 of the best Bachelor's in Ministry programs offered online by some of the country's most reputable schools! Each online program on this list was picked based on these attributes:
Delivered as 100% online classes or in a blended learning format,
Designed to teach online students a deeper understanding of how different religions affect the world, the history of Christianity, how to be a Christian leader, Bible interpretation, and the study of Christian doctrine with emphasis on Biblical Interpretation, Spiritual Formation, Servitude, and more,
Features outreach internships and hands-on experience,
Taught by faculty members serving in a Ministry capacity,
Delivers excellent online learning experience through an easy-to-use Learning Management System,
Offers undergraduate-level federal aid and financial aid opportunities, such as scholarships, transfer credits, and grants to online eligible students,
Obtained proper third-party accreditation that ensures adherence to the highest academic standards.
Read our Methodology to understand the details of our ranking process.
---
10 Best Online Bachelor's in Ministry Degree Programs
Grand Canyon University
Grand Canyon University is a private institution in Phoenix, Arizona. This for-profit school is the biggest Christian university in the world in 2018 in terms of student enrollment, with 20,000 students attending on campus, and 70,000 online enrollees. GCU offers 67 undergraduate degree programs, concentrated into 56 majors within 21 broad fields of study. They also have a variety of accredited online programs.
For students with a passion to serve Christ and act as leaders of His teachings, GCU offers an immersive online Bachelor of Arts in Christian Studies – Emphasis on Youth Ministry. This online program is offered at GCU's College of Theology.
This online bachelor of arts youth ministry concentration allows students to work through a gospel-based curriculum in a Christian worldview handled by the school's diverse faculty.
The program guides students in getting a solid foundation of knowledge in theology, Christian doctrine, Christian history, and biblical truths.
Students will explore the developments of the Christian ministry throughout its history. They will hone their analytical skills and learn to communicate God's messages to a variety of audiences, with a focus on youths.
This online program starts with an extensive exploration of the Christian doctrine. Students will explore both the New and Old Testaments and study the history and theological methodologies of theology.
This online program requires 120 credits to complete, costs $410 per credit, and takes 7 weeks to complete. Grand Canyon University is Higher Learning Commission-accredited.
---
Liberty University
Liberty University is a very large, four-year university located in Lynchburg, Virginia. This private co-ed institution is committed to providing a faith-based education to students around the world. Liberty offers more than 700 programs of study at the certificate, associate, bachelor's, master's, and doctoral levels. They also have more than 100 online programs so students can pursue the degree they want without having to go to class physically.
For those who plan to serve in different church ministry positions, the online Bachelor of Science in Religion with a Concentration in Christian Ministry degree is a good option. Whether you are planning to launch a career in ministry or you pursue your master's degree, Liberty University can help you reach those goals.
Liberty University's Bachelor in Religion degree is handled by professors who have extensive experience working in ministry. Students develop practical skills that they need to succeed in Christian ministry.
Core courses in this program dive into so many crucial topics, including the history of Christianity, apologetics, and global studies.
Students develop a deeper understanding of how they can teach the Scripture effectively, and how they can shore the Gospel to people of all ages. They will also learn to create Bible lessons that are fruitful, doctrinally sound, and meaningful.
Within the Christian ministries program, students can also mix and match different courses so they can meet their unique ministry goals.
At the end of this ministry degree, students must complete a capstone course so they can synthesize what they have learned in the program and apply these to real-world issues.
Liberty University is recognized as one of the top 3 online schools in the nation. And with the school's continued mission of providing the most affordable education, online students can enjoy free electronic textbooks. This can save them up to $2,000 per year on textbooks!
This 120-credit hour program is offered 100% online and stretches up to eight weeks. It earned accreditation from the SACSCOC-Southern Association of Colleges & Schools Commission on Colleges.
---
Hope International University
Hope International University is a Christian university located in Fullerton, California. This non-denominational private school empowers students through Christian higher education to serve the Church. Hope University has five colleges, which include various programs: College of Arts and Sciences, Pacific Christian College of Ministry and Biblical Studies, College of Business and Management, College of Education, and College of Psychology and Counseling.
HIU also offers several online programs, including its Bachelor of Arts in Christian Ministry degree. The program provides students with the skills they need for church and ministry leadership roles and strengthens their relationships with the Lord.
This Christian ministries program is grounded in God's continuing effort to draw everybody to Himself.
The online bachelor's degree in Christian ministry incorporates various contemporary approaches for diverse groups in culturally and creative ways. Students will learn to act and think "globally", and to carry out local ministries within the context of God's purpose.
This Christian ministry degree program is accredited by the Association for Biblical Higher Education.
Students in this degree program are already highly involved in their respective church communities and use their education to further enhance their abilities in their field.
To apply, students must submit their official high school transcripts with a GPA of at least 2.5, SAT or ACT scores, and a completed online application.
Hope International University is a Western Association of Colleges and Schools-accredited institution.
---
Trevecca Nazarene University
Trevecca Nazarene University, a private liberal arts school in Nashville, Tennessee, is a leading Christian institution. Trevecca is committed to holistic education, encouraging its students to grow socially, intellectually, spiritually, emotionally, and physically. This school offers classes at its main campus and on two satellite campuses. It also offers online education worldwide.
Trevecca Nazarene University offers 20 associate degrees, 81 undergraduate degrees, 25 master's programs, and three doctoral programs, delivered on campus and online. The Bachelor of Arts in Christian Ministry, a degree-completion program, is designed for distance education students. This online degree will equip students to become more prepared in serving various roles, from full-time Christian ministry to service in an organizational or church setting.
This online program will focus on providing students with a holistic mindset, ministry competence, a missional vision, and servant leadership skills.
This online ministry studies program is designed for students who already have completed 40 credit hours and works well for those who feel like they are called to a full-time Christian ministry.
In this Bachelor of Arts in Christian Ministry program, academic excellence is combined with an application-based curriculum in an educational environment that will align with the goals and values of each student.
Online courses in this program include Holistic Mindset, Servant Leadership Skills, Missional VIssion, and Ministry Competence.
For those worrying about having enough credits to start this online program, Trevecca Nazarene University offers college credits for various assessments, certifications, and professional experiences. Students in this online degree program can work directly with the school's academic advisor to assess whether or not they will qualify for non-traditional credit through a Prior Learning Assessment.
Students in this ministry degree that need extra hours, or those who wish to tailor their bachelor's degree can also take advantage of Trevecca's courses in the areas of information technology, healthcare administration, management and leadership, or psychology that may be taken for general elective credits.
Trevecca Nazarene University is SACSCOC-approved.
---
Regent University
Regent University is one of the premier Christian universities in the US. With more than 13,000 students on its Virginia Beach campus, Regent University also has numerous online students from its online school. Regent offers more than 150 areas of study at the associate, bachelor's, master's, and doctoral levels, including communication, business, cybersecurity, divinity, government, and law, among others.
For almost 50 years, Regent University has trained thousands of leaders to help change the world with a Christ-centered and holistic approach that balances the skills and knowledge employers seek nowadays. Its online Bachelor of Arts in Christian Ministry is perfect for those who have the passion to serve others.
This program prepares students not only for Christian ministry but also for family ministry and church leadership as well.
To become an effective ministry leader, a solid foundation in Christian Theology and Biblical Studies is a must.
In this online school, students will develop the necessary skill set to become well-grounded, well-trained, and well-equipped for their unique calling.
Through this ministry program, students can use marketable skills like mentoring, coaching, and communication in a ministry. They will also learn how to utilize practical strategies for missions and evangelism, as well as confidently respond to common issues in the Christian faith.
The cost of attendance for this online degree program is $395 per credit hour. Financial aid and scholarships are also awarded to eligible students.
The SACSCOC has accredited Regent University.
---
Moody Bible Institute
Moody Bible Institute is a private evangelical Christian Bible college based in Chicago, Illinois. This fully accredited higher education institution is committed to training students for full-time ministry leadership in churches and parachurch organizations.
Moody Bible Institute is home to what is considered one of the best and most highly accredited online programs in Ministry Leadership. This program is suitable for those who are very active in the Church and are looking to establish themselves as ministerial professionals and other key leadership positions in a ministry.
This program has five concentrations: Leadership, Ministry to Women, Children and Family Ministry, Preaching, and Disability Ministry:
Leadership Concentration
Ministry graduates will earn biblically informed leadership skills for churches and ministries. They will learn how they can develop organizational structures and become more familiar with biblical practices and principles for leading others in ministry. Core courses include Principles of Leadership, People Helping Skills, Principles of Administration, and Practices of Leadership.
Ministry to Women Emphasis
This online degree program concentration is where students will learn how to lead and organize ministry and church programs that counsel, disciple, and teach women. They will study more about the biblical theology of women in ministry and study efficient organizational structures that will serve women in various life stages. Core courses in this emphasis include Theology and Philosophy of Ministry to Women, Contemporary Strategies of Ministry to Women, Discipling and Mentoring Women, and Ministry to Women in Pain.
Children and Family Ministry Emphasis
This concentration is where Christian ministry students will develop a philosophy of family and children ministry based on family culture and an understanding of the spiritual formation of a child. Students will gain better interpersonal skills for leadership and administrative skills for directing a ministry. They will also find out how they can communicate the bible's truth to families and children with hermeneutic and exegetical principles.
Preaching Emphasis
This is very crucial in ministerial leadership since this is where students will develop the skills on how to compose and deliver biblically based sermons. They will learn how to draft expository messages from different genres of Scripture and develop the skills to communicate and interpret God's Word. Core courses include Theological Exposition, Evangelistic Messages, Narrative Messages, and Structure and Style in Biblical Exposition.
Disability Ministry Emphasis
Students learn to discipline people with disabilities and help people of all abilities in church life. They will also understand how to form a curriculum and use it in a ministry or church setting.
The cost of attendance at Moody's online bachelor's in ministry leadership is $399 per credit hour. Financial aid, payment plans, scholarships, federal grants and loans, and veterans benefits are available for eligible students.
Moody Bible Institute is a Higher Learning Institute-accredited school.
---
Bethel University
Bethel University, a Christian university and seminary in Arden Hills, Minnesota, is affiliated with Converge, a church movement. It is a comprehensive school that offers 90 majors in 106 areas of study delivered on campus and online.
Bethel University offers an online Bachelor of Arts in Christian Ministry that allows students to grow in the knowledge of theology, the Bible, and themselves as they develop their leadership skills to serve in the place which God calls them.
In this ministry curriculum, students will build a strong foundation of theology and biblical studies and along the way, experience life transformation.
Students will investigate their faith development and find out how this will apply to leadership in their present and future ministry.
This bachelor's degree program requires 122 credits to complete. A minimum of 60 transfer credits is also required from previous military, professional, or educational experience.
Those with fewer transfer credits may still be granted admission, although this will generally depend on the enrollment counselor.
This Christian Ministry online program costs $430 per credit hour. To apply, students must complete and submit their application, high school transcripts with a GPA of 2.5, ACT/SAT scores, a signed commitment to A Covenant for Life Together, and a personal essay.
Bethel University is approved by North Central Association of Colleges and Schools; Christian College Consortium.
---
Palm Beach Atlantic University
Palm Beach Atlantic University is a public Christian university located in West Palm Beach, Florida. This comprehensive school is full of opportunities that others cannot offer. At PBA, students are well-prepared for a successful career. They will also deepen their character, enliven their faith, develop life-long friendships, and discover more of God's world.
The school has more than 50 undergraduate and graduate degree programs through nine schools, delivered both on campus and online. Its Bachelor of Arts in Christian Studies is ranked one of the best distance education programs in the field. Like most Christian ministry program standouts, this online degree will prepare students to become counselors, teachers, professors, missionaries, writers, or editors.
Courses within this degree program include:
Spiritual Formation
This course uses historical and biblical materials to help online students grow in their spiritual formation. Common topics include prayer, Bible study, journaling, and worship.
Worship
This is the study of the historical, biblical, denominational, contemporary, and theological issues related to worship within Christianity.
Introduction to Christian Thought
This is a broad overview of the development and historic roots of Christian thought, evaluating and describing historical Christian doctrines and important Christian thinkers. Students become familiar with the practices and teachings of the Church from nearly 2,000 years ago.
Exploring the Old Testament
Students will study the background, content, genre, and canonicity of the Old Testament and how it relates to the entire biblical narrative. This will also allow the students to become familiar with the central theme and personal application of each book.
World Religions
This will delve into the study of the character of religion, its significance and meaning in human experience, and a study of the major world religions. This course meets the Faith, Roots, and Reason, a General Education global studies requirement.
Exploring the New Testament
This course will study the New Testament texts in their historical context to familiarize students with the content, background, and continued relevance of each text.
All online students at Palm Beach Atlantic University are assigned to a dedicated financial aid specialist to help them obtain an affordable education. From federal-state grants to academic scholarships, student loans, and military grants, students have multiple options for competitive and comprehensive financial aid packages.
This program requires 120 credit hours to complete, with each credit hour costing $390 per hour. Palm Beach Atlantic University is SACSCOC-accredited.
---
Tabor College
Tabor College is a Mennonite college located in Hillsboro, Kansas, owned and operated by the US Conference of Mennonite Brethren Churches. This private school adheres to the Anabaptist doctrine and offers only 29 bachelor's degree programs, 4 master's degree programs, and 8 programs that are offered online.
Tabor College knows that in today's fast-paced world, well-centered and ethical ministry leaders are needed to provide unparalleled services in adult and youth ministry, community engagement, social work, and mission work. Thus, the Bachelor of Science degree in Christian Ministry was born.
The curriculum of this online bachelor's introduces students to various areas like business, personal development, ministry leadership, cultural engagement, Christian leadership, and biblical interpretation.
The courses revolve around the skills expected of a 21st-century Christian Ambassador: a transformed life, Christian focus, and globally relevant skills.
This Bachelor of Science in Christian Ministry uses an innovative delivery system, which includes face-to-face and online meetings.
Upon completion of the course, graduates are prepared to increase their services in a wide range of activities within faith-based nonprofit organizations, churches, or in the marketplace.
Those who have earned previous credits can transfer them to this Christian ministry program. Associate students can transfer 45 credits hours out of the required 60 credits hours in the degree. BA students can transfer 84 credit hours to complete the 124 credit hour program.
Elective courses for this program can be chosen from several traditional topics. Students can also opt for business courses as electives.
All instruction in the program is Christ-centered and handled by Christian faculty who are qualified in their field.
Tabor College is accredited by the North Central Association of Colleges & Schools.
---
California Baptist University
California Baptist University, a private institution in Riverside, is one of the top Christian colleges in the country. This Baptist Christian university strives to help students engage and understand their unique purpose by providing a Christ-centered educational experience that collaborates academics with social development and spiritual opportunities.
Being one of the best Christian schools in the nation, CBU offers associate's, bachelor's, master's, doctoral, and credential programs on campus and online. It is home to 90 distinct undergraduate degrees concentrated into 71 majors within 25 broad fields of study.
The web-based Bachelor of Arts in Christian Ministries program at California Baptist University is designed to hone servant leaders and provide them with the necessary tools for communicating and understanding biblical truths.
The main purpose of this online degree in ministry is to gear students for active leadership roles in Christian organizations, parachurches, and the church.
Students in this ministry program will earn an excellent foundation in case they wish to pursue graduate-level biblical studies.
Courses in this Bachelor of Arts in Christian Ministry program include a wide range of theological education, from Bible and Christianity history to today's latest and most relevant spiritual issues.
Students will receive mentorship and training from published, accomplished, and active practitioners in a variety of ministry roles.
This online undergraduate program costs $547 per credit hour.
California Baptist University is approved by the WSCUC-Western Association of Schools & Colleges Senior College & University Commission.
---
Thinking about the future? Here's more to research: Best Online Master of Divinity (M.Div.) Programs
---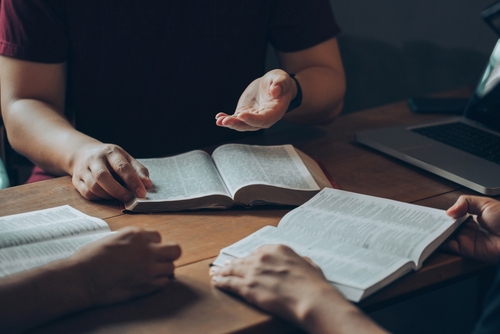 Degree Options for Ministry Careers
Ministry degree programs at any level are a combination of the study of sacred texts; practical ministry components, and ministerial arts like counseling, theology, and public speaking. And as with any other profession, higher degrees will usually lead to senior positions.
In ministry careers, the concentration and level of degree you choose are directly informed by your career plans.
Associate's Degrees in Ministry
Like any associate degree, the associate's degree in ministry is typically completed in two years. At this level, students are introduced to the field. This opens professional doors to their local ministry or church administration. Associate degrees are affordable options for students who want to break into the field and make connections.
Bachelor's Degrees in Ministry
Bachelor's degrees in ministry are the standard four-year programs. Ministry students at this level will receive the academic foundations in ministerial arts and biblical and theological basis, and prepare them for theological studies or master's degree programs in divinity. Bachelor's degrees in ministry also prepare students for careers in teaching, as group counselors, Bible study leaders, associate pastors, or mid-level church managers.
Master's Degrees in Ministry
A master's degree in ministry usually takes anywhere from two to four years, although this will depend on the student's program focus. This will also prepare graduates to join in the career of their choice. At this level, students can develop their own approach to ministry, hone their ministerial skills, and form and debate theological ideas.
Master's degree holders of ministry can work as senior pastors in congregations, teach at the secondary school level, become managers within faith-informed or religious organizations, or pursue their doctoral degree in their chosen field. In a master's program, a capstone or thesis is usually mandatory.
Doctorate in Ministry
A Doctor or Ministry needs three to five years of study while working in a ministry setting. Those with a Ph.D. in ministry can teach at the university level, or handle executive leadership positions in faith-based academic settings.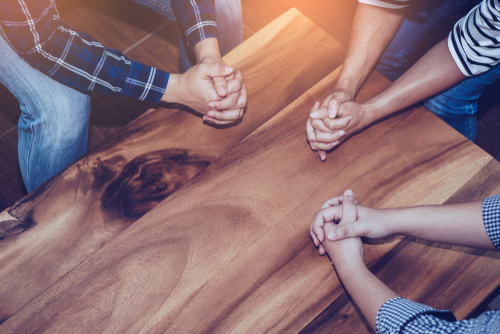 Bachelor's Degree in Ministry Jobs
Youth Ministers
Youth ministers lead mission trips, Sunday schools, and other activities for church members under 18. They draft lessons, plan trips, and oversee parent volunteers. These ministers must also be willing to work during weekends or night shifts.
Pastors
Ministry programs are great courses for pastors in church ministry. These people lead a congregation in worship, service, and usually music. Becoming a pastor usually vary by denomination, but most of them need to gain the relevant ministry degree and gain ordination from their denomination before they are allowed to practice. Whether they preach in an evangelical protestant church or hold teachings in Christian Baptists or at their local church, they can only become successful in their ministry leadership endeavors if they hold the proper ministry degree.
Church Administrators
These people manage the daily budget and operations for the churches where they work. They set aside income and donations to fund church services, programs, and outreach efforts. While one is qualified in this position with an associate degree, earning a bachelor's program gives you a better advantage during a job search.
Nonprofit Executive Directors
Those who do not wish to work directly at their local church but still hold Christian ministries degree programs can work at faith-based nonprofits. Nonprofit executive directors are basically the CEOs of nonprofit organizations. They manage the hiring process, the budgeting, and the overall operation of the organization. These directors report to the organization's board of directors.
High School Teachers
High school teachers are also very good Christian ministry program standouts. These teachers usually work in religious schools. Since most of these schools are private, prospective high school teachers no longer need to earn state licensure or take the Praxis exam.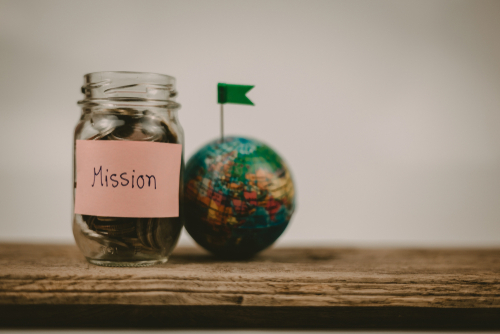 Frequently Asked Questions
How long do Christian ministries degree programs take?
An online BA in Christian Ministry usually takes four years to complete. Those who have already earned their associate degree can make this shorter to just two years. If you are in an accelerated degree program, the duration gets even shorter, normally between 12 and 18 months.
What can you do with a degree in Ministry?
Depending on your interest, focus, and most importantly, your calling, you have so many varied options in career choices, like:
Church Planter
Church Pastor
Youth Pastor
Sunday School Director
Associate Pastor
Missionary
Christian Counseling
Church Business Administrator
Are there certifications or licensure required for Ministry?
If you have no plans of earning a Master of Divinity or seeking ordination is out of the picture, most religious organizations no longer require licensure for associate or community ministry positions. On the other hand, certifications are very important as they demonstrate your abilities and skills in specific types of ministry.
Can you find Ministry careers outside the church?
Of course! In fact, a huge portion of ministry jobs usually take place outside the walls of a worship space. There are so many ministry professionals that can find careers in the armed services, law enforcement, healthcare, on the streets, in refugee communities, in schools, overseas… the possibilities are endless!
Key Points to Ponder
A bachelor's degree in Ministry is not only a good option for those who wish to commit their professional lives to the church but also for those who want to secure service-oriented careers in mission-driven or nonprofit organizations.
A career in Ministry, regardless of the form it takes, will always be appealing to someone who has empathy, a deeper connection to faith, and a solid conviction that with their commitment and dedication, they can help make the world better.
Earning a Ministry degree is a great incentive for those who have wide-ranging career goals.
---
Check out these Bible-based colleges: Best Faith-Based Schools in the US