Find Your Perfect School
Premium Schools is an advertising-supported site. Featured or trusted partner programs and all school search, finder, or match results are for schools that compensate us. This compensation does not influence our school rankings, resource guides, or other editorially-independent information published on this site.
The graphics and web design industry is a fast-growing field that requires the proficiency of multimedia designers. This profession involves the combining of different media formats to get one's message across to a target audience. The increasingly digital world relies heavily on visual content and interactive media to capture the attention of online users.
Also see: Best Online Bachelor's in Art and Design with a Concentration in Visual Communications
---
Designing multimedia ensures that the content being churned out is informative, educational, and entertaining. The demand for professional graphic designers is expected to grow by 3% between 2021 to 2031, according to the Bureau of Labor Statistics. Other professions in the field include web developers, video game graphics designers, digital designers, and digital communications professionals. Project management, digital marketing, and multimedia management are also some of the career paths for this industry.
Quick audio summary:
Quick Summarization
A bachelor's in multimedia design offers a wealth of opportunities for those who want to pursue careers in this dynamic and creative field. This includes increasing their earning potential and assuming leadership positions in the digital multimedia design industry.
Methodology
If you're looking for the best in multimedia design online education, then you have come to the right place. We have gathered the following online programs from the country's top-rated schools and universities offering online bachelors in multimedia design.
The schools and degree programs that made the list were chosen based on the following factors:
Multimedia design programs are delivered online, providing students with a high degree of flexibility to pursue higher education while making room for other productive commitments like work and additional self-improvement
Features a curriculum that covers the fundamentals and theories relevant to multimedia design, and adds additional useful skills along the way, like business/entrepreneurship skills, communication skills, and graphic design skills
Trains students on a wide range of technical skillsets needed in producing media across a wide range of formats, particularly those that use industry-standard software/applications and processes
Prepares students not only on technical skills but also on crucial soft skills such as critical thinking and analytical skills.
Lets students develop their own professional-grade portfolios while pursuing their education
Taught by expert faculty who have past or current experience as industry professionals
Offers student essentials like starter kits as standard, or various financial aid options that let students reduce the cost of their tuition
Offered by colleges/universities/institutions with the right accreditation and/or industry-relevant credentials.
Visit our Methodology page and explore our ranking details.
Top 19 Online Bachelor's in Art and Design with a Concentration in Multimedia Design Programs
Arkansas State University
Location: Jonesboro, Arkansas
Arkansas State University offers an online Bachelor of Science in Digital Technology & Design degree program, with a Concentration area in Graphic Communications. The program trains students for a wide range of applicability, including for UX/UI, website development, mobile apps, game design, and more.
This online program contains 120 credit hours, and features a curriculum that balances design fundamentals with digital technology. Students get to work with industry-standard software for print and other media formats. Major courses include the following:
Programming
Desktop Publishing
Digital Prepress
Creative Writing
Human Centered Design
Media Aesthetics
Students can transfer in up to 90 credits, and Arkansas State implements a pay-by-the-course tuition rate for this degree program.
---
Franklin University
Location: Columbus, Ohio
The Bachelor of Science in Interactive Media Design degree offered by Franklin University is a versatile program ideal for creative, technical, or management career paths in the media industries. This 100% online degree is also designed as a Degree Completion Program, with up to 75% of the degree's 120 credit hours transferrable.
This digital multimedia design program features a curriculum that trains students on the technical and non-technical aspects of interactive design, preparing them to be well-rounded professionals. Being a degree completion program, students can get up to 24 technical credits for previous education in the following areas:
Web Design Fundamentals
Graphic Design Fundamentals
Interactive Design Fundamentals
Interactive Media
Likewise, students get to receive training on advanced graphic design, and interactive media intended for a variety of uses, including entertainment, advertising, and training & instruction.
---
Hilbert College
Location: Hamburg, New York
Hilbert College offers an online Bachelor of Arts in Digital Media and Communication degree program, designed to prepare students to become well-rounded communications professionals with creative thinking and storytelling skills across a variety of fields, including journalism, television, film, or marketing & public relations.
The program features a comprehensive curriculum that equips students with the multimedia design skills needed to keep up with today's constantly evolving digital media landscape. The program also has concentration areas in Graphic Design, Intergrated Marketing, and Multimedia Journailsm. Major courses include the following:
Multimedia Production
Media Analysis
Web Design
Graphic Design
Law and Ethics
Mass Communication Theory
Hilbert College also strives to foster an engaging environment for its online students, with the support of expert faculty, and a supportive network of alumni for its graduates.
---
University of Arizona
Location: Tucson, Arizona
The University of Arizona offers the online Bachelor of Arts in Design Arts & Practices degree program, which brings together art, design, and information fields into a program with maximum applicability across media formats and audience scales.
This online multimedia design program contains 120 credit hours and gives students an interdisciplinary foundation to design history, theory, and practice. Courses in the program are primarily project-based, where students innovate and develop creative strategies to address a variety of contemporary issues. Major courses in the program include the following:
Design Thinking
Contemporary Art
Design for Web and Devices
Typography
Design History
Students to the online format can choose between emphasis areas in Print, and Screen Emphasis areas (Spatial Design and Object Design are exclusive to on-campus students).
---
Pennsylvania State University
Location: State College, Pennsylvania
Through the Penn State World Campus, Pennsylvania State University offers a Bachelor of Design in Digital Multimedia Design, a nationally-recognized interdisciplinary degree program that prepares students for a wide range of possible creative industry and multimedia design careers, including multimedia, web technology, product design, and marketing.
This online multimedia program contains a total of 120 credit hours and features a project-based curriculum that integrates visual arts and design, information science and technology, and communications. Students get to work with multimedia applications and programming widely used in the industry, supported by renowned faculty in a highly collaborative setting. Courses in the program include the following:
Digital Art & Design Criticism
Digital Multimedia Design
Human-Centered Design
Web Design & Development
Writing for Media
Photography for Communications
Being a project-based curriculum, students will have developed a robust portfolio of design works that they can take with them as they launch their creative careers.
---
University of Montana
Location: Missoula, Montana
The University of Montana offers a Bachelor of Fine Arts in Media Arts (Digital Art & Technology Track) degree program, a program that focuses on the artistic and creative application of the digital technologies that define our modern life.
This program is offered both in-person and online and covers software and programming fundamentals, principles and applications of web technologies, and interactivity. Students get to work with industry-standard applications for still images, motion, animation, and sound design. Major courses in the program include the following:
Motion Design
3D Animation
Interactive Media
Web Technologies
Sound for Digital Media
Creative Coding
Film & Media Studies
Towards its latter stages, the degree program also places emphasis on hands-on work on advanced digital media projects and for students to start developing their own online portfolios.
---
Full Sail University
Location: Winter Park, Florida
The online Bachelor of Science in Graphic Design degree program offered by Full Sail University provides students with a comprehensive understanding of the design process, from designing for print to package design, to interface design, and more. This graphic design degree is offered in on-campus and online formats.
The 108-week long program contains a total of 120 credit hours, and trains students on technical/creative skills as well as skills in media integration, advertising, and branding. The program includes courses that cover the following major areas and more:
Design and Art Theory
Photography
Typography & Page Layout
Digital Audio & Video
Interactive Media & Usability
Media Integration
Graphic Web Design
Advertising
Aside from varied project-based output, the program also makes use of critiques and pop culture studies to sharpen students' eye for aesthetics and includes courses that are focused on career readiness and portfolio & brand development.
---
Savannah College of Art & Design (SCAD)
Locations: Atlanta and Savannah, Georgia
Savannah College of Art & Design offers a Bachelor of Fine Arts in Graphic Design program that trains students to become artists and storytellers, bringing together the fundamentals of entrepreneurship and technology with product design and user-centered design.
This online bachelor's degree program contains a total of 180 credit hours, with 75 credit hours dedicated to major curriculum courses and 20 credits worth of free electives. Students are taught by expert faculty who have experience working with the world's biggest brands as they progress through the major content areas and build their portfolios in the process. Major courses in the program include the following:
Media Management
Typography
Interface Design
Graphic Design History
Idea Visualization
Production for Print and Digital Environments
SCAD also offers their Graphic Design degree program as a Bachelor of Arts, and also as a corresponding Master of Fine Arts and Master of Arts degrees in Graphic Design and Visual Experience.
---
The Los Angeles Film School
Location: Los Angeles, California
The Bachelor of Science in Graphic Design program offered by The Los Angeles Film School is designed to be a versatile degree that prepares students for careers in product development, film, and advertising.
This online graphic design degree program contains 120 credit hours and spans 36 months.
The program follows a sequential order, letting students focus on one subject over a four-week period before moving on to the next. The program's curriculum includes courses from the following major content areas/competencies:
Creative Communication
Digital Image Making
Brand Development
Typography, Logos, and Symbols
Print and Digital Production
Package Design
Motion Design
Advertising
Experiential Design
Like other Los Angeles Film School degree programs, this graphic design degree also includes a Student Techkit® that contains industry-standard computers, software, and other accessories.
---
Arizona State University
Location: Tempe, Arizona
A fully online Bachelor of Science in Design (BSD) in Graphic Design degree from Arizona State University is an ideal choice for students who want to work in the vibrant digital industry. This degree program allows students to explore ways that point to creative solutions and tell stories through the use of visual communication.
The Graphic Design major focuses on equipping students with essential design principles. They are expected to apply their acquired knowledge and skills to projects in the print and web design fields. Students in this program will explore design theories, principles, and layout techniques to help them effectively create visual designs that communicate messages with clarity and enhance user experience. Some of the courses in the curriculum include:
Designing Life
Graphic Design History
Principles of Graphic Design
Design Drawing
Letterform
Visual Communication
Typography
Motion Graphics and Interaction Design
Beyond teaching students to master the use of software, this program puts its focus more on training students to visually communicate. They will learn to employ various essential skills integral in design-related industries, such as visual literary, critical thinking, and storytelling.
---
Miami International University of Art & Design
Location: Miami, Florida
Students who wish to gain valuable skills in the creative field may want to consider earning the Bachelor of Fine Arts in Graphic & Web Design from Miami International University of Art & Design. This undergraduate program is available online, making it a good choice for busy students and working professionals.
Students will find comprehensive courses ranging from color and design fundamentals to advertising concepts and art direction. The curriculum equips students with the skills required by advertisers, design studios, advertising agencies, and event promoters. Students will learn the following:
Creative design and technology skills
Theory and practice of print and digital design
Audience targeting and content research
Critical thinking in design
Design research and presentation
Professionalism in Design
This degree program requires a technology fee that covers the cost of tools one needs to get started, including an iPad, Apple Pencil, and a smart keyboard. Students, however, have the option to opt out of this by purchasing the required technology on their own.
---
National University
Location: San Diego, California
The Bachelor of Arts – Digital Media Design degree program from the National University provides students with a hands-on learning experience with the use of the latest tools and technologies essential in the current media arts workplace. Students will learn the methodologies used for visual communication in a variety of fields, including marketing, business, education, and entertainment.
The aim of the course prepares students for a visually literate future where web design, audio, special effects, layout and design, game design, and image creation and editing are incorporated into visual communication. Some of the courses featured in the curriculum include:
History of Graphic Design
Vector Graphics
Digital Image Composting
User Interface Design
Applied Web Design
Design & Interactivity
Motion Graphics Visual Effects
Students are expected to complete a final project where they can go in-depth on a chosen topic covered in the program and complete phases of production, including conception, design, development, launch, and post-assessment.
---
University of Maryland Global Campus
Location: College Park, Maryland
The University of Maryland Global Campus offers the Bachelor of Arts in Graphic Communication. This degree program is designed for those who aim to get paid for their creativity. Students in this program are honed to utilize their creative spirit as graphic designers, project managers, or creative directors.
The curriculum of this multimedia major features a blend of theories and real-world applications, and practical skills. Students will need to complete a total of 120 credit hours to earn the program. Some of the courses included in the program curriculum include:
Design I: Arrangement and Color
Intermediate Drawing
Typography and Layout
Digital Media
Motion Graphics
Advanced Graphic Communication: Professional Branding
At the end of the program, students are expected to create a portfolio to demonstrate their work to potential employers and clients.
---
Maryville University
Location: Town and Country, Missouri
Students pursuing a career in the global design industry will find Maryville University's Bachelor of Fine Arts in Digital Media a valuable choice. This online bachelor's program equips students with knowledge and skills integral to highly valued visual communicators.
The focus of the program is on the future of design. This means students have access to courses utilizing industry-leading Adobe tools that will help improve their digital media skills. The program is accredited by the National Association of Schools of Art and Design (NASAD). The 128-credit-hour curriculum includes digital media major courses, general education courses, and elective courses.
Students will be able to explore art history and digital media. They can also build foundational skills in animation, digital illustration, game design, motion graphics, User Experience, and visual thinking, among others.
---
Liberty University
Location: Lynchburg, Virginia
Liberty University's Bachelor of Science in Digital Design – Media Design degree, which is 100% available online, helps students combine effective design techniques with digital media and advertising's best practices.
The program seeks to provide students with a blend of specialized industry knowledge and hands-on experience. The latter is in the form of practicum and internship, where students' skills are put to the test. Not only do students learn to use graphic design tools, but they can also take advantage of digital promotion technologies taught in strategic communication classes.
Students in this program will gain a better understanding of how art, design, and communication can be used in creating meaningful narratives for a variety of audiences. Some of the topics they will tackle include the essential aspects of 2D and 3D design, graphic design, and art history.
---
Southern New Hampshire University
Location: Manchester/Hooksett, New Hampshire
Another online degree option for those interested in the multimedia field is the Bachelor of Arts in Graphic Design & Media Arts from Southern New Hampshire University. This degree helps students develop their skills and build a portfolio demonstrating their visual storytelling flair with the use of various print, digital, and video platforms.
Students will learn how to design, develop, and present their work. They will get to try their hand at using the latest tools and technologies while applying ethical and culturally sensitive visuals. They can choose among two concentration options: User Experience Design and Web Design. The courses included in the following are:
Digital Design Tools
User Interface and Experience
Digital Graphic Design for the Web
Typography
Fundamentals of Design
Online students can expect flexible schedules without the limitations of set class meeting times. They can access online course materials 24/7. They can also enjoy affordable tuition rates along with a generous transfer policy.
---
California Baptist University
Location: Riverside, California
The Bachelor of Arts in Graphic Design & Digital Media offered by California Baptist University is ideal for those who desire a career in graphic design and visual marketing. Students will work with the same tools and software utilized by design professionals, allowing them to acquire and sharpen their skills.
They will be able to explore tools such as Illustrator, Photoshop, InDesign, Dreamweaver, and more. The program also covers compositing and drawing, digital photography, presentation, lifting, workflow, idea conception, design history, color theory, and typography. The program's rigorous curriculum ensures students will develop competitive skills for their future workplace.
Other relevant skills they will learn include creating strategies that work, innovative problem-solving, and critical thinking. Most of the graduates of this program went on to become art directors, graphic designers, web designers, multimedia artists, and animators, among others.
---
Grand Canyon University
Location: Phoenix, Arizona
A top choice for those immersed in the world of social media, the BA in Social Media degree program offered by Grand Canyon University prepares students to design, write, and produce content for a variety of uses, especially when it comes to social media marketing. This includes social media campaigns, websites, email marketing, and blogs, among others.
The 120-credit program is also a good stepping stone for a career in the multimedia field, as students get to create infographics, photographic and video imagery, and so much more. Some of the core courses in the curriculum include:
Social media communities
Social media data analytics
Photography and video for social media
Production methods
Multimedia journalism in the 21st century
This bachelor's degree is available online, allowing busy students to juggle their academic goals with their personal responsibilities. They can still benefit from the same experienced faculty and rigorous curriculum while enjoying flexible classes that can fit around their schedule.
---
Bellevue University
Location: Bellevue, Nebraska
The Bachelor of Arts in Graphic Design at Bellevue University can be completed online. It is suitable for those who wish to succeed in the fast-paced multimedia industry. Students will learn how to apply their critical thinking skills to solve problems with the use of visual media. They will need to master visual communication along with the skillful use of standard software and hardware tools.
The online bachelor's program helps students build a portfolio so they can have a ready body of work that they can present to potential employers when they graduate. One of the most essential skills they will gain from the program is the mastery of the widely used Adobe Creative software suite.
Whether one wants to be a multimedia specialist, web designer, or graphic designer, it is important that students will also get a better understanding of color, images, layout, typography, and other principles that completes digital media design, branding, and messaging. Some of the courses they will cover include:
Design Basics
Single Page Design
Interactive Basics
Branding
Publication Design
Fundamentals of JavaScript
The program's generous transfer policy allows students to get credit for what they have previously earned and accelerate their path to earning a degree in the process. They can transfer their full associate degree and also get credit for military training and experience.
---
Check this out: Best Online Bachelor's in Art and Design with a Concentration in Photography
---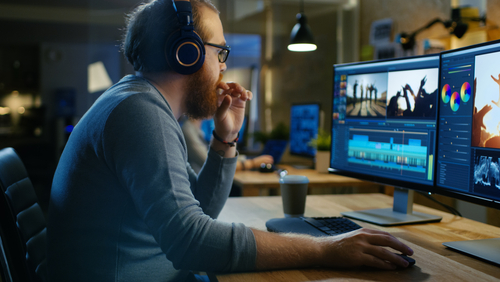 Frequently Asked Questions
How long can students complete a Multimedia Design degree?
Most online multimedia degree programs can be completed within three to four years. This can be quicker depending on how much coursework students will take. Full-time students will be able to finish it faster. Transfer credits and accelerated program options are also huge factors in quickening one's pace of earning a degree.
What are the available financial aid options for Multimedia and Graphic Design students?
Most accredited colleges and universities offer various financial aid options to online students. Some of the financial assistance provided include student loans, scholarships, and grants. Others can be in the form of tuition discounts.
Points to Ponder
Bachelor's Degrees in Multimedia Design train students on the various skillsets crucial to produce media across different formats like print, web, and video.
These bachelor's degree programs pave the way for students to take up careers in a wide range of industries, such as advertising, interactive design, product & packaging development, and more.
These degree programs are also designed to let students develop their own portfolios while they progress through their coursework.
Some degree programs offer concentration areas that students can choose to give their skill sets more focus.
As a sort of an unwritten rule, Multimedia Design degree programs require students to have an eye for the digital arts/creative talents, or at the very least, a deep interest in the field and the dedication to learn the various multimedia production processes.
---
Additional Resource: The Best Online BS in Graphic Design