If you are looking to run a restaurant then these are the courses for you. Running a restaurant is risky and over 50% of restaurants fail in the first year. There are multiple reasons for this. But what are they and how do you avoid them? Running a restaurant is also multi-faceted and is more than just a food program. You'll have to learn about the kitchen staff, the menu and also the front of house, marketing, dealing with licensure and health department checks as well as of course, keeping your customers happy.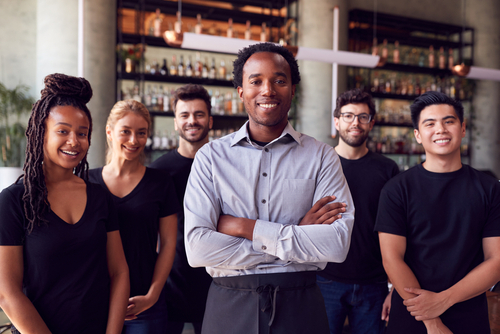 These courses are varied and included all of the steps required to opening up a restaurant. You'll learn how to write a business plan as well as how to promote and grow your business on social media. If you are looking to initiate a restaurant career, check out our picks for the 30 best online courses on starting a restaurant.
Related Content: The 30 Fastest Culinary Programs
How to open a restaurant is a restaurant management course for individuals who are entrepreneurs restaurant owners business owners or just individuals who are interested in learning the basics of how to run a restaurant. The course is given by Asen Gyczewand teaches you how to find the most profitable location for your business. Additionally the course talks about how to pick the right concept for your restaurant, how to do a market analysis for your customers as well as investigate your competitors. The course includes information on how to use Excel Analysis and also a business model of a restaurant.
If you are serious about running a restaurant then Start a Killer Restaurant- How to Open a Restaurant Course is probably for you. This course was created by Brian Cliette on Udemy. The purpose of the course is to give serious individuals the basic tools they need to start and run a restaurant.
Some of the materials in the course include Information about how to pick a restaurant concept to help you to reach as much of your chosen demographic as possible, how to find a location for your restaurant, how to build a menu, how to analyze the competition so that you can be amongst the competition and how to establish a budget for your restaurant. Additionally, there is some information on how to acquire the necessary capital to start your endeavor.
Are you living in the UK? Then you may want to try How to Start a Restaurant Business UK. This course teaches you how to run a successful business and learn how to avoid the mistakes that make 80% of restaurants fail. You'll learn to pick a restaurant concept as well as a theme that will help you reach as many of your chosen demographic as possible.
This is a step-by-step guide to show you how to launch a successful restaurant business in the UK some of the things that you'll learn in this course include: the basics of starting a restaurant funding your restaurant, how to get your restaurant off the ground, menu design and pricing, marketing your restaurant, staffing labor costs, business insurance, music and alcohol licensure, and more. If you were looking to start a restaurant but don't really know where to begin this is the course for you.
The Ultimate Food and Restaurant Business Course is both for start ups and existing food and restaurant businesses. The purpose of the course is to increase individuals' chance of success with running a restaurant business. This is a four hour class that gives you in-depth information on how to successfully run a restaurant. The course is presented by Nigel Simon and a famous restauranteur living in London. Additionally the course includes information about optimal meal menu design, mapping the customer and service journey, putting together a business plan, start up costs including a comprehensive list.
Udemy offers Master Class: Start a profitable restaurant business. In this class you'll learn how to find the initial capital you need to Open your restaurant, how to perform market analysis as well as competitor analysis in how to understand customers in the industry, how to manage and track finances and maintain productivity and quality in the day today operations of the restaurant. You'll learn how to create and develop as well as evaluate and improve upon the products and services that you sell. And you'll learn how to market your restaurant.
Restaurant Business Plan example, template, sample and excel is a course on how to write a business plan to start and run a restaurant that includes templates examples and samples. This class is all about writing a business plan to start and run a restaurant business. Creating a business plan is a crucial first step to honing your restaurant concept and will be necessary to reach out to potential investors.
The Practical Restaurant Management Course teaches you how to run a restaurant. This course includes information on how to start a restaurant business from scratch and how to become an entrepreneur. You will learn everything about the restaurant business from ideas to franchising. You'll also learn about the key components of running a restaurant business successfully and how to grow your restaurant business. The length of the course is 1.5 hours and includes two downloadable resources. This is an absolute beginners course.
Start Serving, Start Selling is a step-by-step guide to help you land the restaurant job that you want. If you are looking to land a restaurant job in this course is for you. You will learn how to create a resume even if you have no restaurant experience, you'll learn how to apply for a restaurant server jobs and gain insight or information on the role and responsibilities of a restaurant server.
Powerful Marketing Strategies for Restaurant Owners includes strategies on how to grow your restaurant business. You'll learn how to implement marketing strategies in this course you'll also gain knowledge about good restaurant website design on how to grow your restaurant business. The course is 1.5 hours long and includes online and off-line marketing strategies.
Restaurant Management Human Resources Best Practices is all about the human resources component of running a restaurant. This course is created by Christopher Wells and has a two hour on-demand video. In this course you'll learn how to simplify the hiring process as well as maximize your return on investment employee ROI. You'll learn how to keep your best employees and make the scheduling process easier as well as how to reduce turnover in your restaurant. To take this course you should have a basic understanding of the restaurant business.
Restaurant Kitchen Basics Restaurant Classics teaches you how to gain confidence and restaurant in home kitchens. This is a cooking class where you learn how to egg pan grill and stove you'll learn egg pan grill and stove mechanics do you learn how to present upscale restaurant egg dishes yeah and you learn how to cook eggs in any style. This course teaches you how to cook a Florentine omelette, eggs Benedict, a burger and a filet mignon. If you're interested in learning how to cook an egg then this is a good place for you.
How to Open a Successful Restaurant the step by step method is brought to you by Chris Seseryn. In this course you'll be able to learn from the hospitality industry professionals how to avoid the most common mistakes and open up your dream restaurant. This is an hour-long course that teaches through the entire process of opening up a successful restaurant. You will learn what to avoid and which steps to take.
The Achieve Excellence and Restaurant Service class is a 1.5 hour class taught by Christopher Wells. This class aims to answer the question: why is it that some servers are more successful than their colleagues? In this course you'll learn how to sell more to make more tips, be a good server have a great attitude while being a server in different ways to make your guest happy and fix it when things are not going well. This class is designed for individuals to have a career as a server and are looking for ways to make more money and to improve their performance on the job.
The Digital Marketing for Restaurants class is a two hour class with two downloadable resources taught by Chris Worfolk. The purpose of this tutorial is to learn how to use Google Facebook TripAdvisor and more to grow your business. We will learn how to build a simple website, create a Facebook page, use Google my business, run Facebook advertisements, manage TripAdvisor reviews and more.
Restaurant leadership 12 qualities of leaders is taught by Christopher Wells. This is a one-hour class that explains how to become an efficient leader for your team in the restaurant industry, as well as how to drive even more engagement from employees, and outlines the important principles that make sure that you are credible to your team.
The art of restaurant marketing is a one hour course that explains 10 effective business and marketing tips for new restaurants. This course introduces you to restaurant in marketing business fundamentals, as well as the importance of standard operating procedures, how social media is an important key element to your business success, how you'll be able to create a mission statement for your business, and the importance of staffing very specific positions. You will also learn how to hire the right employees.
Restaurant Staffing and Hiring is a one hour and a half class that explains the importance of hiring well. In this class you will learn how to calculate turnover and retention, you will learn interviewing skills as well as how to hire the right person for the job. This course is designed for restaurant managers, restaurant owners, hospitality students, and retail managers.
How to choose the right location and premise for a restaurant is a one hour video that teaches you how to discover the most optimal location to place your restaurant. In this hour long video you will learn how to conduct research of the potential premise, how to understand the link between the restaurant concept in the area, learn about layout and basic kitchen design, learn how to conduct analysis of the potential premise, understanding the property leased and rent benchmarks and points for negotiation and how to take the first steps and opening your successful restaurant.
Profitable Restaurant Management is a 1.5 hour class that features six different articles. In this class you will learn how to manage a commercial kitchen as well as how to reach and retain customers in a competitive market. The class highlights successful restaurants from around the world and explains what financial performance metrics you should track. The class also features a hands-on approach to help you overcome the various challenges in the restaurant business and practical exercises to enter in the business.
Restaurant Marketing: the Secret is in the Sauce is a three-hour class that teaches you how to open run and market as well as manage a successful restaurant. In this class you'll learn how to increase customer satisfaction you'll learn to recognize the best characteristics of a great manager and determine who to hire. You'll learn how to use affective customer marketing as well as how to effectively advertise on Yelp.
Hotel Management Maximize and Analyze Restaurant Profits is a two hour class that teaches you how to analyze restaurant revenue. This course is for restaurant owners, restaurant managers, assistant managers, hotel restaurant managers as well as hotel management students. In this class you will get the key metrics required and learn how to compare with competitors, creatively engineer menus to maximize revenue and understand FNB costs and how to manage them in order to maximize the profits.
Restaurant Waiter Training and Outstanding Waiter is a 3 1/2 hour class where you will learn how to increase your skills as a waiter. In this class you will learn how to earn more as a waiter, how to create opportunities to earn more wages, various persuasive and influential communication skills, how to provide VIP service and earn more tips in return, ways to build lasting relationships with customers, how to handle customers who are not happy, how to get along with colleagues and how to upsell authentically.
Business Boot Camp: Seven Weeks to Start Your Own Business is a 6 1/2 hour course brought to you by Phil Abner. In this course you'll learn how to start your own business and you'll learn how to define your target audience as well as compete with other businesses. You'll be able to find your first clients and scale up your business. Additionally this course introduces you to concepts related to building an online presence with the website portfolio testimonials social media and more. Finally you'll learn how to manage a business including do the finances taxes expenses etc.
UX Design for Restaurants: Learn the Best UX Practices is a class that helps you to understand the importance of the user experience for customers in your restaurant. This class will show you how to create your own customer persona and how to practice good user experience design. This is a 32 minute course that teaches you how to anticipate your customers needs.
eCornell offers the course Opening a Restaurant. This course explores the challenges as well as the opportunities that arise from opening a food and beverage establishment. In this course you'll work towards creating a business plan for your own food and beverage operation and examine strategies to determine whether or not your business idea will be successful in the market. This course is appropriate for general managers and professionals looking to manage a restaurant or food and beverage service establishment. This course is also relevant to individuals who are new to the food and beverage industry and caterers restauranteurs, event space managers, property managers, and corporate event managers. This course is brought to you by Cornell University.
Universal Class offers the course Restaurant Management 101. This course is for qualified restaurant managers who are looking to up their game as managers in the industry. This is a six month course that is self paced and completely online. The course involves 11 lessons including overview of the house, goals safety and profits, customer service essentials, guest recovery and problematic guests, hiring and team-building, training, scheduling, supervision counseling and discipline, controlling food and beverage costs, maximizing revenue, and sanitation liability and legal considerations. At the end of the course you may earn a certificate.
International Open Academy offers a Food and Beverage Management Class. In this class you'll learn about food service management, catering, product development, beverage management and nutrition. This course is for an individual who likes to work with others, enjoys the satisfaction that comes from making people feel good is patient loves food and is smart and quick on their feet. This course focuses on catering.
If you are looking to learn how to cook you can take the Penn Foster Gourmet Cooking Certificate online. You can complete this course in as little as three months. This program focuses on the following gourmet cooking: making stock sauces and soups, gourmet cooking, fruits vegetables and herbs, cooking meat poultry and game, gourmet cooking cooking fish and some shellfish, and gourmet cooking greens legumes pasta gourmet cooking baking and pastry gourmet cooking breakfast and world cuisine's.
Are you looking to become a bar manager then try this course from Event Trix. The bar management course gives you the ins and outs of how to run a bar you'll learn the importance of why are may want to choose bar management as a career path as well as how to run your bar smoothly, keep it well stocked safe and profitable. You learn how to be an ace bartender and be at the very top of the bar business game. By the end of the course you'll earn a CPD certification. Additionally this course includes information on how to promote your bar including marketing, social media, and dealing with repeat customers.
Distance Education offers the professional bar management mastery level certification course. This is a 40-hour course that's three months long. If you're a bartender looking to become an expert in the business and this is a great course for you. Additionally, if you are a bar owner than this is the right course for you. This is a great option if you are looking for a short term course that focuses specifically on bar management.