Find Your Perfect School
Premium Schools is an advertising-supported site. Featured or trusted partner programs and all school search, finder, or match results are for schools that compensate us. This compensation does not influence our school rankings, resource guides, or other editorially-independent information published on this site.
The Bureau of Labor Statistics has confirmed that the higher the level of education, the higher the earnings and the lower the unemployment rate.
Thus, individuals with online associates in general studies degrees are likely to earn $64 more per week than workers with some college but with no degree. Individuals with only a high school diploma earn $154 less than those with an associate degree.
The bottom line: Getting a college education pays!
But if you're struggling to identify your career path by choosing a definite major, you shouldn't feel pressured! You can pursue an online general studies associate degree and benefit from it. You will not only gain a well-rounded general education at the college level but also gain desirable transferable skills.
Additional Info: Top 10 Online Associate's Degrees
---
Quick Summarization
Earning an online general studies associate degree will open up a wide range of opportunities! You will develop valuable soft skills sought after by employers in diverse industries. You can transfer the credits earned in its general education courses to bachelor's degree programs offered on-campus and online.
You will also find that an online associate degree in general studies is just as challenging to earn as any other major! You must participate in classes, submit assignments, and pass exams. Your horizons will also broaden through its online courses – and isn't that what education is all about?
---
Methodology
Are you fresh out of high school without a specific career path or field of study in mind? Are you an undergraduate degree holder seeking a generalist academic program to help you achieve your career goals?
We rounded up the best colleges across America offering General Studies associate degree programs that best fit your needs! These online colleges and programs stand out because of their features that exhibit excellence and promote a positive overall learning experience:
Offered either as a 100% web-based program or in hybrid or blended format,
Features a comprehensive General Studies coursework that emphasizes general education and liberal arts to produce a well-rounded graduate ready to pursue a bachelor's program or enter the workforce,
Enhances the fundamental soft skills required in any occupation, including communication, critical thinking, and problem-solving, thereby preparing students for lifelong learning in any sector where they find a fulfilling career,
Maintains a Transfer Pathway agreement with one or two educational institutions, making the transition to a bachelor's program seamless for associate's degree graduates,
Employs exceptionally qualified instructors consisting of General Studies academic experts and professionals,
Emphasizes affordability by offering financial aid to eligible students,
Earned proper accreditation from official academic agencies.
Visit our Methodology page and learn what goes into our associates program rankings.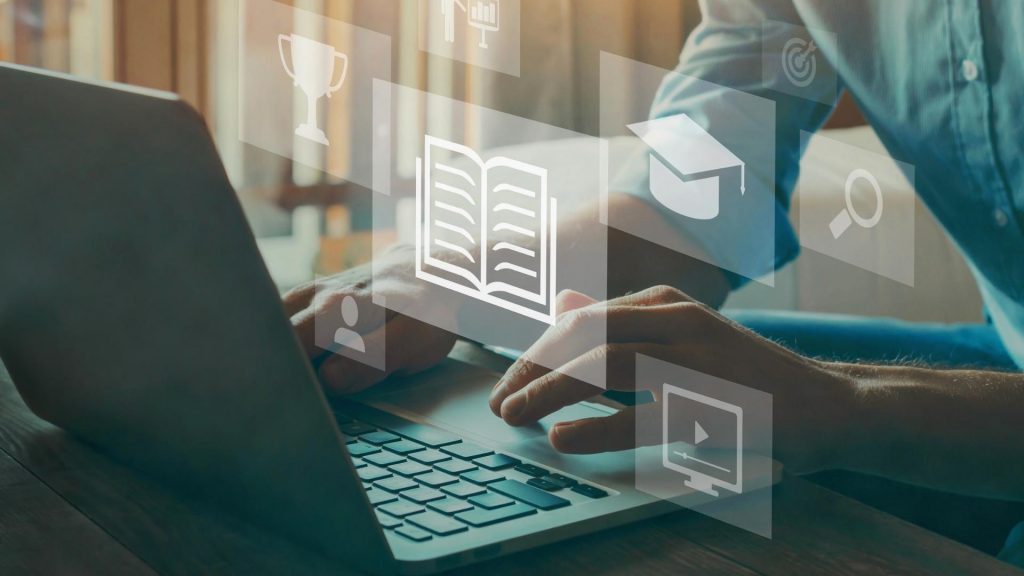 10 Best Online Associate in General Studies Degree Programs
Regent University
The Associate of Arts (AA) in General Studies program promises flexibility in both online education and career choices. Students put their problem-solving and critical thinking skills to the test and enhance them through the diverse courses. A Christian worldview influences every course, from fine arts to math.
Students in the general studies associate degree program earn 64 credits in courses like:
Introduction to economics
World Geography
Introduction to psychology
English composition
Math
Credits earned are transferable to a bachelor's degree program. Admission requirements include a high school diploma. Federal student aid is available.
Students succeed in their future career, thanks to their job-readiness training.
---
American Public University
The Associate of Arts (AA) in General Studies program sharpens students' oral and written communication skills, research and reading skills, and problem-solving skills. The interdisciplinary approach can translate to both immediate employment and further studies in a bachelor's degree program.
This is a 60-credit online general studies associate degree program with courses divided into major categories including:
Civics, Political and Social Sciences
Communication: Writing, Oral, and Multimedia
Natural Sciences
Math and Applied Reasoning
Students develop a solid foundation in college-level general education while also customizing their college experience via elective classes.
The general studies degree program, however, isn't eligible for federal financial aid. Check with the admissions office for other types of financial aid possible.
---
University of La Verne
The Associate of Arts (AA) in General Studies program has a strong emphasis on the liberal arts. Students then develop above-average oral and written communication skills, among others.
Students in the general studies degree program earn 60 credits in multiple subjects in these areas:
Written and spoken English
Fine arts and humanities
Social sciences
Natural science
Students who complete lower-level division courses can choose from higher-level and elective courses. Online students can access on-campus educational services, too.
The associate in general studies online program has three start dates – fall, spring, and summer. All courses are delivered asynchronously. Weekly assignments and regular projects are conducted via Blackboard.
---
University of Toledo
The Associate of Arts (AA) in General Studies program is known for its robust liberal education foundation. Students can explore diverse academic disciplines that will strengthen their skills for higher education and the workplace.
This is a 61-credit general studies degree program with courses in:
College Composition
Introduction to psychology
Computer applications
Cultural diversity in the U.S.
Math for liberal arts
Students in the general studies associate degree program enjoy student support services. Easy access to academic advisors, faculty members, and success coaches are assured. eLibrary, eTutoring, and IT Help Desk services are also available.
Students can also choose from tracks like criminal justice, communications, and health and fitness in the higher education program.
---
Louisiana State University Online
The Associate of General Studies program can be completed in two years of full-time studies. The curriculum emphasizes liberal arts with transferable credits to a bachelor's degree. Students develop strong critical thinking, communication and problem solving skills.
The general studies associate degree program consists of 60 credits with courses like:
English Composition
Applied College Algebra
General Biology
Introduction to Sociology and Psychology
Applicants to the online general studies degree program can save time and money via its transfer credit policy. Certifications equal college credits. Examples include Associate Professional in Human Resources and Amazon Web Services.
LSU Online being a public institution means financial aid is available for online students.
---
Arkansas State University
The multidisciplinary approach of the Associate of General Studies online degree program ensures students get a well-rounded education. Students also develop a solid foundation of communication, critical thinking, and problem-solving skills.
Students complete 60 credits to earn the general studies associate degree. Courses include:
Composition
College algebra
World literature
Fine arts
Social sciences
Natural sciences
Students develop the right skill sets for diverse workplaces, too, while in the general studies online program. Graduates find work in retail, manufacturing and other industries.
Financial aid is available for online students.
---
Ashland University
The Associate of Arts (AA) in General Studies program is among the more affordable programs of its kind. The program's tuition is $512 per credit hour but generous financial aid is available.
The general studies online program has a 60-credit curriculum with courses in:
Communication
Math/logic
Composition
Lifetime wellness
First-year students in the general studies associate degree program benefit from the academic guidance of faculty members. Graduates can transfer their associate of arts degree in general studies to a bachelor's degree, too.
---
Georgia Military College
The online Associate's Degree in General Studies program empowers students to develop their written communication and math skills. Soft skills, such as problem-solving and critical thinking skills, are also emphasized.
Students can choose a specific general studies online program from among three choices:
Associate of arts
Associate of science
Associate of applied science
Students can customize their general studies associate degree via electives. Financial aid makes it an affordable associate degree, too.
---
Columbia Southern University
The Associate of Arts (AA) in General Studies program enables students to develop their critical thinking, communication, and problem-solving skills. The result is a set of transferable skills suitable for a wide range of occupations.
Students who want to earn the general studies associate degree complete 60 credits. But a maximum of 45 transfer credits will shorten time-to-completion in the two-year program.
Course categories include:
Composition I and II
Humanities and fine arts
Math (e.g., college algebra and liberal arts math)
Natural sciences
Social and behavioral sciences
Graduates with an associate degree in general studies become productive members of their communities.
---
Campbellsville University
The Associate of Science (AS) in General Studies has eight-week courses and a program of study with a two-year time-to-completion. Students who want to earn a general studies associate degree must complete 64 credits.
Courses include:
Composition
Computer concepts and applications
General Psychology
Understanding art and music
Introduction to sociology
The tuition costs include $410 per credit. Financial aid results in significant reduction in total tuition paid. Transfer credits also reduce overall tuition costs.
Campbellsville University is accredited by the SACSCOC or Southern Association of Colleges and Schools Commission on Colleges.
---
Another Valuable Resource: 20 Low Stress Careers With Jobs That Pay Well
---
Overview of Online Associate in General Studies Programs
Distance learners in associate in general studies degree programs may seem like they have it easy. But it's far from the truth!
Admission Requirements
Applicants for an associate degree in general studies program usually only need a high school diploma and/or official high school transcripts. A GED equivalent is also accepted.
Only a few community colleges and four-year institutions require standardized test scores from applicants for general studies programs. Be sure to check for the possibility of transferring credits from AP classes, certifications, and military training.
Average Time-to-completion
Enrolled students with a full-time load can earn an associate in general studies degree in two years. Part-time students will take a longer period.
Credits, Curriculum, and Courses
Most online programs have a 60-credit curriculum consisting of general education and elective courses. The academic disciplines center on the liberal arts where students learn transferable skills. Enrolled students may also design a customized program of study.
Humanities and Fine Arts
The general category covers college composition, history, art history, literature, and rhetoric.
Sciences and Mathematics
Students learn about the scientific method and math skills. Courses include college algebra, chemistry, physics and biology.
Social and Behavioral Sciences
Courses in this category enable students to develop a deeper understanding of society including its political and economic systems. Introduction to political science, sociology, and anthropology are common.
Life and Physical Sciences
Students apply the scientific method in explaining, predicting and describing natural phenomena and human interactions with the natural world.
Online Learning Technology
Many online programs have asynchronous formats, meaning students can log in at any time and study at their own pace. But there may be synchronous classes, too.
Learning management systems (LMS) are common in online programs with Canvas, Blackboard and Moodle being a few examples. Students perform a wide range of learning activities on the LMS in coordination with their instructors and classmates.
Productivity and collaboration tools are also common. Calendar, cloud calling, and Zoom meetings are a few examples.
Online students must participate in virtual classroom activities, read and write papers about learning materials, and submit assignments. Quizzes and exams are standard evaluation tools, too.
Skills and Traits
Graduates of online associate in general studies degree programs don't develop specific technical skills. But their diverse transferable skills are impressive including:
Effective communication skills including writing skills
Critical thinking and analytical thinking skills
Research skills
Organization skills
Leadership skills
Tuition and Financial Aid
Federal student aid and other forms of financial aid are designed to reduce per credit hour costs and total tuition costs in both private and public institutions. Note that in-state tuition at a community college or a public college is more affordable than out-of-state tuition, particularly in private schools.
Benefits of a General Studies Associate Degree
In a world where specializations are abundant, being a generalist still has its merits! An associate in general studies degree strengthens your generalist skills while also empowering your quest for a specialization.
While pursuing your associate degree, you will increase your knowledge of life, society and the world. You can, however, tailor your knowledge based on your unique interests that span multiple disciplines.
The interdisciplinary approach in a general studies program, particularly in its emphasis on a well-rounded general education, means you develop robust soft skills. Your oral and written communication skills are above-average. You become adept at critical thinking and problem solving.
You can pursue higher education, too, since the general education credits can be transferred to a bachelor's degree program of your choice. You may also use your associate degree for immediate employment. Your diverse soft skills mean you have greater flexibility in your career paths.
But you must work with an academic advisor so that your degree plan reflects your unique interests and possible career path. You want a solid foundation in higher education that will make your associate in general studies degree truly valuable.
Students in General Studies online programs also have plenty of professional development opportunities, such as joining professional organizations. The Association for Interdisciplinary Studies, the National Humanities Alliance, and the Association for General and Liberal Studies are a few examples.
Careers and Salaries of Graduates of Associate in General Studies Programs
These professionals are in charge of a wide range of responsibilities that contribute to effective and efficient office operations.
Administrative Assistants ($39,502/year)
Administrative assistants are in charge of organizational and clerical tasks, from operating automated technology to filing paperwork.
Selling insurance plans, assisting in filing insurance claims, and maintaining good client relations are a few of the responsibilities of insurance agents.
Customer Service Representatives ($55,499/year)
Nearly every industry has customer service representatives with excellent oral and written communication skills. Active listening skills are also a must.
Advertising Sales Agents ($57,812/year)
Selling advertising space in digital and traditional media is challenging work but it has its rewards.
---
Frequently Asked Questions
Is it worth earning a General Studies Associate degree?
Yes, it is because of the wide range of academic and career paths possible.
What college degrees can you pursue with an Associate in General Studies degree?
English, business management, and history are great choices.
Is it ideal to dive straight into a Bachelor's degree program?
It depends on your academic interest, financial capacity, and life goals. But you can go straight from an associate degree to a bachelor's degree program.
What are the simple yet effective steps in choosing the best online Associate degree in General Studies online program?
Conduct a school search and look at school rankings. Aside from accreditation, look at the tuition costs, educational services, and curriculum!
Which is better: Associate of Arts or Associate of Science in General Studies?
Both are acceptable as long as the online program is accredited and the credits earned can be transferred to a bachelor's program.
In Conclusion
An associate degree in general studies results in a generalist set of transferable skills – and therein lies its beauty! You have the power to leverage it so that it works to your advantage.
---
Before you go… Check this out: The 20 Best Online BS in Legal Studies Degrees