Find Your Perfect School
www.premiumschools.org is an advertising-supported site. Featured or trusted partner programs and all school search, finder, or match results are for schools that compensate us. This compensation does not influence our school rankings, resource guides, or other editorially-independent information published on this site.
Degrees in interdisciplinary studies combine multiple fields into a more individualized major. Unlike a liberal arts degree, which requires students to study a wide range of subjects, an interdisciplinary studies degree allows students to specialize in a single topic spanning numerous disciplines.
If you want to work in business sustainability, for example, your education should include themes from several academic disciplines, including science, business, and ethics. An interdisciplinary studies degree allows you to specialize in various subjects, better preparing you for your career goals. The extra flexibility is perfect for students who wish to integrate numerous interests into one focus.
---
Quick Summarization:
Individualized programs have grown in popularity in recent years. The impact of automated technology on society is producing globally-minded individuals who have access to the entire world at their fingertips. Specialized disciplines do not work for this out-of-the-box student. An interdisciplinary studies degree promotes creativity, problem-solving, imaginative solutions, and integrated course approaches, which are often overlooked in specialized learning with specific courses.
---
Methodology
If you are curious about the many fields of study and wish to gain some expertise in them, the Interdisciplinary Studies degree program can make it happen for you, and you can study this online at the associate level!
Interested? The first logical step is finding outstanding online schools offering the associate degree program in Interdisciplinary Studies. Our list consists of the country's highly regarded colleges with online associate programs with the following features:
Delivered 100% online or as a hybrid or blended program that offers students flexible scheduling and allows them to pace their schedule conveniently,
Extensive coverage of all Interdisciplinary Studies courses and subjects for associate-level education for a deep dive into the basics of the program,
Comprehensive coursework that prepares students to either choose a major for the bachelor's program or find well-paying entry-level work,
Online professors with the credentials, experience, and credibility as industry professionals,
A top-rated Learning Management System (LMS) or learning platform that offers easy access to the coursework and resources for online students,
Technical and support services are available to assist learners should issues relating to the LMS arise,
Student support and career services from the Interdisciplinary Studies department or the educational institution in general, to provide guidance to students as they navigate the steps toward their academic or professional goals after graduation,
Financial assistance options for online students that meet the requirements,
Officially (regionally and/or nationally) accredited by academic agencies,
Acclaimed for the delivery of quality associate-level education, as acknowledged by academic organizations in which they maintain active membership.
See our Methodology page to explore our selection process.
10 Best Online Associates in Interdisciplinary Studies Degrees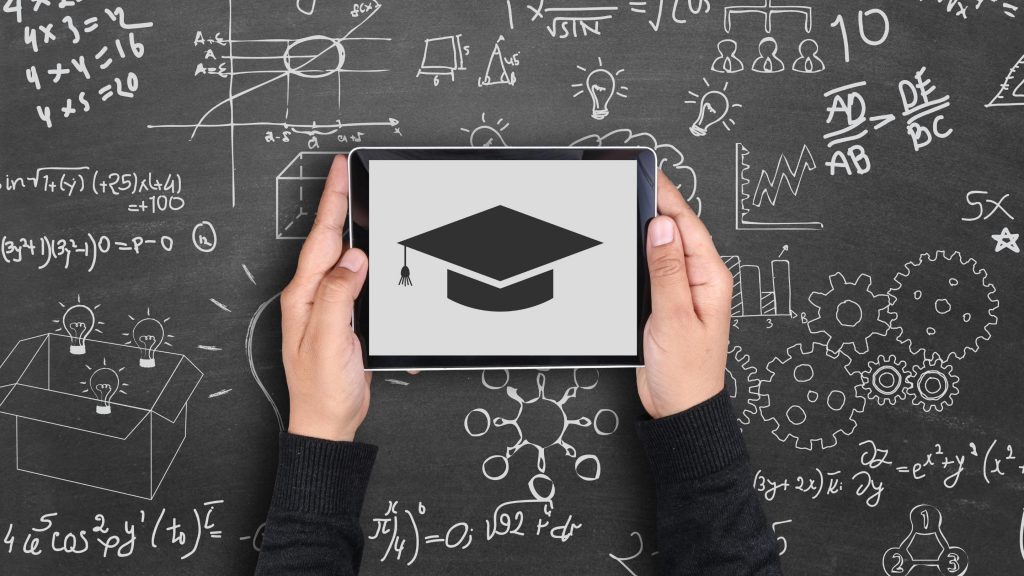 University of Cincinnati Online
The University of Cincinnati Online offers an Associate degree in Individualized Studies in Interdisciplinary Studies accredited by the Higher Learning Commission (HLC). This online degree is one of the most transfer-friendly, flexible, and affordable per credit hour of interdisciplinary studies available.
Learners will tailor their own program based on what they take an interest in and have combined electives. Sample electives include English Composition, Math and Statistics, Natural and Social Sciences, and Fine Arts. Together with a financial advisor, they can decide which combined courses will help them continue into a four-year educational institution and enter the job market quickly.
---
Liberty University
Liberty University is an institution accredited by the Southern Association of Colleges and Schools Commission on Colleges (SACSCOC). The school offers an online Associate of Arts in Interdisciplinary Studies that require no on-campus visits. The university's online degree in interdisciplinary studies is customizable and takes two years to complete. Students can decide which course to choose based on their interests, experience, skill, and goals. The program helps learners train in career planning, composition and rhetoric, communication, and professional development.
Learners can choose multiple courses between Fine Arts, Business, Paralegal Studies, and Health Sciences.
---
Ohio Christian University
Ohio Christian University, accredited by HLC, has a two-year Interdisciplinary Studies major. The 60-credit Associate in Arts in Multidisciplinary Studies program is an excellent way to establish a solid foundational knowledge while broadening your career options as a working adult. This program will help you improve your written and oral communication skills while broadening your understanding of various subjects.
Among the online courses available in Ohio's interdisciplinary studies program are Business, History, and Math. Furthermore, students enrolled in this associate degree program have numerous opportunities to obtain one or more related professional certificates.
---
LeTourneau University
Having earned accreditation from the Southern Association of Colleges and Schools Commission on Colleges (SACSCOC), LeTourneau University offers a 100% online Associate of Interdisciplinary Studies taught from a Christian perspective. The program is 63 credit hours and takes at least two years to complete. Graduates can transfer their earned credits toward a bachelor's degree in business administration, business management, psychology, and education.
The school assigns an academic advisor to help students choose what electives are suitable. LeTourneau associate of interdisciplinary studies degree has Civic Engagement Elective, English Composition, Ingenuity Elective, LETU Orientation and Strategies for Success, MATH Elective, and Natural Science Elective with Lab.
---
National American University
The National American University, accredited by the Higher Learning Commission (HLC), offers a flexible online Associate of Arts in Interdisciplinary Studies that transforms a student's experience into a degree that will allow them to compete in the job market. However, unlike most associate degrees, this associate of arts in interdisciplinary studies degree requires 90 credit hours. Subject specializations include Business Management, Foreign Language, Strategic Security, Information Technology, Aviation Management, Communications, and Criminal Justice.
While this degree requires more credit hours, it offers more financial aid than any other interdisciplinary degree. The National American University provides a reduced military tuition rate for military students with an active military status without any application fee. Furthermore, the tiered undergraduate tuition will give learners significant discounts based on their qualified degree program credits.
---
South Texas College
South Texas College is one of the best colleges in the west accredited by the SACSCOC or Southern Association of Colleges & Schools Commission on Colleges. It offers a broad-based Associate of Science in Interdisciplinary Studies Field of Study. This 100% online program enhances learners' analytical skills, allowing them to have more informed decisions regarding educational preferences. Students will work closely with a student success specialist or faculty advisor appointed by the Interdisciplinary Studies Chair to choose the electives and map out the curriculum sequence required for their particular curriculum interests.
The program's electives include Life Sciences, Physical Sciences, Computer Applications, Engineering, Mathematics, and Allied Health Sciences.
---
SUNY Empire State College
SUNY Empire State College's online Associate of Arts in Interdisciplinary Studies is a 64-credit program accredited by the Middle States Commission on Higher Education (MCHE) that allows learners to explore its 12 areas of study and choose the best coursework that suits them. While the foundations of the areas may differ, they will most likely be met through survey courses at the 1000-level with introductory principles or foundations.
Electives of the interdisciplinary studies degree include Arts, Cultural Studies, Historical Studies, Social and Behavioral Sciences, Natural Sciences, and Mathematics.
---
University of Arkansas – Grantham
The online student can earn an Associate of Arts degree in Multidisciplinary Studies from the University of Arkansas Grantham, accredited by the Distance Education Accrediting Commission (DEAC). The development of skills and knowledge applicable to professional goals and future endeavors is achieved through a core of general education courses. This online associate of arts in interdisciplinary studies program is adaptable, allowing learners to pursue various career paths.
Upper-division courses include Composition in English, Natural and Physical Sciences, The study of computers, and Fine Arts and Humanities.
---
Georgia Piedmont Technical College
Georgia Piedmont Technical College, accredited by SACSOC, provides an online Associate Of Applied Science in Interdisciplinary Studies with faculty advisors who closely work with learners to select coursework from designated areas of concentration that best suit their career path. Learning opportunities help learners gain academic and professional knowledge and skills needed for job placement or further online education. In addition to electives, GPTC offers two tracks for interdisciplinary studies online education:
Associate Degree in Accelerated Online Interdisciplinary Studies with a Management Specialization
Interdisciplinary Studies Associate Degree program Health Track transfer credit agreement to Georgia Highlands College's online Bachelor of Science in Health Sciences
---
Midlands Technical College
Midland Technical College, accredited by SACSOC, offers an online Associate in Interdisciplinary Studies program that encourages learners to collaborate with an academic advisor to tailor their coursework. Through the program's English composition course, students will be able to demonstrate effective writing and communication skills. Through multidisciplinary preparation, students will also develop analytical and critical thinking skills in response to various situations and problems, allowing them to pursue careers in entry-level teaching, business, government, and other similar fields.
Midlands Technical offers two certificates for specific groups of students in addition to its associate degree:
Frequently Asked Questions
What can students expect in an Associate Degree in Interdisciplinary Studies program?
Many general education courses, such as English, humanities, social science, math, public speaking, and health, will be included in associate degree-level programs in interdisciplinary studies. Most of these interdisciplinary degrees will require you to select one or two subjects of interest; thus, your specific interests and focus areas will heavily influence the classes you take.
An online associate degree in interdisciplinary studies usually only requires an online application and official high school transcripts or the equivalent as admissions requirements. However, official high school transcripts are not enough in some colleges and universities. Applicants may be required to pass entrance exams, have a minimum GPA, submit SAT and ACT scores, and finish their state's pre-college curriculum, which often includes English, science, and math courses.
This online associate degree typically takes two years to complete. However, some interdisciplinary studies degrees are accelerated, which allows the student to complete the track faster.
Before applying to any interdisciplinary program, you should always request information from the school and evaluate if the degree fits your needs.
What career opportunities await Associate in Interdisciplinary Studies graduates?
Associate's degree programs in interdisciplinary studies are designed to prepare students for further education or employment in fields that do not require a specific associate's degree program.
Perhaps the two more popular careers that can be obtained with a degree in interdisciplinary studies are Kindergarten Teacher with a median annual salary of $61,350, and Employment Counselor that makes $60,510 yearly.
What are the benefits and drawbacks of interdisciplinary studies?
There are many benefits of interdisciplinary studies. It gives you a well-rounded and broader education that opens the door to numerous exciting careers in research and development.
On the other hand, pursuing interdisciplinary studies in higher education may cause you difficulty drawing lines of connection between multiple disciplines. Because of this, you may not get in-depth knowledge about any of its departments.
Are there any doctoral programs in Interdisciplinary Studies?
Online doctoral programs in interdisciplinary studies are hard to find. Most programs are Ph.D. degrees in this field are conducted on-campus only. An interdisciplinary Ph.D. allows learners to pursue innovative research, various employment options, and fascinating intellectual life.
Key Takeaways
Interdisciplinary studies programs allow you to study various subjects while also tailoring your field of study to your interests and career aspirations. You'll take a variety of general education and elective courses. You'll also probably be able to concentrate on one or two areas of interest, such as arts, business, social science, technology, health, or education.
These associate's degree programs are especially beneficial if you plan to pursue a bachelor's degree later because credits from your completed curriculum will likely satisfy many general education requirements. It allows you to explore various areas, making choosing a bachelor's degree easier.
An interdisciplinary studies program may benefit you more if you are presently employed and want to customize associate-level learning in this field to help you achieve your career goals.