Find Your Perfect School
www.premiumschools.org is an advertising-supported site. Featured or trusted partner programs and all school search, finder, or match results are for schools that compensate us. This compensation does not influence our school rankings, resource guides, or other editorially-independent information published on this site.
One of the most thriving industries in the United States is healthcare. Medical Assistants are expected to expand by 18 percent, which is substantially quicker than other occupations. A medical assistant associate's degree program might be appropriate for you if you enjoy helping others and are interested in healthcare.
---
Quick Summarization
Earning an associate's degree in medical assisting online can help many students meet traditional course requirements while preparing for on-the-job training.

While online medical assisting programs are not usually required for employment, they can help candidates find their edge, stay competitive in the workforce, and become the best medical assistants.

Online students can use virtual education to lay a foundation in medical assisting concepts and seek a locally scheduled field experience to obtain the hands-on experience they'll need on the job.
---
Schools That Made the List! Use these Quick Jumps or start scrolling!
Methodology
If you are a working adult, you can benefit from an online medical assistant associate degree. Earning an online associate in Medical Assisting will allow you to enter the medical sector and become a certified medical assistant without spending much money or time in school.
Take that critical step toward becoming a Medical Assistant with an Online medical assistant associate degree program! See your best program options across the country, as evidenced by the features that these top-rated online programs and colleges are known for:
100% online or blended (hybrid) coursework in synchronous or asynchronous delivery format that essentially allows students to attend (and complete) conveniently and on their own terms,
Strong emphasis on the fundamental principles, theories, applications, and ethics involved in the medical assistant practice, so that students become ready for either a bachelor's program as the next-level academic option or a career opportunity,
A Transfer Path agreement with four-year colleges for easy transfer to the bachelor's program, should graduates choose to,
Well-experienced online instructors that were, or are currently, practicing as Medical Assistants, allowing for a realistic approach to teaching future professionals,
Financial assistance and discounts for students who qualify,
Updated official accreditation status that shows compliance with established academic standards,
Positive feedback from educational resources and Medical Assisting organizations they are affiliated with,
For more information, please check out our Methodology page.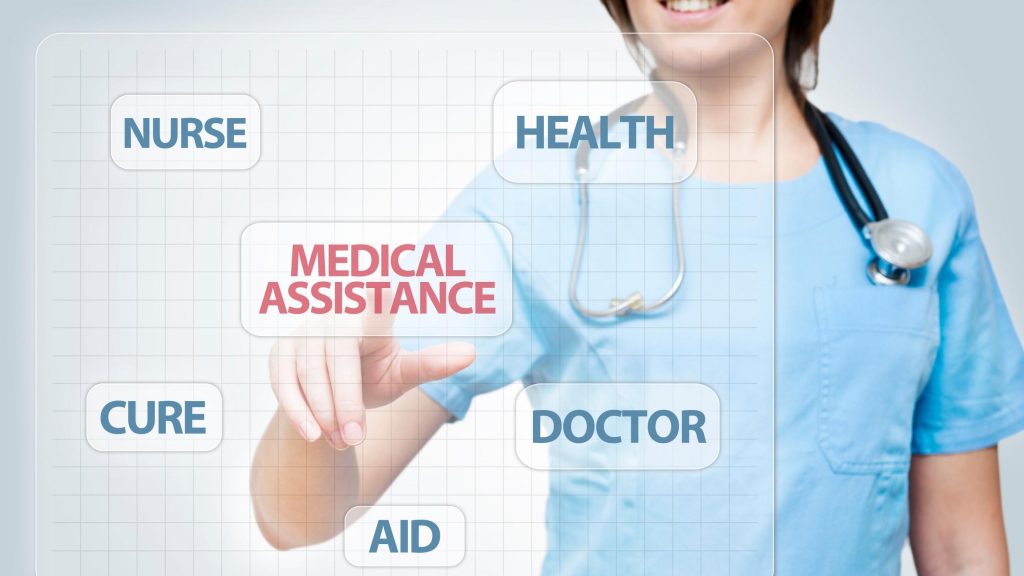 BEST MEDICAL ASSISTING ASSOCIATES DEGREES ONLINE
Liberty University
Liberty University is one of the best universities to offer high-quality online programs from a Christian perspective.
One of its online degrees is the online Associate in Medical Office Assistant degree taught by experienced medical assistants with years of field expertise that help students prepare for an internship to be competitive after graduation or continue to a bachelor's degree.
This eight-week online program can be completed in two years or less if you already have credits—you can transfer up to 75% of the total criteria.
Some of the more administrative aspects of the profession, such as:
Medical Coding,
HIPAA,
Billing Protocol,
Medical Terminology,
and Risk Management, are covered in this medical assisting program.
You'll also learn about medical office procedures and other skills needed to become a registered medical assistant, such as organization, prioritization, and ethical and moral mindsets when interacting with patients.
---
Herzing University
Herzing University in Birmingham's online Associate Degree in Medical Assisting program is a comprehensive and flexible program for people with a high school diploma who want to advance their associate degree to a bachelor's degree.
Full-time students can complete online classes in as little as ten months.
While the majority of the work can be done online, there are two aspects of the medical assisting degree that you must attend:
clinical labs
clinical externship
This online medical assistant program helps students better understand the world of medical assisting through online classes, such as:
Medical Terminology,
Billing and Coding,
Health Management,
and required clinical courses.
You'll need to complete two clinical labs in total. These are designed to aid you in mastering the skills required for medical assistant positions.
Furthermore, the clinical externship is an 8-week experience that you complete at the facility of your choice during your final term.
---
State Fair Community College
State Fair Community College offers an extensive online Associate of Applied Science in Medical Assisting that requires students to complete the 34.5 credit clinical medical assistant certification before obtaining the associate degree.
In addition to the certificate, you'll need to pass the medical assisting exam to continue with the rest of the associate program. While this may seem too much work for an online medical assistant program, it will help boost your resume and prepare you for the field.
Medical Terminology, Administrative Procedures, and Pharmacology are among the program's requirements. The curriculum also includes electives in:
Human Disease and Conditions
Microcomputer Applications
Furthermore, this medical assisting program also requires its online students to complete a clinical component at ambulatory sites.
---
Northland Community and Technical College
Northland Community and Technical College offer an online Associate of Applied Science in Medical Administrative Assistant that helps students work as administrative medical assistants.
NCTC also provides a one-of-a-kind 3-credit Pathophysiology course that delves into the nature, diagnosis, etiology, and treatment of common diseases.
Aside from focusing on medical assisting jobs, this degree is also useful when applying to other assisting jobs.
Intro to Health Information Management is the first course in the two-year curriculum that examines a hospital's administrative tasks and clinical procedures.
Coding, business communications, billing, and computer technologies are covered in detail to help students develop administrative skills.
Of course, some clinical knowledge is required to prepare for a role as the face of a medical office. Anatomy & Physiology and Medical Terminology courses are available to help with this.
---
Keiser University-Ft Lauderdale
Keiser University in Fort Lauderdale is another school to offer one of the best online medical assistant programs that help students prepare for the registered medical assistant exam.
Keiser's online Associate of Science in Medical Assistance is a 60-credit program that includes criteria from numerous different categories.
The program's cost will vary based on how you choose to study; however, online students can access various financial aid options, including grants and scholarships.
Among the common core classes that make up most of the program are:
Pharmacology,
Medical Procedures,
Computerized Medical Office Management,
Medical-Surgical Procedures,
and Medical Law & Ethics.
Among the common core classes that make up most of the program
Each area requires three credits in communication, social science, computer, humanities, English, and math. You'll need six credits in natural sciences, with anatomy and physiology being two alternatives.
---
Minnesota State Community and Technical College
Minnesota State Community and Technical College offer an online Medical Assistant Associate of Applied Science that takes 37 credits to be completed over three terms.
This program requires students to study Business Communications and Medical Terminology in the first fall semester and take regular medical law and ethics courses to ensure that they handle every circumstance elegantly and appropriately.
These courses will assist students in understanding how medical assistants work in a physician's office.
This medical assisting online program will also include clinical procedures courses in the first spring and fall semesters that will put students on the front lines.
You'll receive 180 hours of supervised hands-on experience in these courses, which will help you develop your skills and become a certified clinical medical assistant.
Clinical experience is also required in your last summer semester, and it will serve as motivation for your medical assisting capstone.
---
Guilford Technical Community College
Guilford Technical Community College offers an online Associate of Applied Science Medical Assisting that takes two years to complete, requires a total of 68 credits, and concentrates on the two most significant aspects of medical assisting:
Administration
Clinical responsibilities.
In addition, there is one elective option in liberal arts.
Apart from academics, Guilford emphasizes that its medical assisting students must meet certain standards, such as physical coordination, communication, intellectual, mobility, sensory, social, and professional behavior. These contribute to the practitioner's assistantship and being a capable team participant.
You'll take medical assistant classes like Orientation to Medical Assisting, Intro to Computers, and Basic Anatomy & Physiology.
You'll learn numerous more essential skills for a career as the face of a medical facility during the spring semester and beyond, including:
public speaking,
keeping medical records,
basic clinical procedures,
patient education,
and general psychology.
In the final semester, you will participate in a Clinical Practicum, where you can demonstrate your knowledge and practice in an actual medical setting.
---
Daytona College
Daytona College offers an online Associate in Science in Medical Assisting that students can complete in 70 weeks and allow them to sit for certified medical assistant exams, such as:
EKG Technician Certification,
Registered Medical Assistant,
and the Phlebotomy Technician Certification exams.
The curriculum of this program will help you train in conducting patient intake and assessments, schedule patients, manage patient electronic health records, code and bill, administer medications, collect and process specimens, record vital signs, and more.
Daytona's online medical assisting associate degree includes general courses, such as:
English composition,
algebra,
computer resources,
and psychology.
All of the fundamentals of medical assistance are covered in the core courses. Clinical and administrative laboratories, as well as human diseases, anatomy and physiology, and pharmacology, are among them.
---
Barton County Community College
Barton County Community College offers an Associate in Applied Science in Medical Assistant degree, giving students two format options: online and hybrid.
This medical office assistant degree is a 64-credit two-year customizable program geared for working adults. The curriculum combines general education, administrative, and clinical courses to provide a well-rounded foundation for future maximum medical services.
The first and second semesters concentrate on general education subjects such as commerce and psychology before moving on to medical assistant courses.
Students will study:
Patient Care,
Medical Administrative Aspects,
and Medical Terminology during this time.
With courses in:
Basic Pharmacology,
Records Management,
and Emergency Preparedness, the second year intensifies the career focus.
The last semester requires an internship in ambulatory care to demonstrate how these concepts are applied.
---
Dakota College at Bottineau
Dakota College at Bottineau offers an online Associate of Applied Science in Medical Assistant that may be tailored to your specific needs.
The first step to earning this degree is completing basic clinical procedures, process and diagnostic coding, and medical terminology courses. This will be followed by mandatory courses, such as:
diagnostic procedures,
ethics and law,
and an introduction to pharmacology.
You'll take Office Management, Computer Applications in Healthcare, and Public Speaking courses to earn your associate's degree.
This curriculum concludes with a clinical experience, as with all others. You'll need to log 180 hours at a medical facility to demonstrate your knowledge.
What You Should Know About Medical Assisting
Medical assisting allows you to participate in every aspect of a healthcare facility's operation. This covers administrative responsibilities such as dealing with medical insurance, billing, and coding, as well as clinical responsibilities.
On the other hand, medical assistants do not all have the same roles and obligations.
Medical assistants can help with administrative, clinical, or a combination of the two. In an administrative position, you may be responsible for:
greeting patients,
managing medical billing,
and updating insurance information.
These positions necessitate meticulous attention to detail and excellent organizational abilities.
You will provide primary care for patients alongside physicians and registered nurses (RNs) in a clinical job. Assisting with examinations, explaining medical processes and drugs to patients, and documenting vital signs are all possible responsibilities.
Medical assistants are frequently the first and last people patient contacts during a medical appointment.
What Do Online Associate Degrees in Medical Assisting Consist of?
Anatomy and Physiology
In the anatomy course, students learn about the parts and structures that make up the human body. Physiology instructs them on how and why the body's systems function.
This course gives students the knowledge to comprehend how, when, and why particular patient care, treatments, and procedures are required. It also aids in the explanation of how various therapies, processes, and care affect patients.
Basic Clinical Procedures
This course introduces medical assistant students to clinical procedures done in a medical office setting.
In the ambulatory care context, students conduct fundamental examining room skills, including patient history, screening, minor surgery, vital signs, and patient preparation for regular and specialty tests.
The learner investigates patient care communication principles and psychological theories.
Office Administration
In this course, students learn the clerical skills needed to work as an assistant in a medical field, such as:
computer software utilization,
managing patient and office schedules,
maintaining patient privacy,
creating charts,
organizing data and managing it.
They also study various communication skills, such as how to communicate with patients and other healthcare professionals.
Medical Terminology
In health care, the proper spelling is critical since some terminology with minor spelling differences might have different meanings.
The danger of medical error increases when these terms are mixed up or misspelled, which can be hazardous to patients.
In this course, students learn how to communicate about:
medications,
patients,
procedures,
treatments,
and medical conditions using medical jargon.
Throughout this medical assisting course, students are taught the definitions and accurate spellings of words used in health care.
Introductory Surgical Assisting
In an introductory surgical assisting course, students learn about the equipment used during surgery and other operations or treatments.
Students learn how to operate medical equipment and the right titles to help doctors throughout surgeries and treatments.
This course also covers how to sterilize and store equipment properly.
Pharmacology
Students learn about the effects of pharmaceuticals and other drugs on the body.
This course covers:
common medicine applications,
drug interactions,
and drug side effects.
MA students learn how to use equations and formulas to calculate drug dosages. They also learn the various ways to administer drugs.
Common Career Paths of Medical Assisting Associate Degree Programs
Medical Assistants
Medical assistants help physicians or the hospital with clinical and administrative tasks. They may include monitoring vital signs, taking patient records, or helping doctors during examinations. They also make appointments for patients, keep track of their health information, and fill out insurance documents.
The Bureau of Labor Statistics projects an 8% job growth from 2020 to 2030 in medical assistant jobs.
Annual Median Salary: $37,190
---
Pharmacy Technicians
Pharmacy technicians assist pharmacists in interacting with consumers and selling medicines. These specialists collect patient data, count tablets, measure liquid drugs, and create formulations. They may also have administrative responsibilities.
According to the Bureau of Labor Statistics, job opportunities for pharmacy technicians will grow 4 percent from 2020 to 2030.
---
Phlebotomists
Phlebotomists are medical experts who draw blood for various reasons, including donations, lab tests, and transfusions. Although most blood is drawn from veins, phlebotomists must also be able to draw blood from capillaries.
According to BLS occupational outlook handbook, phlebotomist employment is expected to increase by 22% between 2020 and 2030.
Median Annual Salary: $37,380
Medical Assisting Skills
Patient care
Your patient will be the center of your career. To become a successful medical assistant, you must master all the techniques of patient care. You must know how to properly execute medical treatments to help the doctor keep track of patient progress, such as drawing blood, taking vitals, injecting, EKGs, and lab procedures.
As part of patient care techniques, you must practice sanitation and maintain the patient's right to privacy. You'll need to understand the profession's regulations, how to obey them, and how to deliver the best possible treatment to your patients.
Empathy
You must be a social person. After all, you'll be working with a broad group of people, including a wide range of patients and medical professionals. Your people skills will be most helpful when it comes to patients.
A trip to the doctor's office, even for a routine checkup, can be frightening for many people. You'll need empathy for your patients and a professional yet approachable personality. Your job is to calm patients' worries and make their visits as enjoyable as possible.
Communication Skills
You frequently act as a patient-physician liaison, relaying information from the patient to the doctor and ensuring that the patient comprehends the physician's instructions. When a patient makes an appointment, you must inform them of what to expect and how you will assist them.
There are also all the other persons you need to contact, write to, or email. You must always be clear, succinct, and accurate when interacting with insurance providers, other members of the healthcare team, or the office supply vendor.
Organizational Skills
When it comes to patient care, staying organized is crucial because being chaotic can lead to blunders. You'll need to be able to organize files, write memos, and keep track of patient and physician appointments.
Your responsibilities may also include managing office and medical supplies, so you'll need to keep track of what's running low and purchase more when necessary.
Knowledge of Medical Terminology
The medical profession has its own dialect. You'll require a basic awareness of human anatomy and medical and pharmaceutical terminology. One terminology mistake can cause chaos and misunderstandings.
Diagnoses, treatments, and procedures all have their own codes. Everything will come naturally to you.
Medical Assistant Certifications
Most associate in medical assisting graduates becomes certified as medical assistants before applying for jobs. While certification is not required, having one can help you acquire a job, negotiate a better salary, and offer up more prospects for growth.
Additionally, while many states do not require certification, certain employers will only hire certified Medical Assistants.
The CMA test, administered by the American Association of Medical Assistants (AAMA), is one of the most prominent and well-known Medical Assistant Certifications. Passing this certification exam will entitle you to better job opportunities.
The RMA is the second most widely recognized medical assistant credential. While the CMA was the first (and is more well-known), the RMA covers many of the same subjects and is a great way to show off your medical assistant skills.
The National Healthcareer Association offers the Certified Clinical Medical Assistant credential (CCMA). The CCMA is aimed at Medical Assistants who want to be more involved in clinical procedures rather than office administration.
The National Center for Competency Testing offers the NCMA certification. Unlike the RMA and CMA, NCMA focuses on supporting physicians with patients rather than the entire office administration.
Frequently Asked Questions
How does an online Medical Assisting associate degree take?
A full-time student may take roughly 20 months to complete an online associate degree. Classwork and clinical experience will both be required for credit. A typical range of externship hours is 160 to 180 hours.
How much does an online Medical Assisting Associate degree cost?
The cost of an online medical assistant associate degree varies greatly depending on the school. Tuition rates could be as low as $80 per semester or as high as $441 per credit with scholarships.
The school may charge additional fees and possible charges for class supplies such as textbooks.
Financial aid in the form of loans, federal financial aid, scholarships, or grants may be offered, allowing the overall cost of tuition to be adjusted.
Where do medical assistants work, and how much do they earn?
Medical assisting graduates usually find work in:
physician offices,
healthcare systems,
outpatient clinics,
and hospitals.
In addition, approximately 60% of Medical Assistants work in offices. Medical assistants earn a median salary of $37,190 per year.
What are the requirements for a medical assistant degree?
An associate medical assistant degree is frequently given through community institutions with open admission procedures. It usually has simple entry requirements.
Regardless of test results, grades, or recommendations, acceptance to the college may merely require a high school diploma or GED.
Why is Accreditation important?
Most employers only hire medical assistant graduates who have completed an accredited curriculum, such as Commission on Accreditation of Allied Health Education Programs.
Prospective students should look into the school's accreditation status. Additionally, only attend regionally accredited schools.
In Conclusion
An associate degree in medical assistance can help you achieve various career goals. Some people would instead pursue a profession as a medical assistant than pursue a bachelor's degree.
Others consider medical assisting a stepping stone to other healthcare careers and use the degree as a foundation for ongoing education.
This curriculum can fit into several career paths because you can complete an associate degree in as little as two years.