Find Your Perfect School
Premium Schools is an advertising-supported site. Featured or trusted partner programs and all school search, finder, or match results are for schools that compensate us. This compensation does not influence our school rankings, resource guides, or other editorially-independent information published on this site.
Anthropology is the study of humans and society. This includes human evolution, politics, religion, culture, and social transformation. An anthropology degree is a great option for those who wish to learn more about the study of humanity itself.
Anthropology students examine the biological, historical, and political factors affecting society, studying areas like linguistics, history, science, and religion. Students who earn their bachelor's degree program in anthropology enjoy very solid job prospects.
Recent US Bureau of Labor Statistics information reveals that anthropology jobs will increase up to 6% between 2021 and 2031, a rate that is faster than the usual national average. The BLS further reports that anthropologists and archaeologists have a median annual salary of $61,910, although this figure widely varies by location, degree level, and job type.
Whether you want to work as a full-fledged anthropologist or utilize your knowledge in a different career, an anthropology program helps you build a more solid foundation in the field. Expect to take classes about cultural development, evolution, societal conflicts, and world people groups.
---
Additional information to consider: Best Schools with Online Bachelor's in Social Studies Education
---
Quick Summarization
A bachelor's degree in Anthropology is also a first step toward a graduate degree or advanced studies. Those holding a master's degree or doctorate in this field can work as professors, anthropologists, museum curators, and researchers. This will also prepare students to pursue careers in different but complementary fields like law.
Methodology
Because an undergraduate degree in an online anthropology program is very common, finding the right one tends to get overwhelming. This list aims to help narrow down your choices.
This top 10 list of the best online school for an anthropology degree is chosen based on several factors to help influence the student's decision. These factors include:
Offered in different distance learning formats with synchronous or asynchronous, live classes, or accelerated format options,
Offers an array of specializations or concentrations, or may be paired with other fields or minors,
Delivers an array of research opportunities and field experiences with hands-on or laboratory sessions and internship programs offered to students,
Taught by professors who are certified Anthropology terminal degree holders and experienced professionals in or contributors to this field,
Features financial aid options for students (in-state and out-of-state) usually in the form of federal student aid, scholarships, and grants,
Received regional and programmatic approval or accreditation, guaranteeing that students receive an outstanding learning experience program.
Read our Methodology for information.
10 Best Schools with an Online Bachelor's in Anthropology Degree
Arizona State University
Arizona State University is the Number 1 "Most Innovative School" in the US, according to the US News and World Report for seven straight years. This comprehensive public research university has over 400 academic undergraduate degree programs and more than 450 graduate degree programs and certificates across 17 colleges and more than 170 cross-discipline centers and institutes.
With more than 5,000 faculty members, students are guaranteed real-world experiential learning opportunities that only ASU can deliver.
Arizona State University offers several online programs, including the Bachelor of Science in Anthropology degree. This program provides training in research design and data analysis within the context of archaeology, human evolution, and the wider field of anthropology.
Through this online anthropology degree, students will learn how to correctly use scientific methods in formulating and testing hypotheses and gathering quantitative and qualitative data through interviewing, participant observation, measurement, and careful excavation.
This anthropology bachelor's degree train students how to use statistics to extract and assess meaning from data.
This online anthropology program may be completed as part of an Accelerated Master's Degree program. When qualified, students can earn their master's degree in just one year after they complete their online bachelor in anthropology degree. This will help them save money and time while earning more advanced knowledge in the field.
Undergraduate students will learn from the same faculty members and obtain the same course content as on-campus students get.
After completing this anthropology online program, students will gain and develop all the skills they need that make them valued in different fields, including foreign service, health research, and a wide variety of other industries. This degree is also relevant for an anthropology student who plans to go to medical school or pursue advanced degrees in anthropology.
Arizona State University is accredited by the Higher Learning Commission.
---
Florida International University
Florida International University is one of the biggest public research universities in the entire US. Located in Miami, Florida, FIU offers bachelor's, master's, and doctoral degrees in nearly 200 degree programs and over 100 fully-online programs.
Thru the Steven J. Green School of International and Public Affairs, Florida International University offers an online Bachelor of Arts Anthropology Major, Global Studies that provides methodological and theoretical training in social science relative to the ever-changing global workforce of the 21st century.
This online bachelor of arts focuses on how diversified human culture, evolution, and experiences are in the contemporary world.
In this anthropology degree online, students will explore why and how people understand and live the world differently; how everybody has dissenting views of the environment, spirituality, health, ethnicity, gender, race, sexual orientation, and more.
Online undergraduate students at FIU will have bright careers in public policy and government, education, public health, and medicine, cultural resource management, international organizations, human rights, business, and other relevant fields where knowing people's diversity and cultural backgrounds is crucial to meeting their needs and finding solutions to complex problems.
This is a 120-credit online program that includes lower and upper-division courses, department electives, and general education courses.
The cost of attendance is $228.81 and $345.87 per credit hour for in-state and out-of-state students, respectively.
Florida International University is accredited by the Commission on Colleges of the Southern Association of Colleges and Schools (SACS).
---
Southern New Hampshire University
Southern New Hampshire University is a private university that has dedicated itself to helping transform the lives of students. This nonprofit university has provided students with an affordable, innovative, and high-quality education to help them pursue careers in their chosen fields. From first-generation students to working adults, to refugees across the globe and military service members, students can choose from any of the school's more than 300 programs on campus and online.
SNHU offers over 200 online courses for today's most sought-after fields, including STEM, healthcare, business, and liberal arts. Its online Bachelor's in Anthropology program is an experiential degree that bridges the humanities and the sciences.
Students will explore both the differences and similarities in society through archaeological, biological, cultural, and linguistic lenses.
This bachelor's in anthropology degree allows students to examine how our society has gradually changed over the years and into the present day.
Prospective students will gain a broader range of skills that can use as they start their future careers. From market research and tourism to criminal justice and social impact, this higher education online degree will open doors to so many career paths and help students in responding environmental and cultural challenges.
Students will learn all the relevant courses in the field, including research methods and data analysis, research question development, culturally relevant perspectives, and theory and concept application.
Aside from the general anthropology track offered at SNHU, students can also choose to tailor their program with a career-focused environmental sustainability concentration. This specialization will help students in recognizing and responding to environmental and cultural challenges by studying the way the past impacts the present.
This concentration also allows students to acquire practical, ethical, technical, and critical thinking skills, and learn to see the world through an evolutional, historical, and social lens.
What's great about SNHU is that students will have support from day 1 until they complete their online degree.
Southern New Hampshire University is accredited by the New England Commission of Higher Education, Inc. (NECHE).
---
Oregon State University
Located in Corvallis, Oregon, Oregon State University is a public institution that offers more than 200 undergraduate degree programs. This land-grant and research university is home to the seventh-biggest engineering college in the US for 2023.
Oregon State University's online anthropology bachelor's degree offers four areas of focus to prepare students for a wide range of jobs emphasizing international contracts and management of cultural resources, cross-cultural awareness, human and governmental services, media, business, and medicine. These four areas are:
Archaeology
In this online anthropology degree concentration, students will study the physical remains of past cultures and their environments. They will gain the laboratory and field skills needed to collect, evaluate, and curate archaeological materials.
Biocultural Archaeology
This online bachelor's degree in anthropology concentration studies the ways political economy, evolutionary biology, culture, and ecology interact to influence human behavior and health over time and from a cross-cultural perspective.
Cultural Anthropology
This explores the diversity of living cultures in terms of their sacred and secular rituals, subsistence practices, technology, economies, arts, social institutions, and language.
General Anthropology
Students will gain a thorough understanding of human culture and societies, past and present, by studying various topics like global health and food justice, and human evolution.
In this online anthropology program, students need to complete 180 credits to earn either a Bachelor of Arts or a Bachelor of Science in Anthropology. The cost per credit is $350. Oregon State University is accredited by the Northwest Commission on Colleges and Universities (NWCCU).
---
Colorado State University
Recognized as one of the country's top public research universities, Colorado State University is located in Fort Collins in Denver, Colorado. This university offers more than 150 degrees in eight colleges, as well as graduate programs in several schools. For years, CSU has produced record enrollment and groundbreaking research driven by highly-productive faculty members.
One of CSU's online programs is the Bachelor's degree in anthropology where students use an evolutionary lens to learn more about the social, economic, biological, and cultural world. This online bachelor's degree widens the knowledge of people and cultural systems.
Learners will have a thorough understanding of humanity through a curriculum built on cultural relativism. They will further learn more about:
People and their culture and gain an understanding of political, economic, social, and environmental systems.
The resemblances and disparities that distinguish human societies in the world, and major theoretical ideas that anthropologists use to study them.
The correlation between research methods, theory, and data.
This online bachelor's in anthropology also allows students to take advantage of optional, hands-on opportunities by joining one of three in-person field schools during the summers. These three are:
Paleontology Field School
Students in this anthropology degree field work will learn how to recognize fossil localities, map sections, and help in the collection of primary data.
Archaeology Field School
This brings students every summer to various sites in Colorado where students focus on high-altitude locations. They will establish connections from plains to mountains, prehistory to history.
Ethnographic Field School
This is a four-week summer program that provides hands-on training in quantitative and qualitative research so students can better understand realities and perceptions of risk and varieties of human adaptation following a disaster.
This online bachelor's in anthropology degree program is 120 credits and costs $476 per credit. Colorado State University is accredited by the Higher Learning Commission.
---
Troy University
Troy University is the flagship university of the Troy University System. Located in Troy, Alabama, this public university provides students across the globe with a top-notch education, offering more than 170 quality academic programs on campus and online.
One of its online programs is the bachelor's in anthropology degree, a part of the Troy University Social Science Department. Through the Troy Archaeological Research Center, students will have the chance to join in field and laboratory research and are usually provided opportunities for part-time employment while completing their degree.
In this online anthropology degree, students will gain a broader background in the field. There will be courses in cultural anthropology, linguistic anthropology, anthropological research, evolutionary anthropology, physical anthropology, and sociocultural anthropology, among others.
The school has distinguished faculty that bring field experience from Australia, the Near East, and the southeastern US to the program.
This degree in anthropology involves student preparation not only for careers in anthropology but for continuing education as well, like law school or graduate school.
Archaeology labs at Troy Archaeological Research Center have facilities for the analysis of ecological remains and artifacts, and another facility for the study of faunal remains from Near Eastern and North American archaeological sites.
The online anthropology degree at TROY has partnered with Thomas Goode Jones and Cumberland Schools of Law, making it the very first college in Alabama that offers an accelerated law option to its students where they can complete their bachelor's degree and Juris Doctor degree in just six years.
Troy University is accredited by the Southern Association of Colleges and Schools Commission on Colleges (SACSCOC).
---
University of Florida
The University of Florida is a massive public research university with more than 900 buildings scattered across 2,000 acres of land. This land-grant institution is one of the country's best all-around universities that drive eye-opening discoveries, future-making education, community-building collaboration for the state, the nation, and the world, and life-saving health care.
The school offers on-campus and distance learning programs in 104 distinct undergraduate degrees, concentrated into 91 majors within 26 fields of study. One of its online bachelor's offerings is the Bachelor of Arts in Anthropology.
This bachelor's degree program provides students with a rounded understanding reflective of the field itself. The anthropology courses are designed to address cultural and social consequences from a global standpoint.
Prospective students will have the chance to concentrate on any of the four major subfields offered; biological anthropology, cultural anthropology, linguistic anthropology, and archaeology.
Anthropology majors can also focus on an interdisciplinary track with another minor or major.
This anthropology degree online requires students to complete 120 credits to graduate. Of this number, 34 credits must be in anthropology courses.
Through this online anthropology bachelor's degree, students will gain a worldwide scope into the discipline that combines humanities and science.
UF's online bachelor's in anthropology program not only highlights the boundaries of the subfields within the program itself. The program also addresses the disciplines aligning with anthropology like zoology, biology, political science, history, art, and law.
The University of Florida is accredited by the Southern Association of Colleges and Schools Commission on Colleges.
---
Western Illinois University
Located in Macomb, Illinois, Western Illinois University is a public institution where students can enjoy the advantage of being in a large university: modern technologies and facilities, accomplished and distinguished faculty, and solid alumni and community partners.
The school offers more than 100 groundbreaking undergraduate and graduate degree programs, as well as preprofessional and certificate programs.
For those who cannot earn their degree on campus, WIU offers online degrees that students can earn on their terms. the online Bachelor of Arts in Anthropology degree provides students the chance to be part of ground-breaking research. Some can even qualify for grants from the US Department of Education or the National Science Foundation.
Students in this online bachelor's in anthropology degree can take advantage of WIU's innovative techniques in online teaching, including 3D modeling and live-streaming.
This is a student-focused program, and the faculty believes that teaching and research are intricately intertwined. Thus, they work really hard to provide students with the highest quality of education while meeting their needs outside and inside the classroom.
All students, whether on-campus or online, can join the face-to-face summer programs offered at WIU. This includes the WIU Archaeological Field School where learners can join real-life laboratory analyses and archaeological excavation so they will gain not only social science research methods but also vital skills in the field of archaeology.
The school also offers two bridge programs allowing students to complete their Master's in Museum Studies or MA in Liberal Arts and Science in five years.
Just like most online anthropology programs, this program requires students to complete 120 credits to graduate.
Western Illinois University is accredited by the Higher Learning Commission.
---
University of Central Florida
The University of Central Florida is a metropolitan public research university that was built to help students achieve a better future. The school is committed to solving the greatest challenges in the future through a commitment to academic, operational, and inclusive excellence. UCF offers more than 220 degree programs in 13 colleges in an on-campus and online format to provide students with the education they need for their future.
UCF offers an online Bachelor of Arts in Anthropology degree program for students who wish to join a journey that takes them through the entirety of human history.
This online undergraduate degree has a focus on the subfields of cultural anthropology, archaeology, physical anthropology, and linguistics.
Students will gain a deeper understanding of culture, language, and religion from around the globe. They will complete the program armed with the skills required to conduct fieldwork and research and understand research methods and theories that drive anthropology.
Through this anthropology online program, students will be in the position to pursue different exciting careers or proceed into graduate studies.
Students in this online degree must complete 120 credit hours to graduate. Interested learners may apply online and submit their SAT or ACT scores.
The University of Central Florida is accredited by the Southern Association of Colleges and Schools Commission on Colleges.
---
University of Houston- Clear Lake
The University of Houston-Clear Lake is just five minutes away from NASA. With its main campus in Houston, Texas, and branch campuses in Texas Medical Center and Pearland, this public university prides itself on its small class sizes and highly qualified faculty. Students get to choose from more than 90 undergraduate, graduate, and doctoral programs across four colleges at UHCL.
The school's College of Human Science and Humanities offers an affordable solution for students who seek to earn a degree in anthropology but just don't have the luxury of time to go to school physically. UHCL's online BS in Anthropology merges both convenience and quality, emphasizing the study of the human origins, and the whole human being.
This online education can be completed in just two years by enrolling in 10 online courses each year, across the summer, fall, and spring semesters.
Each anthropology student is provided with coursework that fosters analytical reading, fieldwork skills, strong written and oral communication skills, critical thinking, and an understanding of wide-ranging cultures.
The University of Houston- Clear Lake is accredited by the Southern Association of Colleges and Schools Commission on Colleges.
---
Check this out, too: Best Online BS in History
---
Top Jobs in Anthropology
The skills you develop after earning the best online bachelor's degree in anthropology are great assets when you start your career. What jobs can you get after earning your anthropology degree?
Diversity Manager
Also called diversity and inclusion managers or diversity, equity, and inclusion managers, these professionals are usually seen working under human resources or people departments. They handle a lot of tasks, including researching and implementing inclusive promotion and recruiting practices, developing training programs, or recognizing hindrances employees may face because of gender, racial, and other biases.
Public Relations Manager
According to the US Bureau of Labor Statistics, PR managers have a median annual salary of $129,430. These professionals build brand awareness and create positive associations. They write press releases, build solid relationships with the media, brainstorm or implement public-facing campaigns, or come up with strategies that can lessen the impact of negative press.
Public Policy Analyst
Public policy analysts study how healthcare, environmental, education, and other policies impact different communities. From there, they will use their research into making recommendations on how to update or change policies that these communities will benefit. Since anthropology majors study how cultures evolve and how environment, social, and other factors influence people, people who earn this degree can use this background and work as public policy analysts.
Aside from these three top jobs in anthropology, graduates with this degree can work as museum workers, research assistants, human resources managers, social workers, marketing strategists, and even attorneys.
Introduction to Anthropology
This class will explore the major pillars of anthropology, including archaeology, linguistics, biology, and history. Students will have a fundamental understanding of societal and cultural development, studying the diversity of human language and thought.
World Geography
This examines the present and historical events through a geospatial lens. Students will learn how geographical borders impact linguistic and cultural development. Sometimes, especially in distance learning, students will take virtual field trips and explore regional surveys of physical environments. They can even join in research projects.
Religions of the World
This course will study the beliefs and origins of different religions, including how each religious beliefs intersect. Students will further understand the roles of religious beliefs in shaping culture and history.
Frequently Asked Questions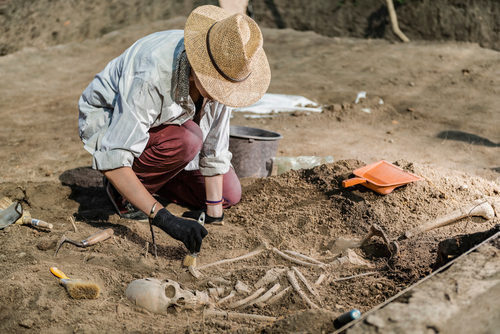 What is the Difference Between a BS and BA in Anthropology?
While both academic tracks are generally comparable, they do have some differences. The BA track focuses more on the humanities aspects of anthropology, whereas the BS is more on the scientific parts of the field. The BA involves more linguistics and culture classes, while the BS clings more to math and science classes.
Finally, the BA in Anthropology will prepare graduates to work in social sciences, while those with a BS degree are geared to work in health sciences or archaeology.
How long does an online Bachelor's in Anthropology degree take?
A bachelor's degree takes four years to complete. You need to complete 120 credits which you finish in 8 semesters of full-time study. You can also shorten your time, especially in colleges that offer accelerated academic calendars.
Like most online programs, the online bachelor's degree in Anthropology requires 120 credits. For on-campus and traditional students, a bachelor's degree program will normally take four years to complete. However, online degrees may need more or less time, depending on the program's format. Some online students can shave a year or semester off with an accelerated degree, while part-time enrollees may need a year or two more before earning their degree.
What essential skills do Anthropology majors develop?
Anthropology students develop critical thinking, research methods, organization, problem-solving, and communication skills as they complete general education courses and elective courses.
Online Anthropology programs need plenty of writing and reading. Students must also practice qualitative and quantitative methodologies so that can easily complete research projects during their studies. Depending on the program, online students may be required to complete on-location and in-person requirements.
Can Anthropology undergraduate students choose a specialized field of study?
Bachelor's in Anthropology offers concentrations, featuring cultural anthropology, biological anthropology, forensic anthropology, linguistic anthropology, and archaeology.
Key Points to Ponder
Online degrees in anthropology allows students to study topic on a schedule that works best for them. Some schools even offer digital artifact examinations, virtual field trips, free online tutoring, and in-person dig experiences.
Today, it's easy to find anthropology jobs in areas like government, education, law, and museum curation.
Most anthropologists are office-based, also there are others, like archaeologists or researchers working in the field.
---
Take a look: Best Bachelor's in Liberal Arts and Humanities Careers