Find Your Perfect School
Premium Schools is an advertising-supported site. Featured or trusted partner programs and all school search, finder, or match results are for schools that compensate us. This compensation does not influence our school rankings, resource guides, or other editorially-independent information published on this site.
Art has always played a pivotal role within society since time immemorial. It has always helped people process and express their emotions and better understand their surroundings. Art also helps people look at life from a different perspective. It can communicate information and shape everyday lives.
Art is an excellent tool for education, expression, and cultural exchange, prompting communities and organizations to offer various art experiences to inspire people of all ages. Musical shows, concerts, dance performances, theater performances, visual art gallery exhibitions, and art installations are organized.
Importantly, teaching the Arts nurtures people's imagination and creativity, as well as critical thinking skills! The industry encourages the study of the Arts that do wonders to students' problem-solving capabilities, enabling them to embrace innovative approaches and think outside the box. In other words, those who engage in art-related activities are inclined to explore more and express themselves more freely.
Art and design occupations continue to be in high demand these days, says the US Labor Statistics Bureau, emphasizing a 2% rise in the demand for professionals in field from 2021 to 2031. About 94,500 job openings can be expected every year based on this data.
The journey of pursuing a Bachelor's in Art Education starts with innovative thinking as students explore new techniques, skills, and creative concepts that showcase their unique visions. Before graduation, an Art Education major is often tasked to create a body of work that demonstrates what they have learned and who they are as artists.
---
Additional Resources:
Quick Summarization
An online Bachelor's in Art Education prepares students to become both an artist and educator. It is a program with art education courses that combine the principles and applications of art history, liberal arts, and education courses, with studio art classes. Art Education majors acquire the teaching philosophies and technical tools to become effective art education teachers, art therapists, and other similar professions after graduation.
Methodology
Online Bachelor's in Art Education programs produce exceptionally capable art teachers of preschool through twelfth-grade students. They will have practicum experience with mentors that can help students prepare for a teaching role and build their individual portfolios.
Choosing a college or university to enroll in is crucial to ensure the best education and training in art education. To save students and parents time and energy, we have indexed 10 of the most outstanding online degree programs in art education in the United States. Each of the schools listed here has been chosen based on the following factors:
Delivery format is online or hybrid to allow adult online students who may have other commitments to pursue a bachelor's degree without sacrificing their schedules.
Program is a combination of research, theory, and extensive clinical experience practice and is focused on developing well-rounded art teachers capable of demonstrating a professional disposition and pedagogical knowledge and skills.
Curriculum is proven to meet state educational requirements for teaching certification or teacher's licensure exams.
Provide coursework and internship opportunities to give each future professional art teacher or art instructor opportunities to work with various populations and a wide variety of culturally relevant settings.
Classes are instructed by professors with terminal degrees who have spent more than 10 years working in art education and are facilitated through virtual platforms that give students easy access to their coursework.
Students are provided with collaborative spaces where they can exchange ideas, thoughts, and artworks, as well as receive and give constructive feedback on one another's works.
School provides credit transfer and financial aid opportunities to eligible students to help them manage their finances.
School has appropriate accreditation status from respectable agencies that ensure the quality of education provided by the institution and that it meets industry standards, such as:
Read our Methodology page for a full discussion of our ranking process.
---
5 Best Online Bachelor's in Art Education
Academy of Art University
The Academy of Art University offers a fully online Bachelor of Fine Arts in Art Education to provide students with a pathway to teaching art in classrooms, communities, and museums. This program exposes individuals to various visual art and design media, helping them develop a breadth and depth of understanding and skill.
During the first semester, Art Education majors will learn about traditional art tools, techniques, and materials. They will also get to explore more about arts and the art-making process through hands-on studio work, written assignments, final research papers, and theoretical investigation.
Aside from that, students will learn about the theories and practices of art education. They will get insights into pedagogy, advocacy, visual arts standards, art education history, professional readiness, and managing a classroom.
By the end of the Art Education bachelor's program, students will be able to create portfolios of their work in various visual media, as well as the specialized discipline of design/art. Additionally, they will gain teaching and communication skills, allowing them to appropriately apply content standards, including the California Pre-Kindergarten through 12th Grade Visual Arts Standards.
Degree requirements for the Academy of Art University's Bachelor of Fine Arts in Art Education include:
Communication: Critical Thinking
Communication: Context & Style
Art Historical Awareness: Prehistory – 20th Century Western Art
Comparative e Art History
Quantitative Literacy
US Constitution
---
Rocky Mountain College
Rocky Mountain College's Bachelor of Fine Arts in Art Education helps students acquire the teaching philosophies and technical tools to teach young artists. BFA Art Education majors will develop a teaching experience and techniques that will prepare them for success in the classroom, especially when it comes to enhancing children's love for art.
Throughout the Art Education program, students will learn how to properly apply various assessment practices to develop and support motivation, continuous feedback on the learning process, and classroom instruction. They will also acquire leadership skills and be able to show professionalism through reflection, leadership, and ethical conduct.
Moreover, they obtain knowledge of the importance of creating change and making choices through art.
Rocky Mountain College's online Art Education program teaches students about theoretical approaches to contemporary art teaching and core teaching methods that suit their styles. Throughout the program, students will also spend a lot of time in K-12 art classrooms to observe experienced teachers and their students to give them a good idea of the complexity of the teaching profession.
Students must accomplish two teaching terms and work full-time and in-person with their mentors to complete their online courses.
---
Arizona State University
The Arizona State University Bachelor of Fine Arts in Art – concentration in Art Education program teaches students about the different learning processes and strategies and involves first-hand experience in teaching arts for different ages. Students will also study art history and global cultures, as well as apply what they have learned in various studio areas.
The main focus of ASU's Art Education concentration is educating K-12 students in community and museum settings. They will also tackle topics related to art education, including ecological connections, inquiry-based learning, interdisciplinary curriculum development, multicultural contexts, and studio and conceptual art practices. On top of the course requirements, students will also take coursework in different studio areas in the School of Art.
At ASU, students have opportunities to study abroad to help future art educators broaden their intercultural sensitivities, leadership abilities, and communication skills. Additionally, students can customize their college experience to give them an advantage, including internships, undergraduate research, opportunities to work with world-class professors and scientists, and hands-on training in state-of-the-art facilities.
Some of ASU's Art Education concentration program requirements include:
Introduction to Digital Media
Orientation to Education of Exceptional Children
Teaching Inquiry in Art
Expanded Arts Studio
Contemporary Art in Practice, Methods, Making, Meaning
---
University of Montana
With the University of Montana's Bachelor of Arts in Art Education, students will be equipped for successful careers as art teachers whether in the state or anywhere in the United States. This Art Education degree program focuses on developing students' understanding of arts and visual culture in society.
Art Education majors will gain real-world experience by working with children in P-12 classrooms. They will also be able to develop an engaging curriculum that is collaborative e, interdisciplinary, and research-based. Classes are taught by faculty members who are award-winning teachers, nationally recognized artists, and recipients of prestigious grants, such as the United States Artist Award and Fulbright Fellowships.
Students will also learn to teach art as part of a community with mentors and peers who will inspire, challenge, and support them throughout their degree. They will also have lots of opportunities to connect with professionals and build a network through student teaching experiences and national conferences.
Shared foundation requirements for the University of Montana's BA in Art Education online programs include:
Introduction to Art History
Visual Language – Drawing
Visual Language – 3D Foundations
Digital Imaging
Intro to Media Arts
---
University of Nebraska Kearney
The Bachelor of Arts in Education (Art K-12 Teaching Field Endorsement Degree Program) offered by the University of Nebraska Kearney prepares students for successful careers as art teachers to preschool through 12th-grade students. This online degree in Art Education program provides students with comprehensive teacher education, combining creative expertise with the university's art department and its College of Education's instructional excellence.
Through this online program in Art Education, students will be taught methodology courses to be academically competent and have a deep understanding of the psychology and philosophy of art education. Furthermore, they will learn how to develop creative skills and develop integrated curricula for their young students in the future.
UNK's Art Education majors will have plenty of opportunities for practical application by working with P-12 students, completing over 100 hours of field experiences and direct art-classroom observations. Plus, they will be required to spend a full semester teaching in a P-12 program.
The following are some of the course options and requirements for UNK's Art K-12 Teaching Field Endorsement Degree Program:
3-D Design
Painting
Art History Survey
Foundations of Art Education
Growth and Development/Introduction to Exceptionalities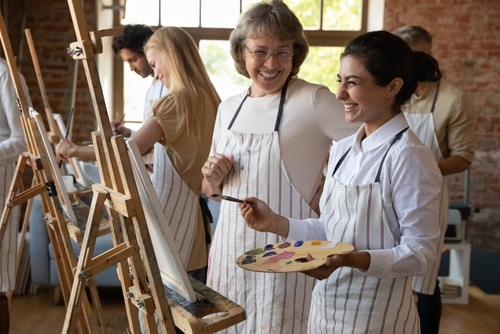 Common Career Opportunities for Online Bachelor's in Art Education Graduates
Pursuing an online Bachelor's in Art Education is the best option for those who want to positively impact future artists and storytellers or design curricula behind the degree. Indeed, earning a degree in Art Education will open lots of rewarding opportunities, including the following professions:
Frequently Asked Questions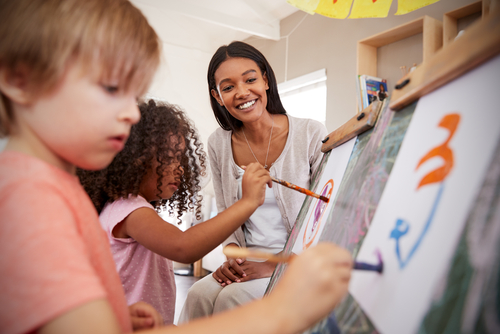 What are the common requirements to pursue a successful career in art education?
Individuals who are interested in teaching arts to pre-kindergarten through 12th-grade students must have formal training in art or a Bachelor of Science, Arts, or Fine Arts degree in Art Education, combining art principles and theories with teaching fundamentals and certification.
Once they graduate from an online Bachelor's in Art Education, students must pass the licensure or certification exam to be eligible to teach in all 50 states and the District of Columbia. Each state has different sets of teaching credential requirements for educator certification.
After completing a certification program, students will then need to have practical teaching experience for at least one semester or 15 weeks, which will be supervised by a mentor or experienced teacher. Then, you will need to apply for a state educator certification assessment program.
What other employment options do Bachelor in Art Education degree holders have besides private and public schools?
Art Education graduates don't necessarily have to work as educators. By completing a comprehensive program at the online bachelor level, they can work in various industries related to fine art, performing arts, visual arts, and education.
Here are some of them:
Teaching Artists – they can run art-making workshops at a museum or gallery, teach at a community center weekly, or render a long-term residency at a school.
School Arts Administrators – although they still work in a school, they will not be involved in teaching in classrooms. Rather, they will be assigned to oversee art instructions during concerts and partner with local cultural institutions.
Community Arts Organizers – they will work with various media and audiences and use their creative perspectives to influence change and strengthen communities.
Art Therapists – they have master's level degrees in art and therapy and use art media as their main mode of communication and expression. They also use art to address patients' emotional issues that may be causing them stress or confusion.
Visual Arts Specialists – they are responsible for executing artistic representations using hardware and software, graphic art techniques, different printing practices, and traditional and digital photography to capture an audience's attention.
What kinds of real-world or hands-on experience will art education students have?
Art Education students will gain real-world training through internships in a K-12 school in their state or a partner organization, such as art centers and museums.
They will also be exposed to Saturday art classes with the youth, teaching them about arts and writing. Plus, they can also participate in accredited programs in the community, developing their leadership skills.
Key Points to Ponder
An online Bachelor's in Art Education teaches students in various education settings, allowing them to have hands-on experience in working with primary or secondary education of students of all ages, cultural backgrounds, and abilities.
An online Bachelor's in Art Education allows students to have community immersion through Saturday art classes, helping them develop their communication and leadership skills.
An online Bachelor's in Art Education prepares students to qualify for the K-12 educator licensure or teacher certification within their respective states.