Find Your Perfect School
Premium Schools is an advertising-supported site. Featured or trusted partner programs and all school search, finder, or match results are for schools that compensate us. This compensation does not influence our school rankings, resource guides, or other editorially-independent information published on this site.
Under the Disabilities Education Act, students with disabilities must receive an education tailored to their specific needs. Schools require trained special education teachers due to rising student enrollment nationwide and earlier identification of learning problems in youngsters.
The minimum requirement to teach special education is a bachelor's degree. You can earn your degree and begin working on your subject of interest by concentrating on universities that provide special education degrees through online programs.
This learning format will allow you to do your regular duties while taking a step toward a rewarding career.
Check this out: The 21 Best Online Bachelor's in Education and Teaching
---
Quick Summarization
A Bachelor of Science in Special Education degree will prepare students to extend special education services and assist kids coping with physical, mental, and emotional difficulties to adapt and thrive in learning environments.
They create Individualized Education Plans (IEPs) for pupils by evaluating their skills. These plans may contain adaptive technology for kids with physical challenges or specialized learning tools for autism spectrum disorders.
---
Methodology
Many online Special Education programs are offered today, equipping students with the academic knowledge and skills that ultimately make them career-ready. Should they choose to pursue a graduate program for added credentials, they may do so as well upon earning the Bachelor of Science in Special Education degree.
We picked the best online BS in Special Education colleges and the degree programs that they offer with these excellent features:
Fully online or hybrid classes to give every student the opportunity to conveniently earn their Special Education undergraduate degree regardless of their commitments and schedules,
Promotes rigorous Bachelor of Science coursework featuring the core subjects in Special Education at the bachelor's level, which are largely research-focused,
May feature Special Education concentrations, enabling students to match their educational objectives and professional aspirations, including in the areas of Physical Impairments, Adaptive Education, Autistic Spectrum Disorders, and Emotional and Behavioral Issues,
May offer specializations to meet licensure requirements, and some programs offer internship options or student teaching so students can gain classroom experience before they graduate,
Instills workplace competence through developing students' communication, critical thinking, problem-solving, attention to detail, and knowledge of ethical practice,
Delivered through a Learning Management System that makes it easy for students to access their course materials and resources,
Taught by professors who are experienced Special Education teachers, authors, and industry contributors,
Provides a variety of financial aid options, including military aid, scholarships, and grants,
Earned official recognition from accrediting academic organizations,
Affiliated with today's most forward-thinking Special Education organizations.
Learn more about our ranking process by reading our Methodology.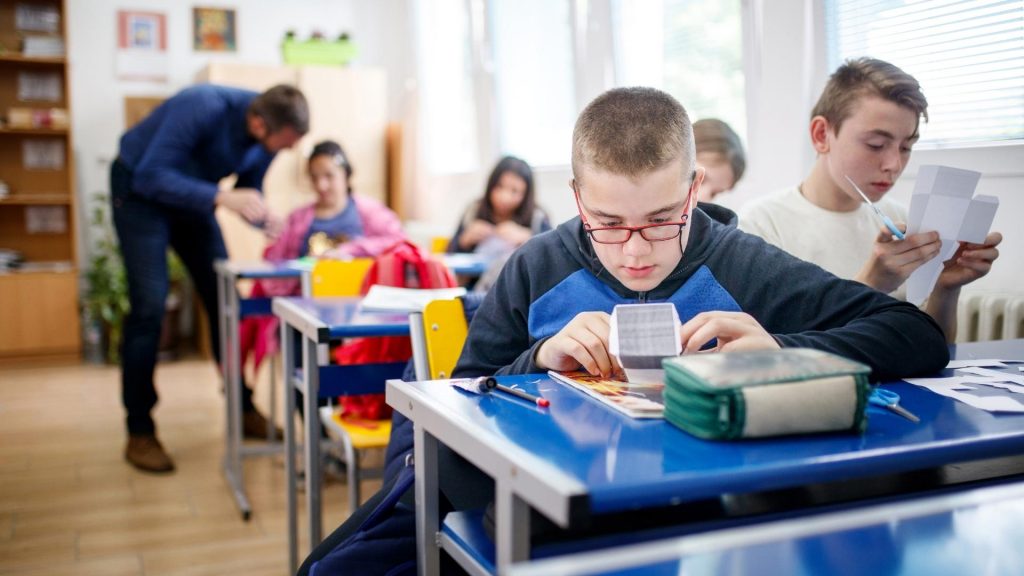 15 Best Online BS in Special Education Degrees
Mayville State University
Mayville State University offers an online BS in Special Education best suited for licensed teachers that will allow them to earn a double major. As a future special education teacher, you will be trained to be proficient in relevant core academic subjects for the complex challenges you'll encounter teaching children with different needs.
You will be equipped with unique skills that will prepare you for the field through comprehensive courses and experiential learning.
Courses include:
Introduction to Applied Behavior Analysis
Reading Assessment and Intervention
Remedial Reading Practicum
Intellectual Disabilities
Emotional Disturbance
Learning Disabilities
Foundations of Special Education
Special Education Law
Mayville University accepts transfer credits from other regionally accredited institutions. If you're planning to obtain a master's degree, all credit hours from your bachelor's degree in the institution will be accredited, allowing you to earn a graduate degree much faster and at a reduced cost.
Students can study at other North Dakota University System schools while finishing their secondary education, early childhood education, or elementary education majors on another campus.
---
Drexel University
Drexel University's online BS in Special Education program helps students develop skills that allow them to understand and connect with children with special needs. This special education program will develop your key competencies for the field through coursework that will enhance your emotional, social, academic, and other skills to help you with your future career and all aspects of your life.
Courses include:
Special Education Law and Processes
Inclusionary Practices for Exceptional Students
Emotional & Behavioral Support of Individuals with Disabilities
Integrating Technology for Learning & Achievement
Literacy and Content Skill Development
Implementing Academic Interventions in Inclusive Educational Environments
While lectures and core courses are conducted online, students must attend in-person classes for hands-on experiential learning. You'll need to complete practicum experiences to demonstrate your knowledge and skills in teaching special-needs students. This coursework will determine if you have what it takes to become a Pre-K to 12th-grade teacher.
---
University of Wisconsin Stout
The University of Wisconsin Stout offers a fully online BS in Special Education degree program designed to help students teach students with disabilities in elementary, middle, and high school education.
This online program will help you gain knowledge to better understand students with learning, emotional, intellectual, and behavioral disabilities. If you're a working adult, you'll find this special education program accommodating, thanks to its asynchronous and customizable online instruction.
Courses include:
Impacts of Technology on Learning
Lifespan Human Development
Introduction to Special Education
Planning, Instruction, and Assessment in Special Education
Curriculum & Instruction: Career & Transition Education
Assessment in Special Education
Home, Schools, Community Collaboration
Diverse Students with Exceptionalities
Students can expect support from the school's Adult Student Services Coordinators and Distance Librarians. These professionals will help you during your studies, including searching for research books and customizing your degree based on your schedule, career, and academic goals.
Maximum employment in school districts is ensured by the program's cross-category adaptability and teacher education certification to teach students aged 5 to 21. You will be prepared to offer instruction, evaluation, and curriculum creation for kids with disabilities and their families.
---
University of Georgia
The University of Georgia offers an online BS in Special Education for someone with a teaching license looking to extend their teaching scope toward special education. This two-year degree completion program will enhance your knowledge and skills in special education, allowing you to obtain certification in Special Education General Curriculum (P-12). You'll learn in a cohort-based format, allowing you to work with instructors and peers.
Courses include:
Characteristics of High Incidence Disabilities
Classroom & Behavior Management for Individuals with Disabilities
Instruction of Individuals with Mild Disabilities
Dyslexia and Other Learning Disabilities
Contemporary Issues in Special Education
Practicum C in Special Education
Aside from cohort-based learning, this online degree program allows students to enroll in the Double Dawgs Pathway. This pathway allows students to enroll in a Master's in Special Education General Curriculum online while studying for a bachelor's degree. This pathway will significantly benefit those looking to earn a master's degree at a lesser time and cost.
---
Grand Canyon University
Grand Canyon University's BS in Special Education is a dual degree program that prepares students to become licensed teachers working with kids in both general education elementary classroom settings and special education elementary classroom settings.
Students will learn topics necessary for teaching elementary education to children with mild to moderate disabilities, including physical, emotional, behavioral, and learning. The curriculum will also include pedagogical expertise and special education information.
Courses include:
Survey of Special Education: Mild to Moderate Disabilities
Creating and Managing Engaging Learning Environments
Social Justice for Educators
Classroom & Behavior Management for Individuals with Disabilities
Methods of Structured English Immersion for Elementary Education
Contemporary Issues in Special Education
GCU will give students the support they need to become successful in the field. The courses and curriculum are taught and designed by special education teachers with years of experience teaching students with different disabilities. Students will also explore courses in liberal arts involving elementary education.
---
Florida International University
FIU offers an online BS in Exceptional Student Education that helps aspiring special ed teachers learn about the foundations and policy for teaching students with special needs. This online degree will enhance students' knowledge about specific developmental needs for individuals between the ages of 5-22 through general and early education practices.
Students will choose cognates within the track that offer strategic planning for graduate degrees in business, policy advocacy, law, health services, mental health, and public administration that help people with special needs.
Courses include:
Educational Needs of Students with Exceptionalities
Teaching Students with Exceptionalities in Inclusive Settings
Instructional Practices in Exceptional Student Education
Behavioral Approaches to Learning and Classroom Management
Experts teach courses in this special education degree program in the field. You'll also build and take advantage of a vast network by collaborating with faculty and other students in the program. You can also avail of federal financial aid by completing the FAFSA application.
---
Campbellsville University
Campbellsville University offers a fully online BS in Special Education degree program specifically designed for Kentucky's requirements for teaching special education in primary-12th-grade.
This online bachelor's program will equip you with the key competencies you need to succeed in the field and help students with learning disabilities. You can complete this online degree in four years or less, depending on your previous credits.
Courses include:
Introduction to Special Education
Introduction to Learning Disabilities
Theories of Reading & Educational Practices (P-12)
Emotional Disturbances & Behavioral Disorders
Classroom Management
Behavior Management of Children & Youth with Learning & Behavior Problems
While lectures are completed 100% online, students must complete the required clinical experience to demonstrate and enhance their knowledge and skills learned with the online coursework. Additionally, students need to complete a 16-week student teaching program to put what they've learned into practice in actual special education classrooms.
The online bachelor's in special education program will also offer individualized placement assistance to help locate student teaching opportunities in your neighborhood.
---
Old Dominion University
Old Dominion University offers a fully online Bachelor of Science in Special Education that allows students to choose between a General or Adapted Curriculum. The General Curriculum trains students in teaching students with minor disabilities, while the Adapted Curriculum focuses on moderate to severe or multiple disabilities.
You will receive career coaching from past school workers and instruction from teachers with current, hands-on expertise in special education in schools.
Courses include:
Fundamentals of Human Growth & Development: Birth through Adolescence
Characteristics and Medical Aspects of Disabling Conditions
Classroom & Behavioral Management Techniques for Students with Diverse Needs
Orientation and Mobility
Assistive Technology
Developmental/Ecological Assessment Strategies
Aside from online courses, students must complete 45 hours of practicum to demonstrate their knowledge and skills in special education. Online students don't necessarily have to travel far to meet practicum requirements. Students must only collaborate with the school in finding practicum opportunities near them.
---
University of West Alabama
The University of West Alabama's online BS Special Education: Collaborative Teacher is a completion program that gives you a professional certification that will allow you to become more competitive in finding employment. This online degree will help you hone your skills in teaching K-6 to K-12 students with disabilities through comprehensive online coursework. You'll learn from one of the state's top educators in a format tailored for working teachers online.
Courses include:
Introduction to Teaching and Learning
Educational Psychology
Transition Planning
Effective Classroom Management and Organization
Introduction to Special Education
Measurement and Assessment
On top of your online coursework, you are required to complete an internship at a school with Alabama accreditation. This internship will help you determine whether you're ready for the field or not. Additionally, through this coursework, you'll be able to enhance your skills and apply the knowledge you've learned during online classes.
---
Fontbonne University
Fontbonne University offers an online Bachelor of Science in Special Education known for its significant collaboration with other departments, such as liberal arts. Students will learn effective teaching methods for children K-12 with mild to moderate disabilities. This program prepares students to work with kindergarten through sixth grade and receive elementary education certification.
Courses include:
Methods of Teaching Early Childhood Special Education
Methods of Special Education
Individual Assessment and Approaches in Special Education
Mild and Moderate Disabilities in Special Education
Multisensory Methods for the Social Studies Classroom-Pathways
Behavior Management Techniques
Additionally, students participate in a range of practicum opportunities that will allow them several options to develop their skills in various classroom settings. They enjoy providing a small learning environment with a 10:1 student-to-instructor ratio. There are plenty of chances to connect even though most of the learning is conducted in a virtual classroom.
---
Eastern Carolina University
An online Bachelor of Science in Special Education program is available from Eastern Carolina University. In addition to learning how to adjust learning for those with special needs and/or learning impairments, students will also learn how to develop relevant and thoroughly studied curricula for general or adapted students.
Students who complete this online special education bachelor's degree program are prepared to work with children who have different levels of cognitive disability.
Courses include:
Introduction to Assessing Individuals with Disabilities
Survey of Special Education
Classroom & Behavior Management for Students with Disabilities
Instruction of Individuals with Mild Disabilities
Practicum in Special Education
Special Education Technology
The program offers a new special education cohort that joins the program each summer and allows students to collaborate with peers and faculty throughout their academic careers.
Additionally, students are required to do a full-time internship in a public school classroom during their senior year to demonstrate their skills and knowledge of the field. The school will help online students find internship opportunities near their area.
---
Southern Wesleyan University
Southern Wesleyan University offers a fully online BS in Multi-Categorical Special Education intended for students who want to work with special needs students. Students will earn certification as teacher candidates in grades PreK–12 in learning disabilities, mild to severe mental disabilities, and emotional/behavioral problems.
This degree will equip you with all the necessary information you need as a beginner teacher to create a safe, inclusive, and culturally responsive learning environment to allow students with special needs to become active and effective learners.
Courses include:
Characteristics of Mild to Moderate Intellectual Disabilities
Methods of Teaching Mild to Moderate Intellectually Disabled
Forms of Teaching Creative Arts in General and Special
Characteristics of Learning Disabilities
Aspects of Emotional/Behavioral Disorders
In addition to online coursework, students should complete a clinical experience, an integrated course that involves observing, participating, conferencing, and practicing teaching under the supervision of a professional. Candidates are typically paired with an instructor who will oversee their pre-clinical experience.
---
Liberty University
Liberty University offers a fully online BS in Special Education Interdisciplinary Studies that teaches students how to teach and handle students with disabilities from a Christian perspective. Students in this degree program will have a working knowledge of behavioral issues, an understanding of autism spectrum disorder, theoretical and educational approaches to autism, and interventions for students with intellectual disabilities.
There will be no mandatory campus visits, but online students are welcome to attend on-campus activities to enhance their skills and knowledge further and create a vast network through social interaction.
Courses include:
Learning and Behavior Problems
Introduction to Autism Spectrum Disorders
Intervention for Students with Intellectual Disabilities
Autism: Educational and Theoretical Approaches
Liberty University offers some of the country's best transfer credit programs. Students can transfer up to 75% of their previously earned coursework from other regionally accredited institutions. While the degree is usually earned in 3.5 years, students eligible for credit transfer can finish the degree in two years or less.
---
Dakota State University
Dakota State University offers an online BS in Elementary Education/Special Education that helps students develop the competencies necessary to become qualified and effective special education teachers.
Students will gain knowledge of the foundations of instructional design principles, creative methods to incorporate technology into their curricula, and original approaches to creating a nurturing and secure learning environment for students with various learning needs.
Courses include:
Behavior Management of Exceptional Children
Serving Students with Severe Disabilities
Vocational-Transitional Programming
Identification and Assessment in Special Education
Family Systems and Professional Collaboration
Computer Applications Special Education
This program emphasizes technology, which they believe is essential to involve students in special education classes successfully. All graduates will receive a special education technology endorsement from working with students in the K–12 range. Among other professions like special education, title I, and elementary teaching, many graduates use this degree to become K–12 technology teachers.
---
St Petersburg College
St Petersburg College offers an online BS in Exceptional Student Education that helps students prepare to teach special education in different settings. The main focus is working with individuals with mild to moderate disabilities in Kindergarten through 12th grade. Students will learn about cultural diversity, reading diagnostic and intervention for K–12 diverse students, special children needs, and early and emergent literacies.
Courses include:
Student Development and Learning Principles
Measurement, Evaluation, and Assessment in Education
Classroom Management and Communication
Nature and Needs of Exceptional Students
Educational Assessment of Exceptional Students
Strategy Instruction and Transitions for Exceptional Students
Behavior Management of Exceptional Students
A Florida teaching license is available to graduates of this program. Academic advisors are available to discuss transfers with prospective students and address any concerns they may have regarding their situation. Students can get an endorsement for English for Speakers of Other Languages through this program (ESOL).
---
Additional Resource: The Most Lucrative Education Jobs And the Degrees That Can Prepare You
---
BS in Special Education Common Courses
Multiple Disabilities
Students will learn about the special physical needs and academic requirements of people with various disabilities in this course. Effective teaching strategies, appropriate educational curricula, and effective social interventions are all included in the course.
Behavioral Assessment
Students learn how to use evaluation techniques on students with impairments in this course. To better efficiently guide a disabled student's education, students study the theoretical and practical consequences of intellectual, emotional, and psychological assessment.
Ethical, Professional, and Legal Practices for Special Education
The ethical and legal guidelines that teachers must implement in each classroom are covered in this course. The key legal decisions and how they affect special education are covered in the coursework.
Additionally, students are taught the Council for Exceptional Children's Code of Ethics and Standards for Professional Practice, which serve as a guide for all special education teachers.
Instructional Strategies
Students research teaching methods and approaches they might modify to offer students with special needs a fulfilling educational experience. Students also learn how to compile, analyze, interpret performance data, and assess curriculum objectives.
Learning Environments
The main topic of this course is the development and administration of academic environments that improve learning for people with impairments. Future special education instructors receive training in intervention and instructional strategies that support classroom behavior that is not disruptive and provides advanced learning, as well as foster social skills.
BS in Special Education Common Career Paths
Special Education Teachers
The facilitation of learning for students who may have a range of disabilities is the responsibility of special education teachers. These impairments range from physical to mental and emotional ones. Students with learning difficulties may also receive assistance from special education teachers.
Median Annual Salary: $61,820
---
High School Teachers
High school teachers often concentrate their instruction on a single subject area, develop lesson plans, and instruct their courses using those teachings. Teachers in high school keep track of each student's development after seeing and evaluating their performance. To help children with behavioral or learning impairments, high school teachers may collaborate closely with special education teachers.
Median Annual Salary: $61,820
---
Kindergarten and Elementary School Teachers
Teaching the fundamentals of reading, writing, spelling, science, and math to young children is the responsibility of kindergarten and elementary school teachers. These teachers must evaluate and grade the development of each student in addition to instructing them.
Teachers then let the parents and administration of the school know about the student's progress. Additionally, elementary school educators must show young pupils how to collaborate and communicate effectively with their peers.
Median Annual Salary: $61,350
---
Teacher Assistants
A teacher assistant works under the direction of a certified teacher to deliver extra in-class education to pupils who require it for their academic work. Teacher assistants reinforce the subject presented to the class as a whole as they spend time with each student individually. A teaching assistant can help teachers plan lessons, keep track of things, and supervise students.
Median Annual Salary: $29,360
Must-Have Skills For Special Education Teachers
Acceptance
Acceptance is a crucial skill you need to have. Regardless of the problems, special education teachers must accept and treat all children with respect and decency. Even youngsters with poor communication skills or functioning at low developmental levels can detect negativity, particularly when a teacher is behaving uneasily.
Patience
Special children will act and think differently regardless of their age. To be good and successful at what you do, you need to have patience. Remember that special needs students need a lot of patience, especially when they're new at schooling. Teaching them things will take longer; even teaching them the most straightforward tasks will take a long time. But, no matter how long the students take, you must give them time to complete the task.
Organization
Another trait one must master to become an effective special education teacher is organization. Special students need to be in a structured setting, especially if you're working with students on the autism spectrum. There are several ways you can become organized. Here are a few examples:
Create color-coded notebooks and folders.
Label different parts of the classroom to reduce misunderstandings.
Maintain records to communicate their pupils' successes to administrators and parents accurately.
Creativity
Since every special child has a unique learning style, a special education instructor must be able to modify lessons so that they play to each student's advantage. A teacher must use creativity when creating daily schedules and plans for the classroom to meet each child's needs.
Planning must be adaptable because disabilities can present themselves differently every day. There must be enough time to address irrational behavior or other obstacles. A special education teacher needs to be updated on the most efficient teaching strategies because new ones are constantly being created.
Intuitive and Calming Nature
Some kids have trouble expressing their emotions, especially if they have communication issues. Students with special needs may withdraw or misbehave when they become confused or feel overwhelmed. A special education teacher must employ intuition to find the fundamental causes of poor behavior.
Certifications and Licenses That a Special Education Bachelor's Degree Prepares You For
State Teacher Certification
To teach in the public school system, teachers must obtain certification/licensure. A bachelor's degree in special education will prepare you for state licensure and certification. Candidates for the special education teaching profession are required to pass the Praxis ll exam. The threshold for passing this test varies by state.
Adapted Physical Education Certification
Those with this credential work with kids with specific needs who cannot participate in regular physical education classes. Additionally, they may determine how well a challenged student is doing to reach their physical education objectives and create tailored, specialized physical education programs for infants, older kids, and people under the age of 22.
Speech and Language Pathology Services Certification
A special education practitioner who has earned this certification is qualified to carry out hearing, language, and speech evaluations and use the results of those evaluations to offer or suggest a variety of specialized services to people with language and speech impairments.
Resource Specialist Certification
A minimum of three years of teaching expertise in special education classes are required for candidates for the resource specialist qualification. This credential proves that the individual is qualified to conduct assessments and offer special educational assistance to students in integrated classes.
Education Specialist Instruction — Visual Impairments Certification
With this credential, special education professionals can conduct evaluations and offer or suggest special education services to students with visual impairment. Additionally, they can help create and modify educational resources and teaching strategies.
---
Frequently Asked Questions
What is a Bachelor of Science in Special Education?
A bachelor's degree program focusing on special needs education is called the Bachelor of Special Education (BSNEd). It equips teachers to work with kids with special needs in inclusive and segregated learning environments.
What is the future of Special Education?
According to Resilient Educator, technological advancements in special education will be centered on emerging technologies like virtual reality, augmented reality, and artificial intelligence. The ability of educators to customize learning has considerably increased because of technological advancements.
How long does it take to Earn a Bachelor's in Special Education?
The majority of bachelor's in special education degrees require 120 credits. Assuming students enroll full-time, they should graduate in four years. Some online bachelor's in special education degrees are cohort programs, meaning students traverse the program and graduate from it as a group. This can sometimes extend the time it takes to earn the degree.
What is the role of Special Education in modern classrooms?
Teachers in general education and special education frequently collaborate to develop curricula and foster a supportive learning environment for their students. The vital task of ensuring that children with disabilities or special needs receive a high standard of education falls on special education teachers in an inclusive classroom.
What's the difference between certification and licensure for Special Education?
The completion of formal, certified education is attested to through certifications. Independent national organizations and groups provide exams for certification. Formal education, verifiable job experience, and a test of the information, skills, and abilities required for the profession are typically included in certification requirements.
The approval procedure also takes into account your academic background. On the other hand, school districts and state education departments grant special education licenses. State-specific licensing requirements exist. If the state demands them, you can apply for a general license and a license to practice your specialty.
---
In Conclusion
Special education is more than just a job; it's a vocation that involves helping individuals with special needs.
It's a demanding job requiring planning, consideration, and appropriate training.
A bachelor's degree in this discipline earned online gives teachers the tools they need to handle and evaluate the inherent difficulties of working with children with special needs.
These resources give instructors the ability to impact the lives of the kids they deal with positively.
---
Additional Information: The 5 Best Online BS in Social Work