Find Your Perfect School
Premium Schools is an advertising-supported site. Featured or trusted partner programs and all school search, finder, or match results are for schools that compensate us. This compensation does not influence our school rankings, resource guides, or other editorially-independent information published on this site.
A degree in Early Childhood Education provides future educators with a lot of opportunities to teach and cultivate crucial lessons designed for the development of young children. These different opportunities come in various educational occupations, all designed for concentrations in early childhood education.
According to the National Association for the Education of Young Children (NAEYC), early childhood occurs before a child turns eight. It is during this stage that a child will go through the most rapid stage of growth and development. This is when their brains will develop faster than at any other stage in their lives, thus, making these years very crucial.
There are different types of Early Childhood Education programs, including those are that private, state, or federally funded, with approaches and curricula often varying at the preschool level. However, there are agreed-upon standards for the learning types in early childhood education settings.
With a degree in Early Childhood Education program, you're bound to have different career paths in the field, including teaching, providing in-home care for kids, and managing a daycare.
---
Additional Resources:
---
Quick Summarization
Earning an Early Childhood Education degree online is the most convenient and easiest way for working adults to advance their preschool and childcare careers. This type of education is an unusual type of education career in that most states don't require childcare workers to hold a bachelor's degree to be allowed to start a job in daycare. An associate degree or high school diploma is what you need to begin a preschool career.
However, Early Childhood educators later realize that jobs in this field come and go quickly without a bachelor's degree in Early Childhood Education. This is the very reason why it's common to see schools offering online bachelor in early childhood education programs.
Busy working professionals in pre-K and in other childcare settings who can't leave their jobs and enroll back to school, or don't have enough time anymore to commit to classes on-campus.
Considering the many challenges that come with career advancements for working people, most education programs at universities and colleges have put up online bachelor's in early childhood education programs to give busy adults the chance to earn an undergraduate degree on their own time.
Methodology
If you are looking for the best online bachelor's in early childhood education programs, this list has compiled 10 of your best options. Each of the programs in the list is based on several factors, such as:
Delivered 100% or partially online to emphasize the flexibility of coursework completion,
Features synchronous or asynchronous learning formats for completion of the coursework at a specified time or an independent learning arrangement,
Facilitated thru online learning platforms that provide access to Early Childhood Education online coursework, discuss topics, and host video lectures or webinars,
Provides federal financial aid, grants, scholarships, special discount rates, and transfer credit programs as forms of financial assistance,
Regionally accredited, particularly by agencies such as :

Southern Association of Colleges & Schools Commission on College
Higher Learning Commission
New England Commission of Higher Education

Earned programmatic recognition from any of the following:

Council for the Accreditation of Educators Preparation

Affiliated with relevant industry organizations.
---
10 Best Online Bachelor's in Early Childhood Education
West Virginia University
West Virginia University is a public institution located in Morgantown, West Virginia. Offering more than 146 programs delivered on-campus and online, this highly-rated, land-grant research university is one of the only 75 Carnegie Foundation for the Advancement of Teaching for Community Engagement-recognized schools.
Through its College of Education and Human Services, WVU offers a BS in Child Development and Early Studies degree delivered online. This online Early Childhood Education program is designed to prepare a budding early childhood professional for a successful career in the field.
Students learn the best early childhood foundations, as well as the best practices in early childhood development. They will focus on leadership and advocacy in the field of early education too.
This online bachelor's degree incorporates the West Virginia Early Standards Framework and the West Virginia Core Knowledge and Core Competencies so that it will include the latest requirements set forth by West Virginia agencies.
All courses in this program are 100% online except for the required field experience. Students can complete them in their home location under the eye of experienced educators.
This bachelor's in early childhood education degree requires 120 credit hours to complete, with a $439 cost per credit hour. Financial aid is offered as well.
The online courses in the program follow the standards set by the NAEYC.
West Virginia University is HLC-approved.
---
University of Wyoming
The University of Wyoming is a land-grant research university offering more than 80 programs for undergraduate students. UW has also one of the most affordable tuition costs among four-year universities in the US, making it easier for students to complete their degrees without paying for more.
The Department of Family and Consumer Sciences at the University of Wyoming offers a Professional Child Development Option through its distance-learning platform. This early childhood education program from UW will prepare students to become early childhood educators and administrators or work within child advocacy and agency referral networks.
All students in this online bachelor's degree are assigned a program advisor who closely works with them.
This online program allows students who already hold an AA or AS degree in child development, childhood education, or other relevant field to complete their bachelor's degree.
Place-bound students currently working in early childhood programs will have the chance to earn their degree in early childhood from their own hometown.
This program is by acceptance only. Students need to apply for admission and satisfactorily complete all the admission requirements plus mandatory security screens before they are accepted.
This online early childhood education program is accredited by the NCATE.
The University of Wyoming is an HLC-accredited school.
---
Texas Tech University
Texas Tech University is the flagship school of the Texas Tech University system. This public research institution offers more than 150 degree programs in online and on-campus formats. From its University College, the school's distance learning arm, Texas Tech offers an online Bachelor of Applied Arts and Sciences Degree in Early Childhood Education program. The program is designed for working professionals who are seeking to make a mark on young children and families.
In this online program, students will learn to integrate and use their understanding of cognitive development, physical, emotional, and social development as it applies to kids in various contexts.
This is ideal for those who already have an Associate in Applied Arts and Science.
This is a 2-year to 4-year bachelor's degree option that will help students stand out by combining their community college education and professional knowledge with core courses in child development handled by industry experts.
The BAAS degree in early childhood development focuses on developmentally appropriate practices too to prepare students for careers that will make a difference in supporting young children.
This childhood education degree online requires students to complete a practicum course that focuses on gaining relevant experience in the student's chosen community program.
Texas Tech's Early Childhood Education program allows students to understand the links between theoretical research and present practices in early childhood settings. Students will have the chance to utilize their knowledge of toddlers, preschoolers, school-age children, and even infants.
The program is accredited by the NCATE, while Texas Tech gained the regional approval of SACSCOC.
---
Florida International University
Florida International University offers more than 190 programs, in-person and online. Currently one of Florida's leading graduate research universities of higher learning, FIU has more than 56,000 students scattered across various degree options, including the BS in Early Childhood Education program from the College of Arts, Sciences, and Education.
In this childhood education degree online program, students will focus on the learning and development stages of early childhood — from birth until eight years of age. This program teaches students how to shape a child's future by introducing a love of learning.
Through this BS in Early Childhood degree, students will learn about the language, cognitive, and social/emotional development of young children, along with the fundamental and early education theories and practices.
The school's engaging and meaningful curriculum courses include courses on development, classroom management, family engagement, assessment techniques, children's literature, early childhood growth, children with special needs, literacy development, and cultural diversity.
All the courses in this bachelor's degree are stimulating and challenging. The school has worked hard to guarantee that students in their online bachelor's program will receive the same academic quality as its on-campus program students.
With 24/7 technology, everybody can connect with everyone, share documents, and even get real-time feedback from program instructors.
This program provides students with practical and theoretical knowledge in different areas, including:
Child Development
Educational Psychology
Early Social and Emotional Development
Early Childhood Programs and Curriculum
Special Education and Needs of Children and Their Families
Community and Young Children
Teaching beginning math, literacy development, and science.
FIU's online BS in Early Childhood Education is accredited by the CAEP. It holds a SACSCOC regional accreditation.
---
Kansas State University
Kansas State University in Manhattan, Kansas offers more than 250 undergraduate programs and 165 plus graduate certificates and degrees on-campus and online. This land-grant research institution is the very first public university in Kansas.
K-State is home to numerous online programs, including its online program in early childhood education. Administered by the KSU Global Campus, this program qualifies would-be elementary school teachers for the Kansas State Department of Education eligibility licensure for children from birth through kindergarten.
In this online degree, students are prepared for careers dedicated to improving the lives of young children from birth through kindergarten, whether through a community agency, a parent group, or teaching.
Students in this online bachelor degree program will learn the most recent techniques in teaching and caring for young children, including those with learning disabilities, special needs, or developmental delays.
This early childhood education bachelor combines online curriculum development with relevant field experience in accredited schools or early childhood centers near the student's location, regardless of where they reside.
Through video recording, tablets, and other latest in technology, K-State instructors can check and observe students in real-time and provide feedback to help them excel and improve.
This childhood education degree online is 120 credit hours and costs $450 per credit hour.
KSU's online childhood education program is NCATE-accredited. The school is also proud of its 99% passing rate for licensure exams in the field, making K-State one of the best accredited online colleges for early childhood education.
Kansas State University is an HLC-approved higher education institution.
---
University of Nebraska-Lincoln
The University of Nebraska-Lincoln is a public university in Nebraska and the state's largest and oldest school of higher learning. Offering more than 150 majors online and on campus, this school is known for its work in gearing professionals in making modern life possible, including teachers.
UNL offers one of the most timely and unique programs of its kind, the online Bachelor's in Early Childhood Education in a Mobile Society. This online undergraduate program is offered by seven universities across the US, in collaboration with The Great Plains Interactive Distance Education Alliance (IDEA) Program.
The program provides academic skills and the curriculum development required of students to be eligible to work in early childhood settings with young children. Upon completion of the program, future early childhood educators will be eligible to work in different programs offering early care and education community, and on military installations as well. These programs include:
Head Start Programs
Childcare Centers and Homes
Infant/Toddler and Preschool Programs
Before & After-School Programs for Children Ages Birth to Eight
Acceptance to this program requires students with at least 30 credit hours from an accredited two or four-year university. This online program is accredited by the CAEP, while the school is regionally accredited by the HLC
---
University of Massachusetts – Amherst
UMass Amherst is the oldest and biggest flagship campus in the University of Massachusetts system. With over 200 distinct academic programs offered on campus and online, the school is one of the most extensive institutions in the Northeast.
UMass Amherst's online Bachelor in Early Care and Education degree program originated from the school's University Without Walls Interdisciplinary Studies, a nontraditional education program that is committed to helping students complete their bachelor's degree online.
This online program helps students improve the knowledge and academic skills they need to open their childcare center, prepare for continuing education, or advance their careers within the private and public childcare programs like YMCA, Head Start, scouting, 4-H, and other preschool and after-school programs.
Before obtaining a teacher certification or teaching license, Head Start teachers, especially in Massachusetts, must hold a bachelor's degree in Early Childhood Education. UMass Amherst, thru the UWW Interdisciplinary Studies degree completion program, has helped early childhood educators complete their degrees, with students receiving scholarship money to help them pay the cost of attendance.
Students may bring in or earn a maximum of 105 credits from their previous coursework, life and work experience, or prior learning so they can accelerate their degree and help save time and money.
While this is a 100% online course, the program is also offered in blended and on-campus formats. Most of the courses are offered asynchronously so students can finish them on their schedule.
This Early Childhood Care program is accredited by the NCATE-approved. UMass Amherst is regionally accredited by the NECHE.
---
Appalachian State University
Located in Boone, North Carolina, Appalachian State University is a public institution that offers more than 150 bachelor's and master's degree programs in an on-campus and online modality.
App State's Bachelor of Science in Child Development program is delivered 100% online and requires students to complete 120 credit hours, 60 of which must be taught at the school. This online bachelor's degree will prepare early childhood education degree graduates to work with children, from infancy to kindergarten.
Graduates in this BSCD program will be equipped with the tools they can use in guiding children through a crucial time in their lives filled with discovery, growth, and awe.
This online early childhood education program includes field experiences via Clinical Internships.
After completing this degree, students will earn their "A" licensure, a dual certification of both regular and special education that qualifies them to pursue graduate degrees in birth through kindergarten education, elementary education, and middle grades education.
This bachelor of science in early childhood education degree leads to an initial teacher licensure or a similar credential that will require a handful of students' teaching experiences at a North Carolina public school, including an internship in the program's last semester.
The online Bachelor's in Early Childhood Education at App State is accredited by the NCATE, and the school is regionally accredited by the SACSCOC.
---
Mississippi State University
Mississippi State University is a world-class research institution that offers more than 175 programs that will lead to baccalaureate, master's, or doctoral degrees. Students at MSU are prepared for productive and bright futures where academics is skillfully combined with the right tools for dealing with today's tough issues and making a significant difference in society.
For online students, MS State Online offers programs that have the same standard as its on-campus counterparts, but with the added flexibility and convenience of studying anytime, anywhere. This includes the online BS in Elementary Education– Early Childhood Concentration.
This elementary education degree is perfect for a budding early childhood educator who wishes to earn a teaching license to qualify to help children in their child growth and formative years.
This early childhood education online program prepares teacher candidates with the necessary foundations and instructional strategies for children in pre-K to 6th grade.
To qualify for the program, students must submit their official high school transcripts along with other pertinent documents to the Undergraduate Admissions Applications.
This program is accredited by the NCATE, while MSU is SACSCOC-approved.
---
Georgia State University
Georgia State University, located in Atlanta, Georgia, is a public research institution that has one of the most diverse student bodies in the country. Providing associate-to-graduate-level educational opportunities, the school offers more than 250 majors, minors, and pathways in the widest variety of fields of study.
GSU's College of Education and Human Development offers an online Bachelor's in Birth Through Five (B-5) degree program designed to prepare teachers and other education and early care professionals. to work in different settings with young children and their families.
In this early childhood education online concentration, teacher candidates will earn research-based pedagogy and content in individually and developmentally appropriate practices for infants, young children, toddlers, preschoolers, and kindergarten-age children.
This is a multidisciplinary program that provides a holistic and comprehensive approach to dealing with young children in diverse settings.
Students in this program can opt for the teacher certification or a non-teacher certification path, depending on whether their career plans and early childhood education positions will take them to private schools, the public school system, or childcare facilities.
This early childhood development concentration is NCATE-accredited. GSU was granted regional accreditation by the SACSCOC.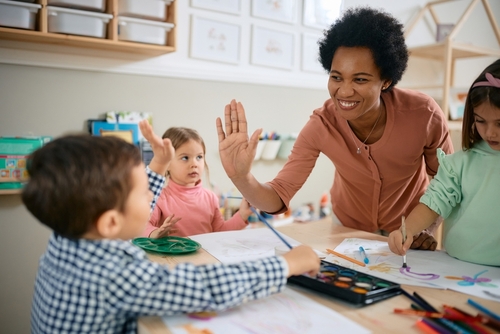 Top Early Childhood Education Degree Jobs
Preschool Teachers
Preschool teachers can work at daycare services, local, state, or private schools, religious institutions, private homes, civic centers, and grant-making organizations. They are the ones that administer the basic lessons associated with Early Childhood Education.
Daily activities of preschool teachers include working with young children in a group and individual setting, keeping up to date with the student's progress, creating entertaining and educational activities, and preparing daily schedules.
Kindergarten and Elementary School Teachers
Kindergarten and elementary school teachers are expected to have earned a bachelor's degree in Early Childhood Education to be qualified to work at public and private elementary schools, charter schools, child daycare services, and religious-based schools.
These professionals mirror those preschool teachers. They make lesson plans, put together daily class schedules, and track student progress. The social and emotional lessons continue to play a huge part in this position. In this stage of education, the responsibilities become more challenging because the students will now build upon the foundational skills and knowledge they learned during their preschool years.
In terms of classroom management, there are, however, some major differences between the two careers. Preschool takes place in one classroom where the students play, learn, eat, and rest, and they may sometimes move to an outdoor area or the lunchroom.
Kindergarten and elementary school students, on the other hand, move around a lot more during the day. These pupils constantly move to different classes for different lessons. They go outside for breaks, head to the lunchroom to eat, and sometimes join in field trips.
A high level of supervision is a must for teachers at this schooling stage. Plus, teachers in these early childhood years of education can expect to work at a public or private school. Only a very small percentage are working at daycare services.
Childcare Center Director
A preschool and childcare center director works a step back from the classroom. Armed with a bachelor's degree in Early Childhood Education, this type of director focuses on the bigger picture of leading an Early Childhood Education center.
Childcare center directors also supervise teachers and other professionals of the center. They are the ones that hire new teachers, keep track of academic standards and daily curricula for students, communicate with parents, allocate funds, and make sure that the center is always up to safety and health standards.
Special Education Teachers
Special education teachers need a bachelor's degree in special education or related field. They can work in private, public, religious-based, or charter schools. These professionals work with students who have emotional, mental, learning, or physical disabilities. People with sufficient certifications and degrees in special education can work with students from preschool through high school.
What makes SPED teachers unique is that they have a special and wider array of day-to-day tasks, and these tasks can easily change according to the capacities of the students being assisted.
These teachers, in general, assess and reassess the skills of their students, identify their educational needs, discuss the educational progress of students with their parents and other school staff, and plan specific activities fit for the student's specific abilities.
National Accreditation Organizations for Early Childhood Programs
Accreditation is a voluntary process primarily designed to help improve the quality of early and school-age care programs. Accreditation organizations require programs to meet standards that exceed the minimum state regulatory requirements.
When looking at bachelor's degrees in Early Childhood Education, check that they are accredited by any of the following accreditation organizations:
Accredited Professional Preschool Learning Environment
American Montessori Society
Association of Christian Schools International
Council on Accreditation
National Accreditation Commission for Early Care & Education Programs
National Association for the Education of Young Children Academy for Early Childhood Program Accreditation
National Association for Family Child Care
National Early Childhood Program Accreditation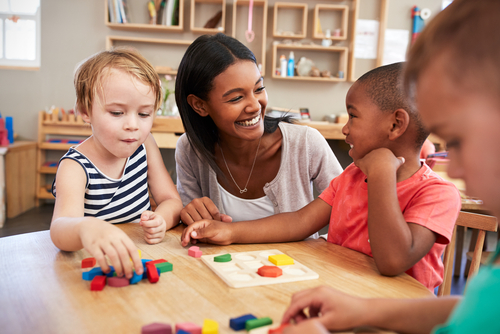 Frequently Asked Questions
Will earning an online degree in Early Childhood Education result in a salary increase?
Those who hold a bachelor's degree in Early Childhood Education will not only have better career opportunities but also a salary increase. Recent Bureau of Labor Statistics data estimates that the median annual pay for preschool teachers is $30,210.
Do applicants need an associate's degree to be eligible to apply for an Early Childhood Education program?
Those who are planning to earn their bachelor's degree completion program in Early Childhood Education must have an associate's degree in the field. However, students who wish to earn their early childhood diploma online only need their GED and high school diplomas.
Key Points to Ponder
An Early Childhood educator works with kids ages 1-8 and plays a critical role in the kids' growth.
A BS in Early Childhood Education will provide a preschool teacher with the much-needed skills and knowledge necessary in the field.
When choosing the best online degree in Early Childhood Education, you should go for those that are flexible, accredited, and suitable for your career plans.