Find Your Perfect School
Premium Schools is an advertising-supported site. Featured or trusted partner programs and all school search, finder, or match results are for schools that compensate us. This compensation does not influence our school rankings, resource guides, or other editorially-independent information published on this site.
An online bachelor's degree in English language focuses on so many aspects of the field. Some courses look at grammar, history, and the ancient forms of English, like classes relating to linguistics. There is also a field where students complete a literature concentration, and this usually covers specific genres and periods.
Another interesting area of interest within English language programs is creative writing. For those who wish to teach English, they need to enroll in additional education courses to obtain a teaching license.
Students planning to earn an English language degree needs to have a high school diploma, strong reading and writing skills, and are required to complete general education classes.
English language learners are students whose families are not native English speakers and who lack the skills to join in classroom lessons that use an English-based curriculum. Teachers can prepare these students by earning an online bachelor's degree in English language learning.
The field of the English language is divided into three different disciplines, namely:
ESL-English as a Second Language refers to programs in English-speaking nations for students who are non-English native speakers.
EFL-English as a Foreign Language is taught by native English speakers in foreign countries where English is not their first language.
TESOL-Teaching English to Speakers of Other Languages is the umbrella term covering both ESL and EFL programs.
---
Check this out: Best Schools with Online Bachelor's in Elementary Education
---
Quick Summarization
A bachelor's degree in English language or linguistics from a reputable school can help students launch their careers. Students with this bachelor's degree will develop crucial communication, research, and writing skills–all of which can come in very handy for so many jobs. English degree graduates can secure careers in public relations, business, journalism, marketing, education, and so many fields. Others will go on and earn their master's degree or Ph.D., while some use their undergraduate degree as a preparatory course for law school.
Since English language classes usually focus on extensive reports and written assignments that may be submitted online, so many students opt to earn their English degree through online learning. For an online bachelor of arts in the English language, students will experience online discussion boards, video lectures, virtual classrooms, and other technological features that provide the same experience as one would have on campus. With an online bachelor's degree in the English language, students can finish their college degree in a breeze, even if they have family and work obligations.
Methodology
This list is a compilation of the best institutions that offer an online Bachelor of Arts in English Language Learning. We chose each school or program featured based on these criteria:
Offered 100% online or as a hybrid undergraduate program for a convenient and flexible learning format,
Features high-quality English language program components and curriculum design, coursework, and concentrations or areas of focus, such as Literature, Communications, Creative Writing, Professional Writing, World Literature, Literary History, British Literature, and Public Relations, among others,
Develops creative thinking, critical thinking, and analytical writing skills required of graduates in the field of English,
Utilizes a top-rated virtual learning platform to offer easy access to the online coursework and provide an excellent communication channel for instructors and co-learners, as applicable,
Presents a range of financial aid opportunities and transfer credit programs to qualified online undergrad students,
Holds relevant accreditation to ensure quality education.
Recognized by organizations and industries where English degree courses and English language expertise are relevant.
Read our Methodology to learn how our ranking process works.
---
Best Online Bachelor's in English Language Learning Studies
Liberty University
Liberty University is a private Christian institution affiliated with the Southern Baptist Conservatives in Virginia. With over 700 degrees at the bachelor's, master's, and doctoral levels, delivered online and on campus, students have so many options to choose from.
This accredited academic institution offers an online Bachelor of Science in Teaching English as a Second Language (TESL) program that can provide students with the credentials they need to pursue jobs both locally and internationally.
Liberty University has an outstanding history of success in teaching ESL both locally and abroad. This English degree online program can be completed 100% online. Students complete their courses with the same advanced training and rigor as Liberty's residential counterparts.
Students in this online bachelor's English program will not only hone their oral communication skills but also study the intricacies of the English language.
This online degree will also allow learners to dive deeper into different activities and class exercises that will help their future students have fun in class.
Online learners of this English degree will also have internship opportunities to prepare them with the knowledge, skills, and wisdom to become confident and successful in their future career paths.
Liberty's Online English as a Second Language Degree program is recognized by multiple organizations for its affordability, accessibility, and quality. The school's commitment to excellence has made them one of the top 3 online schools in the US.
For 8 years, the tuition cost for all programs at Liberty University, including this online English degree major, has not increased. The school was able to keep its costs low as a nonprofit university.
Liberty University's a Southern Association of Colleges & Schools Commission on Colleges-approved school.
---
University of Massachusetts
The University of Massachusetts is said to be one of the best places in the world to live, study, and work. This five-campus public university system is also the only public research system in Massachusetts. Included in the five campuses are Amherst, Boston, Dartmouth, Lowell, and a satellite campus in Springfield. It also has 25 campuses in Washington and California with UMass Global.
UMass has hundreds of degree programs at the undergraduate and graduate levels in an online and on-campus format. Through the UWW Interdisciplinary Studies program at UMass Amherst, students who dream of becoming educators of English to speakers of other languages can take advantage of this program with a focus on TESOL.
The online bachelor's degree in Interdisciplinary Studies with a concentration on TESOL provides students with the strong communication skills and the important knowledge they need in theories of language learning and teaching, applied linguistics, linguistics, and in teaching practice.
While this online English major is not designed to prepare learners for a teaching career in the K-12 public education system, the program's core courses, as well as its elective courses will prepare and open numerous employment opportunities for them in TESOL in the US and across the globe.
Through this online English major, students can advance their careers teaching English as a Foreign Language (EFL) in public or private schools overseas, tutoring EFF/ESL students online using various platforms or in community-based programs, teaching in community English as a Second Language (ESL) programs in the US, creating TESOL materials, or working in TESOL testing/placement, among others.
This online bachelor's degree costs $423 per credit. Students can also have their previous credits transferred to have a fraction of the cost of the course credits.
The University of Massachusetts is New England Commission of Higher Education- or NECHE-accredited.
---
Arizona State University
Based in the metropolitan area of Phoenix, Arizona State University is a public research university where students can discover their interests and new skills through quality academics. The school offers more than 800 degree programs that will prepare students to excel anywhere they go in life.
Arizona State University also offers distance learning programs, including an online Bachelor's degree in English. Students can benefit a lot from this degree because of the curriculum's broad focus.
This program covers many skills and foundation courses like linguistics, writing, cultural literacy, written communication, business writing, literary theory, and American literature, among others.
Students will be prepared for careers in creative writing (fiction writing or nonfiction writing), education and teaching (ESL), marketing and communications, and more.
English degree courses from ASU will provide students with the chance to learn so many diverse topics. As an academic pursuit, prospective students must know that this English program will cover everything: from professional writing to analyzing texts, to reading and understanding literary genres from various literary periods.
This online English degree also teaches students how to develop solid and effective oral and written communication abilities.
After graduating from this online English program, students will have a more solid grasp of speaking, writing, communication methods, and critical thinking. All these open them to competitive jobs in diverse markets, from education to marketing, teaching, communication, business, and more.
Arizona State University is HLC-recognized.
---
Grand Canyon University
Based in Phoenix, Arizona, Grand Canyon University is the biggest Christian university in the world back in 2018, with 20,000 attending students on campus and roughly 70,000 online. Offering more than 200 programs across nine distinct colleges, Grand Canyon University offers students the education they need so they can achieve their goals and thrive in their chosen careers.
Through its College of Education, HLC-accredited Grand Canyon University offers a Bachelor's Degree in Elementary Education with an Emphasis on English as a Second Language. This is an initial program that will lead to initial teacher licensure.
English majors will love this online degree program as this will prepare them for teaching careers in a K-8 classroom, particularly geared toward working with pupils who are regarded as English language learners.
Graduates can seek an elementary teaching license so they become eligible to teach elementary school students.
In this online bachelor program, learners will study instructional planning, adolescent development, educational trends, student engagement and overseeing learning environments, technical writing, cross-cultural studies, and cultural differences while earning a solid foundation in liberal arts.
This 120-credit hour, 15-week online program features ESL-focused content areas, including:
Strategies to Promote English Language Development
Foundation in Structured English Immersion
Methods and Curriculum Fitting for Teaching in an ELL Instructional Setting
Phonics and Literacy Development for ELL
This fully online bachelor program will end with the Student Teaching for Elementary Education with an ESL Emphasis. This will expose teacher candidates to a 15-week, full-time teaching component that includes ESL elementary classroom experiences.
---
For more information, see: Best Schools with Online Bachelor's in Child Development
---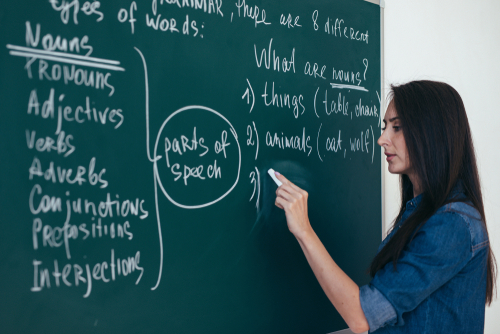 Career Paths for English Majors
Majoring in English, be it in literature, written word, linguistics, or English language studies can translate to valuable skills that will matter to future employers. People with English degrees usually find jobs in legal services and education, but some graduates are working in other industries.
The Labor Statistics Bureau reports there are many career paths for English majors. In a recent report, it was noted that people with English degrees have a median annual wage of $51,000, a figure that's slightly higher than the median wage in the US across all occupations. This goes to show that English majors have so many career opportunities on their plates other than teaching.
Here are 3 of the most lucrative jobs for English majors.
Technical Writers
With a median pay of $78,060 per year based on records from the US Bureau of Labor Statistics, technical writers make instruction manuals, how-tos, and other relevant documents that make difficult procedures easy to understand for readers. These writers sometimes work with subject-matter experts to ensure that the documents only contain factual and accurate information.
Technical writing is a very versatile career, with other opportunities in fields such as construction, technology, finance, and business. Most English departments nowadays offer degree concentrations in technical writing to gear students for these versatile roles. Those who have creative writing, literature, or composition and rhetoric specializations can take advantage of their research capabilities, analytical skills, and ability to logically structure information.
English as the Second Language (ESL) Teachers
ESL teachers work with non-English speakers in a country that is primarily English-speaking. These teachers help them learn to read, write, understand, and speak in English. They can work either in private or public schools and language academies or even teach private lessons out of the homes of students.
With an annual median pay of $59,720, ESL teachers are responsible for giving support and lessons to students who are still learning English as a second language. Most of the time, ESL teachers use real-life context in helping their students get a grasp of the complexities of the language. These teachers have to be creative, adaptable, and at the same time sensitive to the cultural differences expected when handling students from different cultures.
Copywriters
A bachelor's in English degree holder can land a job as a copywriter. These writers can work in different industries, drafting short-form content that will promote and sell a company's products. These contents include social media posts, slogans, or website copies.
With a projected growth of 4% in the next ten years, copywriters can use their professional writing courses along with their English major skills like understanding character development, writing a literary analysis, or embracing culture to empathize with their target audience. It also helps to have a wide vocabulary and a good command of grammar to be an effective copywriter.
Curriculum for an Online Bachelor of Arts in English Language Learning
Second Language Acquisition
These major courses study how candidates will learn a foreign language. Students in this online bachelor's in English program study first language acquisition, together with the elements that make SLA more challenging, like age. Graduates will learn how to efficiently teach English to non-native speakers.
Teaching English as a Second Language
A degree holder in an online bachelor's in the English language has coursework in ESL. This includes theories in language acquisition, checking classroom needs, and following guidelines for creating lesson plans. These core courses will prepare students for positions as ESL administrators or teachers.
Language Structure
Topics in this bachelor's degree in English coursework include semantics, grammar, syntax, creative writing, critical analysis, and English sentence formats. Some schools offer creative writing workshops for online students to further improve the writing skills of students. These concepts are all designed to provide insight into careers in the ESL industry.
TESOL Curriculum
In this English program curriculum, students will study current research, theories, and best practices needed to assist an English language learner. Concepts like technology usage may be part of the coursework. These curriculum classes will prepare students for careers as instructional coordinators or teachers.
Language and Culture
Students will study cultural concepts that will impact language learning, including social behaviors and politics. This coursework will prepare students to teach ESL in multicultural schools or manage ESL programs.
Core Courses in English Language Degree
While the curricula of ELL degree programs generally vary between schools, all core courses are the same. The English Language Learning degree program falls into three major categories, with students being required to earn at least five credits per category.
Theories and Methodologies of Language and Literature
These courses are introductions to a wide range of recognized philosophical and theoretical practices in the study of the English language and literature. This includes literary theory, an understanding of literature, culture, and language.
Forms and Genres of Language and Literate
This will focus on the literary and written modes of English, including novels, drama, short stories, and screenplays. Students will also delve into various literature genres, such as American literature, African American Literature, and British Literature, among others.
Histories of Language and Literature
The courses will study the historical development of the English language. This focuses on the historical aspects of culture and literature. Students are introduced to how literature has gradually shaped history.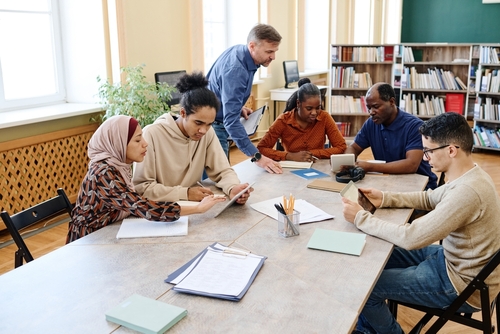 Frequently Asked Questions
How long does an online Bachelor's in English Language Learning take?
An online ESL degree generally takes four years to complete (on average). The required number of credits may range between 90 and 120 credits. Students can reduce their program time by transferring their previous credits from accredited institutions. In most cases, online English degree programs allow students to transfer up to 90 credits.
Is it important to enroll in an ELL graduate school?
A graduate school is important, especially for vocational or career reasons. If you are eyeing a career that requires an advanced degree (a college professor or a lawyer), earning a graduate degree is a necessary preparation.
How much does it cost to earn an online Bachelor's in English Language?
The cost of an online bachelor's degree in English Language Learning hinges on several factors. One major consideration is state residency. Most schools charge higher tuition fees for out-of-state students. Still, some schools offer flat tuition fees for distance learners regardless of residency.
Key Points to Ponder
An online English Language Learning degree program provides students and working professionals with the flexibility and convenience they need.
Online programs have the same rigorous curricula as traditional on-campus degrees. Both will lead to the same career opportunities after graduation.
The online English degree is suitable for students who have other commitments, like family or child care, on top of their class and work schedules.
---
Additional Resource: Best Online Schools for Bachelor's in Communications