Find Your Perfect School
Premium Schools is an advertising-supported site. Featured or trusted partner programs and all school search, finder, or match results are for schools that compensate us. This compensation does not influence our school rankings, resource guides, or other editorially-independent information published on this site.
Teachers serve as a guide to their students. They play an essential role in their student's growth and development, ensuring they have the knowledge and skills to pursue their dreams. They also serve as a support system, which may be lacking elsewhere in the lives of their students. Additionally, middle school teachers and secondary school teachers become role models and inspirations for the youth to trudge and strive for a successful and fulfilling life ahead of them.
Secondary school is such a critical time for teenagers. All the four years they spend in high school are formative years dedicated to preparing themselves for tertiary education, which prepares them for rewarding careers in the future. This is where dedicated secondary school teachers come in handy.
Secondary education teachers are no longer responsible for teaching students how to read and write. Rather, they educate adolescents to develop crucial skills, such as problem-solving, critical thinking, analytical, organizational, and leadership, necessary to achieve great things in life. High school teachers, therefore, must be passionate and positively influence their students.
Some of the responsibilities of secondary school teachers include giving appropriate feedback on their pupils' progress; using a wide range of learning resources that suit their students' needs; preparing pupils for college entrance exams, including the Scholastic Aptitude Test (SAT), American College Test (ACT), and General Education Development (GED) test. Because of this, high school teachers must have an unwavering dedication and commitment to mentoring and coaching children ages 11 through 18.
Recent Bureau of Labor Statistics data demonstrate that employment of high school teachers is estimated to grow by 5% from 2021 to 2031. This is equivalent to 77,900 job openings every year over the decade. For those who want to turn their dreams of becoming a secondary school teacher and helping make a difference in the lives of young people, the most important step they need to take is to pursue an online bachelor's degree in Secondary Education.
---
Additional Resource: Best Schools for Online Bachelor's in Education Programs
---
Quick Summarization
Online Bachelor's in Secondary Education degree programs focus on training and educating undergraduates on making lesson plans, grading test papers, and communicating with parents. This online degree program will be all about helping students build a strong foundation in secondary education and completing coursework in classroom management and adolescent learning and development.
Methodology
To make the dream of becoming a secondary education teacher a reality, students must ensure they choose a college or university dedicated to providing online Bachelor's in Secondary Education degrees designed to provide them with the necessary know-how and skills to make them effective educators.
The following are some of the crucial factors to consider when choosing the best schools that offer online Bachelor's in Secondary Education programs around the United States:
Delivered online or in blended classes to ensure the program meets its students' scheduling requirements,
Features rigorous coursework that offers a deeper understanding of the structure and foundation of the educational system in the US,
Provides fieldwork opportunities to allow undergraduates to work in actual classroom settings,
Offers student support services for both on-campus and online students, especially when it comes to tutoring, mentorship, internship placement, and career advice, so learners get all the support they need,
Prepares students and graduates to sit for licensing examinations so they can qualify for the Secondary Education teaching profession,
Taught by exceptionally skilled teachers with terminal degrees in Secondary Education and years of experience teaching in secondary schools,
Offers access to Federal Student Aid and tuition reduction opportunities through financial aid programs like scholarships and grants,
Obtained institutional and programmatic accreditation ensuring the program complies with academic standards.
Please visit our Methodology page for information on how we pick the best online bachelor's programs and colleges.
14 Best Online Bachelor's in Secondary Education
Grand Canyon University
Become a certified English Teacher in Secondary Education with Grand Canyon University's Bachelor of Arts in English – Secondary Education Degree, a joint program by GCU's College of Education and Humanities and Social Sciences. This accredited online degree program is an excellent way to effectively prepare aspiring educators to manage modern grades 6 through 12 classrooms.
Throughout the program, a Secondary Education major will develop competency in various core areas, including the following:
Instructional Practice – future educators will learn how to use different instructional strategies and assessment methods effectively to help students achieve learning goals.
Professional Responsibility – undergraduates will be taught how to work with key stakeholders and use evidence-based practices while pursuing ongoing professional development.
Application of Content – teacher candidates will know how to ensure their content are meaningful and accessible to their students, as well as help them develop their problem-solving and critical thinking skills.
The Learner and Learning – future teachers will be given the tools to help them create developmentally appropriate learning programs and environments.
Upon graduation, future educators will be able to showcase various important skills, including written and oral communication, critical thinking, comprehension, interpretation, and creativity. They will also have a deeper grasp of the major concerns and themes significant to people, especially teenagers.
Some of the course requirements for GCU's BA in English – Secondary Education Degree include:
Effective Communication
Introduction to Young Adult Literature
Writing for the 21st Century Workplace
Differentiated Literacy Instruction: Assessment, Remediation & Intervention
Classroom Engagement and Management for Middle and Secondary Teachers
---
Western Governors University
The Bachelor of Science in Mathematics Education (Secondary) program at Western Governors University leads to teacher licensure. Math teachers in high school play a vital role in helping students develop a love for mathematics. And with this degree program, undergraduates will develop the necessary know-how and skills to teach secondary students as credentialed experts in mathematics.
This BS in Mathematics Education Degree (Secondary) program is not just about credentials. Rather, its goal is to train teacher candidates to be ready to work with exceptional pupils using various learning strategies and techniques. So far, WGU has taught and trained over 8,700 graduates with STEM teaching degrees.
The bachelor's degree program features eight professional core courses that will equip teacher candidates with the knowledge to manage unique educational situations and develop into outstanding educators in the future. These core courses include:
The School as a Community of Care
Introduction to Curriculum, Instruction, and Assessment
Educational Technology for Teaching and Learning
Assessing the Impact on Student Learning
Educational Psychology and Development of Children and Adolescents
Managing Engaging Learning Environments
Fundamentals of Diverse Learners
Educational Foundations
BS in Mathematics Education Degree (Secondary) will have plenty of opportunities to use augmented reality to allow them to practice what they learn before entering a real classroom. Aside from that, they will have preclinical experiences to ensure they can handle diverse classroom situations.
This online degree program was developed with valuable insights from educational experts and leaders serving the university's Education Program Council. This program is also recognized by the National Council of Teachers of Mathematics (NCTM).
---
Chaminade University of Honolulu
The Chaminade University of Honolulu offers a Bachelor of Science in Secondary Education (6-12) to give teacher candidates the educational foundation they need to succeed, helping them create learning environments where students will thrive. With this online degree program, undergraduates will qualify for teacher licensure and teach grades 7 through 12 students in core content areas, such as English, Mathematics, Social Studies, and Science.
CUH's BS in Secondary Education program is unique because most of its coursework can be done online, giving teacher candidates flexibility as they prepare themselves for student teaching opportunities at the school of their choice. Upon graduation, undergraduates will be able to:
Scrutinize the history, commitments, ethics, and values of the teaching profession within the school community;
Use summative and formative assessments to identify, select, and implement tried and tested instructional strategies for secondary students;
Apply knowledge of learner differences, diverse students, learning environment, and learner development to maximize learning for high school students;
Discuss the Marianist tradition of providing quality, integral education within various learning communities;
And to describe structures of the subject matter disciplines, tools of inquiry, and central concepts to secondary pupils.
Major requirements for this online program include the following:
Teaching in Area of Specialization
Curriculum & Instruction: Secondary
Assessment
Managing School Environments
Introduction to Exceptional Children
---
The Baptist College of Florida
The Bachelor of Arts in History & Social Studies Secondary Education offered by The Baptist College of Florida is an excellent online degree program that's designed for those who want to be educators and teach history and social studies to grades six through twelve students in both public and private schools. What's unique about this program is that its curriculum includes biblical foundation courses with foundational courses in General Education.
The BA in History and Social Studies Secondary Education program is accredited by the SACSCOC-Southern Association of Colleges & Schools Commission on Colleges. Students will have an asynchronous schedule. They will participate in internship opportunities where they will gain practical experience.
Undergraduates who choose this major will gain the knowledge and skills needed to teach in public and private schools. However, for professional certification, they need to consult with the school's Teacher Education Division and the Office of Teacher Certification of the Florida Department of Education.
The following are some of the course requirements for BCF's BA in History and Social Studies Secondary Education program:
Introduction to Biological Science
Introduction to Earth Science
Foundations and Curriculum of Education
Psychology of Teaching and Learning
General Methods of Teaching
---
Texas Tech University
At Texas Tech University, those who are looking to become successful secondary school teachers can enroll in its Bachelor of Science in Education – Secondary (Hybrid) Distance Programs Concentration program. This online degree offering will lead to a bachelor's degree and certification in a major content area.
Undergraduates enrolled in this online degree program may also choose to complete certification in Special Education (SPED) or English as a Second Language (ESL). Alternatively, students may have coaching coursework and training, but may not be eligible for SPED and ESL certification through this university. They may, however, add such certifications after they receive the initial certificate.
Students enrolled in TTU's partner community colleges in the Dallas, Fort Worth, Houston, Odessa, San Antonio, and Snyder areas will be able to earn an Associate in Arts in Teaching degree and complete a bachelor's degree at TTU. Teacher candidates will gain extensive clinical experience in school districts. They can contact an advisor to get more information about it.
The Secondary-Level Education concentration within the BS in Education program will prepare teacher candidates for teacher certification to be able to teach grades seven through twelve students. This program will have a sequence of professional education courses for four semesters, including two student teaching semesters. Additionally, all courses will include field hours outside of class time.
The BS in Education – Secondary Distance Programs Concentration's curriculum includes the following course requirements:
Introduction to Teaching
Behavior Management in General and Special Population Classrooms
Computing and Information Technology
Applications of Technology in Education
Foundations of Inclusions and Differentiation for Special Populations
---
Chadron State College
Chadron State College provides a Bachelor of Science in Education – Secondary (Grades PK-12/6-12/7-12) program that is accredited through the Nebraska Department of Education. It is also recognized by the Council for Accreditation of Educator Preparation (CAEP), which upholds standards of excellence in educator preparation through evidence-based accreditation and ensures the continuous improvement of P-12 student learning.
Students enrolled in this online bachelor's program in Secondary Education must maintain a minimum of 2.75 GPA and no below "C" grade for Professional Education courses, as required by the Nebraska Department of Education. Those who pursue two endorsement areas are required to complete instructional methods (i.e., EDUC 431 Specialized Instruction) in both subject areas. One course will have to be taken before the Professional Year, while the other is to be taken during the first semester of the Professional Year.
Those who are seeking an additional endorsement or in the CSC Post Baccalaureate preparation program must enroll in EDUC 431M Interdisciplinary Special Methods. The capstone must also be taken concurrently and only upon successful completion of Professional Semester #1.
Professional Education courses include:
Introduction to Teaching
Assessment Foundations
Educational Psychology
Introduction to Exceptional Learner
Curriculum and Standards
---
Brenau University
Brenau University offers a transfer-friendly online Bachelor of Science in Middle Grades Education program to inspire those who want to teach middle grades students. This degree program is aimed at helping young students succeed academically and providing them the support they need as they experience cognitive, emotional, physical, and social changes as they hit the adolescent stage.
With this BS in Middle Grades Education program, teacher candidates will develop the know-how and skills needed for them to achieve their dream careers in the field of education. Classes are small, allowing students to work directly with faculty members who have years of experience working in public and private schools as teachers and administrators. Students will also complete student teaching and field experiences in various classroom settings. Additionally, its curriculum is constantly updated to suit the ever-changing needs of modern classroom environments.
At the end of this program, Middle Grades Education majors will be able to earn certification through the Georgia Professional Standards Commission (GaPSC). Once they pass the Georgia Assessments for the Certification of Educators (GACE) so they can teach grades fourth through eighth students.
Course requirements for Brenau University's BS in Middle Grades Education program include:
Biological Science
General College Physics
Introduction to Multicultural Education
Teaching Learners with Special Needs
Foundations and Cultural Issues for Teaching ESOL
---
Arizona Christian University
Arizona Christian University's Bachelor of Science in Secondary Education degree program trains teacher candidates in the art and science of teaching and at the same time, provides them with coursework that will strengthen their knowledge of the field.
This online degree program in Secondary Education focuses on the integration of educational principles in the profession, ensuring that undergraduates know that teaching as a profession is not compartmentalized. Rather, it is a combination of research-based theories and practical experience. It also emphasizes practicality, providing students with valuable and timely hands-on experience in today's classrooms. Additionally, it emphasizes teaching Secondary Education majors to develop a strong mentoring relationship with their professors.
Classes at ACU are small, encouraging a safe, intimate setting where teacher candidates can practice their teaching skills. It also features a biblically integrated curriculum and its coursework is based on God's word and His truths.
Academic major courses for an online degree program in Secondary Education include:
Introduction to Exceptional Child
Educational Psychology
Curriculum and Instruction
Structured English Immersion Methods
Classroom Management
ACU's Secondary Education program is approved by the Arizona Department of Education. It is one of the few universities in Arizona to be certified by the Association of Christian Schools International (ACSI). Upon graduation, students will receive a full ASCI endorsement, allowing them to teach internationally, as well as an Institutional Recommendation (IR) from the university, which should save degree holders time and resources when applying for their teaching certificate.
---
Drexel University
Those living in Pennsylvania and dreaming of becoming successful secondary education teachers should consider pursuing Drexel University's Bachelor of Science in Secondary Education. This online degree program aims to train a new breed of educators who can make a difference in the next generation of learners.
This BS in Secondary Education degree program prepares teacher candidates for teaching both high school and middle school students. The core of its curriculum focuses on technology and has a strong emphasis on STEM subjects.
Acceptance into the Teacher Certification program will be determined after undergraduates complete their sophomore year by reviewing the undergraduates' content and pedagogy coursework. Coursework will provide opportunities for students to teach grades seven through twelve pupils in areas, including Biology, Earth & Space Science, English, General Science, Physics, and Social Studies.
Courses for the teacher education program include:
Foundations in Education
Supporting Learners through Classroom Partnerships
A Case of Schools and Cities
Organizational Structure of Secondary Schools
Integrative Instruction: Focus on World Geography
Drexel University's School of Education is accredited by the CEAP-Council for Accreditation of Educator Preparation, indicating excellence in content and pedagogy, selectivity, program impact, clinical experiences, and capacity for continuous improvement from this accrediting body.
---
Great Basin College
It is Great Basin College's Bachelor of Arts in Secondary Education's goal to provide top-notch education programs, from early childhood to special education, for those in rural Nevada. This program is also aimed at developing competence, knowledge, values, and skills in promoting lifelong learning. Secondary Education students will be required to choose one of the content areas: business education, English, social sciences, or math.
Through this online BA in Secondary Education, undergraduates will learn how to use technology for distance learning and delivering educational courses in rural areas; leverage the expertise and contributions of faculty members and staff across all academic disciplines; identify and value diversity in the regional heritage and traditions; and partner with the six rural school districts in the area to ensure extensive field and clinical experiences. Teacher candidates will have opportunities for field experiences that will be supervised by public school teachers in school districts in rural counties.
This online degree program in Secondary Education will prepare students for certification from the Nevada State Board of Education. Those pursuing this degree are given endorsement options, including biological science, English, business education, technical education, social science, and mathematics. Faculty members can advise students on the current endorsement needs through this program, as well.
Required education courses for Great Basin College's BA in Secondary Education program include:
Foundations of Education
Preparing Teachers to Use Technology
Teaching and Learning Education
Educational Psychology
Education of the Exceptional Child
---
Concordia University Wisconsin
Concordia University Wisconsin's Bachelor of Arts in Secondary Education – English and Language Arts is an accelerated program that prepares teacher candidates for a teaching license in three years. Through this program, undergraduate students will learn how to teach comprehension, writing, speaking, listening, and reading to secondary school pupils.
Students pursuing CUW's BA in Secondary Education – English and Language Arts degree will soon master ELA skills to help them develop effective lesson plans and learning techniques for grades fourth through twelfth students. They will also have opportunities for online coursework and fieldwork in classrooms to gain hands-on experience and become experts in using an engaging curriculum that helps improve student performance.
Undergraduates will learn how to leverage their ability to read and assess various texts. They will also develop their creative writing and analytical skills, as well as enhance their communication skills to ensure their success in their classes. Aside from that, students can have their practicums and student teaching experiences anywhere in the country. Also, they have the option to earn a Public Education degree, Christian Teaching Certificate (CTC), and Lutheran Teaching Diploma (LTD).
Required courses for CUW's BA in Secondary Education – English and Language Arts degree program include:
Best Practices in Engaging Adolescents in Literacy
Teaching Writing
Survey of American Literature
The Art & Science of Assessment and Instruction
Curriculum & Methods of Teaching English – Secondary
---
Newman University
Newman University runs its Bachelor of Science in Secondary Education program to equip teacher candidates to become highly qualified for the teaching profession. To earn a Bachelor of Arts in their field of study, undergraduates need to complete content courses in the math and biology programs. Those who want to earn a Bachelor of Science must complete the coursework required for the history/government program.
Newman University accepts students with associate degrees from accredited community colleges given that they meet all general education requirements. applicants with transfer hours must consult an enrollment advisor at the university to determine their plans of study. Once the general education and content area requirements are met, undergraduates will move on to the secondary education program, which takes three semesters, including a 16-week student teaching semester.
Newman University's Secondary Education program has a strong reputation for producing graduates with successful professional careers. The school has a high placement rate for its teacher candidates and high average scores during licensure exams. What's more, this program trains more elementary and secondary education teachers than any other private institution in Kansas.
The skills that undergraduates can gain from NU's Secondary Education program are the same skills that most private and public schools and employers look for in teacher candidates, as well as staff and other roles that require organization, personal, relations, and communication skills. Students learn to analyze and organize information, share information effectively, make oral presentations, work with diverse individuals, and create effective written documents.
The program curriculum features topics including:
Introduction to Education through Field Experience
Foundation and Philosophy of Education
Middle School Methods
The Art and Science of Teaching
Principles of Secondary Teaching
---
Arizona State University
Arizona State University has a Bachelor of Arts in Education in Secondary Education program that prepares teacher candidates to successfully educate grades six through twelve students in the content area of their choice. Through this online degree, undergraduates will gain strong knowledge, professional skills, and instructional competency to manage middle and high school classrooms effectively.
This program provides future educators with extensive practical experience in integrating educational technology with a strong emphasis on teaching and learning practices. Students enrolled in this program will select one content area in which they will take at least 24 credit hours. Content areas to choose from include American government, business, biology, earth and space sciences, chemistry, English, economics, geography, general science, history, health, physics, mathematics, political science, and physical education, as well as some foreign languages.
ASU's Mary Lou Fulton Teachers College uses a team-based approach to teacher preparation, giving students a chance to gain professional experiences, such as internships and teaching residencies, with their peers and at the same time receive support and guidance from faculty members and highly qualified teachers. This provides undergraduates with plenty of opportunities to apply what they learn in coursework and practice managing modern classrooms.
Upon graduation, the university will provide students with an institutional recommendation for the Arizona teaching credential in Secondary Education, 6-12. To earn a secondary education credential, students must meet all requirements as specified by the Arizona Department of Education, as well as pass the appropriate educator subject knowledge exam and professional knowledge exam offered by the National Evaluation Series or Arizona Educator Proficiency Assessments (AEPA).
Major courses offered include:
College Mathematics
Exploration of Education
Literacy in a Changing World
Professional Educator Series: Equity in Education
Introduction to Child and Adolescent Development
---
East Carolina University
The online Bachelor of Science – Middle Grades Education program offered by East Carolina University is a degree completion program offered to eligible students with prior college credits. This program trains future educators to teach in classrooms for grades six through nine students.
This program is a Partnership Teach program, which is an online degree completion model aimed at students from other North Carolina community colleges to continue their remaining coursework at ECU. This is why interested students need to speak to a program academic advisor to ensure they will meet all admission requirements.
Throughout the program, undergraduates of this program will be placed in public school classrooms to gain practical experience and practice teaching techniques they developed. During their final year, students will be required to do a full-time internship in a public school classroom.
---
Think about this: Best Colleges with Great Study Abroad Programs
---
Most Important Skills for Secondary School Teachers
Pursuing a bachelor's degree in Secondary Education will mold teacher candidates to qualify for teaching licensure. Moreover, it is a crucial step to take to gain the most important skills needed to become effective educators who can make a difference in their students' lives.
Here are some of the essential skills future educators must have:
Critical Thinking – educators must always have their students' best interest at heart and at the same time work within the school's goals and standards. Additionally, they also need to be aware of parents' expectations for discipline and learning and ensure that their classrooms are always safe and nurturing.
Organizational – teachers need to always manage their study materials and keep track of their student's assignments. To ensure that classrooms are clean and orderly, teachers need to develop organizational skills that will help them secure all the necessary tools to manage modern classrooms.
Communication – educators need to be great at verbal, written, and physical communication to ensure that their lessons are presented clearly to their students and that they understood them very well. Having excellent communication skills is also important in ensuring student engagement in the classroom.
Patience – classes are always made up of students with various backgrounds, intellects, and learning styles. This is why teachers need to be patient with their pupils to let students take their time to understand the lessons, allow everyone to participate, and ensure harmony is maintained inside the classroom.
Leadership – teachers need to have leadership skills to ensure that they can manage diverse learners and maintain order in the classroom. This ability is also important for other duties, including coaching sports teams or directing clubs.
Creative Thinking – teachers need to incorporate singing, dancing, and other creative ways to encourage their students to participate in class. Aside from that, educators must also learn how to use the internet and other media to convey messages in more creative ways.
Time Management – having incredible time management skills is important for teachers to ensure they maintain a healthy work-life balance. They must efficiently manage their time to be able to set a few hours of their day for exercise, relaxation, and personal activities to avoid burnout and stress.
Conflict Resolution – teachers are peacemakers in the classroom. This is why educators need to have conflict resolution abilities to remain patient, calm, and level-headed during disputes or conflicts. Being able to properly deal with arguments or conflicts among students also means that they are patient and active listeners.
Top Career Options for Graduates with Bachelor's in Secondary Education
Teaching has always been one of the most popular majors, which explains why student enrollment in education degree programs is expected to increase every year. As per the US Bureau of Labor Statistics, employment of secondary school teachers is estimated to grow by 5% from 2021 until 2031. This equates to an average of 77,900 job openings every year.
Below are the average median wages for graduates with a bachelor's in Secondary Education:
Frequently Asked Questions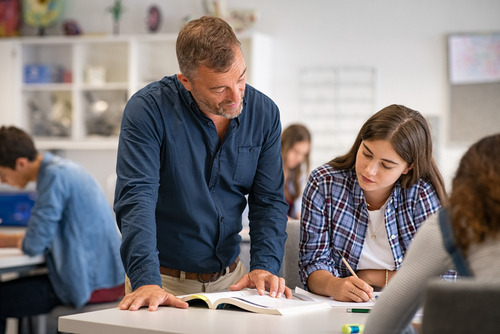 How long does it take to earn an online bachelor's degree in Secondary Education?
Generally, an online bachelor's degree in Secondary Education can take four years for full-time students to complete. This equates to 120 credit hours in total.
What is the typical path to take to become a secondary school teacher?
Earn a bachelor's in Secondary Education diploma with a major in the content area they wish to teach.
Complete a semester of a student teaching internship in the content area of their choice.
Qualify for and pass the teaching and subject-area tests for teaching licensure required in their respective states.
Apply for a teaching license.
Apply for open positions in public and private schools in the state they want to teach.
Is a master's degree needed to teach high school?
No, teacher candidates do not need to pursue a master's degree to teach in secondary schools. However, some states, which include Connecticut, Kentucky, Michigan, Maryland, Montana, Mississippi, New York, and Oregon, may require teachers to earn a master's after a few years of teaching to keep their license.
Key Points to Ponder
An online bachelor's in Secondary Education prepares graduates to teach students in ninth through twelfth grades in both private and public schools.
The first half of an online bachelor's in Secondary Education degree online program will emphasize curriculum development featuring general education and foundation building, and feature coursework and internship in adolescent learning and classroom management.
Most online bachelor's in Secondary Education programs focus on one of several educational topics, including arts, biology, chemistry, language, earth and space science, physics, social studies, and language arts. With a graduate degree, students can pursue more focused, higher positions in the field.
---
Before you go, see this: Best Schools with Online Bachelor's in English