Online bartending classes are one of the latest phenomena taking the beverage industry by storm for career-oriented training on the World Wide Web. Bartending schools typically take six months or less for online students to gain the alcohol expertise and mixing skills for success behind the bar. Critics often misjudge online bartending classes by saying that only on-the-job experience helps individuals master this hands-on craft. While experience is supreme, online bartending programs will bestow the basic know-how to get your foot in the door. Many are also designed to satisfy state-based Alcohol Seller/Server Certification for work at licensed liquor establishments. Let's look into how much money you're likely to earn after investing in formal bartending classes online.
Average Salary Statistics for Bartenders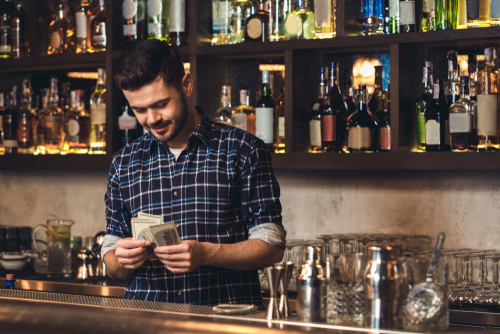 The Bureau of Labor Statistics reports that the United States' 580,900 bartenders are served up an average base yearly salary of $28,910, or $12.00 per hour. According to the bell curve of earnings, the bottom 10th percentile in bartending makes $17,940 or under, but the top 10th percentile of bartenders brings home $47,690 or more. Bartenders at restaurants and dining rooms report slightly higher income at $30,400, while those at casinos make less with a mean of $27,460. Online bartending classes reap the biggest annual mean wage in the traveler accommodation industry, including hotels, at $32,090. These figures don't include unreported tips though that rake in $200 per night on average.
Bartending Salary Potential Based on Location
How much your online bartending classes pay off could be dictated by where you're pouring the chardonnay and mixing the margaritas. Drinking establishments in Hawaii are a bartender's paradise with America's highest annual average income of $60,380, or $29.03 per hour before tips. Bartenders in Kauai especially report huge average salaries of $64,630! Another top-paying state is California, where bartending jobs earn $33,890 annually. Bigger cities also fare well with bartending averages above $34,000. For example, Sarah Speros shared her story about making $96,000 each year total at her New York City bar.
Upward Mobility After Online Bartending Classes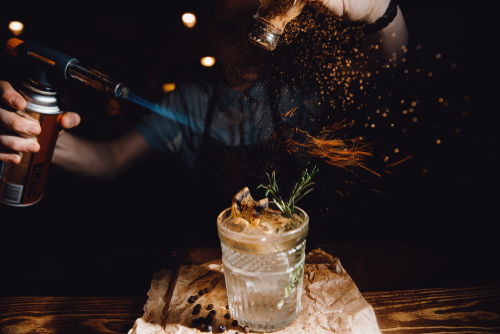 Bartending day or night may not even be some students' endgame goal for taking bartending classes online. Even if you're starting as merely a bartender helper for a median wage of $20,000 per year, there's room for upward mobility in the hospitality field. Ambitious bartenders can work up from slinging drinks to managing bar operations and even opening their own facility. Many become beverage or food service managers where experience provides a mean annual wage of $61,000. Bartenders in hotels could learn more about lodging administration and event planning where jobs cash in $56,670 and $51,560 respectively. Others may specialize in the wine business as sommeliers to make a median salary of $60,278 yearly.
Return On Investment on Tuition for Bartending Programs Online
When looking at tuition prices for two- and four-year degrees, it's clear that the traditional college route isn't right for everyone. Rather than paying back student loan debt, bartenders can immediately begin building their bank account because online bartending classes are extremely affordable. For example, Professional Bartending School is a BBB-accredited business that's trained over 30,000 students. ABC Bartending School Online is another popular choice for its two-part workshop with career services assistance. Tuition is considerably less expensive than the famous $1,000 Kentucky Derby mint julep! Online bartending classes intentionally have minimal costs to ensure a high return on investment.
Sunny Outlook for Well-Paid Bartending Jobs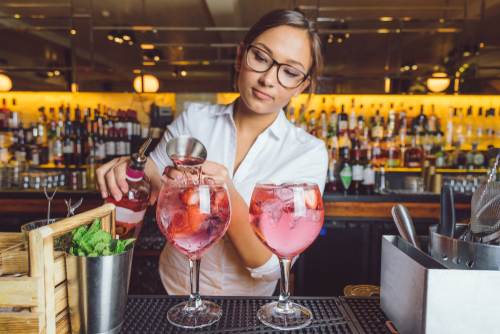 According to BusinessWire, the world's beverage industry is poised to reach revenue of $1.9 trillion by 2021 because of growing urbanization and higher disposable income for spirits. Bartenders are needed to quench the thirst of consumers in taverns, sports bars, nightclubs, fine dining restaurants, and other establishments. The BLS projects that the hiring of bartenders will grow faster than average by 32 percent between 2020 and 2030. These 111,300 new positions will bring the total number of bartending jobs in the United States to 652,300. States with the highest expected employment growth are California, New York, Florida, Texas, and Pennsylvania.
Finding Online Bartending Classes for the Best Value
While it's rare to break the $100,000 mark even with mind-blowing tips, online bartending classes are cheap degree alternatives that could land you an exciting job making more than most non-college grads. Picking the right online school is important to avoid a money-consuming scam though. Use the Better Business Bureau to check what other students are saying about the bartending classes. Look for online bartending schools that cost under $100, including helpful resources like mixing guides, have money-back guarantees, operate an https:// website, promote real alumni success stories, and include tests of your learning. Do your homework first to maximize how much you can earn after online bartending classes.