Online bartending schools are rapidly multiplying in the higher education market for creative, outgoing students to master this craft conveniently over the Internet. Aspiring bartenders log in 24/7 to complete online modules structured to teach responsible liquor service. Generally ranging from $19 to $199, online bartending education is a fast-paced, affordable option for stepping into the nightlife industry.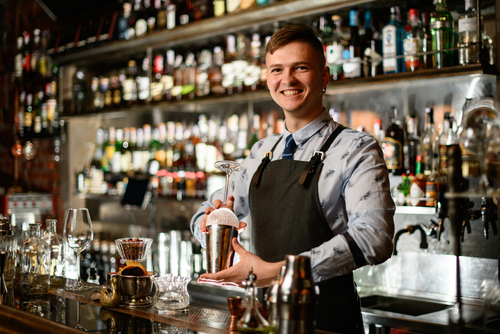 Several online programs have years of experience graduating certified bartenders with the know-how to maintain a clean, safe, and welcoming drinking atmosphere only for customers aged 21 and over. Critics often argue that formal education isn't necessary to follow in famous bartenders like Dale DeGroff and Jerry Thomas' footsteps. However, this article outlines the great benefits that training from an online bartending school can provide.
Bartending Knowledge You'll Learn
The curriculum prepared by professional instructors will hone your knowledge of cocktail mixing better than any YouTube videos. Enrollment at an online bartending school usually comes with interactive textbooks and detailed recipe guides. Not only will you learn the difference between an Old Fashioned and White Russian, but you'll also master important bar lingo. Every bartender graduates knowing the characteristics of diverse boozes from tequila to whiskey. Flashcards make identifying bar tools like jiggers, strainers, muddlers, and spouts as well as various glassware easier. Many online bartending schools have animations and video lectures to study the steps for mixing delicious drinks your taste buds adore. Certain programs, such as Professional Bartending School, also satisfy the requirements for state-issued alcohol server certification in states like Texas and Illinois.
Practicing Skills Behind the Bar
Studying at online bartending schools is intended to be your career's first step, not the last. Online simulations simply won't compare to the actual experience of pouring stellar cocktails with a flurry of thirsty customers. Students can turn the mixing kits, lessons, and demos they've gleaned into on-the-job training for quicker mastery. Learning the basics properly helps to integrate oneself into the bar scene without bad habits. Attending a bartending school can boost your confidence in memorizing requisite skills so that you focus on projecting a friendly, laidback attitude that attracts tips. Whether you're looking to bartend in Vegas, New York, or smaller towns, there are over 69,980 licensed bars and nightclubs across America. Putting an online bartending school on your resume can show bar owners your enthusiasm and increase your hiring chances.
Job Opportunities in Bartending
The goal of paying for online bartending education is launching a successful career keeping bars profitable and fun. Trained bartenders will find their skills marketable in a foodservice market heading for growth. The Bureau of Labor Statistics projects that the employment of bartenders will rise by 32 percent for 111,300 new jobs between 2020 and 2030. Online bartending schools open doors working day or night in bars, restaurants, hotels, clubs, casinos, breweries, and other beverage establishments. With experience, bartenders can eventually open their own bar or catering service for advancement. The minimal investment of online bartending schools pays off with a mean base wage of approximately $25,000 yearly. The average hourly wage is $12.00 per hour, according to the BLS. It's even possible for bartenders in high-end resorts or eateries to break the $100,000 mark with tips and benefits factored in.
Online bartending schools provide insider tricks to shaking and stirring your way to success while complying with complex liquor laws. If you're intrigued by this career path, signing up for bartending classes online can usually be done anytime without rigid start dates. The toughest part will be deciding which online bartending school to choose from the multitude. We suggest looking for experienced training programs that have a good online reputation and BBB accreditation. For example, some excellent yet inexpensive options are ABC Bartending School, BarSmarts by Pernod Ricard USA, and PBSA Bartending School. Look out for scams by reviewing any consumer complaints filed with the state's attorney general office. Choosing wisely and working hard in the coursework at online bartending schools can take you to a lively, well-paid career serving up spirits.