Find Your Perfect School
Premium Schools is an advertising-supported site. Featured or trusted partner programs and all school search, finder, or match results are for schools that compensate us. This compensation does not influence our school rankings, resource guides, or other editorially-independent information published on this site.
The art of mixing different drinks, spirits, beverage services, flavoring and coloring with cool stuff, and friendly customer relations certainly appeals to some people. And surely at some point, almost everyone has said, "I'm resigning this job and becoming a bartender."
Furthermore, online bartending schools are rapidly multiplying in the higher education market for creative, outgoing students to master this craft conveniently over the Internet. Aspiring bartenders log in 24/7 to complete online modules structured to teach responsible liquor service.
Generally ranging from $80 to $199, online bartending education is a fast-paced, affordable option for stepping into the nightlife industry.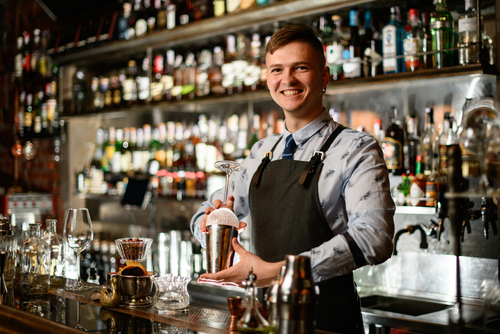 Several online programs have years of experience graduating certified bartenders with the know-how to maintain a clean, safe, and welcoming drinking atmosphere only for customers aged 21 and over.
Critics often argue that formal education isn't necessary to follow in famous bartenders like Dale DeGroff and Jerry Thomas' footsteps. However, this article outlines the great benefits that training from an online bartending school can provide. 
Choosing an Online Bartending Training Program
Online bartending schools provide insider tricks to shaking and stirring your way to success while complying with complex liquor laws. If you're intrigued by this career path, signing up for bartending classes online can usually be done anytime without rigid start dates.
Choosing wisely and working hard in the coursework at online bartending schools can take you to a lively, well-paid career serving up spirits. The toughest part, however, will be deciding which online bartending school to choose from the multitude. Here are a few suggestions when searching for an online bartending training program:
Accreditation
You should only enroll in a school that has been accredited by an authorized institution, such as BBB accreditation. For example, some excellent yet inexpensive options are ABC Bartending School, BarSmarts by Pernod Ricard USA, and PBSA Bartending School.
Good Reputation
We suggest looking for experienced training programs that have a good online reputation. Look out for scams by reviewing any consumer complaints filed with the state's attorney general office.
State and Local Regulations
Bartending schools should help their students comply with state and local laws that govern the sale and service of alcoholic beverages. Several states, for example, require bartenders to complete a brief alcohol awareness course. Alcohol awareness training teaches sellers and servers how to avoid binge drinking, driving while intoxicated, and underage drinking. Providing this type of training to state-approved programs indicates a high-quality school.
Job Placement
Another vital factor to think about is the school's job placement assistance. While most schools guarantee job placement for their graduate students, you should request the contact information of actual placed graduates to see how their course helped them after they got the job.
Bartending Knowledge and Skills You'll Learn
The curriculum prepared by professional instructors will hone your knowledge of cocktail mixing better than any YouTube videos. Enrollment at an online bartending school usually comes with interactive textbooks and detailed recipe guides. Not only will you learn the difference between an Old Fashioned and White Russian, but you'll also master important bar lingo. Every bartender graduates knowing the characteristics of diverse boozes from tequila to whiskey.
Flashcards make identifying bar tools like jiggers, strainers, muddlers, and spouts as well as various glassware easier. Many online bartending schools have animations and video lectures to study the steps for mixing delicious drinks your taste buds adore. Certain programs, such as Professional Bartending School, also satisfy the requirements for state-issued alcohol server certification in states like Texas and Illinois.
But aside from the basic bartending knowledge of mixing drinks and identifying bar tools, you'll learn how to become a good bartender. As you know, the comparison of a therapist and a bartender is a common trope. So, you'll learn about excellent customer service. And while nearly every bartender has a story about guiding a patron through an awkward living situation, bartenders' most crucial customer service skill is merely ensuring that their guests have the best possible experience at their bar.
Furthermore, organization and time management is another set of skills you'll learn throughout the training program. Remember, these two abilities complement one another. Working in a busy bar necessitates meticulous organization and the development of habits that save time while allowing you to perform all of the duties of a bartender.
You should also note that working as a bartender is not a walk in a park. You should keep your composure at all times. Bars can be a stressful place to work. Tight spaces, loud music, rude or impatient drunk customers; all of these factors can lead to stress overload and cratering behind the bar.
Being "in the weeds," an industry term for falling behind on tasks that must be completed, will happen to you, even to the most experienced bartenders. However, staying calm and working through the stress will do wonders for your sanity.
Practicing Skills Behind the Bar
Studying at online bartending schools is intended to be your career's first step, not the last. Online simulations simply won't compare to the actual experience of pouring stellar cocktails with a flurry of thirsty customers. Bar managers and owners would truly appreciate you more if you have actual bartending experience. You can turn the mixing kits, lessons, and demos they've gleaned into on-the-job training for quicker mastery.
Learning the basics properly helps to integrate oneself into the bar scene without bad habits. Attending a bartending school can boost your confidence in memorizing requisite skills so that you focus on projecting a friendly, laidback attitude that attracts tips.
When practicing behind the bar, you should also try experimenting. While learning the classic cocktails is important, experimenting can also help you improve your bartending skills. Experimenting with new recipes and variations on old ones is entertaining, and you'll learn more about how each ingredient affects a drink. Who knows, you might end up creating a new classic!
Whether you're looking to bartend in Vegas, New York, or smaller towns, there are over 69,980 licensed bars and nightclubs across America. Putting an online bartending school on your resume can show bar owners your enthusiasm and increase your hiring chances.
Job Opportunities in Bartending
The goal of paying for online bartending education is launching a successful career keeping bars profitable and fun. Trained bartenders will find their skills marketable in a foodservice market heading for growth. The Bureau of Labor Statistics projects that the employment of bartenders will rise by 32 percent for 111,300 new jobs between 2020 and 2030.
With experience, bartenders can eventually open their own bar or catering service for advancement. The minimal investment of online bartending schools pays off with a mean base wage of approximately $25,000 yearly. According to the BLS, the average hourly wage is $12.00 per hour. It's even possible for bartenders in high-end resorts or eateries to break the $100,000 mark with tips and benefits factored in.
While being a bartender is an exciting career with many perks, some people leave the industry for other reasons. The good thing is that bartenders have a diverse skill set that qualifies them for various fields.
Wine and Spirits Merchandiser
Consulting
Foodservice
Cocktail Caterer
General Manager
Brand Sales Representative
Liquor Sales Representative

Pros and Cons of Online Bartending Training
Different people have different opinions on whether or not people should enroll in bartending schools. Many bartenders and bar managers believe that a professional bartending certificate from an accredited bartending school is valuable and that those who have them are better prepared than those who do not. Others believe that bartending schools are a waste of time because the best way to learn is to work in a real bar.
The real truth lies somewhere in the middle of these opposing viewpoints. Of course, as stated above, a bartending school introduces students to the fundamentals of the bartending process in a more organized and systematic manner. Bartending techniques and recipes are thoroughly taught, and a certification exam is administered after the learning process. This can provide a significant competitive advantage when applying against other applicants who did not attend bartending school.
Those opposed to bartending schools have a valid point because most establishments do not hire bartenders. They usually choose someone who has worked their way up from barbacks or waitresses to assistant bartenders and then to head bartenders. To become an expert at bartending, you must also handle a real bar. But wouldn't it be better to have a professional certificate and work your way up? It simplifies things for you.
Bartending is an art that necessitates a serious approach to technique combined with a dash of creativity and fun. Enrolling in an online bartender training program will ramp you up to a career as a bartender. But if things do not go as planned or you suddenly change your mind about being one after training, you still have several career paths down the road where your skills are still valuable.
---