Find Your Perfect School
Premium Schools is an advertising-supported site. Featured or trusted partner programs and all school search, finder, or match results are for schools that compensate us. This compensation does not influence our school rankings, resource guides, or other editorially-independent information published on this site.
Do you enjoy being inventive and creating new things? Have you ever dreamed of giving objects and characters for life for use in advertisements, movies, innovations, website tours, website graphics, and more? Almost every day, animators generate new narrative ideas and methods for drawing or animating stories using their creative skills.

For additional info: Best Online Bachelor's in Art and Design with a Concentration in Photography
---
The Bureau of Labor Statistics projects a 5 percent employment growth in Special Effects and Animation. While some employers accept graduates with degrees at the associate level, most firms typically need animators to hold at least a bachelor's degree.
Quick Summarization
An online bachelor's in animation degree program involves the study of creating concepts and bringing them to life using visualization, modeling, and animation tools. Students learn how to rig a character, which means giving characters new features and modifying their existing ones to provide them with motion. An online degree in animation prepares students for various jobs in the creative industry.
Quick audio summary:
Methodology
With the increasing number of colleges and universities offering online animation degree programs at the baccalaureate level, pinpointing which schools provide a high caliber of education is often challenging.
We've listed the top colleges and universities that offer a bachelor's degree in animation online based on the following criteria:
Offers an online animation program or related programs with coursework delivered fully or partially online with the same on-campus instructors.
The faculty are industry professionals with years of knowledge and experience in computer animation and creative design and are willing to impart their techniques for better results.
Have appropriate accreditation to ensure financial aid opportunities and the delivery of a high-quality animation curriculum.
Provide students with an exciting and diverse curriculum to develop core skills like character design, storyboarding, and 3D modeling.
Allow students to transfer credits from their previous degrees; some programs accept transfer credits from certifications.
Offers job placement opportunities to help students obtain immediate employment after graduation.
Help students join associations in special effects and animation.
To find out more about our process of selecting the best schools and programs, please visit our Methodology page. See below for schools that offer animation degrees online!
10 Best Online Bachelor's in Art and Design with a Concentration in Animation
Academy of Art University

Location: San Francisco, California
The Academy of Art University, accredited by the WASC Senior College and University Commission, offers an online NASAD-accredited Bachelor in Animation and Visual Effects degree program. This animation degree program is best for students who want to study in a collaborative learning environment.
Online animation students learn courses through the same on-campus faculty and have the same curriculum as their traditional on-campus peers. Courses explore various topics, including sketching, modeling, valuing structure, understanding perspective, using color, and research design. Students will also gain the necessary information about the animation business.
Furthermore, students can concentrate their studies on animation techniques, including:
Stop motion
3D animation
2D animation
Visual effects
On top of their supportive faculty, online students will receive support from the school's AAUHOO group, a Facebook group with over 6,000 members, various student support services, and more.
---
Rocky Mountain College of Art Design

Location: Lakewood, Colorado
The online NASAD-accredited Bachelor of Fine Arts in Animation at Rocky Mountain College, a Higher Learning Commission-accredited institution, is best for students who want to focus on 2D and 3D animations. This fine arts major allows students to learn specialized skills necessary for commercial animation production.
This online computer animation degree aims to equip students with the technical knowledge and methods to create appealing storylines and produce unique, never-before-seen animation. The goal is achieved by offering students required computer animation courses like modeling, storyboarding, 2D and 3D drawing, line of action, animation, character design, and more.
The core and general education courses are taught by real designers, artists, and professionals in the liberal arts who have established a name for themselves.
The program offers electives, including the following:
Experimental Animation
Animation Internship
Digital Sculpting
Figurative Sculpture
Survey of Photography
Game Animation + Motion Capture
Digital photography
Students gain real-world experience and benefit from the school's 3D animation partnerships with over 100 schools nationwide. This helps students create a more professional network to help them jumpstart their careers after graduation. The majority of the graduates of the online computer animation program were able to land high-paying jobs at large animation companies, such as Blue Sky Studios, Cartoon Network, Nickelodeon, and Pixar.
---
Wilmington University

Location: Wilmington Manor/New Castle, Delaware
Wilmington University is regionally accredited by the Middle States Commission on Higher Education. WU offers various online degree programs, including a Bachelor of Science in Animation and 3D best for students who want to earn certifications while earning their undergraduate degree.
Students must complete comprehensive animation courses, such as animation art, 3D sculpting and animation, and 2D digital animation. These courses will develop their critical skill set and prepare them for the vibrant and competitive field.
Students can take advantage of the Dual-Credit ADVANTAGE™ Program. This program allows students to obtain a certificate at no additional cost. Certificates include:
In addition to their core courses, students can work in an extensive field experience, where they explore real-world workflow and production principles. This is done through animation industry-standard software like SideFX Houdini and Harmony ToonBoom. By the end of the program, students would have curated their professional portfolios, showcasing their talents for future employers.
---
The Los Angeles Film School

Location: Los Angeles, California
The online Bachelor of Science in Animation at the LA Film School is accredited by the Accrediting Commission of Career Schools & Colleges. This degree program is best for students who want to have a career-focused degree program tailored to their unique interests and skills. The program offers three animation concentrations:
Character Animation
Environment & Character Design
Visual Effects
Courses for the Character Animation program explore topics in character animation, character visual effects, and animation for games. The Environment and Character design concentration features modeling fundamentals, sculpting characters for film and games, and environments for games courses. The Visual Effects concentration offers courses that help equip students with visual skills for games and films.
While courses can differ from concentration, students should expect to study the 12 animation principles employed by renowned companies intensively. Moreover, all three concentrations expand on the pipeline used in real-world animation. Students learn in a collaborative learning environment with experts in the field. Courses are taught within four weeks to help students focus on one subject at a time.
---
Full Sail University

Location: Winter Park, Florida
Full Sail University is Accrediting Commission of Career Schools & Colleges-approved. One of the many online degree programs at Full Sail includes the online Bachelor of Science in Computer Animation. Students who want to study animation from a broader perspective can consider enrolling in this online degree in animation.
This animation program focuses on courses that explore topics from pre-production to character rigging. Students enroll in various courses, such as drawing, storyboarding, visual development, character animation, modeling, and final compositing. To produce realistic animations and a portfolio that will position them for success in the future, students also learn how to construct concept drawings and create character sheets.
Moreover, Full Sail is one of the few online schools to offer a unique and powerful technology that helps students fulfill their technological needs. The Project LaunchBox allows students to access cutting-edge technology they can use to complete their projects. The program includes Adobe Creative Cloud, Adobe Photoshop, Adobe Substance Designer­, and many more.
---
Grand Canyon University

Location: Phoenix, Arizona
Grand Canyon University, a Higher Learning Commission-approved institution, offers an online BA in Digital Design that prepares students for entry-level jobs involving motion graphics. This is best for students who want to have a Christian-integrated curriculum.
The program's curriculum boosts students' creative, communication, problem-solving, and critical thinking skills while exploring the foundational ideas of moral leadership and keeping a Christian perspective in mind.
Students develop the necessary capabilities for digital arts through design process courses, such as visualization techniques, stylistic trends, concept development, color theory, composition, typography, static and sequential composition, and image creation. Students create dynamic visual content in every studio course.
Students explore various courses and focus their studies on the following:
Advanced Motion Design 1, 2 and 3
Motion Graphics 1, 2, and 3
Typography 1 and 2
Motion Technologies
Students in the program will learn in a creative community connected to regional and national design industries, giving them several hands-on learning opportunities. Moreover, students can participate in extracurricular design events and professional networking through the GCU Design Club.
---
Kennesaw State University

Location: Kennesaw, Georgia
A Southern Association of Colleges & Schools Commission on Colleges-recognized school, Kennesaw State University offers one of the best online animation degrees. The Bachelor of Fine Arts (BFA) – Digital Animation at KSU is best for students looking for an option to study in a hybrid learning format. This program also offers various internships and co-ops.
This BFA in digital animation program focuses on giving students a solid foundation knowledge of the essential concepts and methods used in animation-related employment. This program emphasizes digital animation, offering courses in animation techniques, computer applications in art and concept, studio practice, and color theory. Upper-level coursework of the program includes:
Electronic illustration
Foundation animation
Character development
Because of KSU's location, a lot of online students pursue a hybrid learning format. The campus is close to Atlanta, one of the best cities known for its art scene. By attending on-campus events and courses, students gain a solid foundation in digital animation and more networking opportunities.
---
National University

Location: San Diego and Los Angeles, California
Earning the nod of the WASC Senior College and University Commission, National University offers an online Bachelor of Arts in Digital Media Design. This is one of the best degrees for military-affiliated students and students who want to have a more flexible schedule. Moreover, NU has a year-round enrollment, allowing students to apply any month, and has more than $30 million in new scholarships.
The program's courses help students understand how the contemporary world function and communicate. It uses the most recent equipment and software used in the media arts industry today. Courses of the program explore topics in business, marketing, education, and entertainment that involve visual communications.
Students study courses that include the following:
Art History
Digital Image Compositing
Motion Graphics Visual Effects
Digital Audio Creation
Modeling for Game Art
---
University of Advancing Technology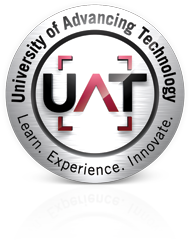 Location: Tempe, Arizona
Accredited by the HLC, the University of Advancing Technology offers an online Bachelor of Arts in Game Arts and Animation. The design of this online game art and animation concentration is to help students begin a career that fosters online player experience and game production.
Thanks to the skilled and experienced faculty, students will have the ability to set a name for themselves in the online game creation industry. Students will explore courses that tackle the processes used in game development to produce 2D and 3D art and animation for various video game platforms. The courses covered include color theory, lighting, shading, anatomy, perspective, and scene setting.
UAT's online animation degree is one of the fastest online degree programs, with an average completion time of 2.67 years. Additionally, the program has no additional cost for out-of-state students.
---
University of Florida

Location: Gainesville, Florida
The University of Florida runs an online Bachelor of Arts (BA) in Digital Arts and Sciences program focusing on Animation, Game Design, and the Digital Edge of Production. Students with intellect and creative talents can apply for the program. UF is accredited by the Southern Association of Colleges and Schools Commission on Colleges.
Students participate in practical experiences that help them develop the technical and practical skills necessary to enter the digital arena. With the help of faculty experts in the entertainment and media industries, students will gain knowledge of 2D and 3D animation, motion graphics, programming, and video game design.
Students must finish the required critical tracking courses to stay on track. This includes the following courses:
Creating Mobile Games
Principles of Digital Visualization
DAS Design and Production Studio 1 and 2
Game Systems Development 1
Digital Portfolio
Entrepreneurship in New Media
Senior Project Research
Senior Project in DAS
c]Create Background Layouts
---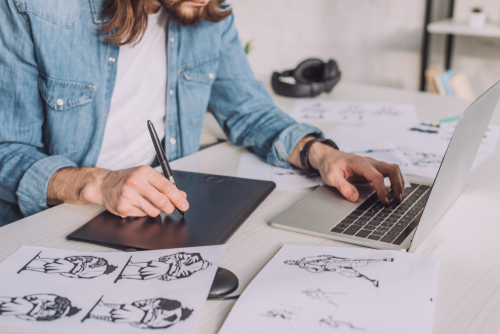 What To Expect in an Online Animation Degree Program
Coursework
Accredited online animation degree programs deliver the same quality and rigor as the on-campus program. The upside of online degree programs is that they allow students to learn without having to commute to the campus to attend classes, allowing for a more affordable college learning experience.
Students looking for animation degrees come across three types of degrees: The Bachelor of Arts (BA), Bachelor of Science (BS), and the Bachelor of Fine Arts (BFA). While these offer different courses, they all have the same goal: to produce more talent in the digital creative arts industry.
Students with online animation degrees take a wide range of classes taught by experts in the animation business. Most animation degrees include instruction in 2D and 3D animation skills, 3D modeling, character animation, graphic design, and other facets of multimedia design. Courses are designed to equip candidates with the necessary technical skills to compete in the market.
Online degree programs in animation include:
coursework,
an animation workshop at a reputable studio, and
animation instruction in a production-oriented studio setting.
Following are some of the most common/required core courses for incoming students in animation degrees.
The Principles of Basic Animation / Animation Basics
Background Design & Character Animation
Camera Direction
Color Theory
Stop Motion Animation
Animating Character Functions and Character Rigging
Storyboarding
Character Design
Visual Development and Visual Communication
Modeling
Digital Media Design
Computer Animation for Film and Video
Game Design and Development
Animation and Special Effects
Computer Animation
Animation Concepts
Computer Graphics Method
Drawing Character Design Line
Image Editing Techniques
Web Design
Flash Animation
Computer Game Design
Create Visual Content
Real-World Production Concepts
After completing the required courses, animation majors must compile a professional portfolio to show to their future employers. This helps the hiring officers evaluate your skills, knowledge, and creativity.
Admission Requirements
Students pursuing an online degree in Animation must first enroll in the school's general education courses. Candidates must possess a GED or high school diploma. Taking some computer classes can be beneficial as well.
Some of the most common requirements include the following:
A completed application and fee, if applicable
High school transcripts
Minimum GPA of between 2.0 to 3.0
Letters of recommendation
College transcripts, if any
Some online animation degree programs will also have software and tech requirements. Many software packages, such as the Adobe Creative Suite, which includes Adobe Photoshop and In-Design, are used in animation degree programs. Students familiar with applications for computer animation related to their sector are at an advantage.
Students studying animation also require their own computers. The majority of schools have a list of the requirements on their websites.
Cost
The cost of online animation degree programs depends on factors such as state residency, institution type, and required coursework. Out–of–state fees are much higher than in-state fees. But fortunately, some online schools, like the University of Advancing Technology, offer a flat rate.
Online programs will also charge technology fees, but these fees are less competitive than fees of traditional on-campus degrees.
According to the Education Data, the average cost per credit hour for an online four-year degree at a public university is $320.80. In contrast, a four-year degree at an online private university averages $504.90 per credit hour.
What To Do After an Online Bachelor's Degree Program In Animation
Working as an animator can be gratifying for creative people, but breaking into the industry is difficult due to the intense competition. After earning your degree in animation, what should you do next?
Before anything else, it's important to ensure that you have a competitive portfolio. While an online bachelor's degree program in animation teaches you the technical, audio, and editing skills, among other skills required for the industry, employers will still want to see a tangible example of your work. Your portfolio will demonstrate your sense of style and determine the effort you put into your work.
If you're all set, you can proceed to apply for positions in the industry. Here are the most common career paths for bachelor in animation graduates.
Special Effects Artists and Animators
Special Effects Artists and Animators are experts in producing visuals for motion pictures and television programs. These professionals use computer-generated and hand-drawn pictures to produce realistic effects. Meeting with clients, collaborating with writers and directors, making storyboards, working with a design team, and using complex computer programming languages are all possible job responsibilities.
Average Annual Salary: $98,950
Growth Rate: 8 percent
Art Directors
Art directors are experts with talents in visual design. These professionals oversee the visual components of a newspaper, a product, or a movie. They are in charge of planning and directing the direction of the layouts, pictures, sets, and videos.
Average Annual Salary: $105,180
Growth Rate: 6 percent
Graphic Designers
Graphic designers are artists who generate visual language and pictures. Graphic design is a vast field that includes the following:
Art and illustration for graphic design
Environmental graphic design
Marketing & advertising graphic design
Motion graphic design
Packaging graphic design
Publication graphic design
User interface graphic design
Visual identity graphic design
Average Annual Salary: $57,990
Growth Rate: 3 percent
Computer Programmers
Many technological areas require programming expertise, but software and web development positions are particularly in demand. Programmers write code for mobile apps and computer programs. They also maintain, debug, and troubleshoot software and systems.
Average Annual Salary: $97,800
Growth Rate: -11 percent
Licensure and Certification for Animators
Animators do not need to hold a license to obtain a job. They are, however, encouraged to obtain professional certifications to gain a competitive advantage in the animation job market.
Unity offers one of the most popular certifications for artists with artistic and technical skills geared toward 3D animation and game development. Moreover, Toon Boom Animation certifies its software packages.
Professional Associations in Animation
Due to the competitive market, it's wise to become a member of a popular animation organization. Joining professional organizations allows you to meet industry professionals and learn about trends, career prospects, new software, and tools. You'll even have the opportunity to attend training, seminars, and workshops to keep you updated on the latest animation advancements.
ASIFA is one of the pioneer animation organizations, founded in 1960. There are over 40 chapters of this professional organization worldwide, giving you better access to networking opportunities. You can also access the interchapter film exchange program and receive a complimentary subscription to ASIFA Magazine to get updates on job openings and trends.
IDMAa primarily supports academics, teachers, professionals, and organizations studying digital media. The organization provides a public online employment directory and a members-only online magazine.
By 2025, women should hold 50% of the creative jobs in the animation business, according to WIA, established in 1995 to enhance the status of women in the sector. The Roar Art Project allows artists to exhibit original works dealing with workplace sexual harassment and gender inequality.
---
Learn more: Best Online Bachelor's in Art and Design with a Concentration in Film
---

Frequently Asked Questions
Do you need a Master's in Animation?

A bachelor's degree in animation is the minimum requirement for entry-level employment. However, obtaining a master's degree is probably necessary if you want to work for a major animation studio like Pixar, Dreamworks, or Walt Disney Studios… Only talented animators need to apply!
What are the highest-paying jobs with a Bachelor's in Animation?

According to the BLS, art directors made a median annual salary of $105,180, with the top 10% making more than $207,060 annually.
How long is an online Bachelors in Animation degree?

Most online bachelor's in animation programs have a total credit requirement of 120 and can be completed in three to four years of full-time study. Students enrolled in accelerated courses or those who take on more credit per semester can graduate in 2.5 years. 
Do you need to earn a college degree to become an Animator?

Although a degree in animation is not a must for all positions in the industry, finishing an animation school significantly improves your chances of finding work in the sector. Online bachelor's in animation degree programs provide the proper training you need to excel.
How do you gain experience in Animation?

Gaining real-world experience can help set you apart from the crowd and add to your learning inside the classroom. To obtain experience and become more competitive, participate in internships and practice new techniques. Earning an animation degree will start you on a path of accomplishment and knowledge!
Key Points to Ponder
An online bachelor's degree in animation equips students with the knowledge and training required for entry-level jobs involving bringing pictures to life.
Online animation degrees require students to complete coursework and create a portfolio demonstrating their unique creativity and style.
The best online animation degree program provides a flexible, low-cost curriculum that delivers the same rigorous coursework as on-campus degrees.
An online bachelor's in animation degree can be a fun and lucrative field!
---
If an animation degree is not for you… Take a look at this: Best Online Bachelor's in Art and Design with a Concentration in Multimedia Design