Find Your Perfect School
Premium Schools is an advertising-supported site. Featured or trusted partner programs and all school search, finder, or match results are for schools that compensate us. This compensation does not influence our school rankings, resource guides, or other editorially-independent information published on this site.
As technology takes the world by storm, the demand for Digital Marketing skills has exponentially increased. To address this growing need, many universities and colleges now offer online bachelor's degrees in Business Management, emphasizing Digital Marketing.
With the numerous options available, choosing the best school that offers an online bachelor's degree in Digital Marketing can be overwhelming. We help you make an informed decision through our ranking guide featuring today's leading schools.
Quick Summarization
An online bachelor's degree in Digital Marketing program teaches students the essential skills and knowledge needed to succeed in the Digital Marketing industry. Like an online marketing degree but focusing on the digital business realm, it offers training and education for the acquisition of relevant skills in search engine optimization, social media marketing, web analytics, content creation, digital advertising, and more.
Quick audio summary:
---
Learn more: Best Online Bachelor's in Art and Design with a Concentration in Multimedia Design
---
Methodology
Whether you're a working professional looking to upskill or a student exploring different career paths, choosing the right program that fits your needs and career goals is important.
We considered these factors in putting together our list of today's best Digital Marketing undergraduate programs online:
Concentrations: The Digital Marketing program, a Business Management concentration on its own, encompasses e-commerce, social media marketing, digital analytics, and other specific specializations.
Comprehensive Curricula: Digital Marketing skills are emphasized, including SEO, content creation, data analytics, PPC, email marketing, and other techniques and trends taught for practical knowledge and application purposes.
Delivery Format: The Digital Marketing program is delivered in a flexible online or blended format for learning convenience.
Financial Aid Opportunities: Scholarships, grants, and student loan opportunities are offered to qualified students.
Excellent Business Management and Digital Marketing Faculty: Seasoned experts as professors who have access to the latest and most effective digital marketing tools and techniques and the most useful industry insights,
Accreditation Status: Recognized by an accrediting agency to guarantee quality undergraduate education that meets industry standards and is acceptable to employers.
Wide Affiliations: Offering valuable networking opportunities, the online Digital Marketing programs offer access to industry organizations and resources that enhance career prospects.
Explore our comprehensive selection process! Visit our Methodology page.
10 Best Online Digital Marketing Undergraduate Programs and Concentrations
Spring Hill College
Location: Mobile, Alabama
Spring Hill College offers a Bachelor of Science in Digital Marketing to allow learners to "gain a foundational understanding of marketing and digital media strategy."
Through this online Digital Marketing degree program, you'll work with real clients to create integrated and comprehensive marketing plans to gain relevant experience. Aside from that, this major will also prepare you for various Digital Marketing certifications to qualify for different careers in advertising, communications, and marketing.
What students will learn from Spring Hill College's Digital Marketing degree:
Solid foundational knowledge of digital marketing strategy
A deeper understanding of marketing fundamentals
Digital content strategy development for a target audience
Marketing campaigns, research, analysis, and presentations
About the School and Its Digital Marketing Program:
Students can complete this degree in 4 years with 15 major-related courses, equivalent to 120 credit hours.
The program offers a flexible online and career-focused curriculum, allowing students to study full-time or part-time.
The program is taught by dedicated professionals who take a student-first approach and genuinely care about each student's success.
With the program director's approval, the program accepts transfer credits of up to 96 credit hours or military experience.
Spring Hill College offers FAFSA, loans, scholarships, partnership discounts, military benefits, and employer tuition reimbursements.
---
Full Sail University
Location: Winter Park, Florida
The Bachelor of Science in Digital Marketing degree program offered by Full Sail University teaches students to develop dynamic content for various target audiences while ensuring the best SEO and analytics practices.
This online degree program tackles marketing, digital entrepreneurship, and emerging technology. It will also enhance the necessary skills to conquer the challenges of technological changes and advances. This major will also help develop students' ability to create strategic plans and viable marketing techniques and develop and cultivate brands.
What students will learn from Full Sail's Digital Marketing degree:
Introduction to SEO and the process of enhancing the quality and volume of traffic to a website
Best Display Advertising and Email Marketing strategic methods to help increase awareness for a product or service while learning how to identify the marketing routes that work best for specific brands
About the School and Its Digital Marketing Program:
Qualified students of this online bachelor's program can receive up to $25,000 through the Momentum Scholarship.
Full Sail University accepts grants, loans, Federal Work-Study Program (FWS), and scholarships.
Full Sail University provides students with high-end technology to create projects and access their coursework, creations, and files 24 hours daily.
Full Sail University provides a project-based curriculum and hands-on experience.
---
Concordia University, St. Paul
Location: St Paul, Minnesota
Concordia University, St. Paul's College of Business and Technology offers a Bachelor of Science in Digital Marketing. This degree program will prepare students to excel in rapidly changing marketing by applying various online marketing methods and strategies.
What students will learn from a CSP's BS in Digital Marketing degree:
Email Marketing
Social Media Marketing
Viral And Organic Growth
Search Engine Optimization (SEO)
Search Engine Marketing (SEM)
Marketing Analytics
Web Analytics
General business skills
About the School and Its Digital Marketing Program:
Students must complete 120 credits with a major of 30 to 44 credit hours or two minors, elective courses, and general education courses.
Concordia University, St. Paul students are guaranteed the most affordable tuition in Minnesota.
Concordia University, St. Paul, accepts church vocation scholarships, FAFSA, federal grants, Minnesota Financial Aid Programs, Stafford Loan, and TEACH Grant.
---
Bay Path University
Location: Longmeadow, Massachusetts
Bay Path University's Bachelor of Science in Business: Digital Marketing Management major is key to developing, implementing, and tracking comprehensive Digital Marketing strategies to give clients a leg up on the competition. Aside from that, this degree will prepare students for roles that require developing, analyzing, and managing Digital Marketing campaigns and strategies.
What students will learn from Bay Path's BS Digital Marketing degree:
Formulating a powerful plan for effective social media campaigns
Assessing and handling online branding matters
Using digital media applications and tools effectively
Applying analytics to measure success and analyze strategies used accurately
Performing tried-and-tested online marketing research techniques
About the School and Its Digital Marketing Program:
Bay Path University is committed to providing affordable, career-oriented, practical education.
This university offers Social Online Universal Learning (SOUL), a program that aims to make adult women learners' learning experience more personal and supportive.
It also accepts various financial aid options to give all students a chance to afford higher education.
---
Cambridge College Global
Location: Boston, Massachusetts
Cambridge College Global's Bachelor of Science in Digital Marketing is an online bachelor's degree designed to assist students in enhancing their business, creative, and technical abilities to ensure a brighter future in Digital Marketing. It also ensures formal training in the complexities of modern business.
This online bachelor's program in Digital Marketing has three areas of concentration that students can choose from:
Virtual Marketing
Strategic Marketing
Marketing Analysis
What students will learn from CCG's BS Digital Marketing degree:
In-depth coursework in business administration practices, as well as consumer behavior, web design, web development, and advertising
Enhanced research skills
Mobile technologies
Social media engagement
Search Engine Optimization (SEO)
Web analytics
Digital content
Email marketing
Online automated tools
Viral marketing
About the School and Its Digital Marketing Program:
Cambridge College Global offers an Online Certificate in Digital Marketing with seven fully online courses.
63% of students are employed with organizations that are part of Cambridge College's Corporate Partner.
This college accepts financial aid and offers tuition discounts for military service members, veterans, first responders, DoD or USCG civilian employees, and children or spouses of military and first responders.
This college offers scholarships for new graduates enrolling in other degree programs in CCG.
---
Colorado Technical University
Location: Colorado Springs, Colorado
Colorado Technical University offers a BSBA with a concentration in Digital Marketing. This program combines traditional marketing strategies with Digital Marketing disciplines, including data analysis, SEO, social media marketing, branding, visual marketing, and customer relationship management.
What students will learn from CTU's BS Digital Marketing degree:
Research on Internet and mobility marketing, innovation, social network marketing, technological advances, Big Data, and general marketing principles
Focuses on Search Engine Optimization (SEO), integrated/omnichannel marketing strategies, and new software and technology development for marketing
About the School and Its Digital Marketing Program:
The BSBA degree program is a 180-credit hour online program with 66 general education credits, 28 Digital Marketing concentration credits, and 86 business administration credits.
Colorado Technical University's BSBA in Digital Marketing has been recognized by the US News & World Report as among the Best Online Bachelor's Programs for nine years.
The BSBA is accredited by the ACBSP.
Offers CTU Fast Track exams, a series of mini modules aimed at testing students' knowledge of key course objectives and allowing them to earn college credits.
CTU offers flexible online course schedules to give students more flexibility and freedom, especially those who work simultaneously.
CTU also offers grants and scholarships for those who qualify and tuition reimbursement from employers.
---
Southern New Hampshire University
Location: Manchester/Hooksett, New Hampshire
Southern New Hampshire University's Bachelor of Science in Marketing – Concentration in Digital Marketing helps students develop the necessary tools to navigate the digital environment easily. Aside from that, this program will also teach learners to evaluate metrics and master social media to ensure robust marketing campaigns.
What students will learn from SNHU's BS Digital Marketing degree:
Pay-per-click advertising, optimized content, and targeted strategies to reach target audiences
Identifying and targeting a niche audience to promote products and services more effectively
Digital Marketing strategies in simulated environments
Developing a marketing plan
Using analytics and Digital Marketing strategies to increase brand awareness
Using data to identify product position
About the School and Its Digital Marketing Program:
SNHU offers 24/7 access to online classrooms and course materials.
It is committed to keeping tuition rates affordable to its students.
It has a transfer policy that allows students to transfer up to 90 credits to the bachelor's degrees of their choice, saving them up to 75% of tuition costs.
Students can also get college credit for previous work experience through military discounts and employer tuition assistance.
Reputed for academic innovation, SNHU received The United States Distance Learning Association's 21st Century Distance Learning Award for Excellence in Online Technology.
---
Maryville University
Location: Town and Country, Missouri
The Online Bachelor of Science in Marketing offered by Maryville University will take students one step closer to their dream of excelling in Digital Marketing. This online program prepares students to face the challenges of Internet marketing through the necessary knowledge, skills, and tools.
What students will learn from Maryville University's online BS Marketing degree:
A strong foundation on the financial, operational, and strategic aspects of the business
Digital and interactive marketing, product development, managerial accounting, consumer behavior, statistics, and business policies
Professional experience through internship opportunities
Strengthened creative strategy, data analysis abilities, and critical thinking skills through general education courses, including psychology, math, and liberal arts
Enhanced marketing and management expertise with a robust founding in economics, statistics, business law, and financial accounting
About the School and Its Digital Marketing Program:
Maryville University provides students with full online access to their coursework.
Students can start in the fall, spring, or summer semesters.
Programs are taught by faculty members who are active business leaders.
The university offers various financial aid options and transfer credits.
Maryville is recognized by the Higher Learning Commission and Accreditation Council for Business Schools & Programs (ACBSP).
---
Lindenwood University
Location: St. Charles, Missouri
Regarding a Bachelor of Science in Digital Marketing, Lindenwood University is one of the institutions trusted by many Americans. Through this university's online bachelor's degree program in Digital Marketing, students can help promote, sustain, and establish individual and organizational brand initiatives through effective Digital Marketing strategies and campaigns.
What students will learn from Lindenwood University's BS Digital Marketing degree:
Social media marketing
Digital content optimization
Foundational marketing
In-depth knowledge of increasing brand awareness through social media and other digital tools
Personal branding and content creation
Contemporary audience analysis
Advertising and promotional strategy
About the School and Its Digital Marketing Program:
The BS Digital Marketing program can be completed in 2 to 4 years with 120 credit hours.
Lindenwood University is one of the most affordable schools with a transfer policy of up to 90 credits.
Professors with real-world experience and insights instruct its career-focused programs.
It has experts passionate about helping students find the best financial aid option, career advice, and tutoring services.
---
Western Governors University
Location: Millcreek, Utah
Western Governors University's Bachelor of Science in Business Administration in Marketing is designed to prepare students for an exciting and rewarding career in business, particularly in Digital Marketing. One of its main goals is to position students as top marketers who can understand traditional marketing concepts and combine them with digital and emerging techniques.
What students will learn from a BS Business Administration in Marketing degree:
Marketing management
Marketing applications
Consumer behavior
Digital Marketing
Brand management
Sales management
Marketing strategy and analytics
Business success fundamentals
Finance skills
Marketing, sales, and customer contact concepts
Principles of economics
About the School and Its Digital Marketing Program:
The BS Business Administration in Marketing consists of 41 courses designed to be relevant, practical, and timely.
The program's capstone project will challenge students' ability to design, analyze, and implement marketing campaigns using simulations and case studies.
Each student at WGU has a program mentor who knows their schedule and professional goals.
It has a generous transfer policy based on a student's circumstances.
It is accredited by the Accreditation Council for Business Schools and Programs (ACBSP) and the American Marketing Association (AMA).
---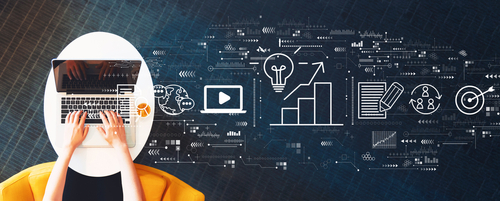 Reasons to Earn an Online Bachelor's Degree in Digital Marketing
Companies, no matter how big or small, need the help of Digital Marketing-savvy individuals to get ahead of the competition. Thankfully, with Digital Marketing, even small enterprises can compete with bigger players in several industries.
Other reasons that make earning an online bachelor's degree in Digital Marketing worth it include the following:
Increased career opportunities
Getting an undergraduate degree in Digital Marketing is still the best approach to launching a successful career in this field. Your degree will be your groundwork for having a strong educational background, hands-on experience, and credentials to back it up.
While there are many online short courses on Digital Marketing, social media marketing, marketing analytics, customer relationship management, and other marketing topics, a degree would be a notable addition to your resume once you apply for a job.
Broadened skill set
Many employers require applicants to have a degree in Digital Marketing nowadays. This is because earning a degree in Digital Marketing means you will also be adept in a breadth of various areas in business and marketing, including accounting, finance, search engine optimization, business administration, and public relations, to name a few.
Enhanced analytical and communication skills
A degree in Digital Marketing will hone your critical thinking and analytical skills so you can identify the things that drive and motivate customers to take action. You will gain the knowledge and skills to understand customer behavior and equip yourself with the necessary tools to drive, convert, and retain customers.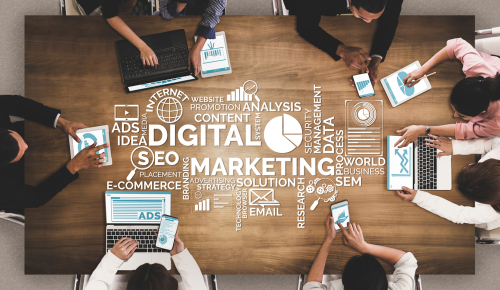 Employment Outlook for Graduates of Online Bachelor's in Digital Marketing
Graduates of Digital Marketing have multiple options career-wise. Some of the largest employers you can work for are technical, professional, and scientific services.
Look at the most popular job opportunities Digital Marketing students can pursue after graduation.
The brand marketing manager's work entails the creation and execution of marketing initiatives, branding strategies, and other marketing projects to promote a brand and the company's short- and long-term goals. Additionally, you will monitor competitor activity, conduct market research, and collaborate with product management.
Average salary: $100,992
If you work as a digital strategist, you will develop content and strategy for a client or company's web presence and outreach. You will also need to identify new technologies and communities on which you must focus your marketing efforts. Aside from that, you need to identify, track, analyze, and report on analytics and metrics to understand marketing reach better.
Average salary: $82,913
Digital marketing managers implement and oversee a company's Digital Marketing strategy and oversee tactical operations that aim to increase customer demand, increase sales, determine sales channels, promote online presence, and drive traffic to the company website. This requires you to master using search engine marketing (SEM) and search engine optimization (SEO) techniques.
Average salary: $122,413
As an SEO specialist, you will use SEO techniques and tools to optimize site traffic, improve user experience, and increase sales conversion to monitor a website's performance daily. You will also need to do technical audits, analyze content gaps, search behavior analyses, and conduct keyword searches.
Average salary: $65,130
As a social media manager, your job is to develop and implement a company or organization's social media strategy to increase online presence and sales conversions. You will also be tasked to formulate and maintain social media content to drive traffic and increase interest in your brand. You may also be working with bloggers, influencers, and other online community members.
Average salary: $58,180
Is Pursuing a Master's in Digital Marketing Worth It?
If you wish to carve a niche for yourself in the world of Digital Marketing, it would be best to earn a master's in the field.
Earning a master's degree in Digital Marketing means…
You'll be trained rigorously in managerial skills to qualify for higher positions in the corporate world.
You'll have a more in-depth and concise understanding of all the aspects of the Digital Marketing discipline.
You're considered one of the few top students because master's degrees only take in students with very high potential, which means that you get personal mentoring from faculty members who are professionals and have years of experience in the field.
You'll have more chances of getting hired for mid-senior managerial roles, so you don't need to start as an intern.
Your resume will stand out with a master's degree, indicating the level of education and exposure you have attained.
You'll have more chances of being hired for higher-paying jobs because companies will pay more for candidates with exemplary backgrounds.
Professional Organizations for Graduates of BS Digital Marketing
The 4A's Foundation was established in 1997 to support the industry in improving the diversity level of those in the advertising and media agencies. It also provides financial aid to multicultural individuals studying creative arts.
ACBSP is the first organization to accredit different levels of collegiate business education degree programs, from associate to doctoral degrees. Its accreditation process is based on Baldrige Education Criteria for Performance Excellence, assessing an institution's business programs regarding educational experience and quality improvement.
The Interactive Advertising Bureau provides education and training on digital advertising and marketing. IAB also offers standards and guidelines for industry best practices.
AMA is an excellent venue for meeting other marketing professionals across various industries. Being a member also means having easy access to industry research and resources.
Social Media Marketing Society members get education and training on social media marketing and join events that offer networking opportunities.
It is an association founded by web analytics executives. This organization aims to bring together professionals in web analytics and end-users to promote common interests.
Digital marketers who want to be effective in making better business decisions and ensuring business growth would benefit from being a member of ANA. This organization is committed to helping its members build stronger brands and influence societal and industry changes.
Corporate partners underwrite the Internet Marketing Association to open opportunities for members to learn and engage in Internet marketing best practices without wasting money. Plus, they provide members with the necessary resources to succeed.
Joining any of these professional organizations can offer graduates of Bachelor of Science in Digital Marketing the opportunity to connect with industry professionals, stay on top of the trends and best practices, and enhance their skills and knowledge through professional development opportunities.
---
An additional resource to consider: The Best Online BS in Graphic Design
---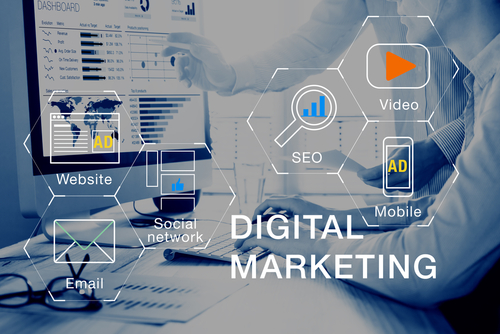 Frequently Asked Questions
Is Digital Marketing a good major?
Yes, an online bachelor's degree in Digital Marketing would mean you have a strong skill set that will make you an invaluable asset to the company you will be working for.
Aside from that, the demand for Digital Marketing experts continues to increase. After all, Google and other search engines process over 40,000 search queries every second.
Does a Digital Marketing job pay well?
The median salary most marketing experts earn is around $138,730, according to the Bureau of Labor Statistics. So, yes, a Digital Marketing position does offer lucrative pay packages.
Why is it better to get a Digital Marketing degree online?
Earning a bachelor's degree in Digital Marketing is ideal for those who want more freedom and flexibility in their schedules.
If you're a full-time employee or have other matters to attend to, you might want to consider choosing an online degree program so you can work and study simultaneously. Plus, you'll have more leeway in selecting the class schedules that work best for you.
Key Points to Ponder
The demand for advanced experts in Digital Marketing continues to increase.
An online bachelor's degree in Digital Marketing will equip students with the knowledge, skills, and tools that make them stand out in the competition.
An online bachelor's degree in Digital Marketing will make graduates knowledgeable about Internet marketing and hone their entrepreneurial skills.
Earning a bachelor's degree online makes achieving one's personal and professional dreams easier because of the flexibility and freedom distance learning offers.
---
Check it out: Best Online Bachelor's in Art and Design with a Concentration in Photography