Find Your Perfect School
Premium Schools is an advertising-supported site. Featured or trusted partner programs and all school search, finder, or match results are for schools that compensate us. This compensation does not influence our school rankings, resource guides, or other editorially-independent information published on this site.
The continuous advancements in technology mean that software developers will remain relevant for years to come. In fact, the Bureau of Labor Statistics projected growth of 25% in the job outlook for software developers, quality assurance analysts, and testers. This is true for the ever-growing gaming industry where the demand for game designers is consistent.
Additional Information: Best Online Bachelor's in Art and Design with a concentration in Animation
---
The large field of game design encompasses a variety of disciplines, including programming, computer science, creative writing, and graphic design. Game designers are integral to the production of video games that often take the world by storm.
Quick Summarization
Interested students who want to pursue a career in this exciting and dynamic field may want to consider earning an online game design degree to help them prepare for a job in the video game industry. Most of the online programs in video game design tackle interactive game development, graphic design, and concept art, among others.
Quick audio summary:
Methodology
The gaming industry is an exciting and constantly evolving field, welcoming individuals with a deep interest and passion but also the right amount of creative skills and vision. The best degrees in game design and game development help foster and facilitate students as they prepare to launch their careers in the industry, and we have gathered some of the best online game design degree programs here on this list.
Schools and degree programs that are included in this list were selected based on a set of criteria, including the following:
Offers programs in a convenient online format that maximizes students' flexibility to make room for other pursuits,
Features a curriculum that covers major relevant technical and non-technical content areas to best prepare students for entry into the industry,
Offers a variety of financial aid options that students can use to offset the cost of their tuition,
Developed and taught by highly skilled faculty who are themselves actively part of the industry as practicing professionals or who have significant experience working for the gaming industry.
Read our Methodology page to understand better our ranking process.
The Best Online Bachelor's Degree in Game Design
Lamar University
Location: Beaumont, Texas
Lamar University's fully online Bachelor's Degree in Computer Game Development program is for students who want to gain a deeper understanding of interactive media technologies. In this degree, they will explore human and computer interaction while reinforcing learned principles with the help of a hands-on lab.
The online bachelor program emphasizes the importance of acquiring and developing relevant skills such as critical thinking, real-world application, and practical project experience. Students are expected to prepare for exciting careers in innovative fields, including graphic visualization, game development, and computer modeling. They become adept in the design and programming of video and digital games.
The program curriculum allows students to learn from a good blend of lecture and theory, along with practice and play. They can explore multifaceted and advancing technology concepts. This includes artificial intelligence in gaming and simulation, 2D and 3D graphics, and operating systems. To earn the program, students must complete 121 credit hours.
---
Arkansas State University
Location: Jonesboro, Arkansas
Arkansas State University offers a fully online Bachelor of Science (BS) in Digital Technology and Design – Concentration in Game Design degree program for students interested in joining the fast-paced computer gaming industry.
The Game Design concentration allows them to delve deep into the features and functionality of the making of games. This will take them through the development of the concept to the launching of the game. They will even get to create their own 2D and 3D board or card game, among others.
A hands-on approach is utilized to help students identify and implement design principles across various digital assets while gaining an understanding of the role of culture on people's attitudes and behavior. Online students have the opportunity to participate in a series of virtual events where they team up with other students to produce video games in friendly competitions.
This game design program features a range of courses to help students become successful in their chosen fields. This includes the following:
Introduction to Game Design
2D Animation and Graphics
3D Digital and Game Design
Advanced Game Design and Development
At the end of the program, students are expected to create a professional portfolio website where they apply the game design skills they learned from the program and which they can later on, present to prospective employers.
---
Southern New Hampshire University
Location: Manchester/Hooksett, New Hampshire
Founded in 1932, Southern New Hampshire University offers the Bachelor of Science in Video Game Programming – Game Development for students who want to become master game developers and programmers. More than equipping students with traditional software development training, this online game design degree program allows students to acquire technical expertise that will help them succeed in a competitive field.
The program's online learning format gives students a flexible option when it comes to their schedules. They learn at their own pace and access the course materials 24/7. SNHU is also committed to making higher education more accessible. As part of this commitment, they keep their tuition rates low.
Students in this program will learn the programming languages and the ins and outs of game design. Designed to tackle game genres and platforms, the curriculum covers topics such as interface design, game theory, and game development production pipelines.
They will also learn about creating experiences within virtual game environments through the help of rule design, play mechanics, and social interaction. Some of the online courses in the program include:
Design of Virtual Game Environments
Digital Game Development
Gameplay Systems Development
Graphics Game Engine
3-D Modeling and Animation
Interactive Animation
Introduction to Digital Imaging
The university has a generous transfer policy of up to 90 credits. This means students with prior learning experience will be able to save up to 75% off the tuition cost and reduce the time it takes for them to earn their bachelor's degree.
---
Lindenwood University
Location: St Charles, Missouri
Lindenwood University's Bachelor's in Game Design prepares students for a rewarding career in the digital frontier. This degree program is 100% available online, which means students can earn it at their own pace. Students will gain insights into leveraging basic programming skills that will enable them to work on advanced game design and production.
In this program, one will gain a better understanding and mastery of their approach to the lifecycle of design and development. They will be able to explore areas such as storytelling and character development.
It is also part of their learning experience to tackle essential subjects such as aesthetics, usability, immersion, and game economics. Students who want to earn specialized knowledge in drawing, concept design, classical myth, and 3D animation may want to consider earning a Game Art concentration.
The 120-credit-hour program can be completed in three to four years. Students with previous learning experience can transfer up to 90 credits to help them earn the degree faster. Personalized support is offered to students, ranging from transfer specialists, enrollment counselors, and academic advisors.
---
Liberty University
Location: Lynchburg, Virginia
Students in the exciting field of gaming design may consider earning a Bachelor of Science in Information Technology – Gaming Design at Liberty University. This game design degree equips them with the necessary technical skills essential to their future job as a game designer. They will develop a strong foundation in programming and software management, along with graphic design and animation.
The program has a good blend of information technology and gaming design courses to help prepare students for a successful career in the game design field. Students are expected to learn advanced Java skills integral to programming applications while building foundational knowledge in web architecture and current technologies to help them develop a website.
They will also develop graphic design skills in page layout, visual hierarchy, and critique. Some of the courses in the Game Design concentration include:
Digital Imaging
3D Graphics
Graphic Design
Game design students also have the option to complete an internship to help them gain practical experience that will enhance their resume. Since Liberty University is a nonprofit institution, students can enjoy affordable online education. Some of their perks is gaining access to electronic textbooks for free, allowing online students to save an estimated $800 to $2,000 every year.
---
Full Sail University
Location: Winter Park, Florida
Full Sail University's Bachelor of Science in Interactive Technology – Game Design prepares students to navigate the growing and evolving world of game design. The program is fully available online, allowing students to complete it at their own pace.
The Game Design major will help them enhance their future work credentials through high-level game design and production courses. The concentration courses include the following:
Game Architecture
Engine Development
Game Integration
Game Prototyping
Data Visualization and Modeling
Simulation Production
Students in this program will develop knowledge and skills in coding, with a focus on programming, human-computer interaction, and various engineering concepts. Other concentrations for the degree program include Game Development, Simulation, Visualization, or Software Development.
For the admission process, a math assessment is required. Online students must also comply with the technology orientation and assessment. In terms of financial assistance, financial aid options available at their disposal ranges from grants, loans, and scholarships.
---
Walsh University
Location: North Canton, Ohio
Walsh University makes affordable education accessible. One of their degree offerings is the Bachelor of Science in Game Development program designed for busy students and working professionals. This online program provides essential skills and knowledge to prepare learners for a career in the game development field.
There is an emphasis on gaining extensive experience when it comes to the Unity engine while allowing students to build strong skills in user experience design, application development, web design, and even project management. This program offers a broad base of experience that can be directly applied in real-world work settings, whether in large firms or small developers.
This online degree program features personalized attention from expert faculty. Those who struggle financially can benefit from the available tuition deferment plans. Students can also save time and money by transferring credits from their previous life experience and work training.
---
Rocky Mountain College of Art and Design
Location: Lakewood, Colorado
The Rocky Mountain College of Art & Design's online Bachelor of Fine Arts in Game Art fuses together the artistic and technical courses designed to provide a comprehensive discussion of the major key content areas in game development.
The program consists of 123 credit hours, with game development core content adding up to 48 credits, with 24 credits of foundations and six credits of electives. The curriculum also includes courses on the liberal arts and art history. Students learn vital skills and competencies, which include the following:
3D modeling
Visual Storytelling
Environment Design
Lighting
Character Rigging & Animation
Texturing
Rocky Mountain College also uses its own proprietary learning management system to help students better handle their coursework and fosters a continuously collaborative learning environment between online students and their faculty members, who are also actively practicing industry professionals. Graduates of the program can also benefit from Rocky Mountain College's network of industry contacts, who can help them launch their respective game industry careers.
---
University of Silicon Valley
Location: San Jose, California
The University of Silicon Valley offers a Bachelor of Arts in Game Design, a program designed to introduce students to crucial technical skills and foundational design concepts of game design and game development.
The program curriculum devotes a total of 66 credit hours to game design core courses, and with the University of Silicon Valley following a trimester-based system, the degree can be completed in three years. The robust curriculum also trains students on collaboration and project management skills and includes courses on the following key content areas:
Game Storytelling
Level Design
Game Systems Design
User Experience
Interactive Design
Game Engines
Quality Assurance
The University of Silicon Valley values a collaborative learning environment, as seen in its Real World Project Studios, which brings together students from various disciplines to work on common projects. As part of the final requirements of this game design program, students get to work on a 2-semester long capstone project, where they work as part of interdisciplinary teams. Their output then becomes part of their professional portfolio that they can take with them to their future career paths.
---
Savannah College of Art and Design
Location: Atlanta and Savannah, GA
Savannah College of Art and Design offers a Bachelor of Arts in Digital Media with a concentration in Game Development. This SCAD program blends key concepts and skills in game development with interactive design into a highly-regarded degree program.
The program contains a total of 180 credit hours, with 20 credit hours of foundation courses and 45 hours dedicated to the Game Development concentration. Students have the option of choosing a total of 25 credit hours' worth of electives that can enhance or complement their skill sets. The program's core competencies include the following content areas:
Aesthetics
Digital Communication
Interactive Design
Game Art
Programming
Business Fundamentals
The program is offered on SCAD's two campuses or online. Students in the program have access to Augmented/Virtual Reality Labs, among other facilities that support students' learning. On top of producing top-notch content, students also have the chance to participate in prestigious gaming competitions, such as the Intel University Games Showcase or the E3 College Game Competition.
This degree program also has a possible concentration area in Interactive Design, which is also worth 180 credit hours. Likewise, SCAD also offers an on-campus Bachelor of Fine Arts in Interactive Design & Game Development degree program.
---
Wilmington University
Location: Wilmington Manor/New Castle, Delaware
Wilmington University offers a Bachelor of Science in Game Design and Development degree program, a program designed to prepare individuals to become well-rounded professionals who are competent in carrying a project through from inception to completion. The 120-credit hour program is available both in on-campus and online formats.
Wilmington University's approach to game design is embodied in what it calls the Game Design and Development Skillset, a suite of core competencies that ensure graduates' fast entry into the game technology industry. The program's curriculum thus contains a wide range of courses that include the following:
Concept Development
Story Design
Animation
Motion Graphics
Environment Creation
Game Engines
Game Video & Audio
The degree program also includes courses in Interface design, video and audio production for games, as well as project management and marketing courses.
Aside from a General Track, Wilmington University's BS in Game Design & Development program has concentration areas in Game Art Production and Interactive Programming. Students may also choose to enroll in an accelerated program that includes a 15-credit hour Graduate Certificate in Management Information Systems or Technology Project Management. This degree program is also available in a Degree Completion format for students with eligible previously-earned academic credits.
---
Miami International University of Art and Design
Location: Miami, Florida
Miami International University of Art & Design offers a Bachelor of Fine Arts or BFA in Game Art and Design degree program, a convenient online program that prepares students with not only the crucial skills required in game development but also an understanding of the gaming industry's underlying economics and driving forces.
The program contains a total of 180 credit hours, with courses spread over a 12-quarter completion timeframe. The program curriculum teaches students the economics that is crucial to developing games that are ready for market, aside from technical skills from the following content areas and more:
Game Level Design
2D-Concept Art
3D Modeling
Texturing
Animation
Game Prototyping
Lighting for 3D
Miami International University offers a suite of financial aid options that students can use to reduce the cost of their tuition, including its own set of Grants & Scholarships for eligible students.
Miami International University also has a Technology Fee that is used to cover the cost of equipment and software needed in projects, although students can choose to opt out of this fee and take care of procuring the necessary equipment on their own.
---
The University of Arizona
Location: Tucson, Arizona
The University of Arizona's Bachelor of Arts in Applied Humanities: Game Studies Emphasis is a unique program that provides an alternative entry point into the gaming industry, preparing students for varied related careers that include game and media journalism and new media policy.
The program contains a total of 42 credits dedicated to the emphasis area. Students develop practical skills, technical knowledge, as well as philosophical foundations in the fields of game history, game design, business, and others. The program also includes courses on the following major content areas:
Video Game Studies
Critical/Cultural Approaches to Video Games
Interactive Multimedia Entertainment
Global Video Game Cultures
Game Design
Game Development
This degree program requires students to also take on a minor. Likewise, students are also required to complete a mandatory internship, although this can also be completed remotely.
---
University of Florida
Location: Gainesville, Florida
University of Florida's Bachelor of Arts in Digital Arts and Sciences degree program is an interdisciplinary degree program that bridges engineering with the arts and communications disciplines and has wide applicability to various careers within the gaming industry.
The program has a total of 120 credit hours required and prepares students with critical thinking and creative design skills, as well as a solid foundation in contemporary issues in the interactive and social media spaces. The program also prepares students for collaborative work on various media projects, which includes game design.
The program's curriculum includes courses in the following major content areas:
Digital Culture
Creating Mobile Games
2D Digital Animation
3D Digital Animation
Game Content Production
Game Systems Development
Interaction & Usability
Digital Storytelling
Entrepreneurship in New Media
Likewise, students can also choose 12 credits worth of elective courses that tackle relevant advanced skill sets, which include audio design, immersive environments, and wearable/mobile apps.
Students should submit a portfolio of their original work that is meant to demonstrate their competency in digital art and computer programming. Portfolio materials can include original creative or technical work by the student, documented and presented in a contemporary digital format.
---
Franklin University
Location: Columbus, Ohio
Franklin University offers a 100% online Bachelor of Science in Interactive Media Design program, a degree that opens the door to a variety of technical, artistic, and management-oriented career paths within the gaming industry. This degree is offered primarily as a degree completion program, ideal for students with eligible previously-earned credits.
The program's curriculum features a dual-oriented design, featuring courses on both the technical and non-technical sides involved in interactive media development. Courses from the required major areas include the following:
Human-Computer Interaction
Digital Media Design
Interactive Media for Training & Instruction
Interactive Media for Entertainment
Interactive Media for Advertising
Advanced Graphic Design
Students are also free to choose up to 23 credit hours' worth of electives courses from among those on offer at Franklin University, except courses belonging to development education.
As a degree completion program, students can earn technical credits from previously-taken courses that cover Web Design Fundamentals, Game Mechanics, Graphic Design Fundamentals, and Interactive Design Fundamentals, each worth three credit hours.
---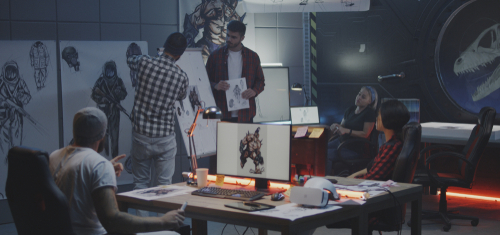 Key Terms in Game Design and Game Development
Game Engine
A Game Engine is the core underlying software framework for building and developing games. A game engine can become the basis for a large number of games and itself be continuously improved and upgraded over many iterations.
Game Engines typically contain a core set of functionalities that oversee a game's various mechanics, including rendering for its visuals, a physics engine, sound support, animation, artificial intelligence, and for multiplayer support, if applicable.
Platform
A platform, or a system, is a specific set of hardware and software components required to run and play games. Common gaming platforms include gaming consoles, personal computers, smartphones/mobile, arcade video games, web browsers, or virtual reality systems.
Level
For level-based games, a level is like an individual chapter of a book, or an act in a play, that gamers must play through in order to progress through a game. Levels perform a range of functions, in some games increasing in difficulty, or in story-driven games, signify specific chapters or segments of a game's overarching story.
Level-up
Leveling up is a process most commonly seen in role-playing games, where a player's character gains improvements in a certain set of character traits or gains new skills, functionalities, or items. Leveling up is used by some games as a restriction on certain aspects of the game, introducing an added dimension of playability and adding goals that players can achieve.
Sandbox
A sandbox game is a more open-ended game model where there isn't necessarily a predetermined end goal, its achievement isn't mandatory for players to enjoy the game, or the game allows players to set their own goals. One of the most popular and significant examples of this approach/genre is the game Minecraft.
Side-scroll
Side scroll is a type of camera view where the screen's view follows the player's character as they move through the game and its levels. Side scroll games, along with vertically-scrolling video games, were some of the earliest games to come out in public, with some games like Super Mario continuing to be popular and culturally relevant.
Concept Art
Concept Art refers to the collection of sketches and artwork that are used to determine various visual aspects of a game, including characters, the environment, and the overall "feel" of a game. Concept art is a crucial part of the conceptualization stage/initial game development process, and it isn't uncommon to see hundreds of pages of concept art that do not make it into the final designs for a game.
Playtest
A playtest is a crucial quality control process where game developers test a game for design flaws, bugs, and areas for potential tweaks before a game is released commercially.
The Top Skills Needed by Game Designers to Stand Out and Succeed
Creativity
One of the most essential skills for game designers, creativity requires an active imagination. Having a creative mindset ensures that they can produce top-quality games that users will enjoy, often involving challenges like solving puzzles, exploring virtual realities, and creating immersive worlds.
Storytelling
Games often involve character development and compelling plot lines. This requires a video game designer to incorporate relevant elements like suspense, humor, and conflict to capture users' attention. To succeed, they need to employ storytelling skills that are integral when composing music, drawing animations, and weaving complex worlds that players will want to take part in and explore.
Collaboration
Most video games are not established by a single person. It often takes a whole team to create a unique world with enchanting characters. For teams to work together as one and ensure the process will go smoothly, they will need to do a lot of brainstorming, drafting, and revising their concept or idea. This can only ever succeed if they know how to collaborate as a team. It is important for a game developer to know how their work affects the team and the project as a whole.
Time Management
Projects often have deadlines. It is vital that team members working on a video game know exactly when they need to complete their tasks. They must be able to work in a timely manner, juggling different responsibilities and being ready to share their work quickly when needed. This means they will have to manage their time well, from prioritizing to working effectively.
Critical Thinking
Designing video games requires critical thinking. This is because interesting games involve a lot of planning and strategizing. Designers will need to formulate obstacles that will challenge potential players and continuously draw and hold their attention. This means effectively analyzing information and arriving at reasonable solutions.
Communication
Another essential skill, communication, means being able to convey a message to the target audience. Since video games are considered a form of mass media, they will need to be distributed to reach a wider audience. This can only be done with effective communication. Game designers need to communicate their ideas effectively so they can bring them to life.
---
Take a look: Best Online Bachelor's in Art and Design with a concentration in Visual Communications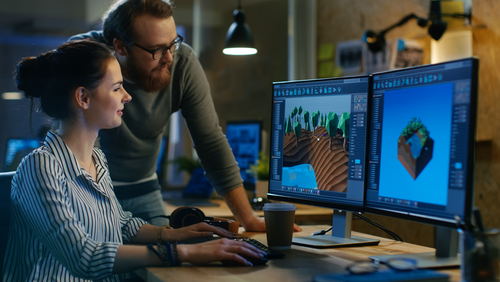 Frequently Asked Questions
How long does it take to complete the Bachelor's in Game Design degree program?
This generally depends on the course load that online students are willing to take, especially in online bachelor's in game design programs where flexible schedules and self-paced learning are offered. Most of the time, it will take them three to four years to earn the degree program. The program duration, however, can be reduced if the university offers generous transfer credits programs and accelerated learning options.
What are the most common admission requirements for the online Game Design degree?
Most game design programs have an easy admission process. Students will only need to accomplish an online application and submit the required documents. This often includes a high school diploma, official transcripts, test scores, and more. During the application process, students may be asked to review their transfer credits for prior college credits and work experience.
Do I need to be good at art to succeed in a Game Design degree?
Game design and game development involve various talents and disciplines, and while some professionals eventually specialize in the visual aspects, some become highly successful programmers and engineers working on a game's internals and supporting software.
Degree programs typically specify if they look for art proficiency as one of their criteria in accepting applicants, and many degree programs will have several courses that teach digital art, but as an unwritten rule, it helps greatly if applicants already have at least a basic skill level in the visual arts, like drawing.
Key Points to Ponder
Game Design degrees typically teach students skills in major content areas related to game development, including storytelling, creating game art, programming, and even marketing and project management.
Some degrees will have specialization areas like Game Programming that let students further tailor their game design degree to their skills/talents and interests.
Some degree programs will have their own set of requirements for student applicants, such as an existing digital portfolio, so better check.
---
Check this out: Best Online Bachelor's in Art and Design with a concentration in Multimedia Design