Find Your Perfect School
Premium Schools is an advertising-supported site. Featured or trusted partner programs and all school search, finder, or match results are for schools that compensate us. This compensation does not influence our school rankings, resource guides, or other editorially-independent information published on this site.
A bachelor's degree in human resources is a perfect training program for those who wish to become a part of the crucial team behind a successful business venture. Professionals armed with the right human resource management degree coupled with relevant skills guarantee that they are capable and qualified individuals who can work with the right type of jobs under the right conditions.
Check this out: Best Bachelor's in Liberal Arts and Humanities Careers
---
Quick Summarization
Management and staffing in Human Resources compose a massive logistical responsibility. This requires an intensive balancing act to make an efficient and long-standing workforce. Human Resource professionals work to resolve and prevent common workplace issues like backlogs, burnouts, and conflicts. In the era of modern digitization, HR personnel have become more empowered to do better and play a part in the success of an organization.
Quick audio summary:
Methodology
We have listed down the country's 15 best academic institutions that offer the best online bachelor's degree program in Human Resources. Each college and program stands out because of these features:
Extensive course curricula and rigorous program coursework to develop and enhance the skills needed for the practice of Human Resource Management,
Delivered online or in a hybrid format designed specifically for students with very busy work schedules or working professionals who cannot find the luxury of time to enroll in traditional brick-and-mortar schools,
Offers various employment opportunities in an array of business environments and types and provides ample training programs for leadership development.
Shares an extensive understanding of recruitment strategies, labor relations, employee orientations, labor law, and ethics, along with workplace human behavior and diversity.
Industry experts as professors,
Learning Management Systems that are easy to use and with the best Student Help Center support.
Proper accreditation status from regional or academic accrediting bodies, including the Higher Learning Commission, the Southern Association of Colleges & Schools Commission on Colleges, Northwest Commission on Colleges & Universities, and Middle States Commission on Higher Education,
Demonstrates notability and prestige as an online school based on reputable academic journals and resources, and student reviews.
Visit our Methodology page to learn more about our ranking process.
10 Best Online Bachelor's Degrees in Human Resources
Colorado State University Global
Location: Aurora, Colorado
A member of the Colorado State University System, Colorado State University Global is an online public university that offers online undergraduate and graduate degree and certificate programs. This school is known for specializing in non-traditional, adult professional students and students who cannot enroll in a traditional campus setting.
Colorado State University Global offers an online Human Resources degree program that requires 120 total credits, including general education courses, a mix of Core Degree Courses in HR topics, Elective Courses, and optional degree specializations and certificates.
Students in this online bachelor in human resource management program can specialize in any of five areas:
Applied Social Sciences
Emergency Management
Health Care Management
International Business
Project Management
Students must complete a capstone course before the program is awarded. The curriculum of this online human resource degree aligns with the guidelines set by the Society for Human Resource Management (SHRM), so that students may be allowed to take the SHRM-Certified Professional Exam with a 500-hour relevant experience.
Students who obtain their BS in Human Resource Management degree from Colorado State University Global will gain the skills they need to easily engage in productive employee administration. They will also enjoy extra support via the school's virtual services, like a writing center and tutoring sessions. Distance learners can also access online career coaching or resumé help using the university's career navigation services.
Colorado State University Global is HLC-accredited.
---
Florida International University
Location: Miami, Florida
Since its founding in 1972, with only nearly 6,000 students, Florida International University now has almost 60,000 students. This public research university, located in the neighborhood of University Park in Miami Dade County, Florida, features 106 master's degree programs, 33 doctoral, and more than 50 specialist and certificate programs in 10 different colleges and schools.
FIU offers online options as well, including the online Bachelor of Business Administration in HRM through its R. Kirk Landon Undergraduate School of Business.
This online HR degree requires students to complete 60 credit hours of lower-division coursework and 60 credit hours of upper-division coursework.
The curriculum of this human resource management degree includes courses in recruitment strategies and staffing, employment law, human resource information systems, and compensations and benefits management.
Every online undergraduate student is assigned a success coach.
Aligned with SHRM's (Society for Human Resource Management) curriculum, students will become part of an amazing community to make the most of their education.
This Human Resources program also helps students develop and use HR recruitment, planning, and selection practices according to professional standards and are legally sustainable.
This online business administration degree teaches students to advance and use labor management practices that promote a productive work environment.
Florida State University is accredited by the SACSCOC.
---
Western Governors University
Location: Millcreek, Utah
Based out of Salt Lake City, Western Governors University is a private online university that applies an online competency-based learning model. WGU is comprised of four colleges, each offering bachelor's degree and master's degree programs. This nonprofit university is the first and only university accredited by four regional accrediting commissions simultaneously.
WGU offers an online human resource management degree. This program follows a bachelor's curriculum aligned with the guidelines set by the Society of Human Resources Management.
This online human resource management program is designed to help professionals gain critical thinking and HR skills and improve their resumé.
This online bachelor's in Human Resources degree follows a competency-based education model. Students can advance the moment they exude mastery of their subject matter through papers, tests, projects, and other course assignments.
Most students in this online education complete the program within 17-41 months, although this will generally depend on their academic background, the number of transferable credits brought to the program, and how these students can quickly master the course materials.
This HR degree online program is designed for working professionals. The flexible and personalized approach to this online education means no interruption with their work and family obligations, no rigid class schedules, and no Barries to earning their degree according to their terms.
Students are charged per term rather than per credit hour. This will empower them to accelerate through materials they learn quickly or know very well. Federal financial aid is also available to help control the ultimate cost of the program.
Western Governors University holds accreditation from the NWCCU.
---
Regis University
Location: Denver, Colorado
Formerly called Las Vegas College, then College of the Sacred Heart, Regis University is a private Jesuit university located in Denver, Colorado. This top-ranked institution in the West offers over 130 degrees and programs. Many of its programs are offered in flexible, online formats so students, especially working professionals, can continue working while advancing their careers.
Regis University offers a Bachelor of Science in Human Resource Management online degree that follows the guidelines set by SHRM (Society for Human Resources Management).
This online HR program prepares students for different professional roles, including change implementation specialist, organizational consultant, human resource manager, recruiting manager, labor relations specialist, or performance manager.
Students who want to fast-track their HR degree program can earn both a bachelor's degree and a master's degree via the school's FastForward program. Certain qualifications, like significant work or military experience, previous college courses, or a professional license, will translate to college credits. This qualifies students to graduate in a relatively shorter time.
This HR degree online offers coursework in key Human Resources topics like ethical decision-making in business, employment law and compliance, legal and ethical issues, workplace safety, labor and employee relations, strategies in compensation, and benefits management.
Students in this human resource development program must complete a capstone project before they graduate.
Regis University is HLC-approved.
---
Athens State University
Location: Athens, Alabama
Athens State University, located in Athens, Alabama, is a public upper-division university, meaning they serve students across all levels in their pursuit of a degree. This puts the school in a position to help their students who desire to complete or advance their degree and maximize their earning potential.
Athens State University's College of Business holds an accreditation from the ACBSP. The school offers a bachelor's degree in human resource management delivered online. This program is suitable for those who wish to become human resource professionals who can help employees find fulfillment in their jobs.
This online bachelor's degree arms future HR professionals with the skills to effectively manage employee relations at any organization– from recruitment to compensation to workplace wellness and training.
The faculty members of this program are human resources professionals who get to leverage their career knowledge to guarantee that students will graduate armed with the most in-demand expertise that employers usually seek.
This online human resources degree has one of the most affordable state university tuition in Tennessee and Alabama.
The cost per credit hour of this human resource management program is just $241.
Athens State University is SACSCOC-recognized.
---
Thomas Edison State College
Location: Trenton, New Jersey
Thomas Edison State College is a public university located in Trenton, New Jersey, offering an online BS in Business Administration program focusing on Human Resources/Organizational Management.
This HRM concentration is composed of 120 credits: 60 credits of general education courses, 36 credits of professional development coursework, 18 credits of concentration courses, and six credits of electives.
Students pursuing this online bachelor's degree will cover classes in organizational behavior, advanced employee and labor relations, human resource management, comparative management systems, and collective bargaining.
Before students graduate and look for Human Resources jobs, they need to complete a capstone course in strategic management. It is also strongly recommended that all business administration students will enroll in a business ethics course as a part of their general education requirements or as an elective.
Students at Thomas Edison State College who complete their BSBA in HR management program are prepared to become human resource managers in high-performing organizations. They become competent in three crucial areas, including:
Knowledge of Business Practices
The ability to make strategic decisions for an organization through personal credibility
Efficient management of their function as human resource managers, including Human Resources technical skills.
Thomas Edison State College is accredited by the MSCHE.
---
Concordia University- Saint Paul
Location: Saint Paul, Minnesota
Concordia University-Saint Paul is a private university located in Saint Paul, Minnesota. Initially a two-year college until 1964, this school is the most affordable private university in the Twin Cities while offering degrees designed to prepare students for success after graduation. The school offers more than 80 programs available on-campus and online, all shaped to fit each student's life.
Concordia University-Saint Paul offers a human resource management degree online designed for busy adult learners. This HR degree will prepare students to become strategic, organizational leaders in any type of business.
This online HR management degree provides students with a liberal arts perspective of the field through an accelerated general education core. It also has 39 credit hours in the major.
Students will learn about operations management, risk management, and personnel management, following courses in recruitment, employment law, strategic compensation systems, strategic human resource management, and organizational development.
This online bachelor's degree in human resource management program also incorporates international business, conflict management, business law, finance, applied accounting, and business analytics.
To further prepare students for a career in the human resources field before graduation, they also need to have a project that develops their real-world decision-making skills as HR professionals.
Concordia University-Saint Paul is HLC-accredited. Its online HRM program also follows the content guidelines of the Society for Human Resource Management.
---
Texas A&M University-Central Texas
Location: Killeen, Texas
Texas A&M University-Central Texas is a public university located in Killeen, Texas. Originally founded as a branch of Tarleton State University, the school became an independent member of the Texas A&M University System in 2009. It is an upper-division college and primarily serves non-traditional students. Texas A&M-Central Texas offers 38 bachelor's degrees, 17 master's degrees, and a number of professional certifications in different in-demand subjects.
Texas A&M University-Central Texas offers an online Human Resources program through the College of Business Administration. This program is designed to give students the foundational knowledge they need to manage the workforce of an organization.
This online human resource management program is aligned with the standards of the Society of Human Resource Management to prepare students for any generalist role in sectors or organizations of any size.
Students who intend to pursue this concentration must take courses in accounting, economics, business, and psychology in their general education coursework.
The human resource management specialization has a topic in wage and salary administration, employer and labor relations, and recruitment and selection.
Micro-credential (9 credit hours) options include Cybersecurity, Business Analytics and Intelligence, Financial Management and Analysis, Supply Chain Management, and Project Management.
What makes this program different is that it emphasizes early student transition to HR positions while they simultaneously work toward their degree. Those who secure HR assistant position jobs while taking courses will potentially result in broader opportunities and promotions in a short amount of time.
Texas A&M University-Central Texas holds accreditation from the SACSCOC.
---
Regent University
Location: Virginia Beach, Virginia
Regent University, located in Virginia Beach, Virginia, is a private Christian university that offers traditional on-campus programs and online distance education. This premier Christian university offers associate, bachelor's, master's, and doctoral degrees in more than 150 courses of studies in its eight academic schools.
Through the College of Arts and Sciences, Regent University offers an online human resource management program that leads to a BS degree.
This bachelor's in Human Resources program provides students with a clear understanding of how the recruitment, development, and retention of employees greatly contribute to the strategic goals of an organization.
Students will study business strategy, talent acquisition or talent management, business communication, and employee and labor relations.
Human resource management degree majors also study various benefits and compensation plans and learn more about how to apply ethical, professional, and responsible entrepreneurial behaviors to Human Resources and management situations.
This bachelor's degree is built on a strong foundation anchored on Christian principles and values.
Regent University is SACSCOC-approved.
---
Saint Leo University
Location: St. Leo, Florida
Located in St. Leo, Florida, Saint Leo University is a private Roman Catholic liberal arts university that offers more than 40 associate, baccalaureate, and master's degrees, as well as certificate programs. The school is also one of the very first American universities that provide distance learning opportunities to students, starting with educating military men and women during the Vietnam era back in 1973.
Today, the school continues to offer distance learning thru its numerous online programs, including a human resource management degree online.
This online degree program is designed to provide students with the academic foundation needed by professional human resource professionals and researchers.
Students enroll in 36 credits of concentration coursework that cover topics like organizational training and development, administrative and personnel law, human resources and strategic planning, and organizational and industrial psychology.
Part of the curriculum prepares graduates academically if they plan to secure a professional Human Resources assessment or certification like the Professional in Hunan Resources Certification or the SHRM Assurance of Learning Assessment certification, both administered by the Human Resources Certification Institute.
An internship is required for graduating students in this 120-credit hour program.
SACSCOC-approved, Saint Leo University is the best-ranked university in the South.
---
Best Human Resources Jobs
If you are thinking about having a career that will allow you to serve the people of a company, then Human Resources jobs are your perfect choice. There are so many roles within the field of human resource management, and most of them offer a wide range of career advancement opportunities and better pay.
Here are 10 of the best human resource jobs you might want to consider.
Human Resources Directors/Managers
With a national average salary of $126,230 yearly, according to federal data, Human Resources directors/managers (also called HR directors) have a long history of working in Human Resources, especially with managing and handling teams. Their primary role is to supervise the organization's human resource department to ensure that it is profitable and efficient.
These professionals report directly to the company's chief executive officer about the different facets of Human Resources, including how procedures and policies are implemented. They are also the ones that direct training programs and orientations among employees, manage database management procedures, and guarantee that the company complies with federal, state, or local laws.
Director of Employee Experience
These professionals are highly skilled in business strategy. They understand how to efficiently solve problems to make employee relations lasting. Directors of employee experience also work with other executives in providing recommendations for team-building exercises, career planning, and other programs created to help improve employee satisfaction.
Labor Relations Specialist
Labor relations specialists are very knowledgeable in labor laws, wage data, economics, and collective bargaining trends with the union. Their roles involve preparing the information that managers need in the collective bargaining process. They manage grievance procedures, implement industrial labor relations programs, compile statistical information, and advise Human Resources staff to guide an organization's decisions concerning employee contracts.
Employee Relations Manager
These managers maintain a peaceful and congenial work environment by addressing employee behaviors that might affect the workplace. They know state and federal employment laws for handling conflict resolution, as well as other instances that need negotiations. They are also responsible for an employee's professional development and organizational behavior.
Employee relations managers should have excellent interpersonal and communication skills, and they should be adept at how to deal with sensitive issues.
Human Resources Manager
These managers overlook the whole Human Resources department. Human Resources managers must possess a bachelor's in human resources degree as they will be constantly meeting with executive-level employees to help strategize the hiring process. They also work together to guarantee that all team members carry out tasks that achieve the expected outcomes.
Through their Human Resources degree, HR managers also conduct interviews and deal with sensitive employee issues. They are also responsible for keeping organizational charts and department records.
Recruitment Managers
People with a bachelor's in Human Resources degree also make good recruitment managers. Recruitment managers should have a solid background in recruiting so they can oversee other recruiters and manage an organization's sourcing, interviewing, and hiring procedures. These professionals have a clear understanding of labor legislation. In most cases, they meet with other department heads to predict future hiring needs and track critical recruiting metrics to guarantee effective recruiting practices.
Human Resources Generalists
With a Human Resources degree, you can also become a Human Resources generalist. These professionals handle different administrative tasks that will help keep the human resource department smooth sailing. Human Resources generalists manage the department's daily operations concerning procedures, programs, and policies. They are also the ones who manage regulatory reporting and compliance, organization development, employee safety and welfare, and company-employee communication.
Recruiters
A bachelor's degree in Human Resources is also a good program for those who plan on becoming recruiters. These professionals work in companies that find candidates for in-house roles. Moreover, they can work for recruitment agencies and vet for possible hires for other companies.
Recruiters usually specialize in hiring the best candidates for particular roles in specific industries. For them to filter out and find the best and most qualified candidates, they spend hours after hours posting online job listings, going over applications, and getting in touch with possible hires for scheduled interferes. Recruiters are also the ones who place candidates and negotiate salaries in the most ideal employment positions.
Human Resources Specialists
The median annual wage for Human Resources specialists is roughly $62,290. With a Human Resources degree, these professionals are the ones that recruit and place employees. This entails employee screening, recruiting, candidate interviewing, and placing workers into relevant opportunities in an organization.
They are usually employed by government agencies or private companies and work in-house, although there are times when they're compelled to travel to join job fairs or personally meet college applicants. Human resource specialists also do background checks or manage new employees' orientation.
Employment Specialists
Also called job placement specialists, employment specialists use their expertise and knowledge to match candidates to specific jobs. They work within an employment agency or in a Human Resources department. These HR professionals have extensive knowledge about an organization's job descriptions, salaries, hiring processes, and benefits packages.
Armed with a human resource development degree, these employment specialists also visit schools, job fairs, and professional organizations to look for candidates. They also advertise their service in print publications or online.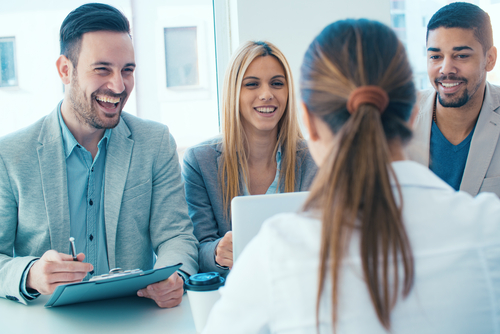 Why Earn a Degree in Human Resource Management
In any business, big or small, the human resource department plays a critical part. From recruiting new employees to conducting interviews to managing employee conflicts, there are just some of the responsibilities expected of HR professionals.
Aside from helping you get on the career ladder, there are other compelling reasons studying HR is beneficial.
Job Diversity
The subjects in a human resource degree that you take normally lend themselves to different job positions and career paths. Managing client relations and people are crucial skills in business, and this is just one of the many aspects of HR that you can use to apply to any type of job.
Job Satisfaction
When working in HR, you might be surprised at how much job satisfaction you can get in the field. Even if you're just holding a junior position, it's amazing how quickly you can see the immediate results of your work. There's nothing more satisfying than offering someone a job position, or improving salary and benefits, offering promotions, and introducing procedures and processes to boost staff morale– all these you can experience when you are an HR professional.
---
A Valuable Resource: Best Online Bachelor's in Business Management with a concentration in Organizational Leadership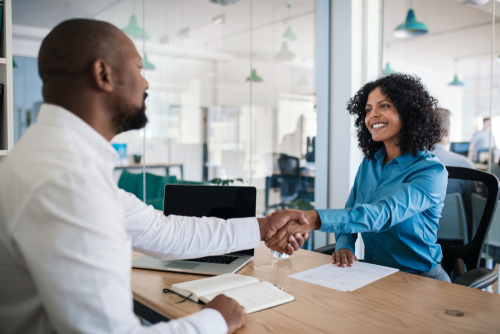 Frequently Asked Questions
What is an HR degree good for?
Human Resources Management degree holders can work in the staffing and employment industry or as HR assistants. Right after completing the degree, there are so many career prospects available in practically every industry. After all, most organizations and companies need HR professionals.
If working already in the field, do you still need to earn an HR degree?
Ideally, those with HR experience can readily earn a degree in HR for professional development. This will give them a more competitive edge in landing a lucrative HR position in the corporate sector.
Key Points to Ponder
Human resource professionals play a huge responsibility in an organization, as they are there to create an efficient and long-standing workforce.
Most universities today offer online programs in human resource management, making it easier for working professionals and busy adults to earn an HR degree without having physically go to school.
Earning an online bachelor's degree in Human Resources offers many advantages. Make sure you have the determination and dedication to earn your degree online– which can be challenging at times.
---
For more information, see: Best Online BS in Human Resources