Find Your Perfect School
Premium Schools is an advertising-supported site. Featured or trusted partner programs and all school search, finder, or match results are for schools that compensate us. This compensation does not influence our school rankings, resource guides, or other editorially-independent information published on this site.
If you plan to have a career in communications or media, be a Journalism major! A degree in Journalism and Mass Communications not only prepares you to become a successful journalist but also gears you up for other careers like eature and news writers, reporters, broadcast professionals, and editors, using your transferable skills.
However, job opportunities for journalism degree holders are not just limited to reporting and news media. The country's Bureau of Labor Statistics foresees a 6% and 4% increase in the demand for media and communication workers, and writers and authors, respectively.
But did you know that there are also students who earn Journalism degrees not because of money, but because of their passion for the field? Journalism majors seek to speak truth to power, tell stories to make a difference, and want to hold leadership accountable! Journalism programs are indeed the best fit for curious, emphatic, and detail-oriented students with very strong writing skills.
---
Additional Information: Best Schools with Online Bachelor's in English
---
Quick Summarization
Journalism majors have the chance to hone their skills in content creation, creative writing, logical reasoning, investigative journalism, and reporting. They can also build solid presentation and interpersonal skills. Students learn professional ethics and interview techniques as they dig into a challenging craft valued by the US after the First Amendment ratification.
Methodology
Our randomly-ordered list of the top Journalism bachelor's degrees highlights the program objectives aimed at producing the most competent graduates. To come up with this list, we considered these common attributes of each program:
Delivered as a fully online or hybrid program that accommodates busy learners,
May offer a specialization or concentration with an emphasis on the area of study within Journalism,
Emphasizes the fundamental principles concerning, and practices in, Journalism as an important profession, including media and communication, writing, ethics, research methods, and more,
Uses the latest and most innovative technologies available for Journalism students,
Taught by some of the most distinguished journalists or media and communication experts,
Offers federal financial aid options, as well as military tuition discounts and other scholarships, as well as degree acceleration options to interested, qualified students,
Accredited by academic organizations such as:

Higher Learning Commission
New England Commission of Higher Education
WASC Senior College and University Commission
Middle States Commission on Higher Education
Southern Association of Colleges and Schools Commission on Colleges
Northwest Commission on Colleges and Universities
Read our Methodology and explore our ranking process further.
---
15 Best Schools with Online Bachelor's in Journalism
The University of Massachusetts Amherst
UMass Amherst is the biggest public university in New England distinguished by the most innovative research and top-ranked academics and programs. As the flagship campus of the University of Massachusetts System, and founded in 1863, it is also the oldest university in the state. Students can explore the school's 110 undergraduate majors and 127 graduate programs offered on campus and online so they can pursue careers at UMass Amherst.
Among its numerous online programs is the online Bachelor of Arts in Journalism with a sports journalism concentration. This specialized online program in journalism is designed for students who are interested in sports journalism.
Students in this journalism degree program concentration learn from distinguished faculty members and winners of the Freedom Forum Journalism Teacher of the Year Award and a Pulitzer Prize.
The online courses emphasize both the practical and academic arcs of journalism.
This online bachelor's degree concentration is a unique focus of study that combines both hands-on internship and classroom instructions.
Online students will assess the issues and politics in sports, along with the study of sports film and literature.
The journalism department at UMass is home to a state-of-the-art studio, the latest multimedia facilities, and the best equipment that will foster an innovative environment for honing future journalists.
The University of Massachusetts Amherst is NECHE-approved.
Colorado State University
Colorado State University is the flagship university of the Colorado State University System. Also known as CSU, Colorado State University offers more than 150 degrees across eight colleges. It also has graduate programs in the schools of education, engineering, and business, among others.
CSU also has online programs thru CSU Global designed to provide distance learning students with the support and tools they need to reach their goals. One of its most popular online programs is the Bachelor of Arts in Journalism and Media Communication.
This online bachelor's in journalism degree builds foundational communication research methods and skills that are always in demand in nearly any industry.
Students will hone their editing and writing skills, learn to utilize digital technology to engage and reach target audiences across the globe, and earn a perspective on the roles of media in today's society.
Courses in this online journalism degree are taught and handled by expert media professionals with years of experience. Some courses covered are:
Online storytelling, magazine writing, and news writing
Photo and video production and editing
Marketing, public relations, and advertising
Media Ethics, history, and law
This online journalism bachelor's degree puts a strong focus on helping students secure a job after they complete the degree. Aside from the technical and writing skills taught, this online degree program also includes requirements that provide students with first-hand experience in the field, plus the chance to build a strong professional portfolio.
Earning this online journalism degree doesn't mean students will study on their own. They have so many opportunities to interact with their peers and instructors throughout the program. Class interactions usually involve live chats, discussion forums, email conversations, and video conferencing.
Colorado State University is HLC-accredited .
---
Southern Illinois University
Southern Illinois University was chartered in 1869, making it the oldest university in the entire state. This public research university is home to so many major opportunities in a variety of fields. The school offers 112 undergraduate degrees, concentrated into 89 majors within 31 fields of study.
SIU also offers accredited online degree programs that are designed for working professionals, students far from campus, and even parents who wish to earn a college degree but needs maximum flexibility. One of the best online degree programs at Southern Illinois University is the Bachelor of Science in Journalism suitable for those who are passionate about editing, writing, branding, photography, or a combination of these.
This fast-paced online journalism degree will teach students about basic news writing skills, the components making up and connecting news, photojournalism, sports media, advertising, news media, and public relations.
This bachelor's degree has five specializations to help students define their career goals: Advertising, Journalism and Mass Communications, News Editorial, Photo Journalism, and Sports Media.
Advertising
This will discuss the principles of marketing. Students will learn how to develop a brand, study the market, and make plans that will stand out from the crowd. Advertising has so many applications across different industries.
Journalism and Mass Communication
This gives students a solid foundation in journalistic storytelling, coupled with public relations and advertising. This specialization gives students the flexibility to be strategic communications storytellers or to write for news organizations.
News-Editorial
This is the journalism concentration where students will learn how to identify possible stories. They have the chance to practice while learning thru the school's student news organizations to deliver stories with visuals and audio, reaching audiences where they are: social media, news magazines, and streaming.
Photojournalism
Students will learn the technical video and photography skills needed to stand out in today's competitive field. They will study more about how they can take compelling images of emotional and decision moments, as well as on the shifting business of photojournalism, from freelancing to in-house work, and how they can pursue careers in the media landscape.
Sports Media
In this online bachelor in journalism concentration, students are trained to tell the dramatic-filled stories of sports in a compelling way as reporters and producers. They also learn about promotion and marketing, sports production, and how to make their stories come alive.
Media and communication students at Southern Illinois University are qualified for scholarship opportunities, as well as degree-specific grants. Every year, the School of Journalism and Advertising allots $25,000-$30,000 in scholarships for Journalism degree majors.
Southern Illinois University has earned the approval of of the HLC.
---
California State University-Bakersfield
Located in Bakersfield, California, California State University Bakersfield is a public university that is continuously rising in national ranking for its commitment to student success and economic value. The school offers 38 different undergraduate degrees in 38 majors within 23 broad fields of study.
CSU-Bakersfield offers online classes thru a technology platform called Blackboard. Its online BA in Communications degree follows a journalism path that focuses in:
Communication processes
Issues and practices in journalism
Writing and Practice
The Art of Film
Broadcast Journalism, writing, production, and reporting
Intercultural communication
This is a 100%-online program designed for transfer students who are seeking to earn their bachelor's degree. The online bachelor's degree in communication program focuses on the student's proficiency in writing and practice, knowledge of communications processes, knowledge of ethical practices, awareness of professional responsibilities, and familiarity with the laws that govern the use of mass media.
To qualify for admission, students should already have 60 transferable semester units from an accredited university or college. They should also submit their California State University GE certification.
This program is 50-60 credits at $335 per credit and can be completed in two years.
California State University-Bakersfield is WSCUC-approved.
---
Louisiana State University
Louisiana State University is a public research university in Baton Rouge, Louisiana that is dedicated to changing the lives of students through research, learning, and community engagement. This land-grant institution of higher education has more than 300 academic programs including 70 majors, making it easier for students to find the best degree they want.
Louisiana State University also offers more than 65 online programs, certificates, and MicroCred programs that students can stack together so they can advance their careers quickly. LSU-Shreveport has an online bachelor's degree program in Mass Communication designed to prepare students for several in-demand jobs.
LSU's online bachelor's degree in mass communication has concentrations in journalism, electronic media, and public relations. The degree curriculum will put students ahead of the games regardless of their chosen career path.
Since the field of new reporting for print publications now includes a blend of social networking, digital production, and writing, the journalism concentration at LSU provides future reporters and public relations specialists with the training they need to move outside the newsroom and report from every corner of the world.
Prospective journalism students are given the chance to be part of an off-campus internship program on top of working with publications on-campus.
LSU's super student services include over 70 student clubs and organizations that help students gain ample journalism experience and build a professional network before they complete the program.
Financial aid and scholarships are available for mass communication majors. Every year, about $12.4 million in scholarships are awarded to LSUS students.
Louisiana State University has full accreditation from the SACSCOC.
---
Immaculata University
Immaculata University is a Roman Catholic university in Pennsylvania. This small private university is known for its tiny community where students and professors can stay in contact quickly. It offers more than 60 undergraduate programs including accelerated, online, and career-oriented degrees for adults, and over 30 graduate options including master's and doctoral degrees, endorsements, and certificates.
One of the school's online programs is the bachelor's degree in communication is a powerful career-focused program that provides students with the insights and tools for real-world application.
This journalism online program requires 126 credits that can be completed in eight semesters. Students can choose between day and evening classes.
In this communication degree, students will develop practical and theoretical skills, interact with field professionals, or join two valuable internships.
This online degree in journalism has two tracks available:
Public Relations and Journalism: This will strengthen the student's professional writing skills so they can be prepared for career opportunities in managing company messages, reporting, handling crises, or representing an organization professionally.
Digital Communication: This track is a combination of traditional communication and general education courses with emerging technologies, online media outlets, and social networking. This also includes two sub-tracks: graphic design and broadcast journalism.
The cost of attendance is $465 per credit, and there are several financial aid and financing options.
Immaculata University has gained the MSCHE's approval.
---
Regent University
Regent University is a premier Christian university in Virginia that offers associate, bachelor's, master's, and doctoral degrees from a Christian perspective. With over 150 areas of study including communication and arts, business, cybersecurity and technology, psychology, and many more, this private institution for higher education has so many choices for college students.
Regent University offers an online degree program in communication studies with a concentration in journalism that prepares students to communicate powerful stories through print, broadcast, and digital media.
The skills every student learns from this online bachelor's program will improve their reporting skills and they will gain ample experience through on-campus publications and internships.
Once this journalism online degree is complete, graduates will be able to translate messages between various types of media, including TV, e-magazines, social media, and more. They can also use strategic communication in designing research or packaging news and information for a global audience.
Students will improve their technical proficiency, and they will have access to a converged media lab and a multi-million dollar equipped facility.
Journalism majors will learn tried and tested principles of contemporary journalism within a Christian framework.
Regent University has so many financial aid and scholarship opportunities like honors college scholarships, academic merit scholarships, and many more. The school is SACSCOC-accredited.
---
National University
National University is a private university located in San Diego, California. This nonprofit, Veteran-founded institution of higher learning has been providing achievable and accessible education to adult learners. Students have over 190 degree options, whether they are starting fresh or seeking advancement.
National University also has over 45 degree programs that are offered completely online, including the Bachelor of Arts in Digital Media Design-Minor in Journalism degree. This online degree provides hands-on experience to students using the latest tools and technologies that make up today's media arts workspace.
Students in this digital media design degree will be on top of the most recent methodologies used for visual communication in marketing, business, entertainment, and education.
This program ensures that students will gain specialized knowledge in journalism and the most recent innovations in the field.
Prospective students will follow a 120-credit curriculum which exposes them to intensive coursework. This will include major courses in news writing and editing, mobile reporting, broadcast news writing, global journalism, and new journalism technology.
Other foundational background journalism students will learn in the program include philosophy, ethics, law, and history.
Students have the option to go for a capstone course or an internship to graduate. Either way, both will equip graduates with the experience needed to successfully thrive in the field of journalism.
National University is accredited by the WASC.
---
DePaul University
DePaul University is a private research university based in Chicago, Illinois. It is the biggest private university whose faculty members' main priority is teaching. The school is committed to providing students with an educational experience that weaves together place, people, mind, and heart so that graduates will have a chance to make a difference.
DePaul University has over 300 undergraduate and graduate programs for students from all 49 states and across 136 countries. DePaul also offers hundreds of courses online for distance learners, including the Bachelor of Arts Online in Communication and Media. This journalism degree program is designed for students who are interested in the various fields of communication.
As future media and communication workers, students will acquire the crucial critical thinking and communication skills required to enter jobs across the private, public, and non-profit sectors.
Online students will also take courses from other programs in DePaul's College of Communication and School of Cinematic Arts, including Organizational Communication, Digital Cinema, Public Relations and Advertising, and Communication and Technology.
This online bachelor's can be completed 100% online in just two years, either on your own time or in real time.
DePaul University features a generous credit transfer policy, so students can minimize their tuition costs and the time required to earn the degree.
DePaul University also offers the 3+3 BA/JD Program that allows first-year undergraduate students to be simultaneously enrolled in the College of Communication and the College of Law. The first three years for these high-achieving students will be focused on completing the CMND, and the final three years in Law.
DePaul University is approved by the HLC of the North Central Association.
---
Drexel University
Drexel University is a private university in Philadelphia, Pennsylvania. This research institution has more than 200 academic programs across 15 schools and colleges, making it one of the biggest private universities in the US.
Drexel University also has over 150 online degree and certificate programs to allow learners to earn a degree from anywhere in the world. The school's fully online Bachelor of Science in Communication is a perfect starting point for those who plan to earn a career in journalism.
The online courses in this program will prepare students for so many roles in the field of communication. There is also coursework on communication methods and theories with a concentration in Public Relations where students learn about public relations and journalism.
The courses in this journalism program are taught by internationally-recognized and renowned faculty.
Students can transfer up to 90 semester credits from a regionally accredited college or university.
Drexel University is MSCHE-approved.
---
Utah State University
Utah State University is a public university located in Logan, Utah. USU is the state's biggest public residential campus, with nearly 20,000 students living near or on campus. The land-research institution is home to over 200 programs of undergraduate, graduate, and professional study across 9 degree-granting colleges.
For more than 25 years, Utah State University has offered over 600 online courses, including most general education courses, and 70 plus 100% online degrees and certificates. USU has an online bachelor's in journalism degree program where students will learn by doing– reporting stories, studying issues, or producing content.
This online journalism bachelor's degree prepares students to act professionally and think critically. They will learn how to strengthen their reporting, writing, and multimedia journalism and production skills while learning to efficiently tell stories that have the possibility to change the lives of people.
The faculty in this journalism program is small enough to build healthy and effective relationships with online students and diverse enough to provide unique opportunities and insights.
Online students based in Utah have so many resources awaiting them: from local support to study spaces, and testing services to BlueZone WiFi, all these are readily available at the statewide campus nearest them.
Students both out-of-state and in-state are provided access to virtual services from different organizations and offices at the Logan main campus.
The Northwest Commission on Colleges & Universities has approved Utah State University to offer the degree program.
---
University of North Dakota
The University of North Dakota is a public research university established by the Dakota Territorial Assembly six years before North Dakota became a state. UND is the only school in the entire state that has a school of law and medicine.
Being North Dakota's oldest and largest university, the University of North Dakota has established more than 225 highly accredited academic programs at the bachelor's, master's, and doctoral levels. The programs are available both on-campus and online. One of its online programs is the Bachelor's degree in communication where students can choose to follow a traditional schedule or go for the self-paced instead.
Specializations include Social Media Management, Digital Analytics, Public Relations, Digital Journalism, Advertising, Visual Communication, and Strategic Communication.
Students will gain intercultural communication experience by earning a specialization in international communication.
This is a 120-credit-hour program that can be completed in just four years.
The school offers a team of academic advisors that will help students plan their majors.
Students are given access to the school's personalized Degree Map software to keep them on track so they get to graduate in four years.
All communication majors are required to complete an internship program. The school has partnered with several broadcast companies, news agencies, and advertising firms to guarantee that graduating students will get quality work experience.
The University of North Dakota is HLC-accredited.
---
The University of Maine-Presque Isle
The University of Maine-Presque Isle is part of the University of Maine System. This public college is one of the most affordable colleges in the Northeast and is a leader in personalized training. This small college offers 22 bachelor's degree programs, which include 18 concentration options, along with 7 associate degree programs, 5 certificate programs, and 40 minors.
The University of Maine-Presque Isle Online, called YourPace, is home to several online degree programs that allow students to master competencies to advance through coursework. With very affordable flat-rate tuition ($1,500 per session), students can complete as many courses as they like and still pay the same tuition for each session.
One of its online programs is the Bachelor of Arts in English with a concentration in Professional Communication and Journalism. Students will learn how to effectively communicate in oral and written forms as appropriate to audience, purpose, and genre.
This online bachelor's degree teaches students to market, persuade, and produce evidence-based communication.
Students must complete 120 credit hours of coursework to complete the degree.
This online program includes 40 credit hours of general education courses, 34 credit hours of electives, and 46 credit hours of English core/Professional Communication and Journalism Concentration courses.
The University of Maine-Presque Isla is NECHE-accredited.
---
University of Florida
The University of Florida is a land-grant university located in Gainsville, Florida, and is a senior member of the State University System of Florida. This public school of higher education offers 104 undergraduate degrees, concentrated into 91 majors within 26 areas of study.
UF also has fully online programs– 24 four-year degrees to be exact, that are the same accredited degrees that one can earn on campus. The online bachelor's in journalism: sports and media concentration is a customizable degree that prepares students to secure jobs in diverse settings.
This is a cross-disciplinary program where students can study both journalism and a sports core curriculum.
Journalism majors will earn proficiency in major areas including reporting skills, writing for communicators, data literacy, and many more.
This online bachelor's in journalism concentration provides students with multimedia storytelling techniques, strong critical thinking skills, and professional skills.
Courses like Sports Communication, Multimedia Sports Reporting, and Sports Media Law will provide insight into a variety of positions within the sports media industry.
The University of Florida has gained SACSCOC approval.
---
Pennsylvania State University
Pennsylvania State University is a major public university that serves Pennsylvania and the global community. This land-grant institution offers high-quality teaching, global services, and expert research from its twenty-four campuses and the online World Campus.
PennState has more than 275 majors, with bachelor's degrees offered at all of its 20 undergraduate campuses. The PennState World Campus is home to more than 175 accredited and online graduate degrees, undergraduate degrees, minors, and certificate programs.
One of its online programs is the Bachelor of Arts in Digital Journalism and Media prepares students for the constantly-evolving fields of digital journalism, as well as other web-based communication jobs like multimedia storytelling, digital content management, and digital production.
On top of digital media education, students will also focus on editing, writing, and journalistic ethics.
Students can customize their studies so they will gain a more thorough understanding of the area they're interested in.
This will hone students for a job as content producers, writers, communications officers, marketing specialists, and many more.
The faculty and curriculum of this online bachelor's program come from the Donald P. Bellisario College of Communications, the biggest accredited school in this field.
This online journalism program is 120 credits and costs $620 per credit hour.
Pennsylvania State University is MSCHE-approved.
---
For more information: Best Online Schools for Bachelor's in Communications
---
The Types of Journalism Degrees
A journalism program generally varies by school but is available at the associate degree, bachelor's degree, and master's degree levels. Each of these levels has major differences, so it's best to know your options well before finally deciding which path to take.
Associate Degree
For those who wish to work in the journalism field but are not looking for a bachelor's degree, the associate degree in journalism will prepare you for some of the most entry-level jobs in the field.
This level of degree requires 60 to 67 credit hours and normally takes two years to complete. Common admission requirements include a GED certificate or a high school diploma.
Coursework in an associate degree in journalism includes topics like reporting, news writing, feature writing, interviewing, public speaking, writing for online media, and copyediting.
Bachelor's Degree
The bachelor's degree in journalism prepares graduates to land a successful career in journalism. This journalism program requires 120 credit hours and takes eight semesters to complete. However, this may be shortened, especially when you go for schools that offer accelerated programs. Conversely, those who study part-time will need more time to complete.
To qualify for admission, enrollees must present their high school diplomas, GED certificates, and the required standardized test scores. Some of the topics covered at this level include advertising, media law, editing, documentary journalism, social media management, digital journalism, strategic communication, multimedia journalism, and news editing.
Master's Degree
The master's degree in journalism is best suited for currently working journalists or journalism graduates who seek career advancement. this level requires 33-39 credit hours and takes two years to complete for full-time students, and is a lot shorter for those in the accelerated master's programs.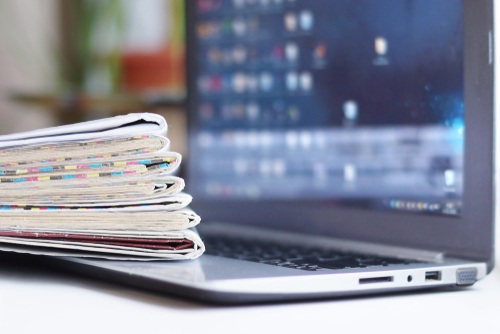 Different Journalism Concentrations
If you plan to enroll in a bachelor's degree or graduate program in journalism, you can select a specialization. Most universities offer specialization options, so make sure to check first whether your prospective school offers the concentration you want to enroll in.
Some of the concentrations for a degree in journalism are:
Investigative Reporting
Digital Journalism
Sports Media
Business and Economics
Broadcast Journalism
Environmental Science Reporting
Politics and Foreign Affairs
Photojournalism
Media Law
Multimedia Journalism
Public Relations
Common Courses in an Online Bachelor's in Journalism Degree
Basic News Writing Skills: This is an introductory course and is designed to ensure that journalism students can handle the basics of syntax, grammar, spelling, and punctuation.
Principles of Multimedia Journalism: Multimedia skills are very crucial in the present journalism landscape, which extends beyond print. Topics may include broadcasts, podcasts, streaming platforms, and videos.
Media Ethics: Most of the time, journalists come across ethical dilemmas in the field. Thru case studies, this journalism course will equip students with the necessary skills in making the right decisions in those situations.
Principles of Strategic Communication: There are journalism graduates that pursue careers in marketing, public relations, and strategic communication. This course will cover the fundamental methods in integrated marketing campaigns in preparing learning for careers in those fields.
News Writing and Reporting: This course will prepare learners to create and report articles for publications and organizations. Covered topics include interviewing techniques, reporting ethics, and the value of news.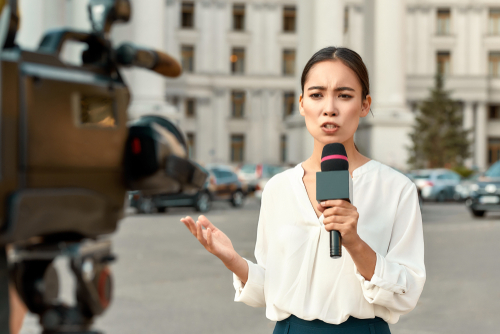 Career Paths for Journalism Degree Holders
Public Relations Specialists
These professionals work under the helm of a public relations manager. PR specialists help create an individual or organization's public image. They write or deliver speeches, attend events and meetings, run marketing campaigns, or travel with clients.
According to the US Bureau of Labor Statistics, the median annual salary of a public relations specialist is $62,800.
Journalists or Reporters
Journalists and reports inform the public about current events and the latest news. Sometimes, they write for newspapers or create segments for new shows. They can also write feature or takeout pieces that are not straight news to teach readers about the human condition.
The median annual salary of journalists or reports, according to the US Bureau of Labor Statistics, is $48,370.
Writers and authors create written content for various media and organizations. This profession has so many different subfields. For instance, content writers create SEO (search engine optimization) articles for clients and companies, while authors write nonfiction, novels, and other types of books.
The US Bureau of Labor Statistics says writers and authors have a median annual pay of $69,510.
Corporate Communication Specialists
As its name implies, corporate communications specialists are public relations workers focusing on the communication of an organization or a company, both externally and internally. The primary role is to make sure that company messages remain consistent. They are also involved with managing customer and client relationships.
Technical Writers
Technical writers create materials like step-by-step and how-to guides, instruction manuals, and other documents that make highly-technical information easier and more understandable to read. These professionals often work full-time in technical industries like computer science, technology, and science.
Technical writers have a median annual pay of $78,060 per year, based on records from the US Bureau of Labor Statistics.
Social media managers are responsible for creating strategies to increase followers, producing content, overseeing social campaigns, communicating with company stakeholders, and reviewing analytics. Since this job involves a lot of writing, a journalism degree is a good degree program for those who plan to delve into social media management.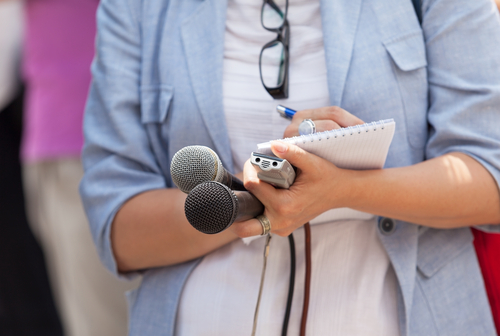 Frequently Asked Questions
How in demand are journalism majors?
This will largely depend on the field. The US Bureau of Labor Statistics projects a 6% job growth for journalists, reports, and news analysts between 2020 and 2030. In that same decade, the demand for writers and authors is said to grow up to 9%.
How long does it take to complete a Bachelor's in Journalism degree?
A degree in journalism follows a standard curriculum. Just like most bachelor's degrees, this program requires students to complete 120 credit hours of coursework. Full-time students, both online and on-campus, can finish the degree in four years. For those who have earned previous college credits from an accredited university, they can complete the degree in just two years.
There are programs that include a capstone course, others would require internships at news organizations. While most journalism programs do not cover the same concentrations, they do have similar foundational areas like reporting, ethics, writing, and interviewing.
What is the difference between a BS and BA Degree in Journalism?
A degree in journalism can either be a Bachelor of Science (BS) or a Bachelor of Arts (BA), depending on the focus of the course curriculum. BS degree programs focus on science and math concepts, while the BA coursework is more on humanities and liberal arts.
How do Journalism majors stand out?
Those who are drawn to a Journalism degree are usually curious, self-driven, and detail-oriented. They have strong interpersonal skills, thus making it easier for them to find a good story just by interviewing others. Journalists also have a strong knowledge of what it takes to make a compelling story. They use their knowledge of narratives in communicating a particular story to their audience in the most engaging way possible.
Key Points to Ponder
Although there is a decline in career prospects for print and traditional journalism, the more modern journalism media is on a constant incline. Numerous job opportunities are available in digital journalism today!
An online bachelor's degree in journalism allows students to build their digital literacy, research, presentation, and communication skills.
The skills and knowledge developed from earning a degree in journalism can help students qualify for a variety of sectors, including broadcasting, public relations, and advertising.
---
Don't go… Read this first: Best Schools with Online Bachelor's in Visual Communications