Find Your Perfect School
Premium Schools is an advertising-supported site. Featured or trusted partner programs and all school search, finder, or match results are for schools that compensate us. This compensation does not influence our school rankings, resource guides, or other editorially-independent information published on this site.
People who enroll in an online Bachelor's degree in Business Management learn to master business basics and gain leadership skills to become successful business managers.
More to Learn: Best Online Bachelor's in Business Management with a concentration in Negotiation and Conflict Management
---
Earning a Business Management bachelor's degree online is a way to carve out a successful career in the dynamic field of business. Business Management prepares students for numerous careers in the field. Graduates can expect to work in management positions in finance, marketing, and human resources. The curriculum covers various topics, including accounting, finance, marketing, organizational behavior, business law, and entrepreneurship.
Thanks to the advent of distance learning, pursuing a career in Business Management has become more viable for students who want to pursue higher education with more flexibility and convenience.
Quick Summarization
Business Management prepares students for numerous careers in the field. Focusing on Management, bachelor's degree earners emerge with strong organizational skills and business acumen. Choosing the right business school and program, therefore, matters to every future Management major.
Quick audio summary:
Methodology
Choosing the right school to pursue an online bachelor's degree in Business Management can be daunting, especially with the numerous available options. However, with proper methodology, you can narrow your options and make an informed decision.
This guide will discuss the criteria to consider when selecting the best schools that offer online bachelor's degrees in Business Management.
Different concentrations mean different areas of specialization. Some popular concentrations include finance, marketing, accounting, entrepreneurship, and international business. Look for a school that offers concentrations that align with your interests and career goals.
The best online bachelor's degree in Business Management programs will equip learners with skills relevant to the business landscape. This is why students need to look for programs that offer courses on leadership, business strategy, communication, critical thinking, and problem-solving, which are essential for success in the business world.
Online learning offers flexibility and convenience. Look for schools that provide synchronous or asynchronous learning options, interactive coursework, and opportunities for collaboration with classmates and faculty. Additionally, consider the availability of student support services, such as academic advising, technical support, and career services.
The best schools offer financial aid options like scholarships, grants, and loans. It will also help students get the most out of their money if they consider the cost of attendance and the school's reputation for helping students secure financial aid.
The program's faculty members play a significant role in the quality of education you will receive. Look for schools that employ faculty members who are experts in their fields, with relevant industry experience and excellent teaching skills. Research the faculty members and read reviews from current and former students to gauge the quality of education.
Accreditation is a quality assurance mechanism that ensures that schools meet specific standards for academic excellence. Additionally, consider schools that have affiliations with industry organizations and professional associations. These affiliations can offer networking opportunities and give you an edge in the job market.
Visit our Methodology page for detailed information on our ranking process.
15 Best Online BS in Business Management with a Concentration in Management
Sullivan University
Location: Louisville, Lexington, and Fort Knox, Kentucky
Sullivan University offers a Business Administration Degree with a Concentration in Management program, providing students with a strong foundation in business basics and a management specialization. Online and on-campus students are guaranteed a well-rounded understanding of business law and ethics, accounting, economics, information systems, financial management, marketing, and conflict management.
Program highlights:
This program is taught by instructors with years of business experience and impressive credentials, ensuring that students will benefit from the knowledge that faculty members can impart to them.
The program focuses on engagement between students and faculty members to encourage students to use their critical thinking skills to find the appropriate solutions to their problems.
Coursework for this program includes fundamental human resources/employee law, principles of management, and organizational performance analysis.
Fast facts:
This online degree program takes 180 total credit hours to complete.
Business administration majors must pick three additional General Education courses from the Mathematics/Natural Sciences, Humanities/Fine Arts, and Social/Behavioral Sciences categories and one from any category they choose.
Students must consult with Sullivan University's student-faculty advisor to ensure that their elective classes align with their degree or personal objectives.
---
University of West Alabama
Location: Livingston, Alabama
With a Bachelor of Business Administration – Management from the University of West Alabama, students can maximize their productivity and become effective managers in finance, sales, marketing, human resources, and public relations, to name a few. As they complete their bachelor's degree in Management, learners can explore various field topics through the university's online learning platform and interact with professors and classmates.
Program highlights:
Develop valuable knowledge and skills to improve students' career outcomes and salary potential.
Students will be ready to take on important roles, such as event planner, project manager, public relations specialist, advertising manager, development director, and more.
Fast facts:
UWA is a state-supported institution of higher education governed by a Board of Trustees.
UWA accepts financial aid, including federal grants and loans, and scholarships, such as Teacher Connect, Military Connect, Business Connect, Community College Connect, and Black Belt Teacher Corps Teach for Alabama.
---
South College
Locations: Knoxville and Nashville, Tennessee – Asheville, North Carolina – Atlanta, Georgia – Orlando, Florida and Indianapolis, Indiana
Students can pursue a Bachelor of Business Administration with a Concentration in Management and Leadership degree at South College and be one step closer to their dream jobs. This degree program can also open many potential career paths in various industries.
Program highlights:
This online degree program in management will educate future leaders in Business Management through modern technology and current coursework focusing on accounting, economics, finance, marketing, and others.
Students can explore leadership and management theories, styles, and best practices within various organizational and global cultures.
Fast facts:
---
Mercy College
Location: Several locations across the north/northeast
At Mercy College, students looking for a bright future in Business Management can complete a Bachelor of Science in Business Administration: Management. This program is designed to show learners how modern-day business managers and leaders can develop road maps that will allow them to navigate complex and challenging environments and achieve their personal and professional goals.
Program highlights:
Assessment of how globalization impacts enterprises daily.
Facilitating strategic planning and decision-making through business methods, procedures, concepts, and management information systems.
Successful demonstration of their knowledge of key concepts and fundamental principles in management.
Identification and evaluation of ethical issues in business environments.
Demonstrate proficiency in both teamwork and leadership roles.
Assessment of a strategic management decision's economic, social, and legal aspects.
Communicate effectively in business environments through written, oral, and presentation skills.
Fast facts:
Business Administration majors can work on real projects for real businesses with the Consulting Center.
Students will be able to travel internationally to visit various companies worldwide.
---
Key West University
Location: Jacksonville, Florida
Key West University's Bachelor of Science in Business Management degree program helps students develop practical knowledge and skills to be successful in any business environment. This program aims to ensure that graduates have a deep understanding of general managerial competencies, skills, and cross-cultural business communication practices.
Program highlights:
Explore managerial practices and concepts to effectively execute the key functions of management: leading, controlling, organizing, and planning.
Apply what they have learned to resolve issues in domestic and multinational businesses by analyzing business cases.
Be fully equipped to oversee teams and projects for local and international companies.
Fast facts:
Students interested in BS Business Management at Key West University must have a high school diploma or a GED equivalent.
International students must provide proof of graduation from a foreign institution comparable to a secondary school in the United States.
KWU accepts up to 90 transfer credits toward a bachelor's degree.
---
National University
Locations: Los Angeles and San Diego, California
With a Bachelor of Arts in Management degree from the National University, learners can become innovative leaders in their chosen fields. This online Business Management degree program will prepare students to pursue a wider range of careers in various industries, giving them a competitive edge and a whole other level of visionary insight.
Program highlights:
Thoroughly discuss the theories and principles of ethical decision-making and their implications in business environments.
Explain in detail the effect of environmental factors on international business, including economic, legal, and cultural, in the global business context.
Analyze and assess motivation, leadership, and management theories.
Determine organizational behavior, change theories, communications, and their implications.
Be adept in the basic management functions and their implications on business operations.
Fast facts:
National University offers four-week courses to help part-time students earn a degree faster.
NU has over 220,000 alumni around the globe.
NU offers a needs-based scholarship through its NU Key Grant Scholarship.
---
Capella University
Location: Minneapolis, Minnesota
Capella University's Bachelor of Science in Management Leadership degree is designed to help individuals reach their professional and personal goals. Through this program, students will be able to apply their passional for leadership to global business environments.
Program highlights:
Develop strategic planning skills and management techniques to become successful leaders in today's business landscape.
Build sustainable advantages using technological and human resources, and apply managerial aptitude to impact people and business objectives positively.
Be able to think differently and apply their learnings through real-world coursework.
Fast facts:
Employed students can take advantage of employer tuition assistance to make education more affordable and flexible.
Capella University accepts scholarships, grants, and up to 135 transfer credits for previous experience or learning.
CU also provides military benefits for service members, veterans, and their family members.
---
Rasmussen University
Locations: There are 23 campuses across the U.S. in Florida, Illinois, Kansas, Minnesota, North Dakota and Wisconsin
Rasmussen University offers a Bachelor's Degree in Business Management to help learners gain the knowledge and skills in leadership and business adaptability. The coursework will help enhance graduates' transferable and soft skills, including information literacy, diversity, critical thinking, digital fluency, teamwork, professional responsibility, and ethics.
Program highlights:
Learn how to apply strategic approaches to leadership skills.
Use core business methodologies and functions in accounting, finance, business technology, and digital marketing.
Focus on business trends and technologies, including smart technologies and cognitive intelligence.
Determine the right leadership style and become effective and creative leaders.
Fast facts:
Rasmussen University's Business Management degree has three specializations: Business Intelligence, IT Project Management, and Logistics and Operations Specialization.
RU offers seamless transfer policies and financial aid opportunities to help students finish a degree faster and less costly.
RU offers students realistic projects and scenarios to help them develop their real-world skills.
RU offers an estimate of transfer credits without requiring an official transcript.
RU offers military tuition benefits.
---
Florida International University
Locations: Miami, Florida
The Online Bachelor of Business Administration – Concentration in Management at Florida International University is a comprehensive degree program that provides students with a strong foundation in organizational management, especially in operations management, professional communication, applied macroeconomics, and marketing management.
Program highlights:
Specialize in finance, marketing, statistics, and management.
Gain skills to evaluate and analyze business challenges, control costs, and improve efficiency to make sound decisions in business environments.
Develop a deep understanding of carrying out the management planning function.
Discuss the advantages of linking organizational social practices to the community.
Find strategies to implement the controlling function within an organization.
Fast facts:
Every student with a bachelor's degree in business administration is paired with a success coach.
Students are required to render 120 total credit hours to complete the management degree program.
FIU accepts up to 60 transfer credits with high school transcripts and ACT/SAT scores.
---
Arizona State University
Location: Tempe, Arizona
Arizona State University has a Bachelor of Science in Management program to prepare learners for successful roles as managers and team leaders. The curriculum focuses on global economic fundamentals, human resources, ethics, e-business, collaborative team skills, and strategic management.
Program highlights:
Adept in corporate accountability, ethical decision-making, and cross-functional management.
Deep understanding of the growing technological sophistication and racial, gender, and cultural diversity in business environments.
Knowledge of the need for skills in working and communicating with different people, managing change, and directing projects.
Enhance concepts and theories of management and ethical leadership through skill-based exercises, real-world experience, and case discussions.
Fast facts:
BS Management students can choose a three-year path to complete this online degree program faster.
The program has multiple enrollment sessions throughout the year.
ASU accepts transfer credits of at least 30 semester hours with a minimum GPA of 3.0.
ASU accepts federal financial aid, including scholarships, loans, and Pell Grants.
Online students can use ASU's in-person success coaching and programming experiences.
---
Western Governors University
Location: Millcreek, Utah
At Western Governors University, learners can advance their careers in business through its online Bachelor of Science in Business Administration – Management degree. It's an excellent path because its bachelor's degree program is convenient, flexible, and designed to prepare individuals for various leadership roles.
Program highlights:
This degree program comprises several industry-relevant and competency-based courses, including Business Ethics, Organizational Behavior, Values-Based Leadership, and Quantitative Analysis for Business.
Make strategic business decisions that drive success.
Adept in analyzing financial statements and creating strategic marketing plans.
Overseeing employee relations effectively.
Fast facts:
BS Business Administration – Management majors will complete at least 12 competency units every 6-month term.
This degree consists of 40 courses with a special capstone project at the end of the program.
WGU accepts transfer credits with transcripts from a previous college.
This program is entirely online.
WGU's business administration degree is accredited by the Accreditation Council for Business Schools and Programs.
---
Columbia College
Locations: There are several locations across the U.S.
Columbia College offers a Bachelor's in Management that helps individuals develop their management skills and lead organizations and teams in the future. With this online degree program, students will learn about management skills, theories, and key concepts to create value in any business or organization.
Program highlights:
Apply problem-solving and critical-thinking skills to solve issues in organizations.
Learn foundational business practices, organizational behavior, project management, and human resources.
Study business information systems, diversity in organizations, and business law.
Fast facts:
Columbia College's Robert W. Plaster School of Business has state-of-the-art facilities to ensure the quality of education.
CC classes are small and personalized and are taught by instructors and professors who are experts in their fields.
They offer tuition discounts for spouses and dependents of affiliated installation employees.
CC accepts state-funded grants, scholarships, and federal financial aid, such as low-interest loans.
CC partners with thousands of companies and organizations across the United States to help students save even more money on tuition.
---
University of Findlay
Location: Findlay, Ohio
At the University of Findlay, students may opt for the BS in Business Administration with a Management Emphasis to gain a solid foundation of personal capability and knowledge in business leadership. Its coursework ensures students various real-world experiences, including case analyses, leadership and emotional intelligence assessments, team-based active learning projects, and research projects.
Program highlights:
Professionally qualified faculty members developed the state-of-the-art core course curriculum for the BS in Business Administration with a Management Emphasis program with consultation with entrepreneurs and business owners.
Develop strong communication and management skills emphasizing teamwork and personal initiative.
Gain analytical and critical thought processes to ensure businesses can successfully operate in global business environments.
Fast facts:
Business majors at Findlay University have hands-on and networking opportunities to gain real-world experiences.
The university offers the College of Business Dana Chair/Scholar Program, wherein scholars are chosen and recognized for their leadership and academic skills.
---
Granite State College
Location: Concord, New Hampshire
Granite State College's Bachelor of Science in Business Management – Concentration in Management helps students advance in their business careers. With this online degree program, learners will deeply understand business fundamentals, including economics, ethical business practices, marketing, management, and accounting.
Program highlights:
Coursework is tailored to actual workforce requirements to develop students' critical thinking, communication, and quantitative analysis skills.
Apply information systems and quantitative tools in decision-making and business analysis.
Use Business Management theories related to organizational behavior, human resource management, leadership, and production and operations across all areas of organizations.
Disseminate organizational information effectively using information systems in various business situations.
Ensure the effectiveness of teams, individuals, and organizations in a global environment.
Use ethical practice, legalities, and evaluation of business sustainability to make ethical and legal business decisions.
Fast facts:
---
Campbellsville University
Location: Campbellsville, Kentucky
Students can learn business fundamentals through Campbellsville University's online BS in Business Administration with an Emphasis on Management for leadership and success in the workplace.
Program highlights:
The basic foundation of microeconomics, macroeconomics, computer concepts and applications, accounting, business analytics, finance, and business law.
Students can choose from eight emphases: management, healthcare management, human resource management, marketing, cybersecurity and forensics, accounting, and more.
Fast facts:
Campbellsville University is recognized by the SACSCOC.
CU's business administration degree is fully accredited by IACBE.
To graduate, students of the online BBA degree program must render 120 total credit hours, including 33 credit hours from a chosen emphasis.
---
Check this out: Best Online Bachelor's in Business Management with a Concentration in Organizational Leadership
---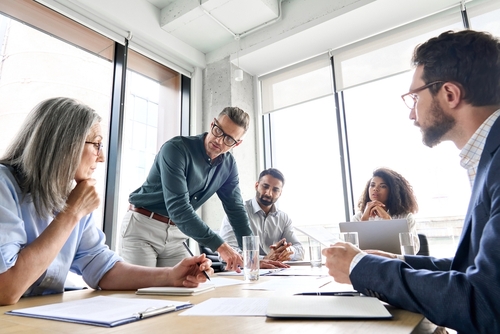 Concentrations in Business Degrees – What Are They and Why Are They Important?
In a Bachelor's degree, a concentration is a specific academic area or field of study within a broader major. It allows students to focus on a particular subject or area of interest while still earning a degree in their chosen major.
Concentrations can also be referred to as specializations, tracks, or emphases, depending on the university or college. They provide students with the opportunity to tailor their education to their interests and career goals. They can also make graduates more competitive in the job market by demonstrating their expertise in a particular area.
Some business schools may allow students to have more than one concentration within their major. This is typically referred to as a double concentration or dual concentration.
Here are some reasons why pursuing a concentration in management would benefit students:
Develop valuable skills
A Business Management degree online with a concentration in Management can equip learners with leadership, communication, critical thinking, problem-solving, and decision-making skills, which are essential for any professional career and particularly useful for those who aspire to become a manager or leader in an organization.
Wide range of career options
A management degree can open doors to various industries, including healthcare, finance, marketing, retail, hospitality, and more. With a concentration in management, graduates can also explore significant roles that help make major organizational decisions, such as project managers, operations managers, human resources managers, and executives.
Increased earning potential
The Labor Statistics Bureau says management positions have higher median salaries than other occupations. A concentration in management can give graduates a competitive edge when negotiating for a higher salary.
Opportunities for networking
Pursuing a concentration in management enables students to network with professionals. Building relationships with other managers and leaders can help advance learners in their careers and gain valuable insights into different industries and organizations.
Enhanced personal growth
Enrolling in Management business programs can also help graduates develop personally. It can boost their confidence, help them become a better communicator, and develop their abilities to work well with others.
Other Concentrations in Business Management
Students can take a general business administration or Business Management degree to prepare for a career. They can also choose a specialization or concentration to focus on one aspect of business that suits their personal and professional goals.
These are the other Business Management or Business Administration program concentrations you can specialize in:
Accounting
Students will learn about accounting methods, finance, cost analysis, statistics, and economics and know how to turn numbers into something leaders, managers, and employees can understand.
Business Finance
This concentration will teach students about how financial markets operate and the different tools, techniques, and strategies that experts use to make sound financial decisions.
Marketing
Learners will be adept in brand management, sales management, product development, consumer behavior, and creative techniques to satisfy customer needs.
Economics
Business administration majors will deal with pricing strategies, the law of supply and demand, and employment problems on a global scale.
Human Resources Management
Graduates of business administration with a concentration in Human Resources Management will be equipped to lead and motivate employees and deal with recruitment, training, career development, discipline, and retention in the workplace.
eCommerce
Business Management program students focusing on eCommerce will be taught about telecommunications, information system design, database marketing, eSystem analysis and design, emergent information technologies, and global operations information technology.
Computer Information Technology
Students learn about the analysis, management, design, and planning of information systems and the upgrade and maintenance of business systems.
Why Choose a Business Management Major
An online Bachelor of Business Management degree is a popular choice for those who aspire to be entrepreneurs and business leaders. This degree equips you with academic knowledge and valuable skills that will help graduates become successful business professionals.
If you are still unsure if this online business degree is right for you, here are five reasons to consider it.
Develop Valuable Management Skills
Studying Business Management helps learners gain essential management skills that will make them an asset to any organization. Graduates of an online Business Management degree will learn to respond to business and societal challenges, enabling them to make informed managerial decisions that consider ethical, economic, and social implications.
Some of the critical Business Management skills graduates will acquire include critical and strategic thinking, communication, problem-solving, organization, presenting, reporting, leadership, and project management.
Enhance Employability
Business Management graduates possess highly desirable transferable skills and strong business knowledge, making them attractive to potential employers.
As students move toward completing the degree, they can shape the direction of their careers by choosing a specialized area of business that interests them, such as entrepreneurship or human resource management. A Business Management degree opens up numerous opportunities in management, marketing and advertising, consultancy, HR, finance, and retail and sales.
Gain Insight into the Business World
A bachelor's degree in Business Management ensures that learners have a deeper knowledge and understanding of the core elements of business and management. It also offers a great introduction to the business world, especially for those without prior experience.
Students will gain valuable industry insights, such as market trends and reports. They can then apply academic theory to real-life business situations, giving them a head start in their careers.
Develop Entrepreneurial Skills
A Business Management degree helps learners acquire the core elements to start their own business, from developing entrepreneurial skills to testing business ideas. It puts learners on the path to being their own boss.
Learn About Multiple Disciplines
A Business Management degree is excellent for those seeking broad knowledge of the many facets of business. Through a Business Management degree, students will learn an overview of the main business functions that contribute to the success of a company and then be able to specialize in an area of their choice, such as human resource management, entrepreneurship, finance, or service operations.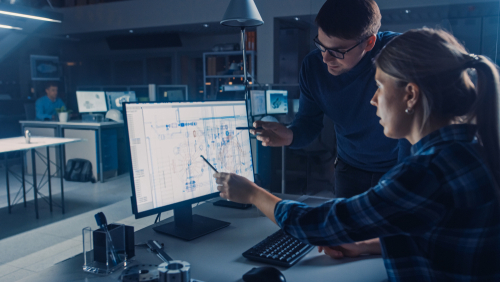 Top Skills to Gain to Become a Successful Business Manager
Here are some essential skills Business Management majors need to develop to excel in their chosen fields.
Economics
A strong grasp of pricing strategies and market demand can be valuable in making key decisions in any organization. Furthermore, understanding concepts like willingness to sell (WTS) can help managers take advantage of investment opportunities and make informed decisions about their company's financial future.
Data Analysis
Knowing condensing datasets, identifying patterns, and validating hypotheses can offer an analytical structure for tackling intricate business issues and reaching knowledgeable judgments that drive progress and enhance services and operations.
Financial Accounting
Cash flow and profitability are beneficial for assessing an organization's progress and capabilities while reading and interpreting a balance sheet is crucial for communicating financial outcomes successfully to all stakeholders.
Negotiation
Crafting a successful negotiation strategy, being open to improvisation, and thinking on your feet are essential in securing value for the organization and oneself when asking for a higher starting salary or raise.
Business Management
Strong managerial skills are equivalent to organizational performance, reiterating the need to develop leaders who can improve team productivity and morale.
Leadership
Building leadership skills can be beneficial in any profession. These skills can help managers understand how to bring a vision to life and position a team for success.
Effective Communication
An understanding of and adaptation to others' communication styles, along with empathy, reading body language, and active listening, are some of the critical skills that can help individuals communicate effectively.
Team-Building
Working as a team ensures better results and more productivity than individual members working independently. Entrepreneurs must learn to communicate effectively, delegate tasks, and encourage collaboration among team members to build successful teams.
Analytical Thinking
Analytical thinking is crucial to objectively assessing a business's current state, determining future growth, and closing the gap between the two. Entrepreneurs should know how to analyze and interpret data to make informed decisions that benefit their businesses.
Sales and Marketing
Understanding the competition, marketplace, and industry trends is critical to developing an effective marketing strategy. Business managers must learn to craft and communicate a compelling message to the right target audience, generating new business and building profitable revenue streams.
Cash Flow Management
Cash flow is the lifeblood of growing businesses and the primary indicator of business health. Business managers need to know how to monitor, protect, control, and put cash to work efficiently.
Financial Management
Financial management involves managing money and investments to ensure income exceeds expenditure and maximize profits. Entrepreneurs must know how to interpret and analyze financial statements to identify areas adversely affecting their profitability.
Time Management
Business managers should know how to manage their time efficiently and focus on activities that deliver the most value to their businesses.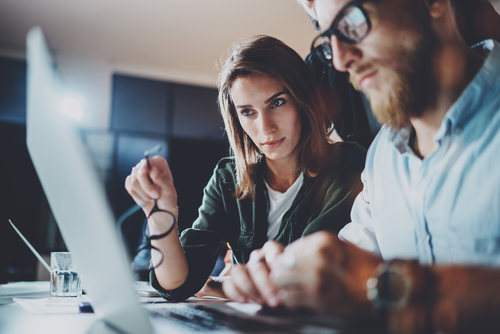 Frequently Asked Questions
Is an online degree in Business Management as good as a traditional on-campus degree?
Yes, an online Business Management degree is as good as a traditional on-campus degree. Online programs are often held to the same academic standards as on-campus programs, and the quality of education is the same.
How long does earning an online Bachelor's degree in Business Management take?
The time it takes to earn an online bachelor's degree in Business Management depends on the program and the student's pace of learning. An online bachelor's degree program typically takes four years to complete, but some programs may offer accelerated options.
Are online Bachelor's degree programs in Business Management more affordable than on-campus programs?
Online bachelor's degree programs in Business Management are often more affordable than on-campus programs. This is because students do not have to pay for housing, transportation, and other expenses associated with attending classes on campus.
Can I transfer credits from a community college to an online Bachelor's degree program in Business Management?
Many online bachelor's degree programs in Business Management accept transfer credits from community colleges. However, checking with the program is essential to determine which credits will transfer.
What are the usual requirements for admission to an online Bachelor's in Business Management?
The requirements for admission to an online bachelor's degree program in Business Management vary by program. Typically, students must have a high school diploma or GED; some programs may require a minimum GPA or standardized test score.
Key Points to Ponder
An online bachelor's degree in Business Management will give students the essential knowledge to become excellent leaders in tomorrow's business environments.
With an online bachelor's degree in Business Management, graduates can switch to different industries without changing career paths, especially with a management specialization.
Choosing to earn a degree online allows learners to continue their education, earn money, and advance in their careers simultaneously.
---
More to Consider: Best Online Bachelor's in Business Management with a Concentration in Non-profit Management