Find Your Perfect School
Premium Schools is an advertising-supported site. Featured or trusted partner programs and all school search, finder, or match results are for schools that compensate us. This compensation does not influence our school rankings, resource guides, or other editorially-independent information published on this site.
Military Science, also called Military Studies, involves the knowledge and application of military tactics, theories, and strategies used in defense, warfare, and diplomacy. Producing skilled and adequate personnel, this degree introduces students to military practices, skills, and institutions throughout history. It also delves into applications and innovations of modern military technologies, preparing students for careers in criminal justice, military science, engineering, and education.
A Bachelor's in Military Studies is a very interdisciplinary field. In this program, students need to complete coursework in communication, political science, or social science research. Most military studies programs also integrate information systems technology, elements of design, and management into their curriculum.
Students in Military Studies can complete their undergraduate degree in 2-4 years. This program is suitable for prospective students who plan on serving the country, learning more about the techniques and tactics that go into military decision-making, or exploring the future of defense. Aspiring strategists and leaders can also do well in military studies programs.
---
Check this out: Best Schools with Online Bachelor's in General Studies
---
Quick Summarization
An online bachelor's degree in Military Studies varies by school. Typically, general education requirements are more flexible than other degrees, such that online students have more freedom in choosing their general requirements path. They explore major events and conflicts in Military History courses, including international relations, US Wars, and US government history. Those who pursue Military Science develop a strong sense of team development, applied leadership, decision-making, and other professional competencies.
Methodology
Our list of the best online schools that offer Military Studies degree programs intends to help you make the decision to attend a web-based program a lot easier!
Each program on our list is delivered by the finest academic institutions in the US that offer undergraduate distance learning. Each outstanding online program was picked based on these factors.
Offers rigorous academic coursework, featuring Arts and Humanities, Languages, Local and International Politics, Civics, Communication, Social Science, Mathematics, History, and Natural Sciences.
Gives students the concentration options that fit their career aspirations and academic needs, with Military Science and Military History as the most popular subfields,
May provide online students with short-term degrees, fast-track, or accelerated program options through credit transfer programs,
Utilizes virtual learning platforms that offer a robust avenue for online classes and discussions, easily accessible coursework, online support, student services, and academic advisor services,
Taught by Military Studies experts, including terminal degree holders, professionals, and contributors to the field,
Features federal financial aid programs, scholarships, and grants for eligible online students,
Carries regional accreditation to guarantee that the school and program meet the highest standards of academic excellence.
Visit our Methodology page for details.
---
5 Best Online Schools for Bachelor's in Military Studies
Liberty University
A private Christian school based out of Lynchburg, Virginia, Liberty University is affiliated with the state's Southern Baptist Conservatives. It is a Baptist university that offers more than 700 undergraduate and graduate degrees. The institution is also packed with professors who are experts in their fields and committed to helping every student succeed in their studies and career goals.
Liberty University also offers more than 100 online programs for those who cannot attend traditional on-campus higher education. For those who are looking for a bachelor's degree that provides a solid background in military history for future work with various military agencies, Liberty's online Bachelor's in Military Studies program is the perfect choice.
This online Military Studies degree has four specializations to suit each student's specific goals and background.
Military History
International Security
Professional Program
Resiliency Program
Military History
The military history specialization will focus on topics in European history and American history. This program focuses on the most crucial historical contexts for military operations and events. Students will also learn more about the History of American Entrepreneurship. This provides content related to military contracting and the bigger macroeconomic implications of warfare.
International Security
This online military studies concentration is research-based and covers the historical context of present military threats. This will also guide online military students through the critical areas of military doctrine and military analysis. Coursework in this military study includes military intelligence, designed especially for those who are seeking careers in defense intelligence.
Professional Program
This program focuses on veterans and current service members who wish to make the most of their military experience. Students who can meet the requirements can earn college credits for life experience through the school's portfolio process so they can earn up to 9 credit hours of course credits.
Resiliency Program
In this military studies concentration, students are trained on how to support current and veteran military personnel as they transition to civilian life, grow in spiritual development, or cope with medical complications.
This military studies program at Liberty University allows students to gain the skills and knowledge they need to support the United States' defense– at home and abroad, as well as develop a solid Christian foundation for appreciation and leadership for the nation's Judeo-Christian heritage.
Like most online military studies degrees, this program is supported by coursework on military history and cultural studies so students will understand the context of existing military policies and military threats.
Through historical concepts, online learners will explore major areas like entrepreneurship and leadership, and how they relate to military contracting.
Liberty is Southern Association of Colleges and Schools Commission on Colleges-approved.
---
Murray State University
Located in Kentucky, Murray State University also operates extended campuses offering graduate and upper-level courses in Henderson, Paducah, Madisonville, and Hopkinsville. This public university is nationally ranked for its athletics, academics, educational value, and affordability. Believing that every person must be given access to high-quality education, Murray State awards more than $115 million in financial aid and scholarships every year.
Murray State University offers 11 associate degrees, 64 bachelor's, 42 master's and specialists, and three doctoral programs administered through two schools, four academic colleges, and 30 departments. It also offers several online programs, including the Bachelor in Integrated Studies program with fields and pathways of studies including military studies and Military Science.
This online military science degree is designed for those who already have finished two or more years of college credits.
Through this military science degree online program, students will focus more on their leadership skills, problem-solving techniques, professional ethics, and strategic planning.
By completing this program, students will become officers in the US Army and military leaders. They will also possess the training, tools, and experiences to succeed in any environment.
This online military science program is perfect for adults and non-traditional students, as well as those in the military with previous college credits.
Murray State is SACSCOC-accredited.
---
American Military University
A member of the American Public University System, American Military University is the top provider of higher education to the US military and veterans. Offering more than 200 degrees and certificates, this school offers programs with very affordable tuition and federal financial aid, plus the best student services and faculty teams.
American Military University offers an online Bachelor's in Military History that focuses on armed conflict and how this will shape society through history. This online degree program emphasizes five historical perspectives:
Leaders and Management of Military & People
Philosophies & Strategies of War
Major Historical Battles & Their Influence
How Military Conflict Catalyzes Change
Technological Change in War & Impact on Society
This is a 120-degree online program that costs $325 per credit hour ($250 with a military grant). AMU offers a Freedom Grant that covers tuition above the military cap of $250 per credit hour. This is available for all undergraduate and master's level programs. This is also available to all active-duty servicemembers, reservists, and National Guard members.
American Military University has earned the Higher Learning Commission's approval.
---
Hawai'i Pacific University
Hawai'i Pacific University is a private university in Honolulu that is committed to setting students up for success. All the professors are experts in their respective fields not only in academics but also in applied and industry knowledge. On top of textbooks and lectures, students will also take advantage of the courses at HPU that are all hands-on and interactive.
Hawai'i Pacific University offers 33 undergraduate programs, 18 graduate degrees, all delivered on-campus and online. One of its online programs is the BS in Diplomacy and Military Studies. This program is designed to give students a solid foundation in the field of political and historical studies and its different methods and approaches to better understand the roles of the military as an institution within society.
This online degree program will develop every student's knowledge base, skills, and moral awareness to better prepare them for careers as leaders in the private sector or in the armed forces.
The skills learned from this bachelor's degree are great foundations for those who will pursue a graduate degree program in political science, history, law, or international relations.
The bachelor's degree will prepare students for careers in different areas such as education, military service, military intelligence, journalism, law, government roles, and other fields of public interest.
This program is a distinctive, interdisciplinary degree, and is just one of the very few degrees offered anywhere in the country.
Hawai'i Pacific University is a WASC Senior College & University Commission-recognized school.
---
Texas A&M University
Texas A&M University is a public research university in College Station, Texas, and is the flagship campus. of the Texas A&M University System. The school has 133 undergraduate degree programs, 175 master's programs, 92 doctoral programs, and 5 first professional degrees as options for study. The major aim of Texas A&M is to set the standard as the world-class university of the future, combining research, knowledge, and innovation in creating solutions.
Texas A&M University also offers distance education classes to help students gain a degree from a top-ranked university. Its online Bachelor of Science in Liberal Studies allows students to customize their degree by selecting three minors, with Military Science being one of their options.
Under the Department of Military Science at Texas A&M is the Army ROTC (AROTC) program. This program offers different career fields to match every student's education and interests.
After completing this online program, students can join careers in military intelligence, engineering, cyber, communications, finance, logistics, personnel administration, armed forces, artillery, warfare, infantry, or armor.
Texas A&M is a SACSCOC-accredited university.
---
Stay informed… Check this out, too: Best Military Jobs that Transfer to Civilian Life
---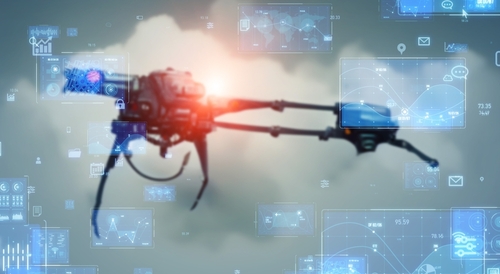 Concentration in Military Studies Program
Military Science
Students in military sciences will learn about military processes and behaviors. They explore Army ethics, and personal development strategies, and learn how they can efficiently function on a team facing stressful scenarios. Most of the time, the lessons learned in military science concentration prepare graduates to teach methods and applied theory used in military careers.
This concentration will lead to careers as combat specialty personnel, combat specialty officers, support service personnel, protective service personnel, administrative personnel, transportation and material-handling personnel, military strategy personnel, and military intelligence specialist.
Military History
This concentration will delve into the history of armed conflict in the US and across the globe. Students will explore the impact of military action and war on cultural production, societies, the economy, and international governmental relationships. Aside from the basic concepts of military history, students will also study all about the major US wars.
Those who prefer to go for this concentration will prepare for careers as military analysts, historians, military intelligence specialists, museum workers, education, military history detachments, and educators.
Online Bachelor's Degrees in Military Studies Curriculum
Officership
This online Military Studies course leads students through efficient planning of critical operations normally encountered by Army officers. Students will develop their critical thinking, oral communication, and writing skills, and learn to properly lead their troops in different scenarios.
Leadership and Decision-Making
This general concentration curriculum is where students will learn professional ethics in the Army through training in leadership tactics and personal development. They will also master how to evaluate risk in operational environments.
American Military History
Online students will study Military History in the context of broader US history. They will complete written exams and provide presentations on available courses on global military interactions or military strategies in the 20th century.
Modern Security Issues
Learners will learn the many interpretations and uses of the concept of safety and security. They will further study academic research and conceptual debates on the topic, as well as evaluate a range of contemporary issues, from migration to nuclear threat, and to global events.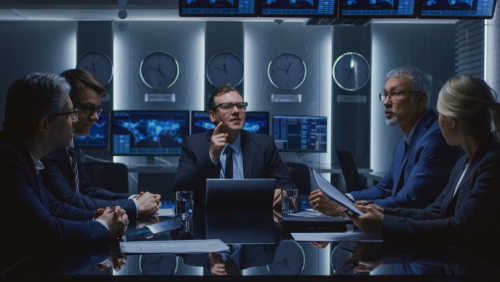 Careers with a Degree in Military Studies
For military careers, a degree in military studies will qualify you for jobs as an officer, like a support service officer or a combat specialty officer. Those who earn their military studies degree but do not prefer to work within the military are usually experts in military intelligence and military history; some even hold positions as consultants, writers, and educators. Here are some of the best careers you can land with a bachelor's degree in military studies.
Emergency Management Directors
According to the US Bureau of Labor Statistics, emergency management directors have an annual median pay of $76,730. These directors are basically comparable to protective service officers in military leadership. They are the ones that prepare and lay out procedures and plans for surviving and responding to natural disasters and other kinds of emergencies.
In military affairs, they are tasked to oversee the safety of military vessels and personnel on bases. There are also instances where these directors manage crime investigations with military security officers or law enforcement.
Human Resource Managers
These managers are the ones that coordinate the workforce of an organization. They serve as consultants or advisors on staffing and workplace issues, mediate disputes, and enforce relevant disciplinary procedures. In the military, human resource development officers carry the same duties.
The median annual salary of HR managers, according to the US Bureau of Labor Statistics, is $126,230.
Military Police
A military policeman typically holds a military science degree and works abroad to enforce the law in army camps throughout the world. They help military operations, regardless of the military branches, by responding to emergencies or preventing crime. Their main purpose is to ensure that military operations remain stable and that the rules of law in these spaces are implemented.
Scientific and Technical Intelligence Officers
This is a type of military officer that works for the Central Intelligence Agency. Technical intelligence officers use their technical and scientific knowledge in protecting the CIA's systems from attacks. They need to be updated on international security, new systems, or hacking techniques that might potentially compromise the US intelligence system.
Air Force Scientist
A degree in military science is a good starting point to become an air force scientist. These scientists work for the air force in doing research or serving as consultants on scientific issues that might impact the air force. They also work or manage programs that develop the latest technological pursuits that will help in the air force's capacity to carry out technical operations.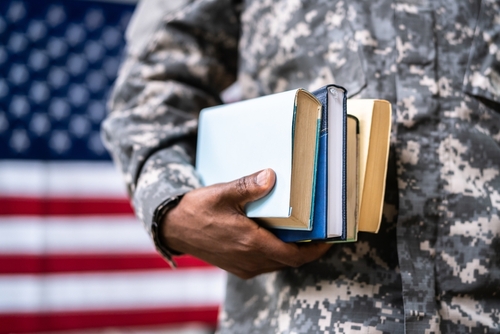 Frequently Asked Questions
What can you do with an online degree in Military Studies?
There are so many things you can do after you complete a Military Studies degree. Those who are active-duty military, whether you're an enlisted personnel, working in the coast guard or homeland security, or a non-commissioned officer, in any branch of the US military, can use their degree to move up to a commissioned officer.
How long does it take to complete Military Studies degree programs?
It usually takes four years to complete a Bachelor's in Military Studies if you are enrolled full-time (16-week semester) program. If additional credit hours are taken every semester, this can significantly lessen the amount of time to graduate. Conversely, studying part-time prolongs the completion of the program.
What can you do with your Military Studies bachelor's degree?
Military Studies degrees are useful in different industries. For most military science students, joining the military is their ultimate goal. However, the skills you learn and develop in the program can be useful for other positions too.
Key Points to Ponder
Whether you plan on joining the military or you find the coursework in military studies appealing, a degree in Military Studies can be beneficial to you. You will have the chance to explore different subjects, which will help you develop different skill sets.
A Military Studies degree coursework allows for learning a variety of active training and research-based instruction. By choosing a concentration, you can narrow down your focus that aligns with your career goals.
When choosing online Military Studies programs, make sure you choose those that are offered by accredited institutions.
---
Take a look at this: Best Schools with Online Bachelor's in Liberal Arts