Find Your Perfect School
Premium Schools is an advertising-supported site. Featured or trusted partner programs and all school search, finder, or match results are for schools that compensate us. This compensation does not influence our school rankings, resource guides, or other editorially-independent information published on this site.
Public administrators implement public policies, promote urban development, and protect overall public safety. With a degree in Public Administration, graduates are qualified to work in private, public, and nonprofit organizations.
Programs in Public Administration are designed to train students for the many career path in public service. In a Public Administration degree, students will take courses in business, government, and nonprofit management. While most public administration majors work n local government, the federal government, or state roles, this degree also leads to so many opportunities in private businesses and nonprofit organizations.
A career in the public sector starts with an online bachelor's in public administration degree. If you plan to serve your community, a Public Administration degree is the right educational path for you. This field of study prepares students to learn so many things about the policies and the laws that shape government programs and community systems.
This also helps students learn the important leadership skills needed in office settings like interpersonal communication and team management. Some classes may also cover accounting, finance, project management, and information technology.
---
Additional Resource: Best Schools with Online Bachelor's in Public Management
---
Quick Summarization
Students who are interested in non-profit, government, or community service will find a degree in public administration very valuable to prepare them for the expected challenges in the field. An online degree in Public Administration focuses on managing strategies and implementing policies of local, state, and other government agencies.
While it's easy to look for schools that offer a degree in public administration, it may be hard for students who are caught up between their family responsibilities and day jobs. Thankfully, there are schools today that offer online Bachelor's in Public Administration degree programs with coursework that is the same as its on-campus counterparts in terms of curriculum and basic admission requirements. What differs is only the medium of teaching and learning.
Those who wish to advance their careers can pursue a master's degree. You can consider an online Master's in Public Policy, a Master's in Public Administration degree, or a Master's in Business Administration program.
Methodology
This list of the 5 best online Public Administration degree programs features the best academic institutions that will fit every student's education around their work or home life. This profiled list was chosen based on several factors for each online undergraduate student, including:
Offered online or as a hybrid undergraduate program to help students complete their undergraduate coursework conveniently,
Features the most innovative Public Administration strategies to plan on and implement,
Equips students with the skills they need to perform Public Administration work effectively, or pursue a master's degree,
Facilitated thru an easy-to-use Learning Management System,
Offers online learners topnotch students services for assessing their skills and planning their coursework,
Handled by exceptional teachers and instructors who take pride in their contribution to the Public Administration field,
Runs financial aid programs, such as scholarships, grants, and military discounts,
Holds proper programmatic or regional accreditation.
Read our Methodology for a closer look at the ranking process we use.
---
5 Best Online Bachelor's in Public Administration Programs
Liberty University
Liberty University is an evangelical liberal arts university located in Lynchburg Virginia. Made up of 16 schools and colleges, this private Baptist institution offers more than 700 programs of study, amazing faculty, and state-of-the-art technology. At Liberty University, students can tailor their associate, bachelor's, master's, or doctoral degrees to meet their area of interest as they study at the Central Virginia campus or globally online. Undergraduate and graduate-level certificates are also available.
For those who are looking for rewarding careers that allow them to make a huge impact in their respective communities and government agencies, Liberty University's online Bachelor of Science in Public Administration degree program provides students with the tools they need in identifying and addressing problems, implementing public policy, and communicate efficiently with public and private institutions and all levels of government.
This BS in Public Administration strives to help prospective students see their career paths as opportunities for Christian service.
Public administration students will gain a solid foundation in the practices and history of civic government. They will also explore different topics on government administration like law, economics, and political theory.
This public administration program dives into the core aspects of working in government agencies and public service. Students will learn how to navigate projects, manage public program budgets, and handle political and legal issues related to public administration.
Graduates in this degree program become effective communicators in both oral and written formats. They will also develop leadership skills needed in the public service sector that will meet the needs of people and fulfill government mandates.
This is a 120-credit hour online program that students can easily complete at the time you're most convenient.
The online courses are only 8 weeks long, with 8 different start dates each year.
Liberty University is Southern Association of Colleges & Schools Commission on Colleges or SACSCOC-approved.
---
Franklin University
Franklin University is a private nonprofit university that has been serving the education needs of busy working adults since 1902. Located in Columbus, Ohio, it is one of the few universities in the nation that pushes the rights of adult learners, providing them a chance and a place to earn their degrees faster. Franklin University offers more than 30 bachelor's degree programs and five master's degree courses.
The school offers a BS in Public Administration degree with a concentration in Public Safety Management and Leadership, designed to help students to become passionate, capable, and compassionate public servants in the future.
This program teaches full-time students with leadership and management skills they need to guide government agencies and nonprofit organizations in dealing with today's most crucial issues.
Students will be honed for various entry-level positions and jobs, ranging from administrators to managers, and leaders.
Common skills learned in this public administration online degree include fiscal administration, organizational leadership, political advocacy, and program management.
Online students may also gain specialized knowledge critical to implementing policy, navigating financial management and the political system, and utilizing ethical management practices.
This Bachelor of Science online degree needs 120 credit hours to complete, with a 75% maximum transfer credit. The cost per credit is $398 per hour.
Students are allowed to transfer up to 24 hours of technical credit from an Associate of Applied Science degree in Law Enforcement, Fire Safety, Criminal Justice, Emergency Management, and other public service-related field.
Franklin University is Higher Learning Commission-accredited.
---
California Baptist University
Located in Riverside, California, California Baptist University is a private Christian university that provides a Christ-centered educational experience to its students that integrates academics with social and spiritual development opportunities. CBU is one of the best private Christian colleges and universities in all of Southern California and offers associate's, bachelor's, master's, doctoral and credential programs in its Riverside, San Bernardino campus and online.
California Baptist University provides students from all walks of life the chance to reach their educational and career goals through affordable, flexible, and accessible online programs, including the Bachelor of Arts in Public Administration degree.
This public administration online degree equips online students with the strategies needed for efficient problem-solving to meet the public's diverse and complex needs.
Online students will join dynamic public administration courses focusing on policy analysis, public sector management, financial management, emergency management, political science, and personnel management from a present public administrative perspective.
Like all online public administration programs, CBU's program will serve as the foundation for entry-level and mid-management positions in the workforce. This also serves as the foundation for graduate school in different disciplines.
This online degree in Public Administration allows students to learn and understand how public administrators can shape policies and enforce programs to help build and solidify communities and society.
This Public Administration bachelor's degree is ideal for those who are interested in government policy, economic development, sustainability, and social issues as this program provides an extensive overview of the field and can help students start or even advance lucrative career paths in public service.
Online students completing this program will be equipped enough to deal with global issues, integrating the ethical standards of a Christian heritage.
California Baptist University is regionally approved by the Western Association of Schools & Colleges Senior College & University Commission (WSCUC).
---
The University of Maine at Augusta
The University of Maine at Augusta is the third public university in Maine and is part of the University of Maine System. Located in Augusta Maine, this public college offers baccalaureate and associate degrees for residents in the state. The school offers 41 degree programs, 15 certificates, and several specialized courses.
Its online Bachelor of Science in Public Administration is designed to prepare online students for administrative careers in nonprofit organizations and the government. This 121-credit hour online program is a professional degree as well for those who are already employed as this can give them the chance to improve their leadership and administrative skills and boost career prospects and mobility.
Online programs in public administration like that one UMA offers, have comprehensive topics that usually cover the central functional areas of modern administration, and public sector institutions, plus a range of relevant and valuable analytical skills.
This program is designed to produce future managers geared with a solid understanding of modern organizations, a sensitivity to political realities, a knowledge of analytical tools required to illuminate substantive issues, and a grasp of management methods.
Students will have to delve further into administrative law, personnel management, administrative management, public management, public policy, and even homeland security.
After completing this online degree program, graduates will be able to exude the overall repertoire and perspective of skills, abilities, and knowledge needed to secure relevant positions in modern administrative environments.
UMA's Student Financial Services help students obtain financial aid to help them pay for their educational expenses. This is available from state, federal, university, and private resources. Scholarships, grants, loans, and Federal Work-Study are also provided.
The University of Maine at Augusta is a New England Commission of Higher Education-approved school.
---
St. Petersburg College
St. Petersburg College is a public college located in Pinellas County, Florida, and is part of the Florida College System. It is also one of the colleges in the system designated a "state college", offering a greater number of baccalaureate degrees than traditional community colleges normally focusing on associate degrees. SPC offers more than 200 undergraduate programs and academic degrees, from career training to university transfer options to associate's and bachelor's degrees.
St. Petersburg College also offers online programs for long-distance learners, including a Bachelor's in Public Safety Administration. Online students in this degree program will be prepared to become leaders in today's public safety organizations. This degree program is also suitable for those who are currently public safety professionals. Students will take classes related to their previous education, training, and experiences.
Within this online degree, students get to choose any of the following sub-plans:
Emergency Management and Homeland Security
Criminal Justice
Fire Science
Cross Discipline (Combination of Subplans)
This online degree program offers eight-week courses completely online. Those who have previous training or experience can use their academic credits too. After completing this online bachelor, students will be able to learn how to execute operational and strategic plans, develop and evaluate programs, and improve productivity and human resources.
This online Public Administration degree is 120 credits hours. St. Petersburg College is SACSCOC-approved.
---
Before you go, check this out: Best Schools with Online Bachelor's in Public Policy
---
Professional Organizations for Public Administration
Whether you're working in nonprofit organizations or government administration, it's important to have your efforts be as efficient as possible. By becoming a member of an industry association, you can receive access to numerous resources that will help with your personal development, your career, and your connections to like-minded professionals.
Alliance for Nonprofit Management
If your job contributes to social service programs and overall community betterment, most likely you will appreciate the discounts, networking, and resources available through membership in the Alliance for Nonprofit Management.
American Society for Public Administration
When you are a hired employee or elected official, you need to improve your public service skills at some point. You can join in the local chapters, online platforms, and conferences at the American Society for Public Administration.
Association for Public Policy Analysis and Management
APPAM promotes education and research in the field of public policy. By joining the organization, you get to be in touch with industry developments through conferences, newsletters, and online resources.
International Public Policy Association
By being a member of the International Public Policy Association, you can support research related to public policy. You can also touch base with industry developments through online platforms, conferences, newsletters, or online resources that IPPA provides.
National Academy of Public Administration
A congressionally chartered organization, the National Academy of Public Administration requires would-be members to be nominated and approved. Once they become full-fledged members, they should be committed to the organizations' work of advising government leaders.
Reasons Why You Must Study Public Administration Degree Online
Enrolling in a public administration program offers you so many advantages since the field is the cornerstone of public service. Professionals spend days working to ensure that their organizations are running as efficiently and smoothly as possible.
Here are the top 4 reasons why studying public administration is the right choice.
Demand
The Labor Statistics Bureau discloses that a whole generation of professional public administrators is now gearing up for retirement, leaving behind them a huge gap in the workforce.
This creates a huge advantage for those who are studying public administration. Students who are filling leadership positions will realize that the demand for careers in public administration is growing and is foreseen to continue in the coming years.
Opportunities for Growth
With public administration programs, you can find so many opportunities, especially if you have the will and the drive to seek them out. Public administrators usually go for key government administration positions in the public sector such as in community organizations or the local community and serve as city planners, program analysts, town managers, administrative services managers, or community service managers. These key managerial positions allow them to utilize the leadership skills they have developed throughout their program.
Flexibility and Stability
Online public administration degrees are relatively new concepts to some people. However, a lot of students have already found online courses refreshing. Online students are more comfortable in this type of learning atmosphere– with engaging and active professors than those in traditional classroom settings.
However, some prefer the intimacy online courses offer. Self-motivated students who can easily push themselves to do their online coursework while keeping up to date with assignments will find the flexibility and freedom of online learning a great advantage to their lifestyle.
Lower Cost
Online public administration programs generally cost lower partly because materials are digital that students can simply download. Other major expenses like books (the latest editions are usually required) are extremely costly especially if students cannot find used copies for sale). Learning online, therefore, is a more cost-effective solution. This doesn't necessarily mean that online courses no longer require textbooks but only points out that professors prefer downloadable materials.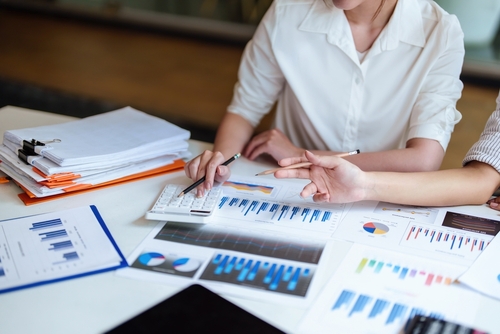 Common Types of Jobs in Public Administration
Administrative Officers
Administrative officers are usually found working in government and corporate offices. These professionals handle a lot of aspects of paperwork, office communications, and record-keeping. They also provide clerical and administrative duties for an organization. Admin officers work with the human resources department of an organization with job postings and help evaluate applicants' responses.
Public Affairs Specialists
These types of specialists are the ones who do the planning, implementing, and creating public affairs programs, projects, and communication. They build and maintain the public image of their clients. Part of their job also involves combining the different works of strategic communications, government relations, and corporate social responsibility.
Public Relations Managers
PR managers are seen working in an organization's communication department. These managers evaluate the public image of a client/organization, check reviews, go over the client's online presence, and identify the public image of the organization. They can be seen working in executive positions in a company with different PR specialists.
Economic Consultants
As its name implies, these consultants study data statistics and market conditions that may affect the manufacturing and production process of an organization. Economic consultants also come up with business plans and sometimes, answer economic issues based on data and research methodologies.
Publicists
These professionals generate publicity for an organization or a brand using public relations, marketing, and advertising techniques. The majority of their jobs involve generating brand awareness and sales for their client's business. They can also pitch in their idea to journalists and media persons to catch the media's attention.
Fundraising Managers
These managers oversee the organization's fundraising department. They create, manage, and lead people who are responsible for bringing donations to the organization. Fundraising managers also take care of the overall budget, plan events, look for donors, create efficient strategies, and focus on creating effective strategies to maximize the inflow of donations.
Philanthropy Managers
Philanthropy managers are professionals who create and implement programs to raise funds and donate these to charity. They also manage and implement annual giving and effective gifting strategies for an organization. Part of their role also involves working with supporters so they will better understand the impact they will bring to charity.
Political Analysts
These analysts study the origins, growth, development, operations, and processes of a political system. They study various political theories, ideas, and principles, and use these to conclude legislative actions, trends, and policies in the political system.
Economists
Economists working in public administration collect and study financial and socioeconomic data to come up with economic forecasts. These professionals also study nations and local communities and investigate businesses ranging from small independent organizations to commercial companies. Employers hire economists to study economic challenges like low employment levels and high inflation.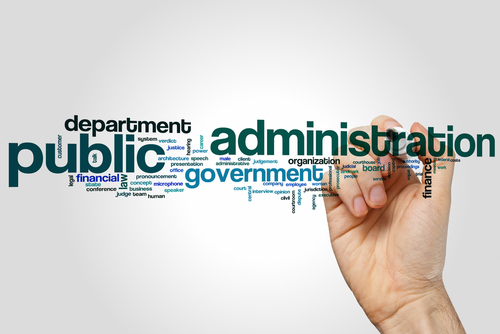 Frequently Asked Questions
How can one earn a public administration degree?
Most degree programs in public administration require 120 credit hours before one can graduate, and this will take 3-4 years to complete as learning how to oversee policy development and run organizations take a lot of time. Many schools even require students to earn practical experience through internships.
What are the potential career paths for public administration graduates?
The future of public administration degree holders will largely depend on their field of concentration. But in general, many graduates seek positions in nonprofit organizations and government agencies. Some of the most common career paths for public administration graduates include education administrators, civil servants, administrative services managers, executive directors, public consultation consultants, federal government workers, and program analysts.
What are some examples of public administration?
Public administration includes federal, state, and local government roles in social service programs, transportation, disaster response, community development, and public works.
Key Points to Ponder
Online public administration degree programs are highly respectable degrees as their on-campus counterparts. Digital classes cover the same materials as the traditional format and usually require comparable assignments.
Attending an online program in public administration helps you to earn your degree in just a few years, especially if you enroll in online schools that use an accelerated calendar.
Online bachelor's programs normally range from $300 to $500 per credit hour and require 120 credits to complete the degree unless you have previous coursework to transfer in. However, most schools offer financial aid and scholarships to help reduce college bills.
---
Additional Information: Best Schools with Online Bachelor's in Public Safety Administration