Find Your Perfect School
Premium Schools is an advertising-supported site. Featured or trusted partner programs and all school search, finder, or match results are for schools that compensate us. This compensation does not influence our school rankings, resource guides, or other editorially-independent information published on this site.
Industry giants like Google, Microsoft, Apple, and Facebook, as well as thousands of startups, continue to make lives better every day. Indeed, the tech landscape is teeming with opportunities.
This is why there is an increasing demand for skilled software engineers everywhere. From finance to healthcare, to entertainment to manufacturing industries, every type of organization is integrating software solutions into their operations.
Take a look: Best Schools with Online Bachelor's in Computer Engineering
---
With the world undergoing an unprecedented digital transformation, virtually all industries and sectors are embracing modern technology to enhance productivity, innovation, and efficiency in the workplace.
By earning an online Bachelor's in Software Engineering degree online, students position themselves at the forefront of this digital revolution and are rewarded for their expertise and contribution.
Quick Summarization
Software engineers apply engineering methods, including design and structure, to the software development process. It is by earning an online Bachelor's in Software Engineering that students gain the technical skills and theoretical knowledge needed to analyze the needs of each user and client and then plan the software structure to meet such needs.
Methodology
Choose the most appropriate undergraduate online Software Engineering programs that match your needs!
To help you make that decision, we indexed the country's reputable schools offering the best degree program! Each Software Engineering undergraduate program on our list meets these criteria:
Delivered in a 100% web-based or hybrid format so that online students to achieve a school-life balance, particularly for those juggling work, education, and other commitments,
Features an academic curriculum that focuses on the latest and most advanced courses in Software Engineering, preparing future professionals for breakthrough innovations in the discipline,
Highlights cutting-edge technology and the most up-to-date principles and theories to ensure comprehensive coursework, preparing undergraduate students pursuing either a master's degree or a career in Software Engineering,
Taught by instructors with impressive credentials, years of experience, and important contributions to Software Engineering,
Offers financial aid opportunities for eligible Software Engineering students to help make higher education more affordable,
Obtained accreditation from academic agencies recognized by the US Department of Education, signifying compliance with academic standards,
Demonstrates academic excellence through positive student reviews and active affiliation with industries where Software Engineering is relevant.
Learn our process of selecting the best schools and online programs by visiting our Methodology page.
---
10 Best Online Bachelor's in Software Engineering
Washington State University
Washington State University believes that a Bachelor of Science in Software Engineering is the surest way to open doors of opportunities to students who are interested in a rewarding career in the field. This degree program will not only provide students with the hard skills necessary to succeed but also other crucial skills, such as critical thinking and problem-solving skills, to improve personal and professional growth.
The BS Software Engineering program offered by WSU will hone students' expertise on various topics and prepare them for successful careers, such as Project Managers, Software Engineers / Developers, Quality Assurance Specialists, and Requirement Engineers to name a few.
Classes and laboratories are taught online via WSU's nationally ranked Global Campus program, through interactive video from the Pullman campus, and in person on the Everett campus.
Additionally, the BSSE program will equip students with the tools and skillsets to develop and maintain large and complex software by concentrating on advanced courses on software testing and validation, software development, software security, software management and integration, and software maintenance.
Because all of these specialties are in high demand, BSSE graduates can expect to have plenty of career opportunities in the future.
WSU's software engineering degree is accredited by the Engineering Accreditation Commission of ABET. The university received the Seoul Accord, which is a mutual recognition agreement (MRA) that pertains to IT- and computing-related programs.
---
Middle Georgia State University
Middle Georgia State University offers an Online BS in Information Technology – Concentration in Software Engineering, a completely online program that is ABET-accredited. This IT degree program is all about flexibility, convenience, and innovation.
Middle Georgia State University is committed to developing the finest IT program to produce top-notch graduates with a diverse range of skill sets, experiences, and roles, including knowledge in information assurance, networking, application development, Informatics, and media design. This program is also aimed at preparing students to apply new technologies and solve complex problems within various global environments.
Its courses emphasize enhancing students' decision-making, interpersonal and communication, problem-solving, and critical thinking skills. Day and evening classes can be taken in a classroom setting, blended learning, or online format.
This university is designated as a National Center of Digital Forensics Academic Excellence (CDFAE) by the Department of Defense Cyber Crime Center. This is a partnership between schools, standards bodies, and the government to set best practices for digital forensics education.
At Middle Georgia State University, students can get credit for prior learning through life or work outside of structured college courses. These include experiences in professional endeavors, such as military training, work, or business, or through community work, travel, family, or personal study experiences.
---
St. Cloud State University
St. Cloud State University offers a Bachelor of Science in Software Engineering that can be completed fully online to allow students to maintain a balance between their school and work and personal life. Students can complete this program through full-time study, up to courses at a time, or even skip a semester. They can finish all courses at their own pace.
The BS Software Engineering offered by St. Cloud State University is ideal for working adults who finished two-year IT-related fields in any community or technical college. Faculty advisers will provide pre-admission advice to working students who want to transfer to this university to know which courses are transferable.
This degree program is to prepare students to be successful software engineers through a thorough understanding of the field and various experiential learning opportunities so they will be able to solve real-world problems successfully. Graduates are expected to have the expertise in applying software engineering foundations to adapt to changing environments through relevant theories, processes, and principles.
At the time of completion, software engineering majors will be able to demonstrate their deep understanding of and apply current models, techniques, and theories that serve as a basis for the software lifecycle.
Additionally, students will be able to prove their ability to use various engineering tools and techniques to solve complex problems. Plus, they can showcase their competence in planning, communication, design, analysis, deployment, and construction.
---
Arizona State University
Arizona State University's Online BS in Software Engineering provides students with the crucial tools to help them succeed in various professional paths in database and system administration, software and web development, and application development. This degree will also hone students' skills in coding, modeling, and problem-solving.
Coursework will help students learn about the necessary software fundamentals in math, systems management, and programming to have a thorough understanding and be able to manage how computer systems work. Aside from that, they will learn about code building, software program development, programming languages, and crucial cyber security concepts.
The curriculum for this program is project-based and emphasizes learning and discovery by doing. As part of the curriculum, students will be required to complete projects every semester, which should give them the opportunity to apply what they've learned, develop teamwork skills, and gain hands-on experience.
Upon completion of this degree program, graduates will be able to create original applications, games, programs, and systems. They will also know how to properly and effectively implement engineering strategies and use various programming languages to develop user interfaces and new software components and products for entertainment or solving problems.
ASU's BS Software Engineering was the first online program that was accredited by ABET, ensuring that it meets industry standards for the software engineering field. Core courses include:
Computer Systems Fundamentals
Design and Analysis of Data Structures and Algorithms
Principles of Database Management
Engineering Secure Software Systems
---
Penn State World Campus
At Penn State World Campus, Bachelor of Science in Software Engineering students will be taught highly sought-after skills in research, development, design, and testing to ensure critical computer systems are operating accurately and efficiently.
Students also learn how to properly use techniques and principles of engineering, mathematical analysis, and computer science to empower computers using innovative applications that perform tasks, faster, smarter, and better.
This online degree program in software engineering is offered fully online through the school's World Campus. It provides students with a strong software engineering foundation using an effective combination of software development experience, classroom study, and design projects. This program also combines computing skills, software construction, engineering principles, and project leadership to ensure learners are able to develop a comprehensive understanding of the field.
Courses in this online degree program cover a wide variety of topics, including probability and statistics, discrete mathematics, and other relevant topics in supporting disciplines to ensure comprehensive coverage of modern applications and techniques. Furthermore, students will gain crucial knowledge in object-oriented methodology, software validation and verification, computer programming, computer networks, and software security.
This software engineering degree program is ABET-accredited. Aside from that, its classes are taught by highly respected faculty members in collaborative learning environments. Plus, it has a team of professionals who can provide student support services, including career advice.
---
Southern New Hampshire University
Southern New Hampshire University offers a BS in Computer Science – Concentration in Software Engineering for those who want to land a career creating open-source databases, mobile games, ride-share apps, and online payment systems. With a software engineering concentration, students will learn the fundamental principles and concepts of software engineering that can help develop the skills they need to break into the field.
This software engineering program teaches students to use a systematic approach to developing software applications on time, within specifications, and on budget. Students will also work to solve real-world problems in classes that focus on the design and development of computer software.
Toward graduation, software engineering majors will be made to create samples of their work, build their portfolio to prove their ability to apply sound principles of user experience and use coding practices.
Furthermore, BS Computer Science students will learn about the various techniques in designing and developing User Interface (UI)/User Experience (UX). They will also learn about secure coding techniques, ways to reverse engineering codes, and the latest systems architecture trends.
This online degree program in software engineering is flexible and perfect for working adults. It has no set class times, allowing students to study on their own schedule. It's also affordable, as it is SNHU's mission to make undergraduate education affordable and accessible for everyone.
---
Western Governors University
Western Governors University's BS in Software Engineering will prepare students to be successful in the field of software engineering and increase their earning potential. This program was designed based on the input from industry experts. Because of this, software engineering majors will develop a robust foundation on skills like web development, scripting and programming, User Experience (UX) design, and software quality assurance.
WGU is committed to providing quality education that aligns with industry standards with its carefully designed curriculum, covering a wide range of topics, including software development, web development, database management, programming languages, project management, and software testing.
Its courses will teach students to develop a strong foundation in software engineering practices and principles to ensure that they gain a well-rounded skill set that is highly sought-after by big corporations.
Another noteworthy aspect of WGU's program is the emphasis on practical application. Students are encouraged to apply their knowledge and skills through real-world projects and hands-on experiences. This practical approach not only enhances their understanding of theoretical concepts but also prepares them to tackle real-world challenges in the software engineering field.
By completing various projects and assignments, students develop a portfolio that showcases their abilities, making them more marketable to potential employers.
This program is accredited by the Northwest Commission on Colleges and Universities (NWCCU). It has courses that focus on industry certification preparations. These include AWS Certified Cloud Practitioner, CompTIA Project+, and ITIL® Foundation Certification.
---
Kennesaw State University
The BS in Software Engineering offered by Kennesaw State University is designed to provide students with a rigorous and comprehensive education in the field of software engineering. With its strong curriculum, state-of-the-art resources, and experience professors, aspiring software engineers will stand out from the competition.
KSU is fully committed to achieving academic excellence. To prove this, its online Software Engineering degree curriculum provides students with a robust foundation in software engineering practices, embedded systems and technologies, and fundamental concepts and principles. Moreover, students will gain a deeper understanding of programming topics, including software architecture and design patterns.
KSU's software engineering undergraduate program is the only one offered by a public university in the entire state of Georgia. The primary goal of this Software Engineering online degree is to shape a new generation of competent software engineers and developers who put emphasis on the engineering aspect of software systems. These systems are created to meet specified requirements, built within set cost and schedule, and developed with mission-critical quality levels.
Some of the core course requirements include:
Fundamentals of Game Design
Application Extension and Scripting
Digital Media and Interaction
Modeling and Animation
Mobile & Casual Game Development
Designing Online Learning Content and Environments
Production Pipeline and Asset Management
---
Colorado Technical University
Colorado Technical University is committed to training a new generation of skilled and disciplined software engineers/developers through its Bachelor of Science in Computer Science with a Concentration in Software Engineering. This online degree program is designed to help students develop a profound knowledge and understanding of computer science and software engineering.
In this online degree program, students will study how to build computer software solutions using algorithmic techniques and explore a wide range of practical and theoretical knowledge, skills, processes, and methods at the same time. Its curriculum covers topics on the way a computer's software works, types of computer software, and designing and developing various types and levels of computer software.
CTU offers students access to Fast Track, a program that allows students to finish their degree up to 30% faster. This is by giving credit to prior knowledge gained through the military, trade school, apprenticeship, or employment. Students take an exam to uncover how much they know about the key courses, allowing them to earn college credits for previously acquired Software Engineering knowledge..
Some of the courses that can be credited through CTU's Fast Track program include:
Accounting
Business Administration
Computer Engineering
Computer Science
Computer Science – Software Engineering
Criminal Justice
Information Technology
Management
Psychology
CTU's computer science program has ranked among the best online bachelor's programs in the US. It is accredited by ABET, ensuring that the program and its curriculum are aligned with education industry standards.
---
New England Institute of Technology
New England Institute of Technology's BS in Software Engineering is designed to provide students with an opportunity to enhance their knowledge of software engineering. This degree will make students ready for lifelong learning.
This software engineering degree will also give students plenty of chances to solve software engineering problems in database-driven web applications and server-side web development, as well as use advanced programming techniques to provide appropriate solutions. Students also learn component-based designs, software architectures, and software design patterns.
This program will also develop students' social and critical thinking skills, as well as how to apply them to software development and programming principles. Additionally, this degree will also give students access to an environment that fosters self-learning and education beyond graduation to further their ability to adapt and incorporate new ideas, concepts, and evolving technologies.
Upon graduation, software engineering majors at NEIT will be able to develop and implement software solutions based on sound principles in the areas of cloud, web, and mobile development confidently and successfully. Furthermore, they will be able to create a software engineering application and be able to manage, design, and implement it. They will also be able to utilize current processes to manage software applications for various platforms and analyze and visualize large amounts of data based on current data science methodologies.
NEIT is accredited by the NECHE-New England Commission of Higher Education, which entitles this school to recognize federal financial aid programs.
---
More to consider: Best Schools with Online Bachelor's in Computer Programming
---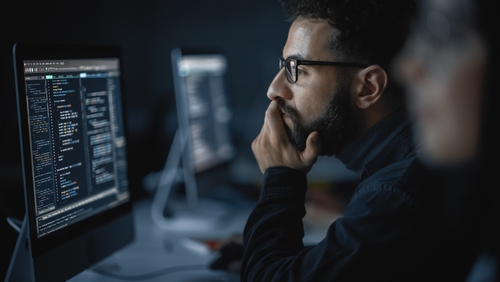 Crucial Technical Skills Required for Software Engineers
Software Engineering students will have countless employment opportunities when they graduate. This is because this profession is quite in demand nowadays.
As a modern society, people have become more and more reliant on technological devices, including appliances, TV, mobile phones, CCTVs, and more. These gadgets help humanity manage daily tasks easier. The demand for more software engineers has increased over recent years because these products have become indispensable to us humans.
The Bureau of Labor Statistics estimates that, between 2021 and 2031, a 25% overall growth in software developer, QA analyst, and tester occupations can be expected. This translates to around 162,900 job openings for software engineering graduates on average every year in the next decade.
Here are some of the most desirable technical and interpersonal skills every software engineer must possess:
Programming
Coding and computer programming skills are two of the most crucial technical skills that a software engineer or developer must develop. This is because one of the most important tasks of these professionals is to write source codes for different applications.
Software engineers must be adept in various programming or coding languages including:
HTML
CSS
Java
JavaScript
C#
C++
Python
Ruby
Operating Systems
Computer hardware is controlled by operating systems. These allow applications and programs to run in a computer system. To be able to create software that will run on different computer systems, software engineers must study the most commonly used operating systems, including:
Microsoft Windows
MacOS
Linux
iOS
Android
Version Control
Version control or source control management (SCM) ensures that the code revisions done during the front-end and back-end software development are monitored. This allows multiple developers or engineers to work simultaneously on projects, as well as share, roll back, or merge changes as needed.
Integrated Development Environments (IDEs)
An IDE is a user-friendly environment for software engineers and developers. It usually includes a source code editor, compiler, and debug tool, among others. Some of the most popular IDEs are Visual Studio and Eclipse.
Database Management
Interaction with an organization's database is necessary during software development. This means that software engineers must be able to input, alter, delete, secure, update, and retrieve crucial data from within a database, which requires familiarity with structure language databases, such as Oracle and MySQL.
Current and emerging tech trends
Software engineers must keep themselves updated with the evolving trends in technology as they develop software and take responsibility for similar tasks concerning the software development lifecycle.
The following are three of the critical areas engineers/developers must always monitor:
Cloud computing
Blockchain
Artificial Intelligence (AI) and machine learning
Communication
It's important for software engineers or developers to have communication skills to ensure that they will be able to fully understand what is asked of them. In a fast-paced and complicated field, software engineers must have good communication skills so they can clearly communicate ideas and information, especially to non-technical people.
Teamwork
Software engineers generally work with other professionals, including User Experience (UX) and User Interface (UI) designers, quality assurance analysts and testers, project managers, and business analysts, to create software programs. They typically collaborate with a team, from the initial stages of the development to testing and maintaining the end product.
To ensure that software engineers are able to interact productively and respectfully with other members of the team, they must have teamwork skills.
Attention to detail
Having a keen eye for even the smallest details is important for software engineers. This is to ensure that they see not only the picture but also the minute details that, when left unaddressed, can become bigger issues in the long run.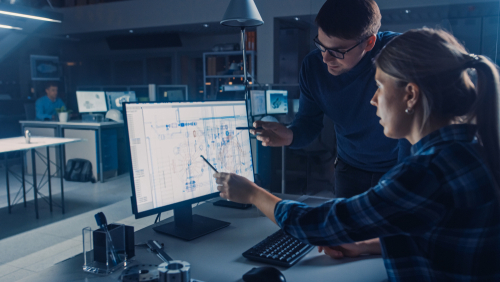 Frequently Asked Questions
What are the typical courses in an online Software Engineering bachelor's degree program?
These are some of the common core Software Engineering courses students will study at most colleges and universities that BS Software Engineering. These skills will hone students' knowledge and skills in programming, operating systems, and more. Upon graduation, they will be able to apply these skills to various related jobs.
Software Requirements
Software Project Management
Software Design and Construction
Software Configuration
Software Validation
Computer Programming
Computer Architecture
Algorithms
Operating Systems
Database Management Systems
Computer Systems Design
Human-Computer Interaction
Data and Databases
Linear Algebra
Boolean Logic
Calculus
Statistics
Discrete Math
What are the usual requirements for undergrad admission to an online Software Engineering program?
All first-year students enrolling in an online Bachelor's in Software Engineering will usually be required to have a minimum of 1210 SAT combined score, a minimum of 24 ACT, and a minimum 3.00 ABOR GPA. Students with one deficiency in either of the competency areas in math and laboratory science will not be accepted.
Students with less than 24 transferable college credit hours should have a minimum GPA of 2.75.
To complete the program, some require a capstone project to demonstrate proven engineering techniques and software tools in this field.
Is financial aid available to students who pursue online Software Engineering degrees at the bachelor's level?
Most colleges and universities offer financial aid opportunities to both on-campus and online students seeking a degree in Software Engineering. These include federal and state aid, loans, scholarships, and grants.
The most important thing students must do when applying for a degree is to fill out a Federal Application for Student Aid (FAFSA).
How much do graduates of Software Engineering typically earn?
Bachelor's degree in Software Engineering graduates have numerous career options. This is because software engineers/developers are quite in-demand nowadays.
Federal statistics reveal that software engineering graduates take on these common jobs and earn a median annual pay between $70,000 and $150,000, depending on the industry or company:
Key Points to Ponder
Pursuing a Bachelor's in Software Engineering through online learning is the most flexible way to earn this degree and be eligible to take industry certification exams, including CompTIA+, (ISC)2 Certified Secure Software Lifecycle Professional (CSSLP), and CIW Web Development Professional.
Accredited Engineering programs, particularly Bachelor's in Software Engineering can open endless doors of opportunities for those who are looking to become software engineers, web designers, multimedia programmers, game developers, or cybersecurity analysts.
With a Bachelor of Software Engineering degree in their belt, most software engineers possess critical technical skills in programming, computer architecture, operating systems, and databases.
---
Check out this guide for more about careers in Engineering: Most Lucrative Engineering Jobs