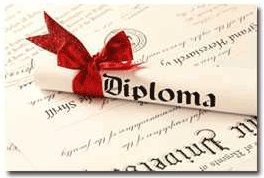 When considering attending college, it's important to understand the differences between the many types of degrees and certificates which you can apply for. While bachelor's and master's degrees are a bit easier to understand, it's not always clear as to what an associate's degree is and what it can do for your college education. Here's everything you need to know about an associate's degree.
While most people may know that an associate's degree tends to involve a student attending college for two years or four total semesters, there are a wealth of further intricacies involved. For instance, an associate's degree tends to take 60 total credit hours to complete, with 15 per semester. These credits are divided into three per course, as a full time course load calls for five per semester. While a typical associate's degree takes two years to complete at full time, many include the possibility to take classes on a part-time schedule, meaning it could take a few semesters longer to finish.
Community colleges and junior colleges tend to offer associate degrees, though they are also offered in larger colleges and universities as well, to a lesser extent. Most associate degrees are transferable, meaning that they are considered to be the first two years of a typical four year degree. In all cases, the first two years of higher education are known as your freshman and sophomore years. You will find that there are four different types of associate degrees, which are known as Associate of Arts, Associate of Science, Associate of Applied Arts and Associate of Applied Science. Each of these will often contain a number of subjects that the student can choose to focus in, such as an Associate of Arts in English or Associate of Science in Computer Programming.
There are a number of reasons as to why you should think about earning your associate's degree. You may have already completed some courses in the past but do not have a total of 60 credits, in which case an associate's degree would be a great step in completing your education. It's also possible that the career you are looking to enter doesn't quite require a bachelor's degree, but does at least need an associate's. Whatever the case may be, an associate's degree is a great addition to anyone's education.
Advantages of Earning an Associate's Degree
There are a plethora of distinct advantages towards earning an associate's degree. The most beneficial of these is the overall cost, as associate degrees are generally more affordable than the alternatives. It's also a great way to get some college education under your belt that will help greatly in your search for a job. Any degree will look much better on a resume than a simple high school diploma. As associate's degree is great for those that may not have time to earn a bachelor's or want to wait a few years before going back to get their bachelor's.
How Does an Associate's Degree Differ From a Bachelor's
There are many ways in which an associate's degree differs from that of a bachelor's degree. Time is a great motivator for those thinking of applying for an associate's degree. As an associate's degree only takes two years to complete, and sometimes even shorter, it's much easier to commit yourself to than a four year bachelor's degree. Overall, an associate's degree can be completed in 60 credit hours, while a bachelor's degree takes a total of 120 credit hours.
The costs of earning a degree are substantially lower with an associate's when compared to a bachelor's. While the main cause for this, as stated earlier, is due to the time it takes to complete, it is also effected by the fact that there much less textbook and accommodation costs as well. Lastly, it can be easier to get into an associate degree program than a bachelor program, as the entry requirements for a bachelor's degree are far stricter in most cases.
While not quite as common as that of a Bachelor's or Master's degree, it's clear that an Associate's degree is useful and practical and can help to advance a person's schooling in an exceedingly beneficial way. Whether you are just starting college and aren't sure of what you want to major in or are someone that has earned their Bachelor's degree in one area and wants to study for another type of degree, an Associate's degree can be the perfect choice for you.