Find Your Perfect School
www.premiumschools.org is an advertising-supported site. Featured or trusted partner programs and all school search, finder, or match results are for schools that compensate us. This compensation does not influence our school rankings, resource guides, or other editorially-independent information published on this site.
What's your next step? Could it be to earn an associate degree? There are many reasons why up to 25 percent of students never even finish high school, let alone go on to seek postsecondary credentials. Those students who aspire to continue their education automatically join an elite smaller group with advanced career potential.

The next step up the educational ladder after high school graduation is college. One of the most popular degree choices for today's postsecondary students is the associate's degree. In this post, learn "What is an associate degree?" and decide if this may be the right degree plan for your career goals!
What are Associate's degrees?
These are also known as foundational degrees. In the hierarchy of degrees, associates degrees are first-level degrees in post-secondary education. Bachelor's, master's and doctoral degrees are the upper-level degrees by succession.
Take note that we're not talking about post-secondary certificates and technical-vocational programs here, which are typically short-duration programs with an emphasis on highly specific technical or professional training–and they DO NOT lead to a degree. Examples include welding, fashion design, and automotive repair.
Associates degrees can be the stepping stones to a bachelor's degree. But there's a possible exception, namely, the Associate of Applied Science degree since it's widely considered as a terminal degree.
Students typically enroll in associates degree programs for many reasons including:
Testing the waters to determine if they have what it takes to benefit from a college education;
Getting a foot in the college door, so to speak, without spending more money than they can afford at the moment;
Determining whether their choice in a profession will fit their personal goals and personality before proceeding to a bachelor's degree program;
Planning to enter the workforce and earn more than with a high school diploma only yet with less time and money commitment than a bachelor's degree.
For example, preschool teachers only need an associate's degree but can earn $31,930 per year (2020, median pay). Other notable examples of jobs that require an associate degree include:
Indeed, there are dozens of well-paying jobs that only require a relevant associate degree! You just need to find one – or perhaps a couple, if you're into multiple jobs – that best suits your personal and professional goals.
Junior and community colleges are the most common schools that offer associates degree programs. Four-year colleges and universities also offer them although to a lesser extent.
What's the typical number of credits and semesters with an Associate degree?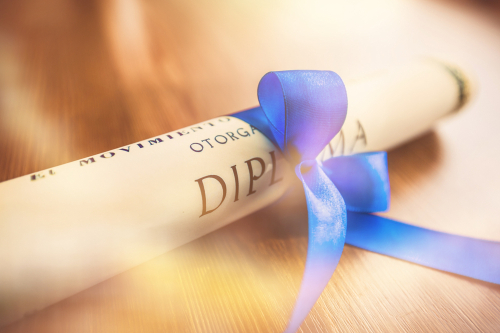 While an associate's degree program typically involves two years or four semesters for completion, there are unique circumstances that can shorten or lengthen the time spent in it. Students with a part-time schedule, for example, will likely spend a couple of semesters more for completion.
In general, an associate's degree program requires 60-semester credits for graduation purposes. If the quarter system is adopted, the total number of required credits is 90.
In a by-semester program, full-time students can enroll in courses totaling 15 credits per semester. Since each course has three credits, there are five courses for every semester. Thus, the entire program can be completed in two years or four semesters.
For candidates who may wish to pursue a 4-year bachelor's degree at a later date, the associate degree can meet the requirements for the first two years of college coursework.
How does an Associate degree differ from a Bachelor's degree?
Their differences can be summed up in the following ways.
Length of program
For full-time students, an associate degree program can be completed in two years while a bachelor's degree program requires four years of study. In both cases, nonetheless, students with a part-time schedule will spend a longer period of study. Part-time students typically take half or so of the course load that full-time students take, even with summer semesters included.
Many colleges and universities are also offering flexible schedules for non-traditional students like working professionals and adult students. The schedules can be weekend and night classes and fully online or hybrid classes. These are popular among students who cannot take day classes because of other personal and professional responsibilities.
Focus of studies
Among associate degree programs, there are two main types of focus that prospective students must be aware of. First, the general studies approach provides students with a general education that can be applied to a bachelor's degree. There are no specific skillsets that must be learned that will lead to a specific job niche, such as an MRI technician.
Second, is the specialized technical/vocational approach where students learn specific skill sets that prepare them for specific jobs. Examples include:
Students in associates degree programs may use their degree to transition into a new career or seek career advancement in their current fields. The best programs provide their students with the specific knowledge, skills, and competencies for either purpose. In many cases, the learning curve can be cut down, so to speak, to allow students to learn better and faster.
Bachelor's degree programs are similar to both types of associate degree programs. For one thing, the former has a general education component that consists of core curriculum courses. These include English, science and math, and history, which are also tackled in associate degree programs with a general education approach.
These core curriculum courses are typically taken during the first two years of a bachelor's degree program. Many, if not most, of the credits earned in an associate degree program can be transferred, too, to an undergraduate degree.
For another thing, bachelor's degree programs require their students to choose a concentration, specialization, or major. Such a choice makes them similar to associate degree programs with a specific focus.
Students in their third and fourth years in bachelor's degree programs enroll in courses that equip them with job-specific skill sets and competencies. For example, accounting students take up advanced accounting and auditing courses in their junior and senior years.
Cost of education
Generally speaking, associate degrees cost less than bachelor's degrees because of the shorter duration of studies, among other reasons. The actual cost of attendance in an associate degree program is affected by residency status, the number of courses enrolled in, and financial aid. The status of the school – either public or private as well as for-profit or non-profit – also has a bearing on tuition and fees.
At public institutions, the average tuition is $3,750 per academic year while private colleges can charge up to $14,500-plus annually. These amounts don't include the living expenses, room and board, and transportation costs, to name a few.
In contrast, the average in-state tuition in a public college is $25,615 for an academic year and $37,200 for a private university. With the loss of income and interest on student loans, experts estimate that the total costs of a bachelor's degree may be in excess of $400,000!
Earning potential
Admittedly, an associate degree doesn't have the earnings potential of a bachelor's degree. According to the Bureau of Labor Statistics (BLS), the weekly median earnings of people with an associate degree are $938 or $48,776 per year. Workers with a bachelor's degree have median weekly earnings of $1,305 or $67,860 per year.
But when you think of the significant differences in time and money commitment, you will agree that an associate degree is well worth it!
Career paths
What do you want to do after earning your degree? You must ask yourself this crucial question so you can decide whether to pursue an associate's or a bachelor's degree.
You may want to pursue a bachelor's degree after earning an associate degree, such as when you find that you actually love the field of study. You may also enter the workforce or start your new career immediately after completing your associate degree. Whatever your decision, you will find an excellent associate degree program that will match your goals.
What are the advantages of earning an Associate degree?
From the above discussion, we can conclude several benefits including:
Flexibility in terms of status (full-time or part-time student); method of learning (on-campus, online or hybrid); and career path (work immediately or more studies)
Cost-effective choice, thanks to lesser time spent on studies and lower tuition resulting in less student debt and fast entry into the workplace
Better chances of graduating due to the less time and money commitment
More opportunities at higher-paying jobs than with a high school diploma only, as well as more preparation for jobs with your practical skillsets
More opportunity to specialize in a specific field, which can be more attractive to employers (skills-based hiring)
What are the types of Associate degree programs?
Associate of Arts degree programs cover liberal arts subjects including English, sociology and humanities. These have a general education approach although many programs also offer concentrations, such as social work, childhood education, and digital photography. Many of the credits earned may be transferred into a bachelor's degree, too.
Associate of Science degree programs have a more practical hands-on focus that translates well into a career immediately after college. These have more technical coursework that includes scientific and technical skillsets. Examples include paralegal studies, information technology and business administration programs.
Associate of Applied Science degree programs emphasize hands-on training that prepares students for workplace success after college. Since these programs consist of few core curriculum courses, these are typically considered as terminal degrees. You may be unable to transfer or experience difficulty in transferring credits earned to a bachelor's degree program.
There are also other types of associate degrees, such as Associate of General Studies and Associate of Fine Arts.
What are the typical admission requirements of an Associate degree?
The admission requirements vary between schools but the typical requirements include:
High school diploma or its equivalent
Official transcripts
Letters of recommendation
Depending on the selectivity level of a school, prospective students may also be required to meet a minimum GPA requirement.
The next step up the educational ladder after high school graduation is college. One of the most popular degree choices for today's postsecondary students is the associate degree. In this post, learn "what is an associate degree?" and decide if this may be the right degree plan for your career goals.
Conclusion
Now that you know the crucial aspects of associate degrees, you may want to look into our list of the best! You will find that an associate degree can be associated with your future success if you choose the right program. It is an effective first step to achieve your educational and career goals especially if you're in a tight financial situation. It can provide you with entry-level job opportunities, develop your skills, and allow you to earn the money you need to proceed to a four-year program. Remember, an associate degree is not an end but a doorway towards higher education and greater career opportunities. Your success depends on what you want now and how you see yourself in the years to come.
---
What's next? What is a Bachelor's Degree?
Check out these Associate degree programs: